After 5 days in Naples, Bee and I moved to the relative tranquility of Sorrento, on the Bay of Naples, on the Amalfi Peninsula, and the gateway to the Amalfi Coast and Capri.  We had ten more days to explore this part of Italy, rich in History, Art and Nature.
We went to Capri on our first day there – the weather forecast was not ideal for the week to come and we thought we wanted to take advantage of a reasonable day to explore the island.
Unfortunately, two cruise ships had arrived overnight, and all passengers from the ships were also going to Capri.  Our ferry into the island was full and we could not get the return trip we wanted, so had a return earlier than we wanted initially.
Still, the day started positive – we booked a boat trip around the island, which included a visit to the Blue Grotto and wandered around the harbor while waiting for the departure.  It was very interesting to see that even though this is a very touristy island, there are still people here doing traditional work, such as fishing out of small boats.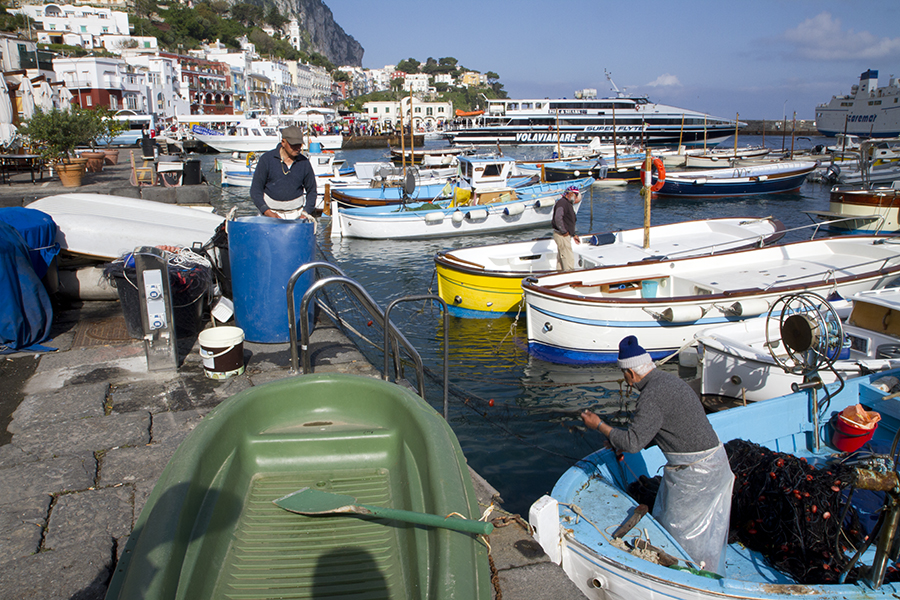 Here is a general view of the main harbour.  On the side of the mountain in the background, you can see the first few houses of the second town in Capri called Anacapri.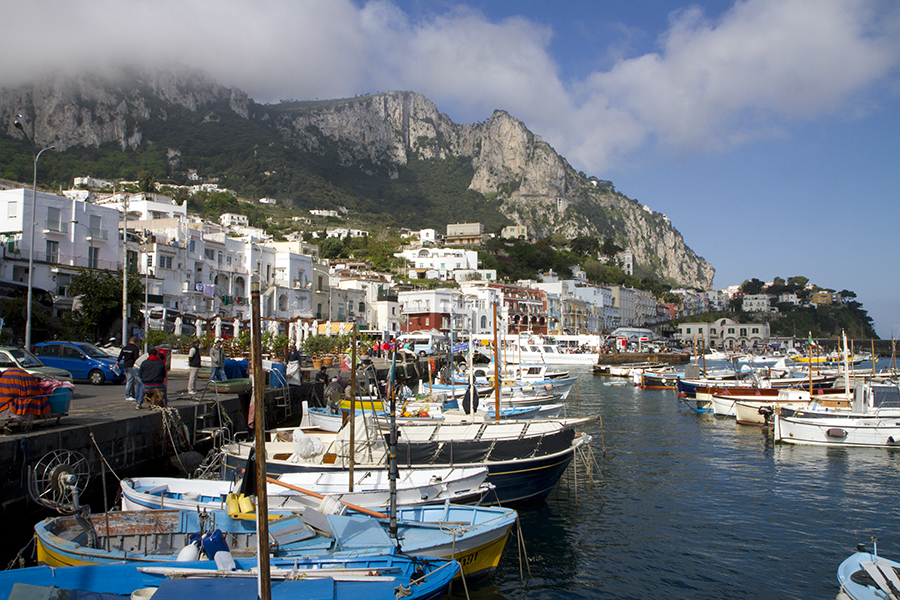 Taxis on the island have been somewhat modified to cater to the expectations of local tourists.  It is obvious that the maximum expected speed on the island is very low, or this type of roof on a car would not survive very long.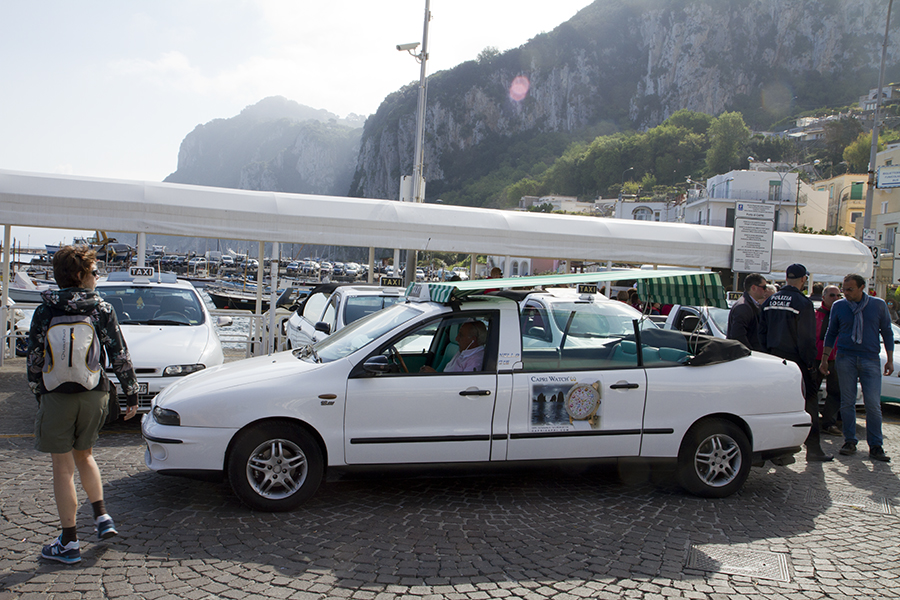 On the trip around the island, we first passed by the Blue Grotto.  We were told that unfortunately the tide and the wave were too high to be able to visit the grotto that day.  The entrance is very tight and it is often impossible to go through.  However, it looks like some people are making it, so I am not sure if the boat captain was telling us the truth or not.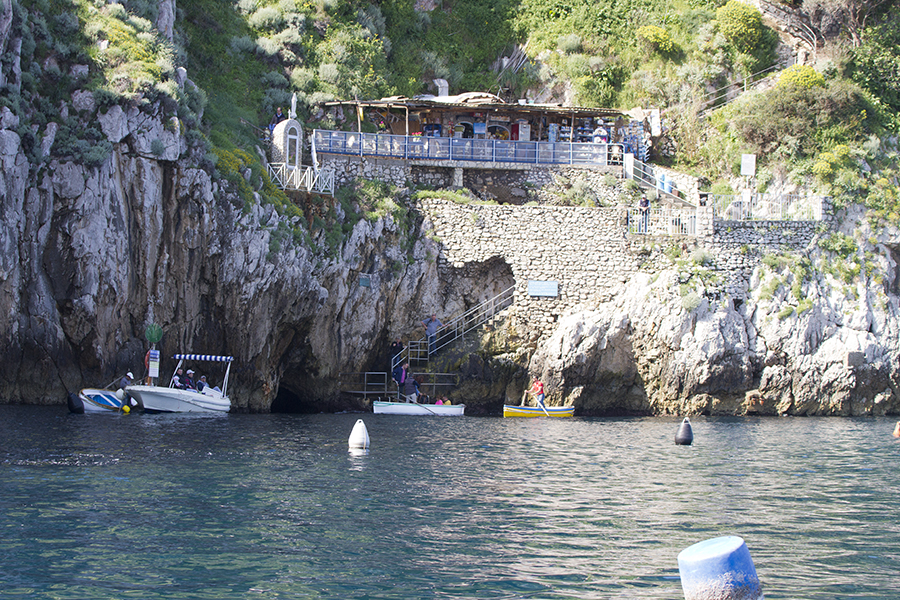 At the Western tip of the island, on Punta Carena, stands a very tall light house.  It is critical to mark the entrance to the Bay of Naples where there has been a busy port for many centuries.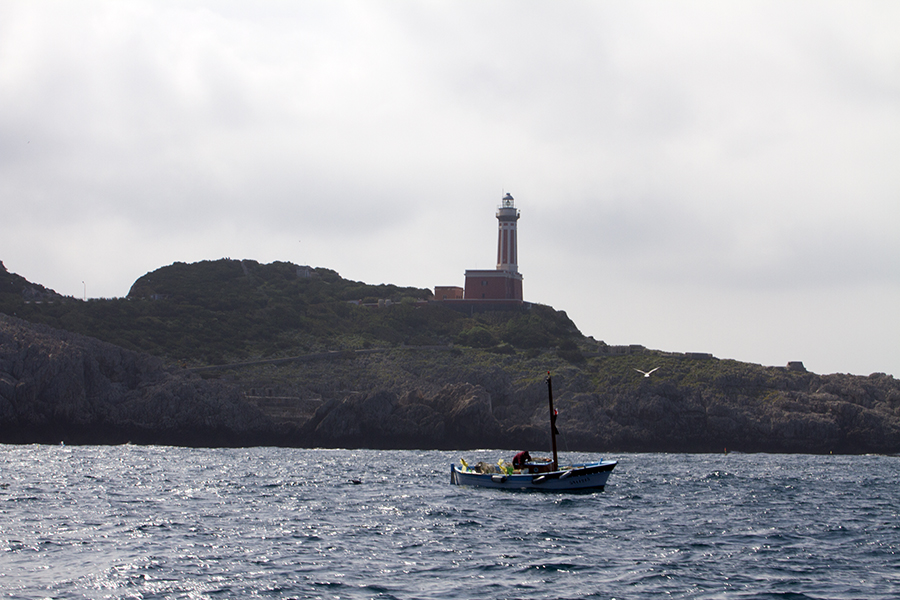 Again, we can see that normal life continues around tourism – this gentleman was fishing probably in the same way they were doing it 100 and 500 years ago!