PIERREO.COM Restaurant Review
Estaminet 't Kelderke
Grand Place 15
Bruxelles
+32 2 513 7344
https://restaurant-het-kelderke.be/en

Overall :
I do not trust a lot of Restaurants in and around the Grand Place in Brussels.  Most places are tourist traps which serve so-so food at inflated prices.
I have been eating at this place for many years and have not been disappointed once.  You also cannot beat the view from their terrace.
Food: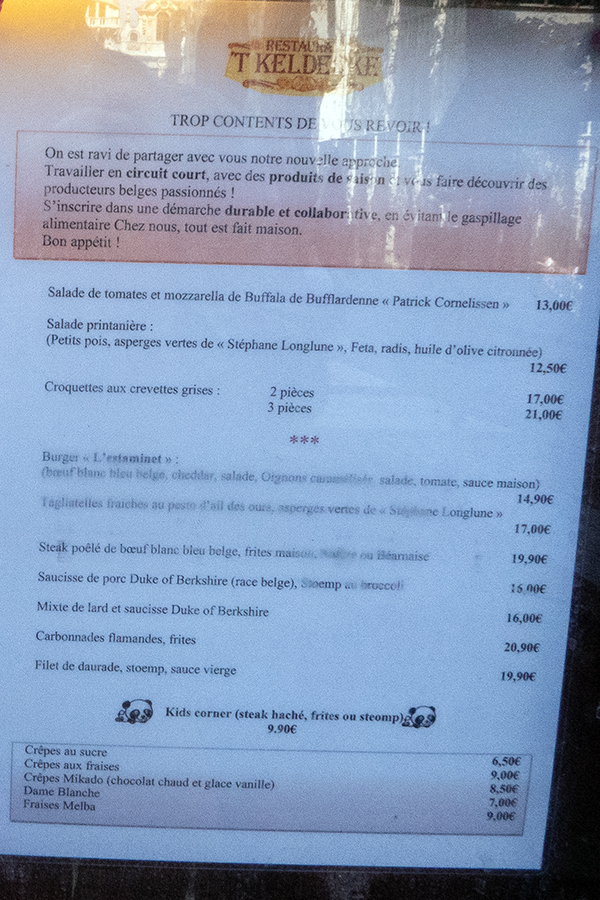 We went there for lunch and had, as always, excellent food.  I had the Burger "L'Estaminet" and my wife had the Carbonnades Flamandes.  Both came with Belgian Frites which we ate with mayonnaise.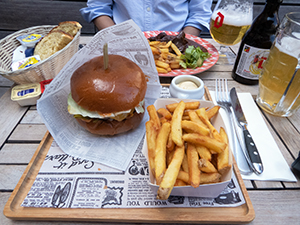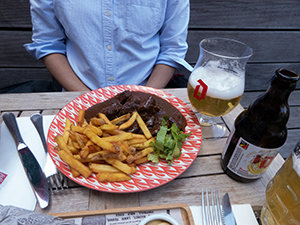 They specialize in Belgian Food and for the moment have only a limited menu due to the current restrictions (outdoor dining only) – they also have an excellent selection of local beers.
Atmosphere:
Eating 'al fresco' at the foot of the Maison des Bouchers with the full extent of the Grand Place in front of you is unbeatable.  There is a constant spectacle developing in front of you: tourists taking lot's of photos; groups on a horse carriage ride; tour guides looking for their next victims, sorry customers; locals happy to just sit and absorb.
They have a very large room inside as well – I have never eaten there.
Comments :
They are highly rated on TripAdvisor: https://www.tripadvisor.com/Restaurant_Review-g188644-d694640-Reviews-T_Kelderke-Brussels.html
As I indicated above, one of the addresses you can trust in that neighborhood.
If you do not have reservations, you need to come early for lunch or dinner as they tend to fill fast especially with good weather.
Details:
Reservations: accepted on the phone or by email
Credit Cards: American Express, Cash, Visa, Mastercard, Debit Card
Parking: The Grand Place in Brussels is a pedestrian zone.  There are a lot of choices for parking around the Grand Place.