I cannot count the number of times that I have thought about going to visit the Florida Keys in the past.  I always ended up not going as I was not sure what there was to do there and I did not look forward to the drive from Miami all the way to Key West.  These are all the wrong reasons for not going somewhere!
That all changed in 2019 as Bee and I talked about it more and more and I discovered that there were a lot of good reasons for going there.  We did so in January 2020.  We flew to Miami and rented a car from there.  Our first stop was at a Cuban Restaurant in Little Havana where we had an excellent lunch.  After lunch, we drove onto Route 1 and left the mainland USA.
Our first stop for the night was at Marathon Key where we stayed at the Hampton Inn (we are frequent users of Hilton chain hotels as they always treat us really well).  That evening, we had an excellent meal at The Island Fish Company, across the street from the hotel.
We had all day to go from Marathon Key to Key West so we decided to do some sightseeing on the way and stopped at the Curry Hammock State Park where we did a coastal trail on the North side of the Key.  Nice trail but very much in lush greenery all the way and therefore not much to photograph.  Here is an example of the typical trail we followed.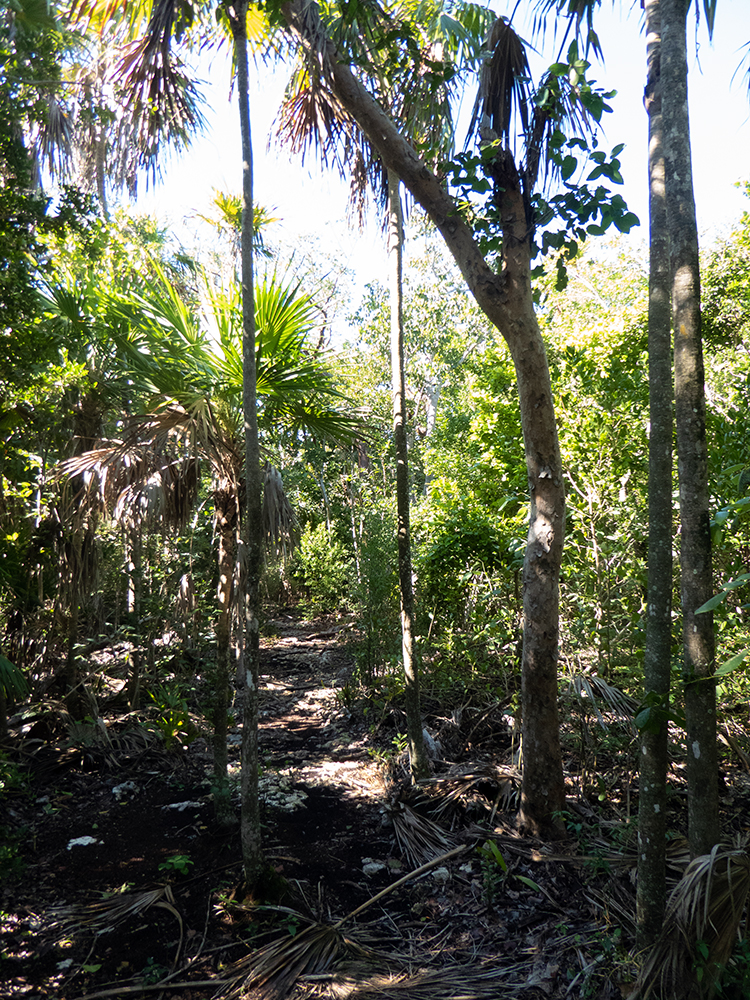 It was a very pleasant walk that only took us about 1 hour and we seemed to be the only people on the trail.
We arrived early at Key West and checked into our B&B called the Old Town Manor (details at the bottom of the post) – I would certainly recommend this B&B as it is beautiful, with very nice rooms and a great location.
The first order of business was to finalize our plans for the next day, when we were scheduled to take the Yankee Freedom to the Dry Tortugas.  This is an all day trip to the very last key, one that cannot be reached by car but only air and boat – we chose the boat.
And it is coming back from the Ferry Docks that we really lucked out!  In the main marina, I saw this boat which I thought was just gorgeous!  This poor picture does not do it justice.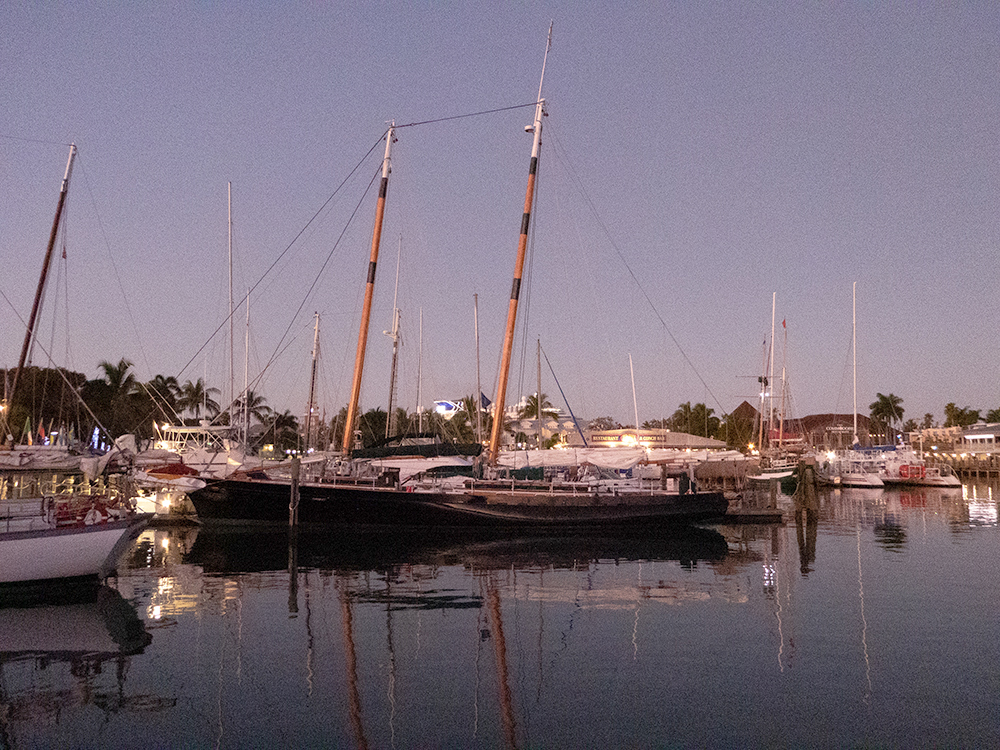 As we got closer, we noticed that it was available for local cruises – a bit more discussion and we found out that the Sunset Cruise will be leaving in 1/2 hour with only 15 passengers on board.  We quickly signed up and almost ran to the B&B to get warmer clothes.
It turns out that this is "America 2.0" a replica of the yacht "America" which beat the Brits around the isle of Wight to win the very first "America's Cup" on 22 August 1851.  It is not a perfect replica as it is made in modern materials but made to look like the original yacht.
They asked for volunteers to help raise the sails – no modern conveniences, such as electric winches here – it is all done with arm, and leg muscles.  I was only tailing, and trying to help a bit the person actually lifting the sail…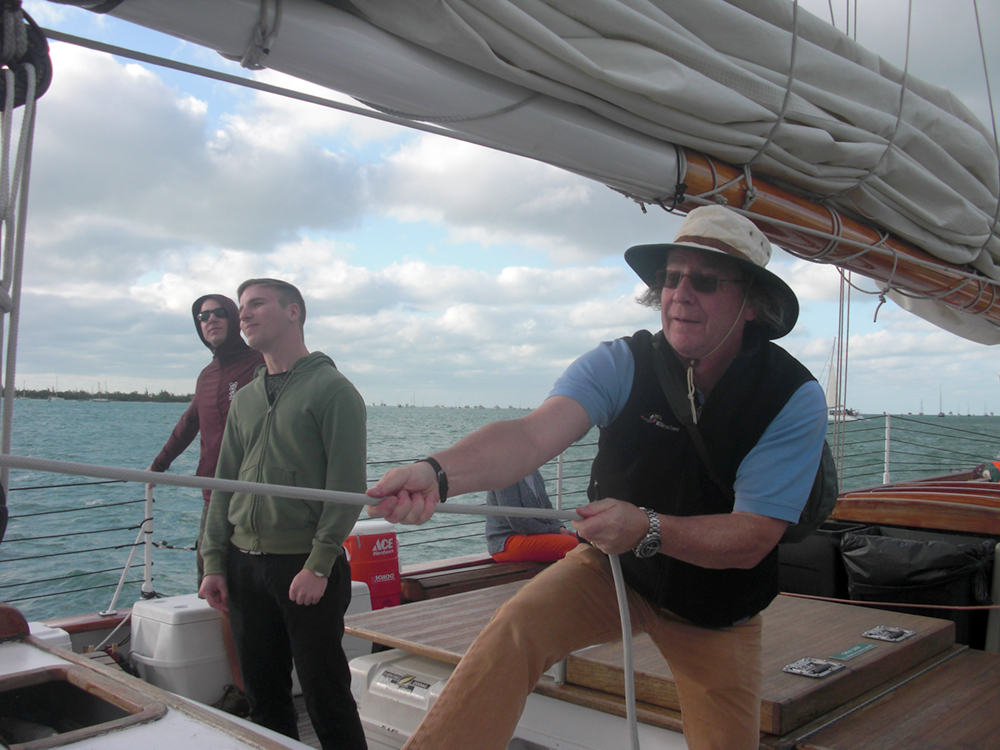 Here she is, almost fully rigged.  The wind was just perfect for a good sail and she sailed very well.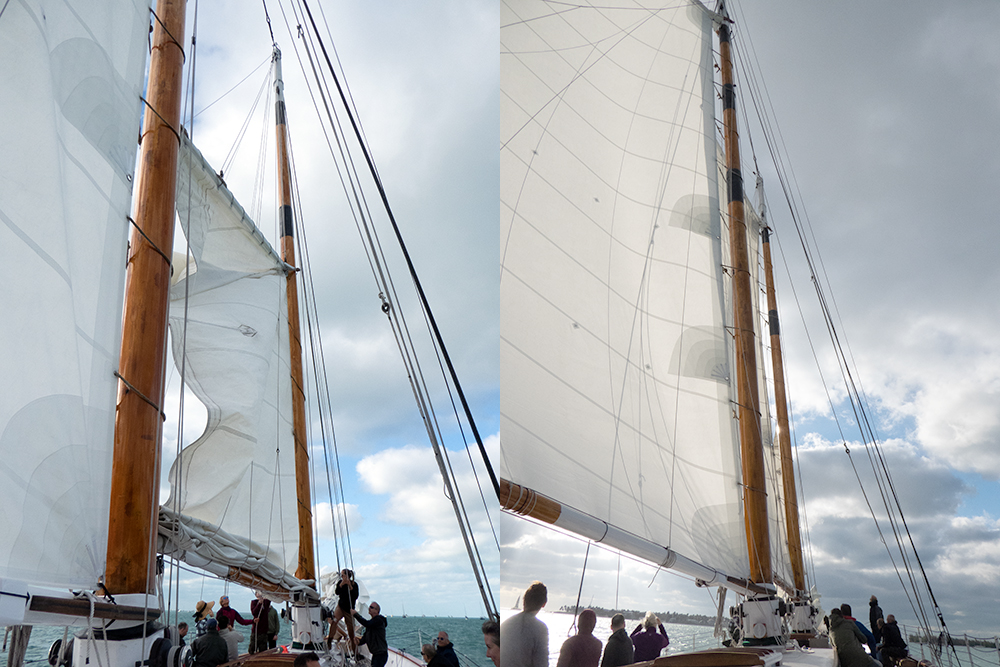 I even got to steer her!  Am I happy or what!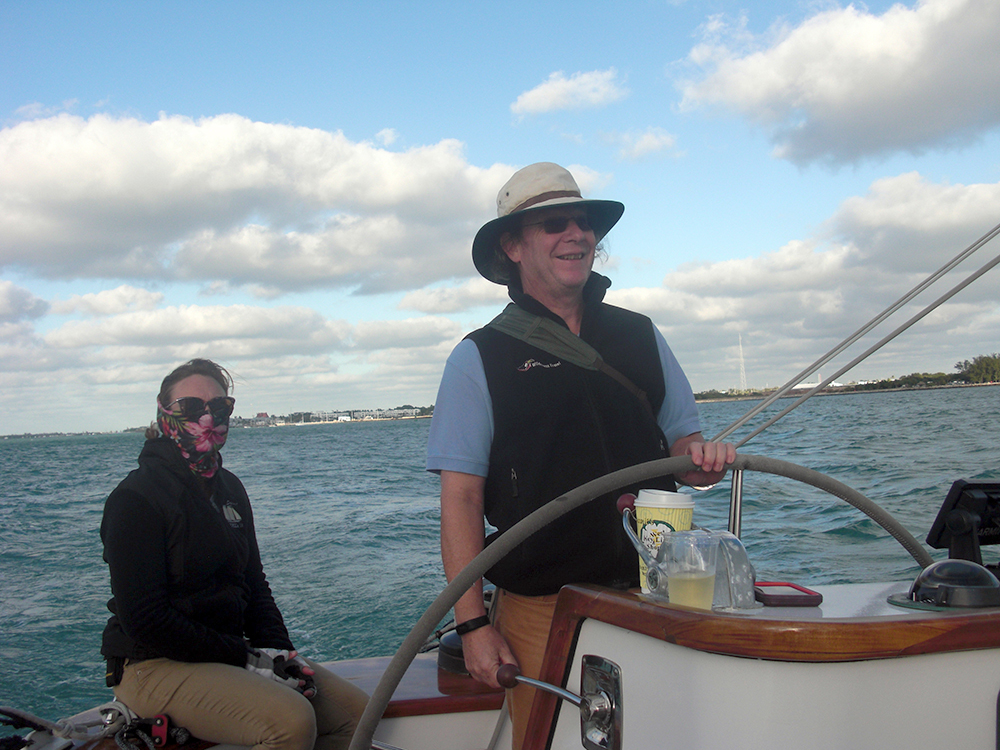 The two photos above with me in them are courtesy of Bee…
I would rather be in this beauty than that big monster that we are passing by…
The boat appears empty as indeed there were very few people that evening, probably because the weather was not great and it was highly unlikely that we would get a very nice sunset (I did not care one bit)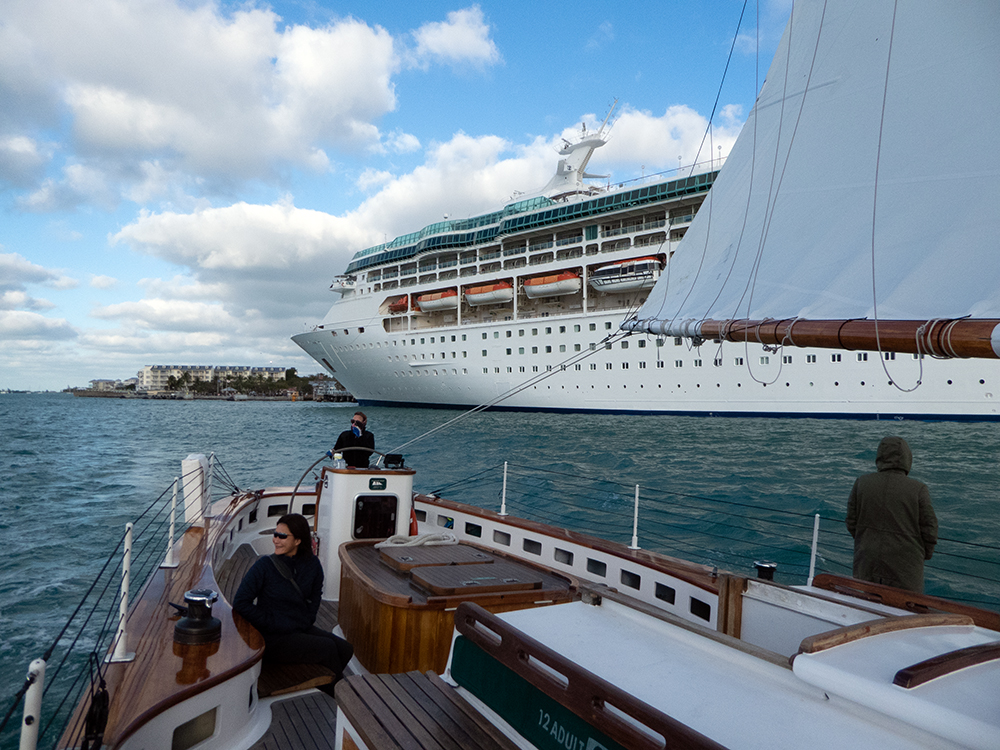 We did not have a nice sunset – there were far too many clouds for that.  However, clouds can lead to very nice views before sunset.  Bee and I both captured this moment in somewhat different ways.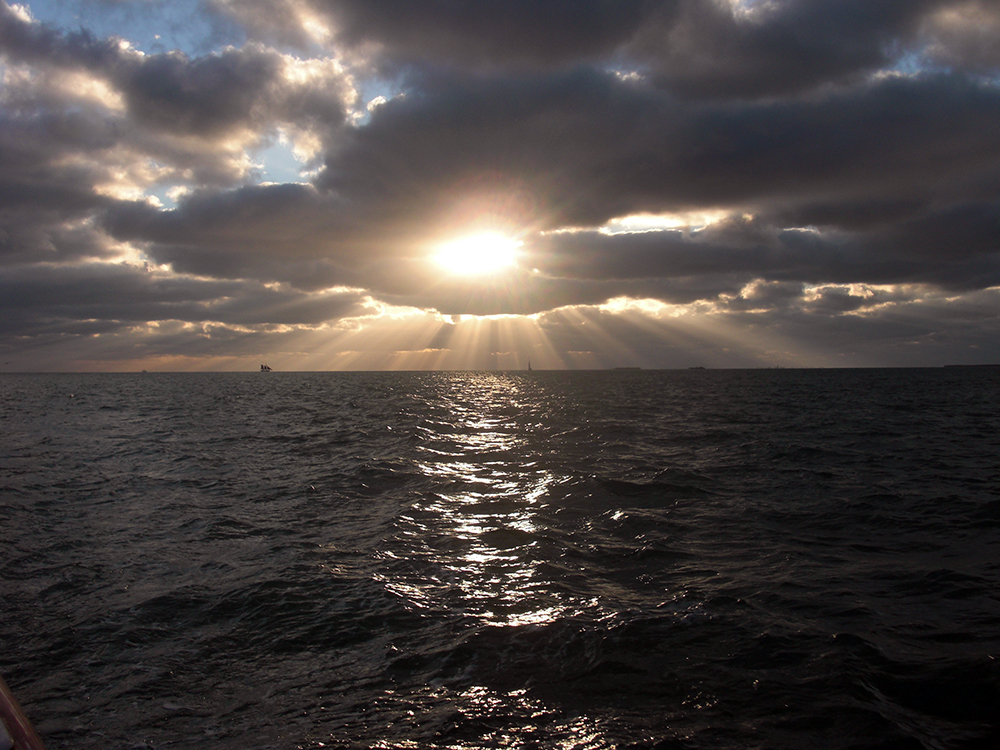 I am not saying which is which – but I thought hers was better than mine.
The other large sail boat in the distance on the left is the "Jolly Rover", another boat available for cruises and one that was almost as nice as "America 2.0"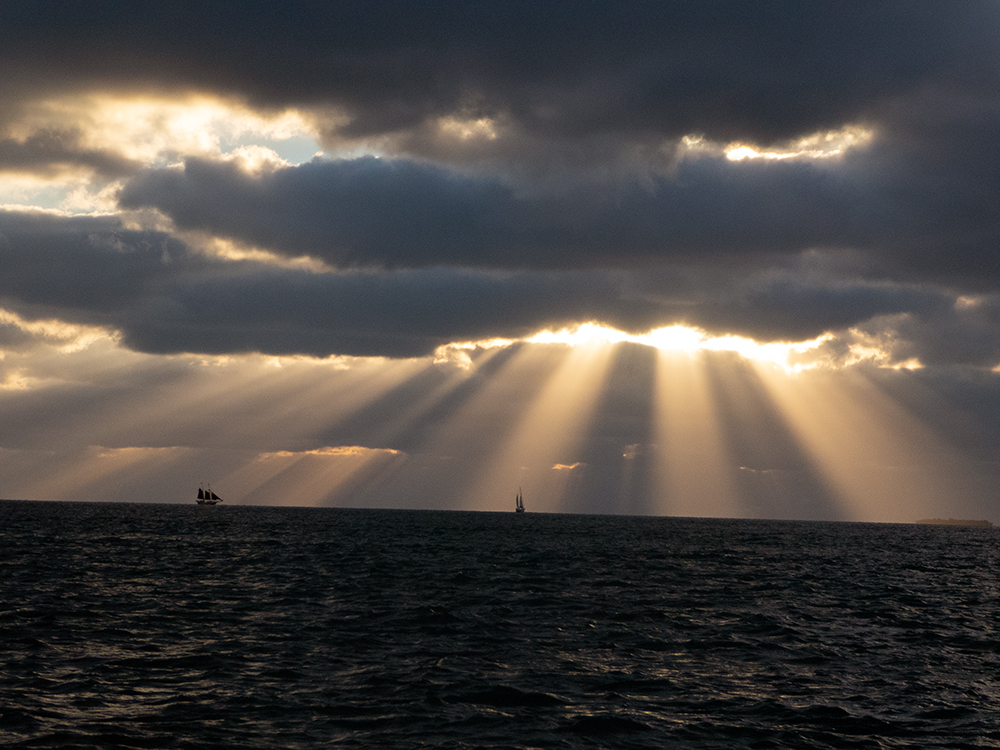 After all the excitement of the previous evening, we did make our very early boat and headed for the Dry Tortuga.  Below are two views as we approached the National Park.  The fort is not actually on the very last key, which is too small for the facilities that were needed.  The Loggerhead light house in on the last key also called Loggerhead Key.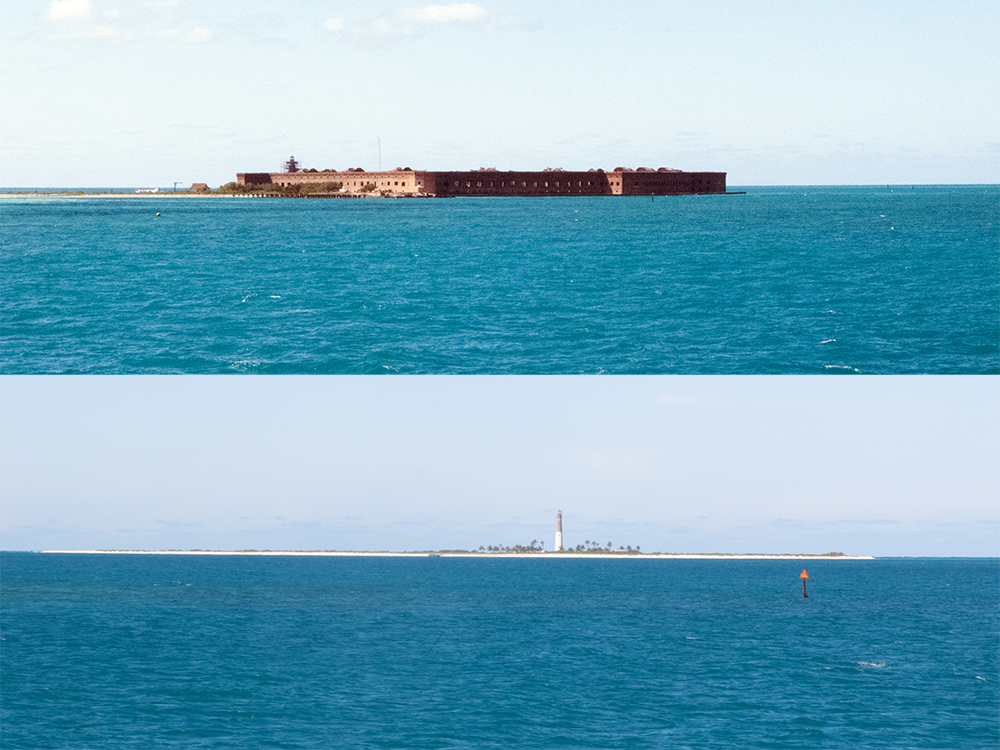 The fort was established to protect the trade from the Gulf of Mexico and a large deep water anchorage which could be used to protect the US East Coast. It was started in the mid-1800 and never completed or fully armed.  The only time it saw any action was during the US Civil War.  It was held by the Union Navy.  When the Southern Navy tried to take it, the fort commander gave them 1 hour to "get away from here before I open fire with the 60 cannons pointed at your ships right now" – the navy retreated, not knowing that, at the time, there was not a single cannon on the island.
I am not sure if this story is actually true. As part of the day-trip, we had a free guided tour of the fort, which we took – the guide was very good and gave a very interesting tour with a lot of history about the fort.  Above is one of the many tales he told us.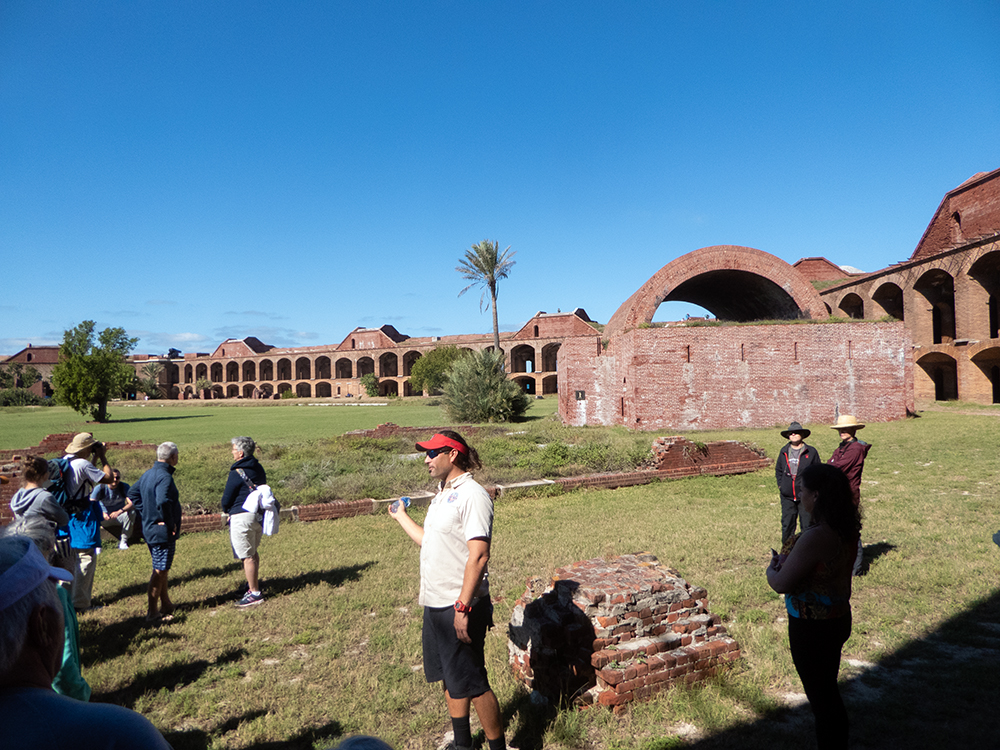 The fort was abandoned at the end of the 1800's, even though it was briefly used during both world wars.  It has been thoroughly rebuilt and renovated to give an impression of what it was at the height of its power.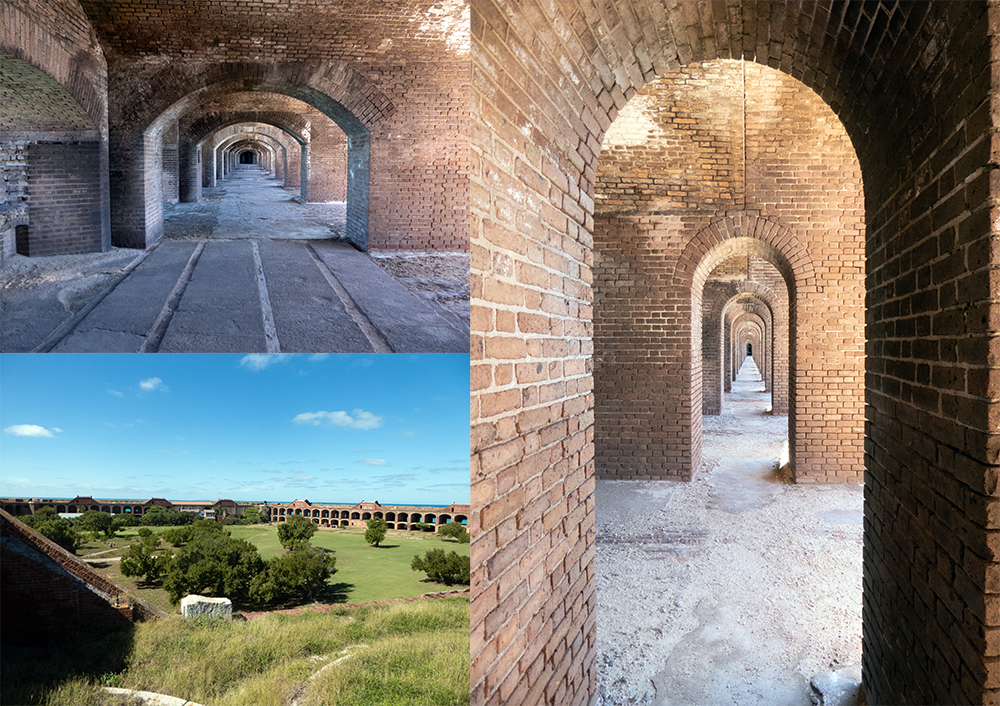 The walls that surround the fort are topped with sizable cannons (yes, they did install a few after the Civil War!)  which were never required.
Still, the fort served its purpose as the Gulf trade was not challenged and the deep water harbor was never attacked.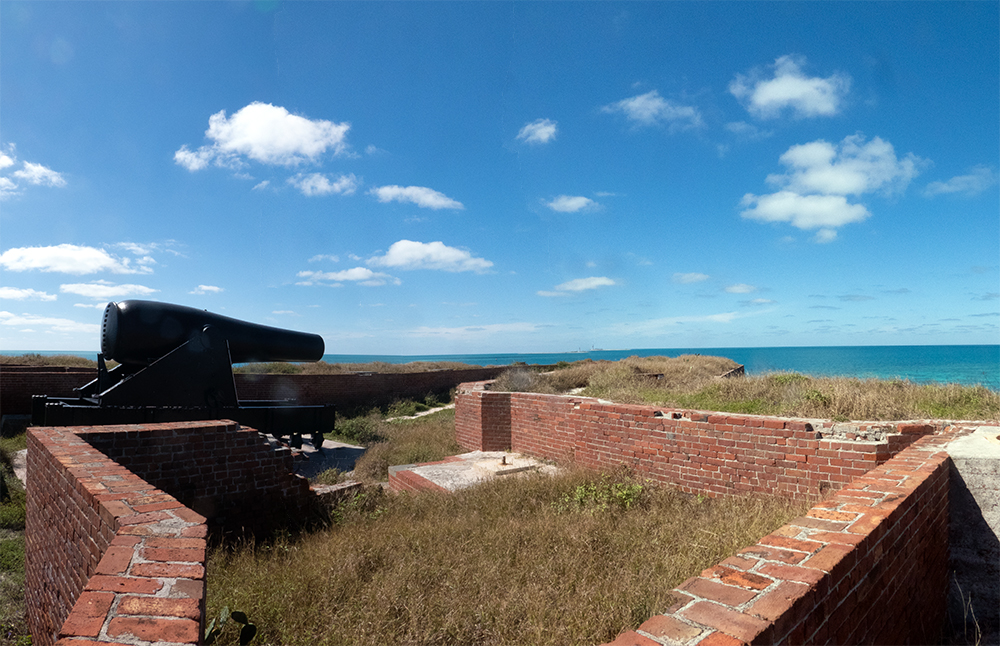 In the background of this photo, you can see the lighthouse of the fort still being restored.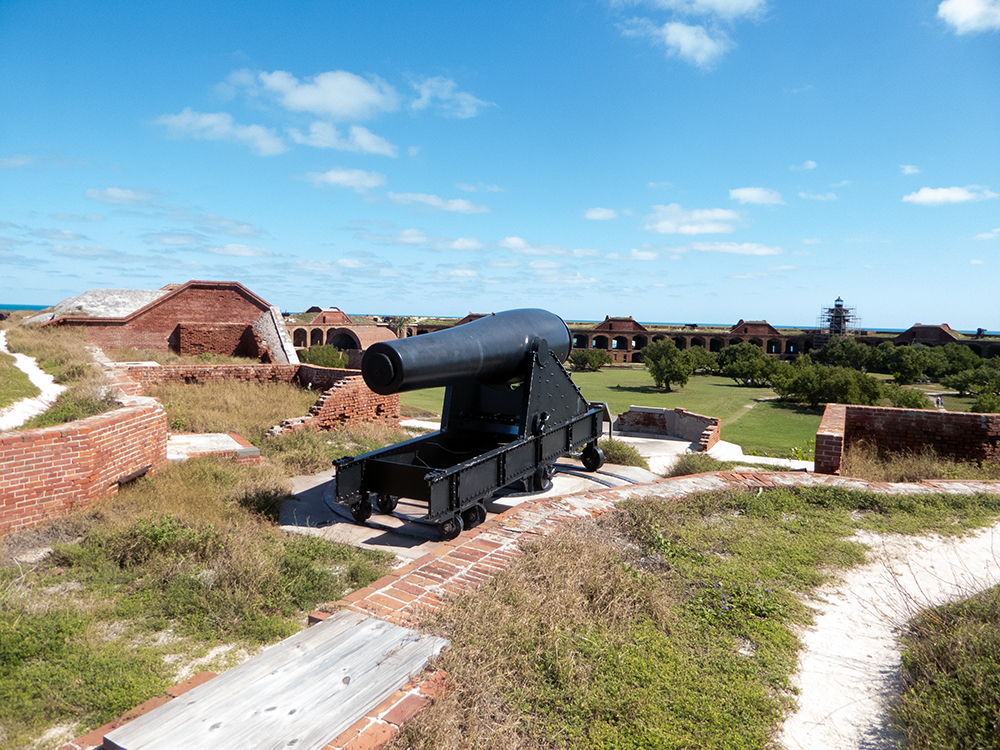 This is a very interesting apparatus, designed purely as an anti-ship device.  This was modern technology at the time.
If you shoot with a cannon at a sailing ship out at sea, the most likely thing you will hit are her sails.  The shot goes through and not much damage is done.  It is very difficult to hit a mast or the hull of a ship from any distance.
Now imagine that you shoot a red hot projectile and it hits the cotton sails.  It is likely to set them on fire and that is devastating for a wooden ship!
This device was the oven that heated the lead shots!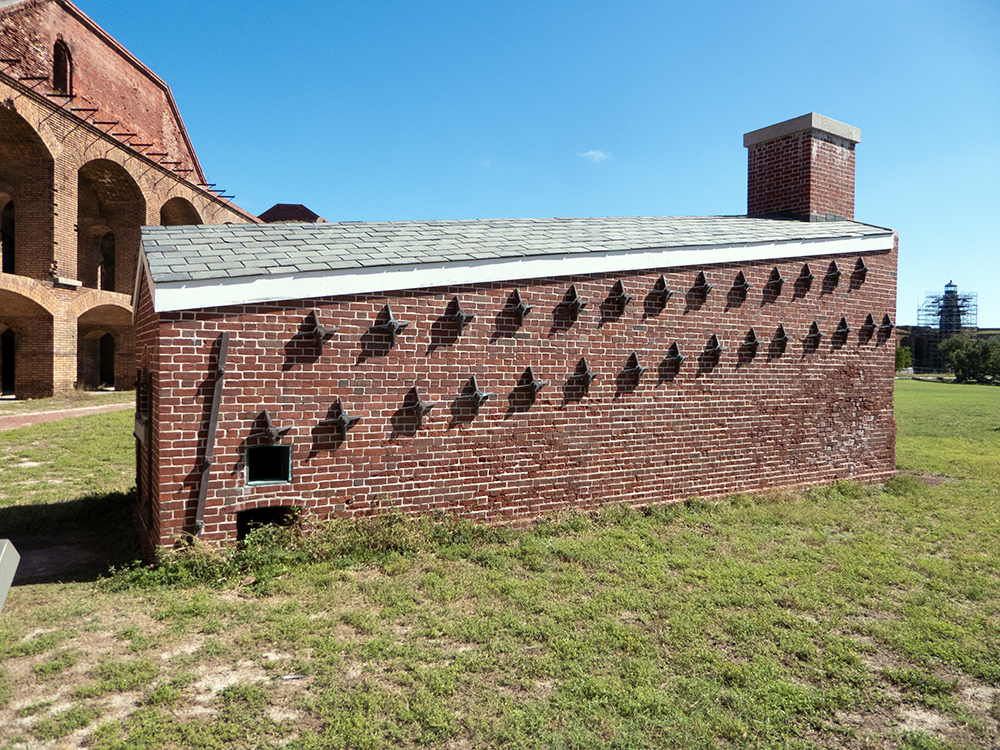 Shots are fed at the top and roll down the four set of rails to the bottom.  There is a very hot fire burning below them.  When needed, you can retrieve red hot shot from the bottom and feed more at the top.  This was 19th century automation!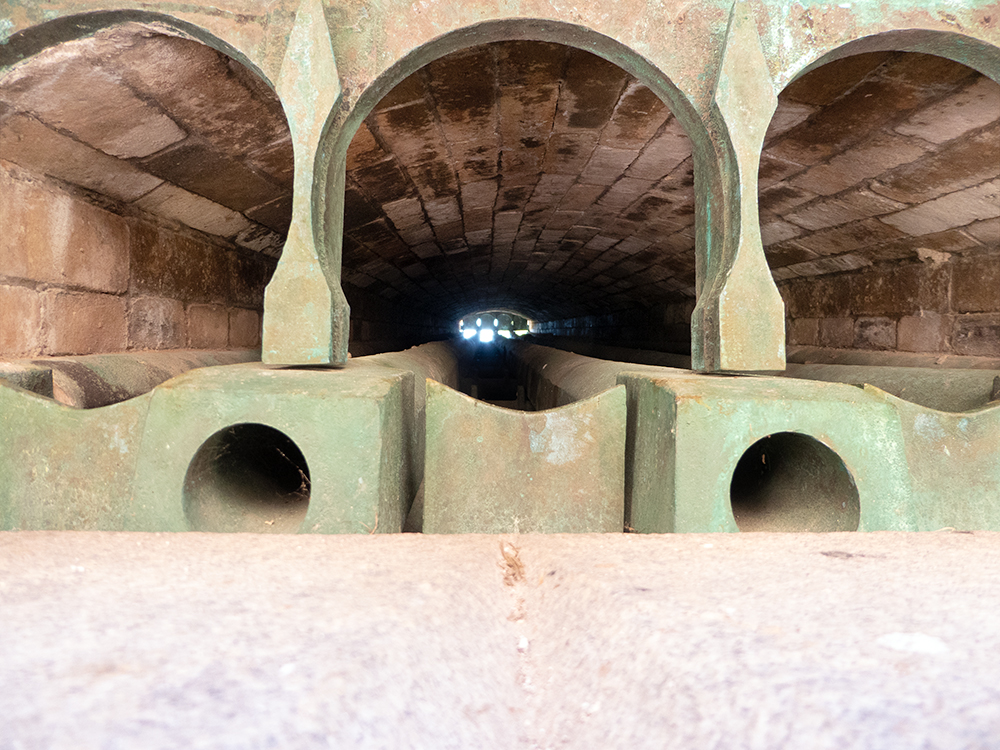 We had a wonderful time at the Dry Tortugas and came back to Key West in early evening, just too late for sunset.
We spent a whole next day wondering around Key West on foot.  There were not a lot of people and so we had a very good time.
We started with the Key West Wildlife Center which offers 24-hour rescue for injured birds.  It sits in a very nice park and we had fun just looking around.
Ibises seem to like the place – we saw several large groups of these birds who are free to come and go as they please – they are not the ones being rescued.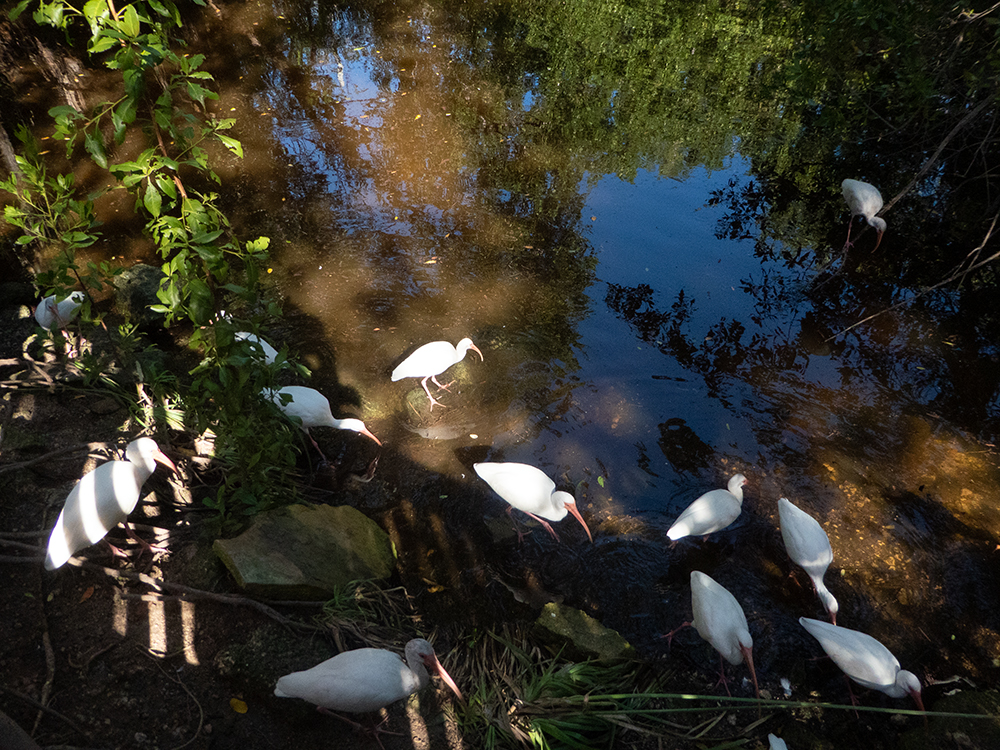 We saw quite a few turtles too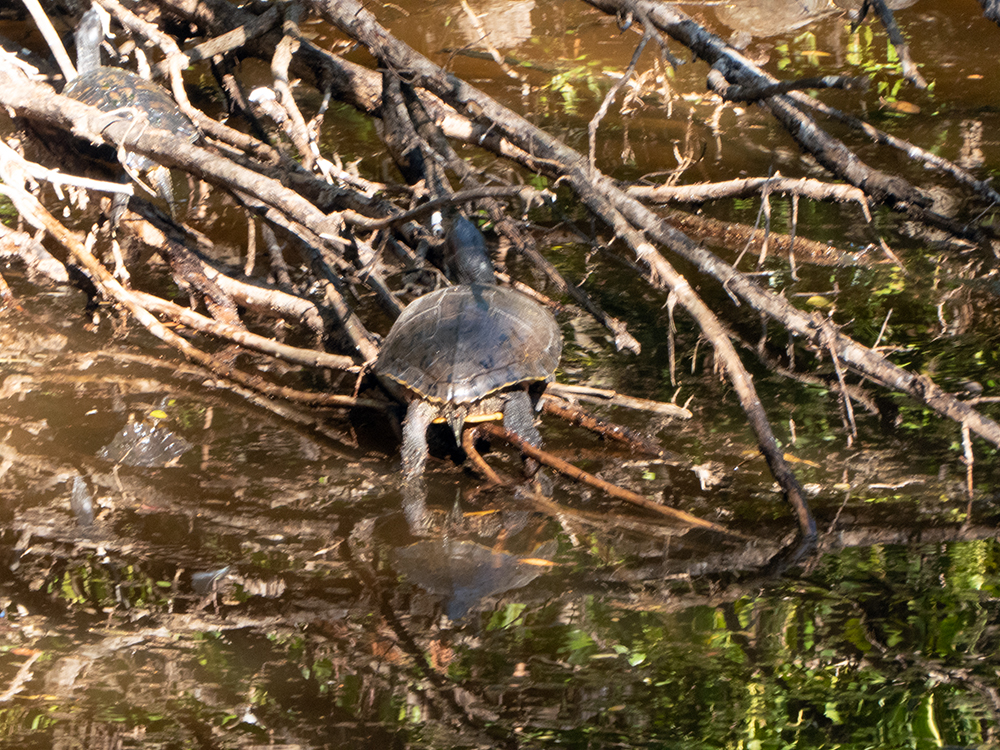 and large iguanas similar to those we had seen in Costa Rica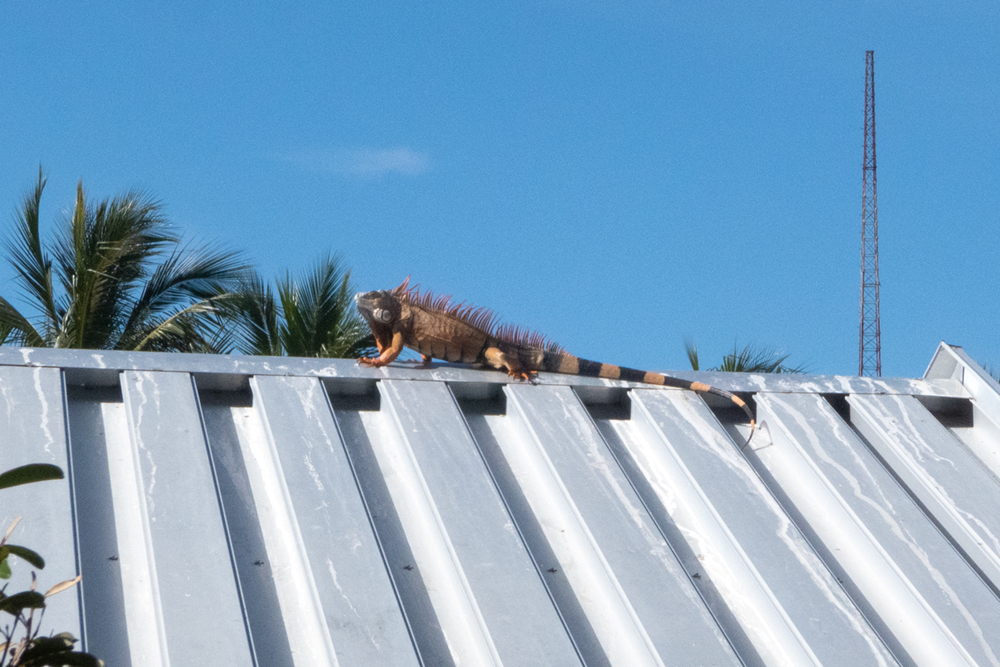 Of course, we had to stop at the touristy places as well.  Here, we could not really avoid the crowds as there was a constant flow of people getting their picture taken in front of the famous landmark (which is not strictly correct if you look at the map).  This is what "Trip Advisor" has to say about this place:
"There are really only two things you need to know about the "Southernmost Point Buoy":
1. It isn't the southernmost point. That's Whitehead Spit, a bit to the west, in the Naval Base. But the Fort Zachary Taylor State Park also gets you further south, as does the White Street Fishing Pier.
2. There's nothing to see there except the buoy. I mean, yes, there's water and more keys (islands), but the whole coast has that.
There's often a line for the photo-op, but if you get there before, say, 9am, no line. But again, not much point either. If you want to impress, turn your cellphone camera geo-tagging on and head to the White Street Fishing Pier.
I fully agree with that assessment and we did not spend a lot of time here.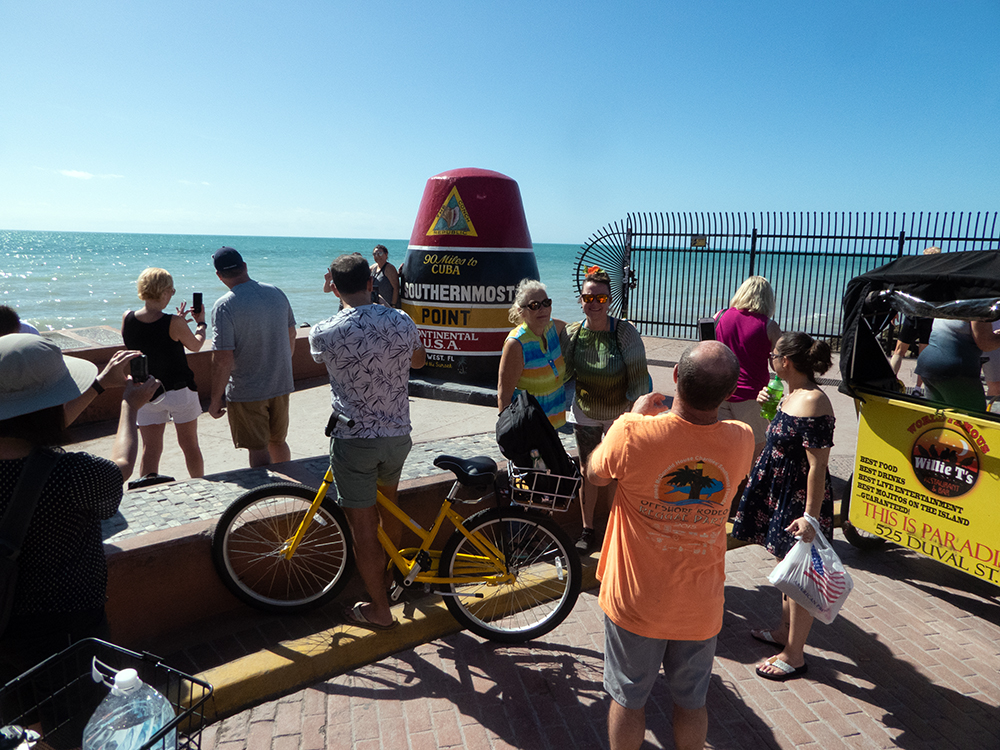 Another famous landmark, the "Mile Zero" of US 1 – if that sign were correct, it should stay "Start" since this is mile 0, but I guess if you come towards the sign, you are indeed getting to the end of the road for you. Again, other than lots of people taking photos of themselves, there is not much to see.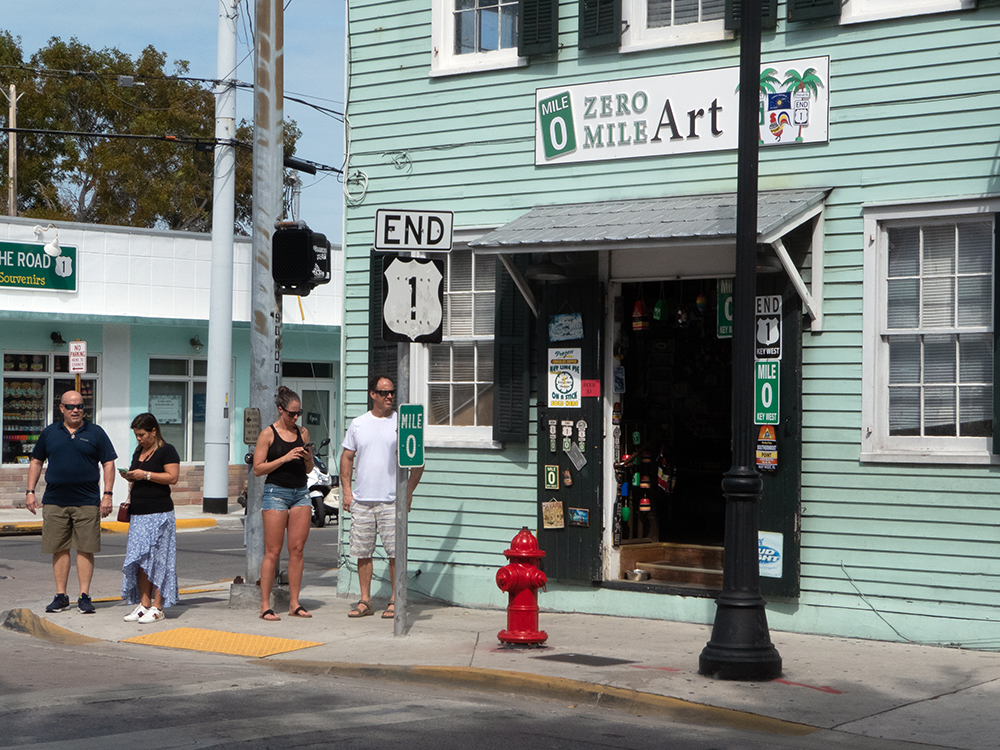 We explored Fort Zachary – much more interesting!  Similar to Fort Jefferson, it was intended to defend the US from potential invasions which never came.  There is still a Naval Base in Key West, but the fort is not part of it.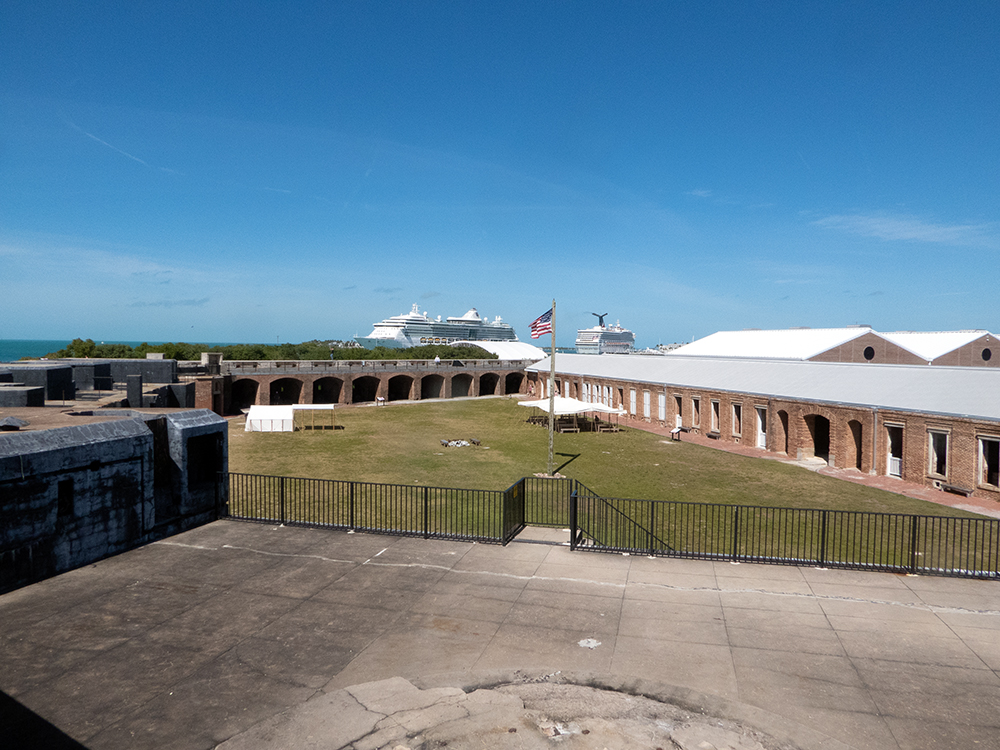 No pictures, so I would expect that most readers will miss this little tit-bit of useful information.  We went to visit the "Little White House" as Harry Truman used to call it.  He came to Florida often during his presidency, especially in winter where he worked from here for several months each year.  The guided tour is well worth it.
Mallory Square is "THE" place to be for sunset from shore.  While it is very sleepy during the day and early afternoon, it really wakes up around 5PM. There are numerous street artists vying for attention and there are many bars offering libations but most people seem to mingle around or just sit and watch life go by, which is exactly what we did.
The pelicans, however, did not seem to care about what was going on around them – they have seen it all before.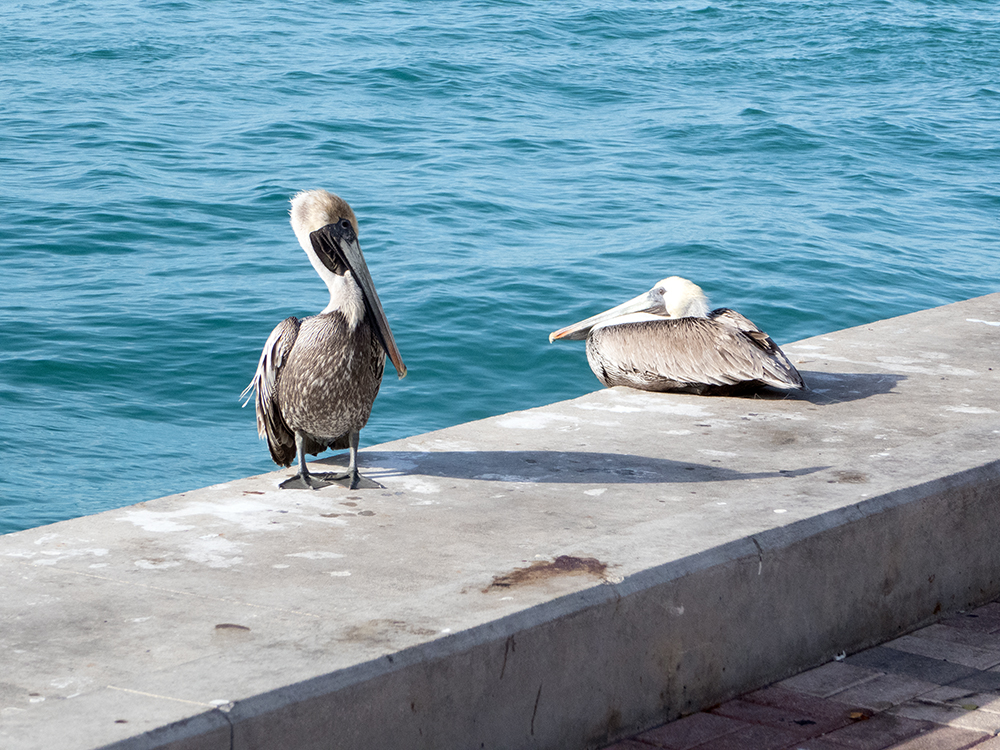 Here is a closer look at the Jolly Rover in all its glory.  Had we not been on America 2.0, we probably would have picked this one for a sunset cruise.  I like the dark sails with the green and white hull.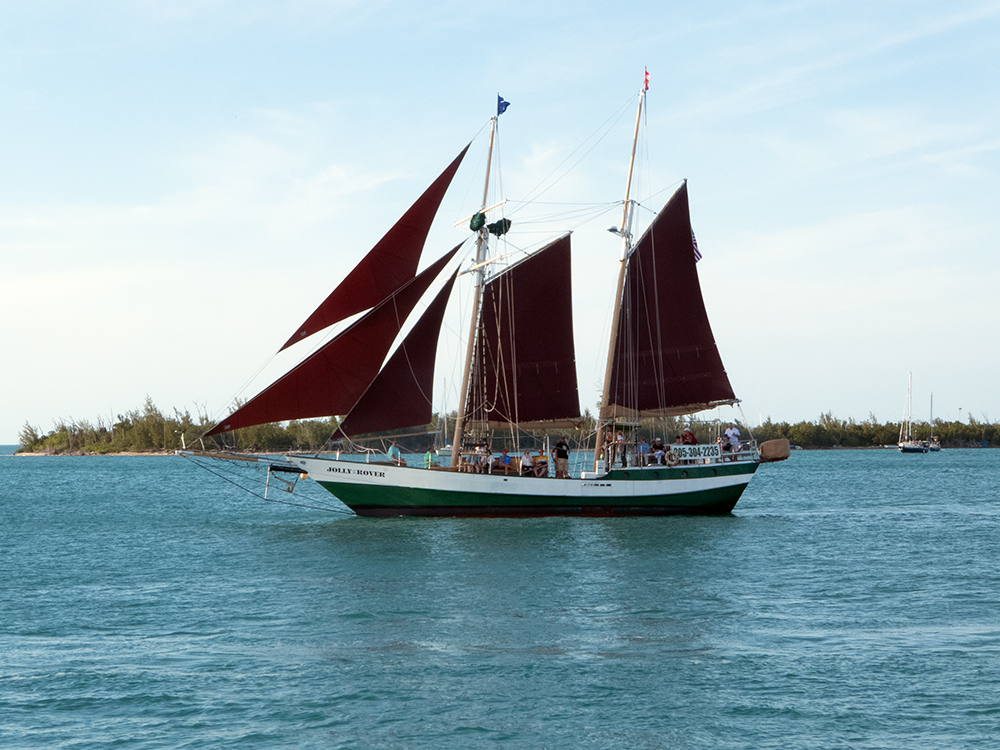 And here is another view of America 2.0 – not sure if you can count the people on board, but it is a lot more than 15.  We made the right choice to go when we did.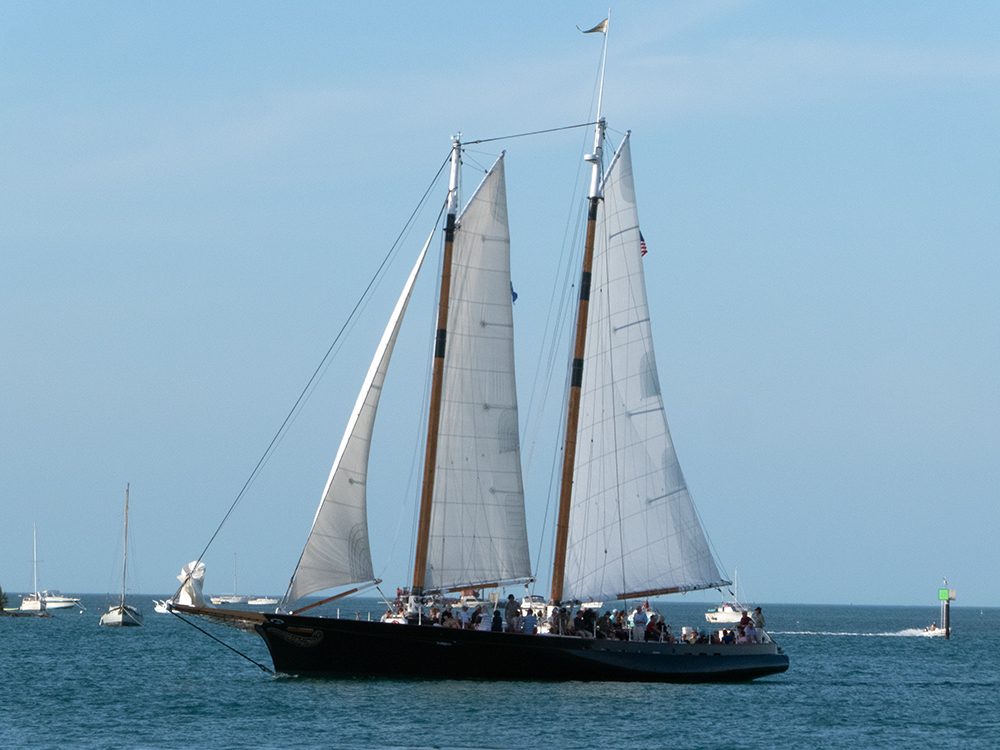 You do not need much to be out on the water for sunset.  A flat surface with a motor and a bar is all it takes (the bar seems to be essential – the motor is optional if you have sails, but that takes more work… and time away from the bar).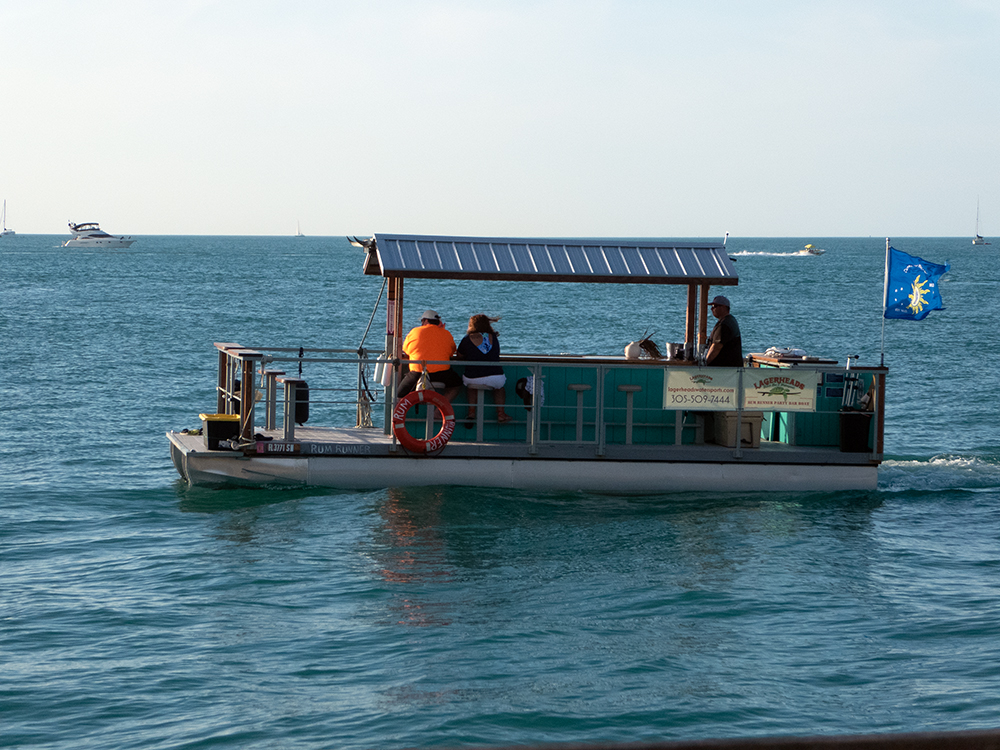 It is still somewhat cloudy – not sure if we will have a decent sunset or not, but we still decided to stay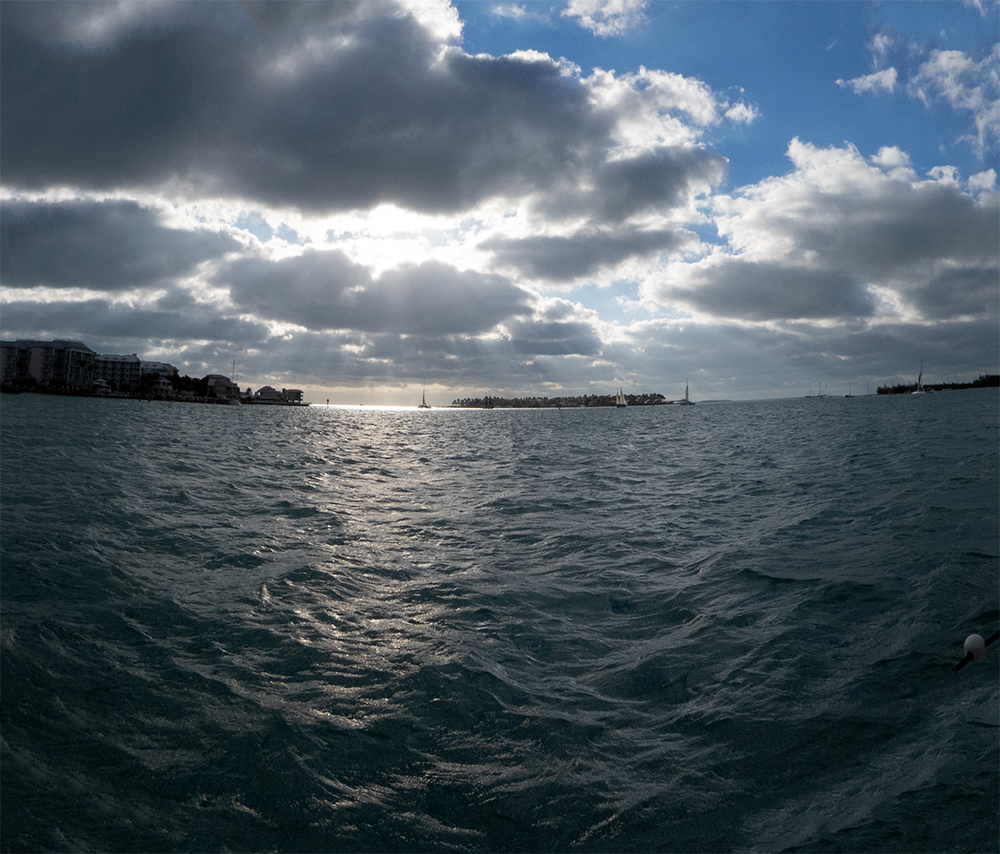 As the sun starts to set, the light changes and everything looks better, even America 2.0, even though it still has way too many people on board.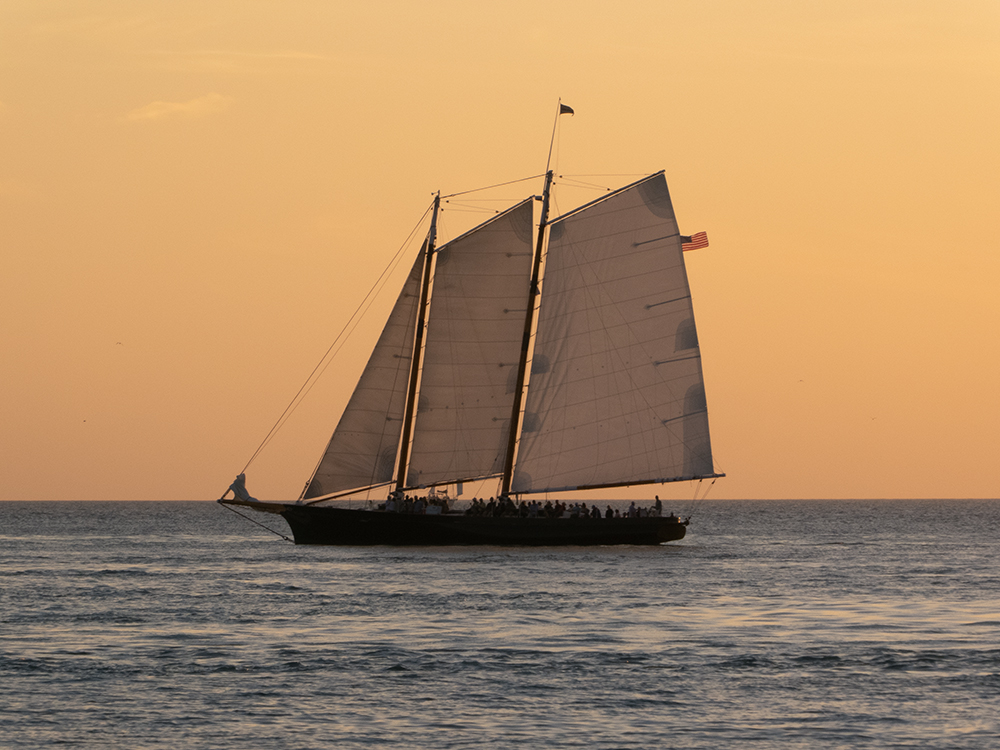 Not the best looking boat around, but it was in the perfect spot to block the sun and give me a backlit view of the see.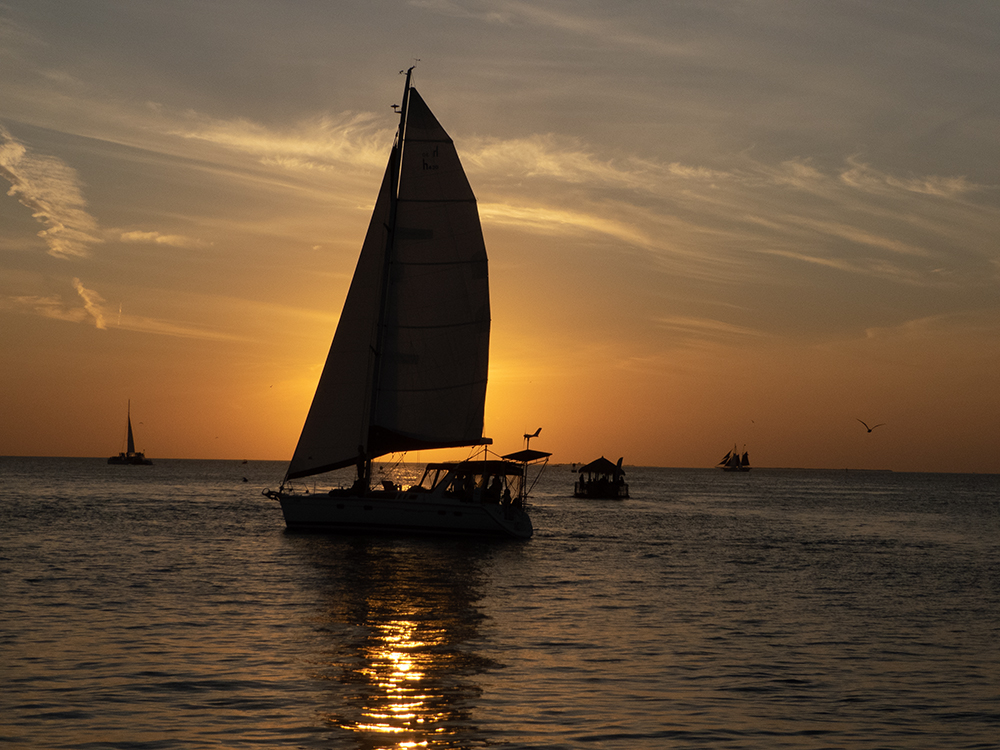 There are many boats out to enjoy the sunset, mostly hired for this purpose.  I like the Tiki Bar – remember what I said earlier – bar and motor is all it takes.  Jolly Rover is in the action too.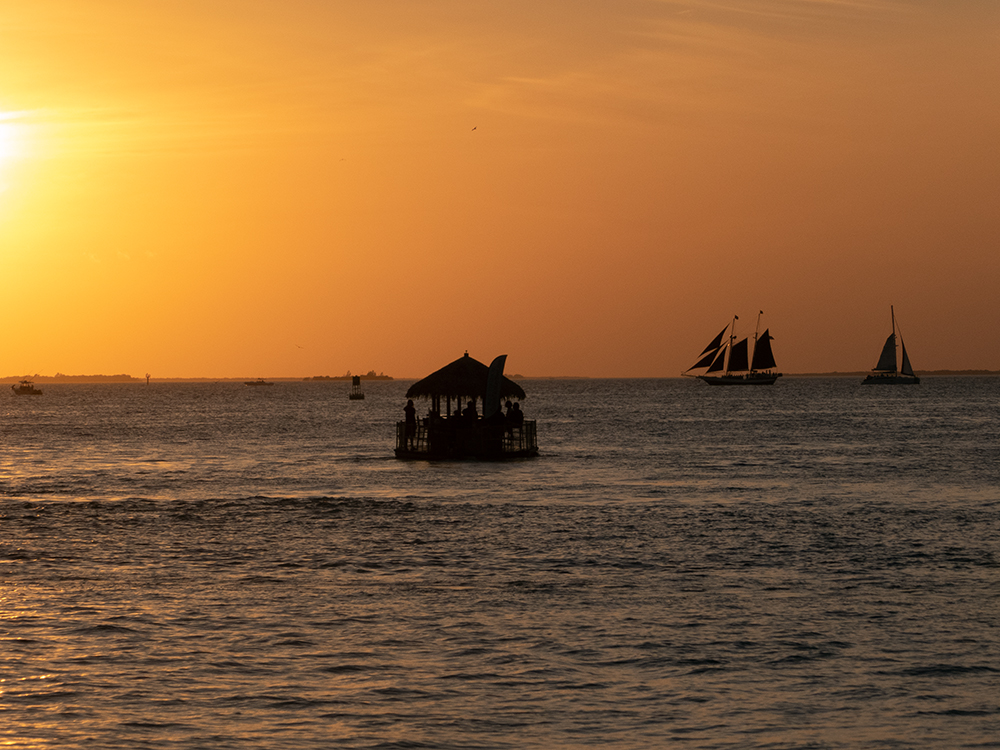 We did end up with a very decent sunset after all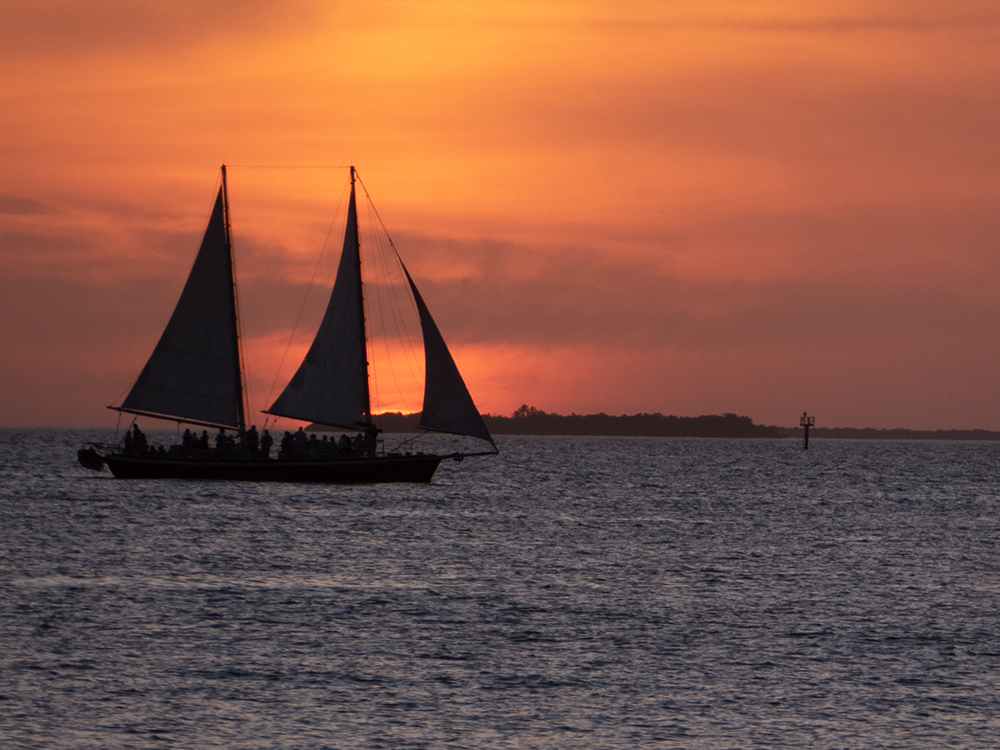 and I think this is the perfect shot to close this episode about the keys.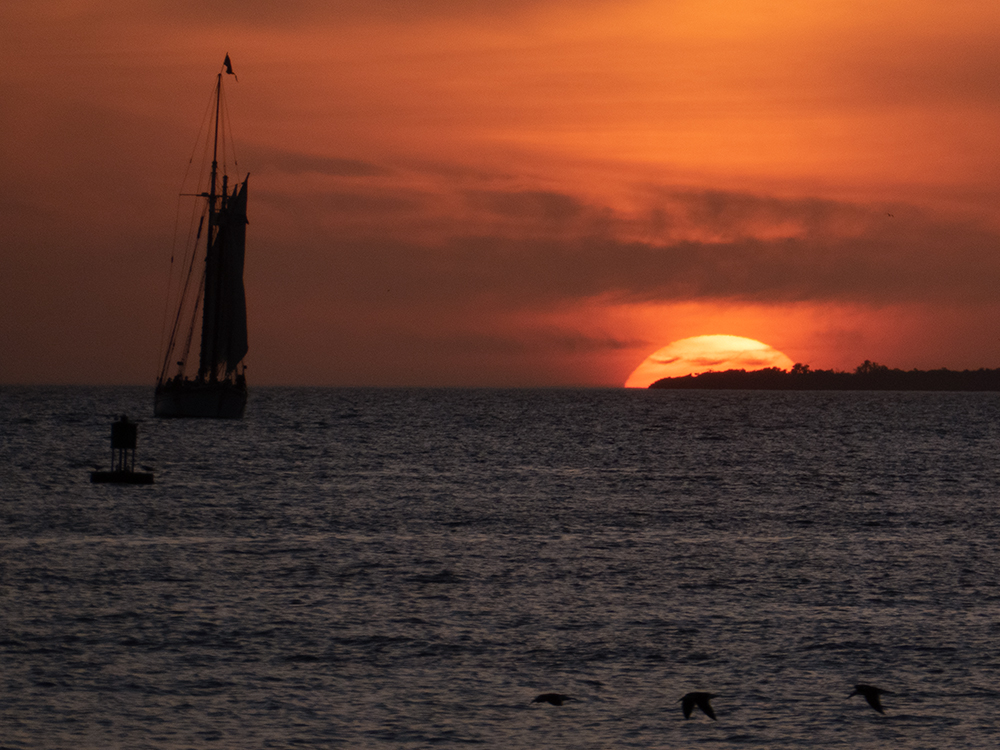 After Key West, we spent a few days on Key Largo in order to explore the Everglades, but that will be the subject of another post.
Background Information
We stayed at the Old Town Manor in Key West – https://oldtownmanor.com/.  It is highly recommended as we had a wonderful stay there.
For the Yacht America 2.0, go to Classic Harbor Lines: https://sail-keywest.com/  They have services in many other cities as well.  We were lucky to be able to walk up and book right away as it happened to be a slow day.
For more on the original Yacht America – visit the Wikipedia page: https://en.wikipedia.org/wiki/America_(yacht)
The Yankee Freedom is the only ferry doing the service to Dry Tortugas: https://www.drytortugas.com/.  It is a full day trip and the price includes the entrance fee for the National Park and lunch on board.  You can do the trip in a 1/2 day if you take the plane, but you get less time to explore the island and the fort.  There are sail plane services to the Dry Tortugas that give you enough time on site to get a quick look.  We like to take our time and thought it was a nice day out.
Here is a link to the history of Fort Jefferson with more details than provided here: https://www.nps.gov/drto/learn/historyculture/fort-jefferson.htm
Link to the site of the Little White House: https://www.trumanlittlewhitehouse.com/