PIERREO.COM Restaurant Review
Restaurant Les Deux Maisons
Val des Seigneurs, 81
1150 Bruxelles
+32 2 771 1447
lesdeuxmaisons@skynet.be
Website: LesDeuxMaisons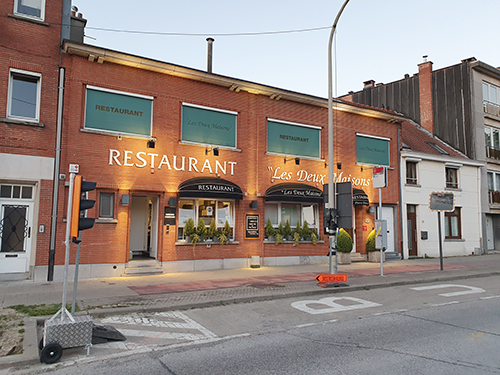 Overall :
This is a very nice restaurant to which we have been going regularly for 6-7 years.  We returned on the first day that the restaurant re-opened after Covid-19 restrictions were lifted.
Pierre Demartin is an excellent host and his staff is very attentive.  This makes for a very enjoyable experience every time we come.
Food:
This is "fine dining".  The Chef only uses the best ingredients which he then prepares in unique combinations of flavors.
We had the "Menu Tradition" with the wine pairing.
The amuse bouche already provided an interesting surprise: a cucumber sorbet on a slice of mozzarella cheese.  It was very tasty.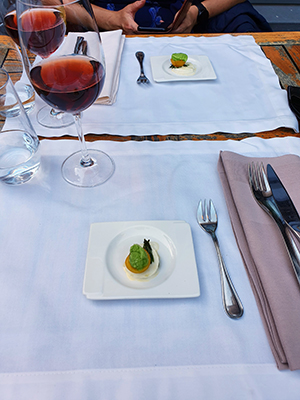 For appetizers we had the "Millefeuilles de raie et crevetes grises" (Millefeuilles of sting ray and grey shrimp – on the left) and the "Velouté de petits pois à la menthe et féta avec caille fumée" (cold pea soup with mint, feta cheese and smoked quail – on the right).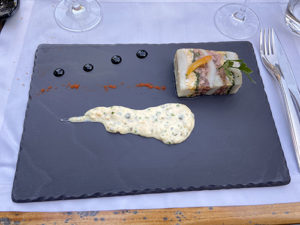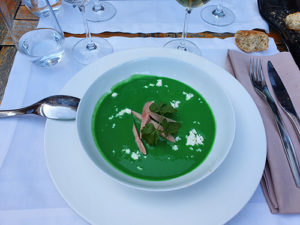 AS for the main, we had the "Dorade royale au poivron rouge et au condiment niçois, roquette, oignons frits et olives noires." (Sea bream with red pepper and Nice condiment, arugula, fried onions and black olives – on the left) and the "Filet d'agneau, ail et romarin, tian provençal, blinis (Lamb fillet, garlic and rosemary, Provencal tian, blinis – on the right).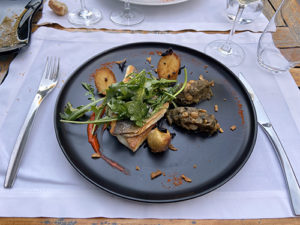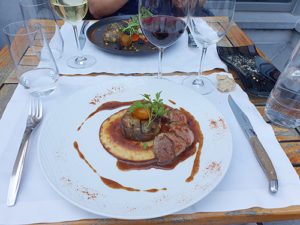 To top it all up, very nice desserts: Poire rôtie à la vanille, tuile au romarin, beurre salé glace caramel and Tarte fine aux pommes, glace vanille. Both were delicious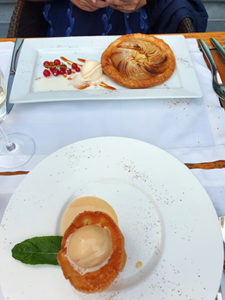 We had wine from Portugal and the Pays d'Oc that went very well with each dish.  A real feast
Atmosphere :
The restaurant itself is well appointed and what we appreciate even more now, the tables are spaced out.  In this occasion, we ate on the outside terrace (in the back of the restaurant) and enjoyed the beautiful evening.  The chef limits the number of tables that he serves so that he can concentrate on the preparation of each dish.
Comments :
There is a very nice terrace outside with just 7-8 tables – same inside.
We always enjoy the very high quality of the food prepared with attention and creativity by the chef.
Details:
Reservations: It is essential to make reservations, especially on week-ends
Credit Cards: Cash, Visa, Mastercard, Debit Card
Parking: There is usually ample street parking not far from the restaurant which is free after 18h00