After Laos (I will cover that trip later), I spent 10 days in Singapore.  I realized as I was there that this is the first time that I am visiting Singapore – all my other stays were either on business, or because I was living there.  For the first time, I was a tourist, and I acted like one…
On the Saturday, I was lucky to be able to attend the EM Dragon Boat Carnival, an annual affair that has been growing each event.  There were over 80 teams entered this year.
From the start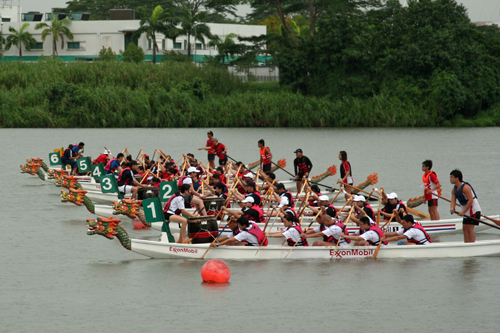 To the finish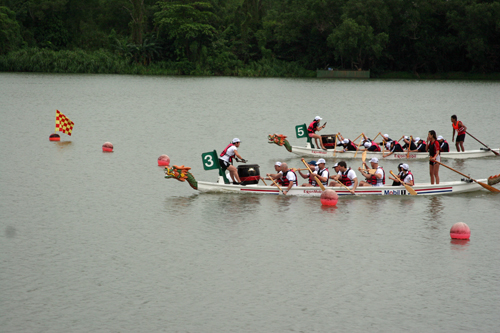 All teams worked really hard to do the best they could.
For me, this was an opportunity to see a lot of my friends and I spent most of the time walking around from one team to another reminiscing…  The weather was not very good that day.  As a matter of fact, it rained most of the time.  I decided to leave after the inter-site race, which was fortunately scheduled early this year.  Chemical won again, proving that last year was no fluke!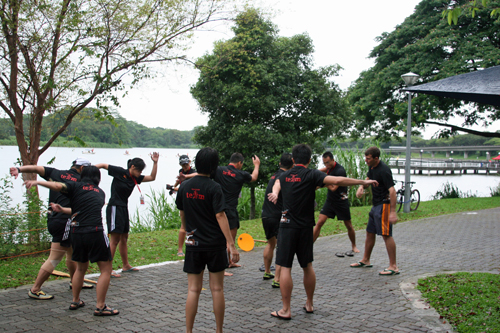 On the Sunday, things were more serious for me.  The main reason for this whole trip was the Aviva ½ Ironman to be held once again on the East Coast.  For Richard and I, this would be our fourth participation – Dave had done the last two with us and therefore he will be doing his third.  I left the hotel very early (around 5 AM) as I was awake anyway. 
The race did not start until 7:10 for the elite athletes, and 7:40 for my wave – all teams were the last to start.  The weather and water conditions were almost perfect for the swim.  There was no current and the waves were not very high.  I completed the first of two laps in about 20 minutes before, for me, the toughest part of the race, the 100 m or so that I have to run on the beach before the second lap.  June was there to take pictures – I do not often have pictures of myself during a swimming event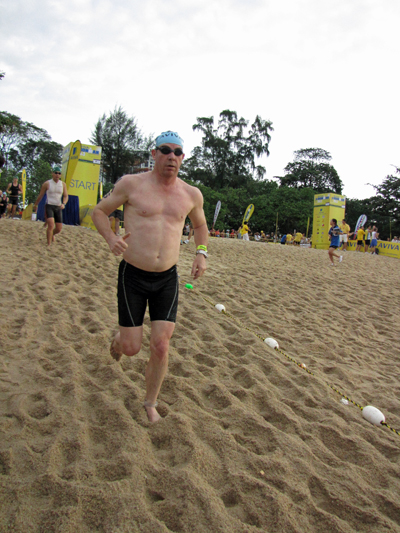 At the start of the second lap, there are still a lot of people around me – this is the first time that I remember that I was totally surrounded by other swimmers during the full distance of the swim.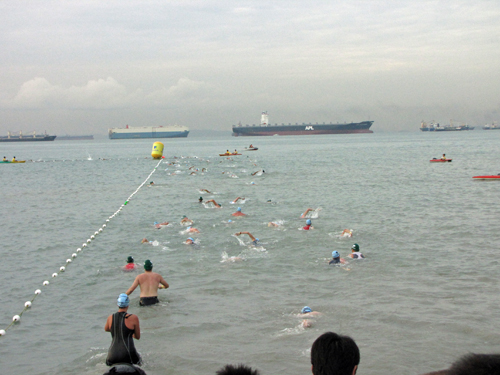 The people with blue caps left at the same time as I did but those with green caps left 10 minutes earlier. June also managed to capture my 'perfect' swimming style – what an action shot!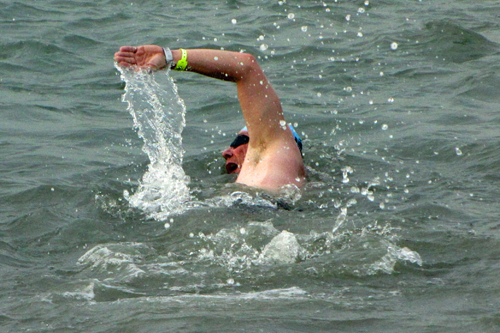 I completed the swim in a little over 42 minutes, improving on my time from last year so I was happy.  I was also happy that my ordeal was over and I could pass the baton to Richard for the cycling leg.  He had three laps to do and we knew from previous years that he took about 55 minutes per lap.  Here are the supporters, waiting!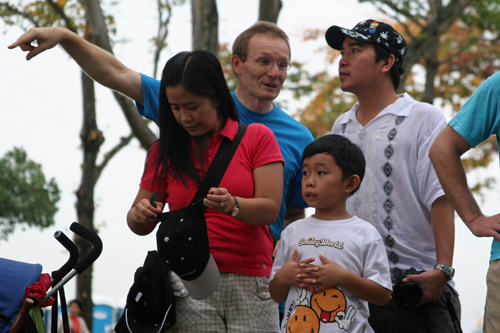 And the "Star" arrived …
Fortunately, he did not pay attention to the signs along the course telling you to slow down!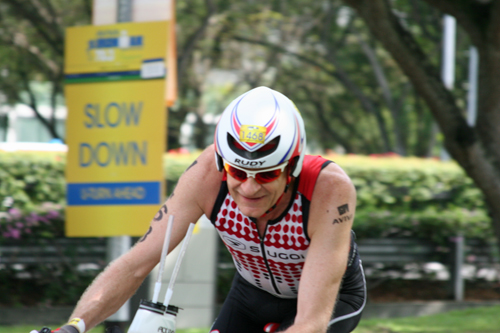 After less than three hours, Richard finished his cycle leg, and it was time for Dave to start the ½ marathon.  By this time, the temperature has increased and it is hard work.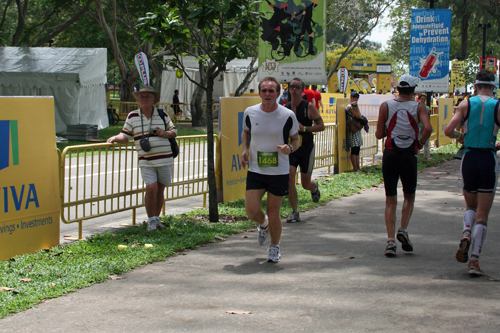 Paul is doing the whole event on his own.  He was swimming just ahead of me, and I somehow missed him during the cycle leg.  But he was running just behind Dave and was easier to spot.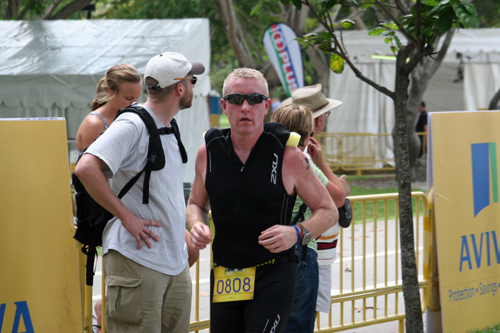 And to pass the time, I take pictures of the pretty women who just happen to be there …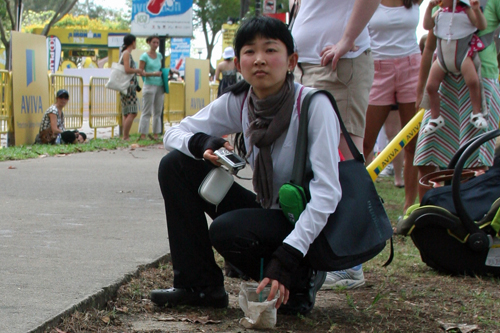 Overall, we did better than last year (we did a better time) and so it was a good day for all!
 On the Tuesday, I decided to walk down the length of Orchard Road, just to see how much it had changed in the 9 months I had been away.  Ion, the new shopping center at the corner with Patterson is now open and so is the new shopping center on top of Sommerset – it looks huge, but I did not go inside.  Fortunately, some things do not change.  Just behind the busy bustle of Orchard road is a neighborhood which I always like to go through, with old shop houses that have been tastefully restored.  It is probably something that most tourists miss, and I am sure most Singaporeans ignore…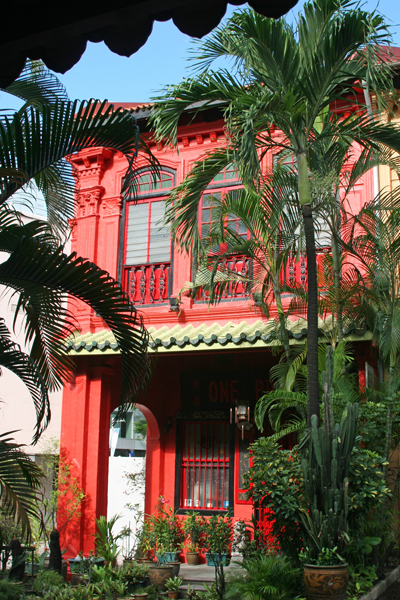 At the end of Orchard is one of my favourite spots in Singapore, however, difficult to photograph.  CHIJMES is an old convent which is now mostly restaurants.  The former church can be used for private parties.  It is another small haven of peace in the middle of the busy city.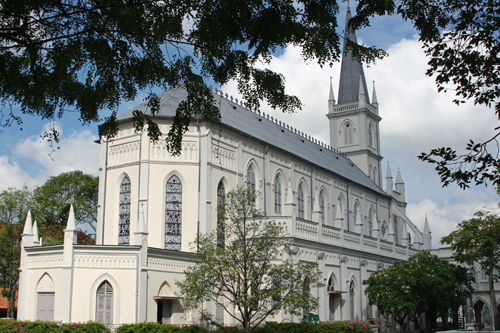 The view of the Business District has not changed much in the last 9 months, but there has been a lot of changes in the 14 years that I have been coming to Singapore.  Most of the changes are towards the Marina area where several new buildings are still under construction.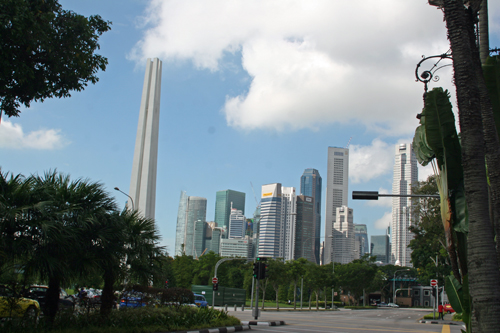 The biggest change of all, however, is in the Marina area where the new Casino Resort is being built.  When I left, there were three stand-alone concrete towers with lot's of cranes all around them.  Today, the roof-top park has been installed and the "Hand-Shaped" building at the front is starting to take shape.  The new pedestrian bridge going to the Marina Stadium is also nearly completed.  Quite a sight, but I cannot wait to see it when it is finished.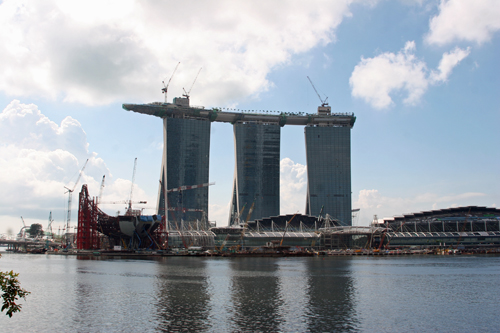 Here is another view, from a different angle, that also gives a better impression of the size of the buildings, and especially the size of the park that will be at the very top.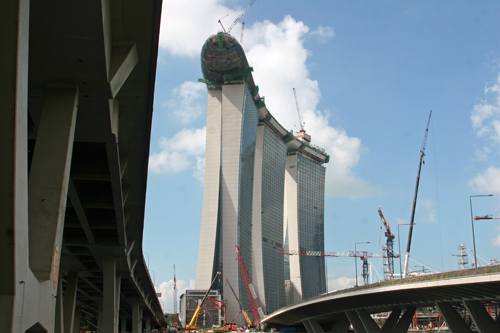 This is the first time that I am able to get into the F1 Pits area, without a huge crowd of people.  This early in the morning, it look peaceful and almost abandonned, but a few months from now, it will be hectic and noisy when the F1 Grand Prix comes back again for the third time.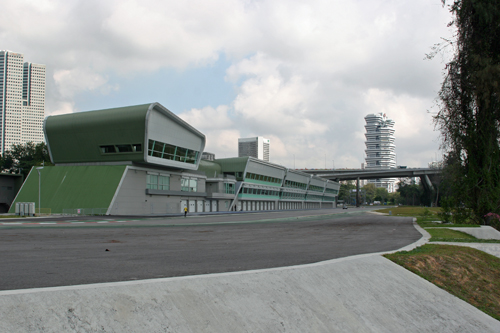 The Singapore Flyer still dominates the Marina District.  I did not go on it as I did not have the right lens for my camera and the weather was not 'good enough'.  The picture looks distorted as this picture is actually three shots taken with a wide angle zoom stiched together using Photoshop.  I repeat myself, I did not have the right lens so I had to make do with what I had.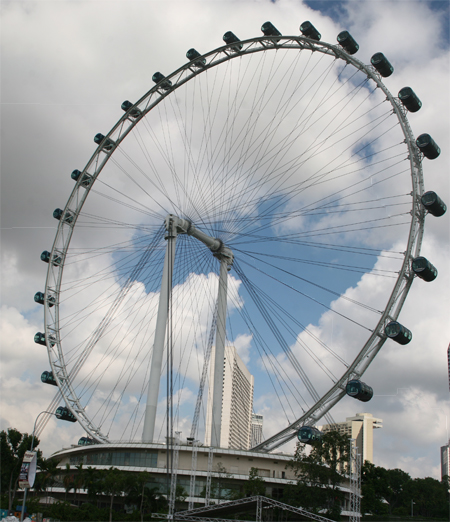 That evening, I went to eat dinner at Boat Quay, one of my (many) favourite spots in Singapore.  And would you believe that I did not even take my camera! But fortunately, I still had my phone.  I knew that occasionally, a camera in a phone could be useful and it is not the first time that I am saved by this (see earlier post about casinos and typhoons in Hong Kong and Macao!).  The sun was coming down and therefore the light was quite nice…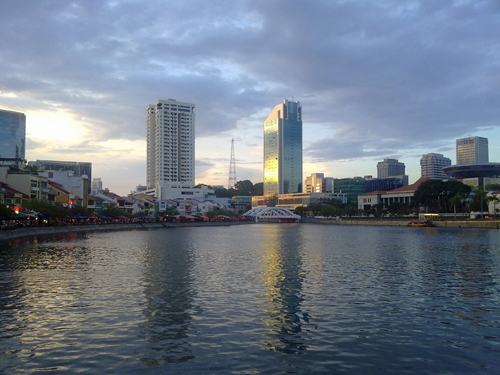 I have always liked this statue, right at the beginning of Boat Quay – for some reason, I never took a picture of it before.  I guess part of it is, as long as I was living in Singapore, there did not seem to be any rush in doing so.  At least, now I have something…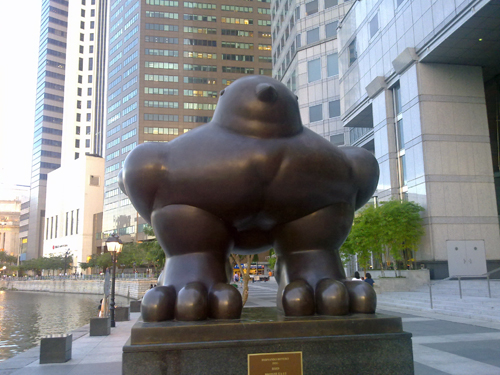 I did not stop here … I went to the Zoo!  Do not worry, I am not about to bore you with hundreds of pictures of animals in cages.  The Singapore Zoo is quite nice, with most animals kept in enclosures that do not look like cages.  There are also several possible 'animal encounters', the most famous being the Orangutan for breakfast.  Unfortunately, Ah Meng passed away a few years ago, but there are others who have now taken his place.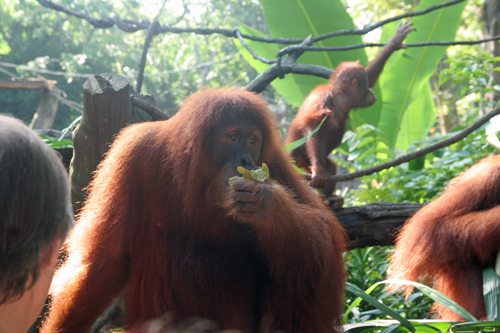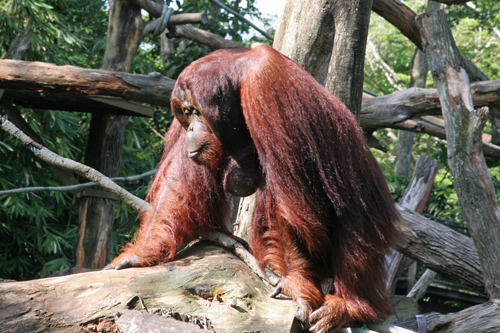 Have you ever seen an albino peacock?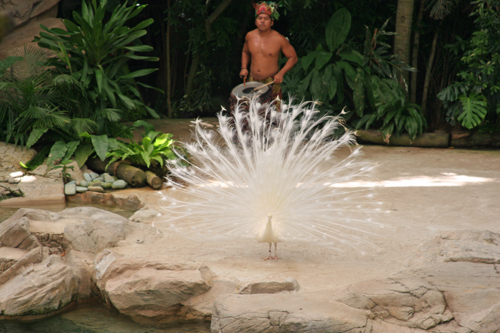 Batman coming? Where is Robin?
Just fruit bats in a large enclosure – they seemed to be surprisingly active for this time of day.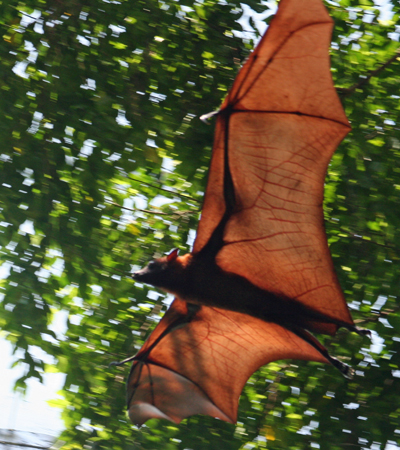 One last picture even though I do not remember the name of this animal… I  just like his face.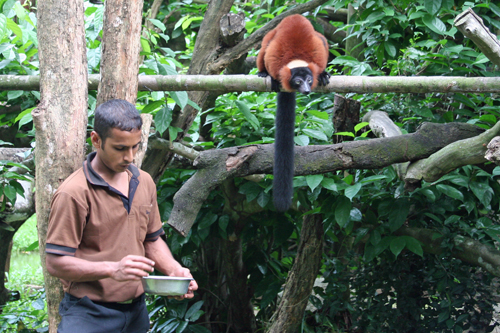 Wednesday night was the party I had organised and a lot of friends did show up even though I had to change the venue at the last moment.  I took my camera, but I did not take any pictures – I was too busy enjoying myself and catching up with every one.
Later in the week, I went to the botanical garden.  I had not been there in many years and I wanted to see, again, how things had changed.  It was not very hot, but very humid as I made my way towards the park in the early morning.  My camera, and its lenses did not have enough time to adjust to the new conditions and there was a lot of condensation, something I had not noticed as I was taking the pictures.  But you will have to admit that the effect is quite nice!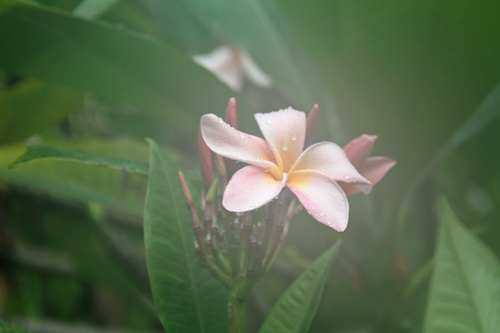 But soon I was able to warm up my camera and take normal pictures.  I wander if the live swan understands that he is not the reason why this is called Swan Lake?  I did not remember the massive statue here.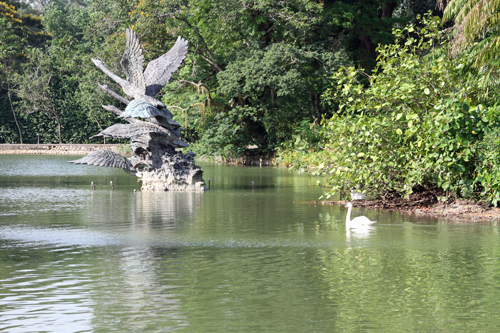 I also stopped at the National Orchid Garden – always a treat.
There are always interesting happenings in the Botanical Garden.  The first thing I noticed here was the cameraman.  Only after I looked at what he was doing did I notice the couple dancing.  I was not able to figure out what was actually happening, but I still took a few pictures.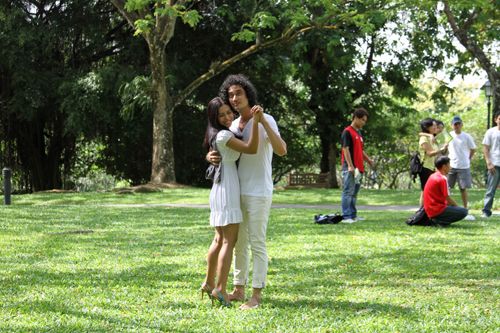 On a walk through Chinatown, I remembered this picture which I had taken in 2008 for a photo class (see March 2008 archives for the full story on that).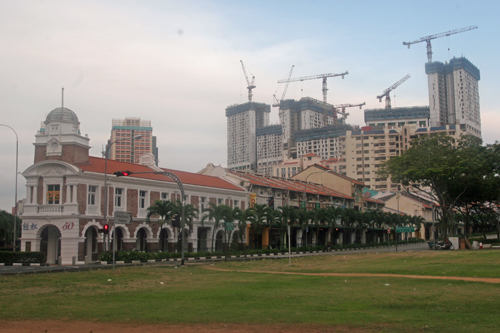 Now, the buildings in the background have been completed.  I remember wondering what they would look like as I had seen the model and they looked spectacular.  Indeed, the result is not bad.  I wonder what kind of garden they have at the very top?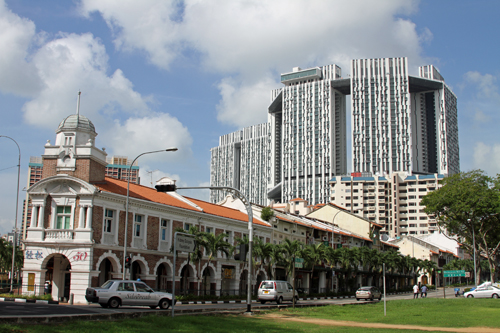 I really enjoyed myself as a tourist in Singapore! I think I'll have to do that again.