We went to Baton Rouge in January of 2019 for a short visit, mainly to go see friends we had not seen in several years.
It was great to see a lot of them and spend time remembering the times we had spent together while we were living in Baton Rouge.  Bee and I did not live there at the same time, but we did make some of the same friends and her friends have since become mine, and my friends have become hers.
On the last day there, we received an offer that was too good to pass up.
But for that, I have to first go back to a few years ago, quite a few years ago.
In 2005, Jon introduced me to the Krewe of Yazoo.  I had heard of them, but never actually thought I would have a chance to join.  All I knew was that this is a group of people who make fancy costumes and then parade around Baton Rouge pushing lawnmowers.  In 2005, I helped to build the costumes and I paraded around Baton Rouge, but without a lawnmower.  Here is my costume that day: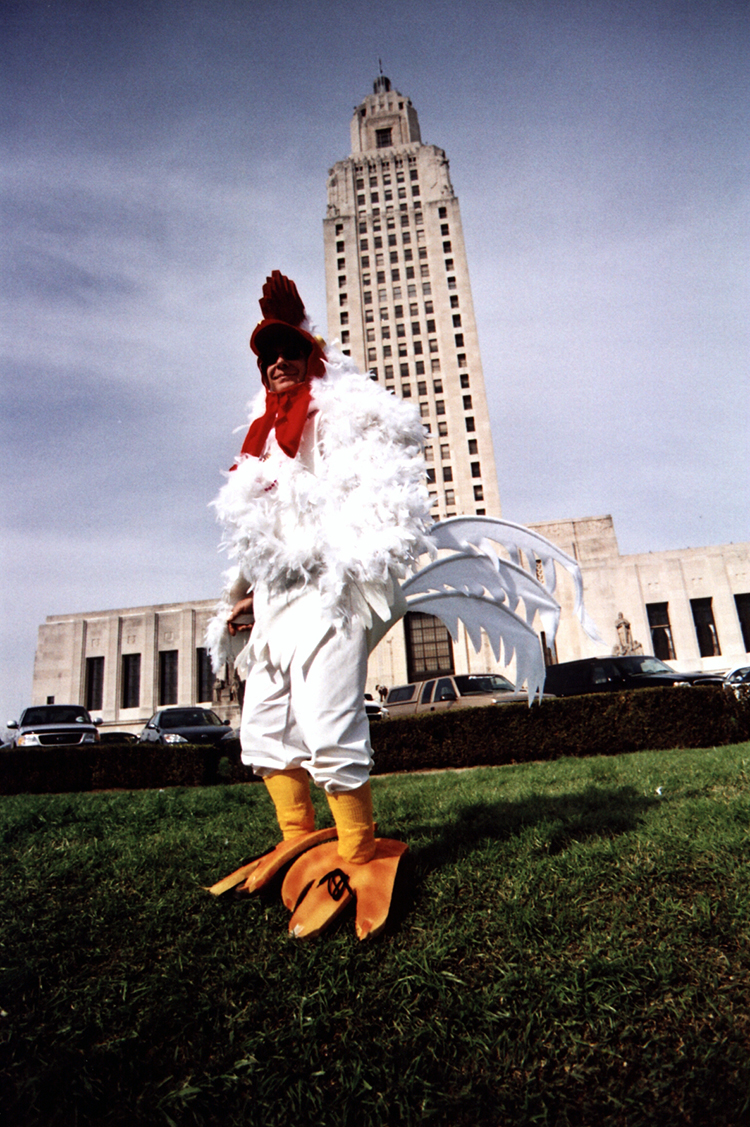 I had used that as my Christmas Card in 2005!  Actually, we had built 42 chicken costumes in all.  Here is a family portrait: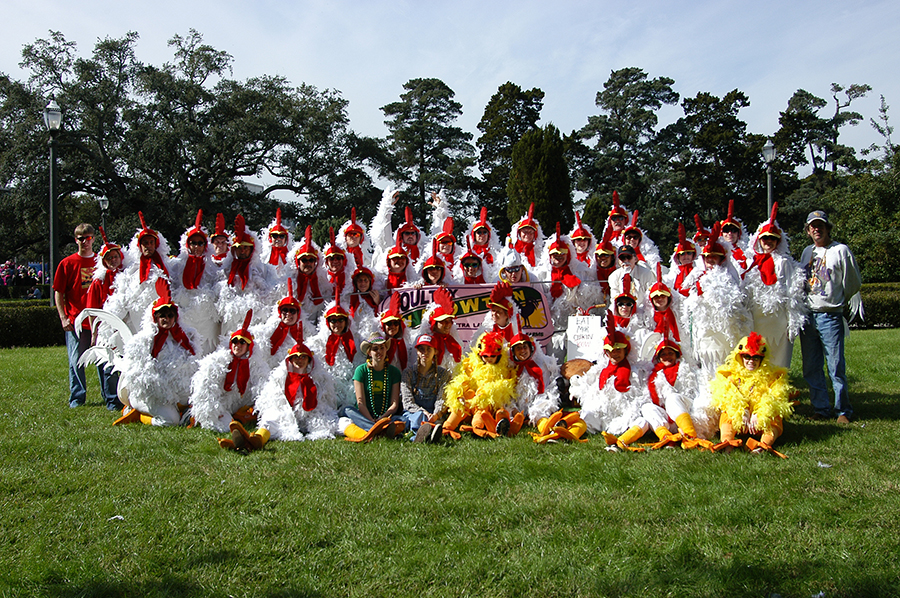 Since I did not have to push a lawnmower, I had a lot of freedom during the parade to move around. I was able to meet the crowd and get the full atmosphere of the day.  I took this 'action' shot of the Krewe dancing with the lawnmower, and the banner indicating our theme for that year.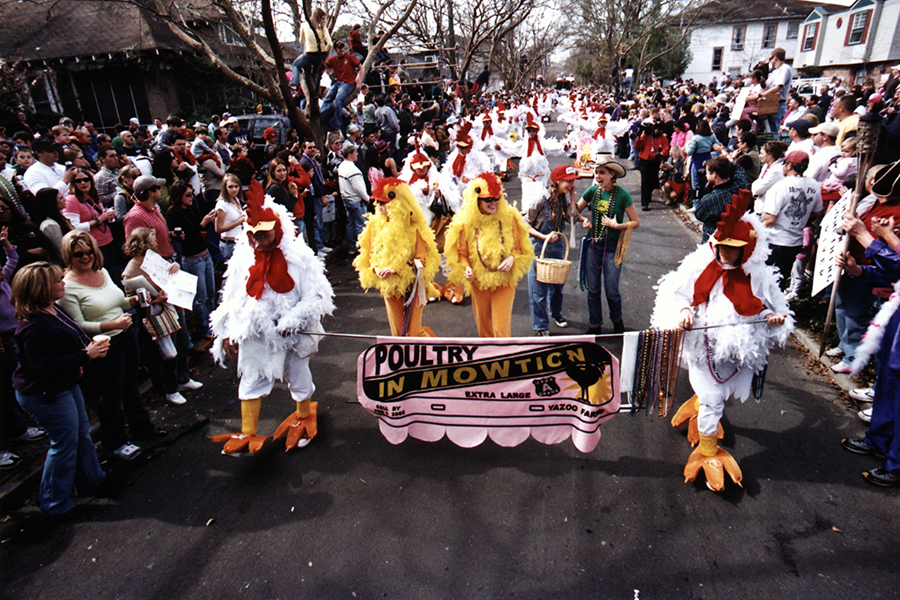 You can see that this is a popular parade, with a lot of people watching.
My favorite picture, however, is this one of Lee (the costume designer) and me during the parade.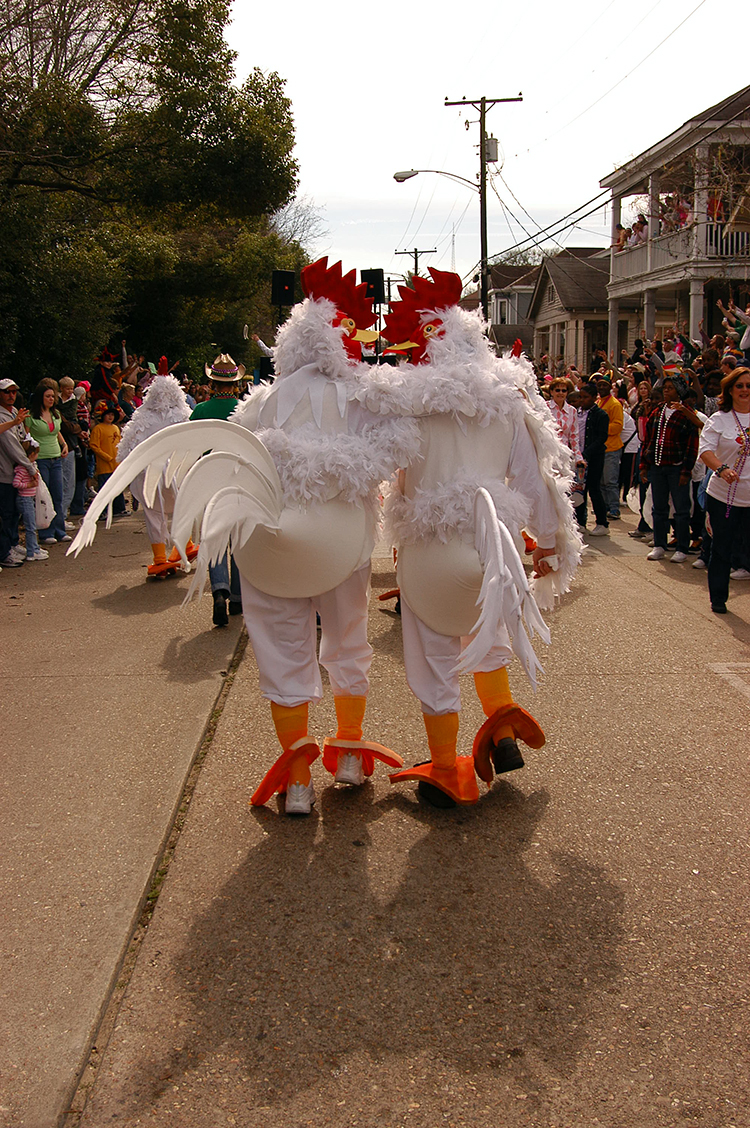 I stayed friends with David and Lee, who run the Krewe (they ave been doing this for over 30 years).  Lee creates amazing costumes and David chooses the music and creates the choreography.
For the complete retrospective on that day in 2005, you can look at this page of my Blog from January 2010: http://pierreo.com/blog/?p=1133
Anyway, to make a long story not too much longer, David and Lee asked us if we wanted to parade with them again this year.  It took us 1 second of surprise to say YES.
We were not really able to help ahead of the parade since all the work was being done in Baton Rouge and we live in Houston.  We did volunteer to help as much as we could on the Friday of the parade. We arrived early and the first priority was building the float.  Here it is essentially complete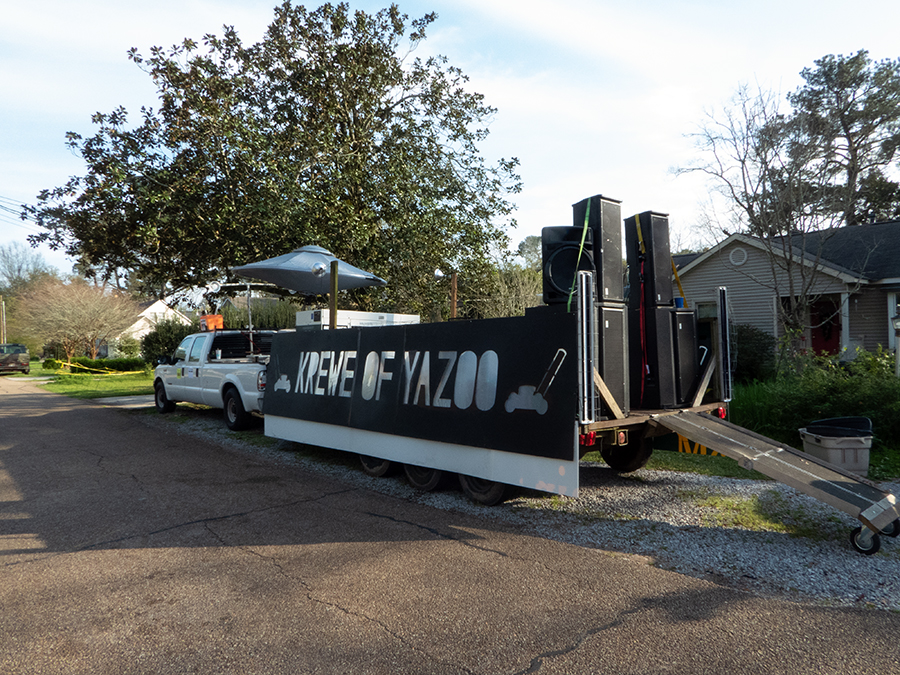 The signs are brand new and were only created the night before – the paint was still wet in places.  The funny shape on the truck will become clearer in a moment.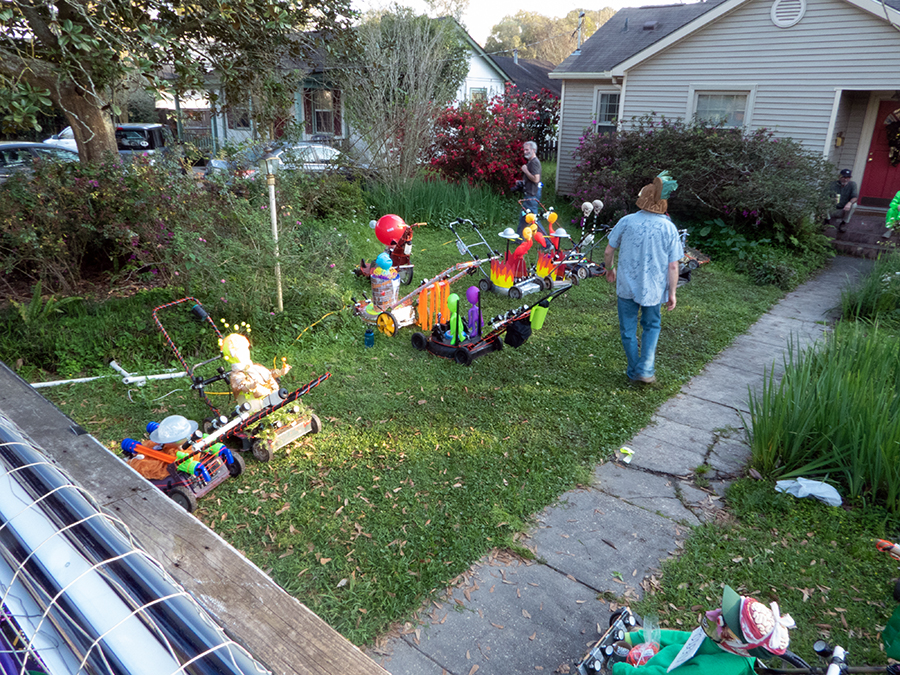 As people arrived, so did the mowers.  Decorated as usual, and not so usual as each time they have to match the theme of the parade.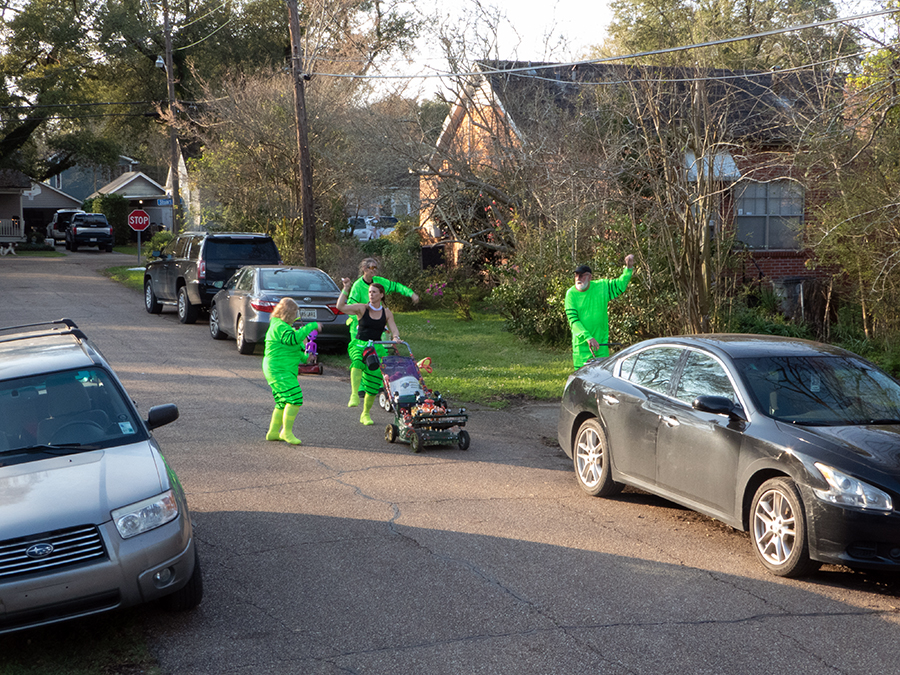 With some costume on, people start to go over the steps as the float plays the theme music.  The neighbors must be used to it as this happens every year at this time.  Some even let us park on their property.
Full costumes are finally on!  But the full effect is not there yet.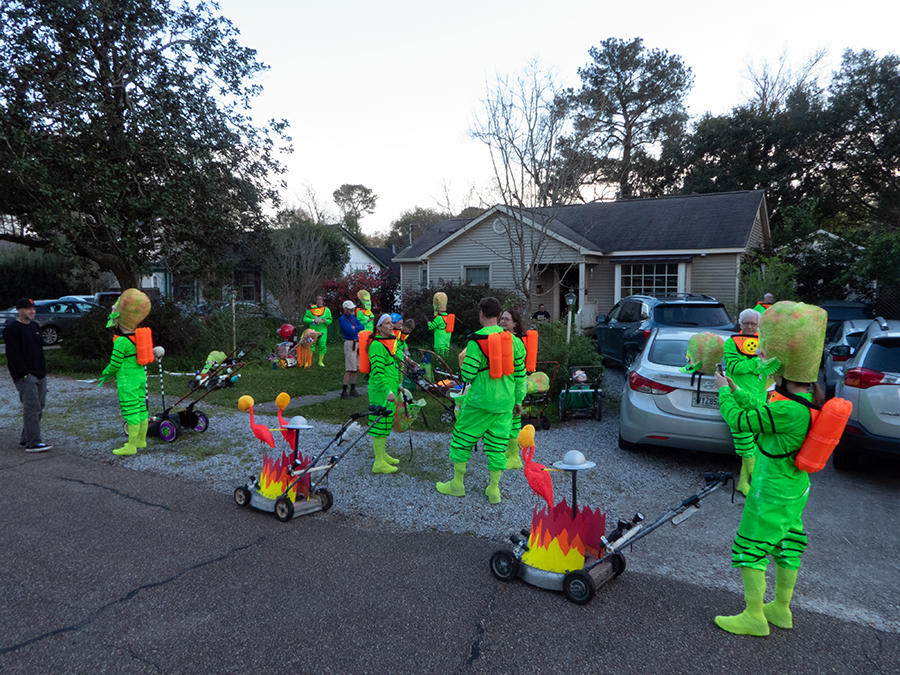 More aliens kept coming and the tension kept building.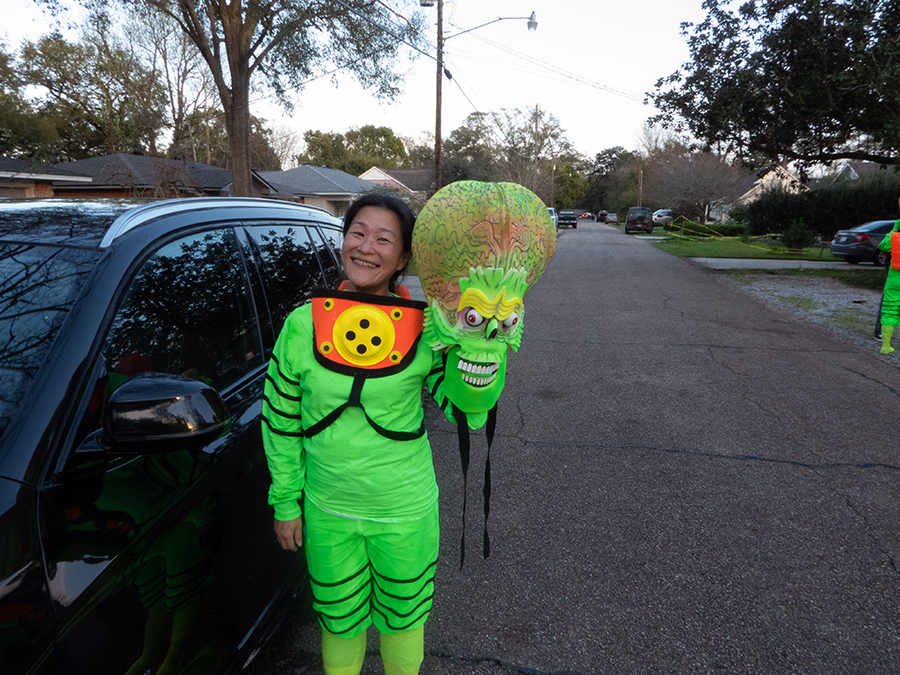 Bee with her alien head.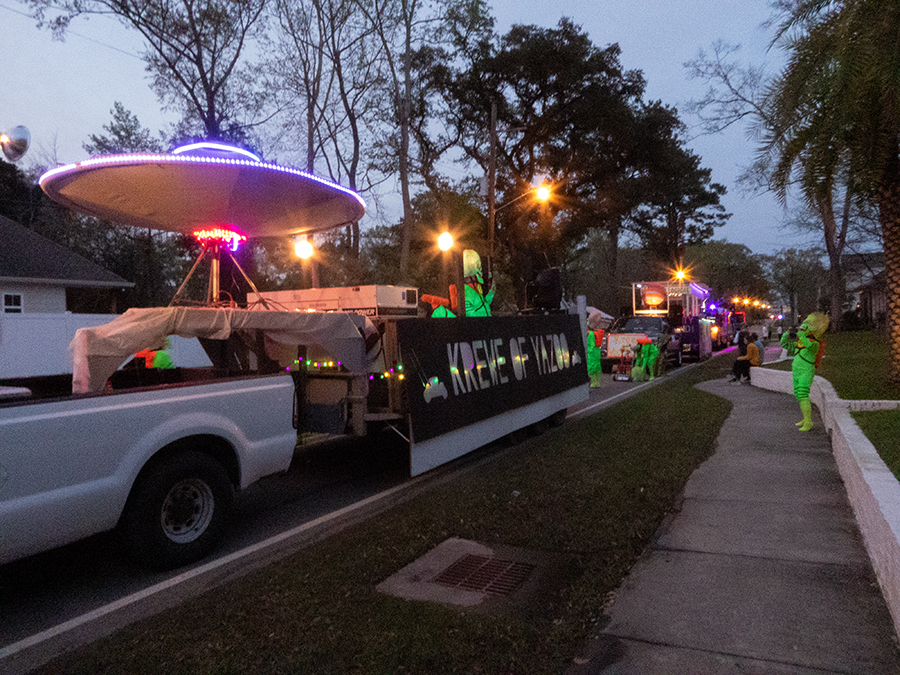 Oh, maybe I forgot to tell you that this is a night parade.  Behind the new signs we had to install little Christmas lights to make sure that everyone can tell we are the Krewe of Yazoo – it does  not seem to help, as to everybody in the public we are the Lawnmower Gang!  Now you can also tell the flying saucer (aka two umbrellas) on the truck with its own flashing lights.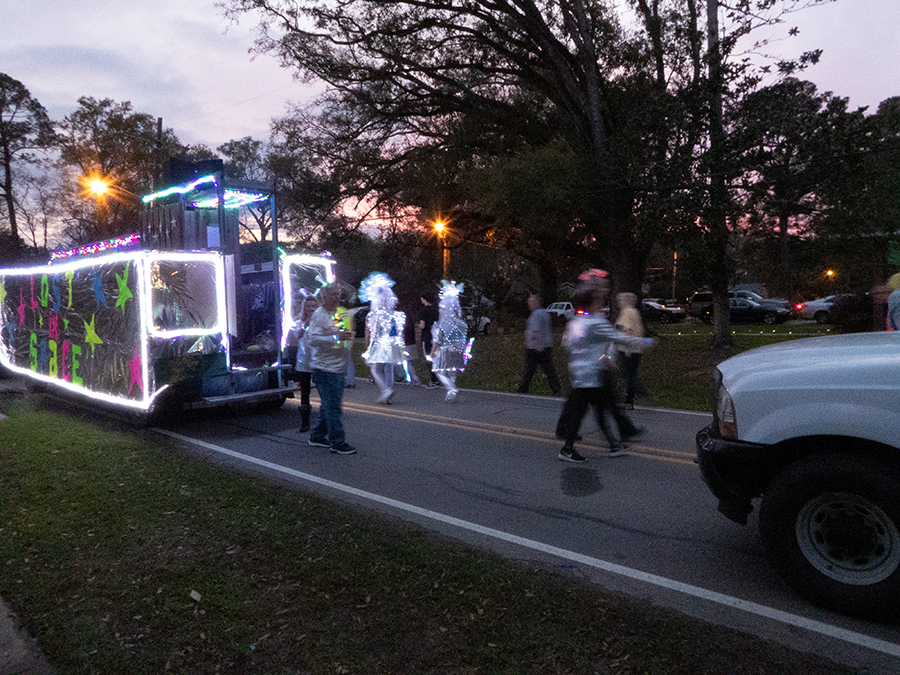 Everybody is wearing lights.  This is when I discovered that my little camera is not that good at night, but these are still good memories.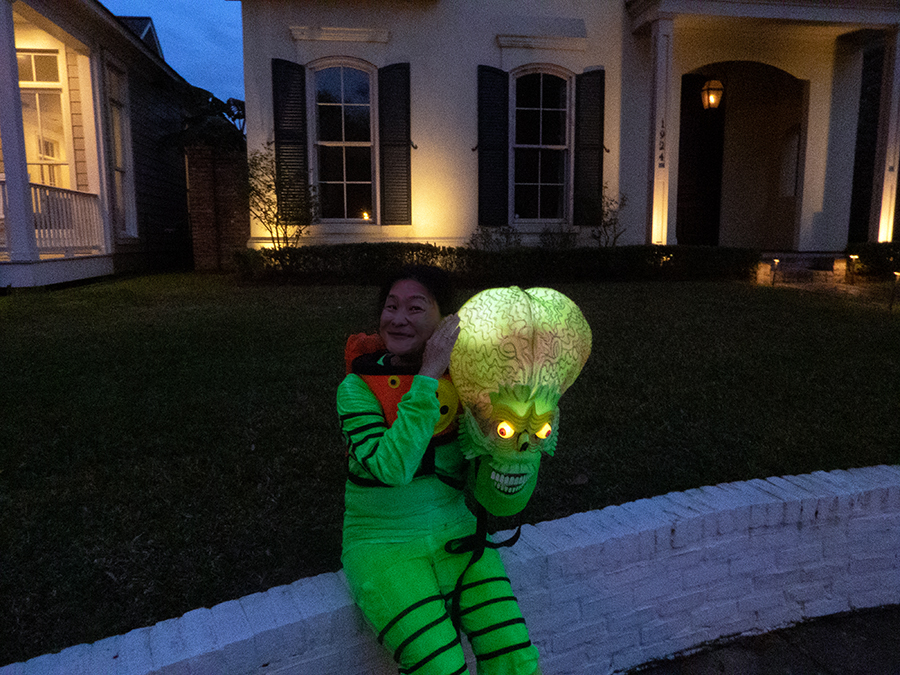 The heads light up and the eyes, made of ping-pong balls have a single bulb so they also shine!  Lee is nothing if not particular about the quality of her costumes.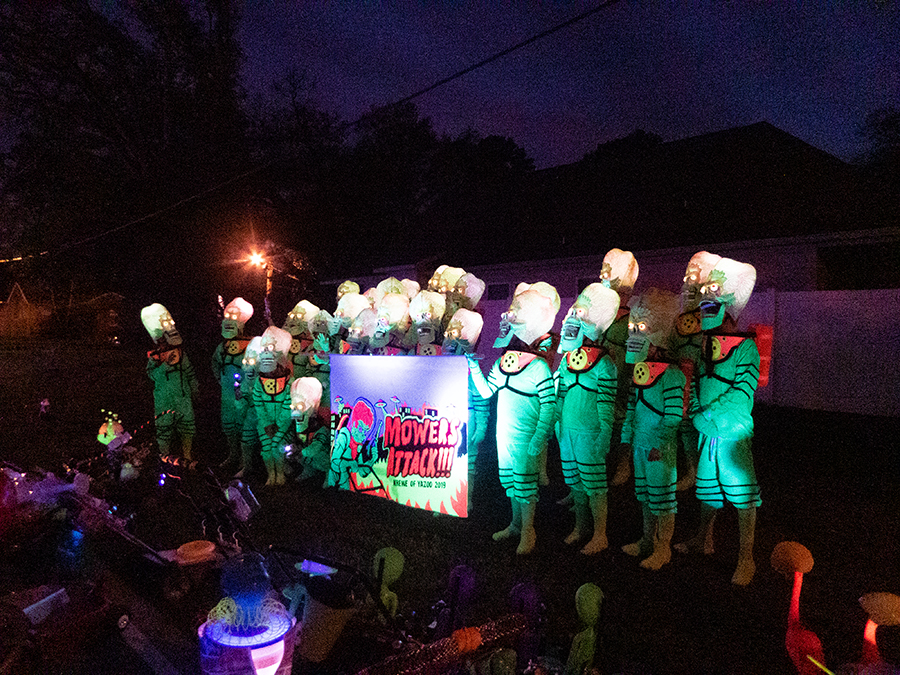 The whole crew with our sign: Mowers Attack!  If you do not know where this comes from, look for a very bad comic science-fiction movie from 1996 called Mars Attack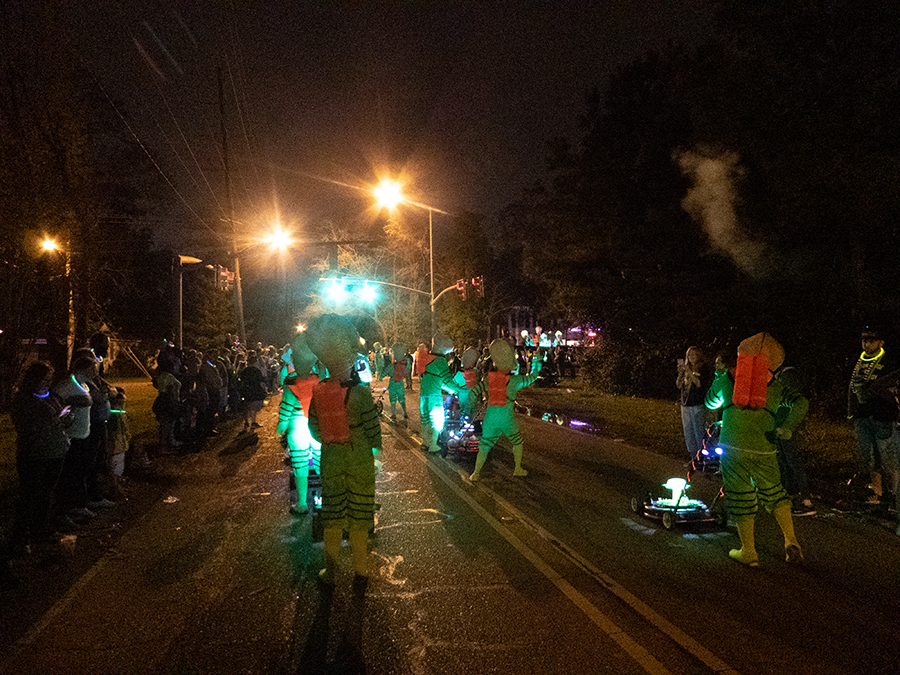 Aliens in full action during the parade.  We had a great time.
On the next day, Bee and I went to the Spanish Town Parade wearing our Alien Costumes!  We had a lot of success and collected two garbage bags full of beads.
Before I close this, I had another chance to parade with the Krewe of Yazoo in 2006.  The theme that year was "Mowah's Ark"  and everybody was disguised as an animal and they all went in pairs.
Unfortunately, the day of the parade it was raining continuously and very hard.  A lot of the costumes were made of papier mache and would have melted in the rain, so David and Lee had to make the very difficult decision to call it off.  Instead, we had a party for Jon's 50th birthday.  While going through my pictures from 2005, I also found these gems from 2006, as yet unpublished.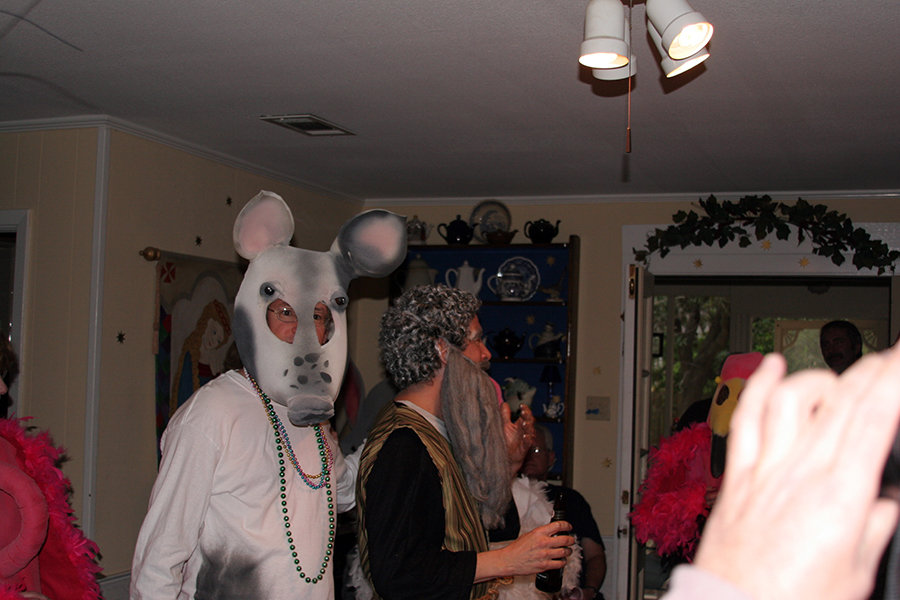 Noah (or is it Mowah?) with a hippopotamus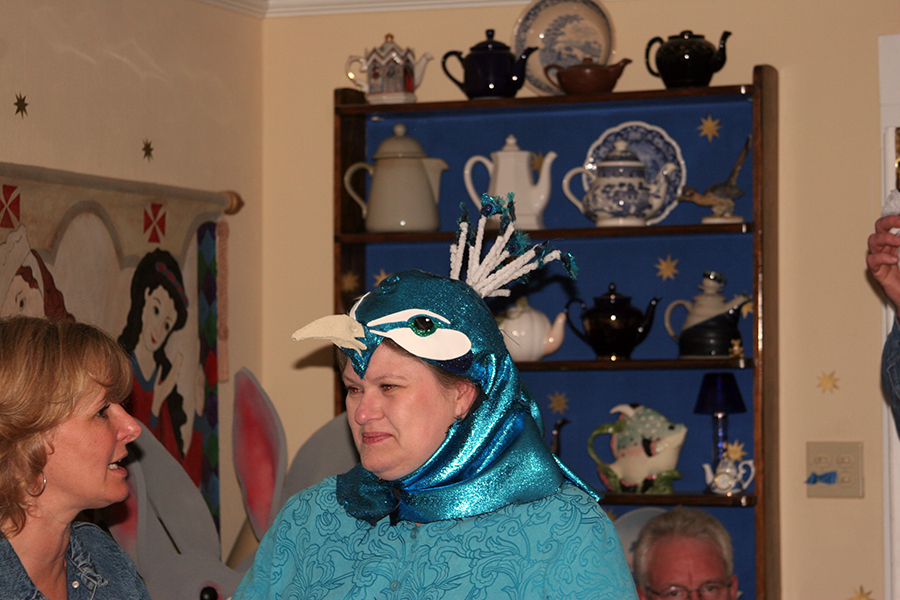 A beautiful peacock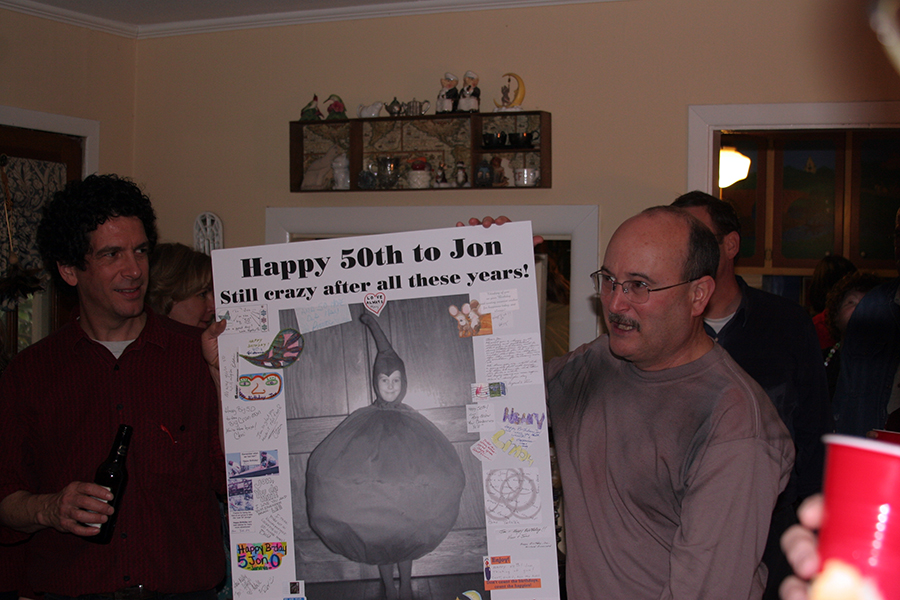 Jon and David!
These are great memories and thanks to friends like these, we keep making new ones all the time.