After a very short flight from Arenal, we approached the Atlantic coast of Costa Rica and the isolated village of Tortuguero.  We could see some houses and quite a few hotels and resorts as we approached.  It used to be that the only way there was a long drive followed by an even longer boat ride.  Tis is a lot quicker and more comfortable.
The airport that we are approaching, actually just a long asphalted strip is near the breaking surf, towards the top end of the last thin island on the right.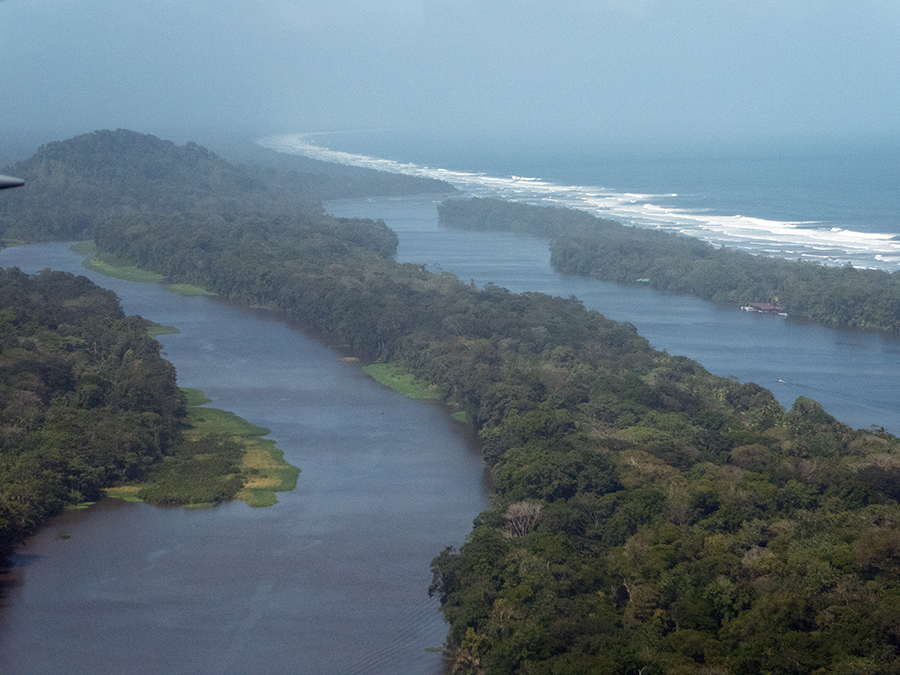 After landing, we needed a very short ferry ride and we arrived just in time to have lunch at our resort located across the water from the airport.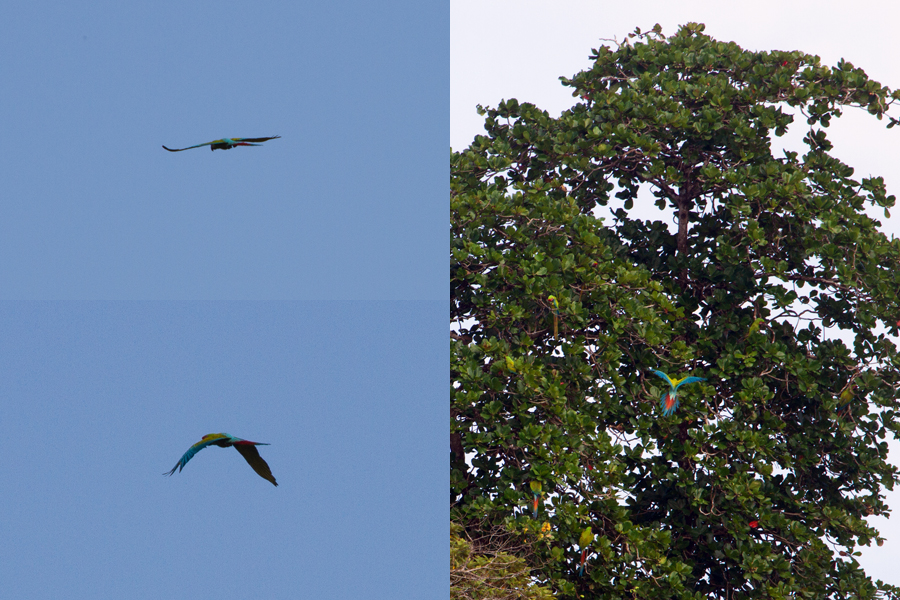 While we were having lunch, we watched amazed as green macaws flew in and out of the trees across the way from us.  Even though they are called Green Macaw, they have a very colorful back that you can only see when they fly, or even better wen they are are about to land on a tree.
Some flew right over us and I was able to get closer shots.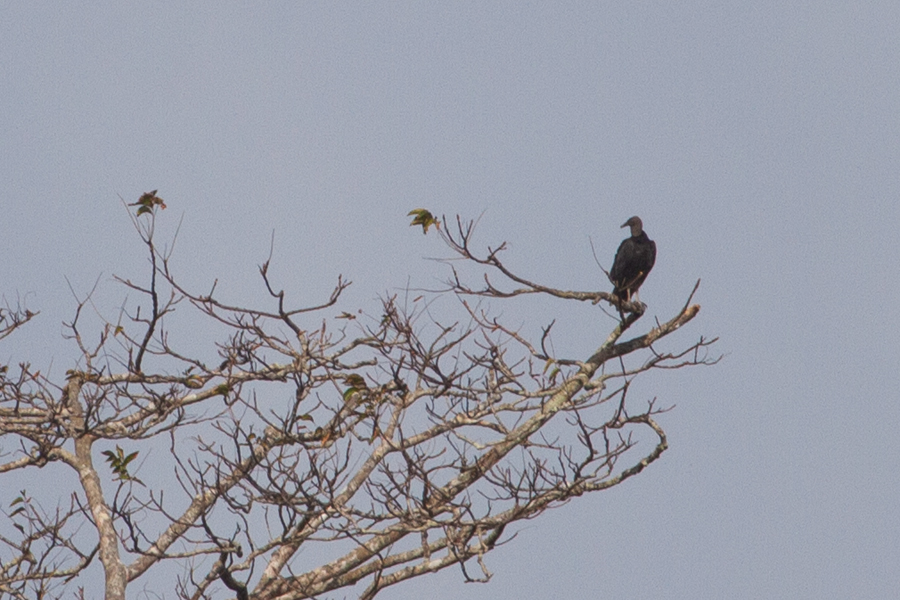 There we also vultures looking for something to eat.  They were rather far, so I was not too worried about me or my food.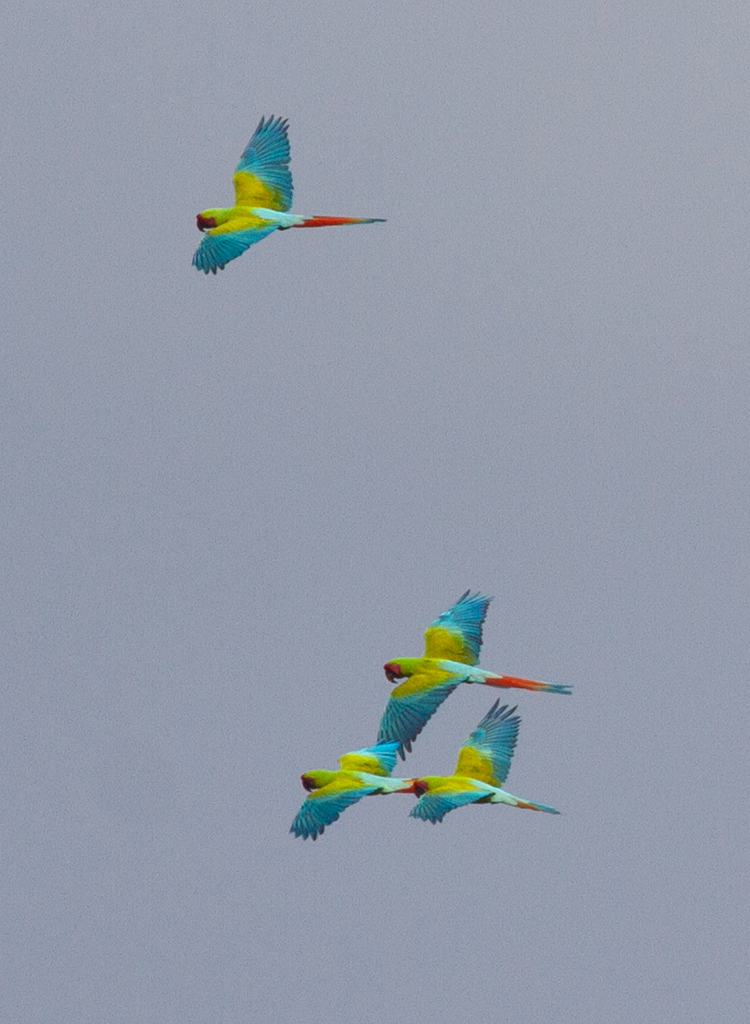 Not sure you can still call these Green Macaws!  My list of birds from Costa Rica does not seem to include "Brightly colored blue, yellow and red macaws".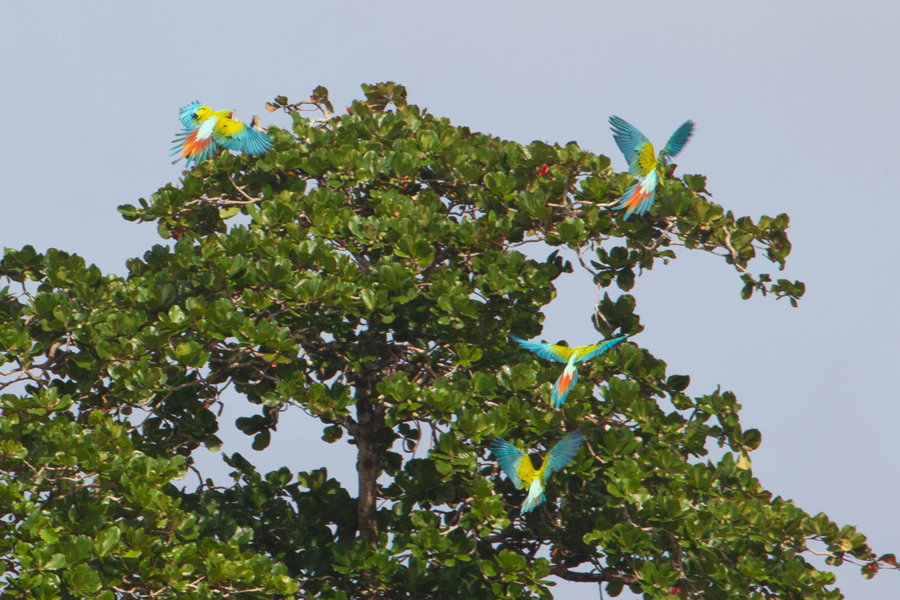 And the spectacle continued – nice to have entertainment during the meal.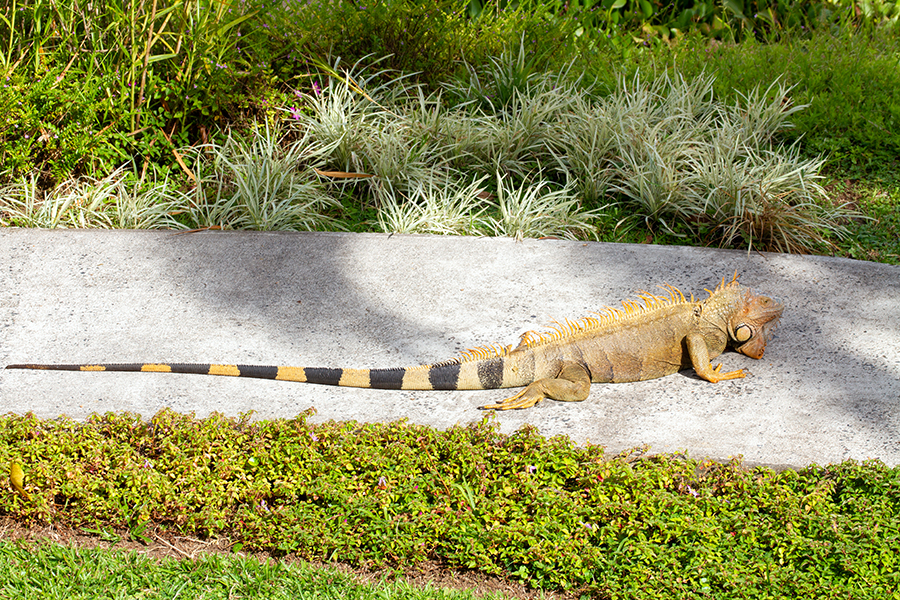 As we were organizing our room after lunch, we saw several people taking pictures right in front of our building.  Intrigued, we looked at what they were shooting, and this is it! A giant iguana with a body that was more than 1 meter long, and a tail twice that.
There were actually two of them – we found out that they are quite common and not at all afraid of people.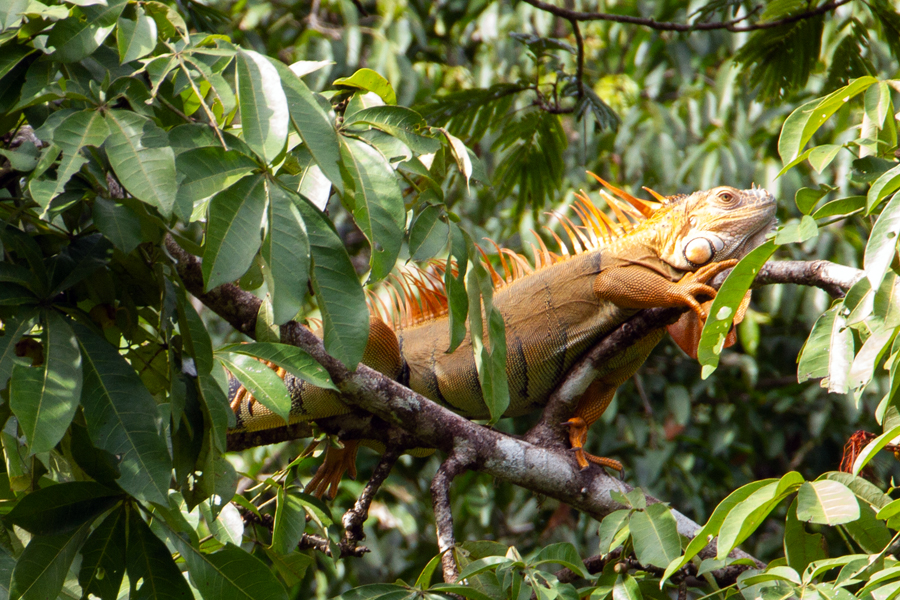 Eventually we got on a boat and went exploring the many channels that crisscross the area.  This would be the normal routine for our two days here.
We quickly discovered that the iguana can climb tress!  This one was quite a ways up the tree.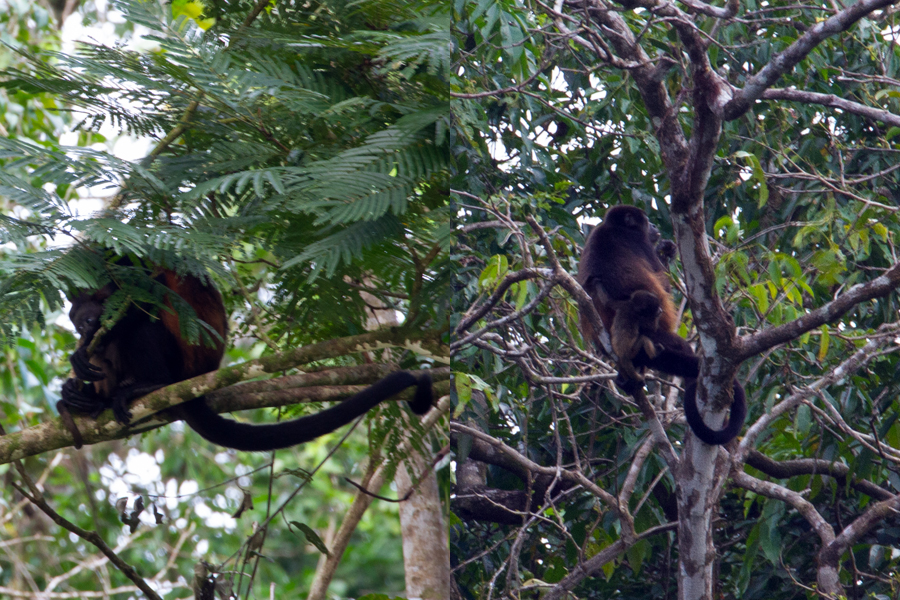 We ran into a group of Howler Monkeys feeding – you can see here that they really use their tail as an additional support.  The one on the left is actually a mother with a baby – you can only see the baby's face.  The one on the right also has a baby hanging on to its back.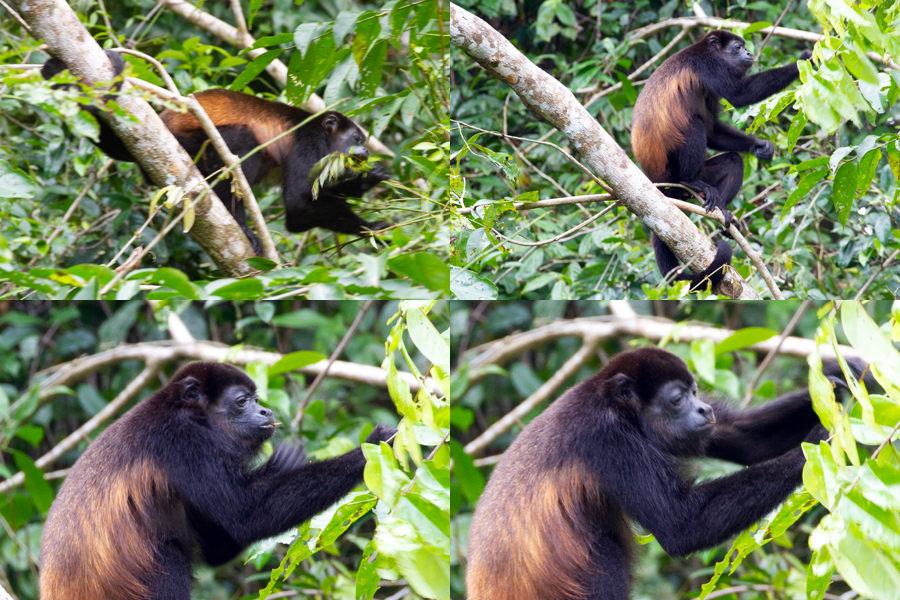 They were too busy to notice us.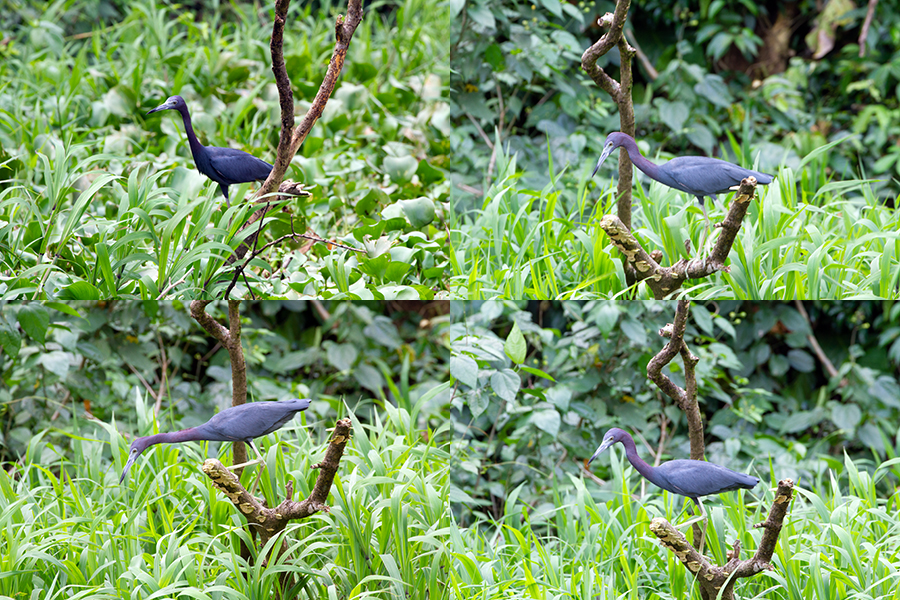 A blue heron fishing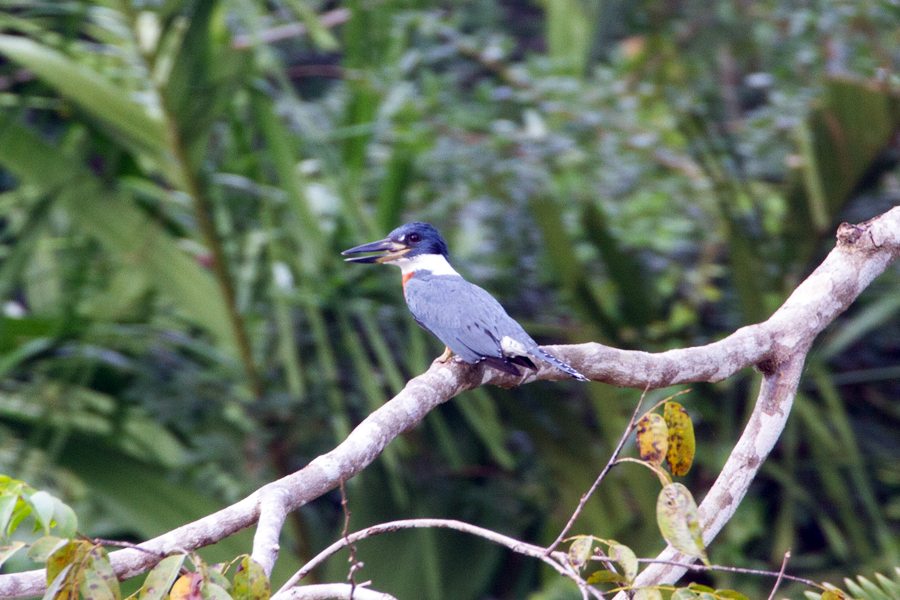 We saw quite a few kingfishers.  They are not that comfortable around people and they often fly away before we could get a good shot.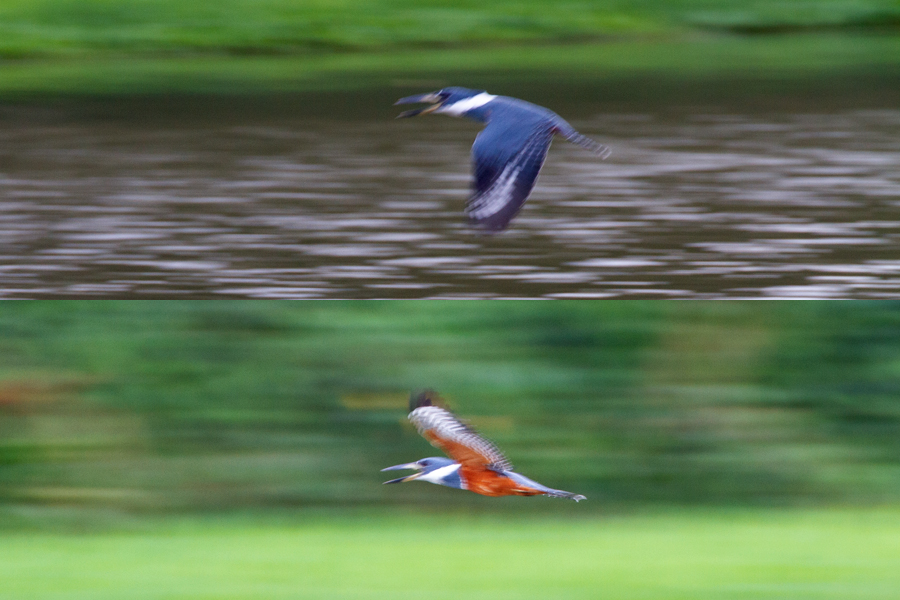 Not the best focus I have ever achieved, but I was pleased that I was able to get a kingfisher in flight and you can actually see what it is.  I guess I should have gone for much faster shutter speed, but in the heat of the action, it is difficult to change the setting on your camera.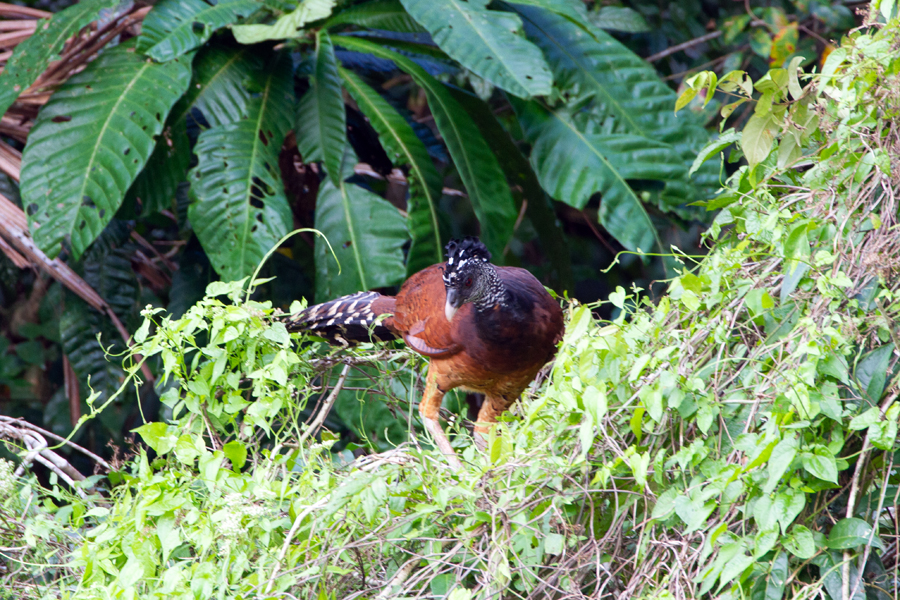 I have not been able to find what bird this is – any suggestions are most welcome through the comments – thanks.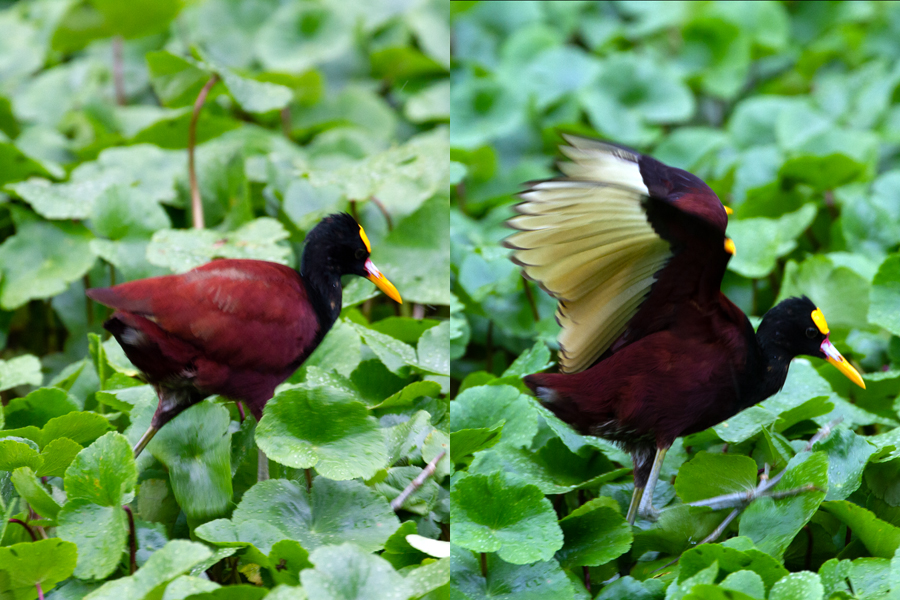 A Northern Jacana, who seems to be able to walk on the water lilies.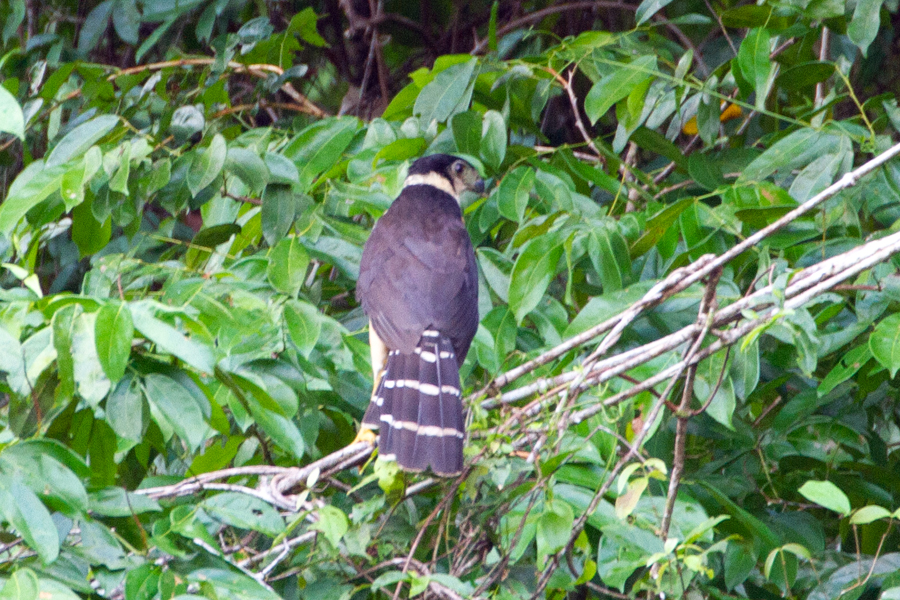 This appears to be a Peregrine Falcon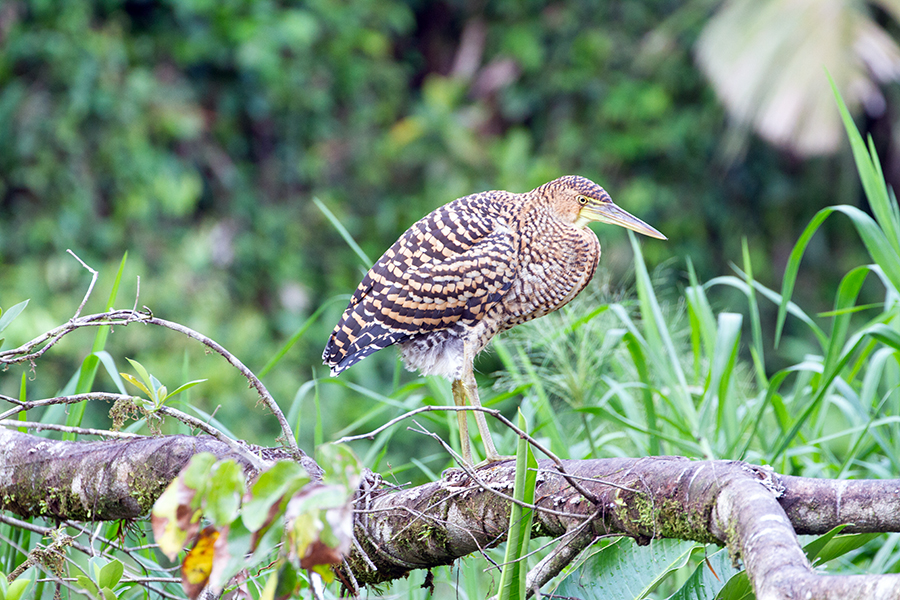 A Tiger Heron – we saw quite a few, even some adolescents who did not quite yet have the full colors.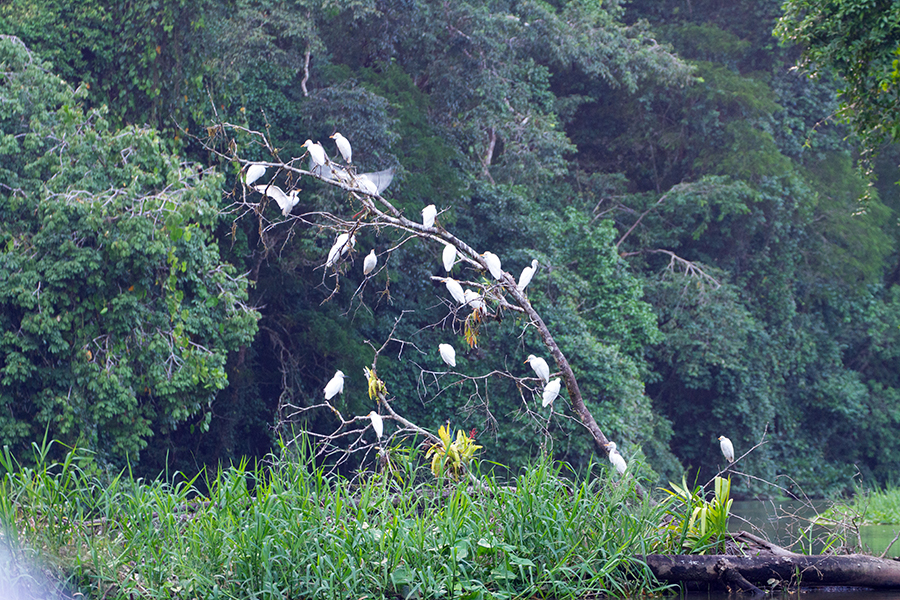 A tree full of Egrets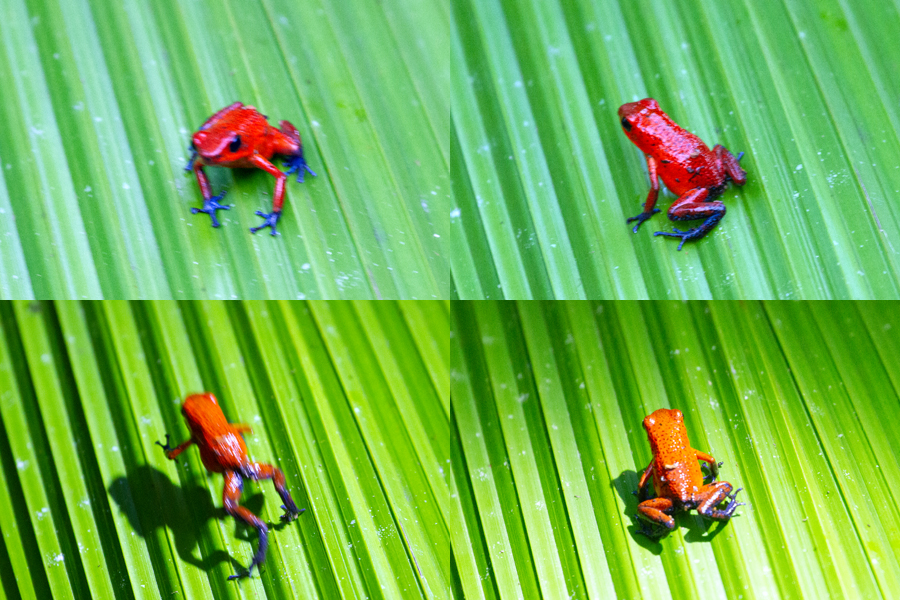 Costa Rica is very rich in frogs, but they are very small and therefore hard to find.  This appears to be a Strawberry Poison Dart Frog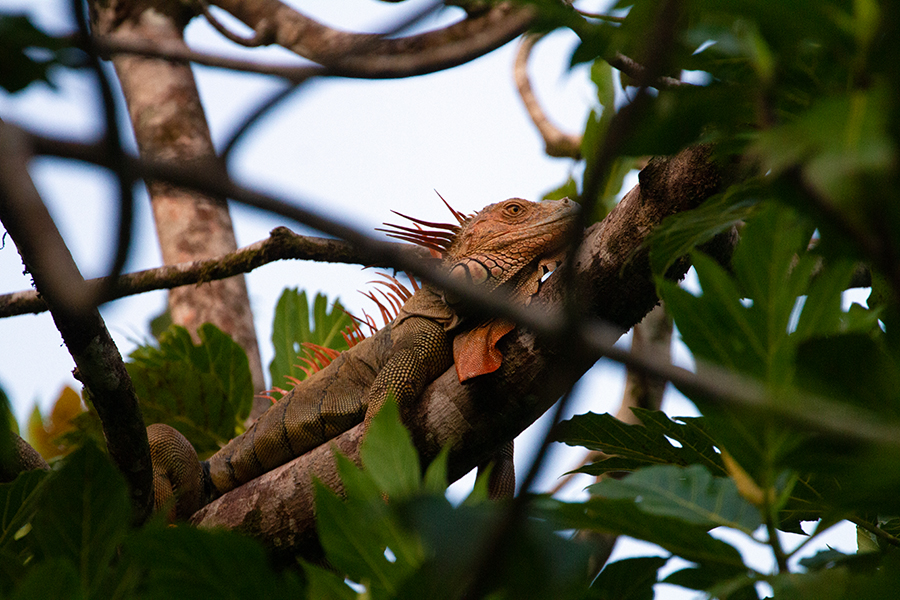 Another iguana relaxing in a tree.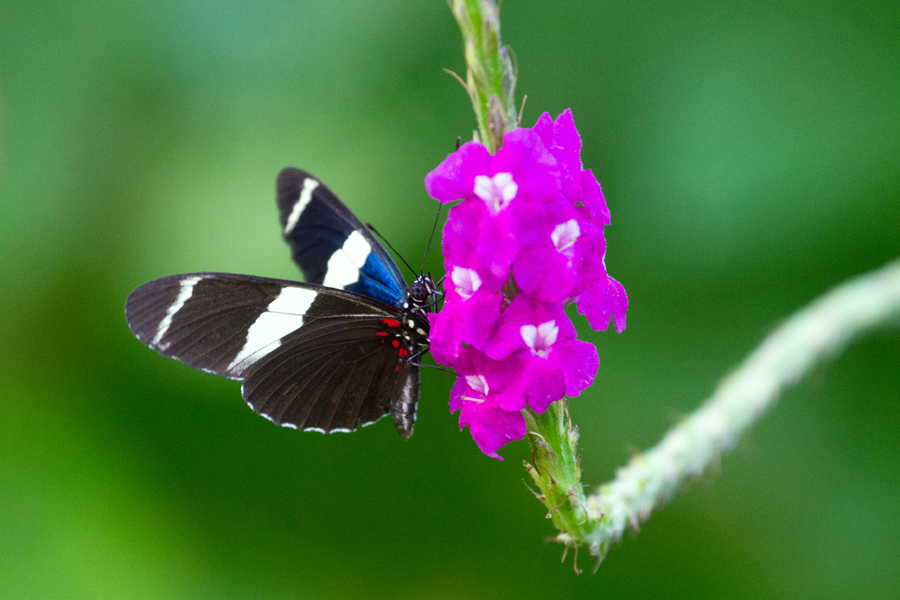 Colorful butterfly on an even more colorful flower.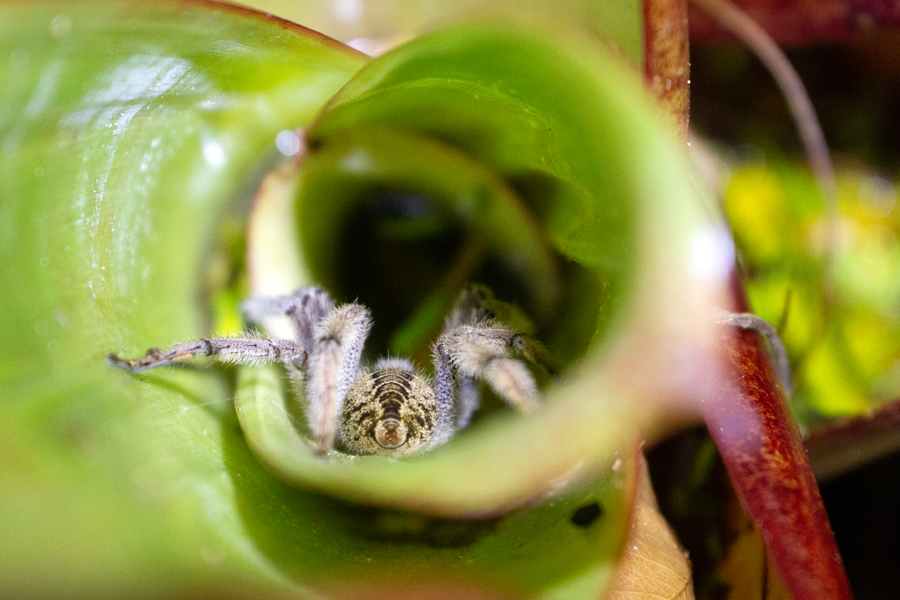 Tarantula!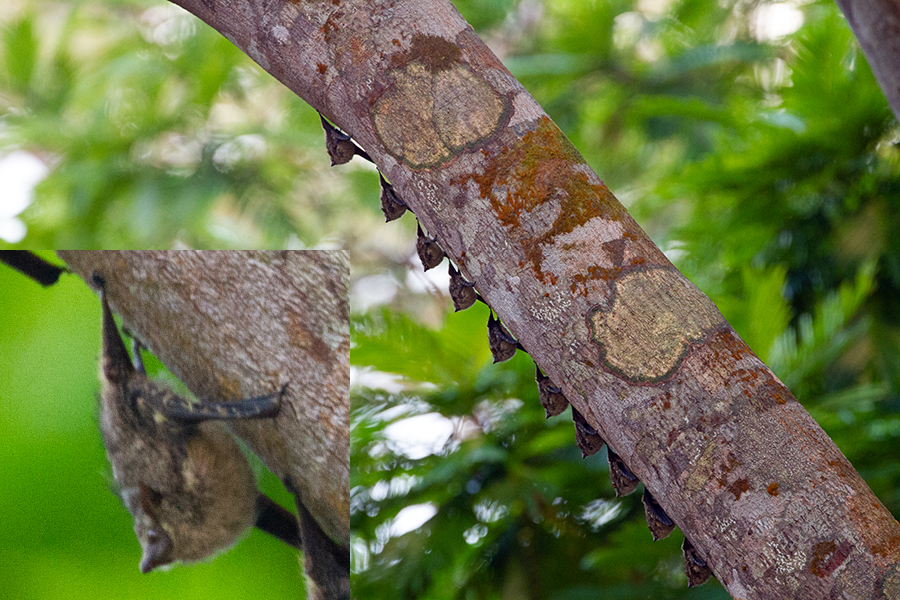 Bats sleeping on the side of a tree.  There was a string of 9 or 10.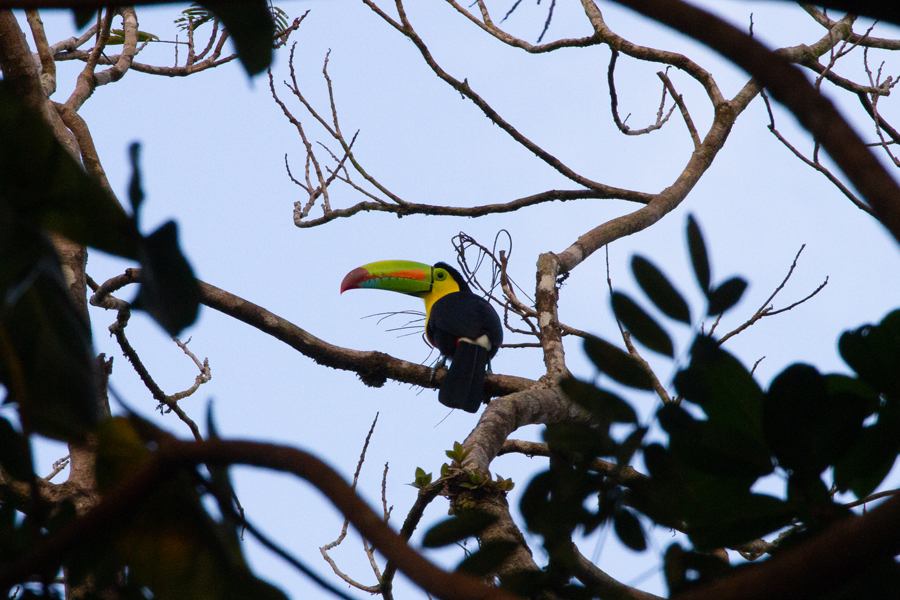 Another beautiful Keel-billed Toucan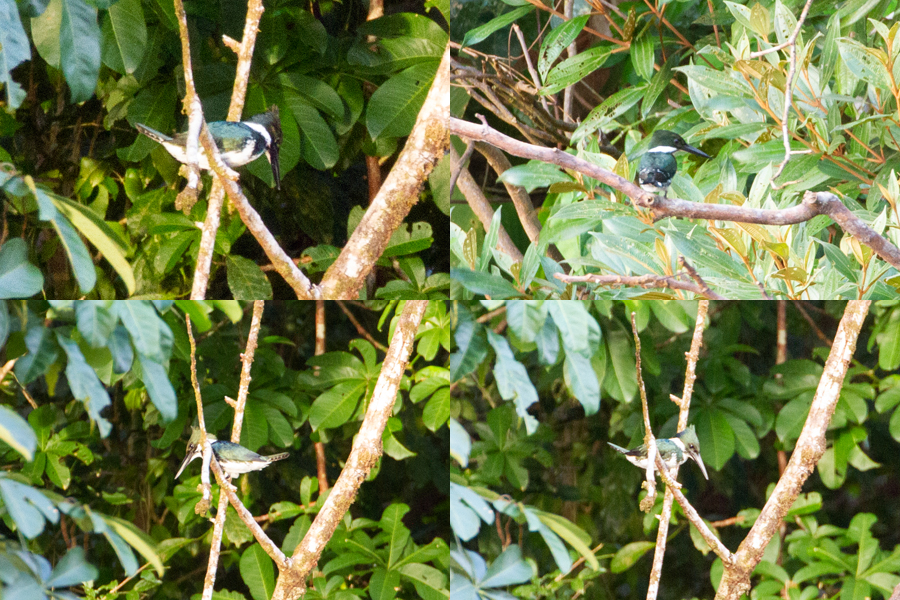 A kingfisher that stayed long enough for me to get a few pictures.  It was a long way away though…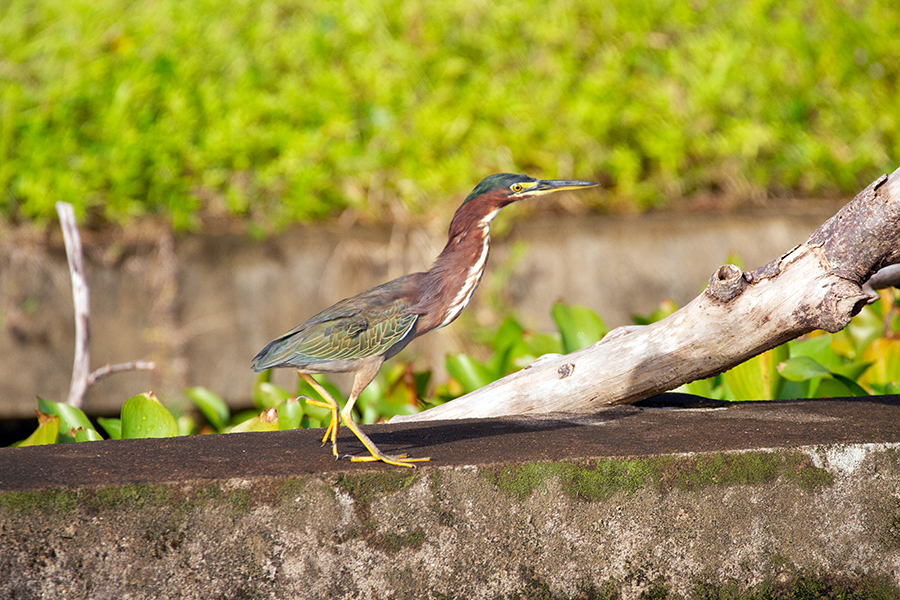 Back at the resort, we saw another heron just walking around looking for dinner.  We decided to do the same at the end of a very exciting day.
This was our first day in Tortuguero!  I have so many great photos that I will have to split this part of the trip in two in order to keep my posts to a reasonable size.
You will have to be patient for the "best" photos of the whole trip – sorry!