pierreo March 5th, 2019
Following our successful stay in San Jose, we joined our Wilderness Adventure Group and headed off to Monteverde.  We had a very good driver and arrived there in good time.  Early enough for lunch and a first exploration of the lower tropical forest nearby.
Costa Rica is known for its very rich fauna and so we went immediately in search of  interesting creatures.  We all had a list of the "must see" on the trip.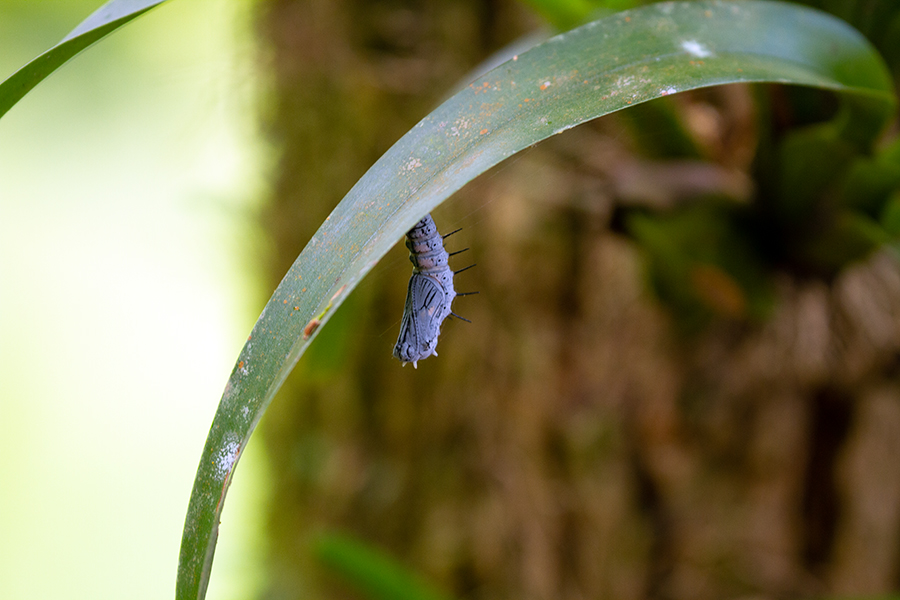 This was not one of mine, still quite a nice centipede, I think…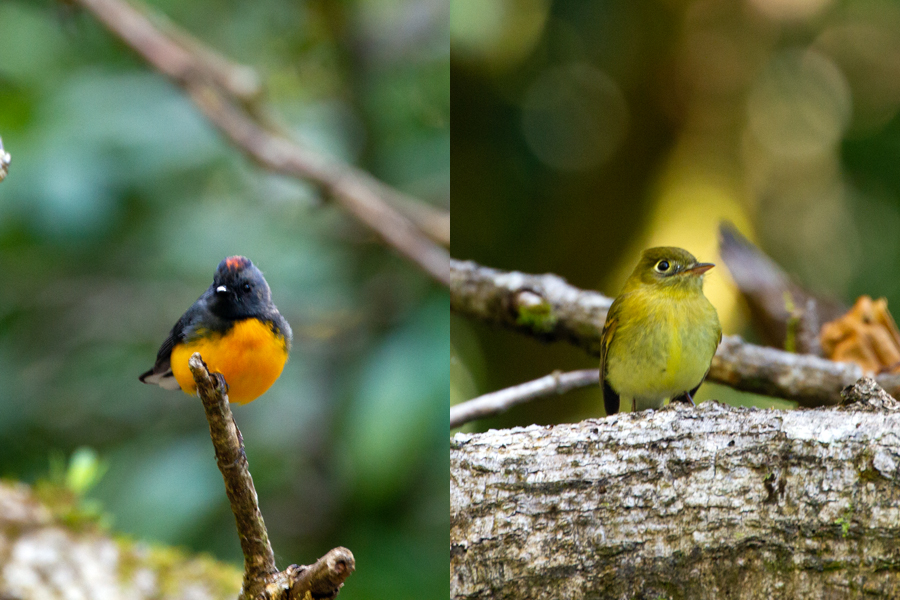 Our guide was excellent at spotting small birds; I am not good at remembering names.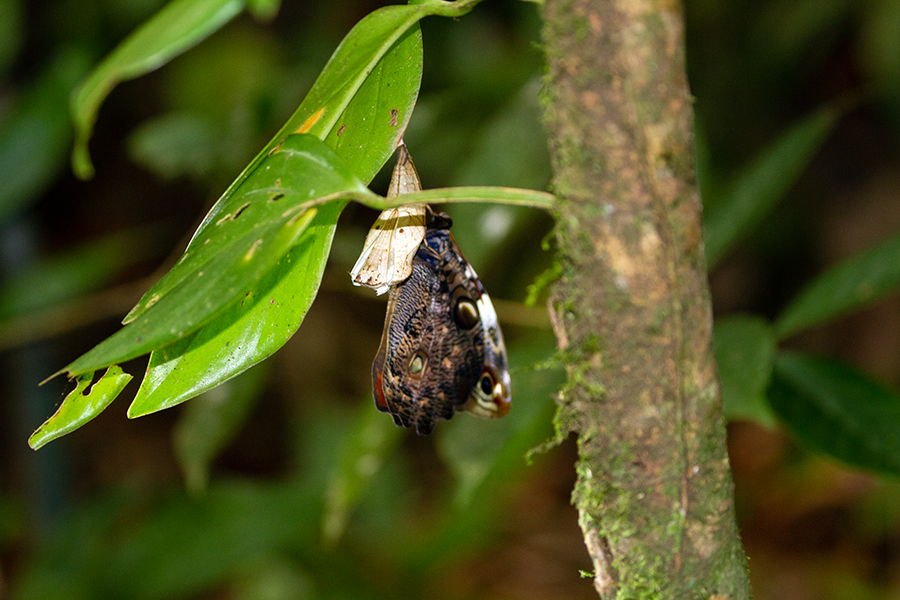 This was a stroke of luck, actually spotting a butterfly as it is coming out of its cocoon.
The feeders afforded a unique opportunity to see hummingbirds.  They are still not easy to catch, particularly to catch them in flight.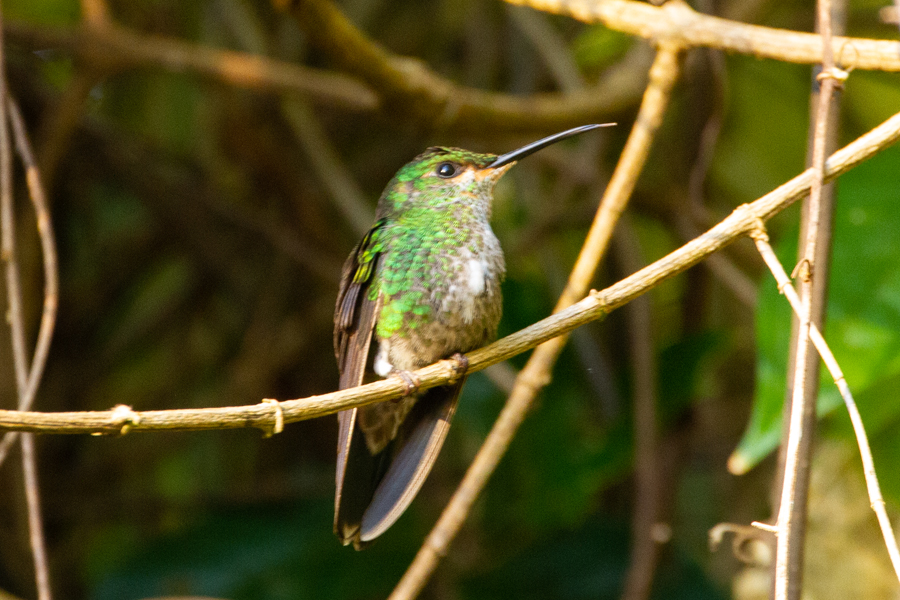 This one appeared to be posing for me – or was it just waiting for its turn at the feeders.  Not sure what the protocol is among the hummingbirds.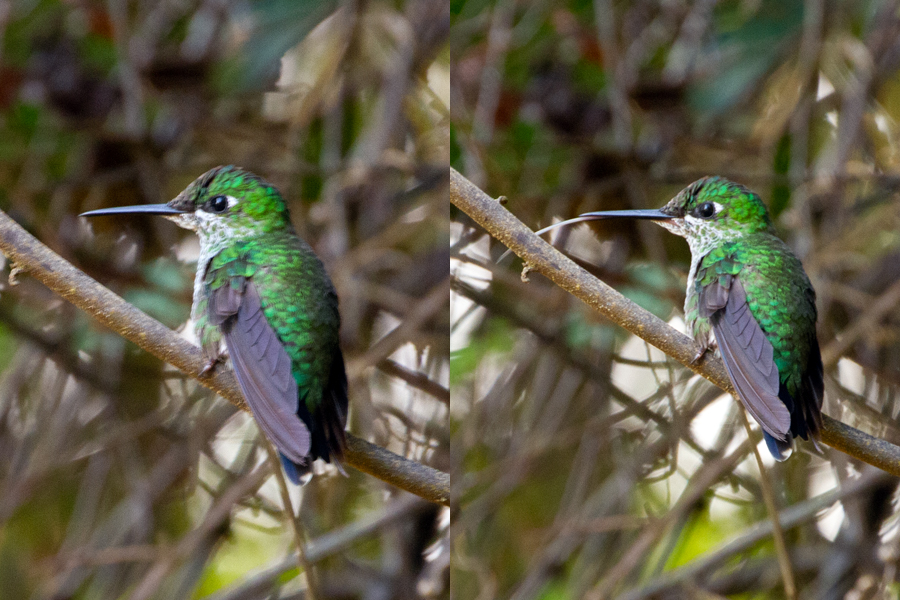 I had several pictures of this one and the one on the right looked different to the others.  There is a white line coming out of its beak and it does not appear on any other photo, so it cannot be a branch conveniently located just behind the bird.  I am convinced that that is its tongue sticking out, but not sure what it was trying to reach.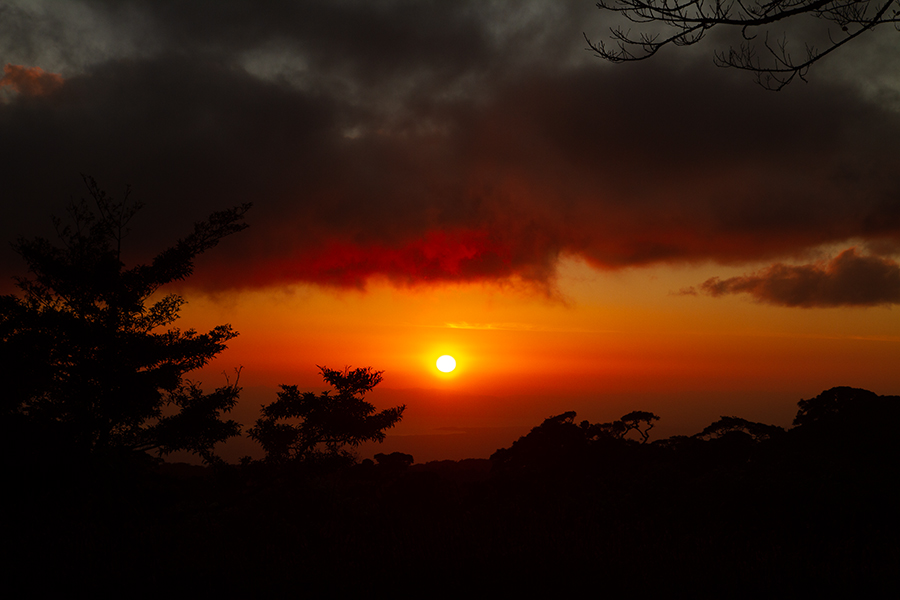 We had a very nice sunset on our first day in Monteverde as we were heading back to the hotel at the end of our first walk.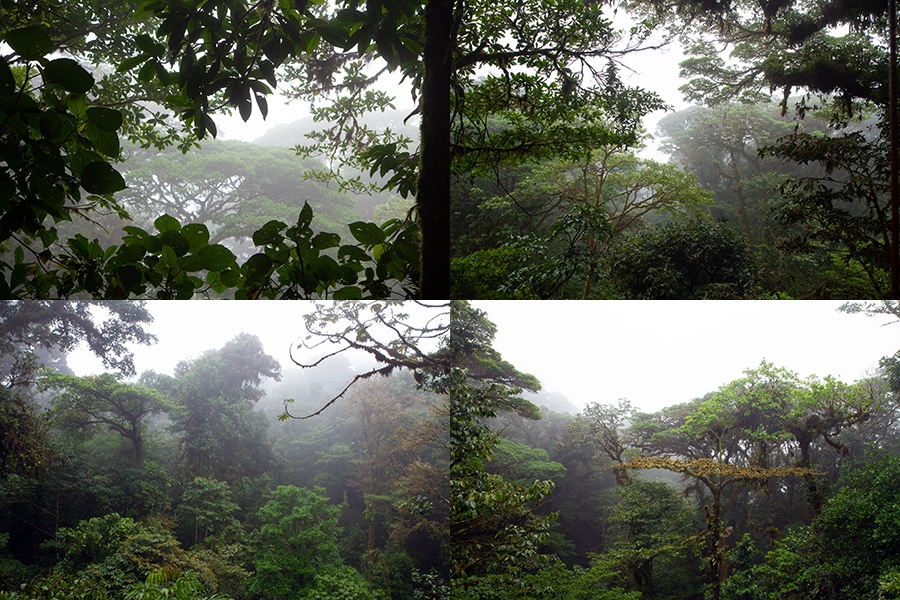 Monteverde is known for its "Cloud Forest".  My first experience was in Singapore, where they have a cloud forest enclosure in Garden by the Bay.  I really enjoyed the exhibit and wanted to see it for myself. At the start of the walk, we had a real cloud forest; we were literally into the clouds.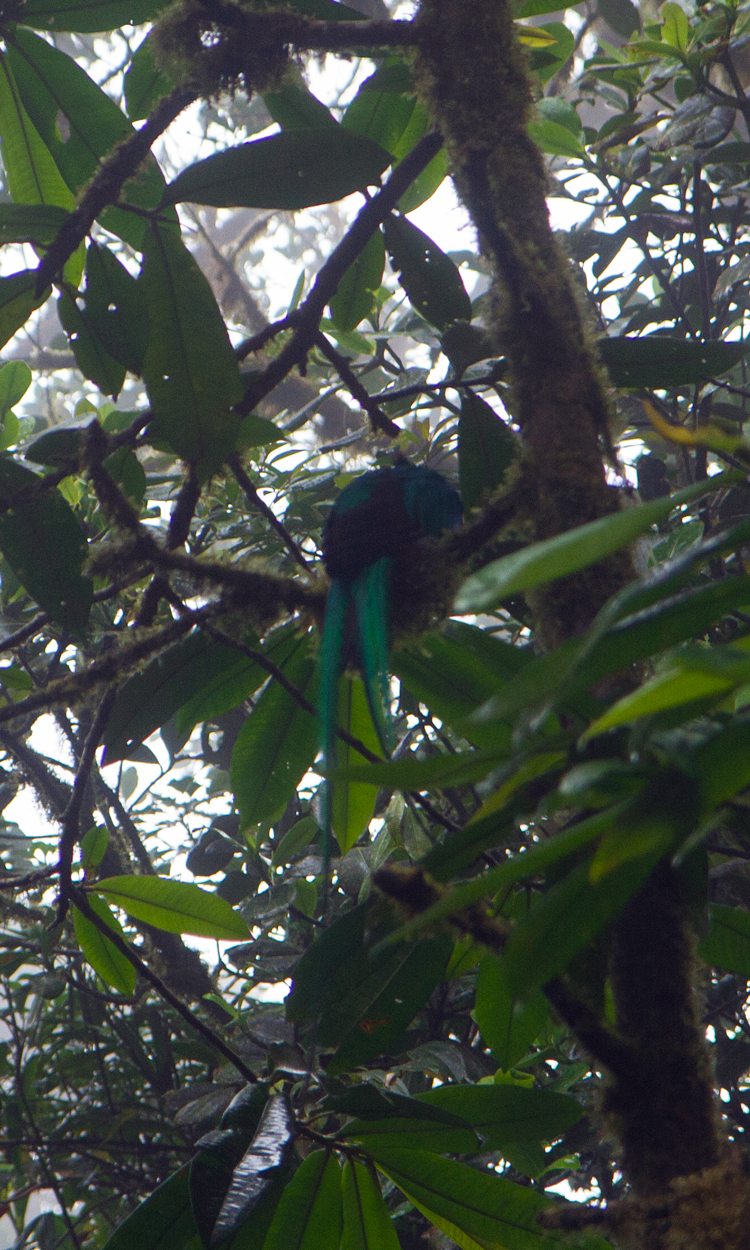 We saw a Quezal, a local bird with shiny plumage and a very long tail.  This is not a particularly good picture, but they are hard to spot, and often far from the walkways.  They are also not "forced" to face the crowd that is desperately trying to see it.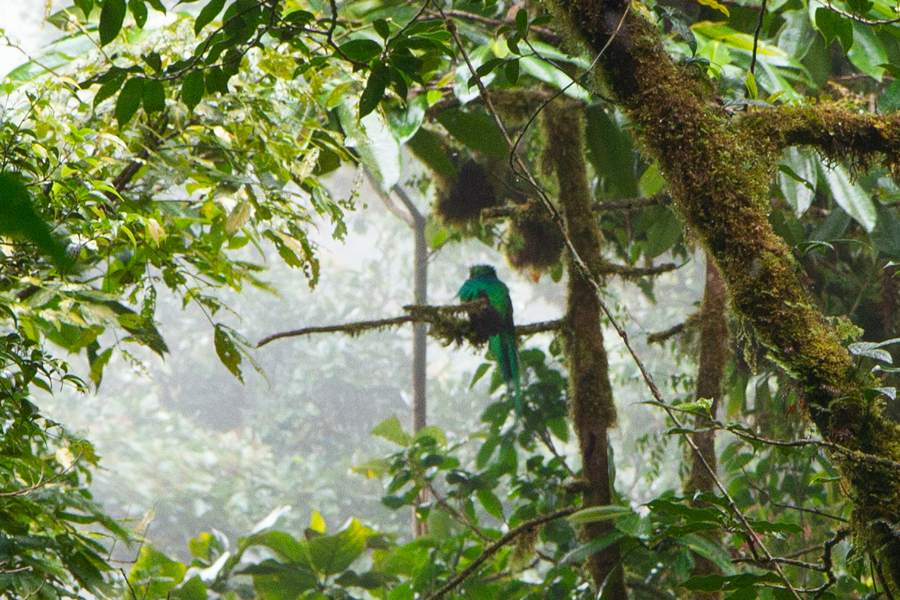 Actually, We were able to get a better view of it a little further.  It was still rather far away, even for my 300 mm lens.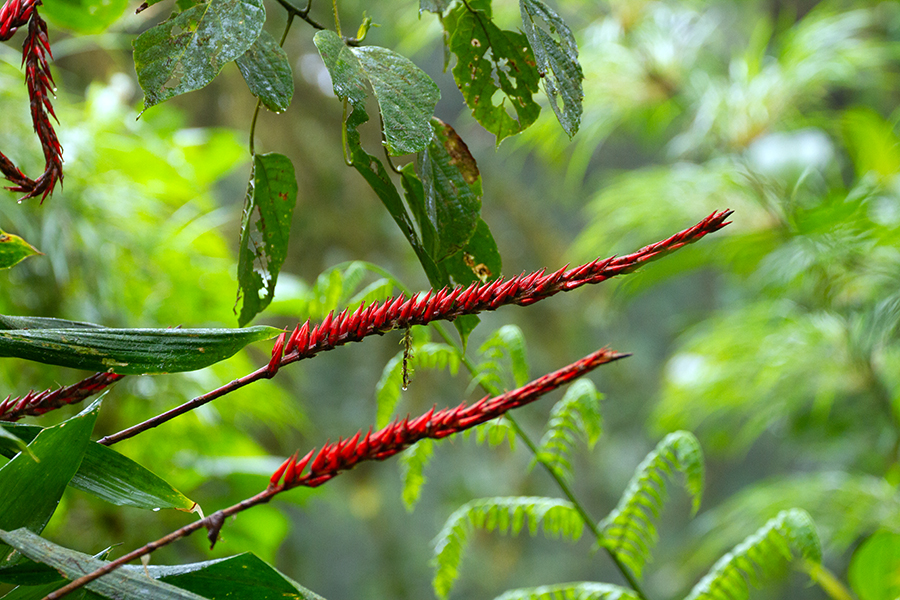 I likes the shape and color of these flowers in the forest.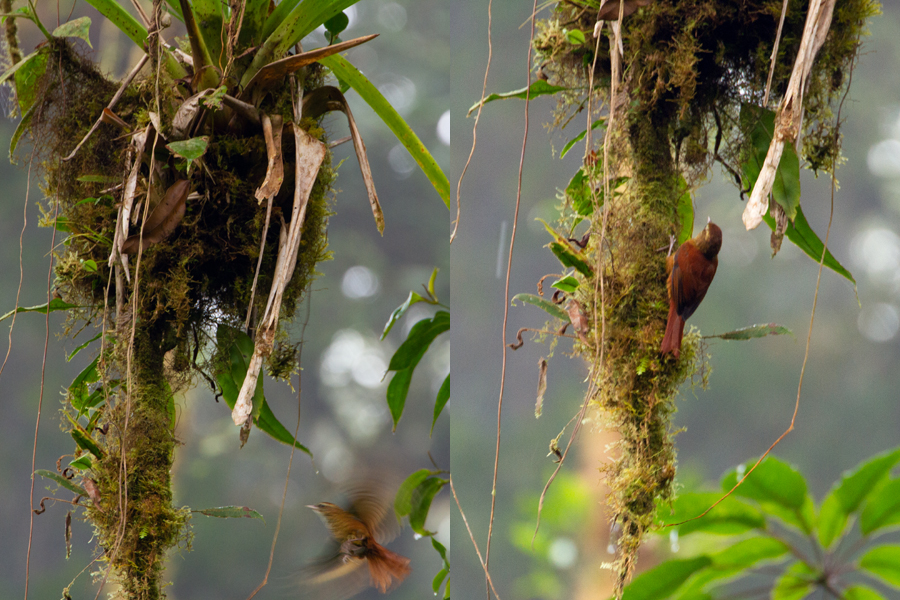 I just happened to be taking a picture when this bird landed.  It stayed long enough for the second shot.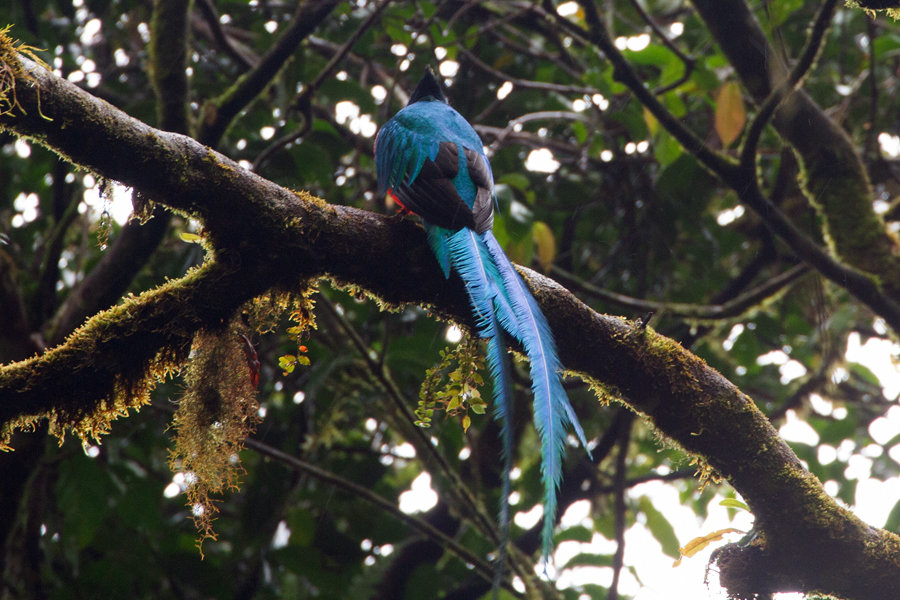 Further into our walk, we saw a large crowd looking at something among the trees and there was actually another quezal; they are rare bids and therefore seeing two the same day is unusual.  From behind you can see the beautiful long tail.  This bird, I was told, is the same color as the other one we saw, it is greener or bluer depending on how the light hits it.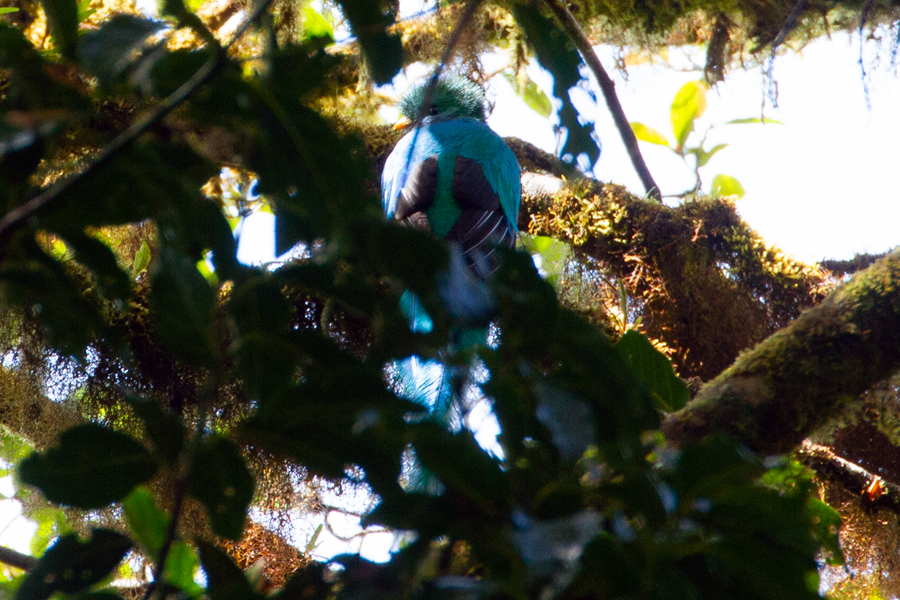 Here is another view, while it appears to be looking back at us.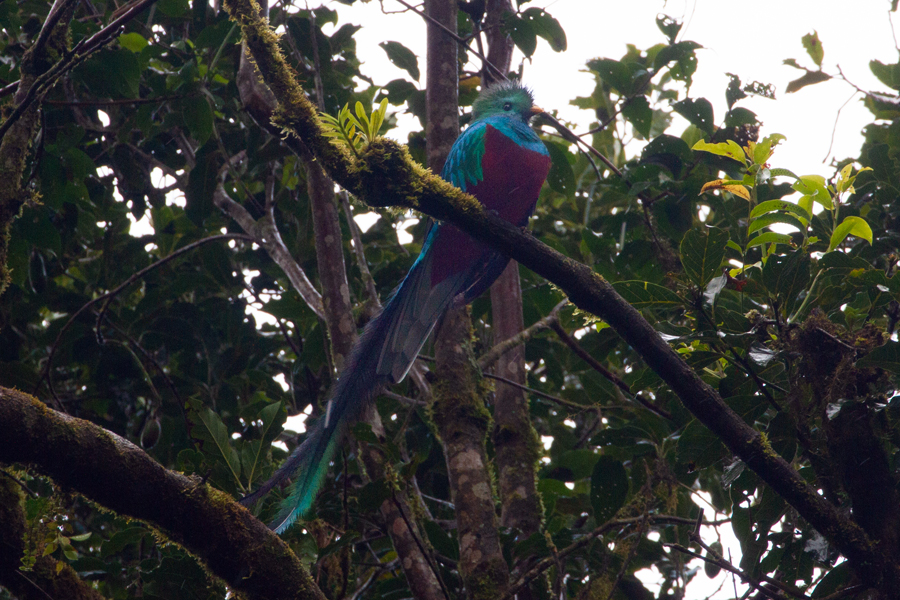 It flew away to a different spot, where I could get a much better photo.  Here you can see the full bird in all its glory.  It is amazing.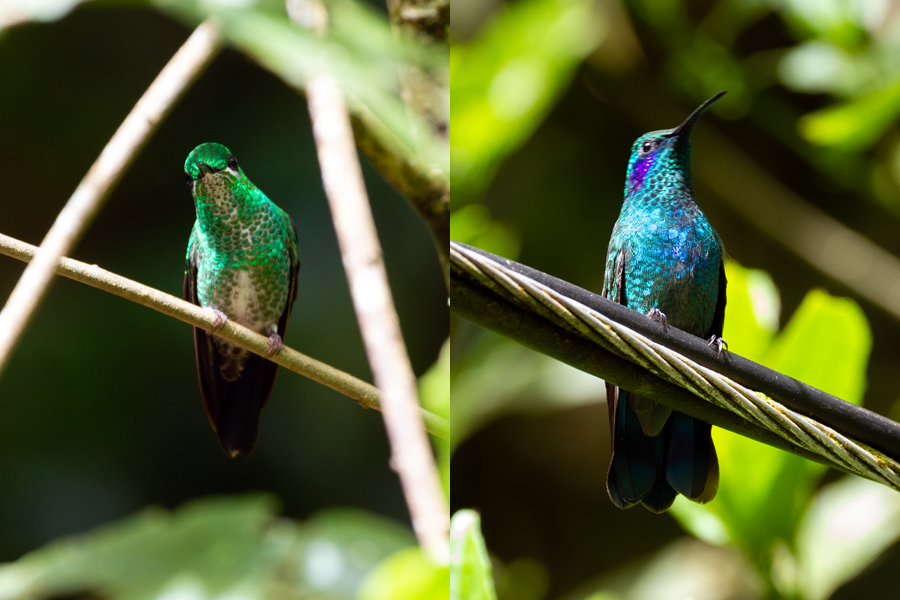 We saw more hummingbirds too.  The first one appears to be looking at me going "what's he doing now?".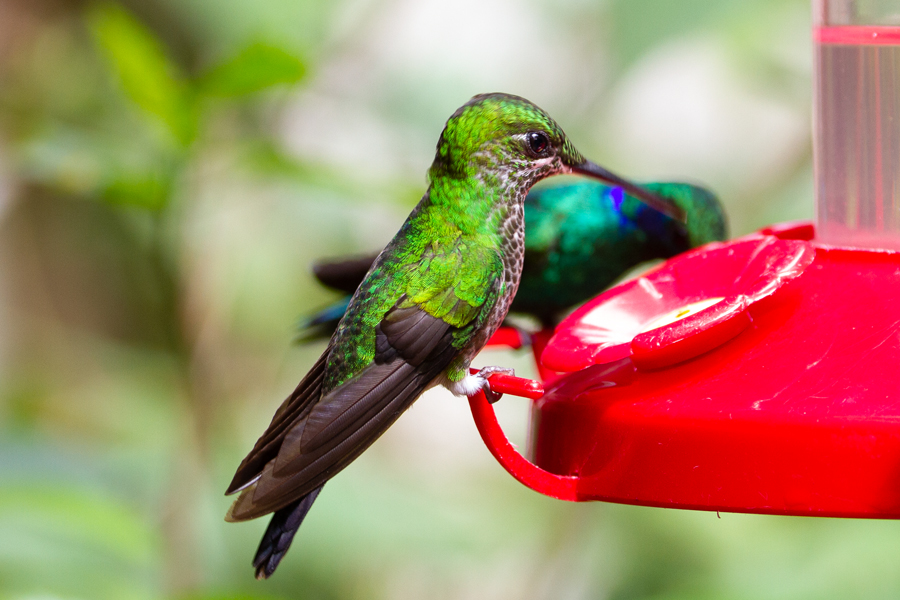 Another shot on a feeder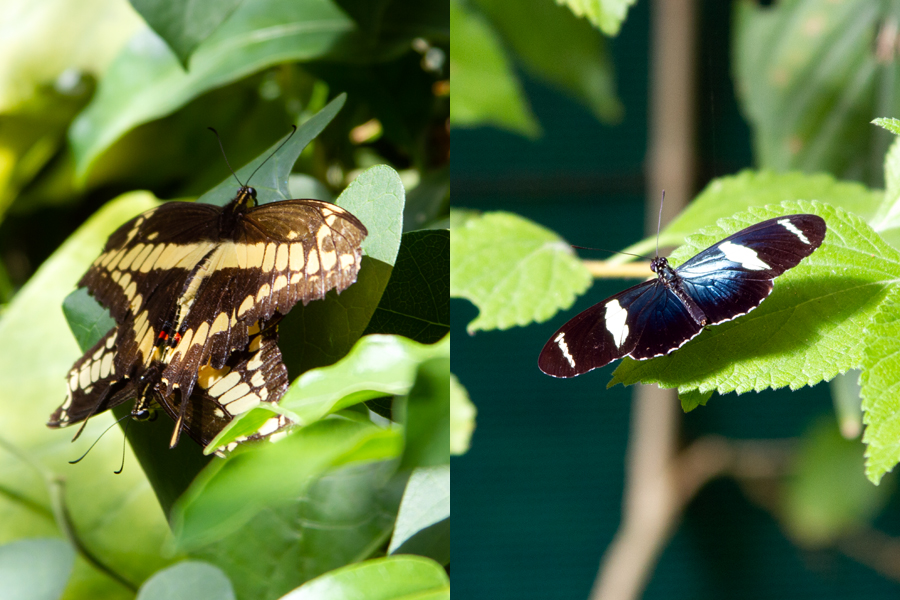 Butterflies.  Later, we went to visit a butterfly farm but these were caught out in the wild.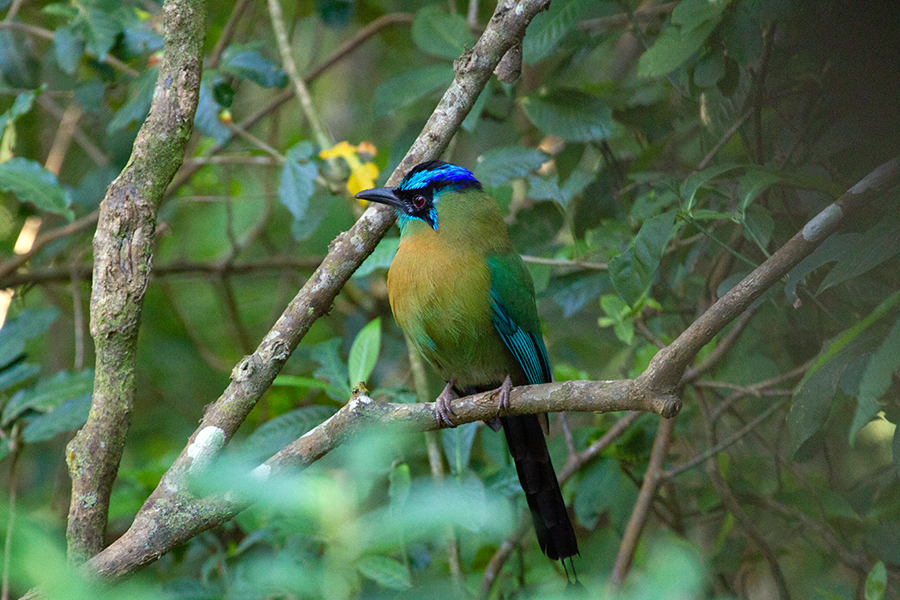 Sometimes, spotting a bird among trees and bushes is not easy.  One member of our group decided that the fun of birdwatching is like that old children's book called "Where is Waldo".  The descriptions of where to look for a particular bird were very much similar to that.  You go up that big branch to the third junction, then follow the thinner branch on the left, and just below the three yellowing leaves is where the bird is… No, not that branch, the other one with the moss on it, that green slimy thing growing underneath…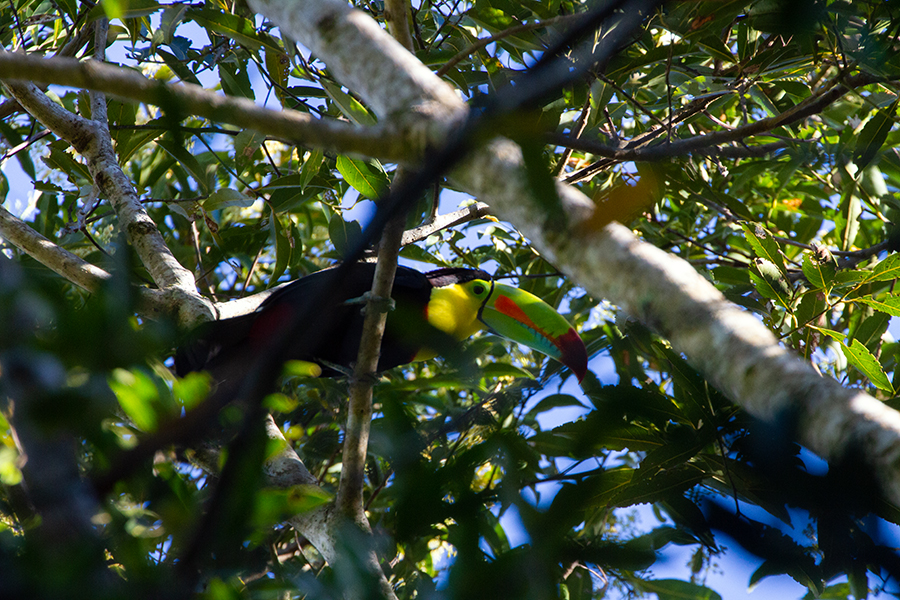 Our first toucan. Way up in a tree, with a lot of foliage.  Well hidden.  My camera would not focus because of all the interference.  I have several photos that are completely blurry :-(.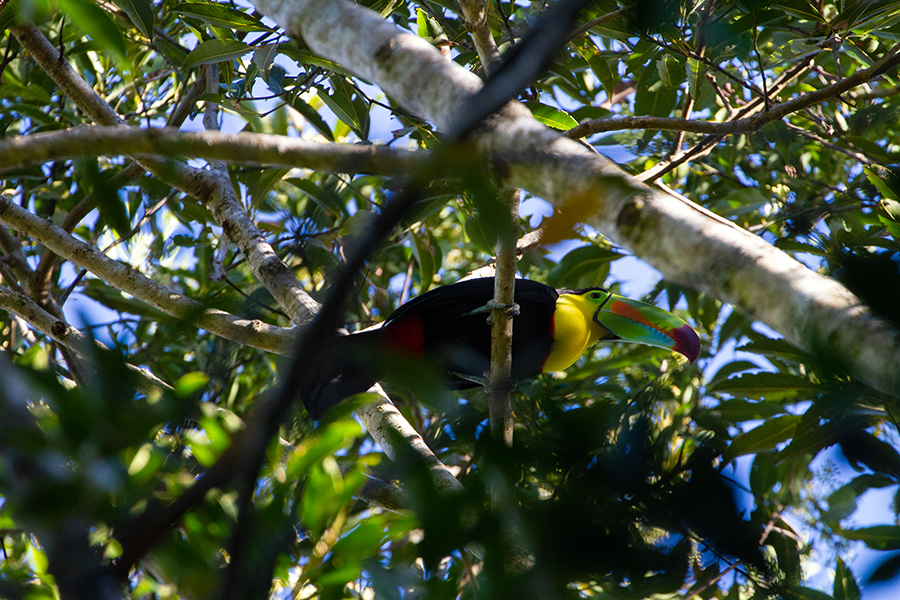 Another, slightly better picture.  You can see the red patch on the lower stomach.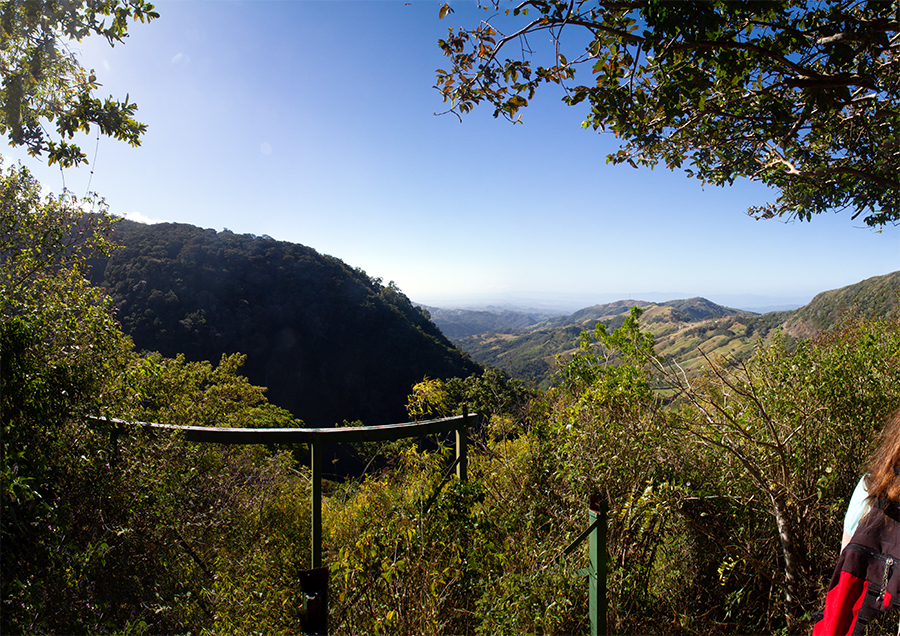 While it is clear that the birds and other animals are the stars, we were in beautiful country, with often spectacular views.  If this picture were better, you could actually tell that the Pacific Ocean is visible in the distance.  Monteverde is very close to the West coast of Costa Rica, one of the countries lucky enough to have a coast on both sides of Central America.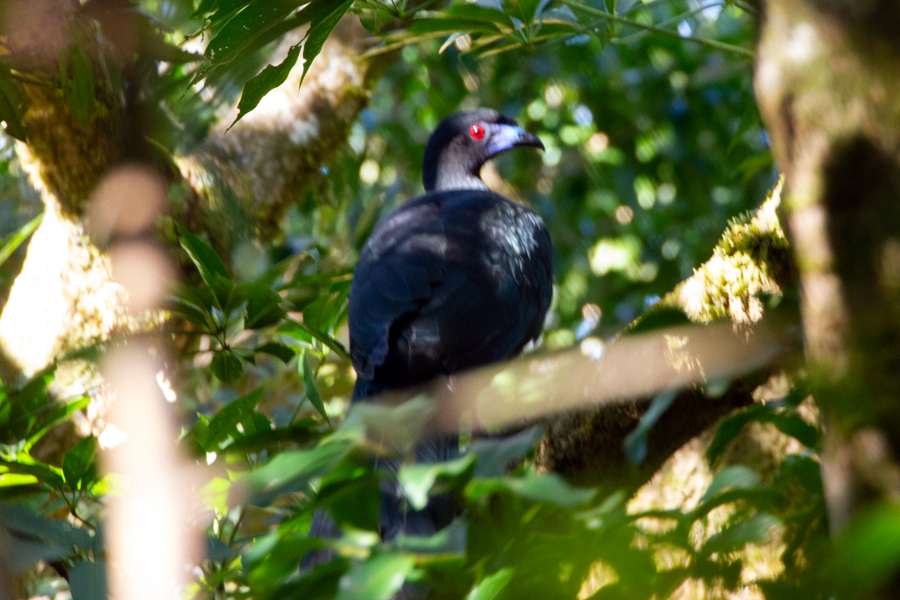 I should know what this bird is called.  We saw a lot of them but this is the best shot I was able to get on that day.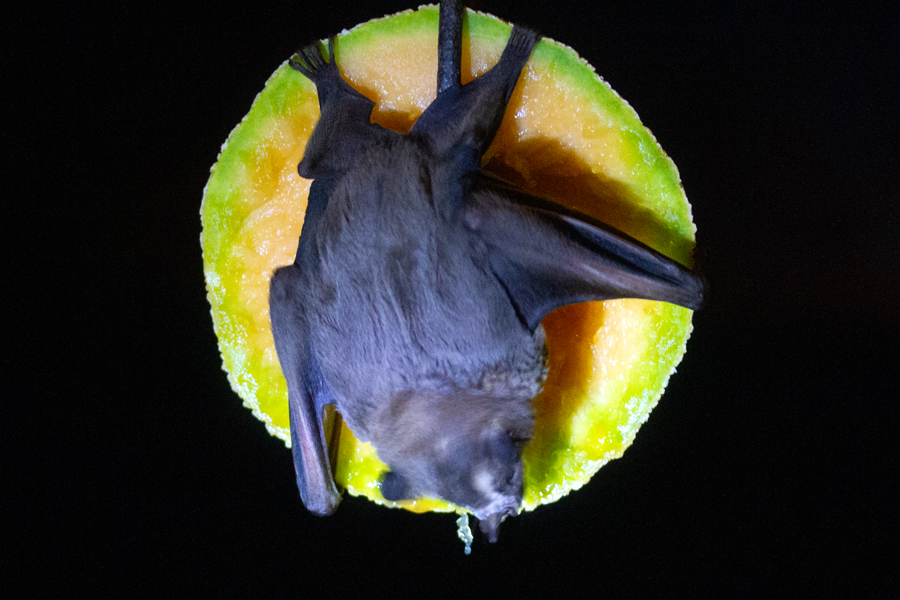 We visited a bat enclosure.  This one has appropriated a whole fruit and is not willing to share.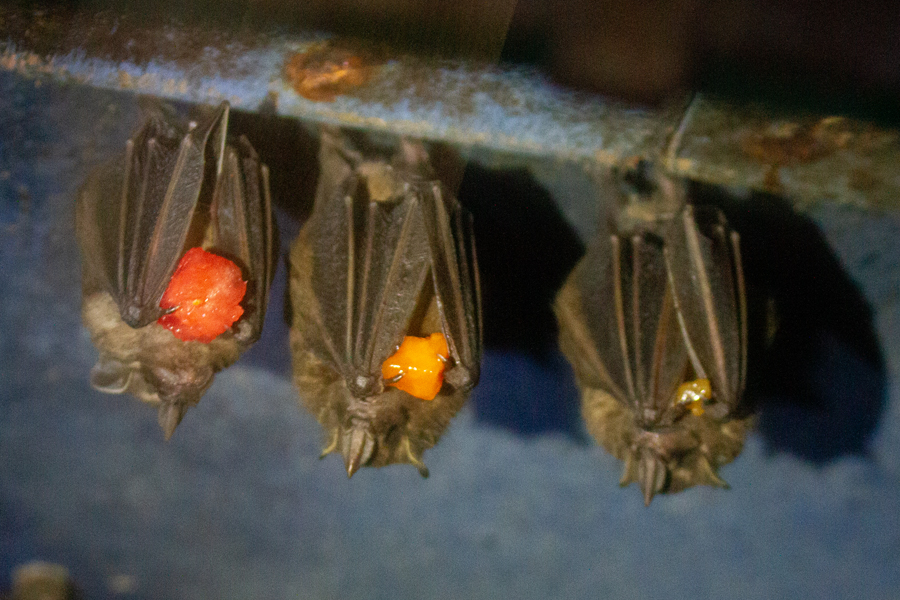 Three bats all in a row – eating pieces of melon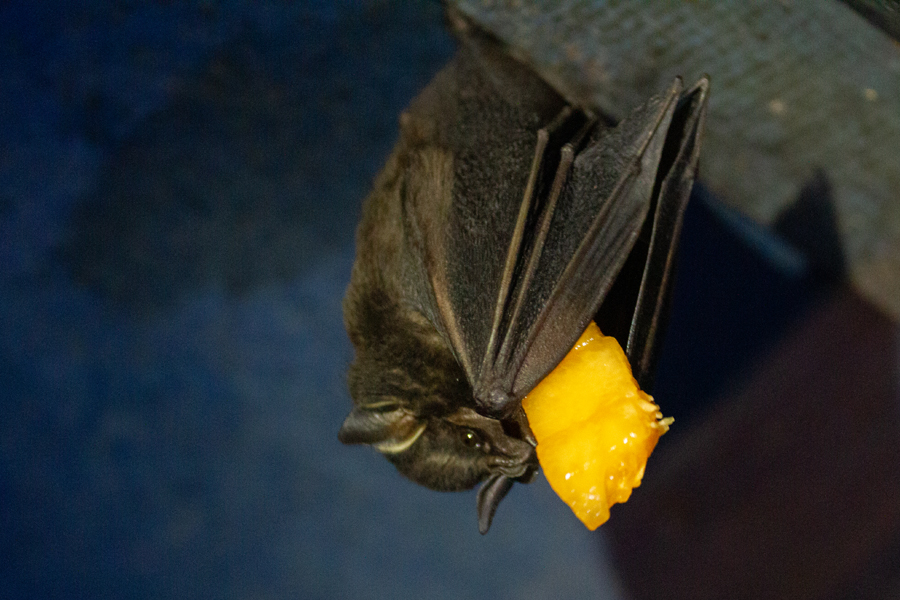 Another one, eating all by itself.
Monteverde has a history that goes back the the late 50's when a group of American settled there to avoid being drafted in the US army.  While we were there, we got to meet one of the founders, who still lives in Monteverde at 96 years of age.  He told us his story of how he came from the US, driving through Mexico, Guatemala, Nicaragua and Honduras.  The group then decided to settle in Monteverde and they needed to protect the mountain in order to protect the watershed for their crops.  That is how the Monteverde Preserve was started.
Later on that day, we left Monteverde and drove, then took a boat to Arenal Volcano, but that will be the subject of my next post.
(21 Page Views)