pierreo February 19th, 2019
Every year, Bee and I try to go somewhere new for New Year. This time, we had decided rather early that it would be Costa Rica, but given that we moved to Houston and were distracted by many other things, we only booked our trip very late. Most of the time was spent with Wilderness Travel on a fantastic tour of some of the best National Parks and wildlife reserves in the country.
However, before and after this adventure, we spent a few days in San Jose, the capital of Costa Rica.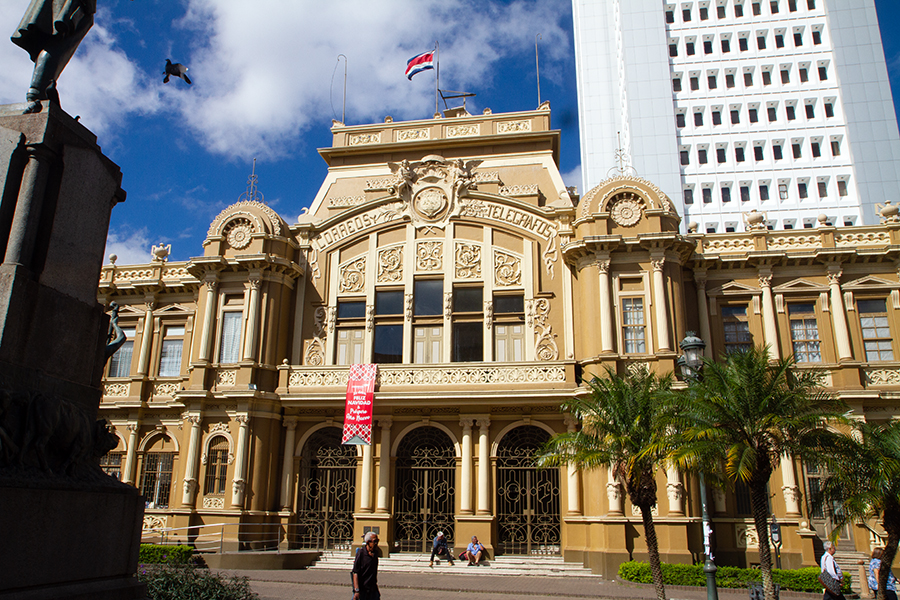 On our first day there, we took a walking tour of the city. We started at the Post Office a superb pre-Art Deco building (completed in 1917) with a secret inside (which we discovered the next day on our second walking tour). Still today, most people do not receive mail at home. The use of street name and addresses is rather new in the country and people still use landmarks rather than street names to give directions. Families own post office boxes and there are thousands of them in this building.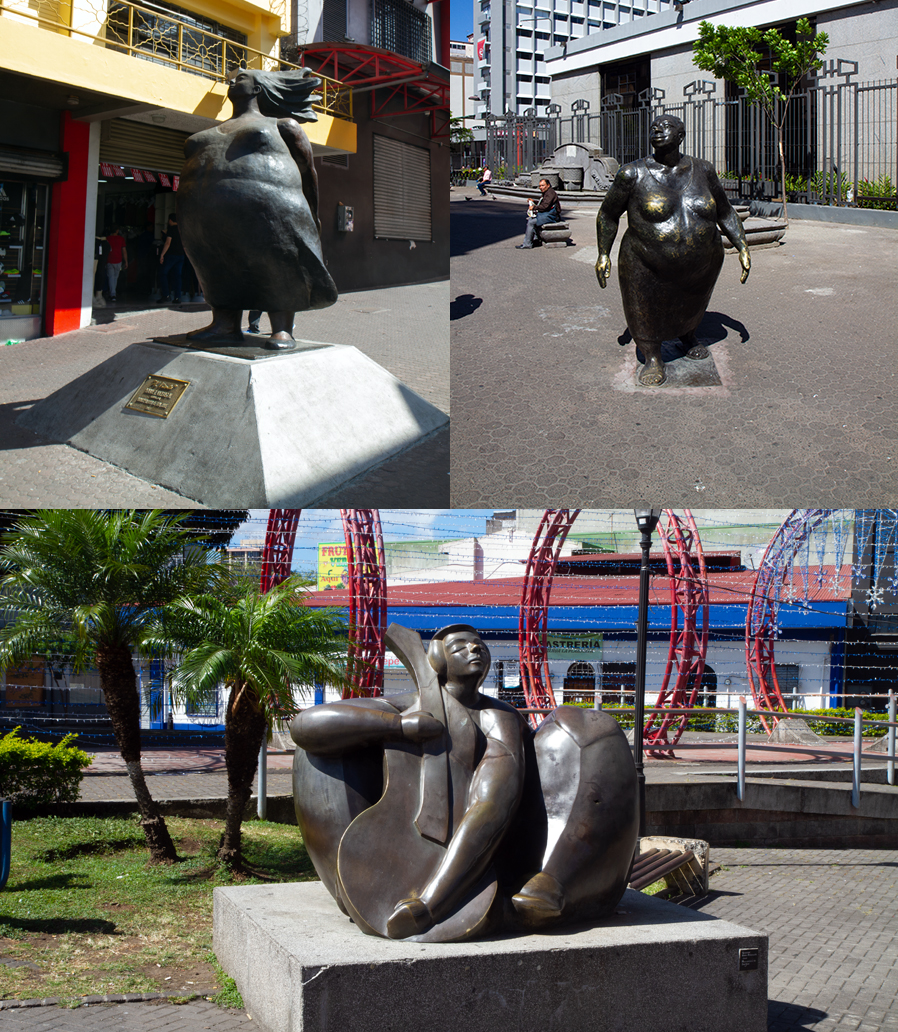 San Jose is also full of street art. These are just some of the better statues that we saw on our walks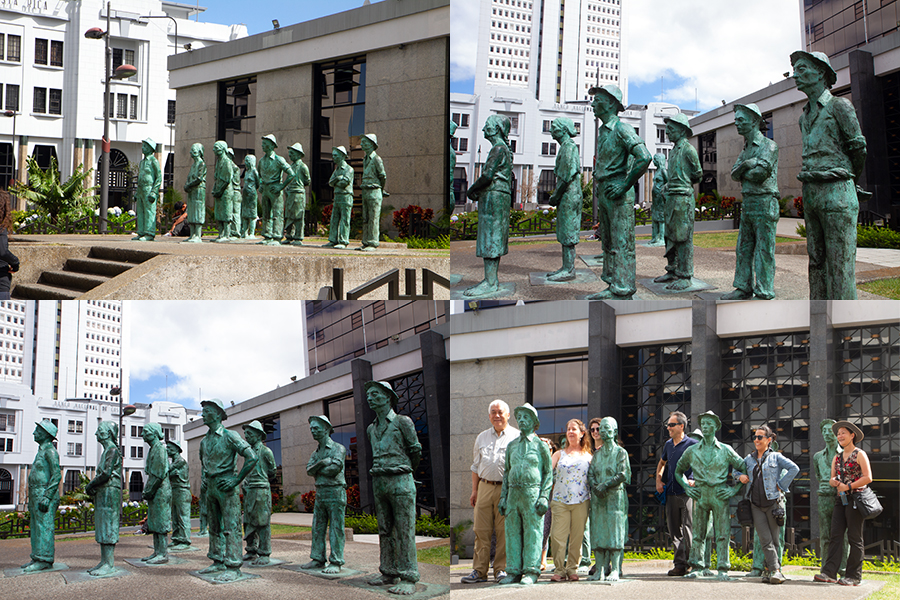 My favorite is this tribute to the ordinary working men and women, placed right in front of the Central Bank. Members of our tour group decided to pair up with the statue they liked best.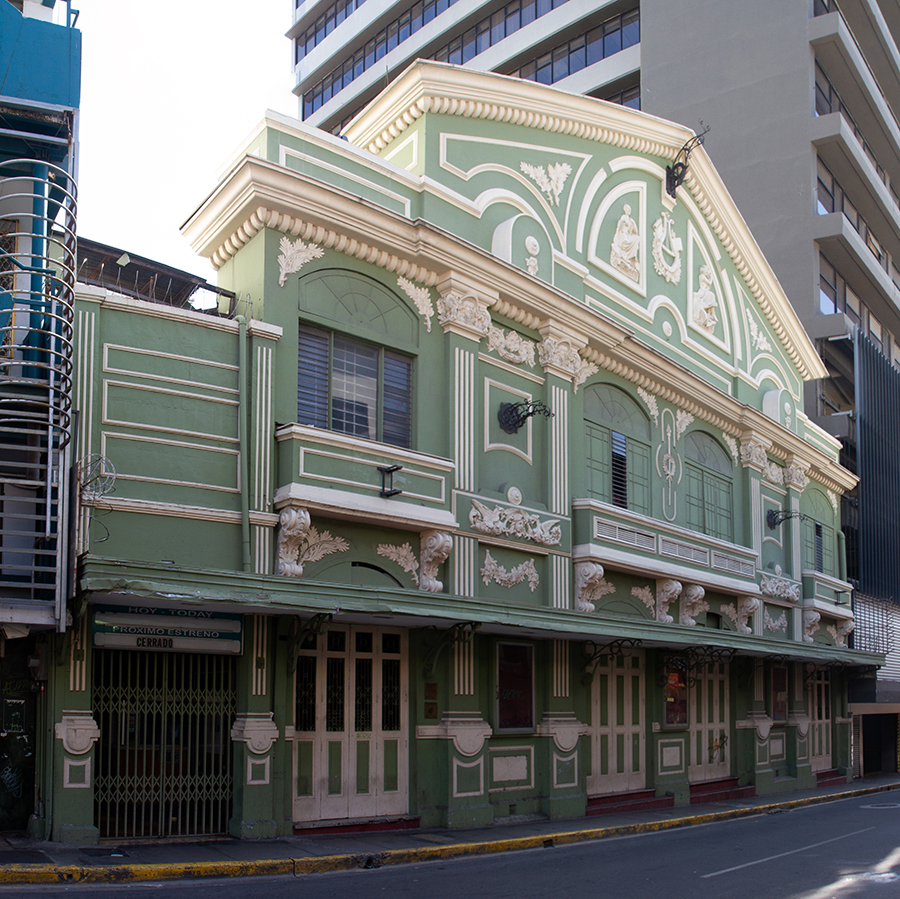 This is a metallic building from the late 1800's.  It was made in Belgium and shipped here in parts then re-assembled.  There is also a metallic school, all pink that was also made in Belgium.  It seems Belgium was very famous at the end of the 19th century for its metallic constructions and exported them all over the world.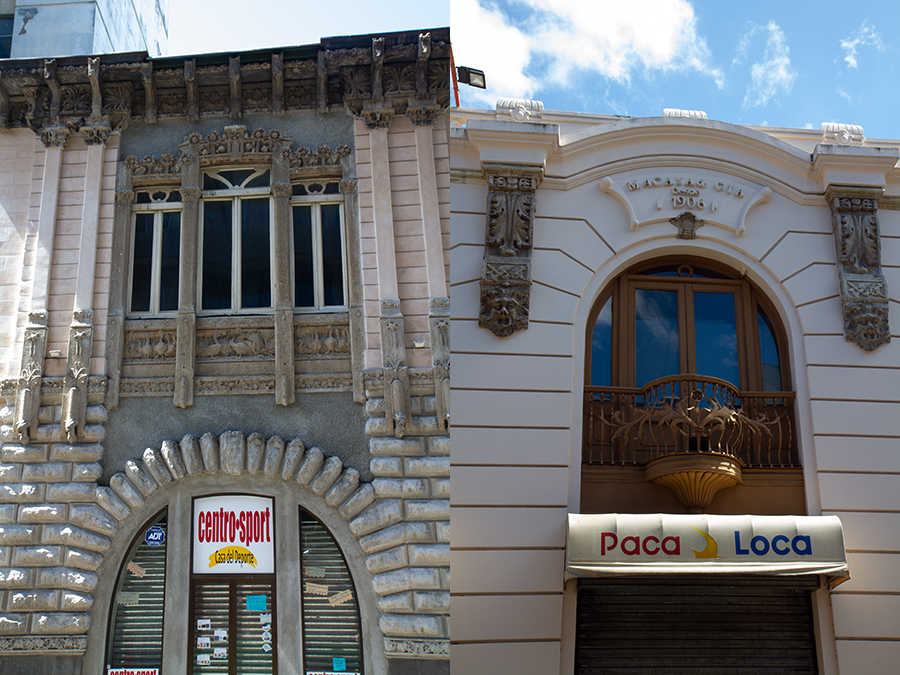 There are many historic buildings in the Center of town.  These are examples of the windows on the upper floors; they are the only ones that have been preserved.  Everything on the lower floor has typically been renovated to modern store-front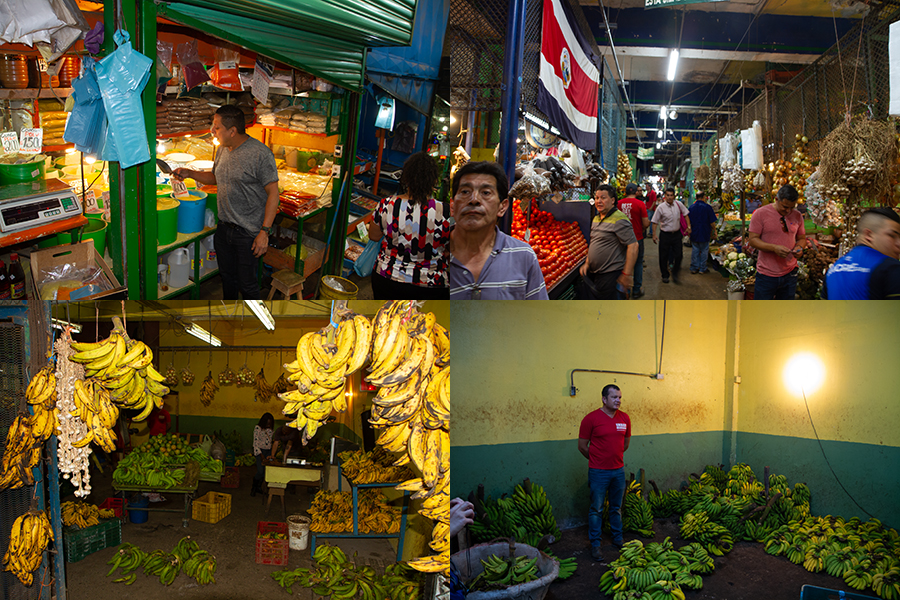 Bee and I love markets.  They are places where you can meet locals and see what they like and what they live on.  On one of our walking tours, we stopped in a banana wholesaler's shop and got a good description of the banana trade, and how bananas are matured off the tree.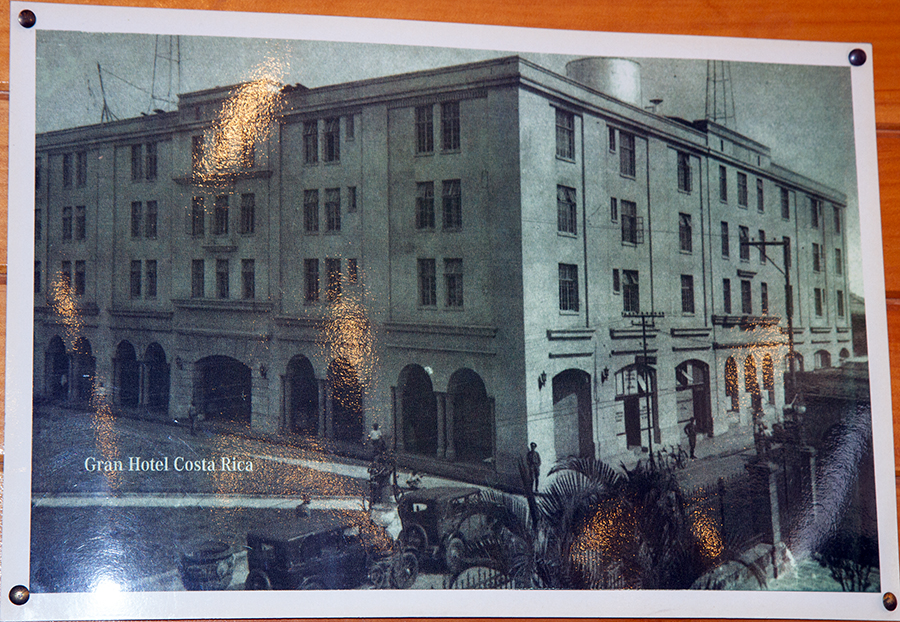 This is (was) the hotel where we stayed.  In a shop we saw this old photograph of the hotel where we stayed.  There is now an additional floor where reception and the restaurant are located.  It is a very nice hotel of the Curio brand from Hilton.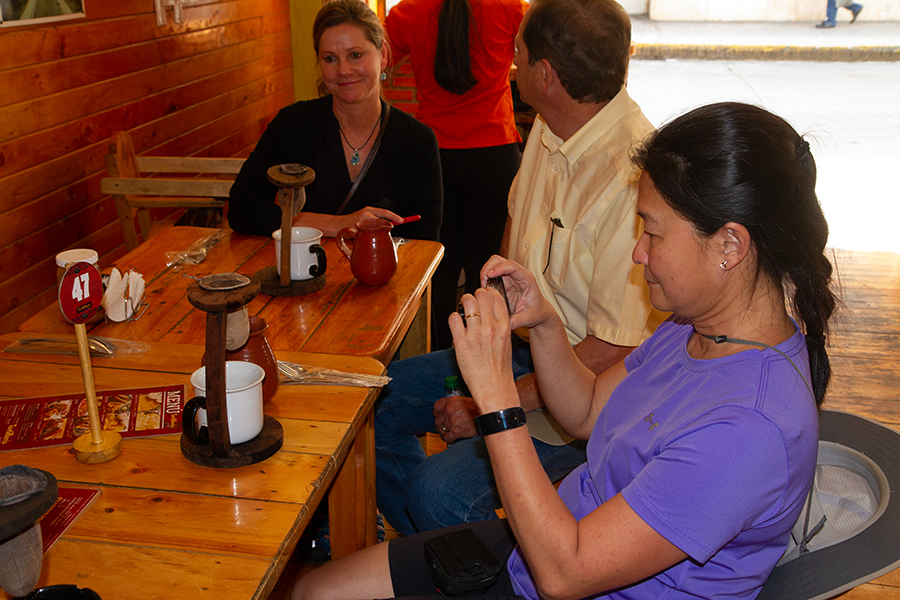 We stopped at a coffee shop where Bee was fascinated by the local drip coffee device.  Very simple but effective.  You put the coffee grounds in a fabric filter that hangs on a wooden support, and slowly pour hot water into the filter.  Place you cup under the filter.  We loved the local coffee and brought back 4 kg; we decided to be reasonable and not buy one more coffee maker though.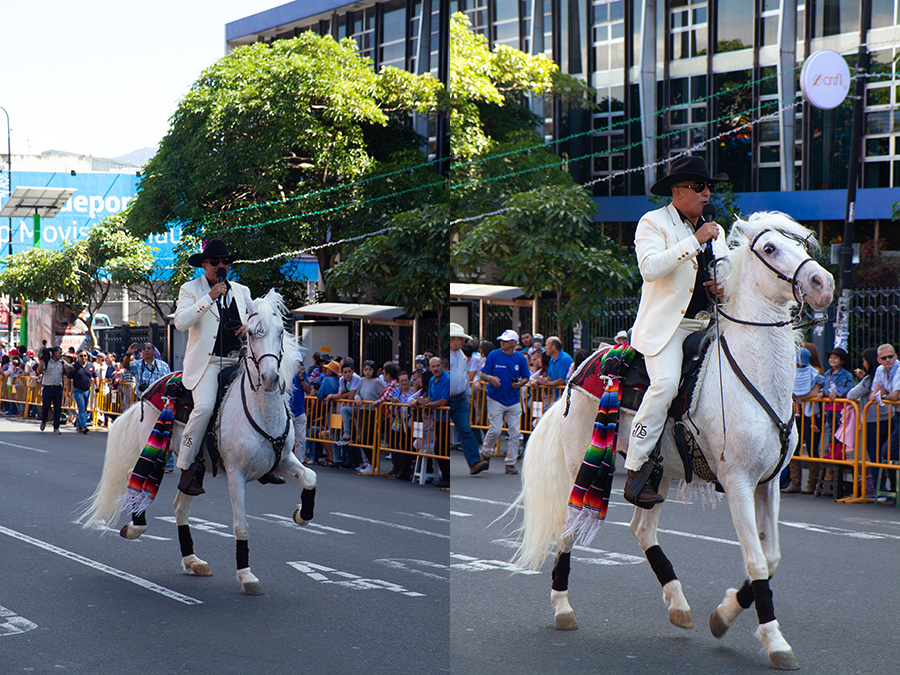 On our second day there, we saw a horse parade right in front of the hotel.  There is clearly a love affair between humans and horses in Costa Rica.  This gentleman was making his horse prance while signing in the portable microphone.  He did not miss a beat.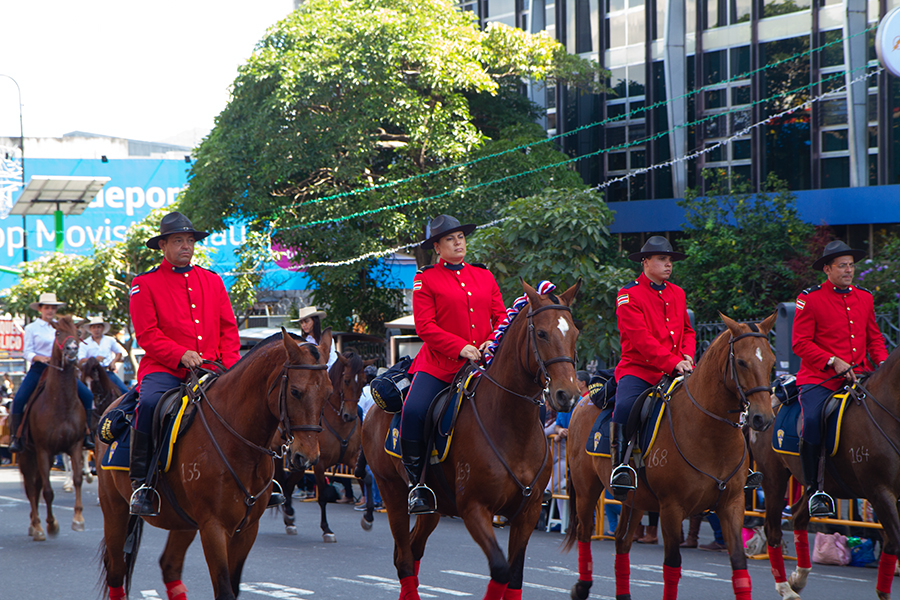 For a second I thought that even the Canadian Mounties had decided to attend when I saw this group from a distance.  However, these are local law enforcement.  Costa Rica does not have an army; they banned it way back in 1948.  They have been the most stable government in Central America since then.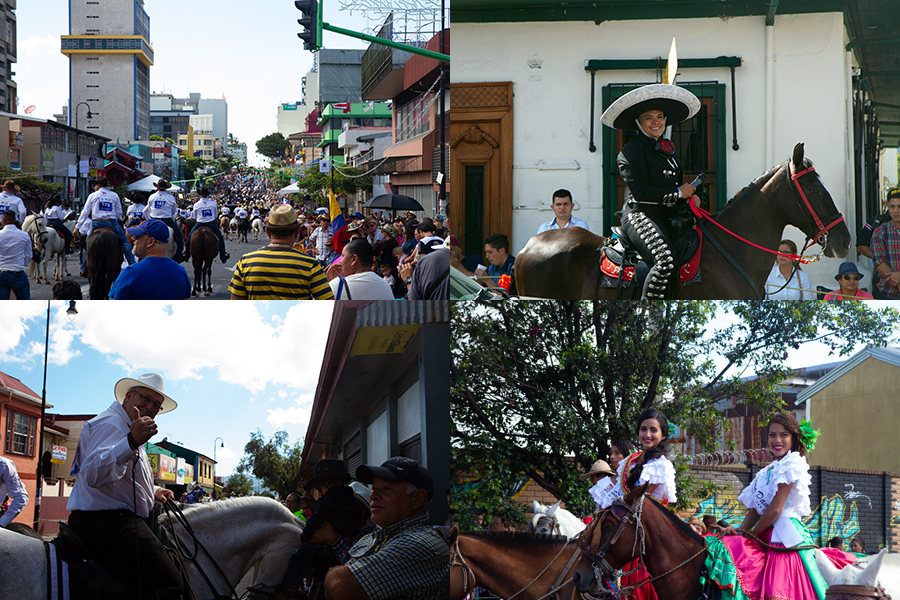 More views from the parade.  This is a very friendly parade where the participants are more than happy to mingle with the crowd and pose for photos.  It took me a while to get the attention of all three beauties in the last photo.  I think they are actually riding side-saddle, which is unusual these days.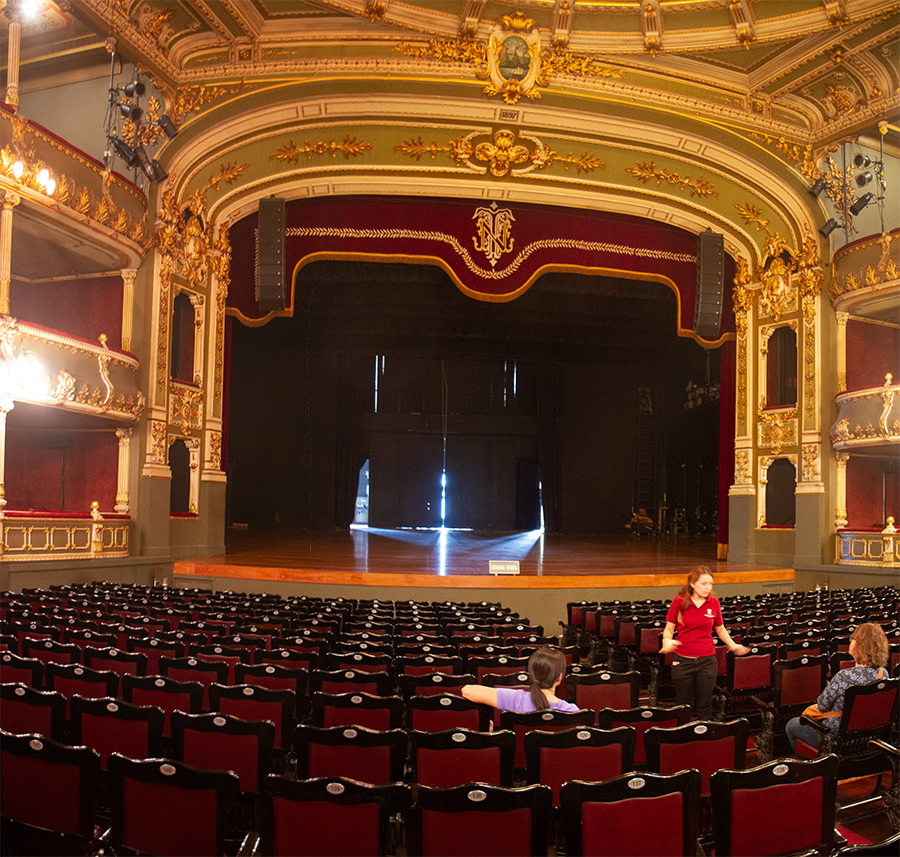 This is the National Theater, THE attraction in San Jose.  It was built in the late 19th century with money donated by banana barons in order to be able to attract the top artists and place San Jose on the world cultural map.  The main stage is very similar to some of the top theaters in Europe, and actually reminded me of La Fenice in Venice.  The interesting tie bit is that the floor where the seats are can be raised to the same level as the stage, using a single, manually operated wheel.  It takes 8 people to turn that wheel.  Once raised, and without the seats, it makes for a huge dance floor.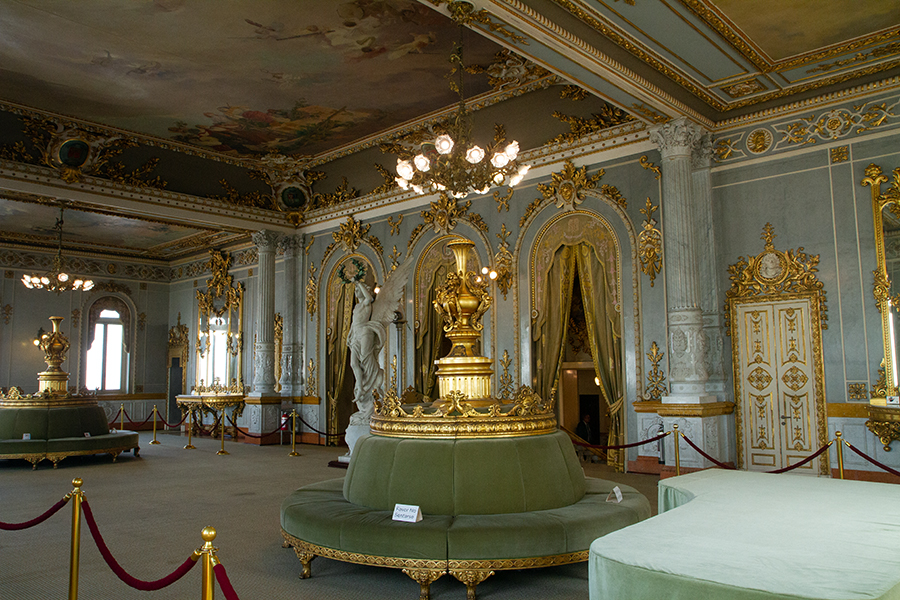 The upstairs reception room, used before the show and during intermission, is typical of the late baroque period.  Clearly, the banana barons were not short of money and wanted to show it.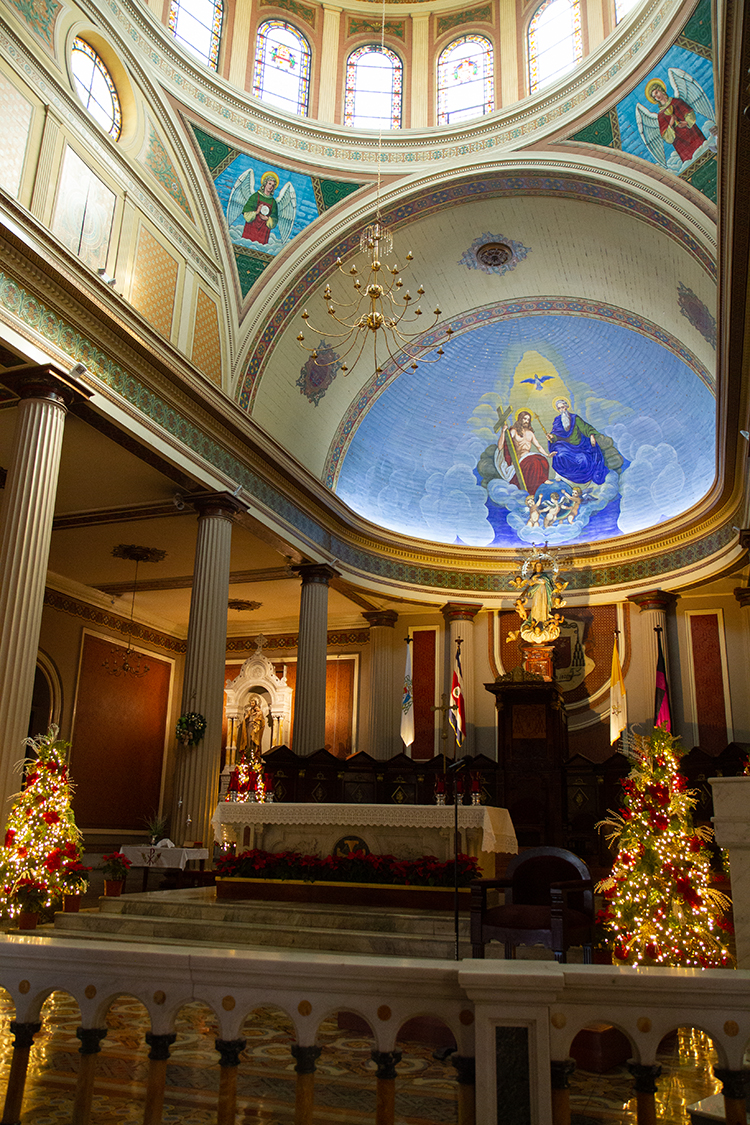 We made several attempts at visiting the Municipal Cathedral in San Jose.  Every time we tried, there was a mass, and we decided not to intrude.  On the last day before the trekking, we were finally successful at finding a slack in masses, which clearly does not happen often.  The church turned out to have very nice decorations inside.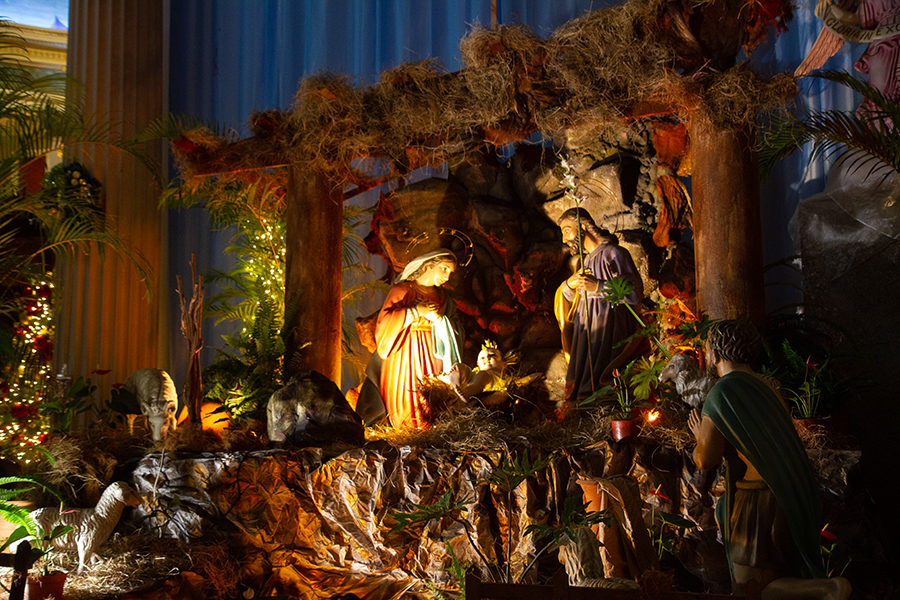 In the church there was the traditional nativity scene.  This one was quite elaborate and this poor photo does not do it justice.  There was insufficient light for a decent photo and i did not want to use my flash.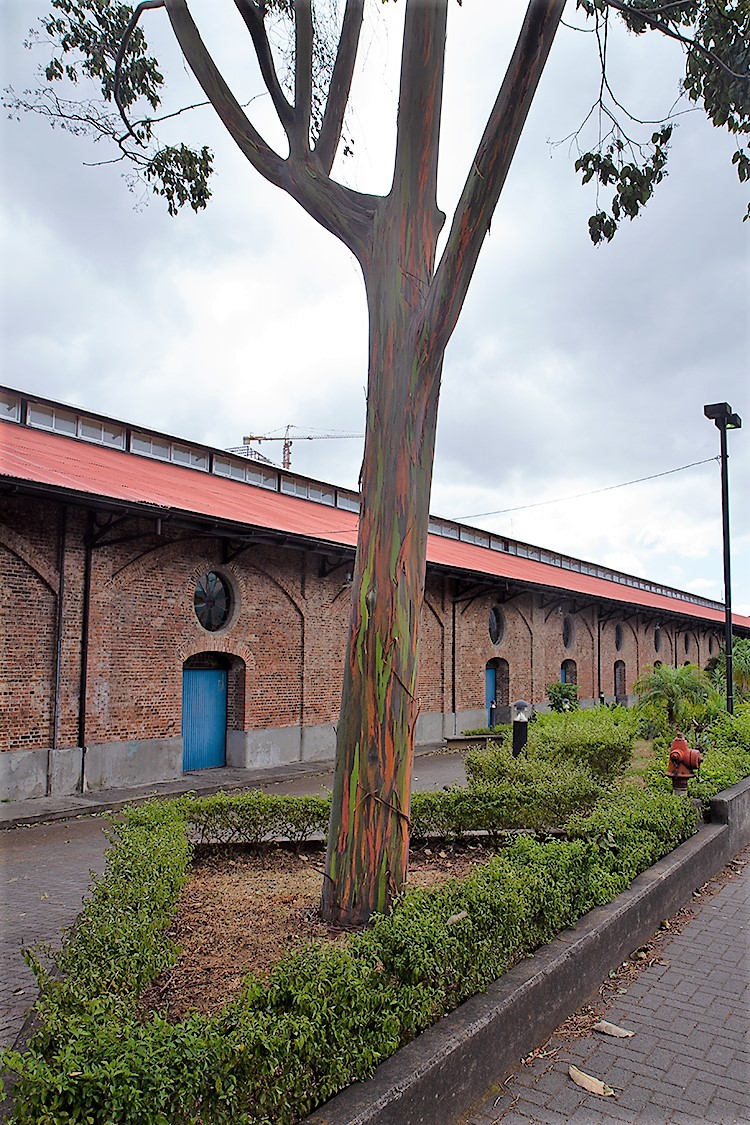 On our last day in San Jose, we went to explore the area called Barrio Escalante, a residential area that is bohemian and more laid back than the center of San Jose where we had spent all our time until then.  This is the old Customs House, now converted into an entertainment center.  However, for us the top attraction were the multi-colored tress that were planted in front.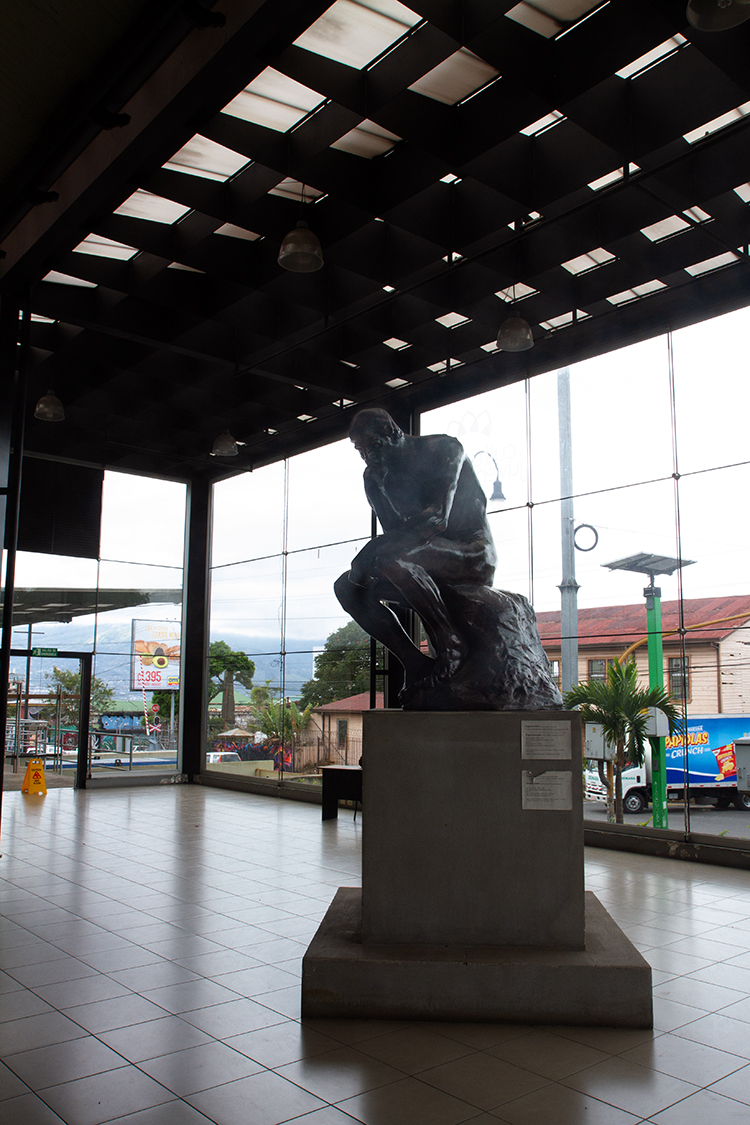 Inside, we were surprised to find a copy of Rodin's The Thinker.  It appears to be genuine but I have not been able to find any history of where it came from.  Wikipedia has an entry with ALL of the statues in the world, and this one is not listed.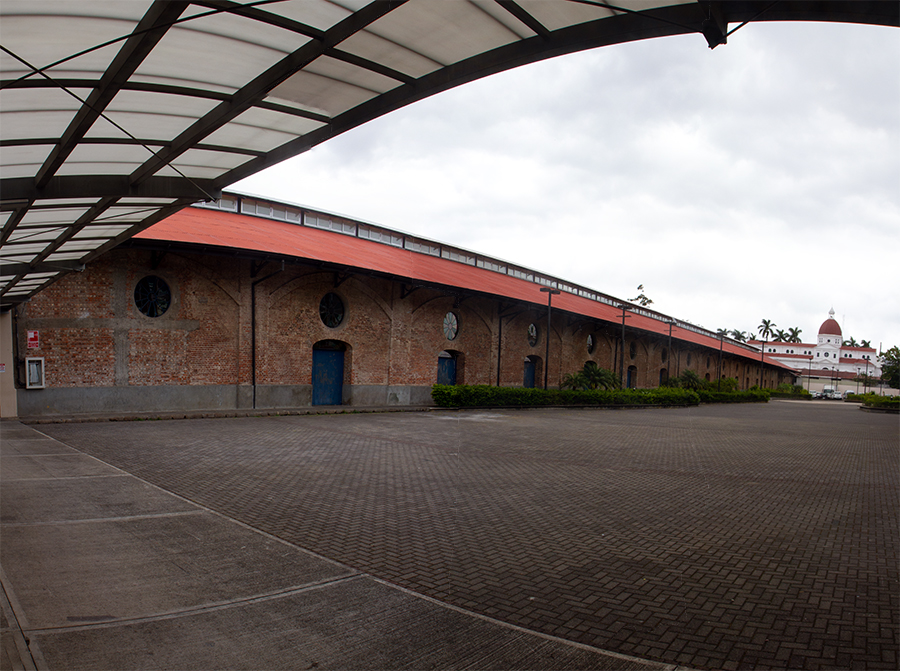 Inside the Customs House there are very large spaces that can be rented.  One area was being renovated and prepared for a temporary exhibit.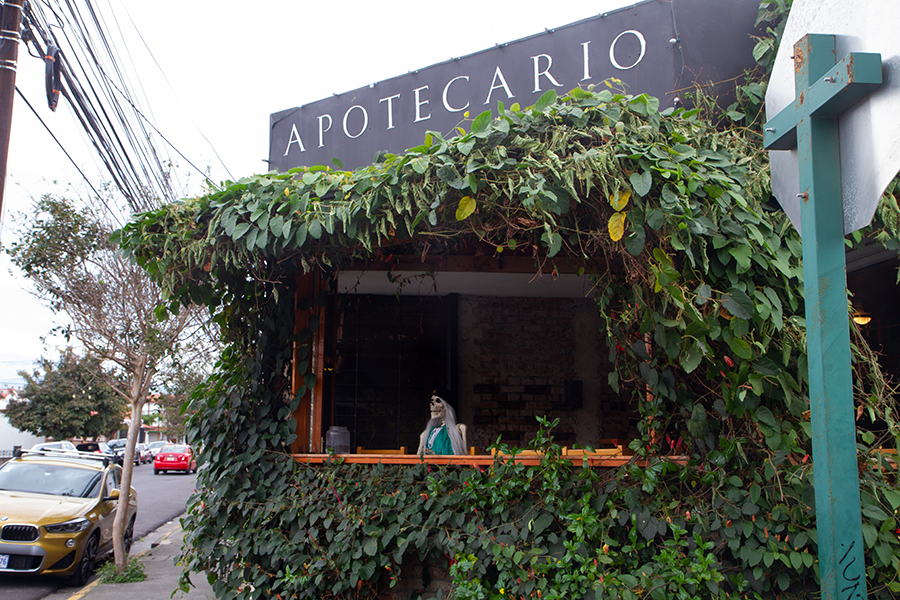 Elsewhere in Barrio Escalante, there is clearly a sense of humor. or very slow service!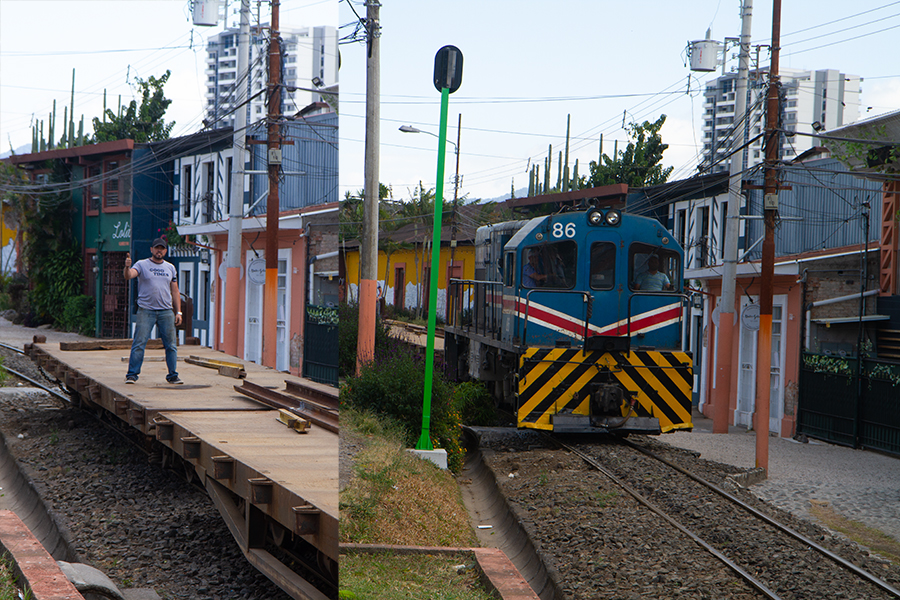 The train passes back and forth – this is actually the main line from San Jose to the Atlantic (Caribbean Sea) – the safety standards for passenger trains are not as high here as in other countries.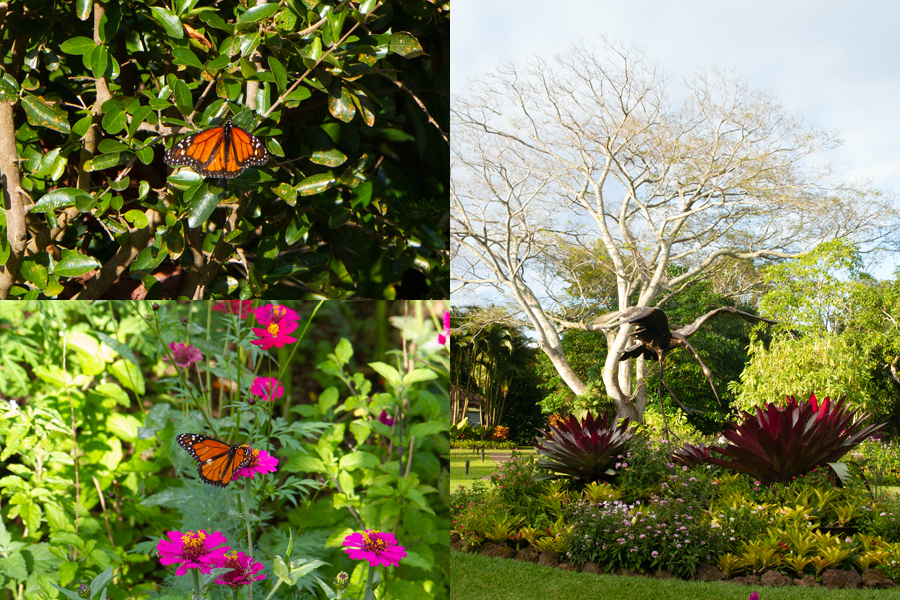 We spent two nights at a hotel just outside the center of San Jose – it had a huge garden and not much else to do so we spent a few hours in the garden looking for interesting animals.  I liked the statue of the crane.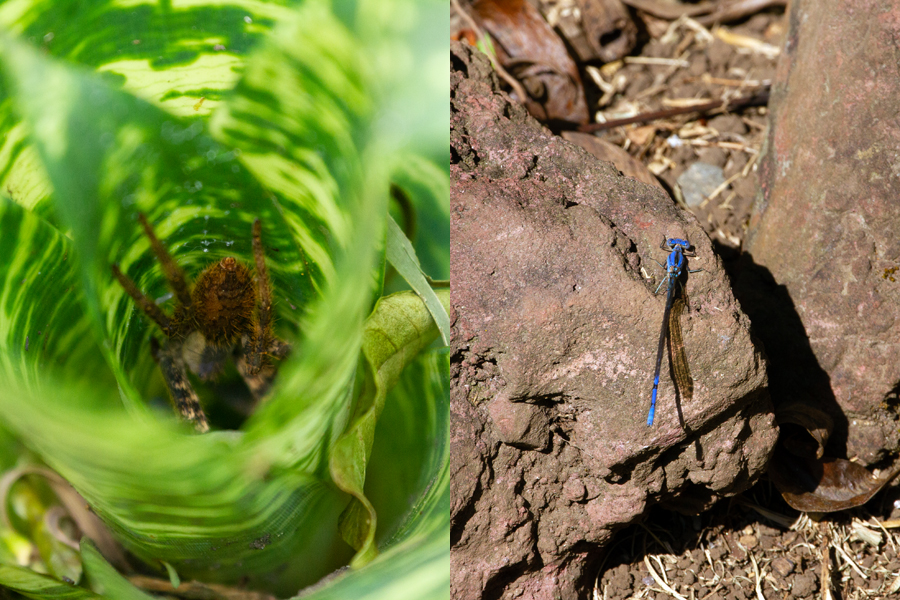 We also saw a spider inside its funnel web and a dragon fly that was resting for awhile.
We saw a lot more animals in the other parts of Costa Rica which we visited and that will be the subject of future posts.
(28 Page Views)