pierreo May 6th, 2012
I am not going to try to cover this trip chronologically.  We made several passages through Thimphu and Paro and I will cover these as a separate topic now.
But still, this starts at the continuation of the previous post.  After Chuzom, we headed directly into Thimphu where we had lunch in Clock Tower Square, the center of town.  Compared to Paro, Thimphu is a very big city and growing quite fast.  A short walk in the city gave us much more of an urban feeling that we had seen anywhere else.
After lunch, we headed for "Monk University", or Tango Gompa.  On the way there, we stopped in front of this huge rock painting of Guru Rimpoche.  Guru Rimpoche is a very important character in the history and folklore of Bhutan – there is not always a very distinct line between the two.  He is credited with bringing Buddhism to Bhutan and in his travels across the country founded several temples and monasteries. The painting is relatively recent but already a very important location as evidenced by the number of prayer flags that surround it.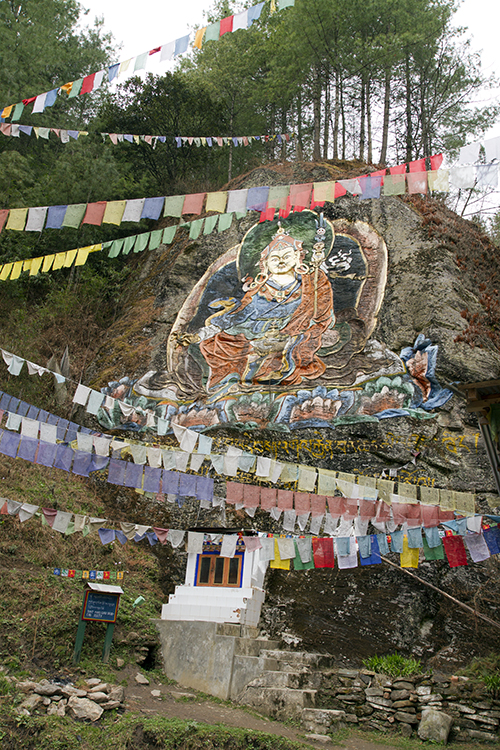 Tango Gompa (as the name indicates – Gompa is only used for temples and monasteries that are located on the side of a mountain with steep climbs to get there) is reached by hiking up for about 1 1/2 hour.  On the way, we see more rhododendrons in bloom.  These are very different than the ones I was used to in Belgium.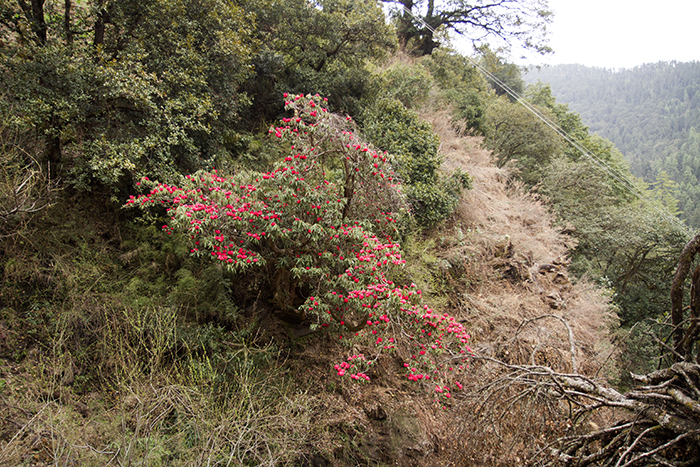 We are now used to climbing at this altitude and therefore are able to do it relatively easily, but still breathing hard.  It is very nice though when you finally get your first glimpse of your destination.  Here is the final approach to Tango.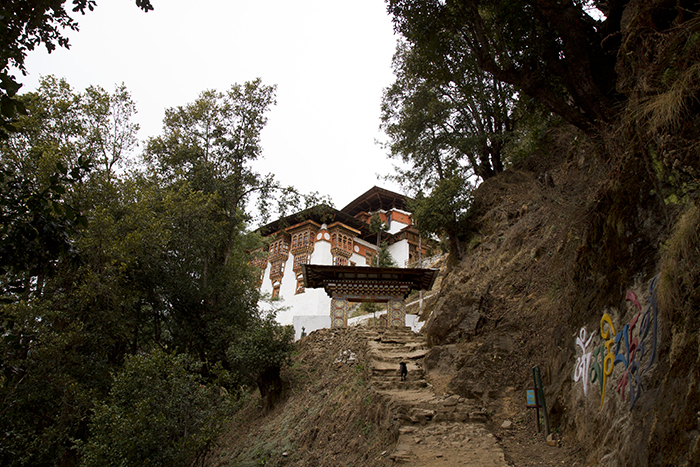 Before going into the monastery, Kipchu explains more to us about the history of this temple.  It is a good opportunity for me to get a general view.  Tango Gompa is the oldest and largest college for Buddhist Studies in Bhutan.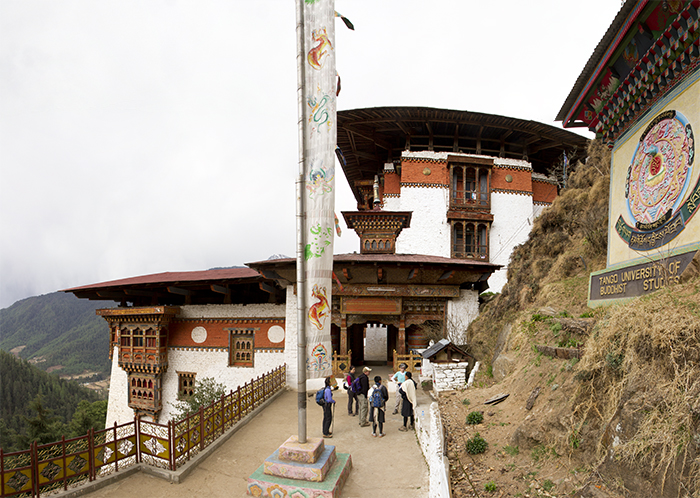 Lebo and Kipchu have once again put on their more formal attire and we are ready to go in.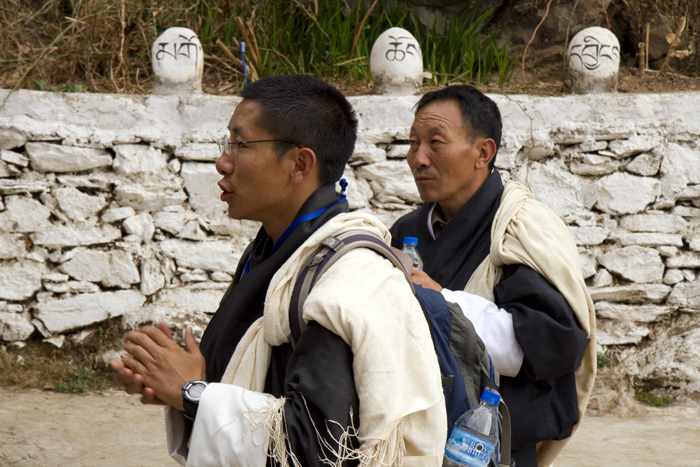 The main courtyard is accessed through a rather narrow passage.  The shoes are there because of a small temple on the left of the entrance – we did not forget to take ours off!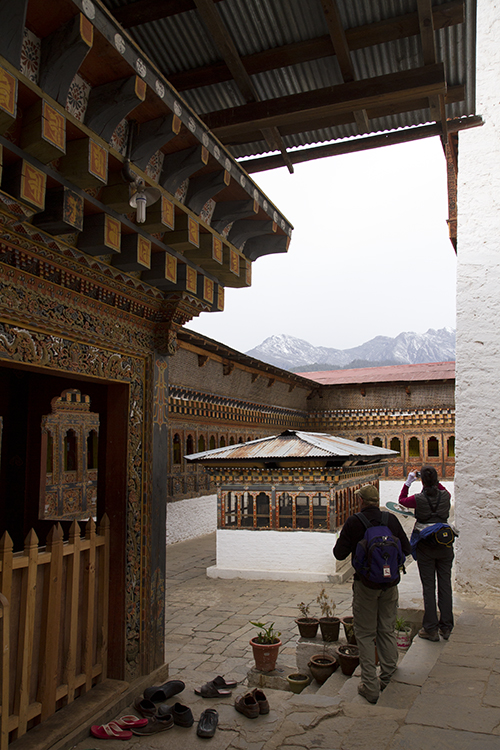 The main temple is several stories high, as usual.  The distortion of the photo is due to the fact that this is a very wide angle shot (almost like a fish eye) obtained by splicing together 12 separate photos.  The small building on the right houses butter lamps – more and more temples keep these out of the main building as they have been the source of too many fires in the past, and temples can be lit with electricity now.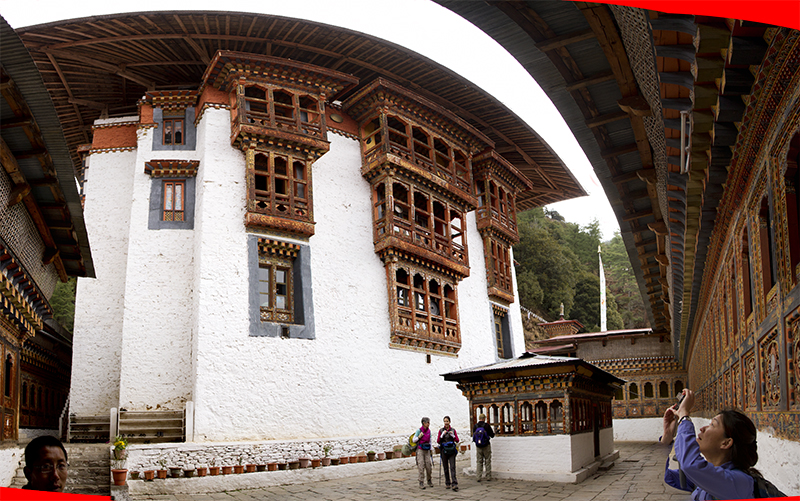 This same sight probably could have been made 10, 50 and 100 or more years ago!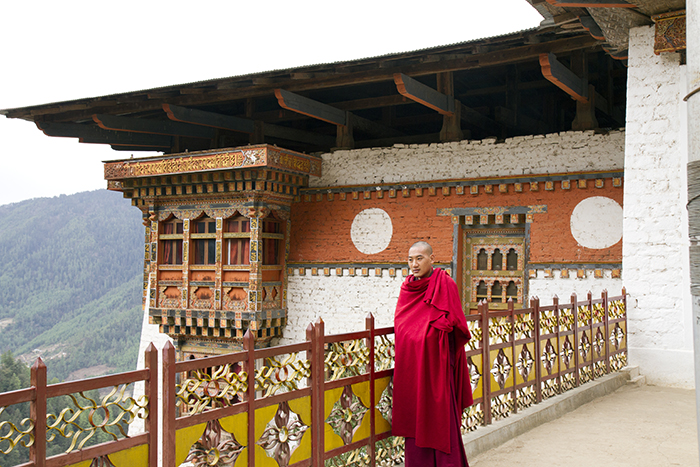 We had to walk for 1 1/2 hour to get the the monastery as there are no roads.  While we were climbing, with our hiking boots and hi-tech clothing, we were passed by monks who did the same route in half the time with flip-flops and flowing robes.  That also means that all the supplies to the monastery have to go up the same path, mostly on horseback.  Here is a group going back after dropping off their load.  They need less than 1 hour to do the trip up, but still must be huge amount of work to resupply the monastery on a regular basis in this fashion.  Better make a complete shopping list, or else it is a long way down for that one thing you forgot to get…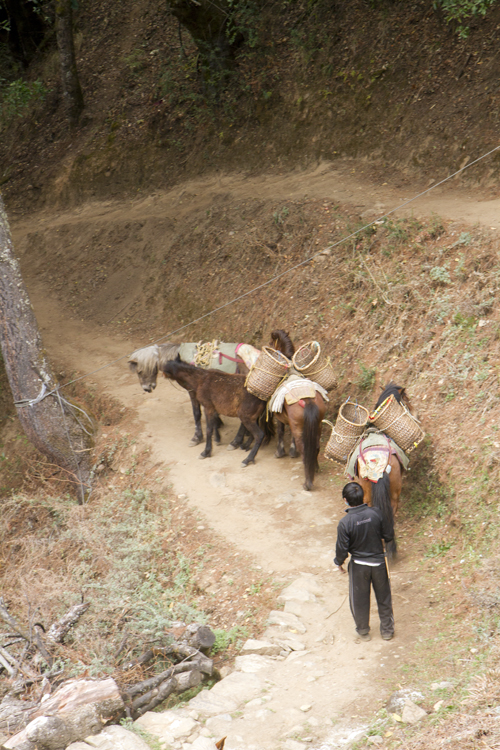 The following day, we headed out of Thimphu towards Phobdjikha Valley.  I will cover that in the next episode…
On the way out, we got a good view of the huge Buddha Statue that now overlooks Thimphu.  It is also a recent addition, only completed less than 2 years ago.  It was designed by a Singaporean, funded mostly be Malaysia and built in China – good regional cooperation!  You can go to http://www.buddhadordenma.org/ for additional information and better photos.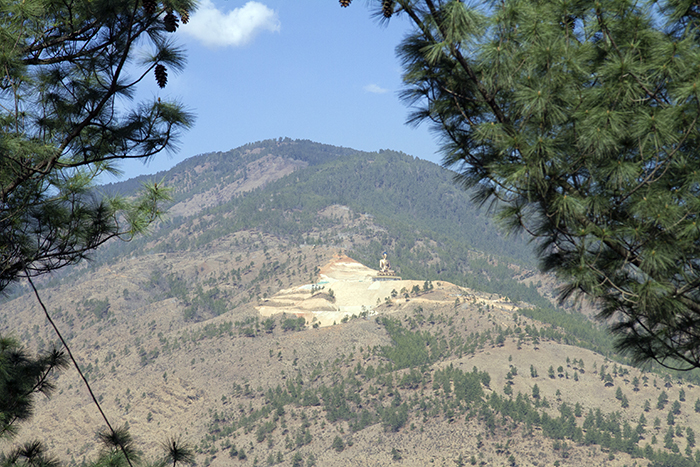 On the drive up to Dochu La, we passed by another Dzong called Simtokha Dzong as always strategically located on a hill top at the intersection of two valleys.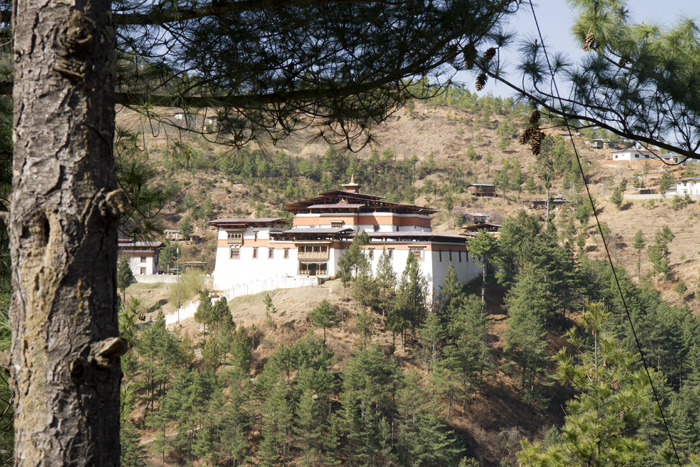 After Phobdjikha Valley and Punakha, we came back though Thimphu for another day of visits.
We started with the Folk Heritage Museum.  This is essentially a recreation (an actual house from Paro valley has been relocated here) of a traditional farm with implements and explanations.  This would have been great had we not visited an actual farm in the Ha valley.  I guess I did not cover that in the previous post as I did not retain any pictures from the visit.  It was interesting to see how people live, and we got an authentic mug of butter tea – I can say without a shadow of a doubt that this was the best butter tea I have ever had, much better than in Tibet (which was made with rancid yak butter and loads of salt! In Bhutan, they use fresh butter and loads of salt)
We then went to visit the National Institute for Zorig Chusum which provides 4 to 6-year courses in Bhutan's 13 traditional arts.  This is where they form the artists and artisans who are at work throughout the country renovating old buildings and creating new ones in the traditional style.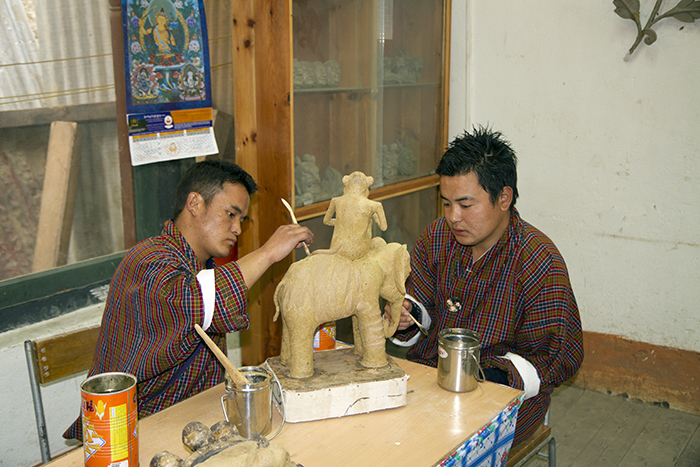 Most students seem to be working independently (we saw very few instructors), but in teams as the two boys working on the statue above.  In the sewing classroom, there were mostly girls who were working individually – they were happy to show what they were working on to the strange visitors (actually there were quite a few visitors, which must be sometimes disruptive…).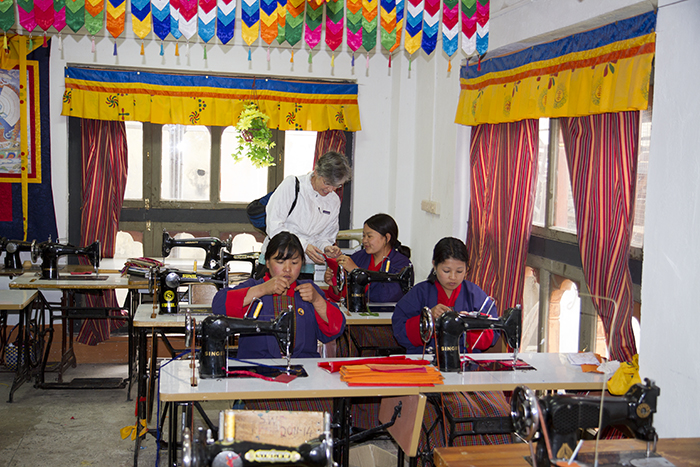 Here is a group of boys working on a 3-D model of a Dzong, complete with trees and river.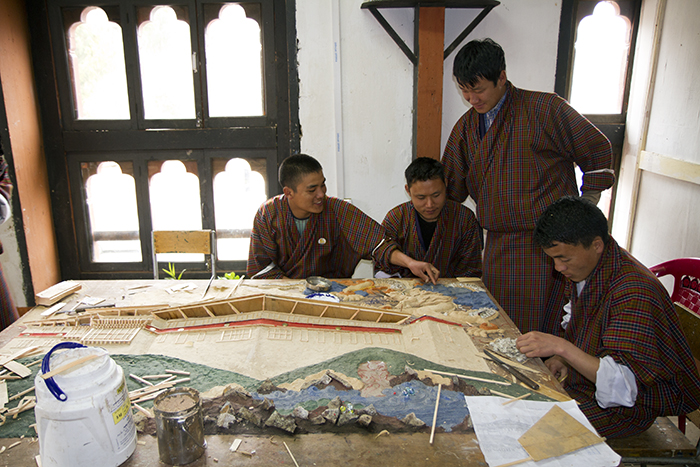 The only instance I noticed of a teacher actually tutoring a student was in this embroidery class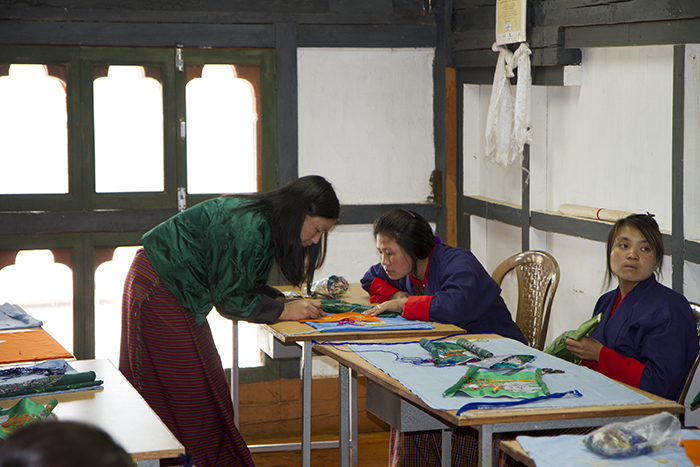 We made a quick stop at the National Memorial Chorten, built in the memory of the third king: Jigme Dorji Wanchuck in 1974.  We walked around it, just like the majority of people there, but could not go inside.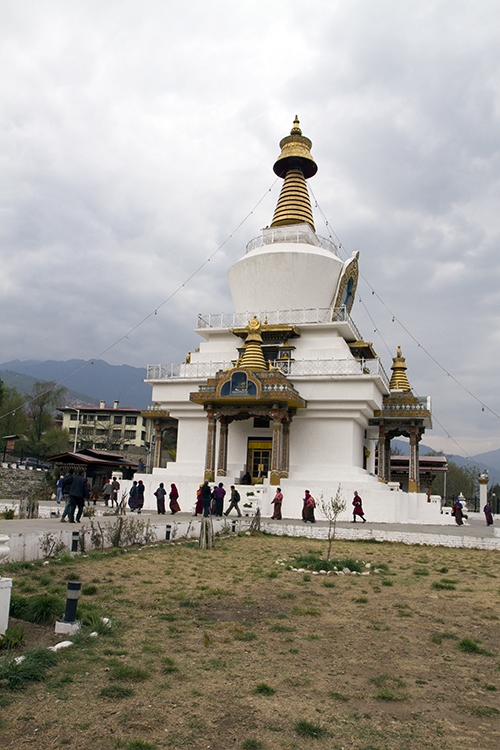 We drove to a small zoo where they keep a few examples of the Takin, Bhutan's national animal.  There were not easy to see, and even more difficult to photograph as they were kept in an enclosure with tightly packed bars.  There was a small hole though which I was able to (almost) take a decent photo.  The animal itself is not very photogenic either …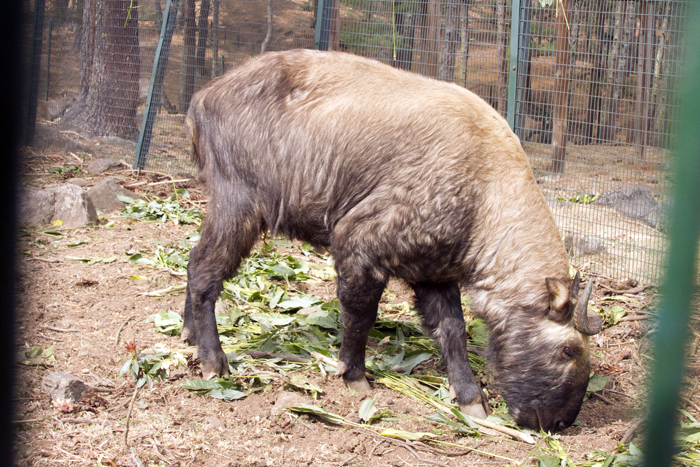 We managed to get two good views of the Thimphu Dzong – actually known as Trashi Chhoe Dzong – which is the seat of the government of Bhutan and also where the head abbot resides in summer (he is in Punakha in winter, where the weather is better due to the lower altitude).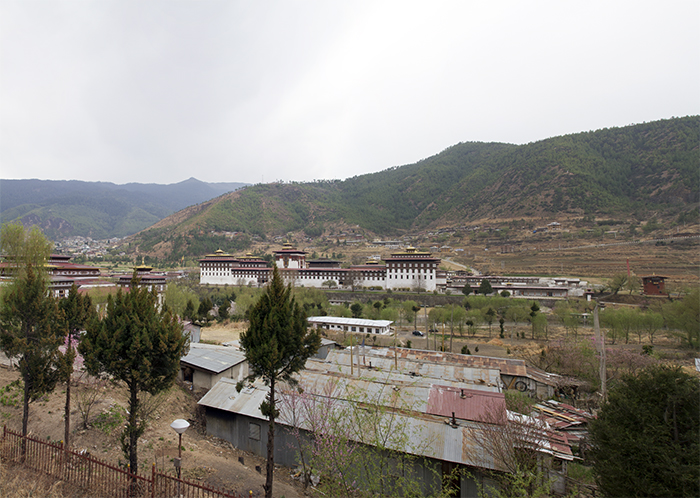 In the view below, you can see the small 'bungalow' where the current King lives, it is the small building at the extreme right of the picture, between the trees just above the long buildings with red roofs.
We were able to visit the Dzong, but only after 5PM, after the government workers have quit for the day.  It is a huge building, much bigger inside than it looks from here.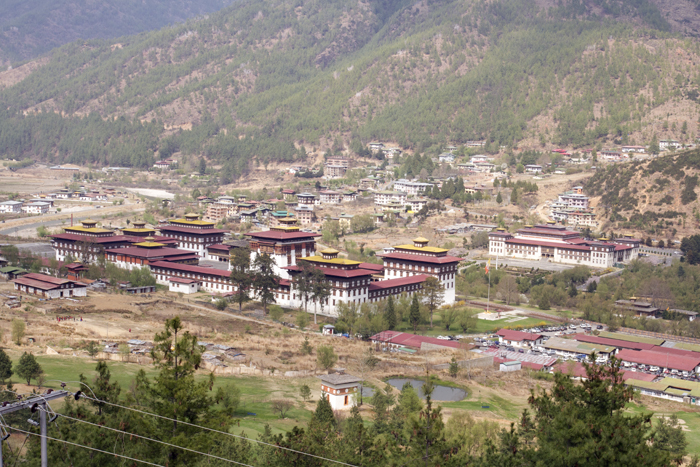 Without transition, from one Dzong to another – here is a good view of the Paro Dzong, also known as Rinpung Dzong.  This is taken from the Festival Grounds – the Paro Tsechu.  We were lucky enough to participate in the last two days of this festival which I will cover later.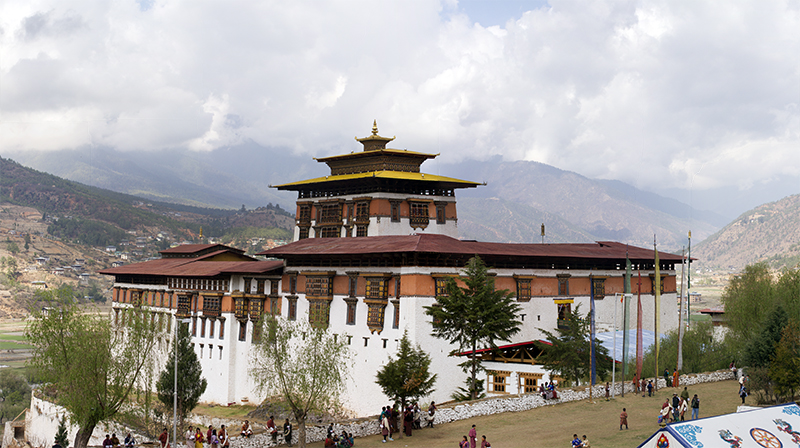 While we were watching the dancing and other festivities, I heard a strange noise that was very slowly building in the background.  Very soon, slaloming in between the mountains, we saw one of the Druk Air planes approaching.  Here is an interesting juxtaposition of 'old' and 'new' or 'modern' and 'traditional'!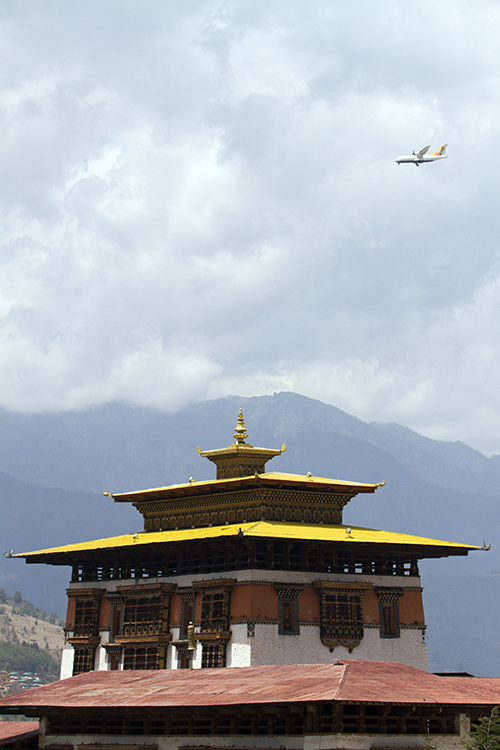 At the end of the day, tired from the festival, Bee and I went for a walk to see if we could get a decent photo of Taktshang Gompa, probably Bhutan's best known monastery, the subject of million of photographs and commonly known as Tiger's Nest.  It was hazy, and from the distance of several km, this is the best I was able to do.  I figured that I might do better the following day, when we are supposed to hile up to it.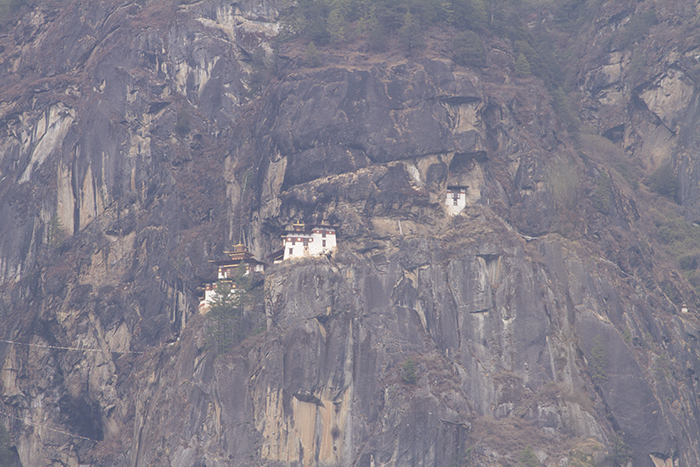 Here is an opportunity to show you how much you can improve a photo with Photoshop.  The photograph above is essentially unmodified – it is as taken.  There was quite a bit of haze and therefore at several kilometers, the temple appears very faint and washed out.  However, a few adjustments (mainly automatic) give the result below – quite a nice change.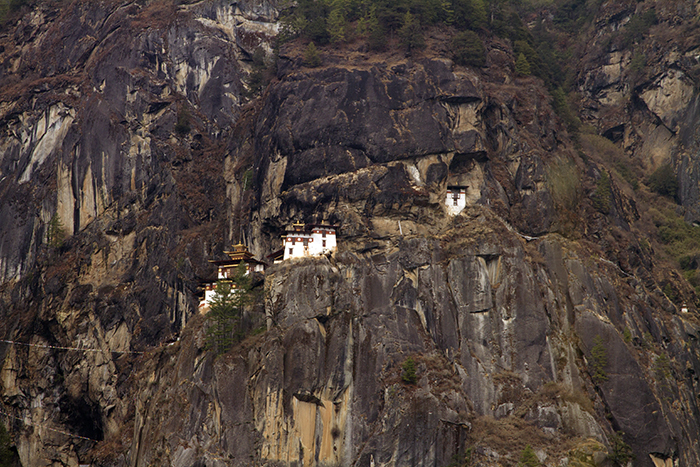 When we got up the next day, the clouds had descended to cover most of the mountains in front of the hotel.  As we drove towards the monastery, it was clear that is was fully covered by the clouds.
We still decided to start on the 2 1/2 hour climb up to the top.  Kipchu was certain that the clouds would lift by the time we got to the Gompa.  This really concerned us, as usually Kipchu would start all his statements with "maybe" even when he was certain of what he was saying.  So why now be so convinced?
We climbed slowly on foot while others in the group decided to do the first half on horseback – this is where we noticed that Lebo was really slowing down his pace to make sure that we could (barely) keep up.  He led the horses up at a real gallop!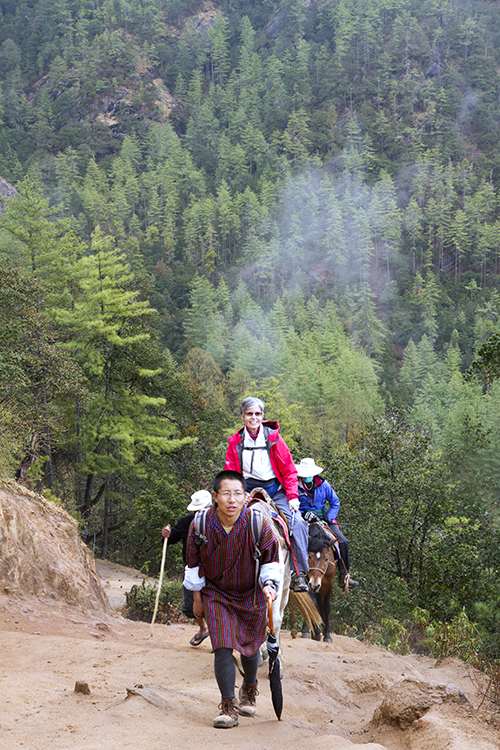 At times, the spanish moss in the trees almost make us think of Louisiana, except for the fact that the path is going up, something very rare in that part of the US!  We are also catching up to the clouds – at times, we are actually walking into the cloud.  Either we are going up too fast, or could Kipchu be wrong?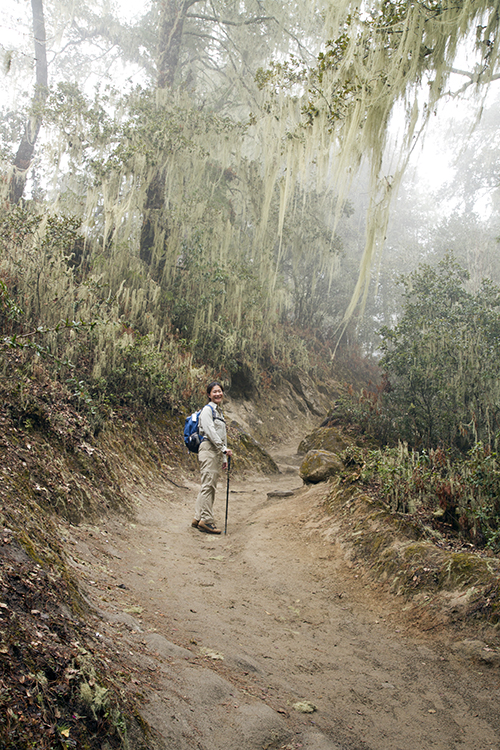 However, when it really matters, and when we reach the best viewpoint of the Taktshang Gompa, we get spectacular views!  Many have taken photos here on a sunny day but we have the unique chance to see it with the clouds just above the monastery, giving more of an eerie feeling.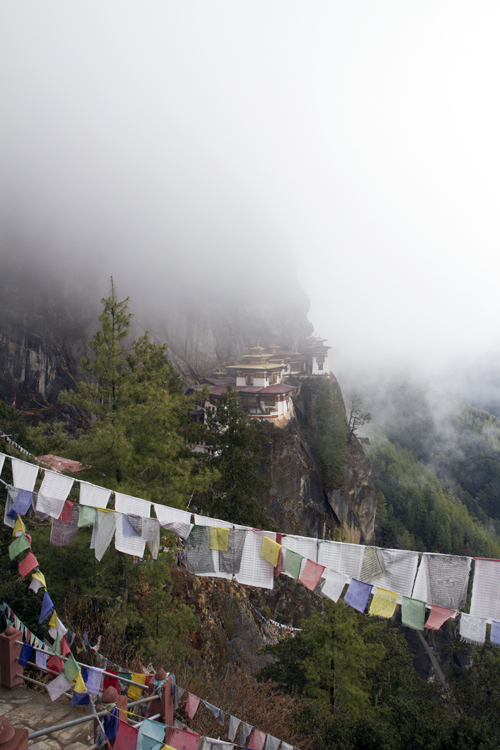 The clouds are constantly changing giving different views and light of the monastery.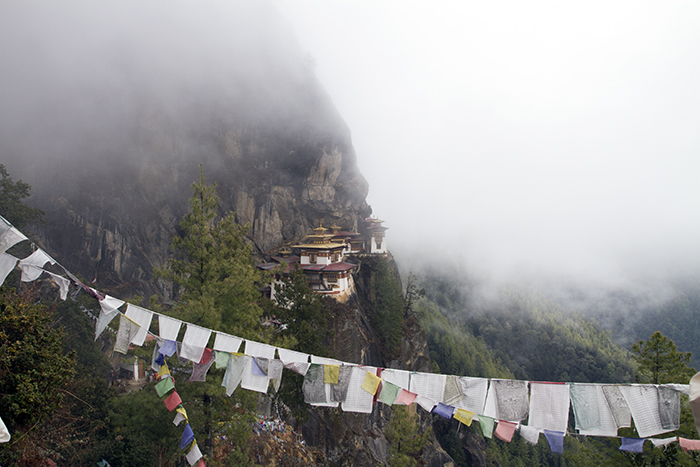 Frustratingly, the path goes down from the viewpoint (after climbing for 2 hours, it is very frustrating to get to the same level as your objective and find out that you have to go down, and back up to get there!).  But this gives us more opportunities to view the temple from different angles.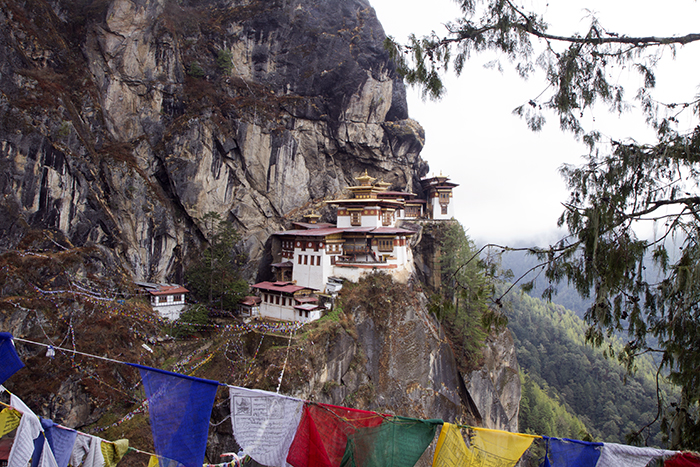 There are extremely long strings of prayer flags strung all over between the sides of the mountain.  I wonder how most of these were put up – it must take a lot of work by several people, and a lot of strength as the strings must be pretty heavy.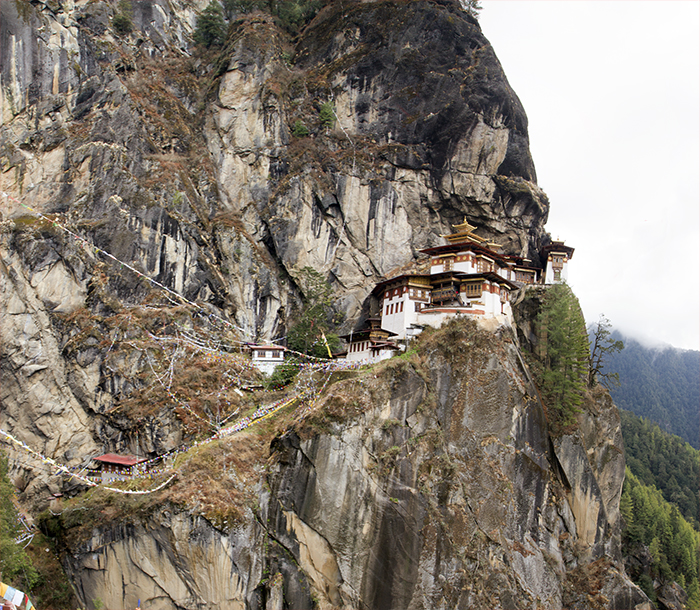 We could not take pictures inside the temple, unfortunately.  We visited the cave where Guru Rimpoche is believed to have stayed for three years after he flew up here on the back of a tigress (which is actually one of his consorts).  He got here the easy way, I guess.
On the way back down, the clouds had continued to rise and we were able to see better views of the Tiger's Nest from a distance and with rhododendrons in the foreground.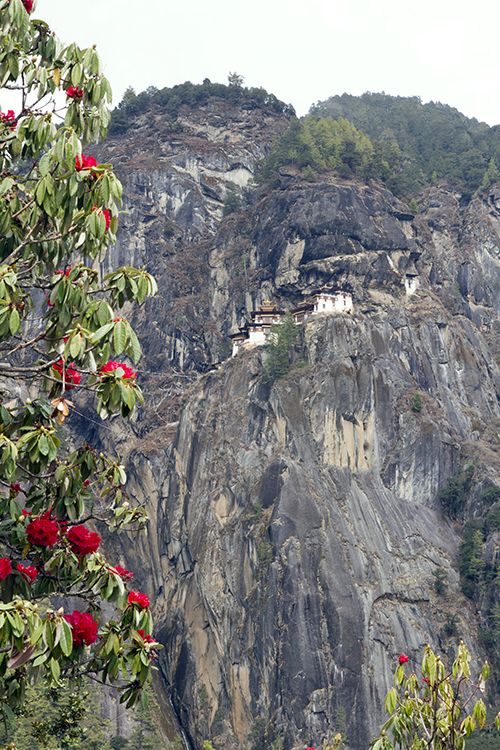 This concludes this episode of the trip, and actually it is the last thing we did in Bhutan.  The following day, we flew to Bangkok, then Singapore, then Frankfurt and then Brussels, but you already know about the one day in Bangkok.
However, there are more photos from the middle of the trip and from the festivals we attended and therefore I urge you to stay tuned and see what comes next.
(1143 Page Views)