pierreo May 26th, 2012
We left Thimphu to go up to Phobjikha.
However, in between the two, there are two high passes and a very low valley; so this was to be the longest driving day of the whole trip.
We started by driving up to Dochu La, a pass at over 3500 m from where, on a rare clear day, you can see the Black Mountains and the high Himalaya, with several peaks over 8000 m. Considering that we had had a lot of smoke everywhere we went due to forest fires, we had limited expectations, until we arrived at the top and saw this!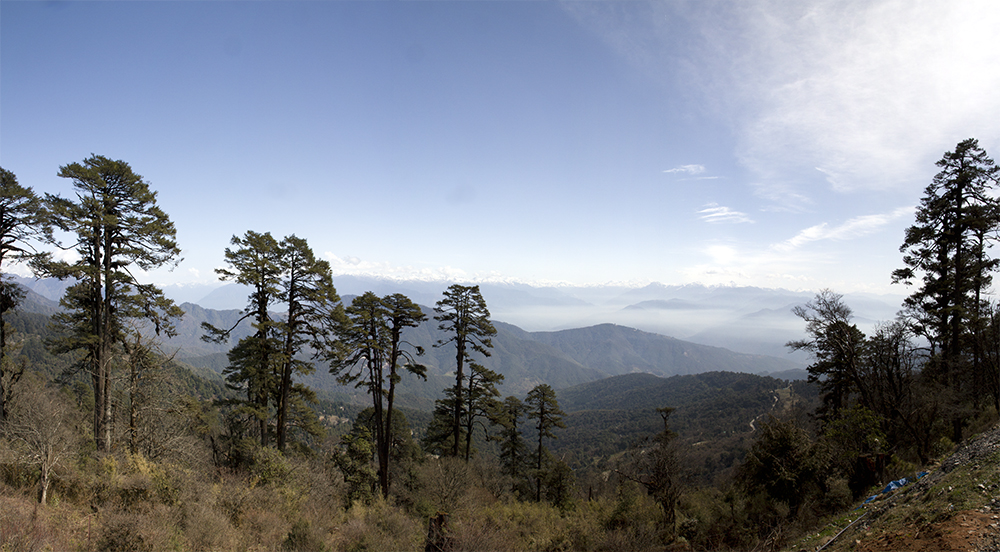 The bus erupted in enthusiastic applause… These photos do not do justice to the spectacle that was in front of us. We could see many high peaks including the highest mountain in Bhutan, somewhere on the right of these photos.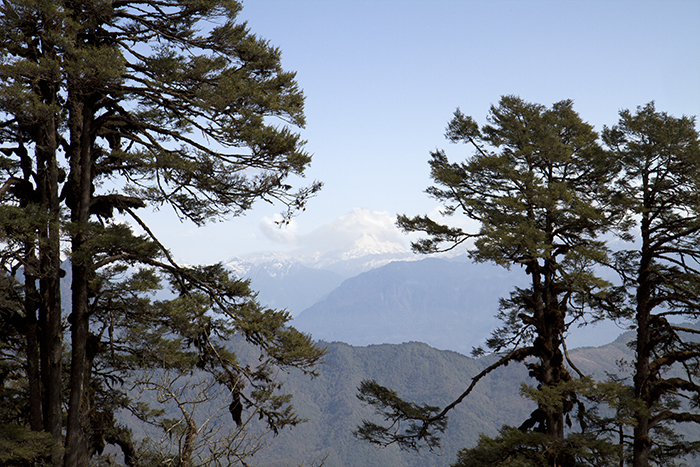 Near the temple that was built by the wife of the fourth king to celebrate his victory against Nepali insurgents in the South of the country (this sounds like it should have occurred in the 1800 but actually was in the late 1990!), we were given access to high power binoculars that gave us an even better view. The person responsible told us that this was the first day in many where the view was this good. The previous day was totally blocked by smog!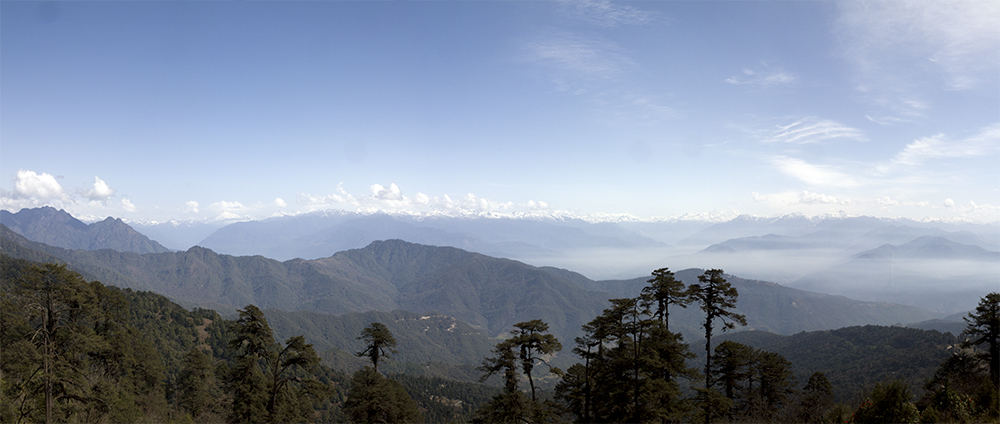 A more limited view, but closer to some of the peaks – this is a single photo as opposed to the panoramas before which were made up of many photos.  This one shows the highest peak in Bhutan – flat top above and to the right of the trees.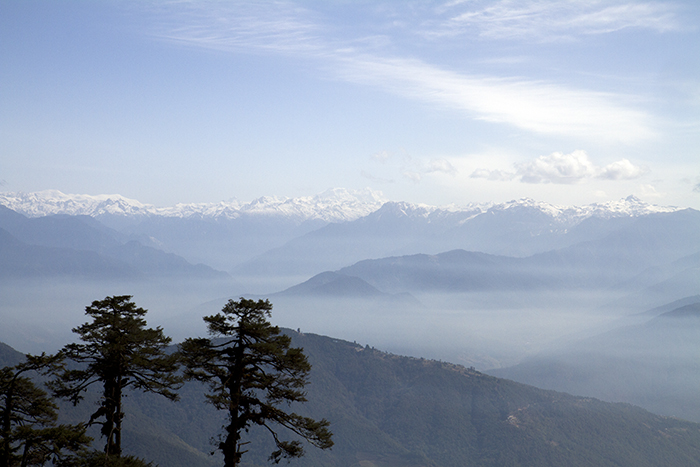 Opposite the temple, the Royal Mother also built 108 chortens in honor of her husband.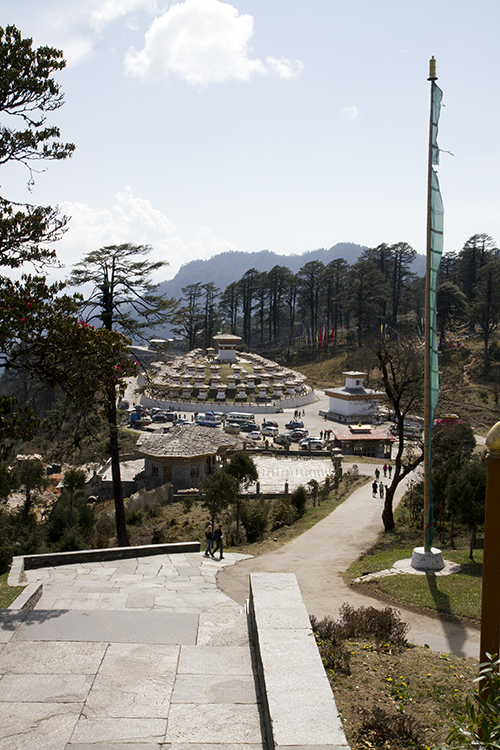 From Dochu La, it is a long way down to the Punakha Valley which is only 1200 m above sea level. There is work on the road and therefore traffic can only get through from 10:30 to 11:30, so we had to leave before we had fully appreciated the view. It was still nice, but knowing how unique the day was, we wanted to stay longer. Several days later, on the return trip from Punakha to Thimphu, we passed Dochu La again, and there was no view!
On the way down, we saw beautiful rice paddies that were filled with wheat in blooms.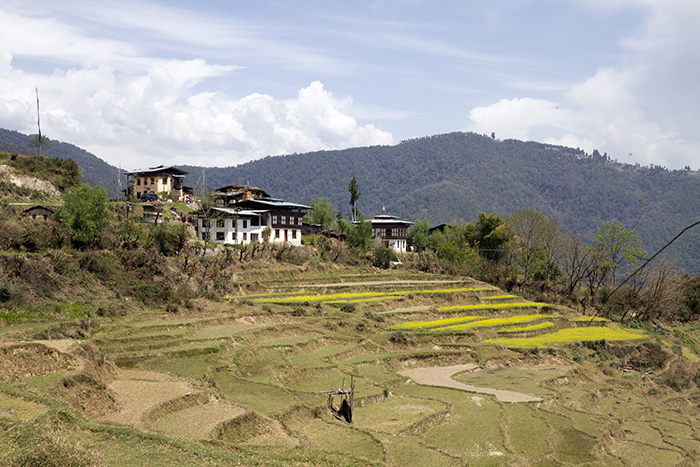 On the way down we also saw a beautiful Gompa on the side of the mountain.  I think we should have climbed up to this one, but in the end we did not as on the day we were supposed to go there, it was surrounded by forest fires.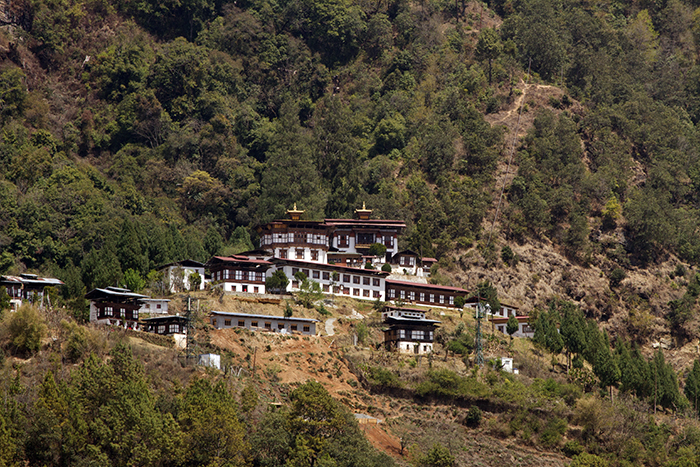 We stopped for lunch in Wangdue Phodrang, a whole village which had recently been moved as the government decided that it was unsanitary and actually the town was squatting on government property.  The town had been established right next to the Wangdue Phodrang Dzong, which dominates the confluence of two rivers.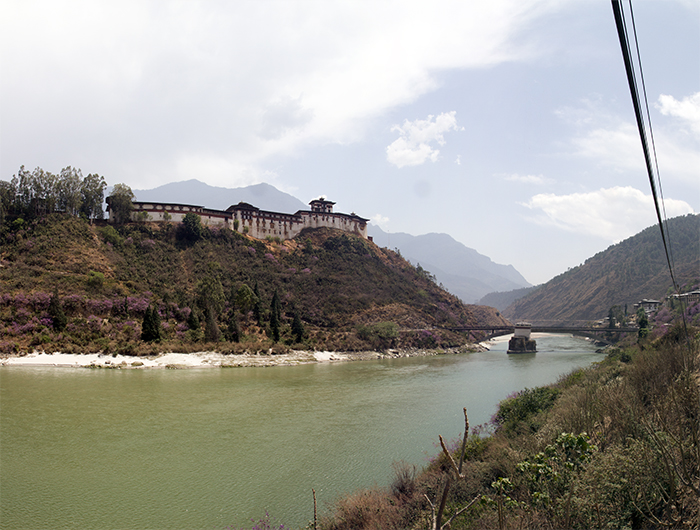 After lunch, we visited Wangdue Phodrang Dzong, which is being restored.  We could only visit half of the main courtyard, but this gave us an opportunity to see how local craftsmen worked to restore the Dzong to its past glory.  Bee is looking at several large beams which have already been carved and are waiting to be installed and painted.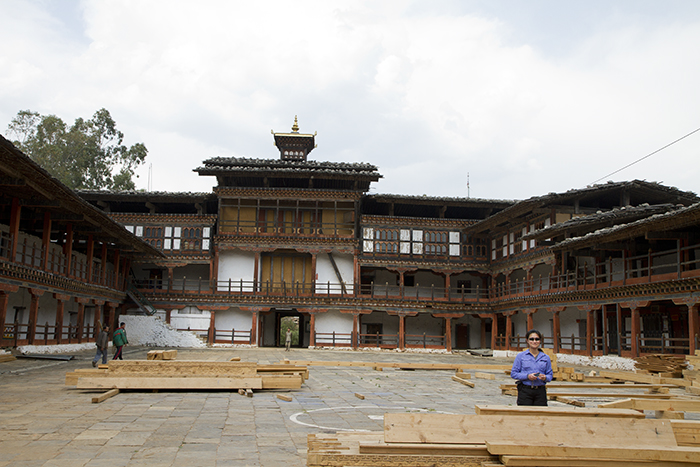 Later in the trip, we went on a walk nearby that gave us a good view of the back side of Wangdue Dzong but with a lot of smog as the fires were getting worst in this area.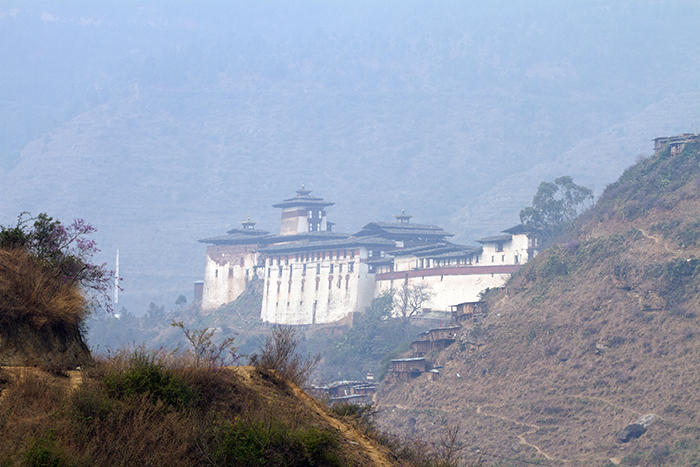 It is a very long way back up from Punakha valley up to 4000 meters in order to enter the Phobjikha Valley. On the way, we stop for tea at a place where we can see more high mountains with some snow still at the top.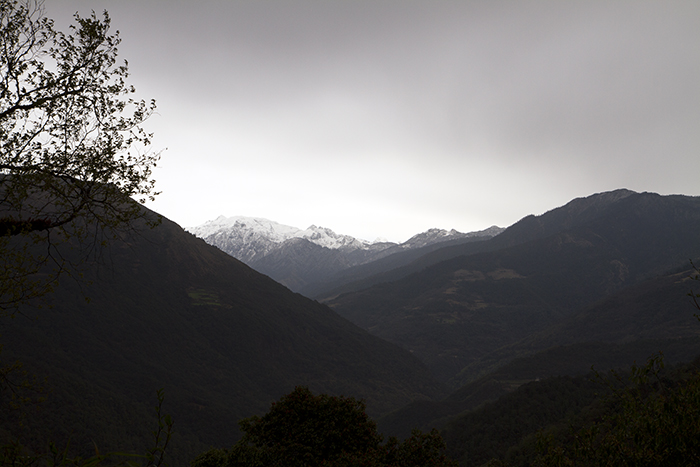 With prayer flags, the view is even better, and more rewarding… As I probably will get credits for putting all these prayers on the World Wide Web and getting many people to see and talk about them. So please mention to your friends so that I get extra bonus. Thanks.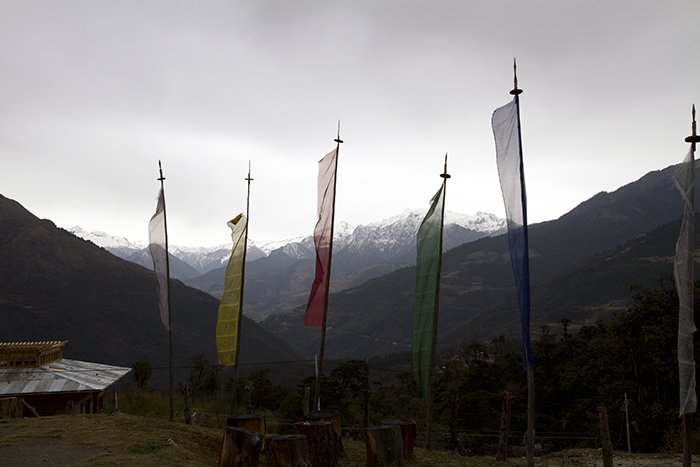 We arrived late in the Phobjikha Valley, where the paved road essentially ends.  Only a rough gravel path continues to our guest house where they have no electricity.  We spent two days with only lights from candles and with wood burning stoves to keep our rooms warm.  Quite rustic, but we all enjoyed the change of pace.  The lack of Internet did not phase us at all.
The next day we went for a long walk to Gantey Gompa, one of the top monasteries in Bhutan.  However, Kipchu had a surprise for us, another one.  From the hotel, he had spotted two "black-headed" cranes in the valley.  Normally they should all be gone by now, so we were not hoping to see them, but two apparently remained behind.  We approached carefully and I was able to take this one photo using my 300 mm telephoto zoom. Eventually, they decided to fly away where there were fewer people.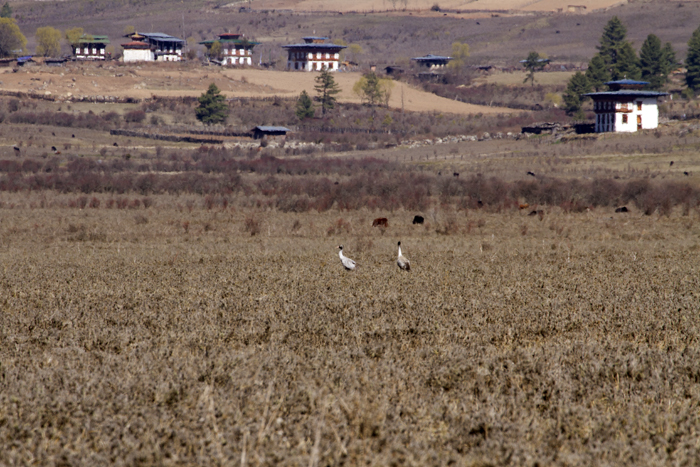 We started wondering what was going on when two vultures started to circle right over us. But it was fortunately a false alarm and they moved on and so did we.  Given that we were walking at more than 3500 meter elevation, there was always a distinct possibility that one of us may be overcome with heavy breathing – or worse; but we all survived.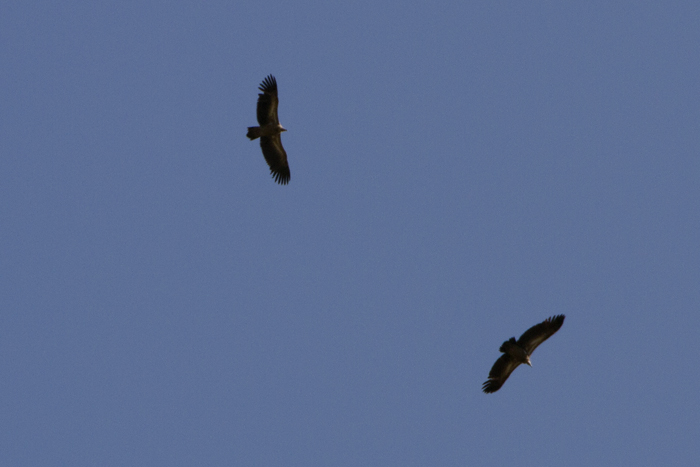 We are walking along another path that has been used by the locals for many centuries.  These are typically marked by small square chortens in the traditional Bhutanese style like the one below.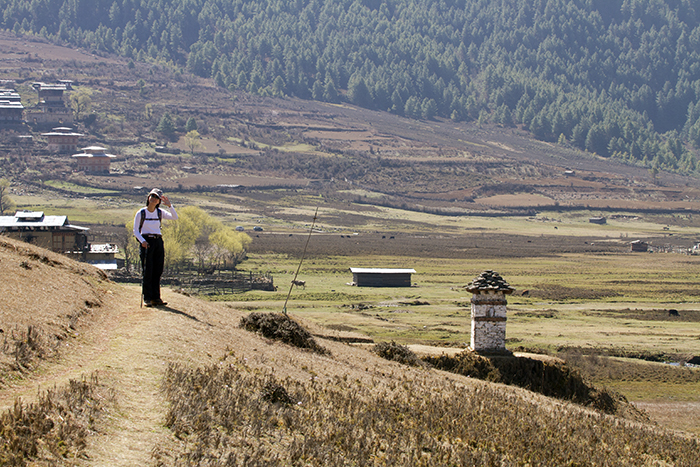 A good view of Gangtey Gompa from below as we approach.  This is  not a very steep climb so it was not too strenuous.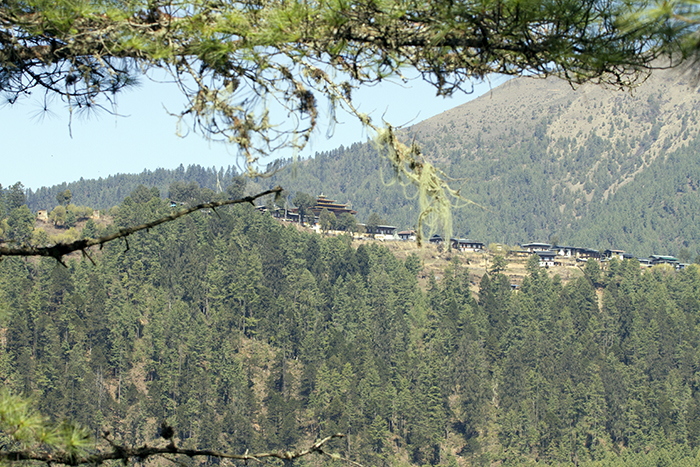 As we approached the temple, we were met by Banjor (our driver) and the van, with cookies and warm tea – just perfect for a quick snack.  Right by where we stopped were these chortens and wall in the middle of the road.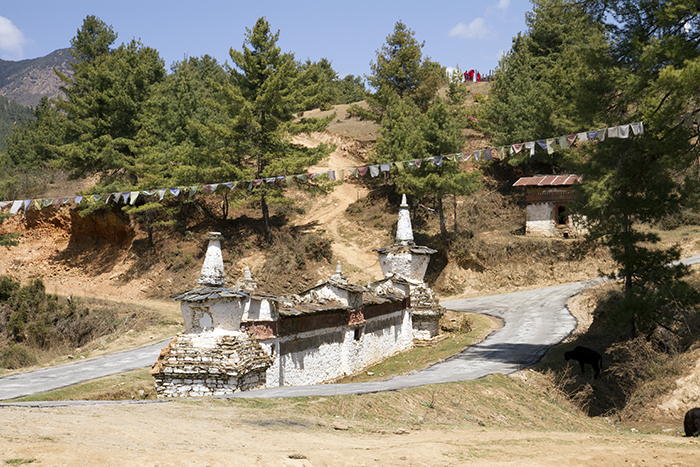 It was a gorgeous day and with such a perfect backdrop, we decided to have a few group photos in front of the main temple.  We even asked another tourist to take them so that we could all be in the shot.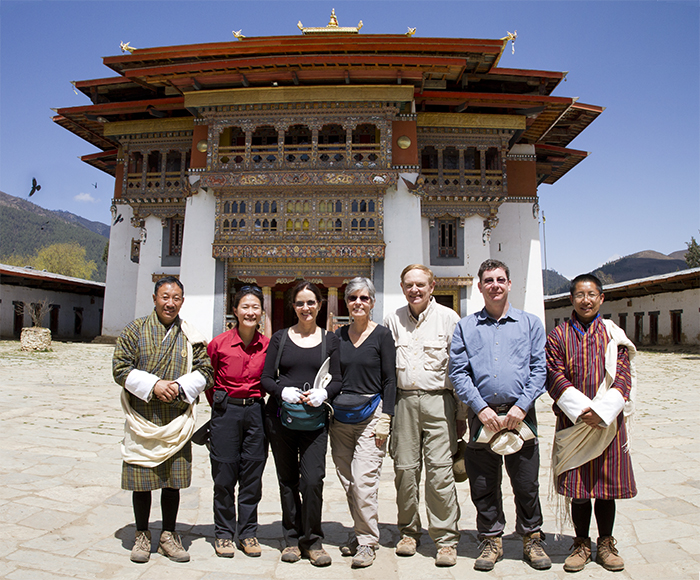 If you prefer the temple with more local color, here it is with a monk instead of a group of tourists…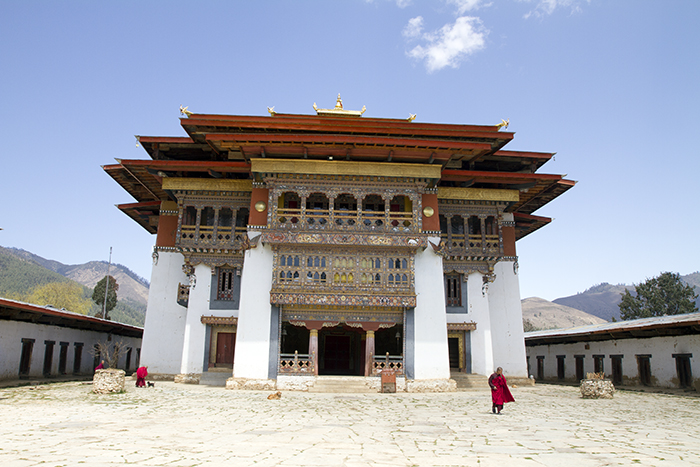 The main courtyard is surrounded by educational buildings.  There were even rooms advertising "on-line" education.  We did not try to see what that was like.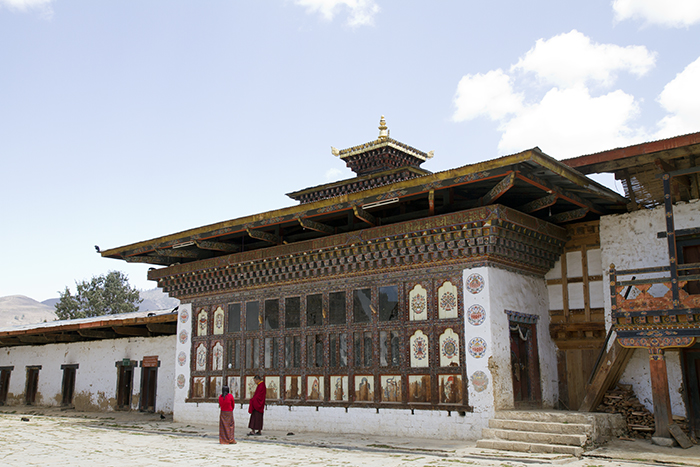 That afternoon, after lunch, we went for another walk further away from Gangtey Gompa.  However, it still dominates the whole valley and here it is on top of the hill in the general view of Phobjikha Valley.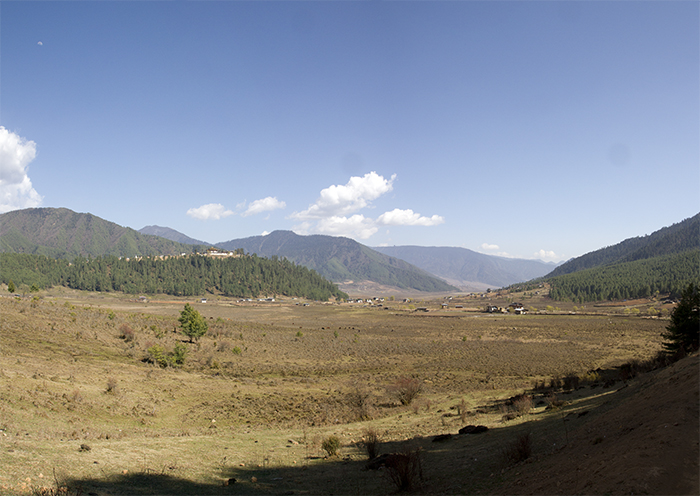 Gangtey Gompa through trees with blossoms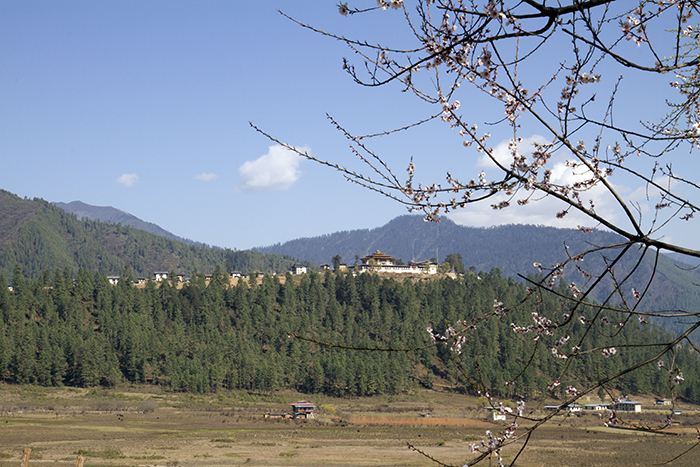 After the walk, Bee and I went to explore, hoping to see the cranes again, and getting a better shot of them.  We first encountered a group of young men practicing archery with traditional bows.  These are much stiffer, yet less powerful than the modern composite bows.  The shooter is forced to adopt a much more upward direction when he shoots, and cannot afford to hold the bow under tension for a very long time. The nine shots below were taken in about 1 second and he released the arrow between the 5th and 6th photo!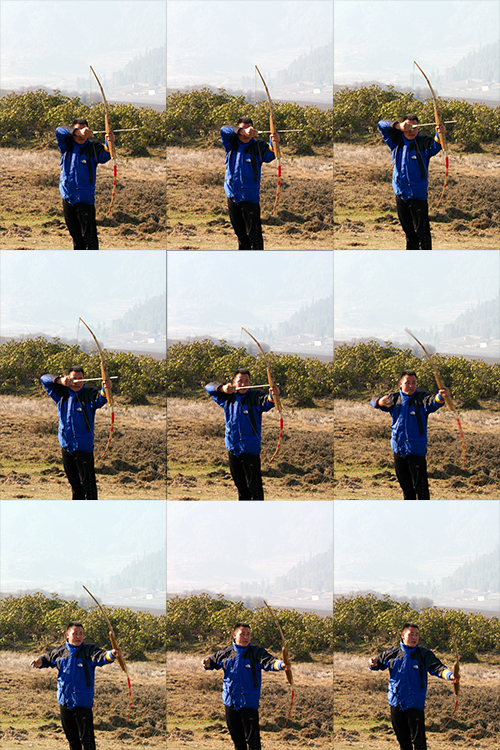 I took many bursts of actual shots.  Even with these less powerful bows, the arrow still leaves in a great hurry.  This is the only photo with the arrow still visible streaking away at the right of the photo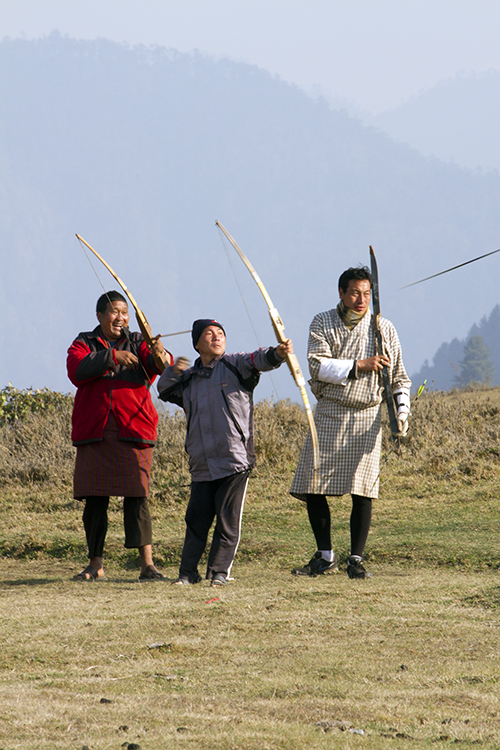 We went back to look for the cranes.  we found them, but unfortunately other people were there too and started to approach too close before I got a very good shot.  However, I was ready when they decided to fly away and got several shots as they were flying near us.  This is a montage of several shots of cranes flying and not.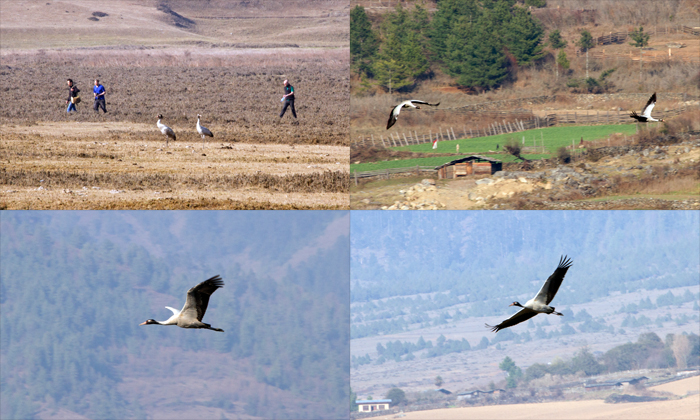 The next day, we had to leave the idyllic location, but not before a great sunrise (actually several hours after the actual sunrise – but the first ray of sun peaking over the mountains).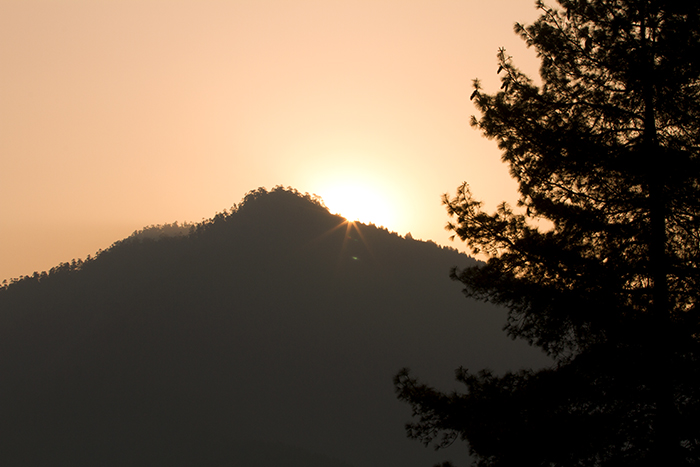 In the Punakha Valley, we went to visit Chimi Lhakang, or the temple of the "Devine Madman" Lama Drukpa Kuenly.  At the entrance to the path leading up to the monastery, we saw this sign.  This is not a play on word, or the shop of a local person (accidentally) called Phallus! Look at the enlargement of what is in the window.  Chimi Lhakang is traditionally a place where couple go who want to have a child but have not been able to.  The "Mad Monk" as the founder is known is supposed to have had many wives and even more children and so worshipping here can help.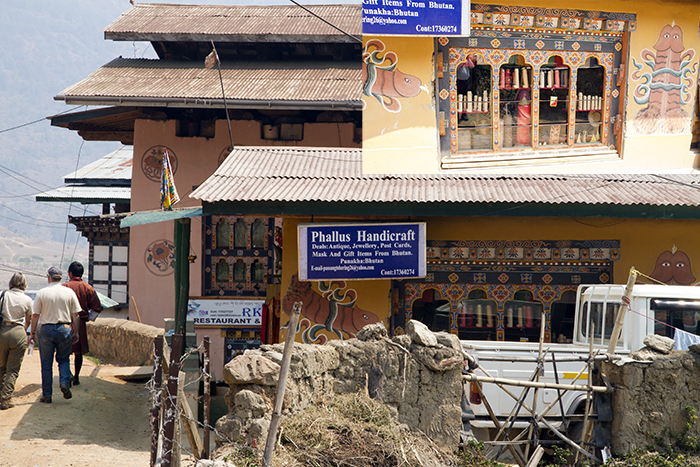 The whole group reflected on a rice paddy in front of Chimi Lhakang.  The forest fires were quite bad and very close and so the temple up on the hill is hardly visible, unfortunately.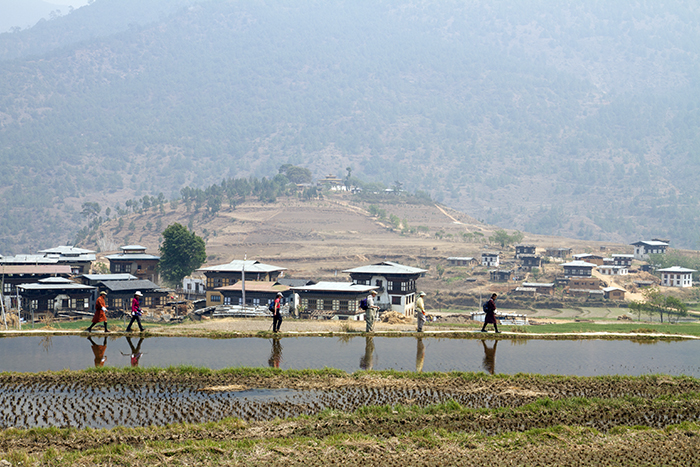 Chimi Temple.  When my uncle took this photo, the tree on the right did not cast much of a shadow.  Now, it is all grown up…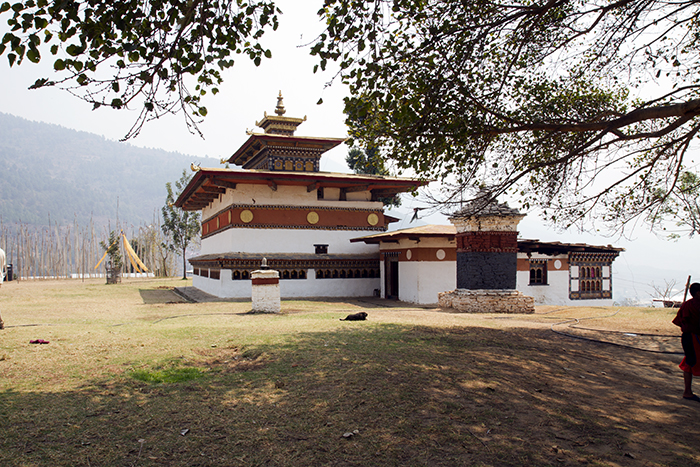 We ran into a class of novice monks learning English.  No desks, no chairs, just knees and floor!  Our students are so spoiled.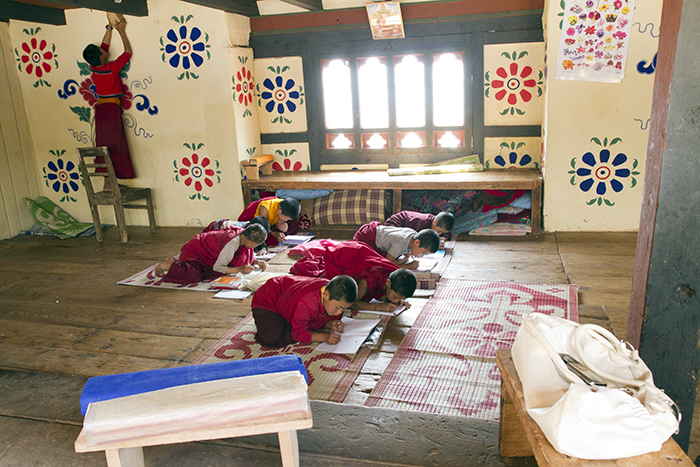 We climb through rice paddies to get to the Khamsum Yukey Namgey Chorten, actually a temple that is in the shape of a stupa. It has very interesting statues inside, and supposed to have a great view from the top. However, when we were there, it was very windy, but also very smoggy and so did not see much.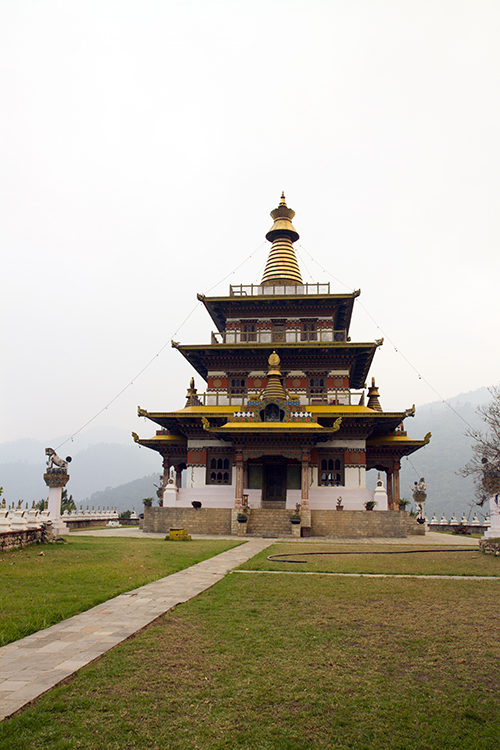 Rice Paddies from the same temple were very nice and fortunately, photoshop can take a lot of the smog out of a picture so that this one looks much better than reality.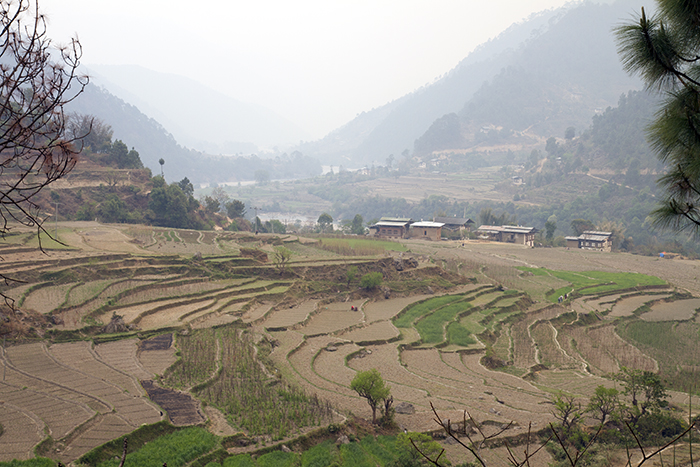 This is the new covered bridge in front of Punakha Dzong. My uncle had asked me to take a photo as this bridge was very different when he came last to this place.  The old bridge, which was not of traditional design, was washed away by floods several years ago.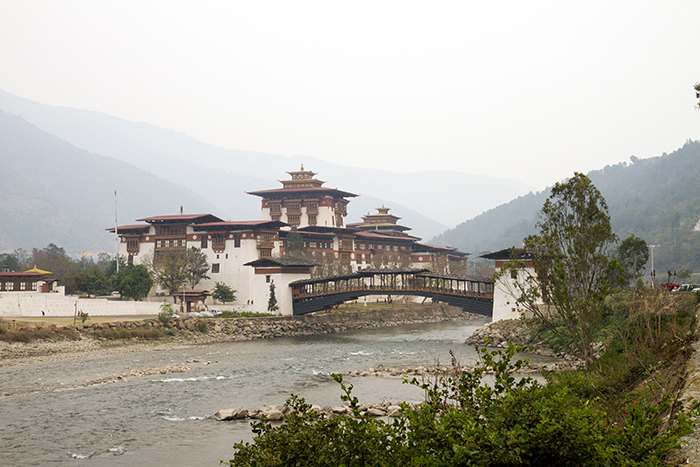 During a walk behind the Punakha Dzong, I saw this small bird building a nest in a hole of a tree, right by the road. He was nervous to have me so near, but still did not fly away.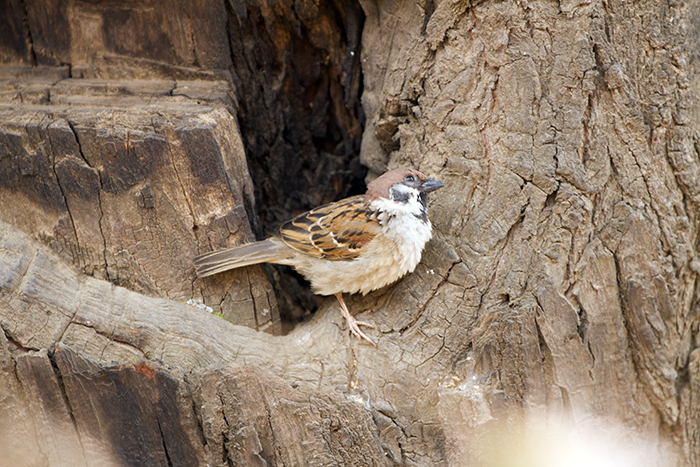 Further, we saw this beautiful kingfisher on the supports of the bridge. I had never seen one of that colour before.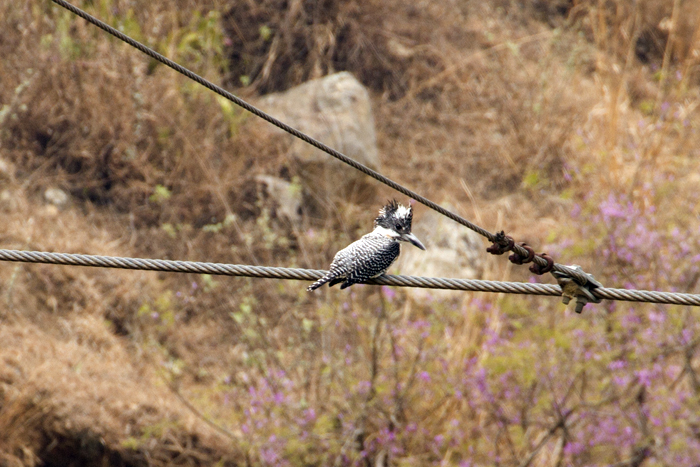 General view of the Punakha Dzong from across the river. This is one of the largest in Bhutan and this view shows that quite well.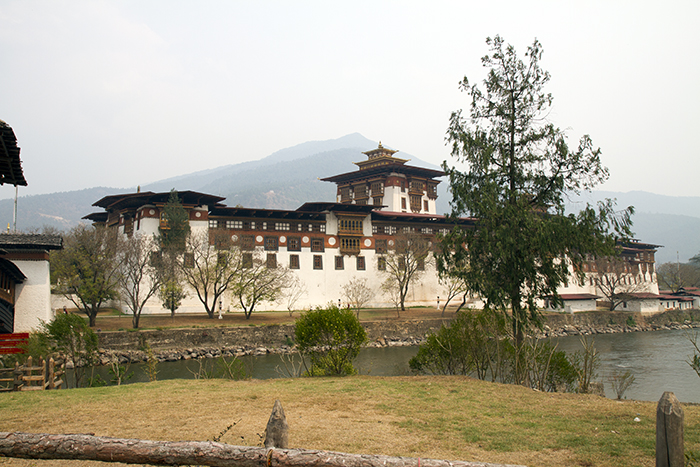 The main entrance of Punakha Dzong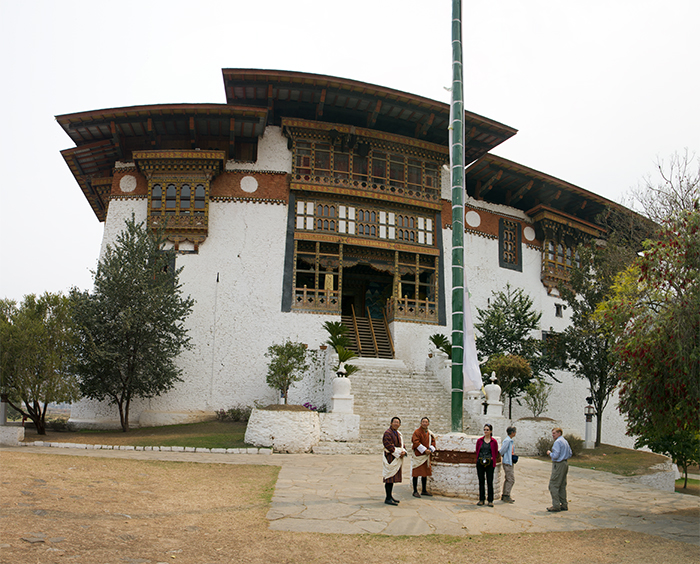 Inside the Punakha Dzong, there are several temples as this is the seat of the head abbot during the winter. He was still there when we visited, but did not come to say hello!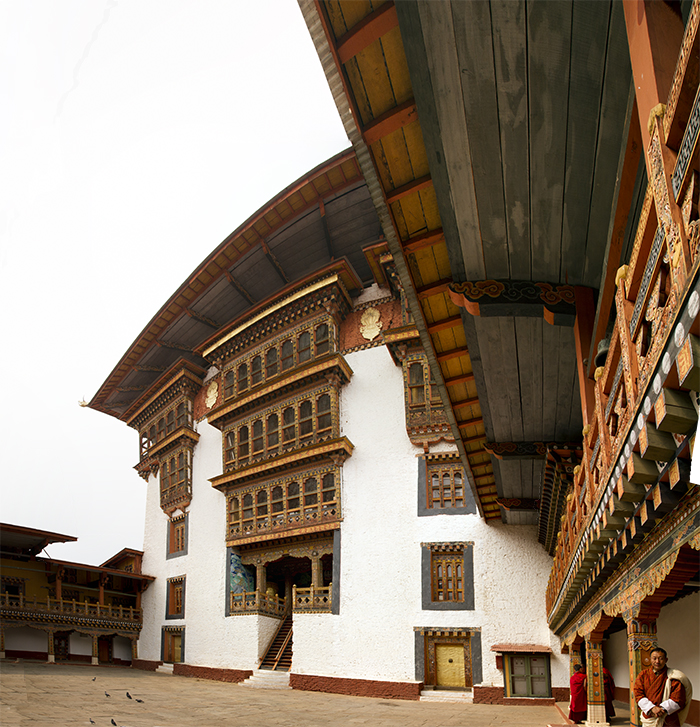 More beautiful temples inside Punakha Dzong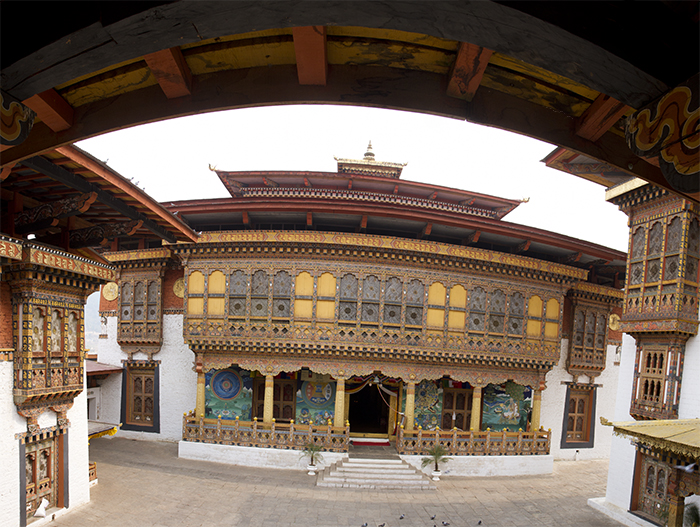 We visited a convent that was founded by the father of the four wives of the 4th king.  Yes, the 4th king of Bhutan married four sisters, one more beautiful than the other.  The current king only has one wife…
In the convent, nuns were doing their regular chores even though the convent was surrounded by forest fires.  We actually saw them taking apart a prayer wheel as it was threatened by fire.  We saw the 1000's of pages of prayers that are lined into the prayer wheel.  This was frantic work as these are some of their most prized possessions.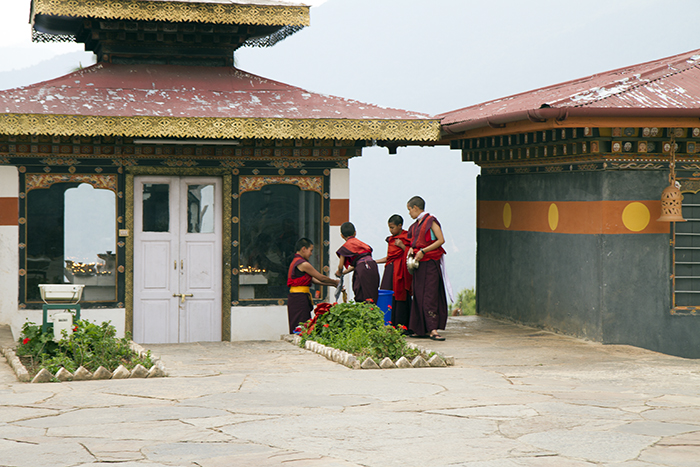 Nepalese stype Chorten at the convent that we visited.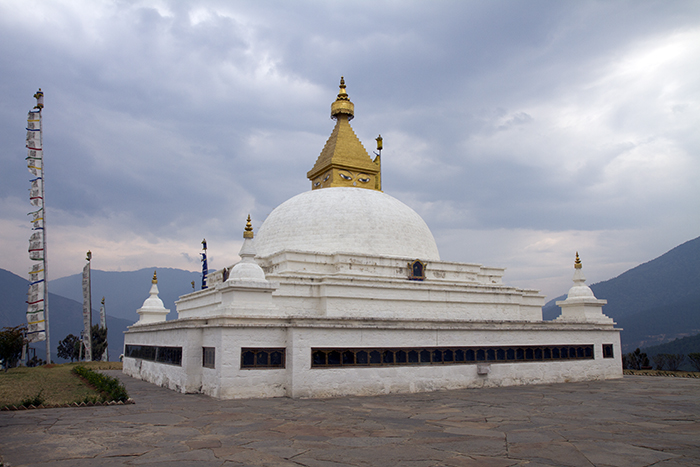 We saw some great sites in 12 days.  I am afraid that my pictures can only show a poor reflection of the true beauty of this land.
However, in my mind, as is more and more often the case, the best part of the trip was the people we met and those we did not meet but saw along the way.  They are the real face of Bhutan and what a face it is.  I have dedicated a whole pst just to the Festivals we saw and smoe of the people we encountered.  That is coming up next, when I get around to it… (1371 Page Views)