pierreo March 15th, 2009
It appears that I have a lot to catch up on to let you know what I have been doing up to the end of 2008 and beginning of 2009.
I will do this in two installments – one that I will call 'before Myanmar or AM (Ante Myanmar)' and another that will be called 'after Myanmar or PM (Post Myanmar)' but please do not hold me to that as I have no ideas how much effort either of those will take.
Here goes PM…
In November, my team and many others participated in the annual Singapore Regatta, right in the heart of the business district on the Singapore River. Several thousand participants row at this regatta every year and it is one of the toughest of the year. For the first time, there was a Corporate Mixed division and therefore Papillon hoped to do well.
I really enjoy this event because of the atmosphere.  This event is run right in the heart of the business district, along the Singapore River.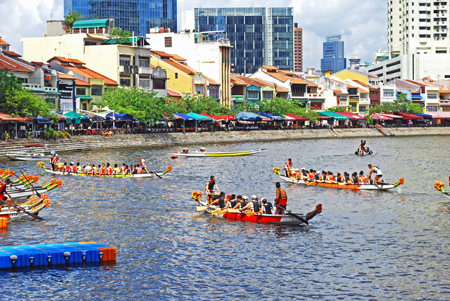 The boat in the foreground is Papillon getting ready for our heat.  We were against tough opposition, with OCBC, HSBC and RBS teams in our heat. We had to come in first or second to be sure to move into the semi-finals.
I am almost embarrassed to show this picture – look carefully at the right and left side rowers in boat 2 … maybe this is part of the reason why we only came in third behind OCBC and HSBC.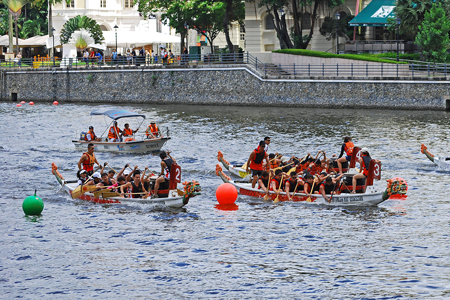 As always, there are plenty of cheers after the race as we pass in front of the EM Tent.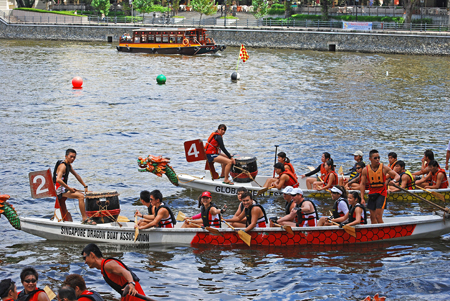 Our time was still good enough to get us into the semi-finals – actually, our heat seemed to be one of the fastest and therefore we had the sixth fastest time of all the heats.
The other EM teams did equally well and therefore we had 4 teams in the semis with the ladies qualifying directly for the final – a big crowd still on Sunday.  Here is the whole 'family'…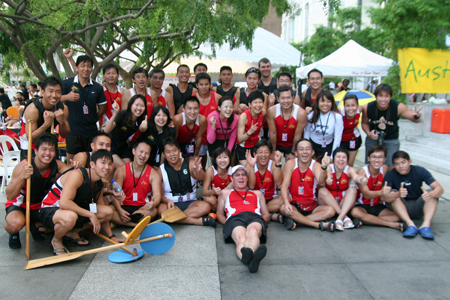 There is always a lot of waiting in between races.  An opportunity to look around at all the other teams participating – in this event there are more than 300 teams registered and with either 10 or 20 rowers per team, this means 4000-5000 participants!  Each team, or organisation has staked out their patch of land for gear, warm up etc … You can tell Christmas is coming too.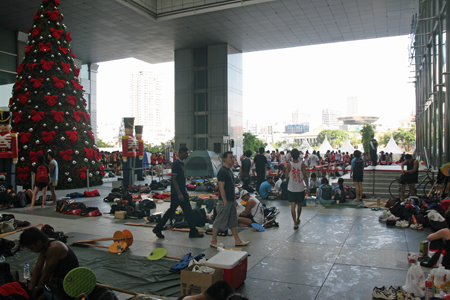 Our team is in good spirits since we know we get to come back on Sunday for the semis.
A lot of the racing is very competitive, much more so than in previous years where the heats had sometimes significant distances between finishers.  In this case, you almost need a photo (which they have) to determine who was in what position.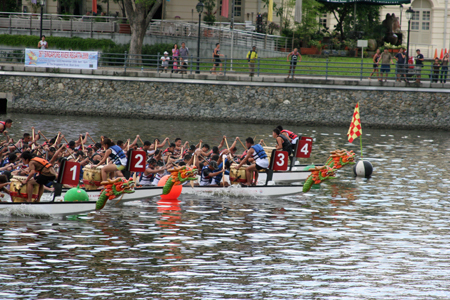 The energy and the close fighting can be seen on the face of these teams, even the drummer and the coxswain are fully engaged.  And you know there is a lot at stake when you see the fans (actually rowers from the same team but in other divisions) running along in the background to cheer their team on.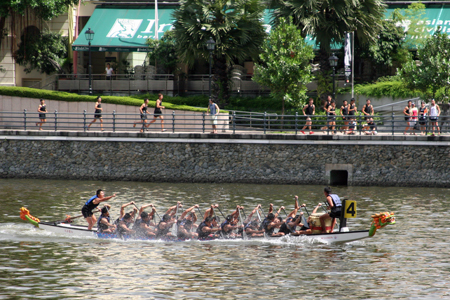 For some reason, on Sunday we are again drawn against OCBC in the semi-final. We also have to contend with Citibank, always a very strong team.
We do well and finish second, just behind OCBC.  We have to depend on timing to see if we qualify for the final, but the other two semi-finals are quicker than ours and therefore we are eliminated.
The men's teams have better success and make it to the final. The first few strokes of "Ace" are quite impressive…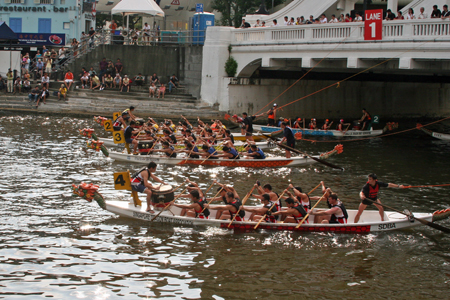 Attention! (Ready)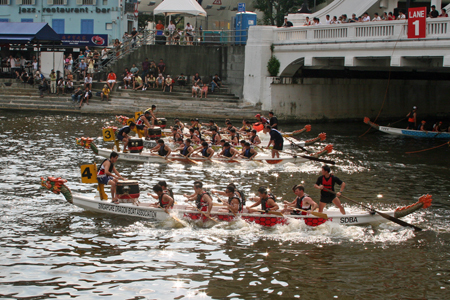 stroke 1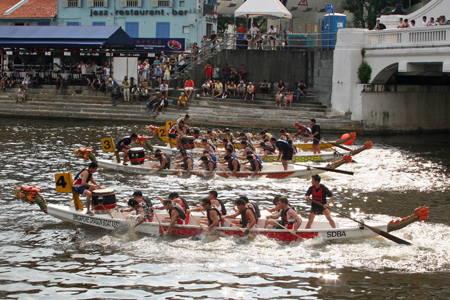 stroke 2!
and are sufficient to carry them to second place behind HP.  The Lillies finished 5th in the ladies finals and OCBC won the Mixed final (some how the teams which had gone 3 to 4 seconds faster than OCBC and us in the semis could not do it again and lost by over a second…)
At the end, we all celebrated with a good lunch (at 3PM – you have to learn to be flexible with meal times) and a team photo in front of more Christmas Decorations.
A fun time was had by all!
In early December, I did a quick trip to Koh Samui in Thailand.  An opportunity to do several dives but also rest and pamper myself in a very nice resort.  Koh Samui is very much like Phuket – very touristy but still interesting and I did get very good food.
I celebrated New Year in Seoul, South Korea.  Actually flew there on 31 December.  I had upgraded my ticket to business class, and I was the only one in the cabin!  I had my "personal" stewardess for the 5 hour flight.
I went to visit Gyeongbokgung Palace which has an impressive gate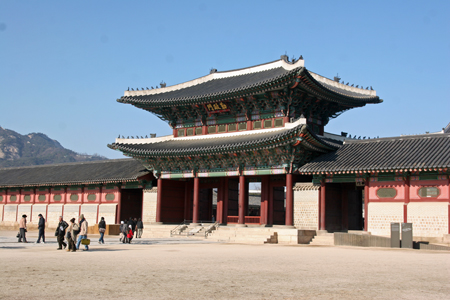 Unfortunately there was an even more impressive outer gate called Gwanhwamun – it burned down a few years ago (in 2006 I believe) as a result of arson.  It is now being rebuilt so I did not get to see anything.
The palace itself is very impressive – similar layout to the Forbidden City in Beijing, with a "Hall of Preserving Harmony"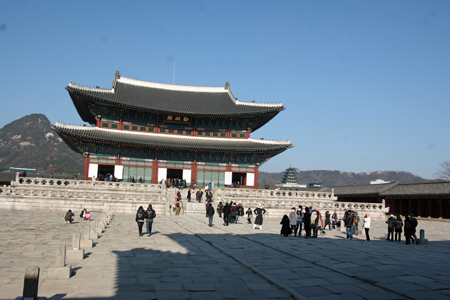 that includes the royal throne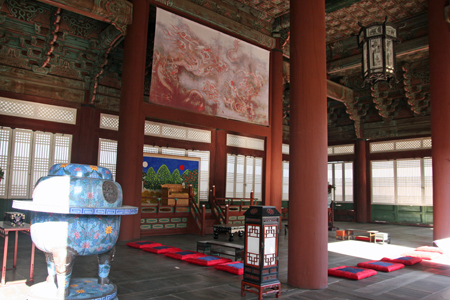 We had an excellent local guide in local costume – but you can see that it was quite cold that day (and the whole time I was in Korea, with temperatures typically hovering between -5 and -10 C)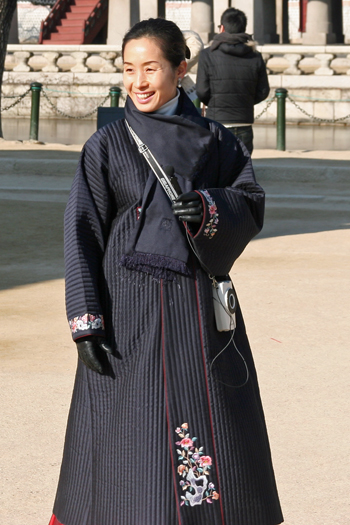 The next day I went to the Korean Folk Village, about 1 hour by train from the center of Seoul + 30 minutes by bus.  I was glad that there were some people speaking English to help me out with transportation.  A saw some typical Korean Dances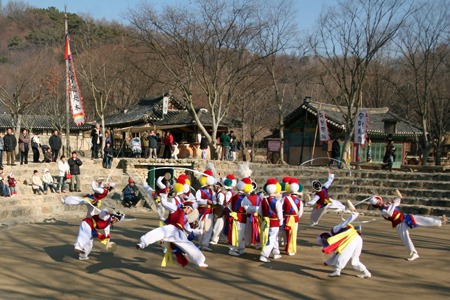 Girls playing on a teeter-totter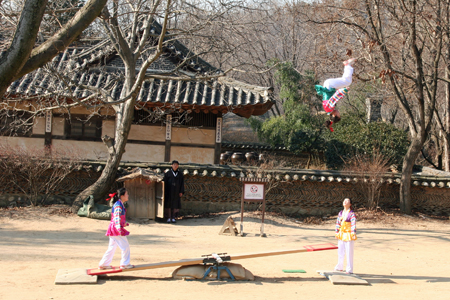 A very popular tight rope walker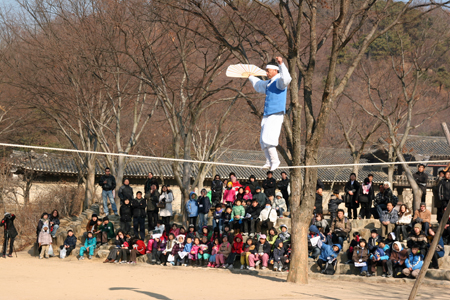 And very unhappy ducks on ice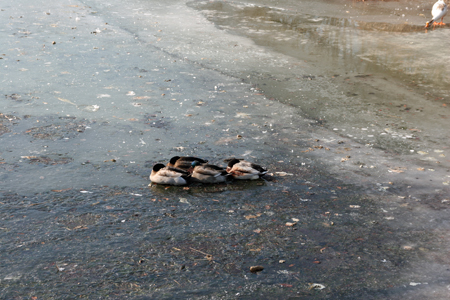 The last day I went to Panmunjong with the USO.  If you do not know, the two Koreas are still officially at war.  There has been a truce signed many years ago, but no armistice.  The two countries are separated by a 4 mile wide Demilitarized Zone, or DMZ and the only 'common' ground are the barracks at Panmunjon where the truce was signed and where there are still occasional meetings between the two sides.  There are United Nations troops (mostly Americans but I did find out that there were Belgian troops and officers as well) still stationed just outside the DMZ.
The bus dropped us off at Camp Bonifas where we boarded a "secured" bus to go in the DMZ.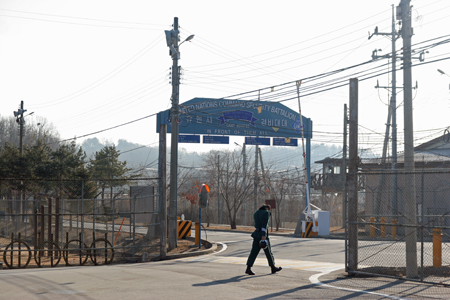 The sign says it all: "United Nations Command Security Battalion – Camp Bonifas – In front of them all".  We were not allowed to take pictures in the DMX until we arrived at Panmunjon so I had to go to Google Earth to give you a perspective of where we were.  First, the view of the land between Camp Bonifas and Panmunjon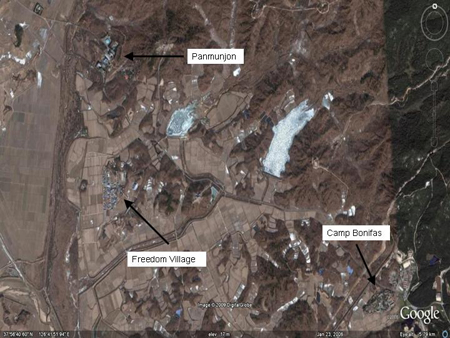 There is a small village located on the South Korean side of the DMZ.  It can only be occupied by people who lived there at the beginning of the war, or their relatives and they are allowed to farm areas in the DMZ.  They have a strict curfew and have to be at home every night before 10PM
Here an overhead view of Panmunjon itself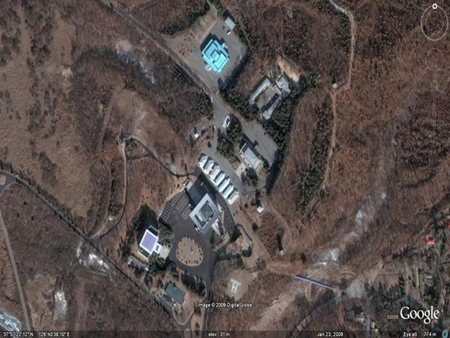 I think everyone will recognise the blue buildings in this shot and the next one.  South Korean guards in the foreground (these guards need to be 6 feet tall minimum and only Koreans get the job) and NorthKorean soldiers in the background.  The actual border is the raised concrete plinth just in front of the North Koreans.
I was told that the soldiers only come out for "our protection" – when there are no visitors, they go away.  We also visited the room where delegations from South and North Korea meet on occasions – there was a significant thawing of the relationship a few years ago, but all that went away recently and they have not met in several years.  In this room, I was able to cross the border and walk 3 meters into North Korea.  Here too, we were well protected.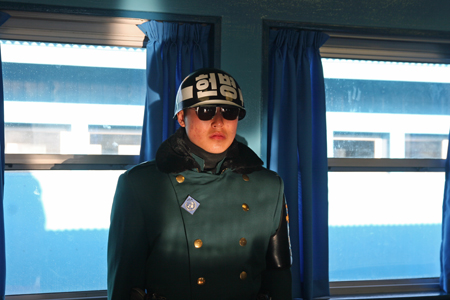 We also went to one of the outlying guard posts for a better view of the North Korean side of the DMZ.  Here is the other village located in the DMZ, on the North Korean side.  It has the largest flag pole and largest flag in the world.  The village is empty of citizens.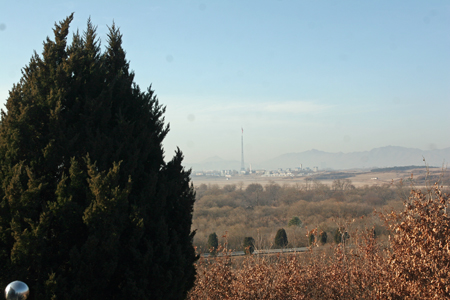 It was a very quick visit to Korean, but I really enjoyed it.
(1370 Page Views)