For a long time, I have wanted to go to Alaska and it seemed to me that a cruise would give me a good chance to see some of it.  However, the idea of sharing cramped quarters with 1000-4000 other guests did not thrill me nor Bee.  When we moved back to Houston, an Alaskan Cruise was one of our priorities which became even higher when it became clear that my Dad was interested in coming to visit us and would be interested in a cruise too.
We found the PERFECT way to do this!  On 31 August, we left Houston for Seattle and later Juneau where we arrived in mid-afternoon (there is a three hour time change).
We would board our boat on 1 September around noon and therefore we had a full evening to enjoy and then a morning to 'kill'.  We had a very nice dinner at a Fish&Chip shop right on the old harbor (In the old Warf right across from the sea plane docks – Alaskan Fish and Chip Co – it was quite good).
In the morning, we went to visit a salmon hatchery which was pointed out to us by the taxi driver who took us from the airport to our hotel.
There are salmon stairs to allow the adult salmons to climb back into the tanks were they will lay or fertilize the eggs.  Unfortunately, we were there at low tide and therefore the salmons could not reach the first step.  We saw a few salmons swimming around looking for the entrance though.  It is amazing that even in this very artificial situation the instincts of the salmon pushed them back to where they were born.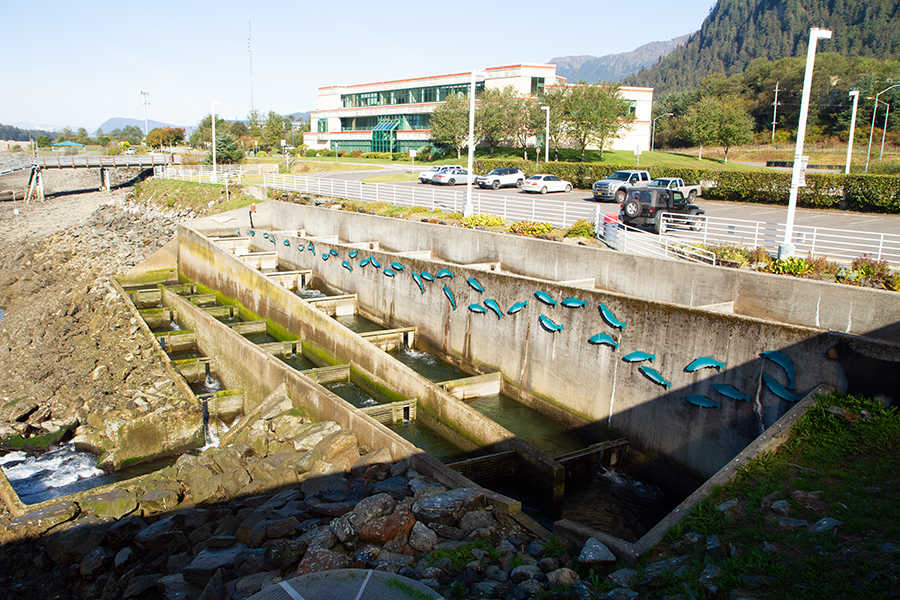 Inside the hatchery there were four tanks which were filled (we were told) with 190,000 young salmons.  You can see a few swimming around where the lights from the windows shine but do not reflect.  The photo below shows two of the four tanks.  The young salmons spend 1-2 years at the hatchery before they are released back into the wild.  After 5-6 years, 1-5 % will return to create the next generation; the rest were food for men and animals throughout the region.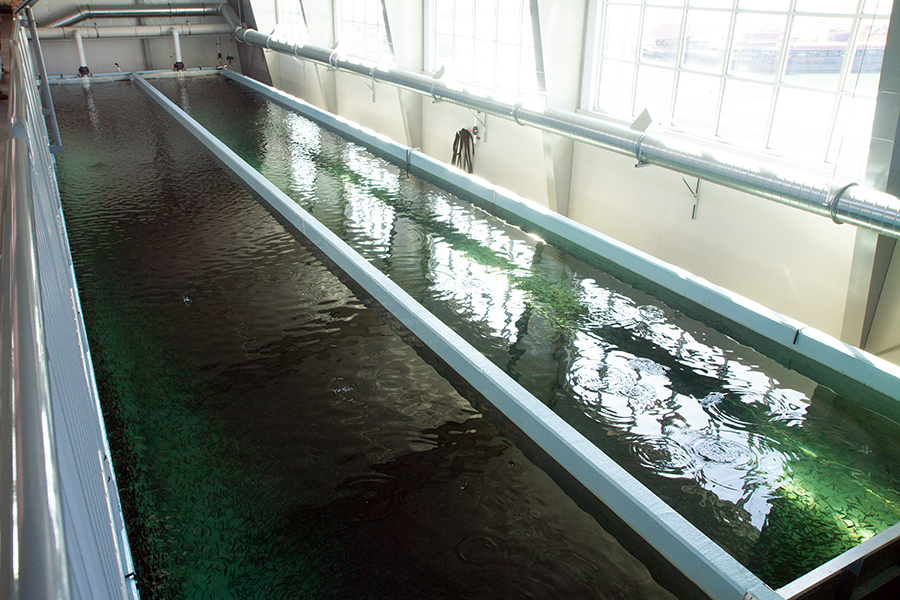 From the hatchery, we had a good look at the Gastineau Inlet, the narrow sea arm in front of Juneau where harbor seals were hunting the salmon waiting to get up the stairs.  Juneau is actually at the end of the inlet which creates a dead-end at low tide due to shallows – one can almost walk across it at very low tides.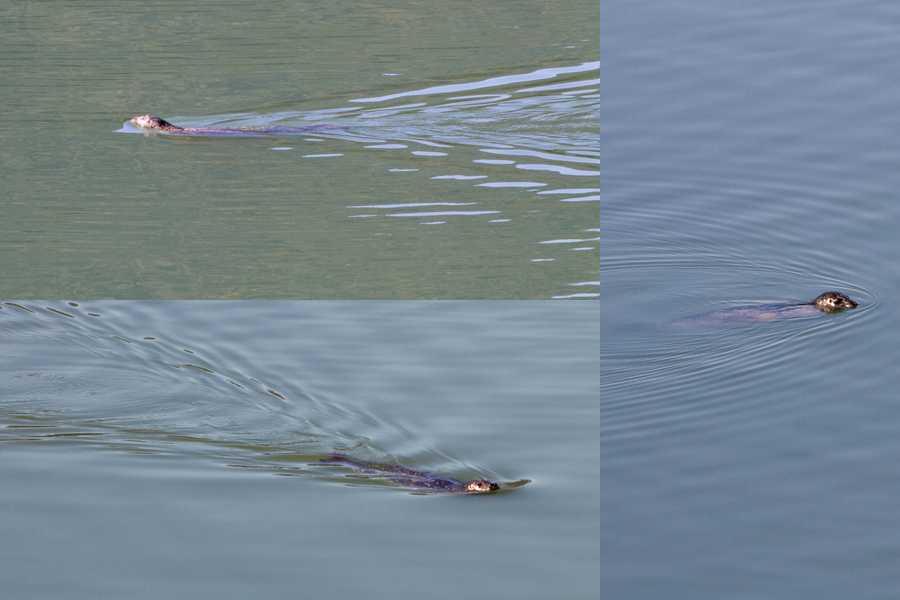 A view of Juneau – these are not the boat we took!  The one on the left is one of the Mega-Cruise sips that just pulled into Juneau around 11:30 AM.  It has over 5000 passengers! The one on the right is a lot more modest – it si a National Geographic ship that was also loading as we went by.  Probably holds 200 passengers and that was still a lot more than our boat.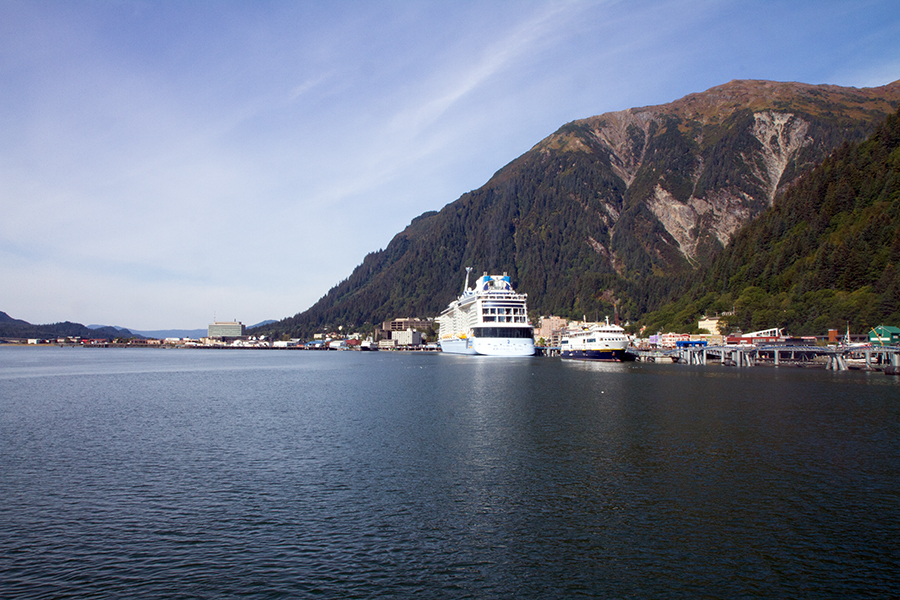 This is not the boat we took either.  It is a private yacht that left just as we were boarding ours.  For a moment, I thought it might be nice to take that one – the I discovered all the great features of the boat we would spend the next 7 days on and did not regret anything anymore.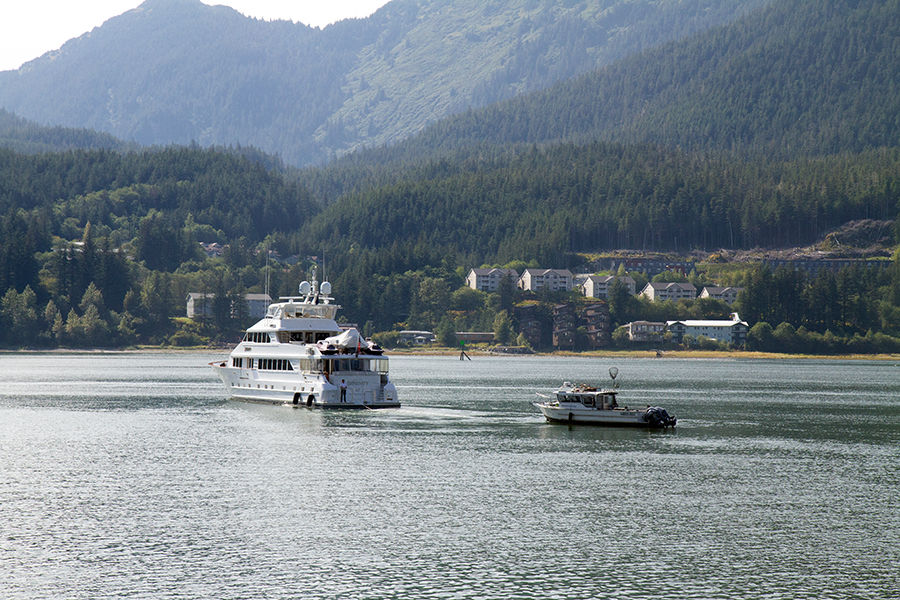 This is "The Catalyst" – our home for 7 days.  The boat was christened in 1932 (there was only one passenger on board older than the boat) as a research vessel for the University of Washington.  She was a patrol boat in the Aleutian Islands during WWII and changed hands several more times after that.  She is now owned by a couple who take very good care of her and she makes regular voyages between Juneau and Petersburg from May to September.  We are actually making her last trip of the 2019 season.
Catalyst only has 6 cabins, 4 below the main deck, one at the back of the dining area and one (the one where Bee and I stayed) located on the top deck right behind the pilot house.  She has sea kayaks for 14 people, a fast tender and 4 wonderful crew members.  Since there were only 6 gusts on this particular cruise, we quickly became one happy family.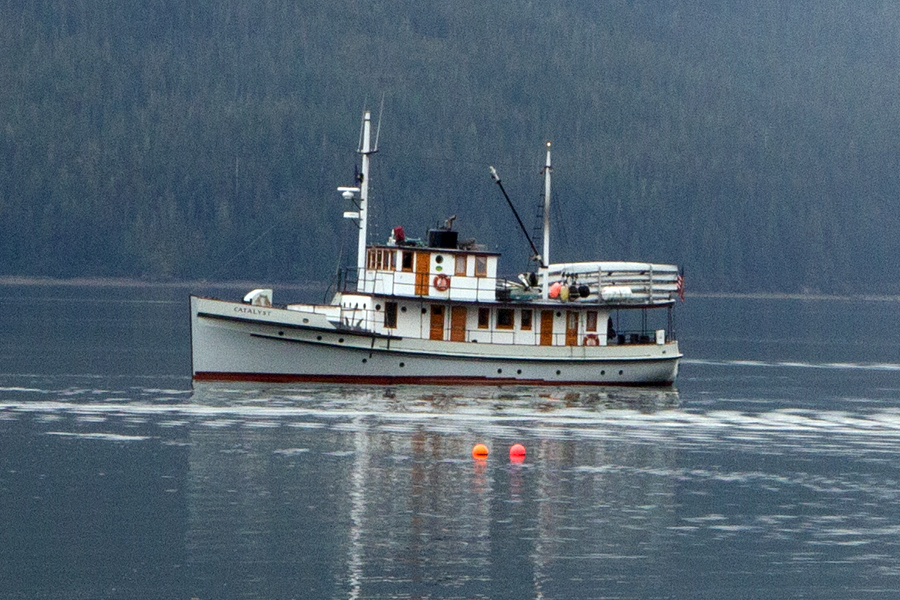 Captain of the Catalyst is Paul – seen here at the commands.  While a lot of the original equipment has been kept, there has been some modernization including an auto-helm tied to the GPS which lets Paul program our route for the next day and then all he needs to do is monitor that all is OK as we follow the selected route.  We have radar and sonar to help in case there is fog.
I actually got to steer her for a while as we were coming out of Taylor's Bay and heading towards Petersburg.  But I am getting ahead of our trip here…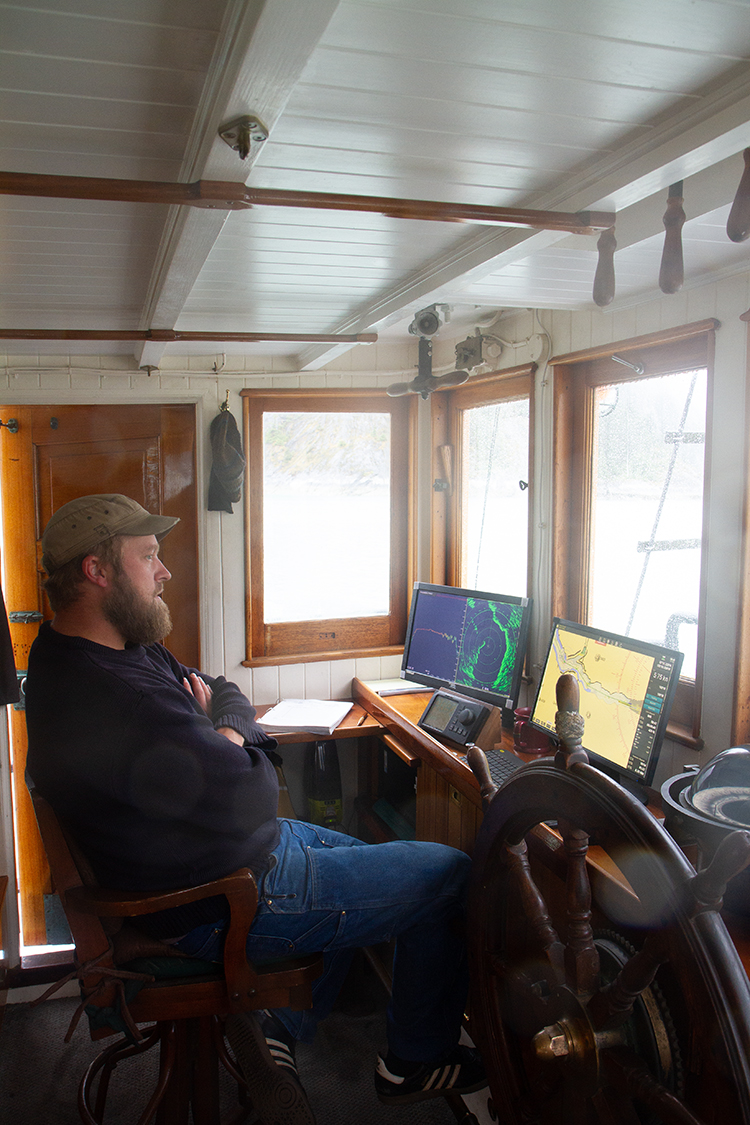 The engine on Catalyst is still the original engine she was equipped with in 1932.  Jimmy, the engineer, is convinced that the engine was installed as the boat was being built, a year before she was completed.  He has a good argument as the date on the engine is 1931 and it is difficult to imagine how the large engine would have been installed once the sip was finished..  However, there is a news article that talks about the christening of the ship and indicates that the engine is still to be installed.  I think Jimmy is right – his arguments about installing the engine before you complete the full sip is more believable to me.
The engine block below is all in one piece!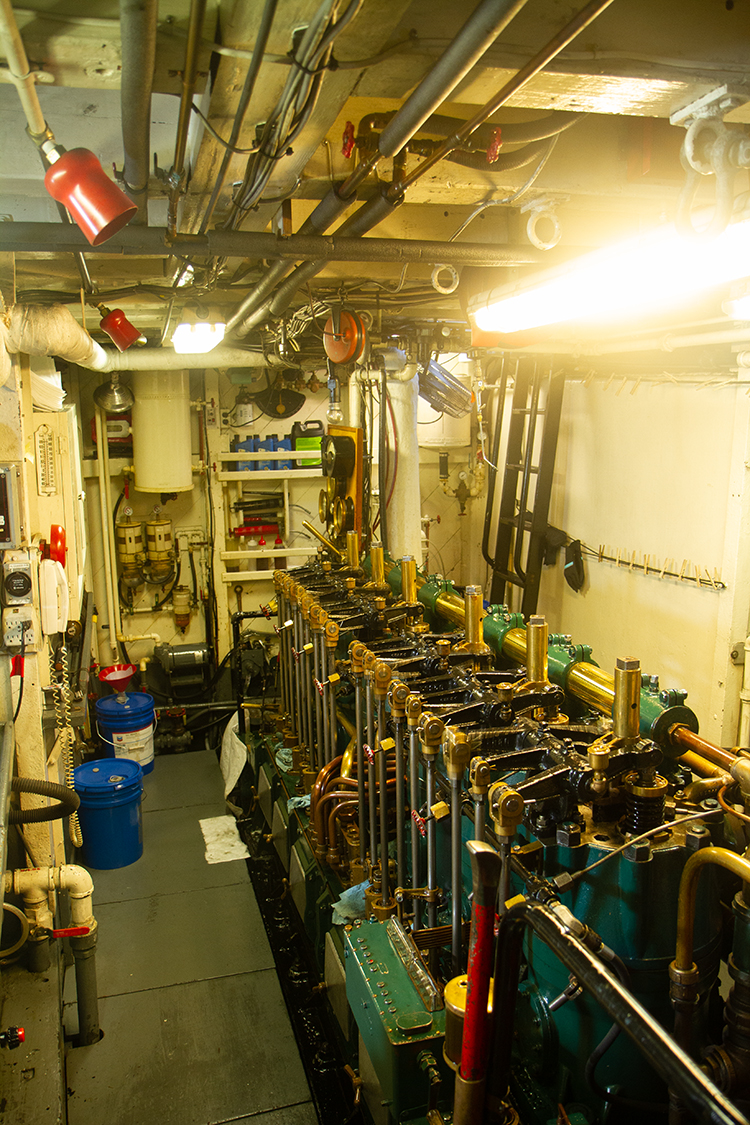 Here is the plaque with the original markings: it says "Washington estep diesel – patents pending (I hope they got those by now) – mfd. by Washington Iron Wks – Seattle U.S.A."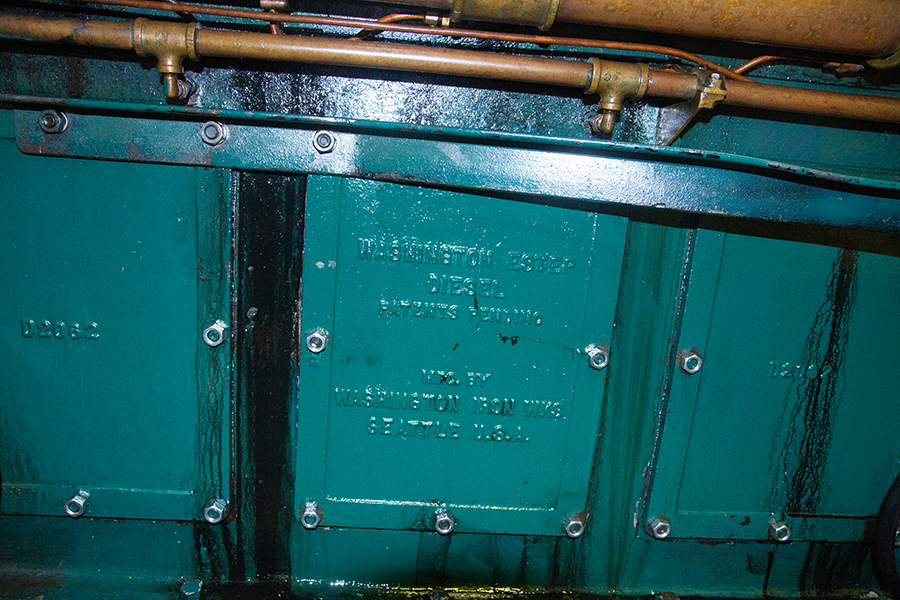 This is Jimmy hard at work keeping the engine going.  Since there is  not cover on the valves, these need to be oiled manually every three hours.  There are over 120 oiling locations.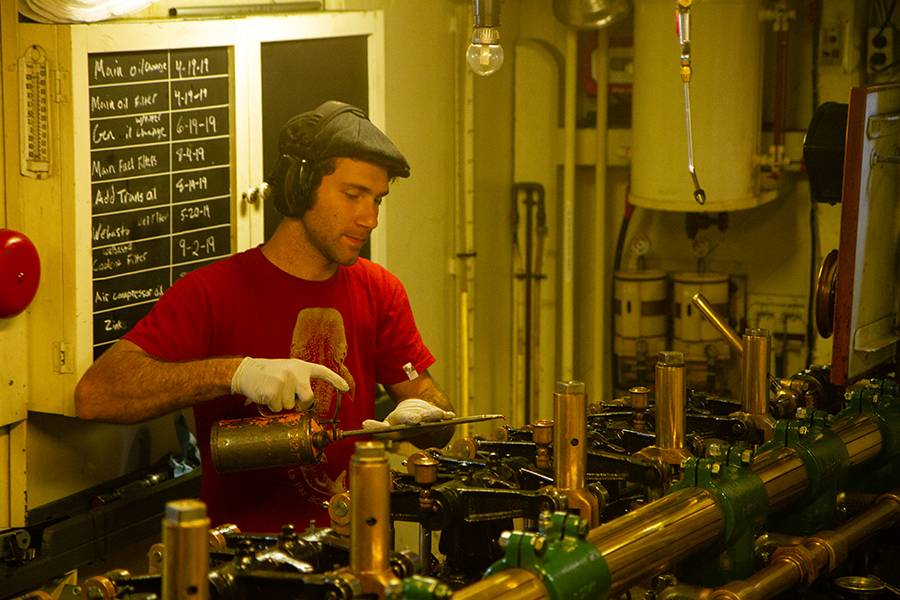 Six cylinders with a maximum speed of 450 rpms that will drive Catalyst at about 8 knots with favorable wind 🙂  You can see the individual exhaust lines of each cylinder, each with a temperature gauge.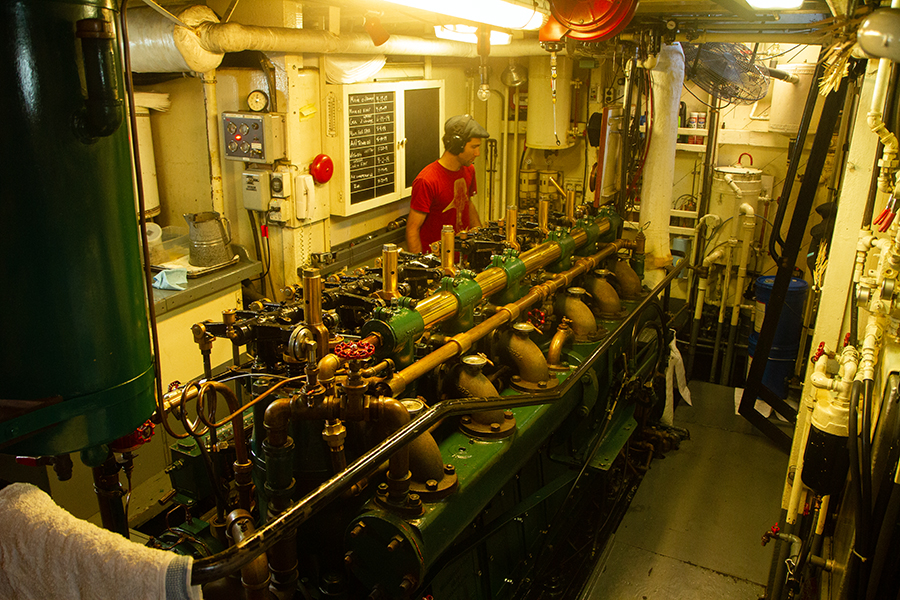 Beautiful valve actuators made of brass and cast iron.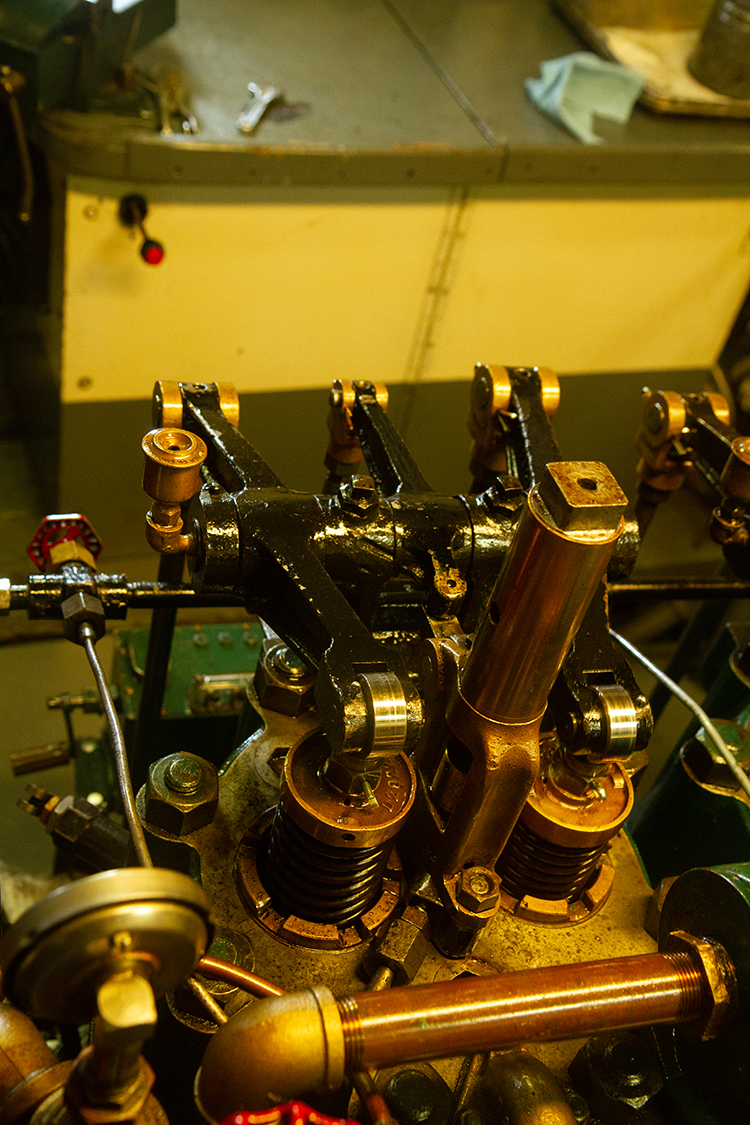 Original gauge panel giving the health of the engine.  You cannot see it from these pictures but the engine is actually started with compressed air rather than electricity.  Compressed air is used to rotate it once or twice before fuel is introduced at high pressure to keep it going.  Every morning, except one, the engine started right away; the one failure was easily explained.  We all suffered with Jimmy as he was clearly struggling to start the engine one morning – he later explained that he had "tinkered" with it and forgotten to clear the fuel line of air bubbles!  An engine does not run well without fuel.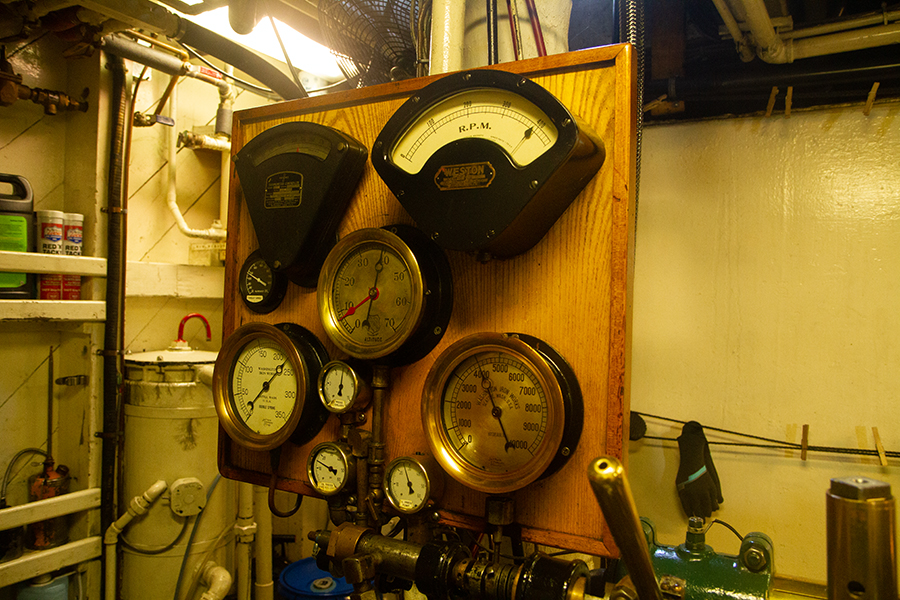 More oiling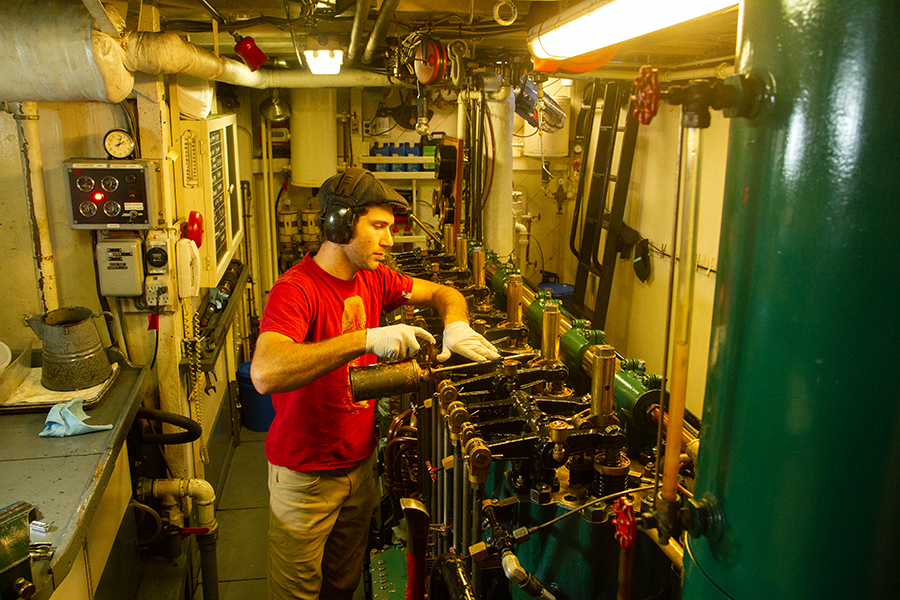 Third member of the crew was Michael.  I want to thank Kristin for this picture; Michael is very elusive and the only pictures I had of him were later in the cruise and I do not want to share now what we were doing when I took those, so I borrowed a very nice photo from Kristin.
Michael is the cook on board, and food became a major focus of enjoyment for us.  He prepared three meals a day for the 10 people on board – we mostly all ate together – and for that he worked easily 10-12 hours every day.  Every meal was a master piece worthy of a 1 or even 2 star Michelin Restaurant, but I have yet to see a restaurant of this quality with the views that this one has!  He told us that he has the perfect job – he gets to cook the food that he likes and does not have a fixed office!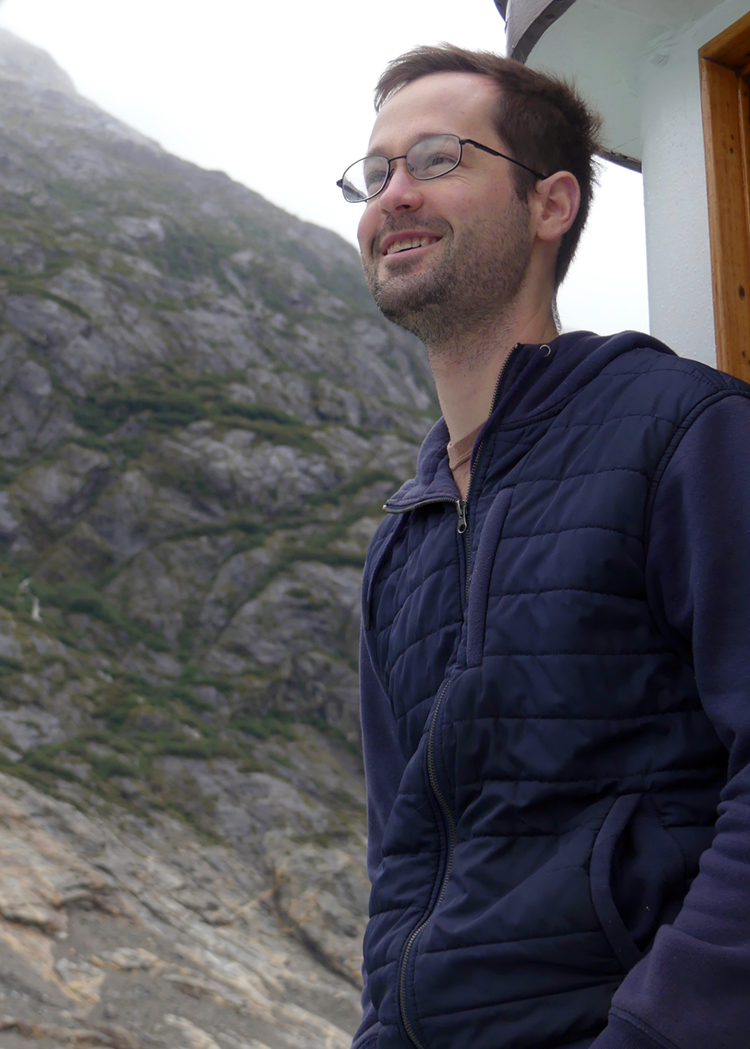 Last member of our crew was Kristin.  She is the Naturalist Guide, Animal Expert, Walk Director, Kayak Instructor, Photography Expert and all around great person who looked after us on and off the boat.  Here she is on one of our walks ready for all eventualities: she had rubber boots to be able to walk across water (she was not quite good enough to walk on the water), a radio to call Catalyst when we are ready to go back and the item in her left hand is a very large bear spray can just in case we make an unexpected close encounter.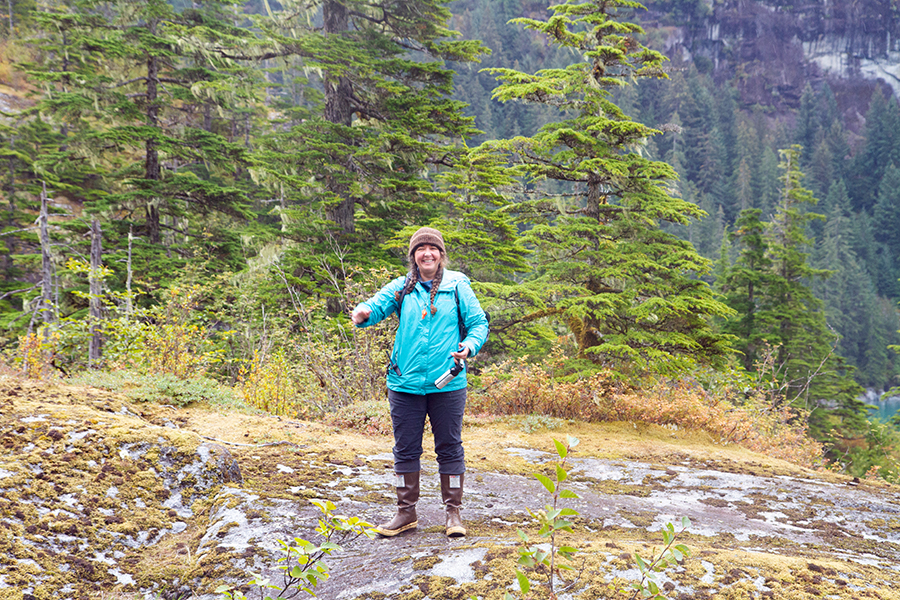 And here is one of the guests on board.  Other than Bee, my Dad and I, we had a couple from Oregon named Dave and Ruby and a lady from California called Cathy.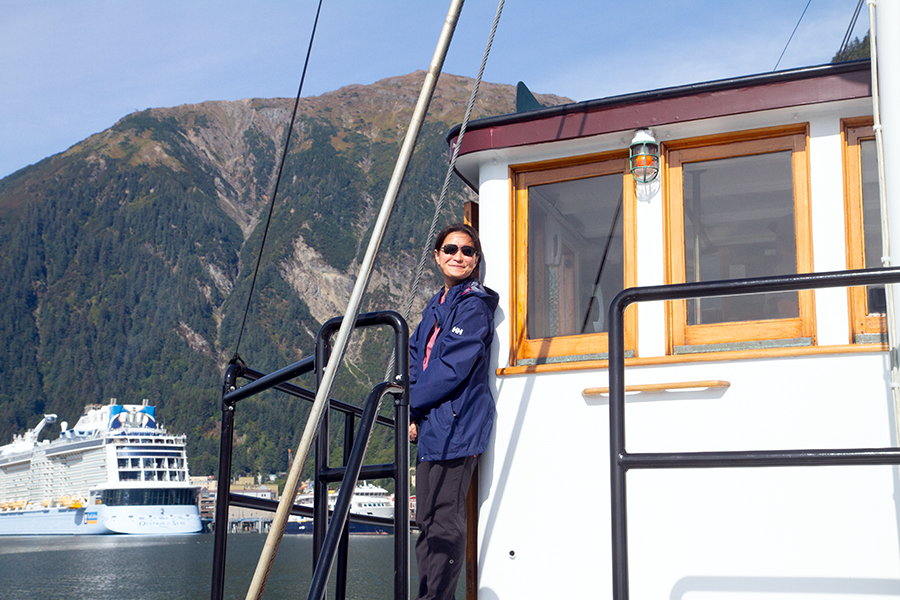 Motoring along the first day – I will spare you many of the views I took from the front and or the back of the boat along the way – the vistas were in general quite spectacular.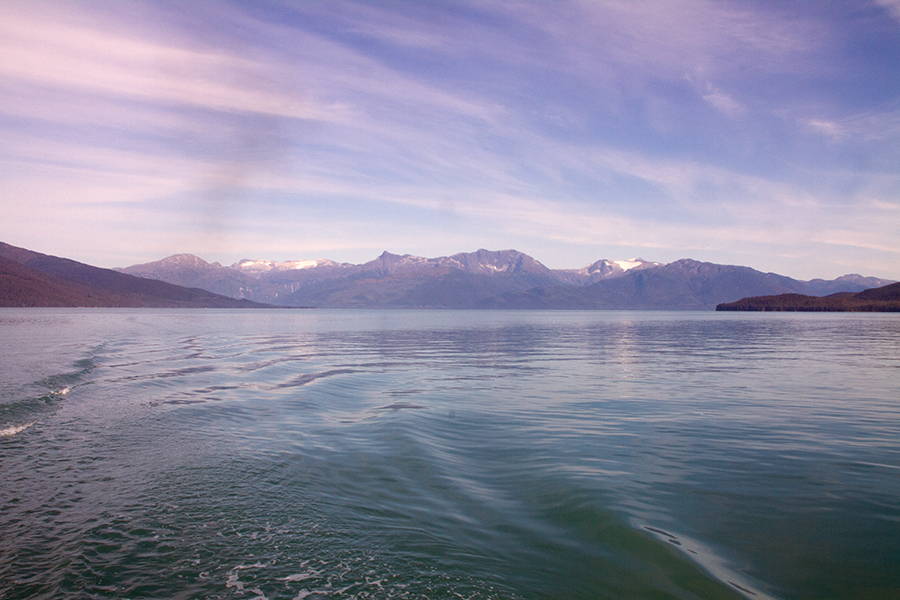 We took our first walk at Oliver Inlet.  At this location, the state of Alaska has built a Kayak Crossing (a set of rails with carts that allow you to transport your kayak and gear across a short stretch of land.  In this case, it saves several days of kayaking to get directly from Juneau to the head of Seymour Canal – we will go the long way.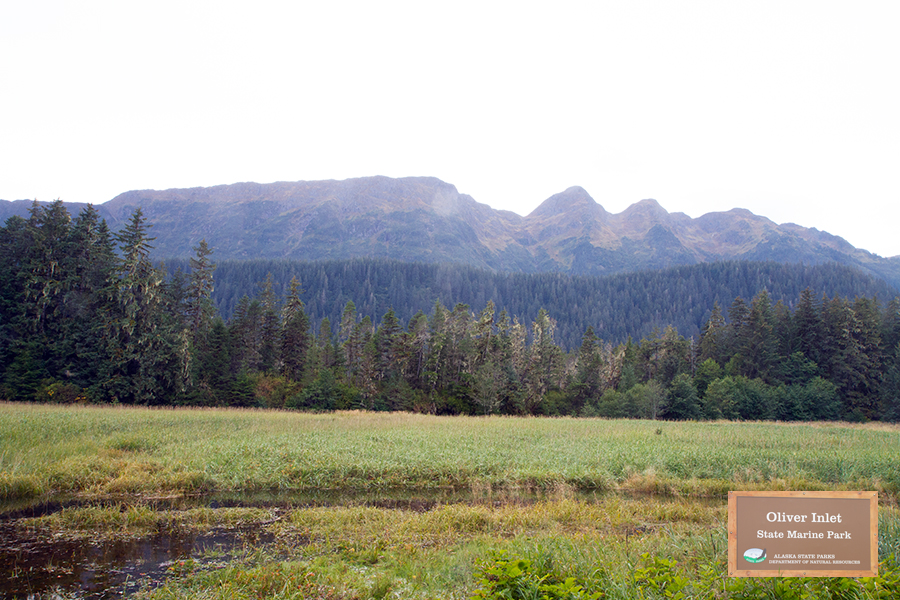 Our first wildlife sighting was not quite what I had expected.  We saw the most incredible caterpillar I had ever seen.  We saw several more like this in other areas.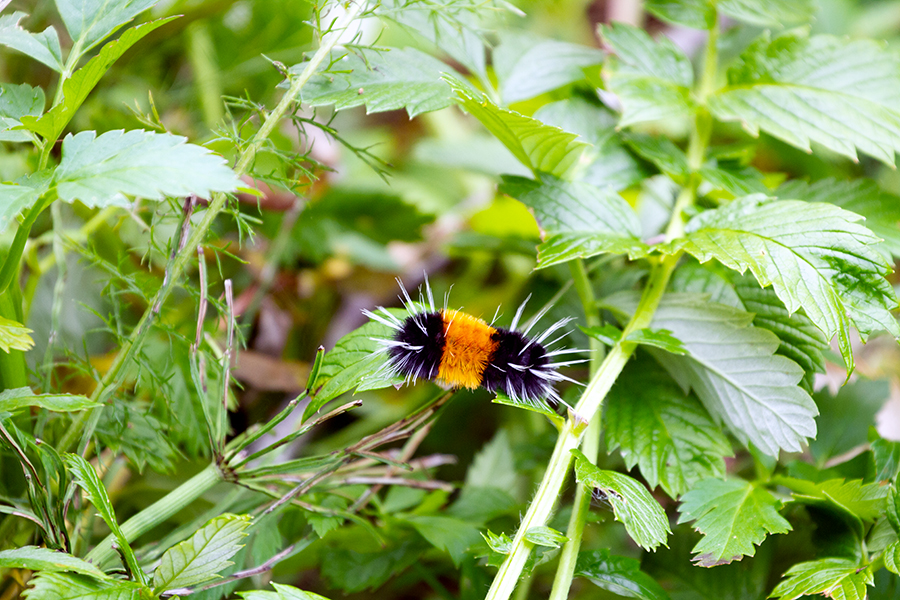 This is the North end of Seymour Canal and the southern end of the Kayak Passage we followed to here.

You can see that fall is already starting to set in this area.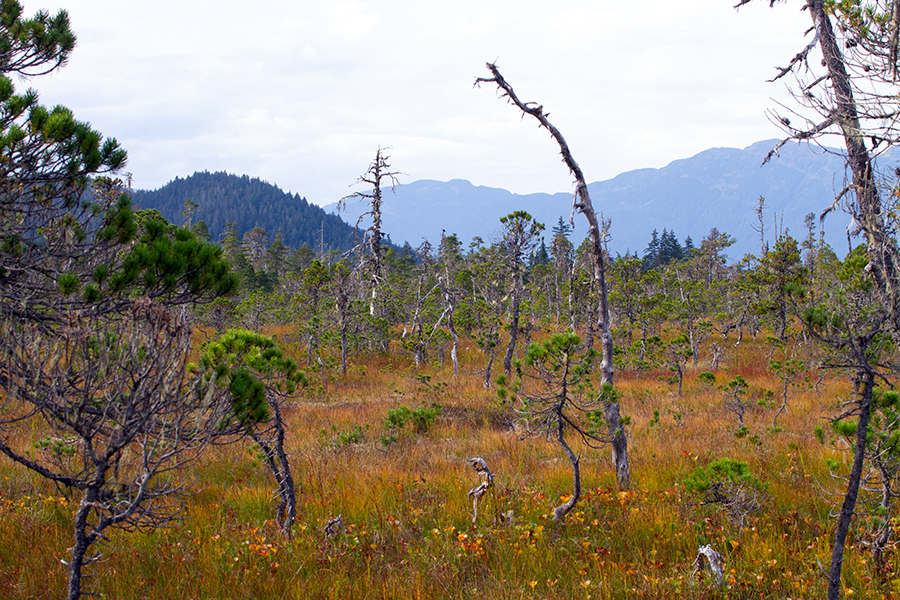 Some trees are full of berries – not edible.  We did find quite a few wild blueberries and enjoyed those, with or without worms – we were never able to ascertain for sure.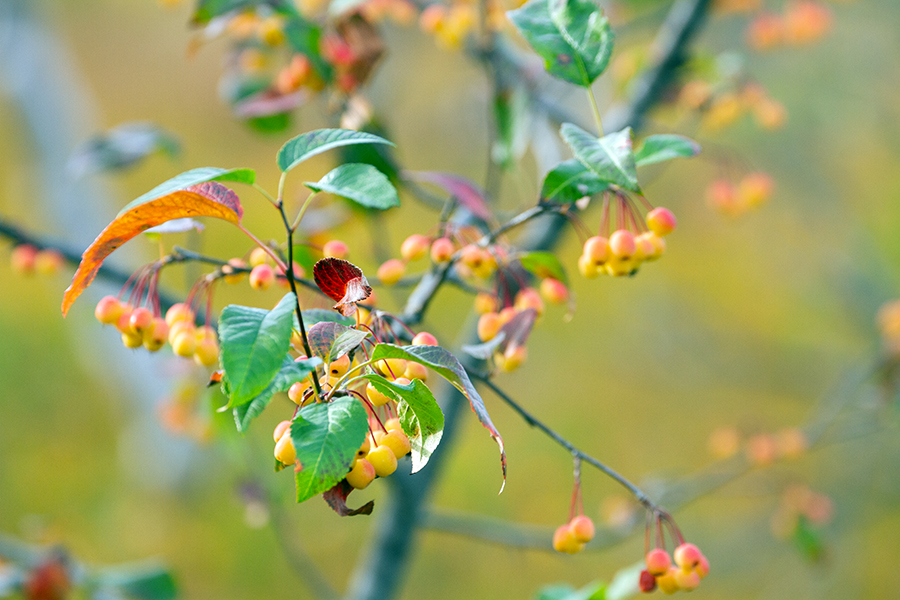 Our first whale sighting.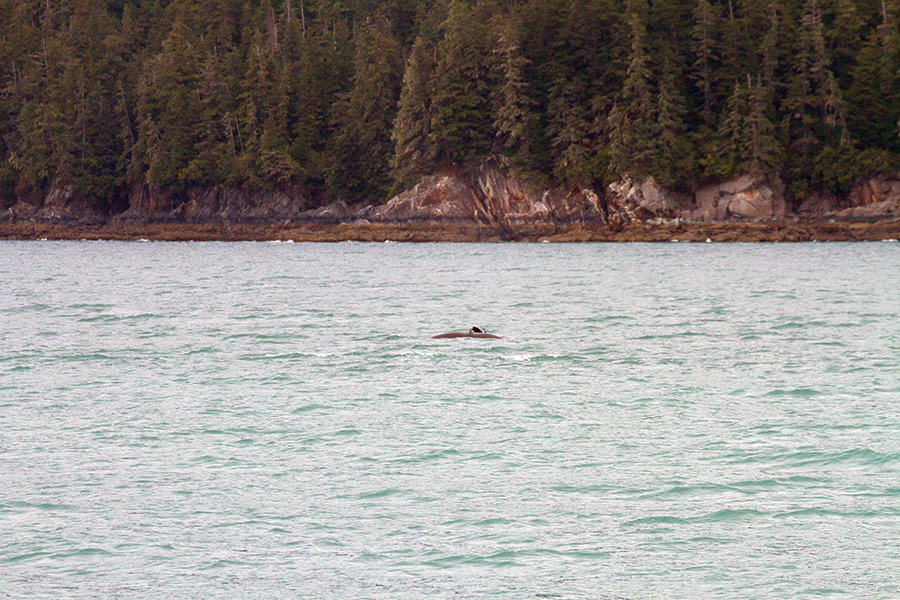 As the trip progressed, we got better and better at sighting the "blows" from a distance and then looking for the humped back.  Dave and Rudy were much more experienced than we were as they are involved each year in counting whales off the coast of Oregon and in Hawaii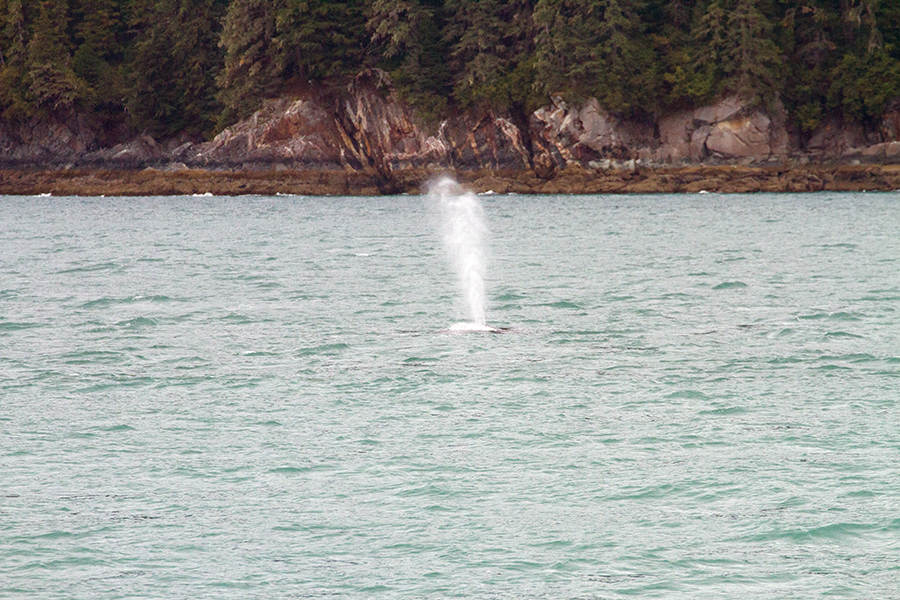 Our first Tail Dive!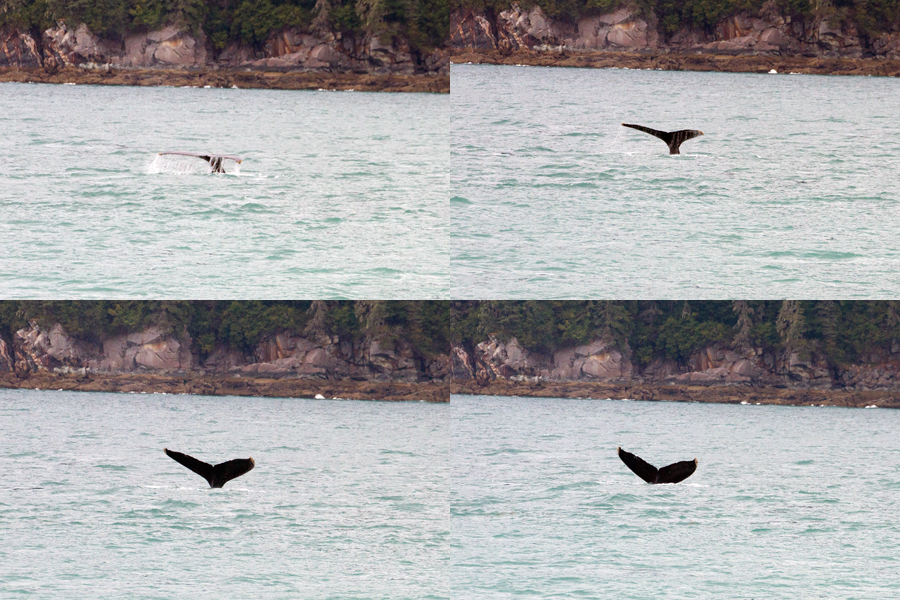 Another blow where you can actually see the nostrils wide open as the whale is now breathing in air before going back under.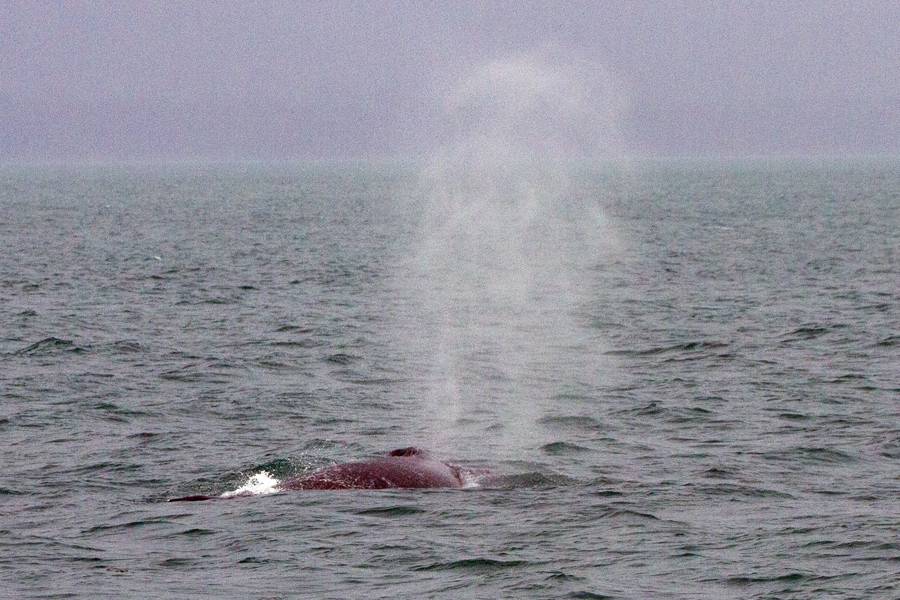 After a deep dive, each whale will make several shallow dives to take 4-5 quick breaths.  For a shallow dives, it barely clears the surface.  When it is ready to go for another deep dive, it will show a humped back – this is a clear sign that a tail in coming up soon.  All of these are humpback whales, so called because of the hump on their back where the dorsal fin used to be.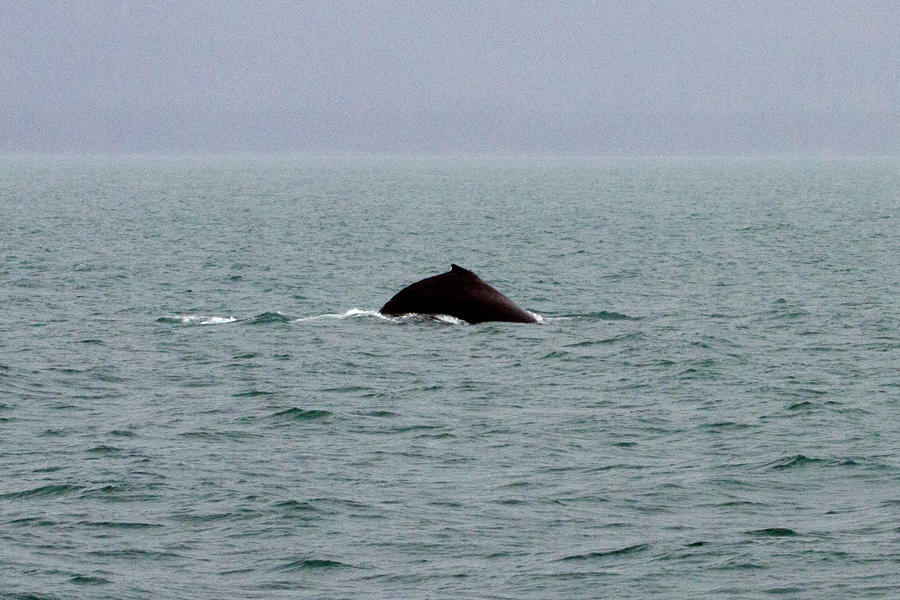 Another diving whale.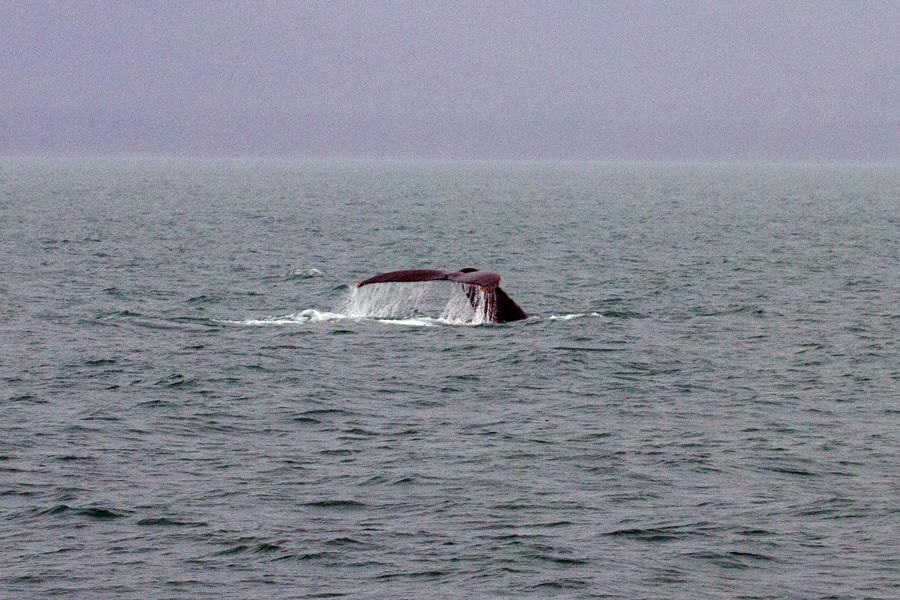 I like this view as it shows successive layers of mountains going further and further away from us.  On the second day we had quite a bit of rain, which did not affect our enjoyment but did create at times interesting views.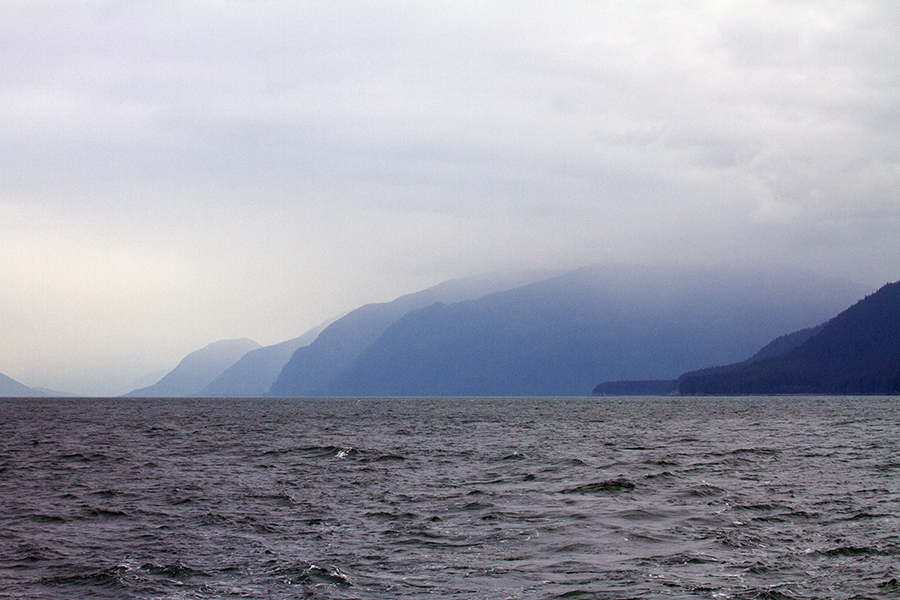 Our first iceberg – we will see more and more during the next two days – more to come on that.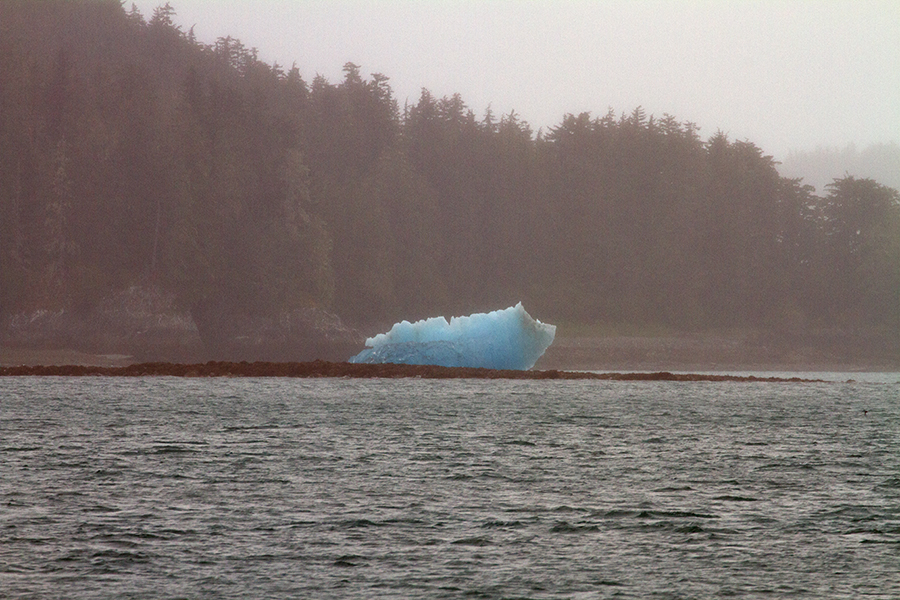 Our first Bald Eagles.  These were far away and are unfortunately hard to see.  There are two on the rock in the upper left, one adult on a rock in the upper right, three on the shore in the lower left and two in a tree in the lower right (look for the golf balls in the tree as Kristin taught us)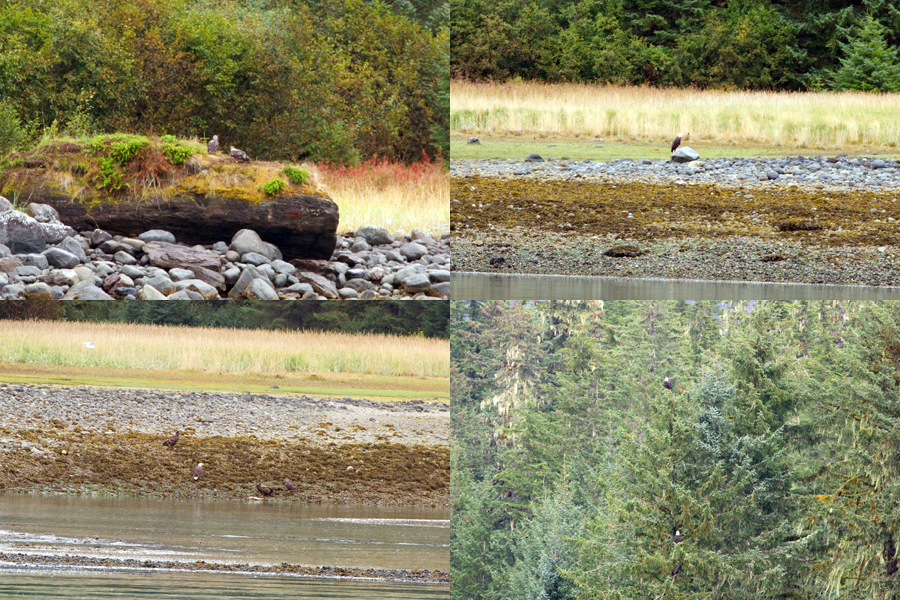 I have highlighted the areas were the eagles are in the shot below to help you find them, then you can see them better in the original.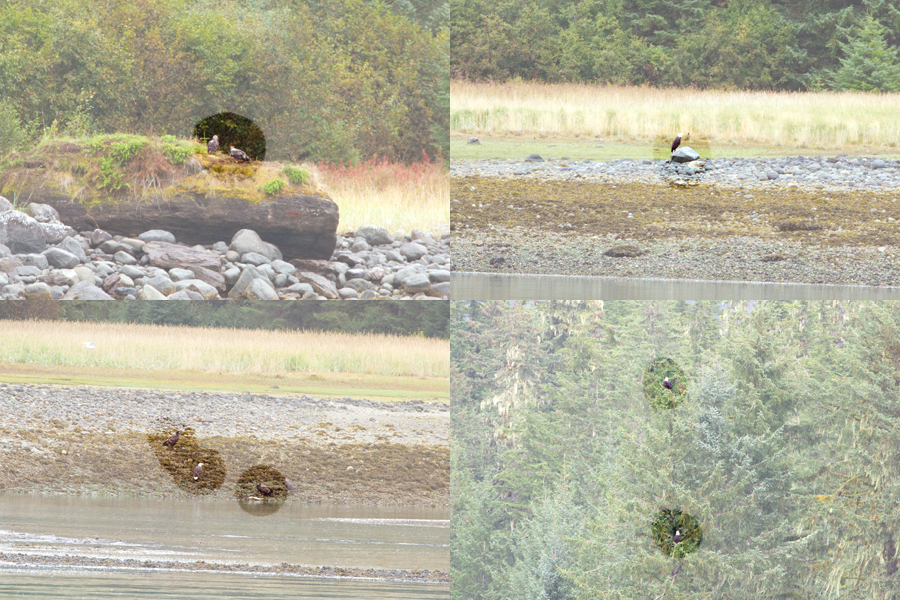 We are almost at the end of our second day on board.  Next we will anchor for the evening, and go for another hike before dinner.  I will have to continue this later as I have not yet processed other photos and did not want to delay too much this first installment.
More to come in Alaska – Part 2