pierreo June 6th, 2015
Bee and I recently came back from a great trip to Peru.  We stayed there for three weeks and had wonderful experiences everywhere we went.  We had more adventures at some point than we had anticipated (more on that later) but all in all it was a wonderful trip.
I will separate the trip in reasonable bites so that I do not bore anybody with endless photos and commentaries.  It will also allow me to issue these blogs more regularly, rather than all at once at the end.
After a 30+ hour trip, we finally arrived in Puerto Maldonado, near the Brazilian and Bolivian borders, on the East side of the Andes and smack at the Western end of the Amazon Rain Forest.  We left the office on Friday evening at about 18:30 Brussels time and flew to London, then Bogota, then Lima and finally Puerto Maldonado where we were met by the representative of the Riserva Amazonica, one of the resorts situated along the Rio Madre de Dios and where we would be staying for three nights.  The is probably the least typical Peruvian portion of our trip; it is a first introduction to the Amazon jungle for both of us.
After a short bus ride from the airport, we boarded a small boat for the final leg to the resort.  You got to admit that Bee still looks good on the boat after 30+ hours of travel!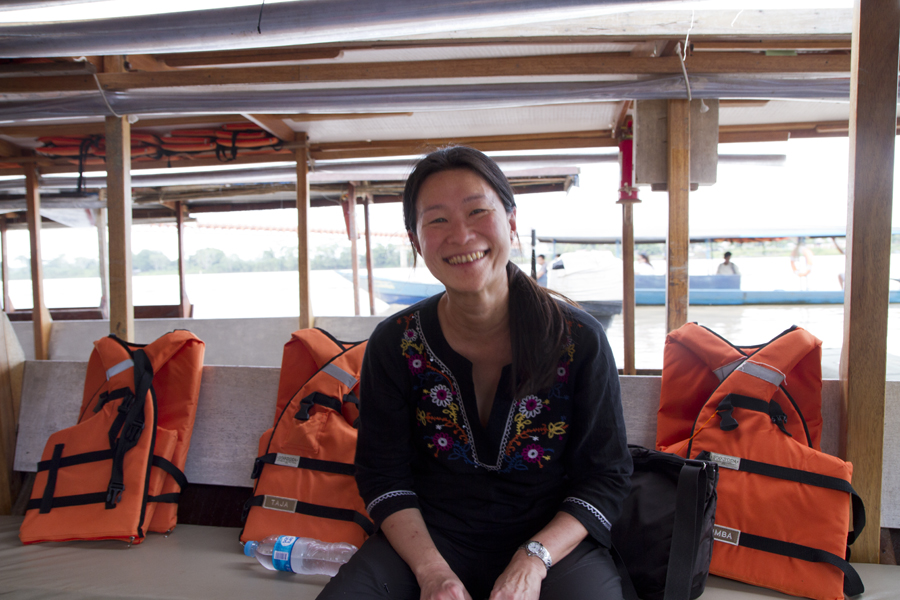 Just next to where we boarded the boat, there was the one and only bridge across the Madre de Dios River.  Nice bridge, the same colour as the Golden Gate bridge, and similar construction.  Puerto Maldonado is only 250 m above sea level (the lowest by far we will be on this whole trip) and much closer to the Pacific Ocean (only 600 km) but the Rio Madre de Dios flows into the Amazon and eventually to the Atlantic Ocean, more than 2600 km away. For the mathematicians out there, this is equivalent to an average slope of only 0.01% for all this water to flow into the Atlantic Ocean.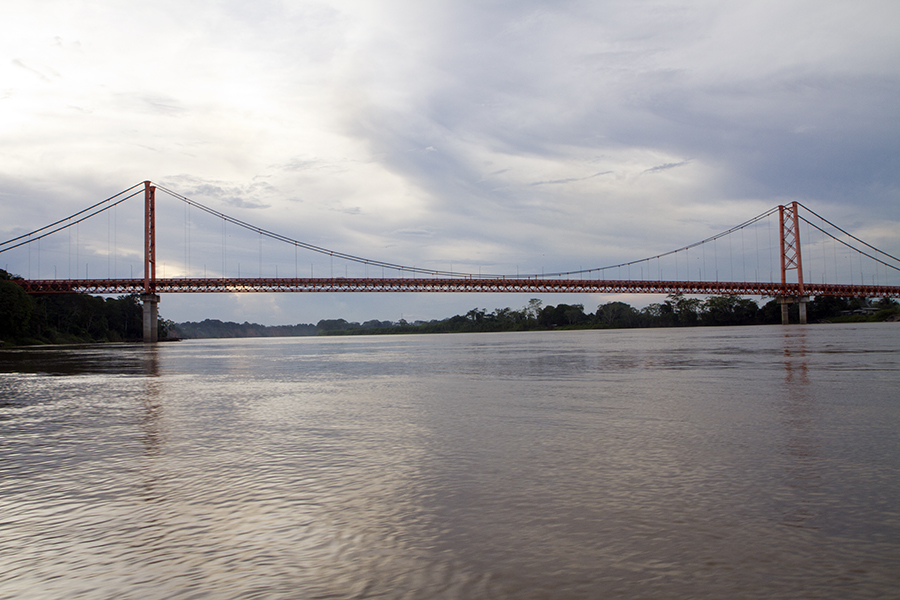 The sun was setting as we motored towards the resort.  With storm clouds in the distance, it made for a nice combination.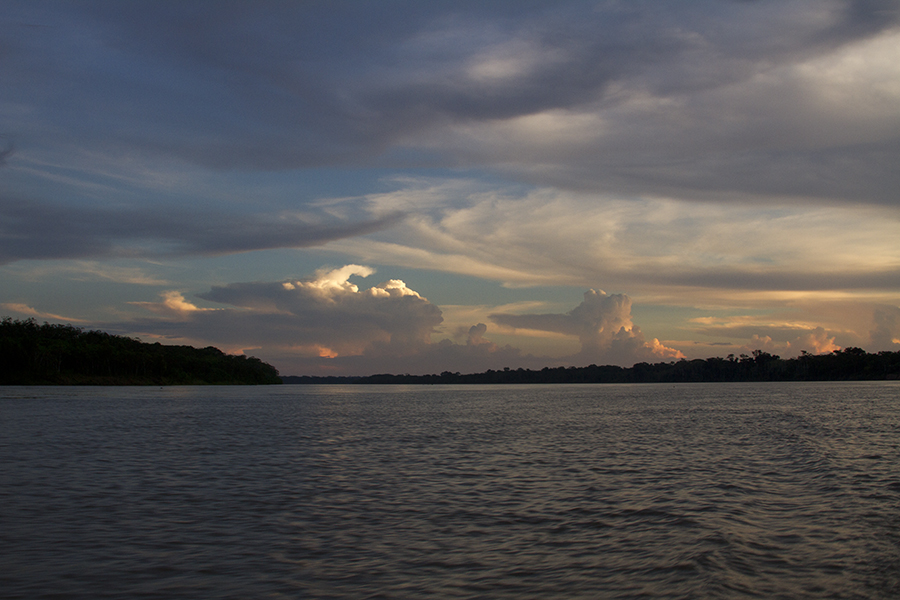 We decides to start our trip in Puerto Maldonado as it was expected to be the most relaxed part of the trip.  This would also give us a chance to recover from jet-lag.  When we arrived at the resort, we were told that tomorrow's activity would start at 6:00 AM, with 5:00 AM breakfast; we thought "No Problems, we will be awake at 3:00 AM anyway" so we immediately signed up.
We started by crossing the Madre de Dios river and ran into many cranes, flying overhead and nesting in the tress.  On the picture on the right, the crane is actually landing, but not on the nest that is right below it – it continued to float past it to another hidden nest further down the tree.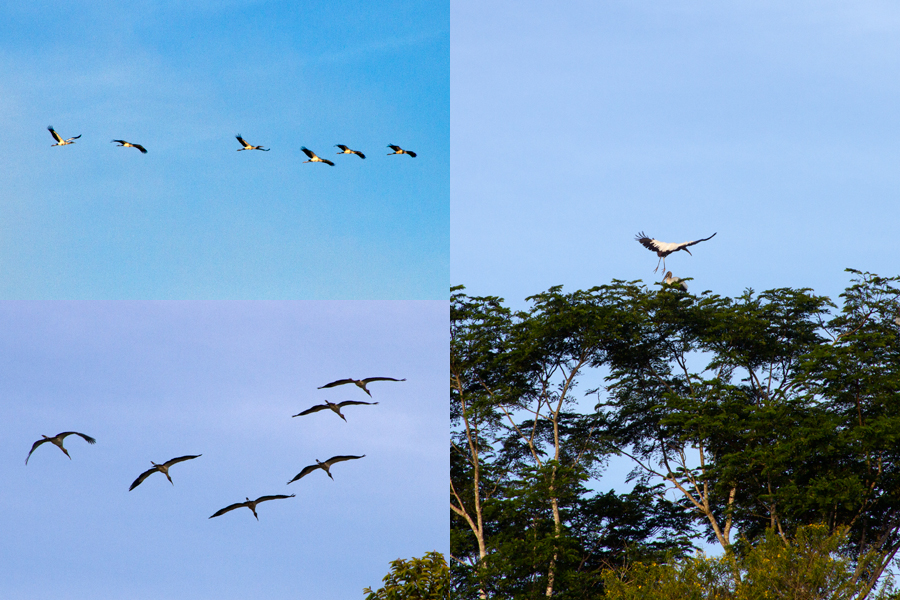 On the river bank, we saw a small crocodile and I caught a kingfisher in mid-flight – it is actually the same as the one on the branch on the right.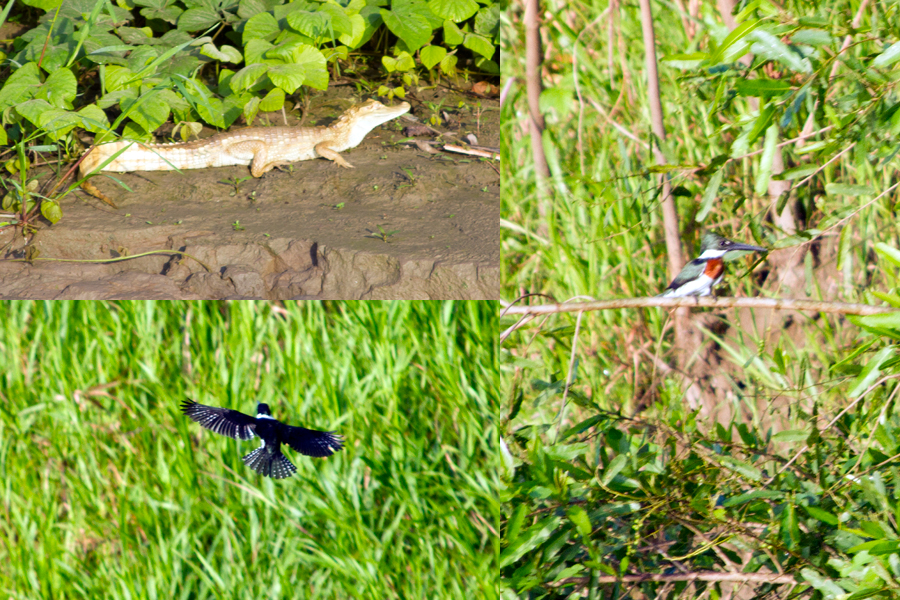 We then walked for about an hour through deep forest before reaching a small creek on which there were wooden boats.  A local man rents these out for a paddle on the lake that is not too far.  Our guide for this trip is on the right – he was very good at spotting all kinds of animals.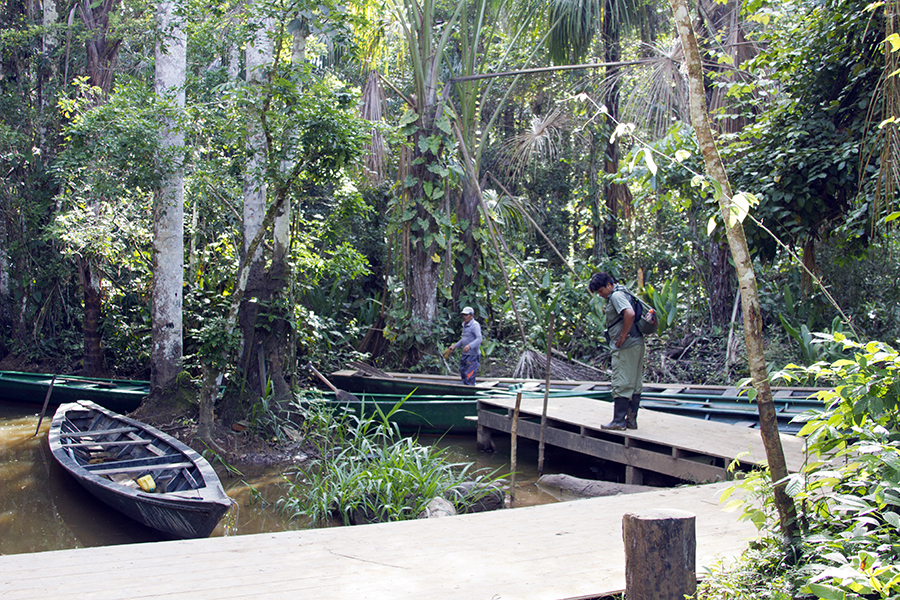 We saw Howler monkeys (but they are really difficult to photograph.  The one shot on the top left is the best I got.  Later on, we heard a noise like a hurricane wind developing and we were told that it was a single male howler monkey marking his territory! Impressive.
We also saw Capuchin Monkeys, including this mother carefully carrying her baby who seemed sound asleep, or petrified with fear, you be the judge.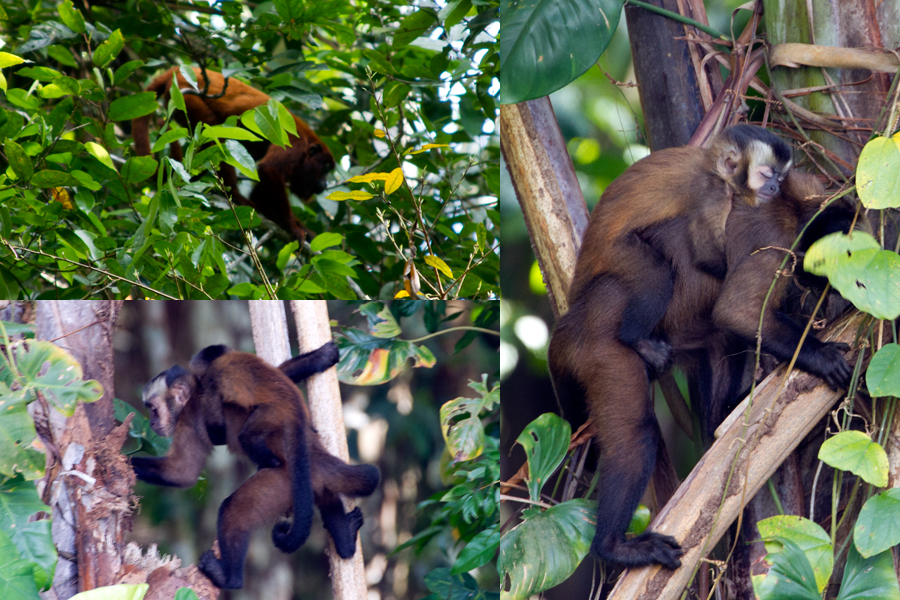 She even posed for this shot!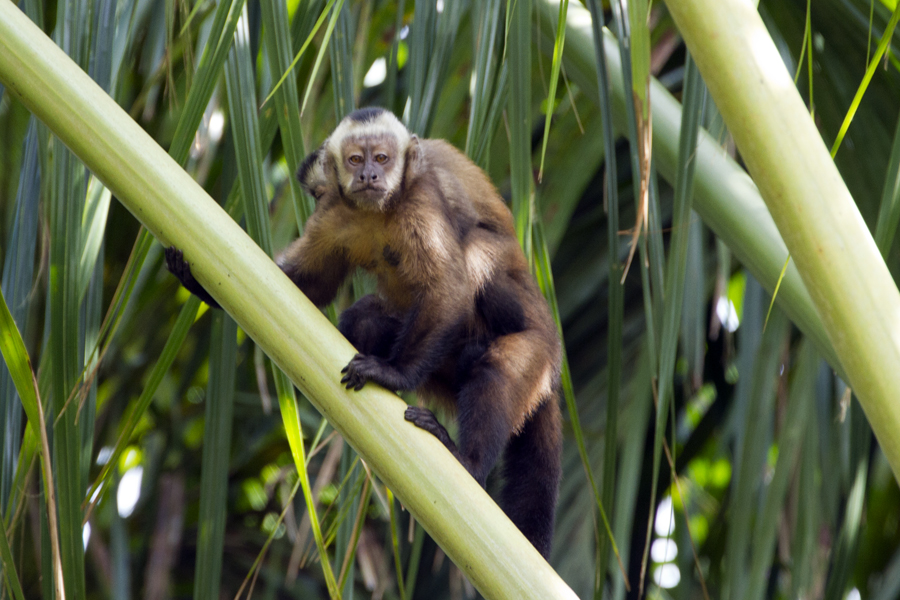 Here is looking at you – kid!  Probably not a good place to swim.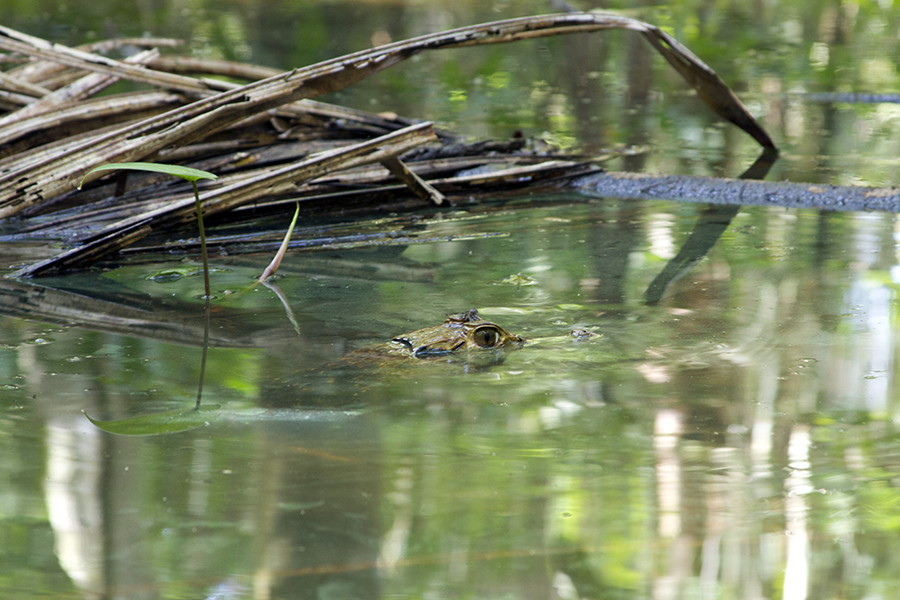 This turtle was a lot more interested in the bug just out of its reach that the boat of onlookers.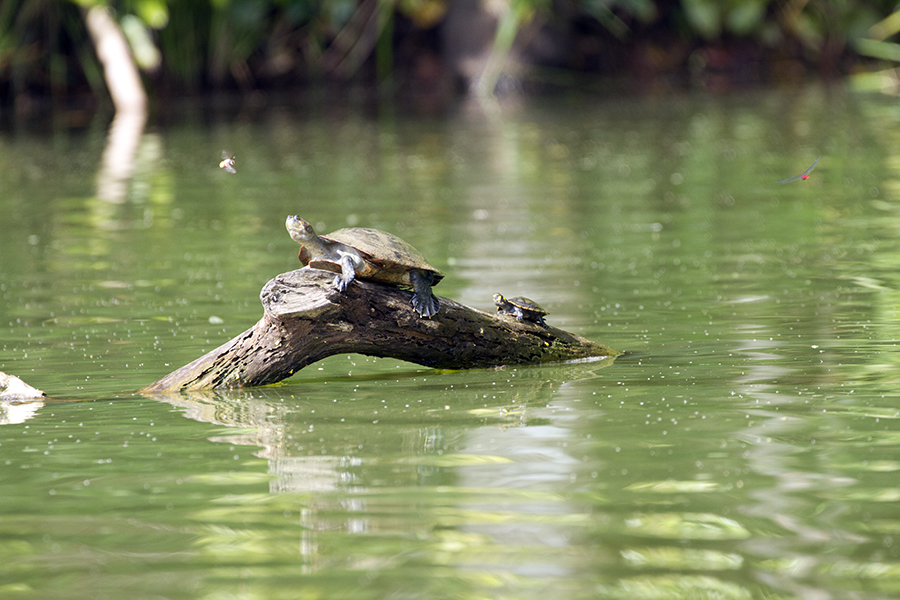 We saw many vultures overhead.  This one has a red head and white feathers under its wings, most likely a Turkey Vulture.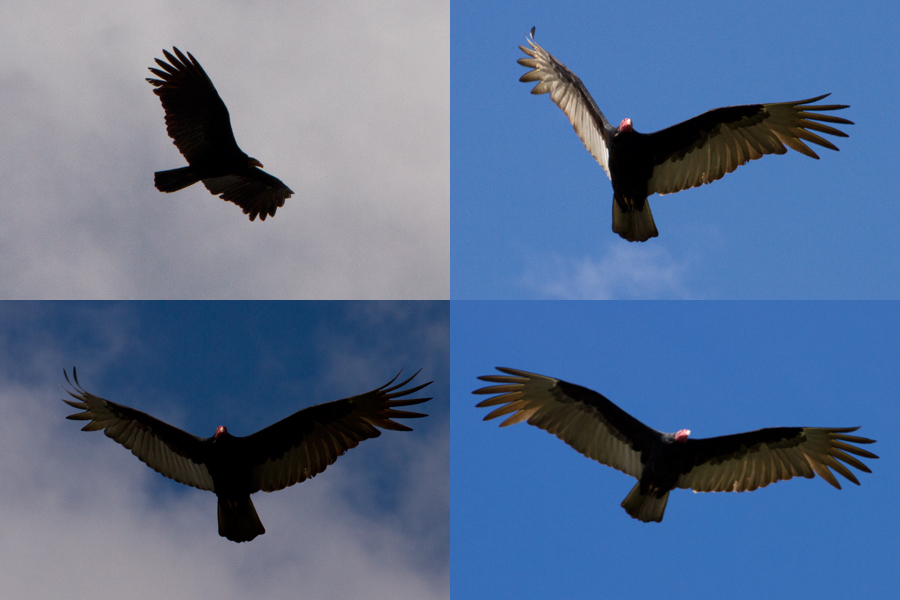 We made several other encounters: A kingfisher on a log; several butterflies on several flowers; a butterfly who came for a visit; miniature bats, sleeping on a tree looking like spots until you look close enough.  Just to make sure, I discreetly added a small arrow pointing at one of the bats, to make sure you can find all seven of them.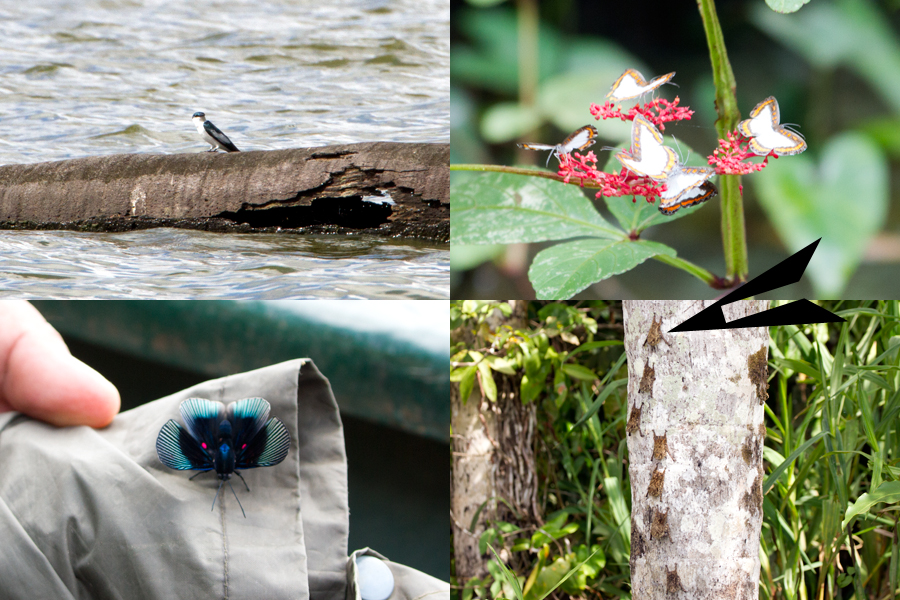 In the afternoon, we went for a "Canopy Walk" – it is a series of hanging bridges going from tree to tree about 30 m above ground.  Interesting experience, but we did not see much.  The bridges can only take one person at a time, and the platforms between bridges are so small that only 2-3 people can stay there, so we had to do the walk without the guidance of our animal tracking guide and we did not see very much.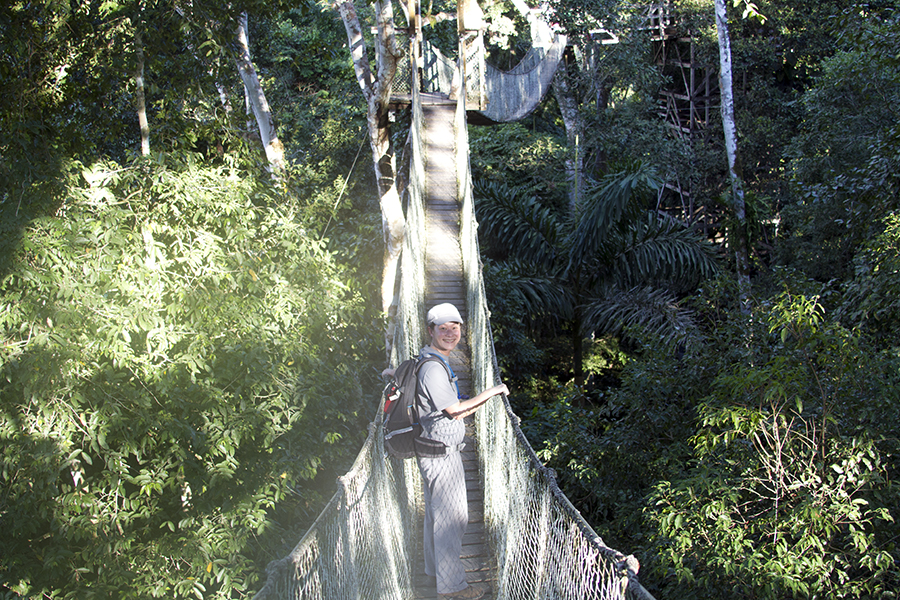 As I said, it was an interesting experience.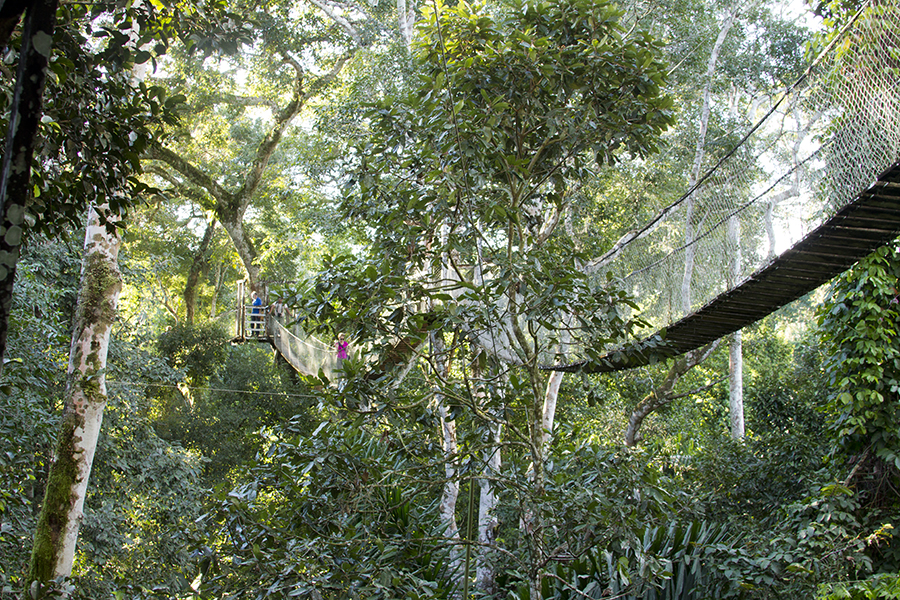 I did spot one wild animal: an army ant – the largest ant in the world that tends to be a loner – the shadow is actually bigger than the ant.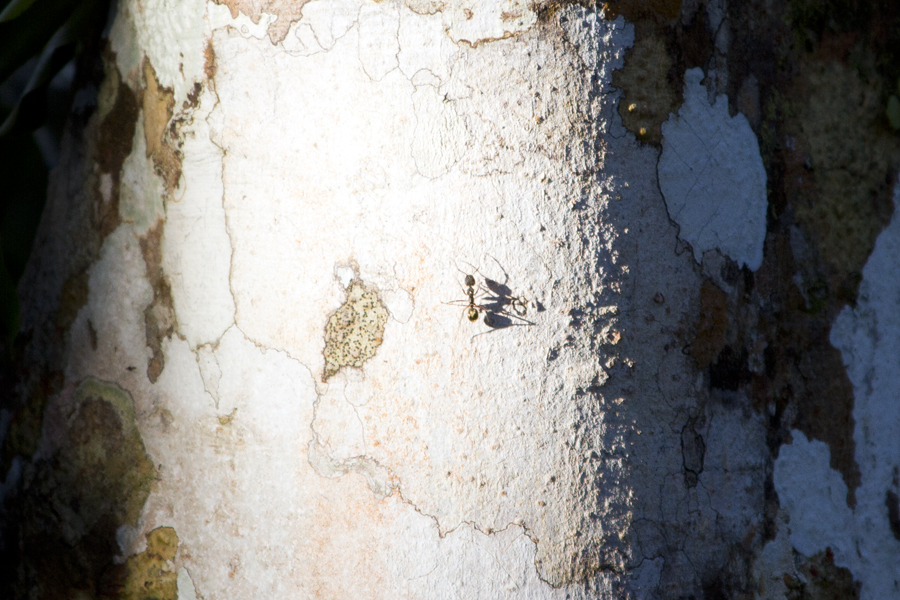 Back at the resort, a panorama of the view from our cabin on the side of the river.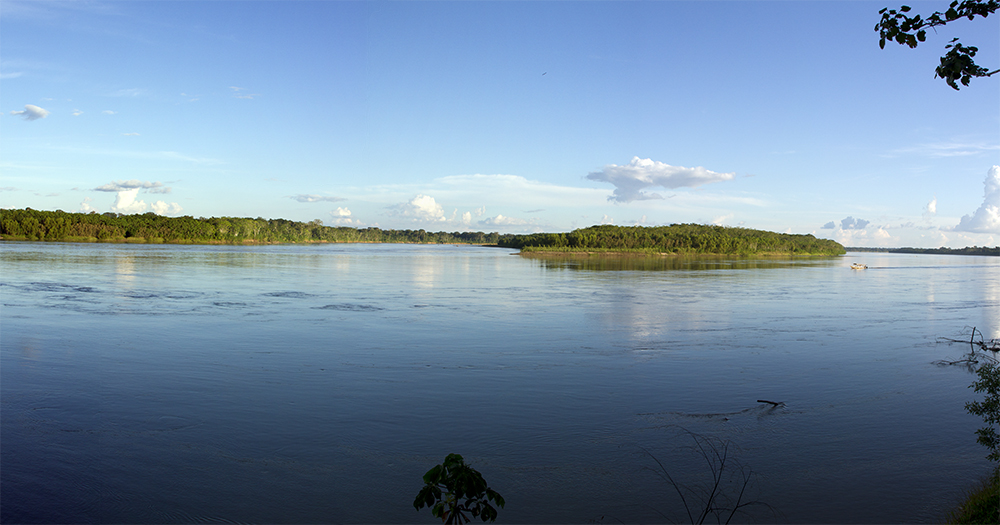 There was regular traffic on the river.  Some boats, as these, are tourist transport for one of the 20 or so resorts that have appeared in the last 20 years.  Many others are locals going to market or locals transporting goods to the resorts or the markets in the area.  We saw no large boat indicating long-distance trade along the river.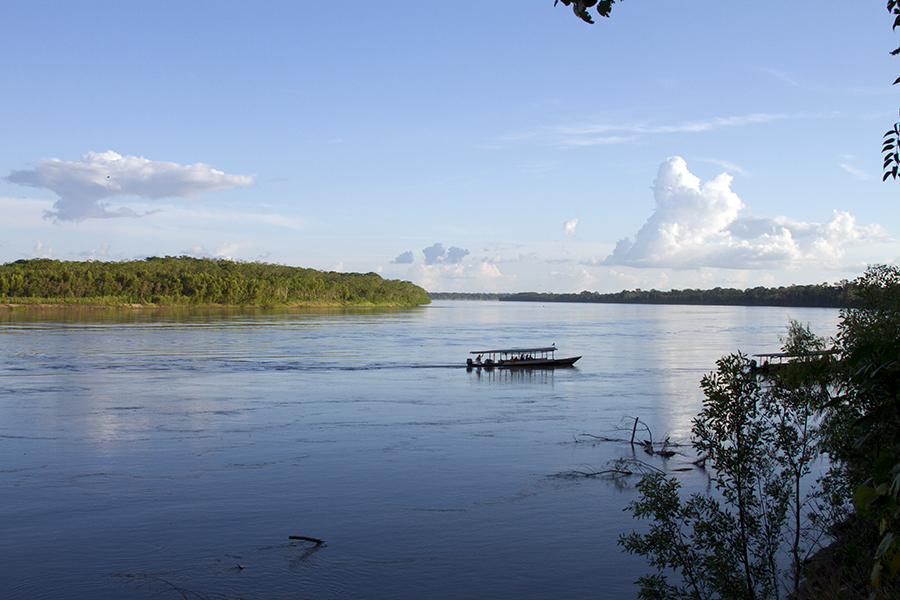 That evening, we had a good sunset.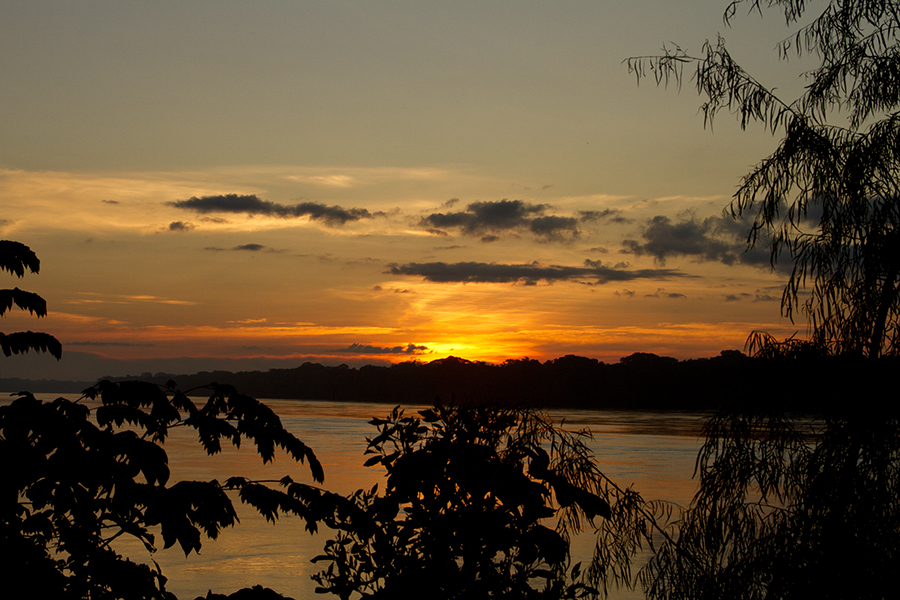 The next day, we were to visit a local farm.  These flowers were in front of the main house and are still wet with the morning dew.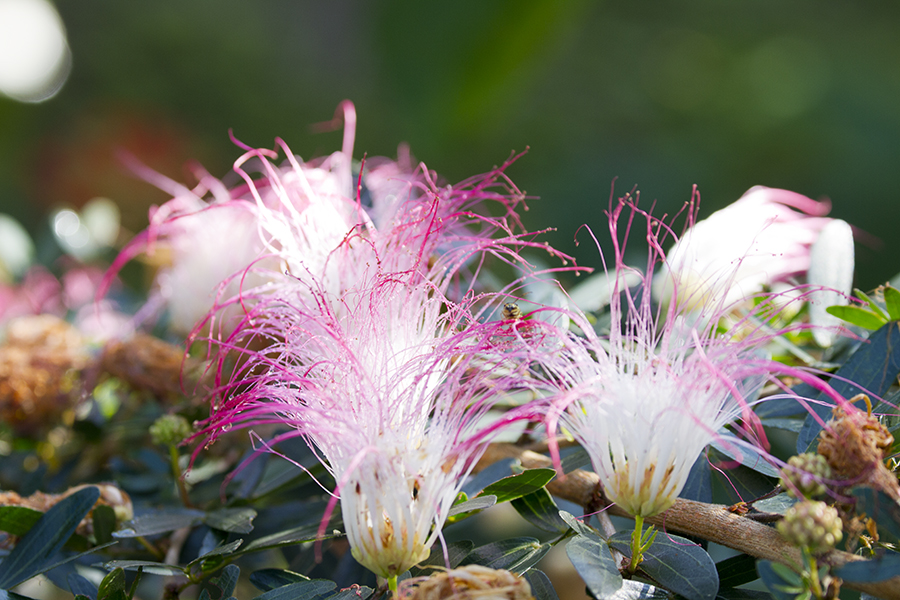 Birds were feasting on the fruits from the oil palms.  I do not remember the name of the bird on the left.  On the right is the local parrot.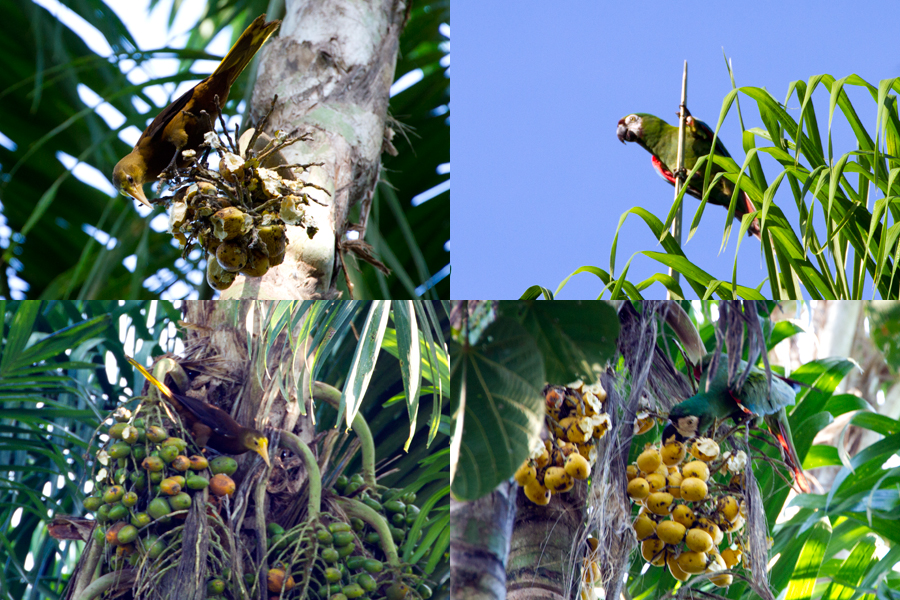 Parrots are usually seen in pairs and they "marry" for life.  It was therefore interesting to see three of them together.  I figured these are two young males trying to attract a single female in the middle.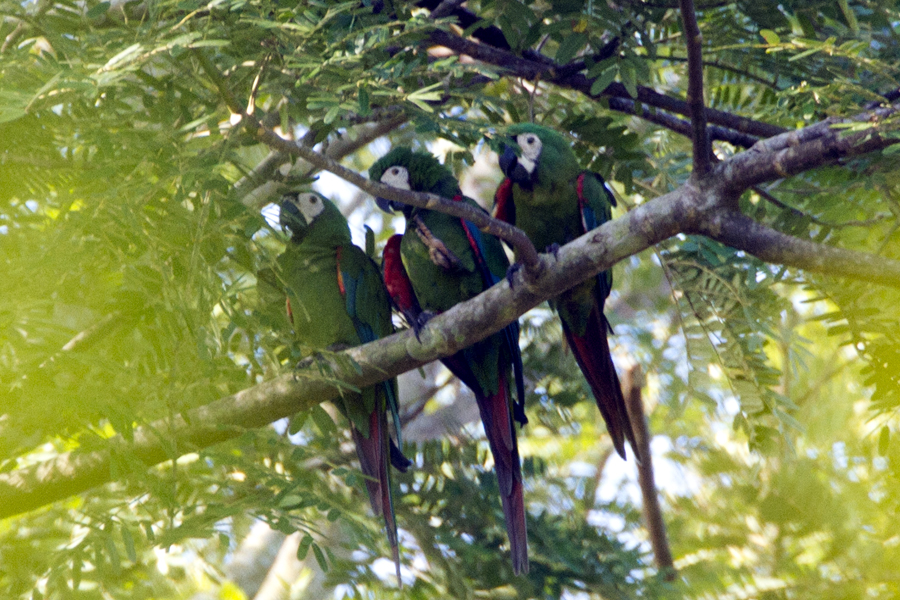 One tries to woo her first …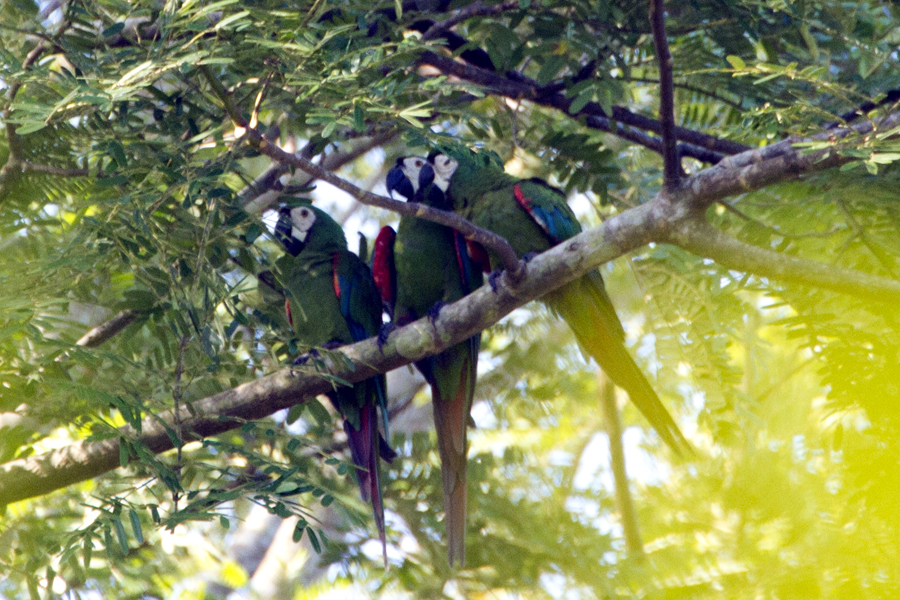 Then the other …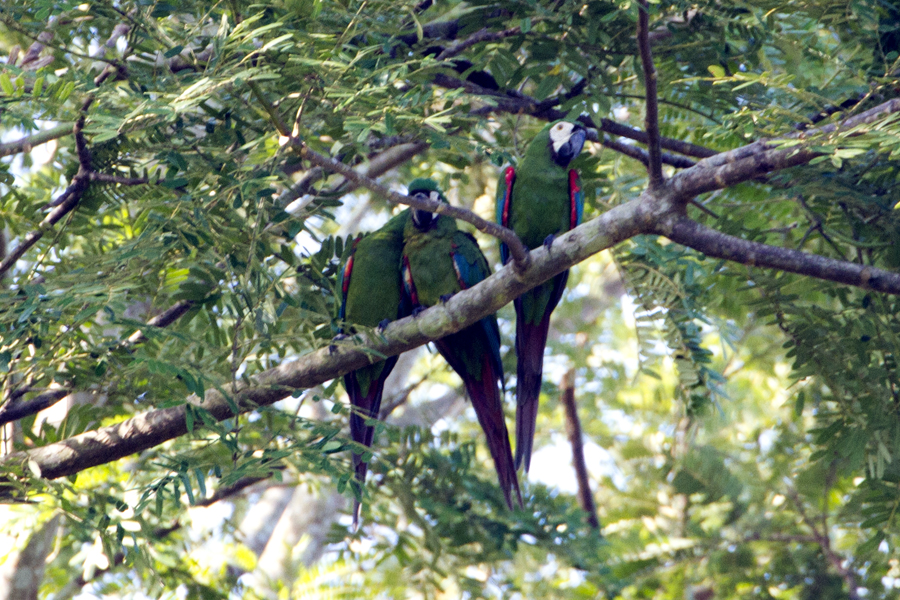 But I do not know how the story ends!
Another Kingfisher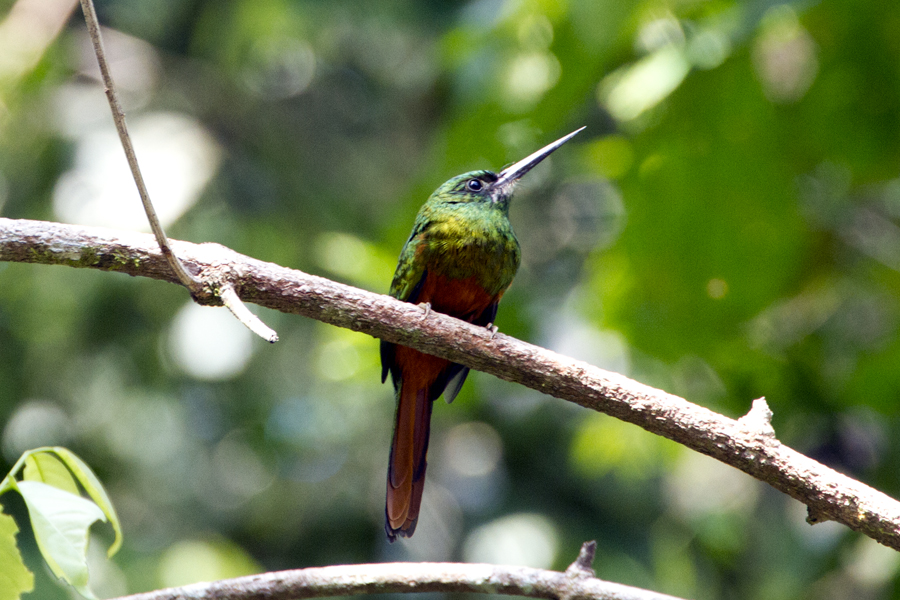 I had told our guide I wanted to see a Hawk – and of course, he delivered.
This hawk was calmly sitting on a branch when we arrived.  However, he started to screech (is that what a hawk does?) while we were there, flapping his wings as he showed his anger.  He finally gave up and flew away, showing us his very nice plumage.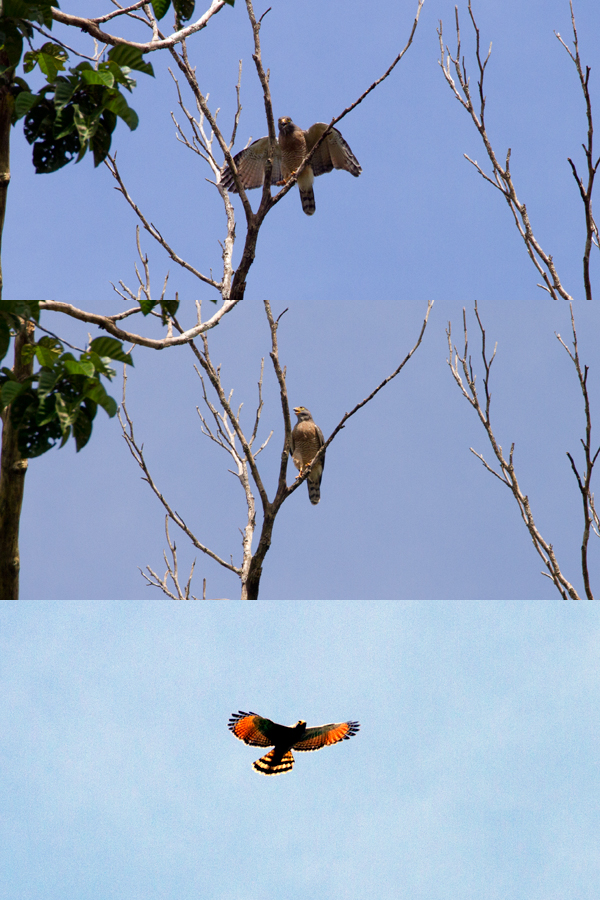 This is a nest (of that I am sure) of Termites (I am less sure of that!) hanging from a tree.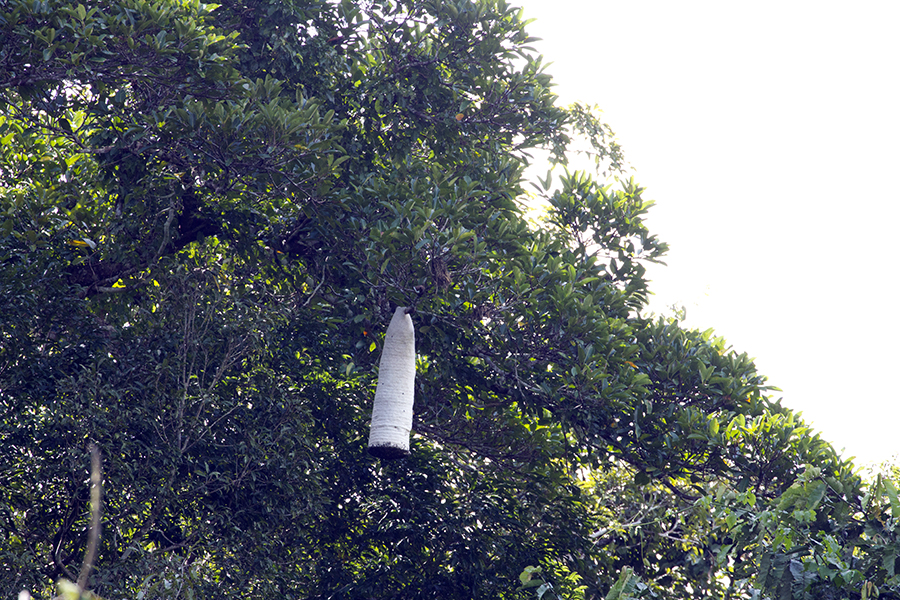 We also saw quite a few Ibises.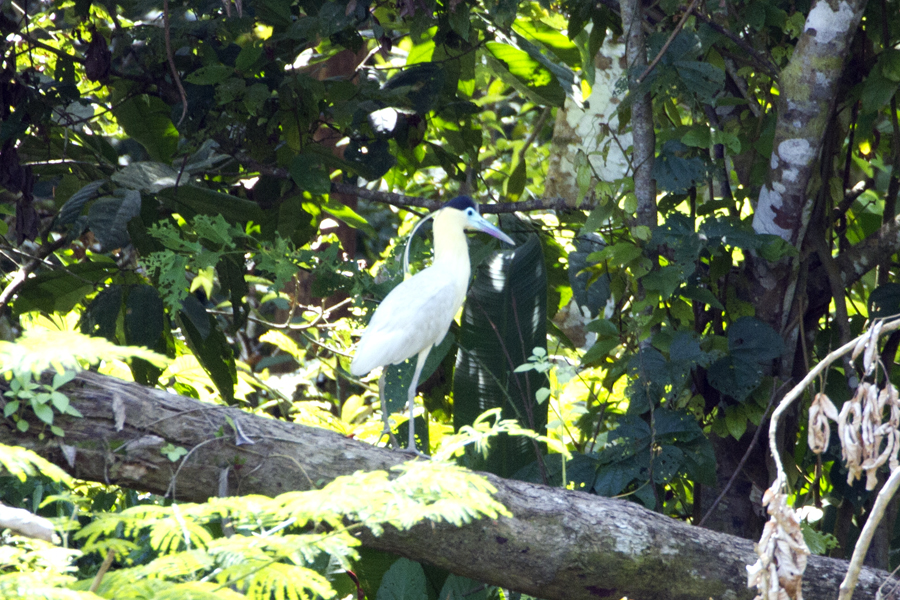 On the way to the airport, we stopped at a butterfly farm.  My first reaction was – How boring! but I was definitely wrong.  There was a relatively small enclosure full of butterflies – every flower seemed to have several flying around t.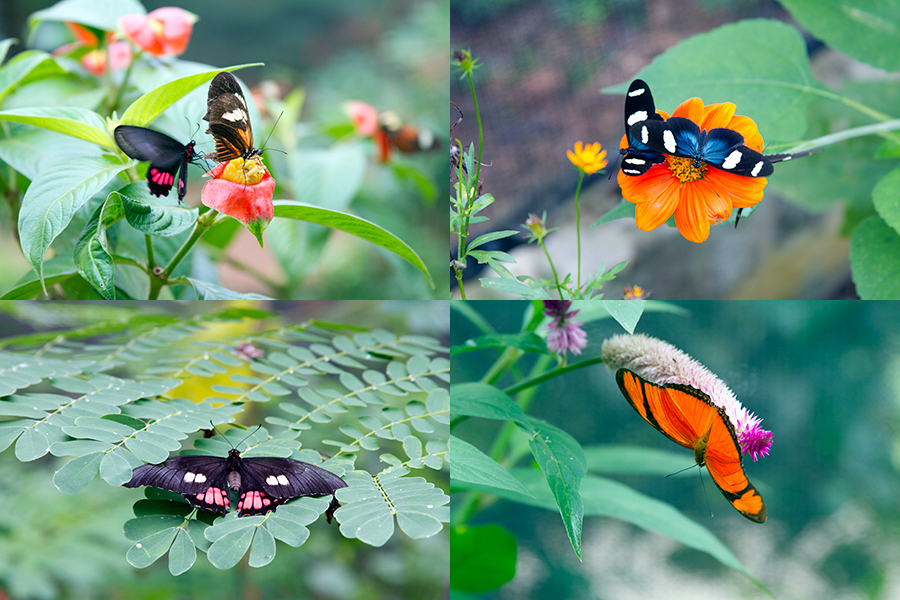 We flew from Puerto Maldonado to Cuzco, from 250 m elevation up to 3300 m elevation, for the continuation of our trip which I will cover in another episode coming soon.
This portion of our trip was organised through Wilderness Travel (www.wildernesstravel.com/trip/extension/peru/reserva-amazonica) as an extension to other trips in the area.  We stayed an extra night in the resort to give us more relaxing time and more time to adjust to the local time and that turned out to be a good decision.
(811 Page Views)