pierreo July 2nd, 2012
In late May, Bee and I spent almost two weeks in Scotland to take advantage of two holidays that occur close to each other. This meant that it only cost us 6 vacation days!
We left work after lunch and headed for Zeebrugge where we took the ferry to Hull with my car. I had been to Zeebrugge quite a number of times on a sailboat, but I had never seen the port from the higher vantage point afforded by a large sea-going vessel. It was also a very nice day, which made for a particularly memorable sight.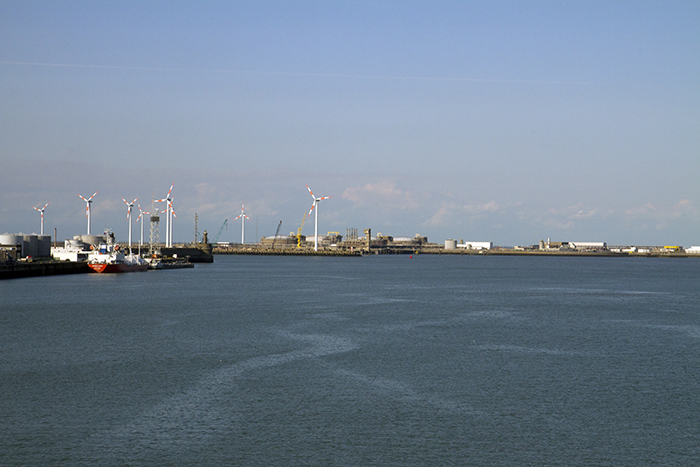 As we maneuvered to get out, two tugs stayed close just in case we needed help. This is looking back towards the yacht club, where I usually come from…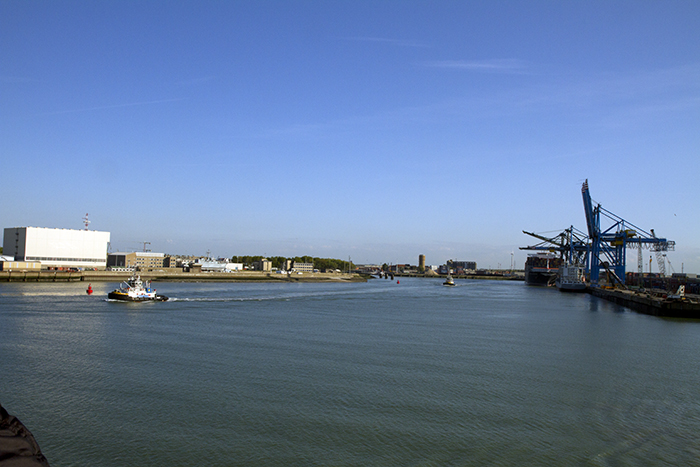 As we come out of the harbour, I realise that the visibility is particularly good. I can clearly see the high rise in Oostende and even the coast beyond it.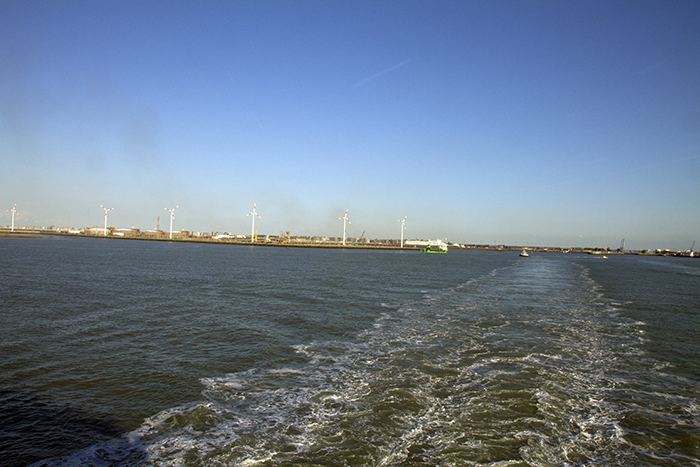 It is very difficult to show you the true effect that this view gives. Below is a view of the coast from Zeebrugge on the right all the way to the first barrier of the Delta Project in the Netherlands at the far left. You cannot really see that on the photo below – but trust me, it is there.

Here I have enlarged a few details so that you can see them better …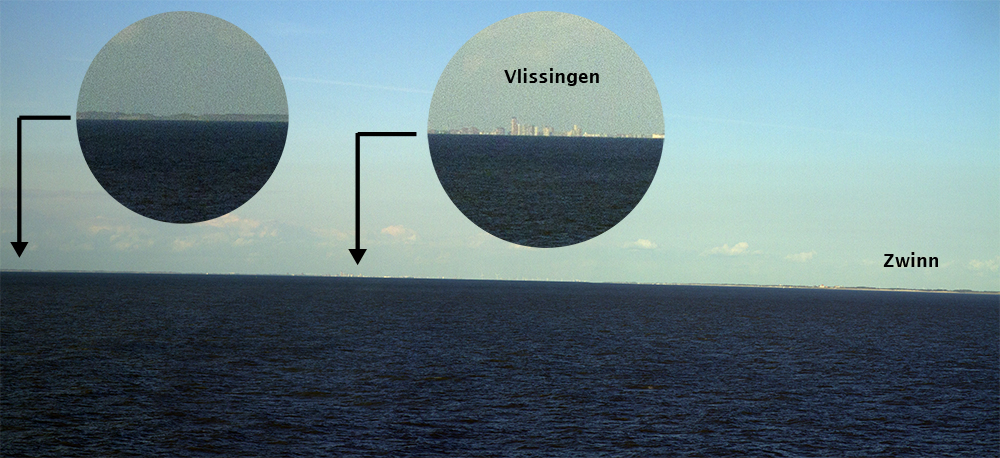 A container carrier coming into Zeebrugge offers a great opportunity for an artsy shot, against the sun that will start to set in a few hours.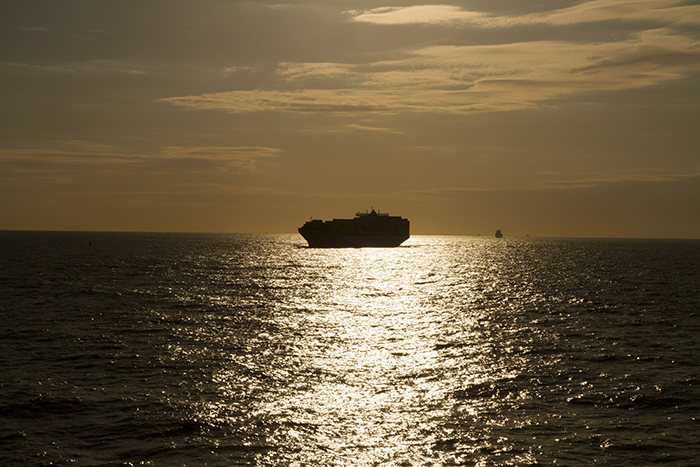 The crossing was really nice, except for a small mis-understanding about time. When we boarded the ferry, we reserved dinner and breakfast. Breakfast starts at 6:00 and we made sure to ask if that was European or British time. I thought I understood that the ship was on British time. We arrived for dinner one hour late! It turns out that the boat stays on European time in the evening but then is on British Time in the morning! Next time, ask a more clear question, and test the answer!
We drove from Hull to Falkirk. You may recall an earlier post on "The Engineer's Cycle Ride" from October 2011. In it I had mentioned this 'hard-to-believe' contraption that was built in Falkirk, Scotland linking two canals and called the Falkirk Wheel. We decided to have a look for ourselves.
Thank goodness for GPS – there are no indications until you get really close, and we had to take some roads that were barely wide enough for one car, and yet were two-way, so you occasionally had to pass another car… But we got there in the end, unfortunately, in the rain – Hey, It is Scotland, so this is "normal".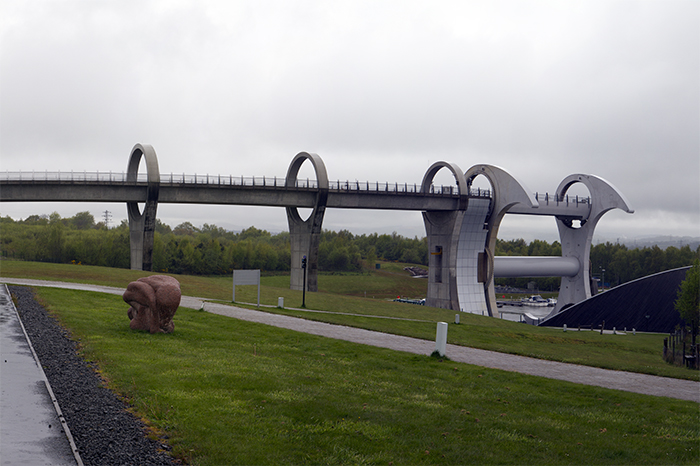 As is often the case, an elevated canal has to be built up to the "lock" itself. In this case, the canal comes of the side of Augustus Wall, an early version of defensive Roman architecture (just a dirt mound) designed to keep the Scots out of occupied England. The wheel itself is at the far right…
Here is a shot very similar to the one I had included in the previous post, except that the wheel is in its Load/unload position.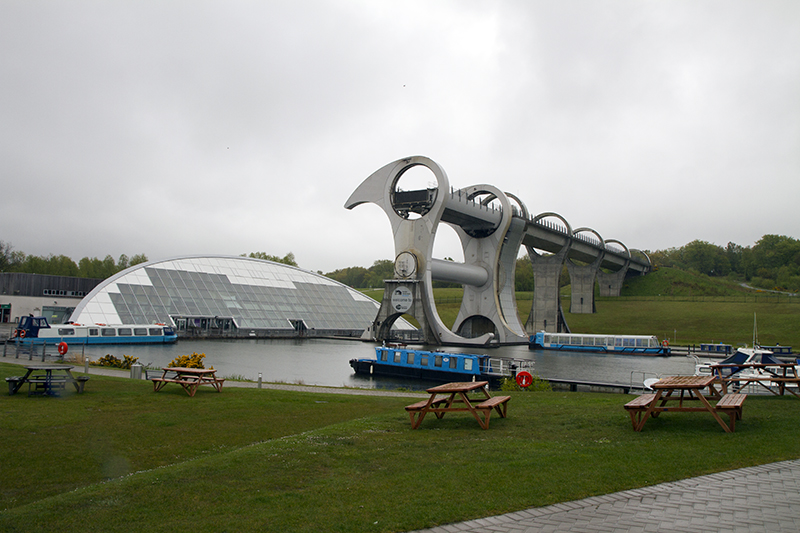 We were concerned that we may not get a chance to see it move, as few tourists would be foolish enough to visit in such a weather and even if they did, they probably would not go on a boat ride. But when we asked at the desk, they said it should move in 5-10 minutes, so we waited, and were rewarded with a full 1/2 turn, which took less than 5 minutes.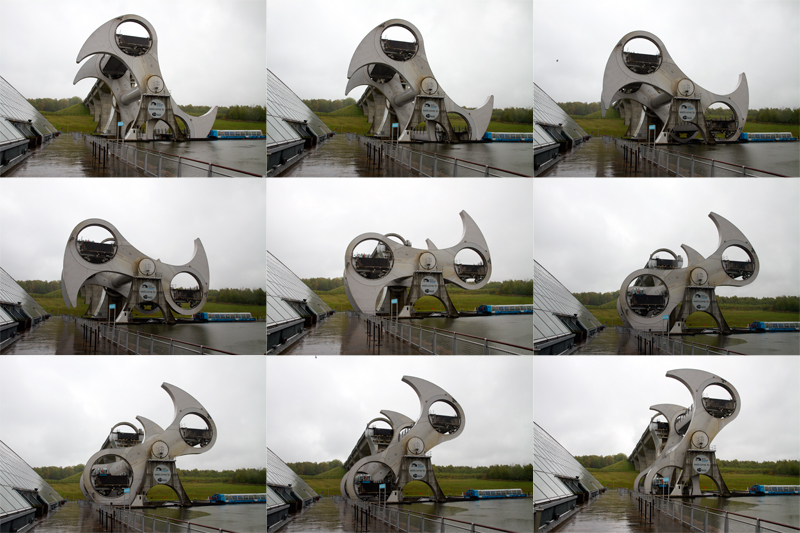 We continued hoping to still visit Stirling Castle, but did not make it that evening and went instead directly to the hotel in Dunblane, just North of Stirling. The Double Tree Dunblane Hydro is a great place, built into what appears to be an old industrial building in a large park. We really enjoyed the two nights we spent there.
We went for a walk in the town, and admired the local church (or Kirk in the local language).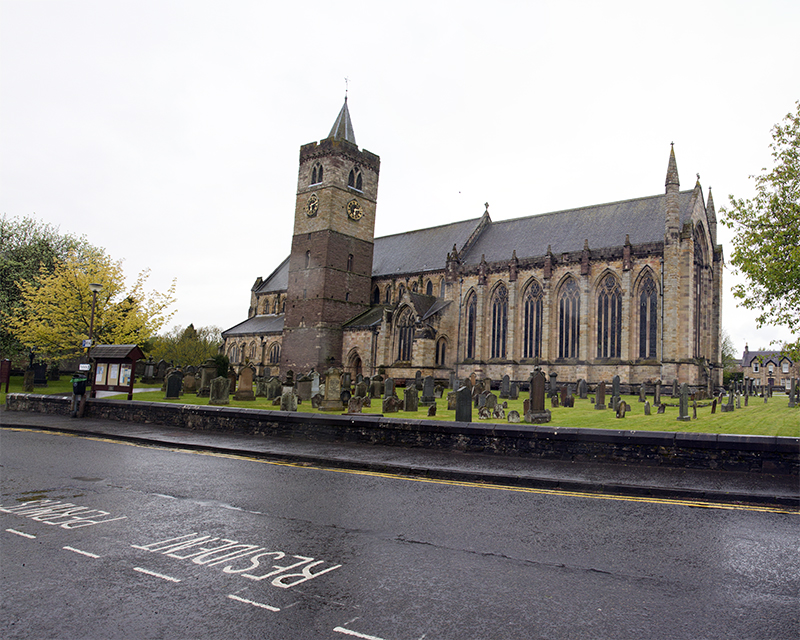 The weather did not improve overnight and so we decided to go visit the Stirling Castle instead of going for a hike in a nearby reserve. It was a good choice as the Stirling Castle has been really well restored and provides a very good introduction to Scotland History.
The view of the surrounding countryside from the bastions proves that this is a strategic location, which is why the castle always seemed to be involved in the wars between England and Scotland.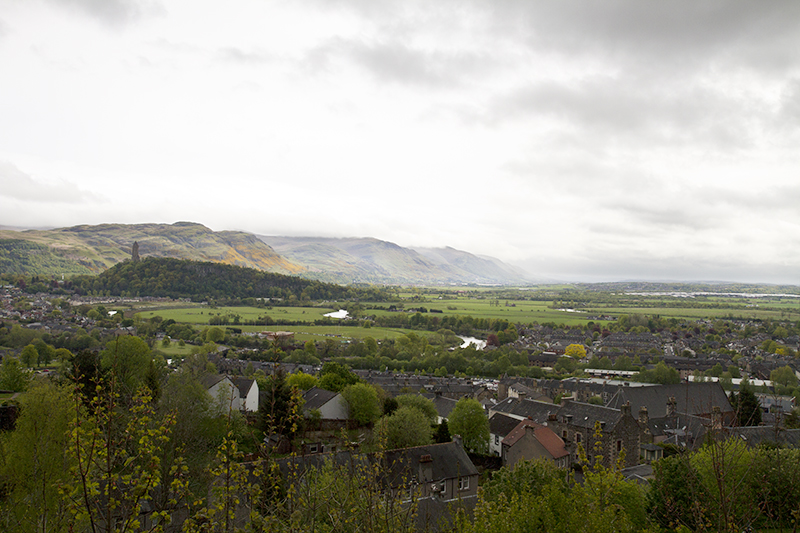 A view of the main facade of the castle, with the Royal Palace on the left.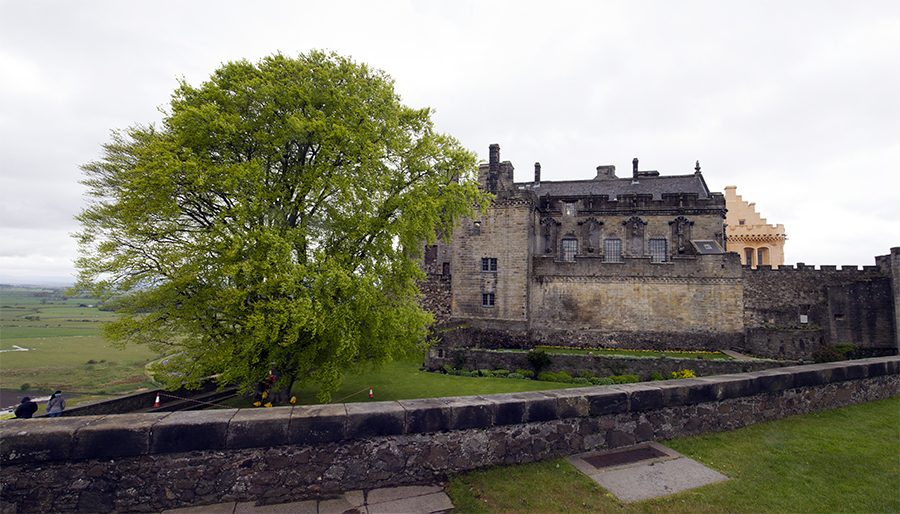 The Royal Palace has only recently been restored and re-furnished how it would have been at the peak of its glory. This is the Queen's bedroom. While we were there, a chamber maid, in period costume, kept 'arranging' the room and available for giving additional information.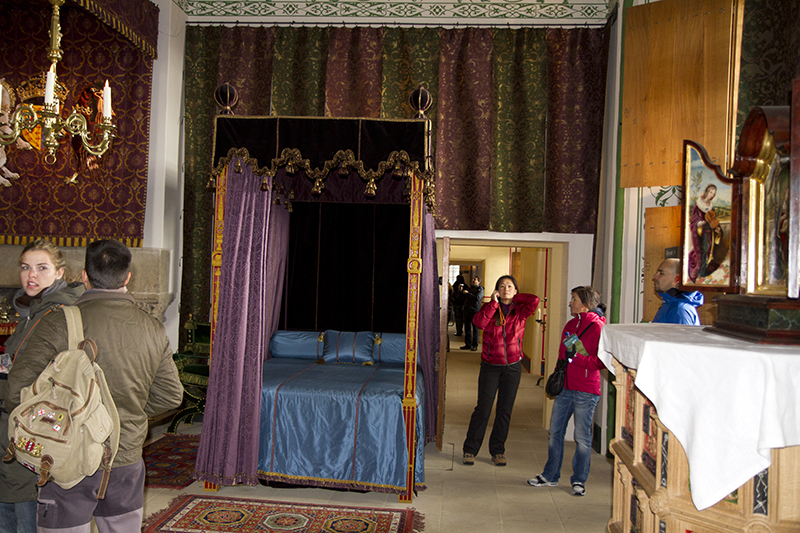 There was another "actor" in the throne room. These are members of the Scottish Historical Society who are available as guides for visitors and dress in full period costumes. It is surprising at first, then you get used to it.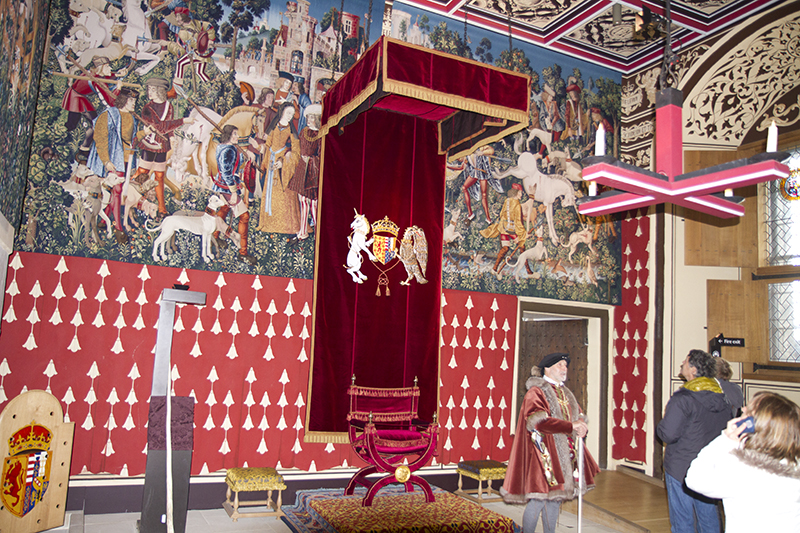 Behind him, you can see one of several pieces of tapestry that have recently been re-done. Over the past several years, they have been copying the complete set of tapestry called: The Unicorn. The original is in New York, in "The Cloisters" in upper Manhattan, along the Hudson River – I went to see it many years ago. These copies are in a way even better than the originals as they have regained their original colors and vibrancy.  These are very good copies that take years of work to complete.
There are no indications that the Unicorn tapestries were ever associated with Stirling Castle, but they decided that if they were to do this, they might as well do one of the most important works ever made.
The detail below if very famous.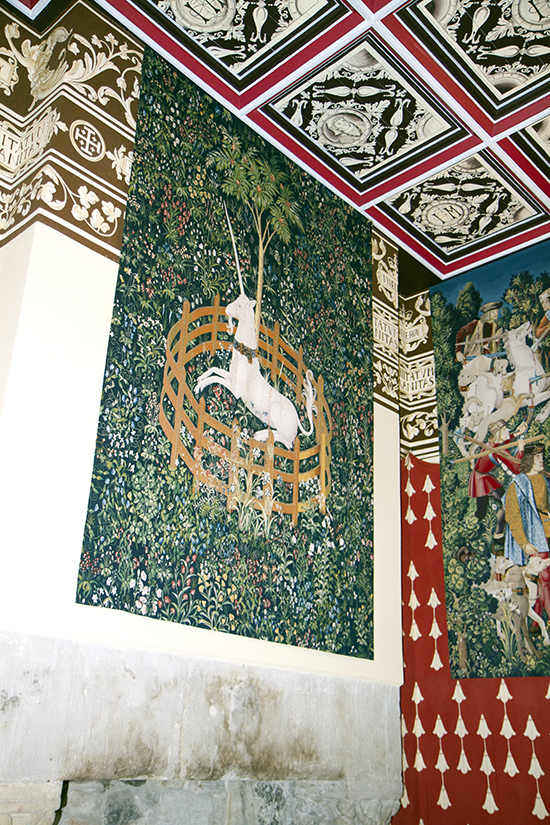 They are still completing the last of the tapestries in a workshop on the castle grounds. Unfortunately the artisans were away the day that we visited and therefore we were not able to see them at work.
As I mentioned, many battles were fought in and around Stirling castle. In front of this view was a panel outlining where they occurred in the countryside below.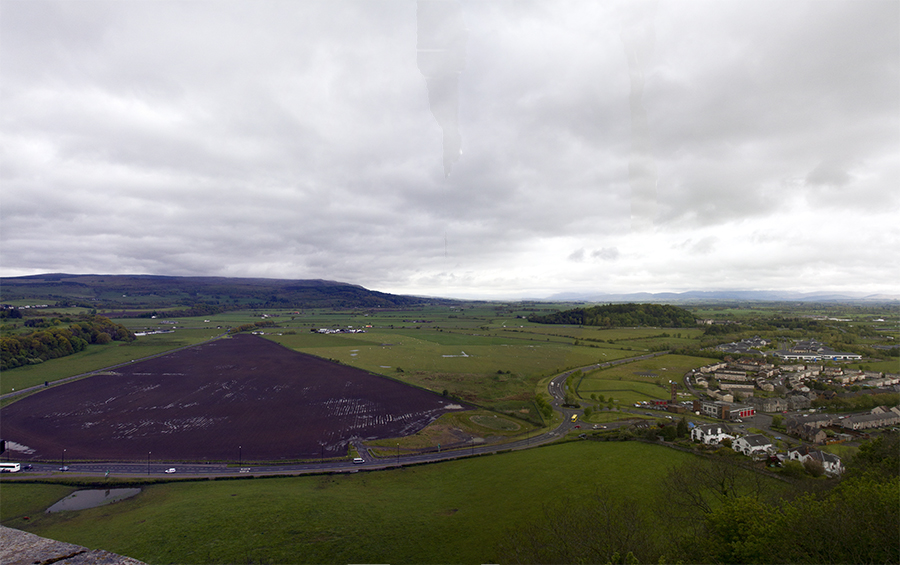 At the gift shop of the Castle, they were selling whiskey from a distillery I had never heard of: Tullabardine. They had a deal I could not pass up: if you buy a bottle of whiskey, you get a free glass and two free passes for a visit at the distillery.
So I bought a bottle, and we went in search of the distillery, which was very close to our hotel.
We had a very friendly guide and had a decent look throughout the distillery.  These are the stills, the heart of any distillery. Whiskey is made in two distillations, to get to over 70% alcohol. Tullabardine has two sets of the two stills working in parallel. This room was hot!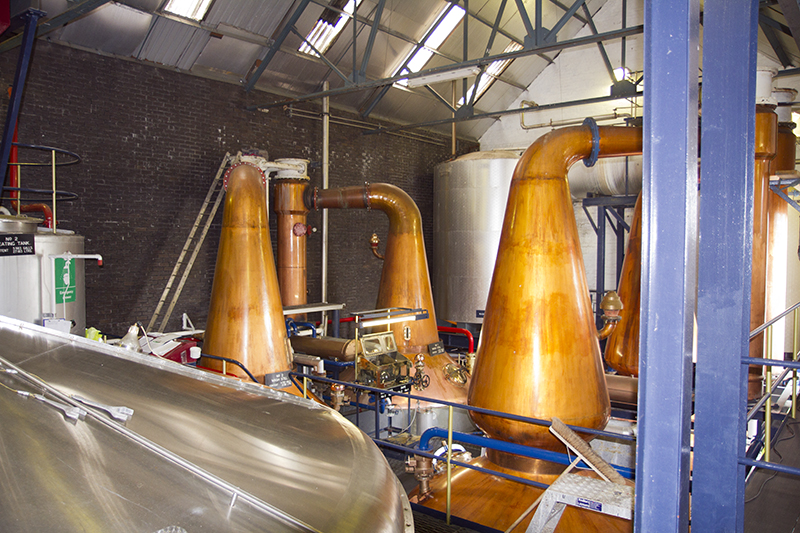 Of course, every visit comes with a tasting, so we had a wee bit of whiskey… and a lot of background instructions from our friendly guide. We even compared whiskey without and with a single drop of water! It does make a difference, but I am not sure that I will now start drinking all whiskeys with a touch of water.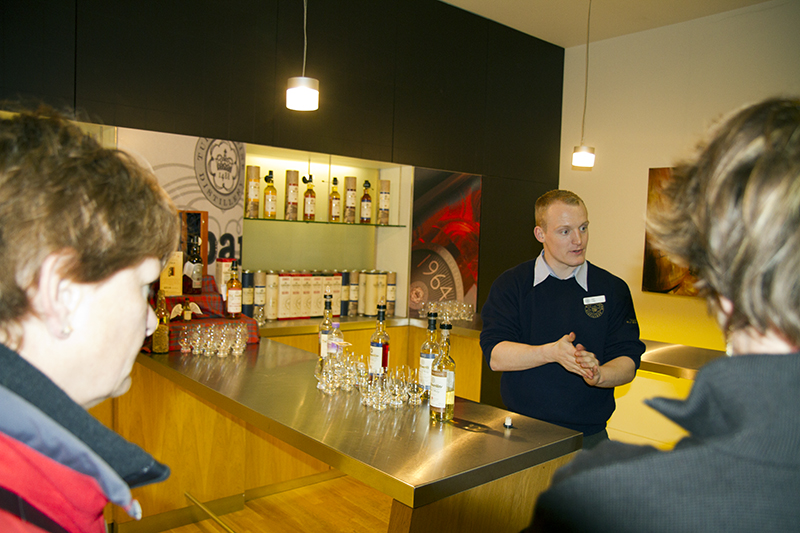 On the way to dinner, we stopped in Callandar and went to see Bracklinn falls. It is a very pleasant 1/2 hour walk to get there, but you really need directions from the information office in order to find the starting point. Without that, I would have turned back several times …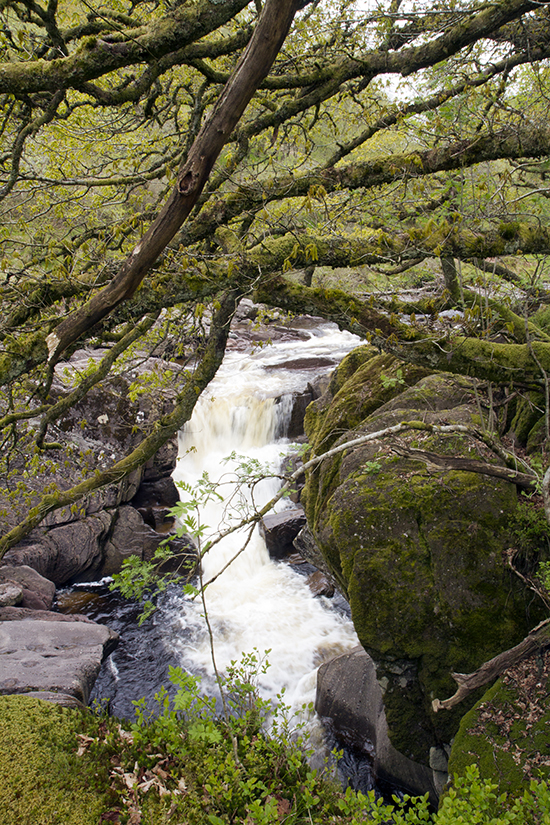 There is a simple, but very elegant wooden bridge that crosses the stream just below the falls.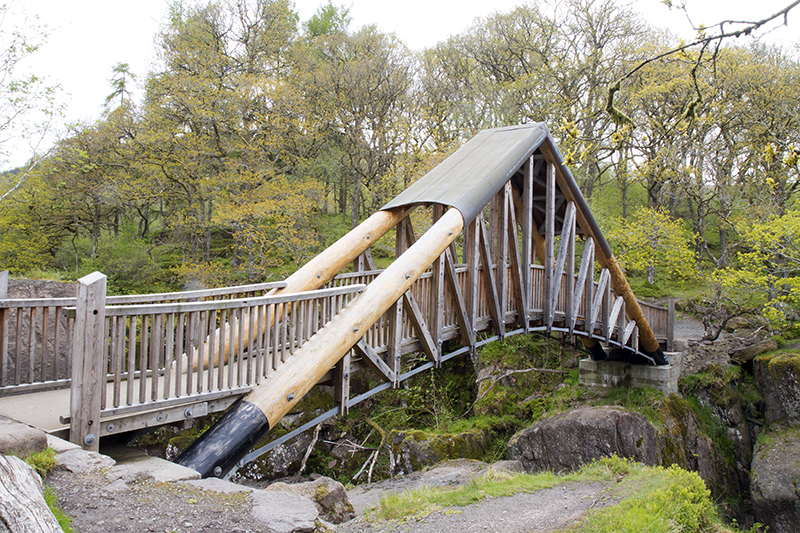 It is worth a better view as the design is quite nice. A variation on the Arch Bridge, but with an "A" frame instead. I had not seen any that big before.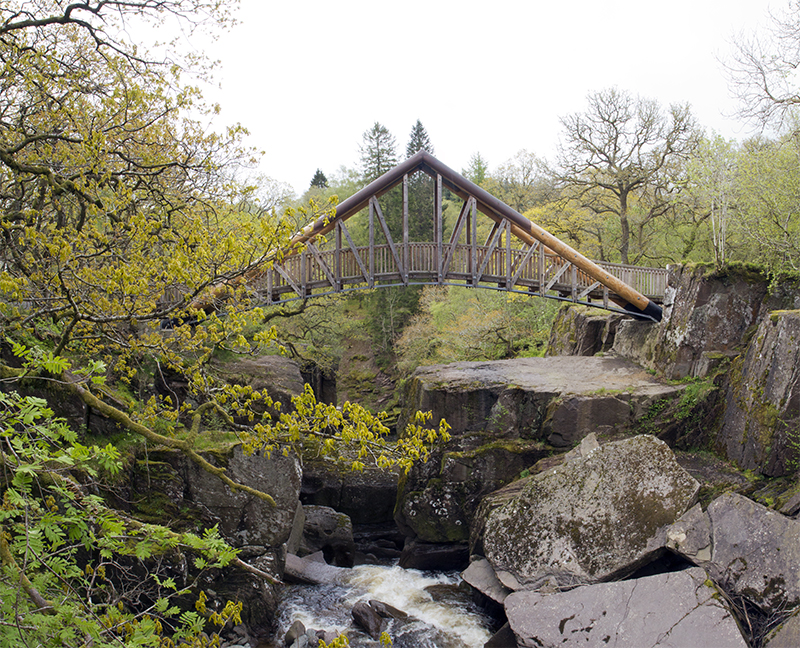 We continued to another small town, Balquhidder, much smaller than Callandar, where the 'good book' (for those of you not paying attention earlier, this is how I refer to the Lonely Planet Guides) had told us to stop to look at the church and the church yard, where Rob Roy is buried. This is the church and the yard. We were able to find the tomb, but it is very unimpressive…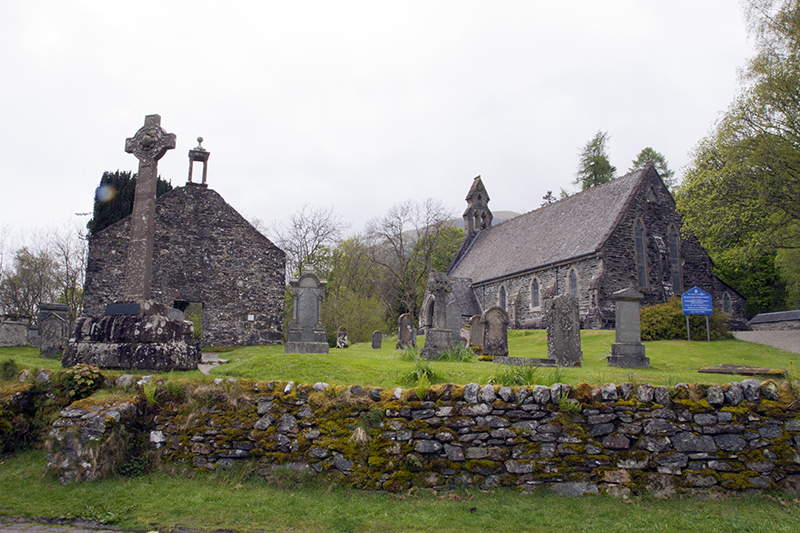 Inside the church, there is this very old carved stone called the St Angus stone, with a plaque explaining what they think it is…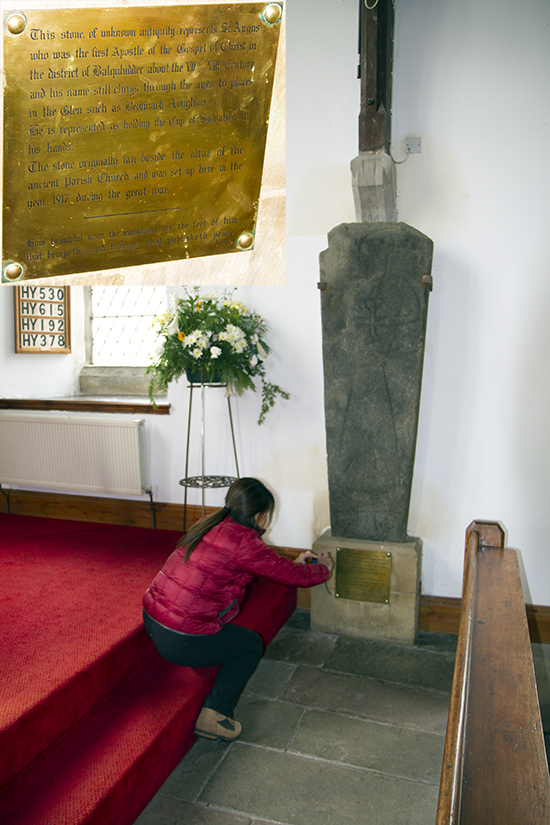 We had dinner in a wonderful place – unfortunately, in a house painted pink! – called Monachyle Mhor. But you could not see the color from the inside, so it was OK.  This is a B&B located 10 miles from the main road, but very much worth the detour. From the dining room, you can see two lochs and a great views of the mountains across the valley. The food is great and service is very friendly. More details at the bottom of the post if you are ever in that area.  I do recommend it.
The next day we had to leave Dunblane and head towards the Isle of Skye. Only constraint, a 16:30 ferry from Mallaig, so we had the whole day to wonder around and look at the sights. There were some spectacular views!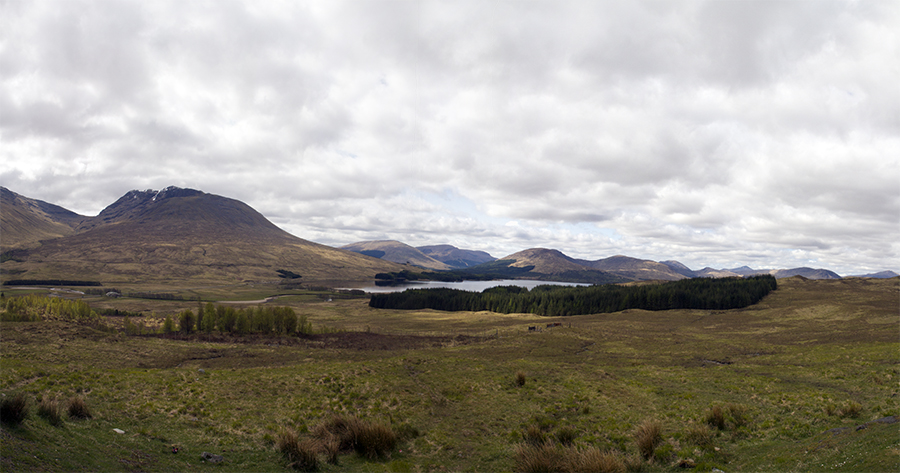 We stopped for lunch in Glen Coe, a spectacular valley not far from Ben Nevis, the tallest peak in the UK. Near the visitor center, there is a very nice waterfall right by the road.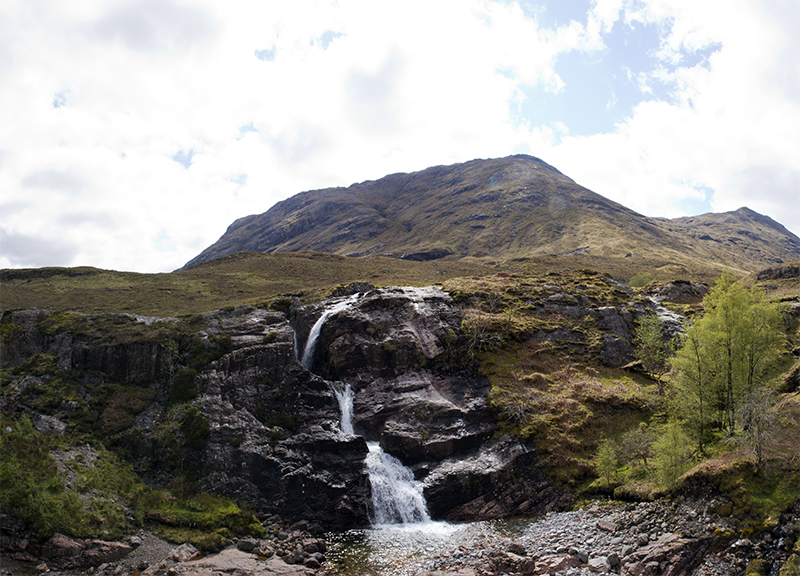 Lunch was somewhat of a bust – we stopped at a pub that looked nice, but the owner apologised and indicated that his chef had not yet arrived (it was already close to  noon): he was more than 1 hour late! So we had a sandwich instead.
Still, the views were spectacular, especially in the area called the Silver Sands of Morar, on the way to Mallaig.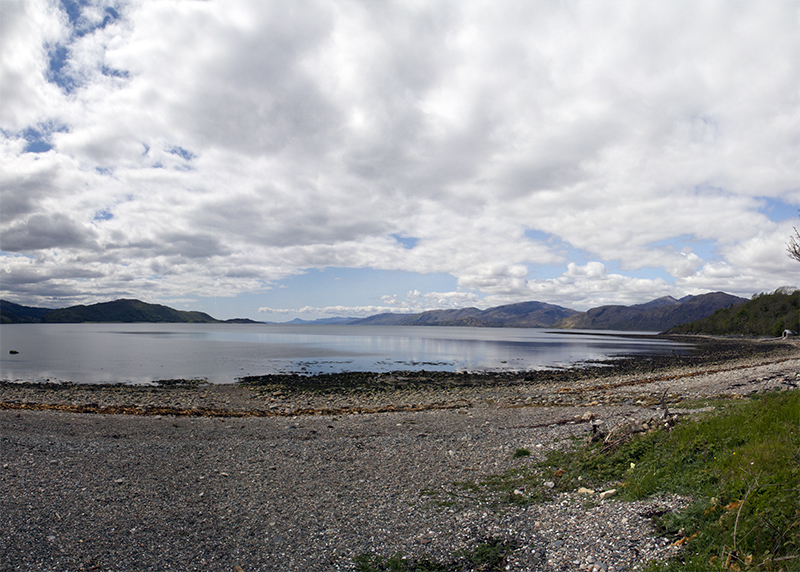 We think this is Ben Nevis, but were never able to confirm. It was the tallest peak around the area.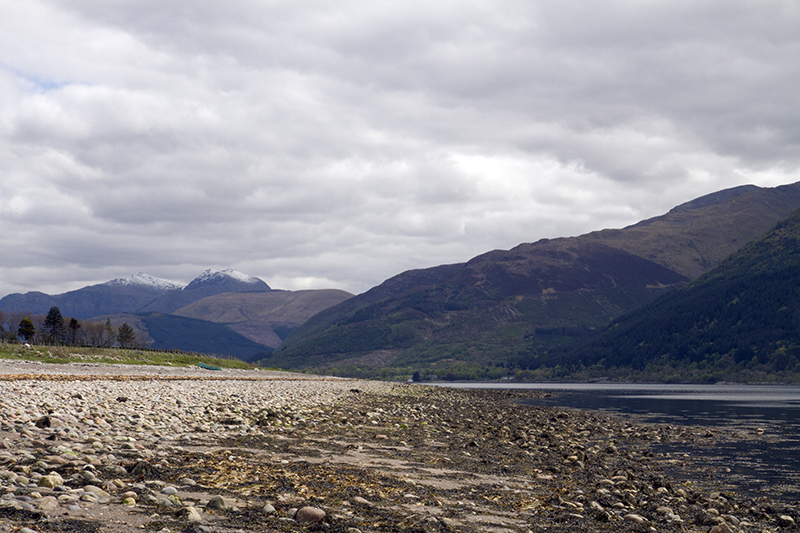 There are small inlets of the sea deep into the land, with miles and miles of coastline everywhere. Had we stopped at all the good spots, we would never have made our ferry.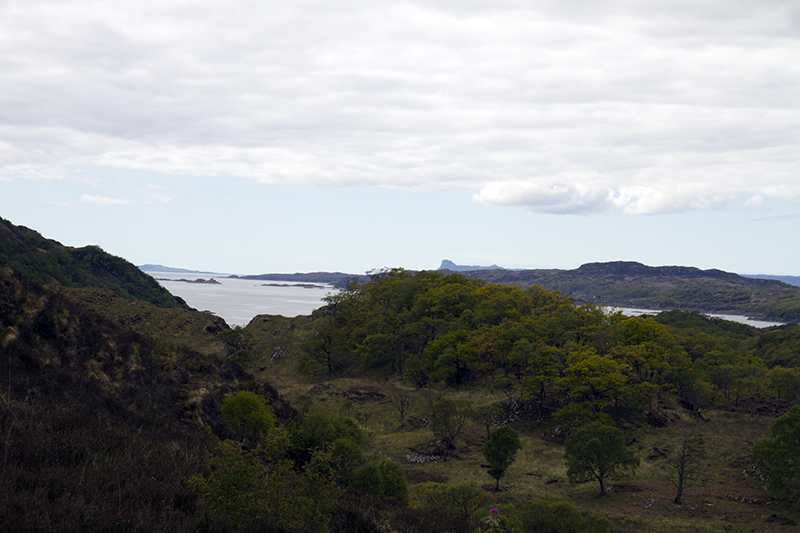 During this stop we heard a distance noise that kept growing and growing until we noticed that helicopter coming directly at us.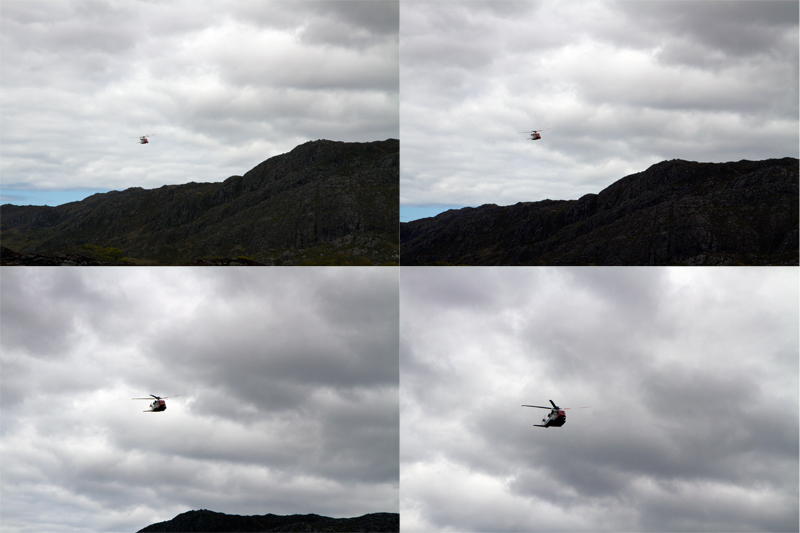 I am not kidding when I say it passed right over us. I could have shaken the hand of the pilot had I tried!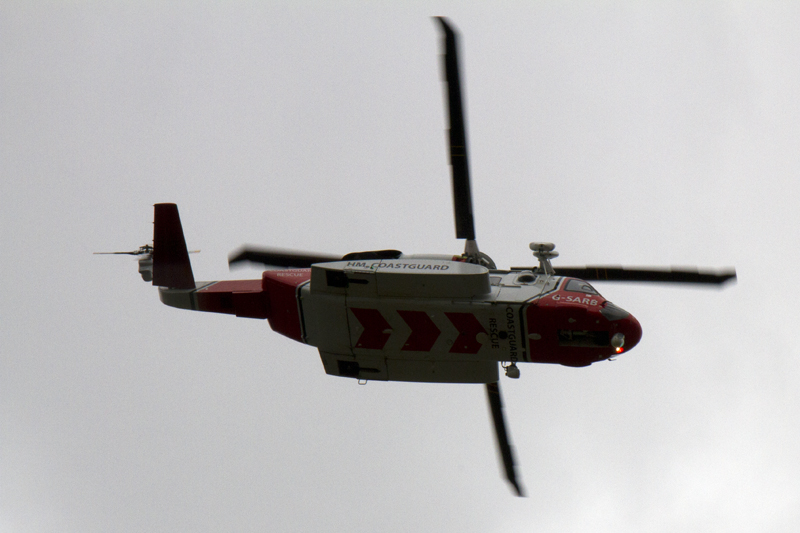 We did make it to Mallaig, in plenty of time to catch our ferry, so we had a drink and explored the town. There was this old fashion sailing fishing vessel that I found intriguing. I wonder if they still use it.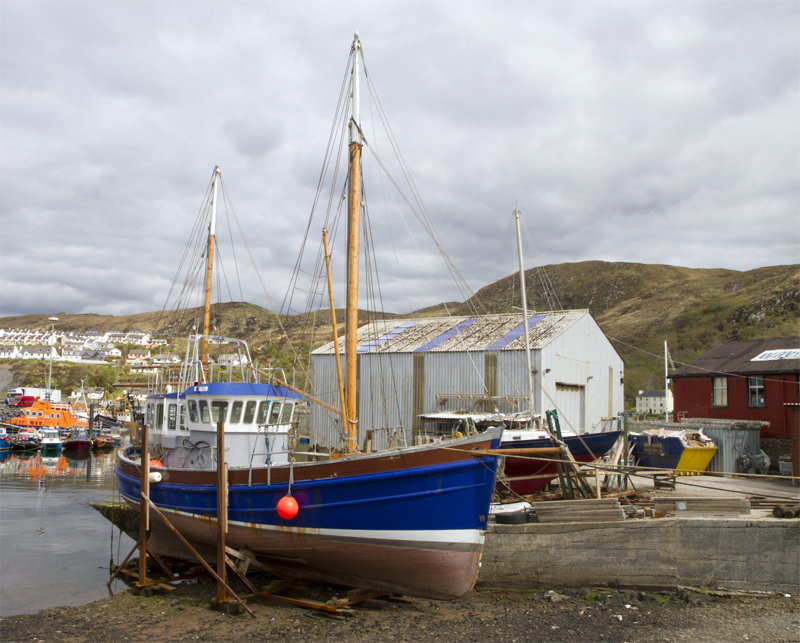 We got on the ferry and noticed a touching statue on the outlet from the harbour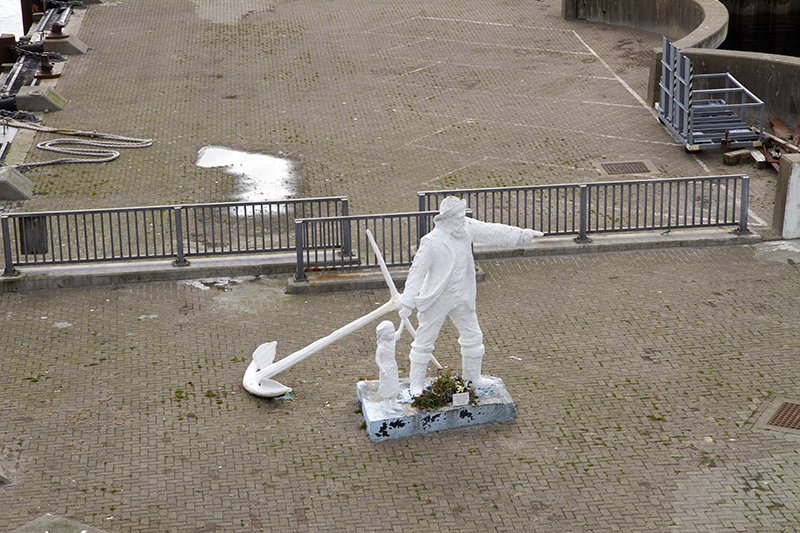 We appeared to be chased by a small boat, but in the end, it turned back towards shore.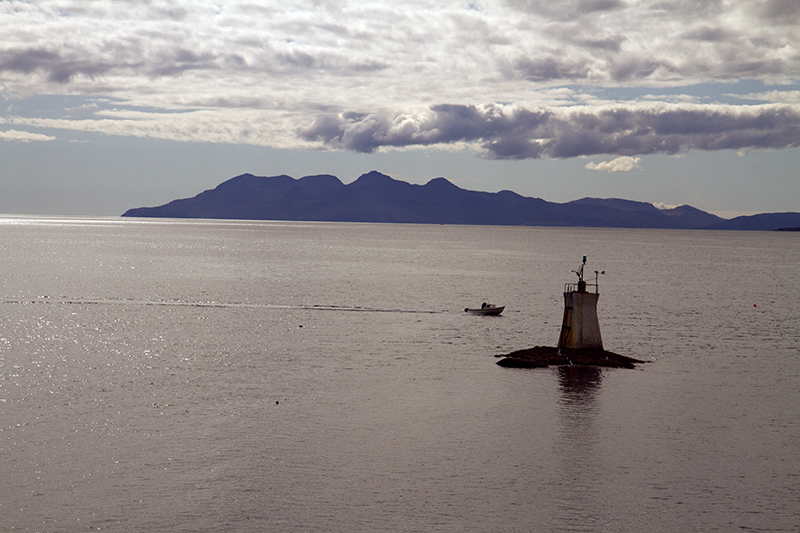 We spent the night on Portree, a beautiful little town in the middle of the island.  The harbour is surrounded with old houses in pastel colours – more pink houses I am afraid, but we did not quite see them from our hotel room.  We stayed at the Bosville Hotel – quite nice and well situated, but parking is a real problem.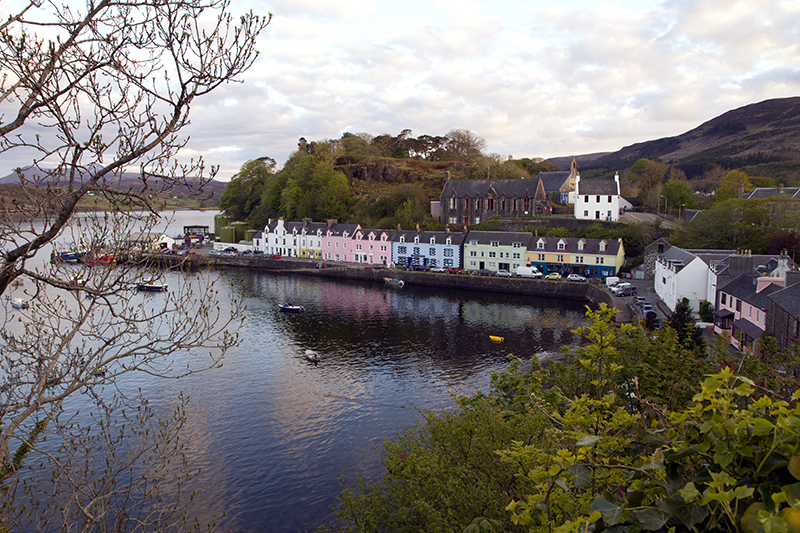 After a very decent meal at the hotel, we went out for a walk to enjoy the setting sun, and the town.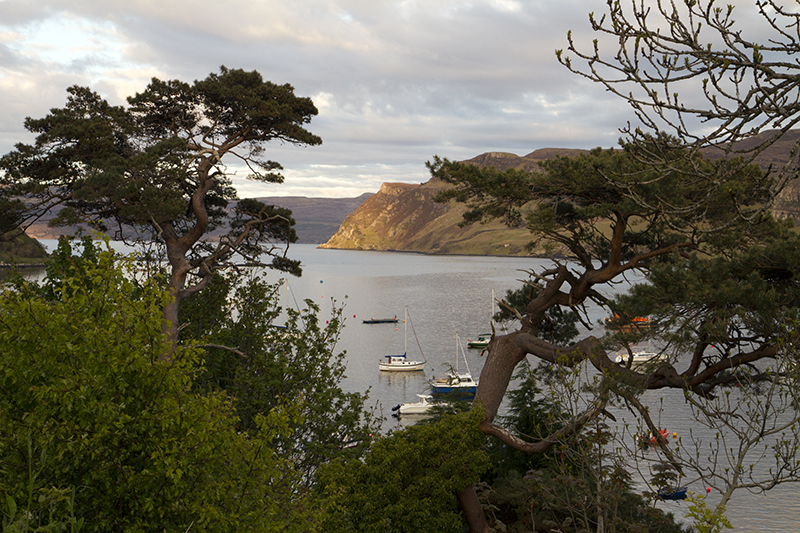 There is a small tower above the harbour from where you have very nice views of the bay in front of Portree.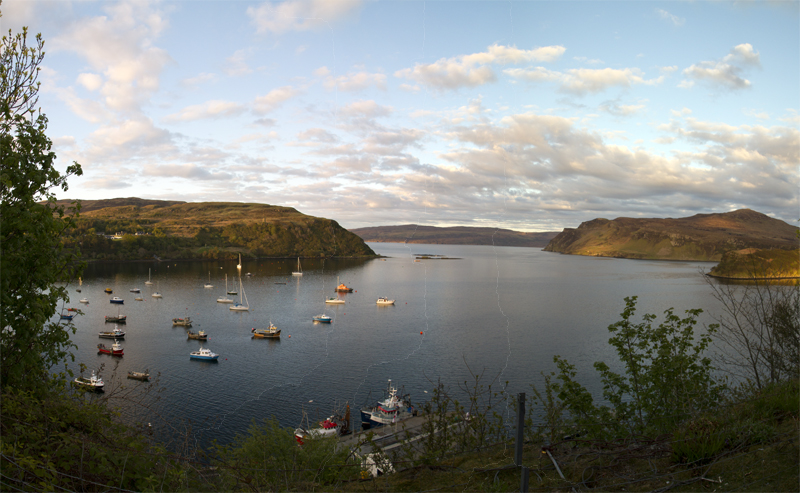 The low sun and heavy clouds only added a more dramatic effect to the whole thing.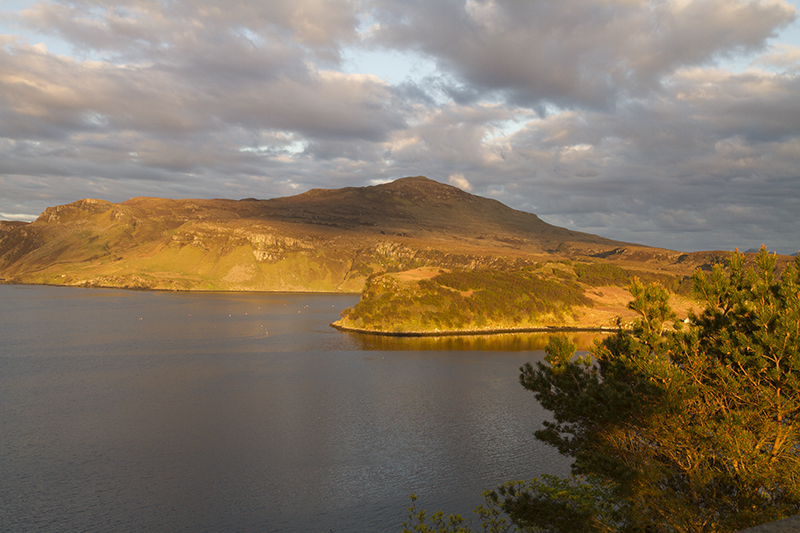 I guess I can still surprise her, even though I do have a big camera!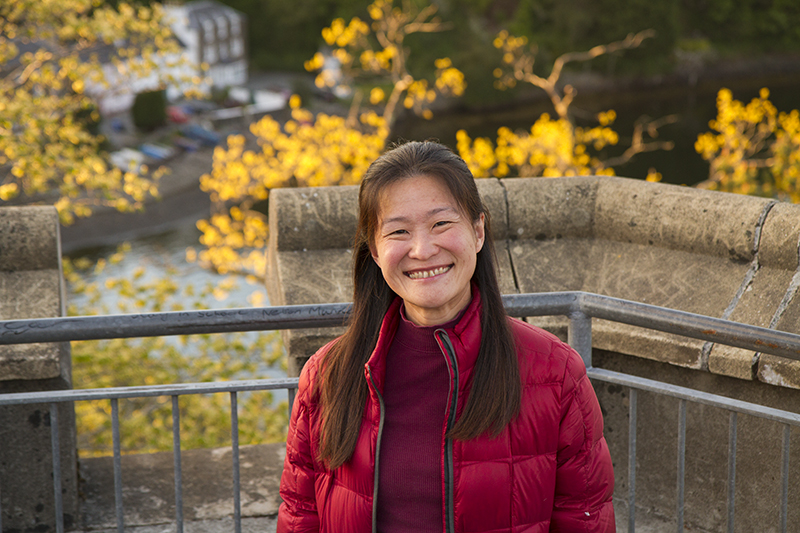 The mountains on the mainland looked spectacular, with just enough snow left to give an interesting contrast.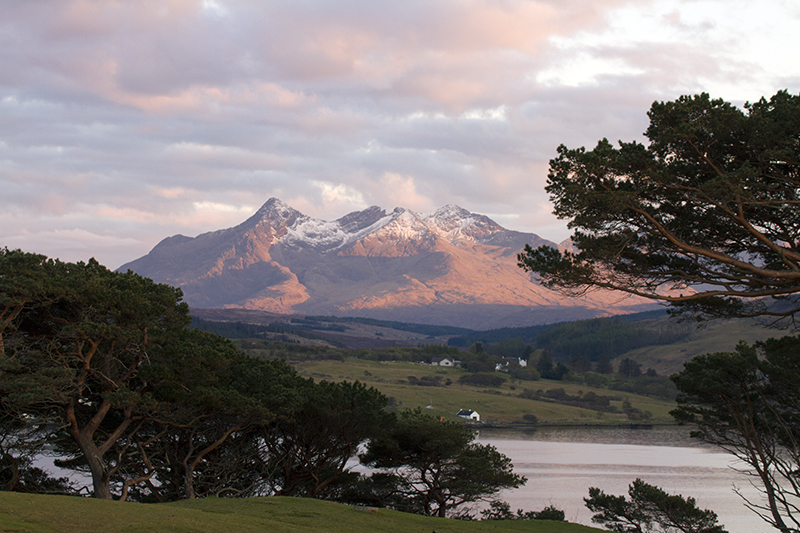 We scared the local wildlife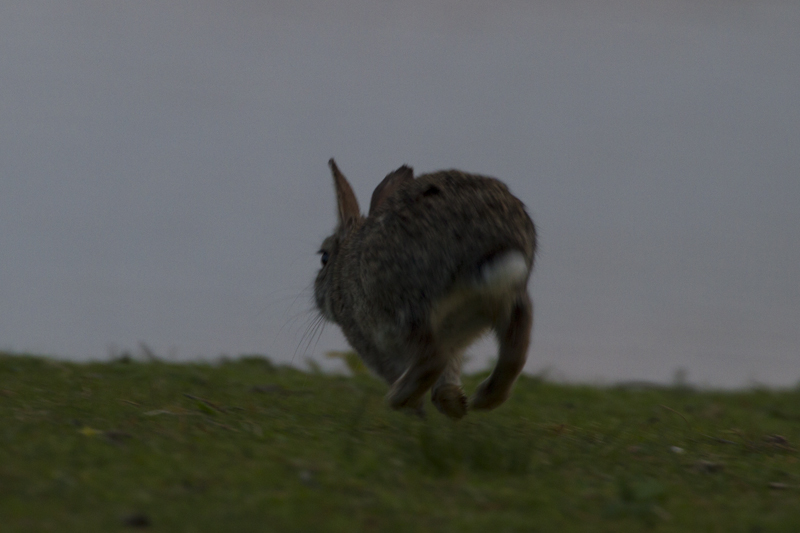 The next day we went exploring the Cuillin Hills, also called the Northern Alps.  They cut Skye in two and offer plenty of great opportunities. we were almost alone on this walk.  We did see a few people, but when we got closer to where they were, they seemed to just disappear!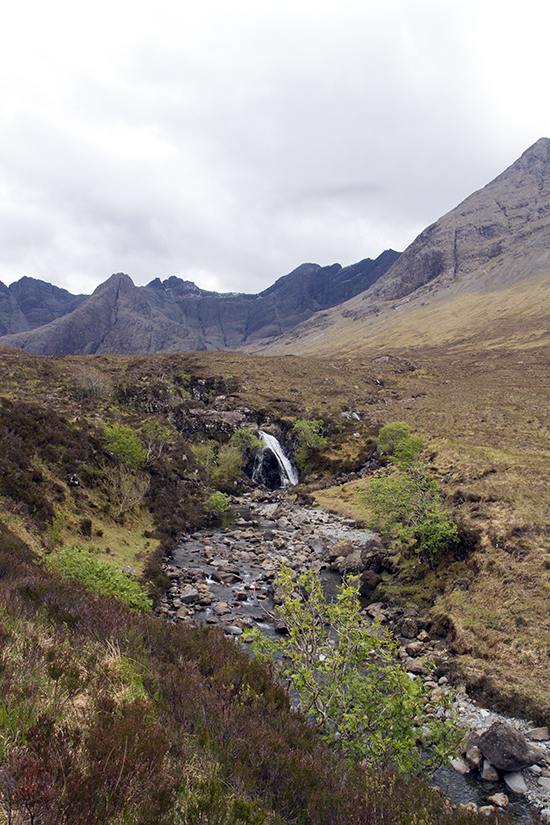 We had our pic-nic lunch on the Western end of the Cuillin Hill at Glenbrittle.  This is the Northern side of the Hills, as we are moving away heading towards Dunvegan.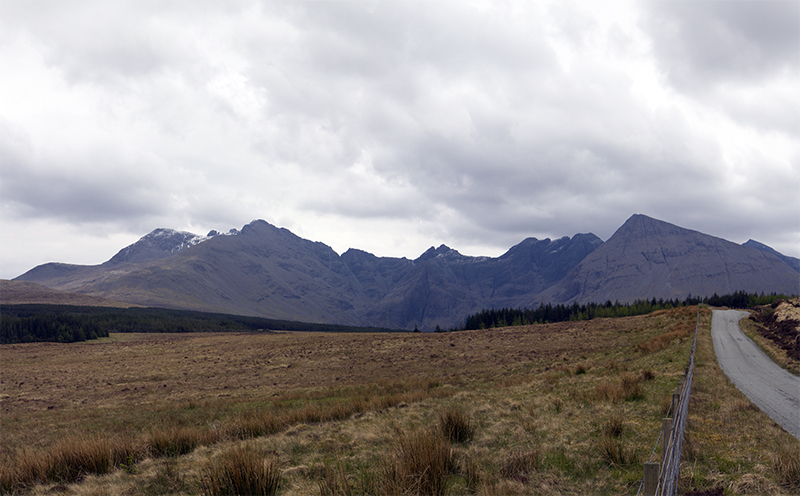 As we approached Dunvegan, we noticed two strangely shaped hills – we later found out that these are called the MacLeod Tables, after the owners of the Dunvagen Castle, which is our next stop.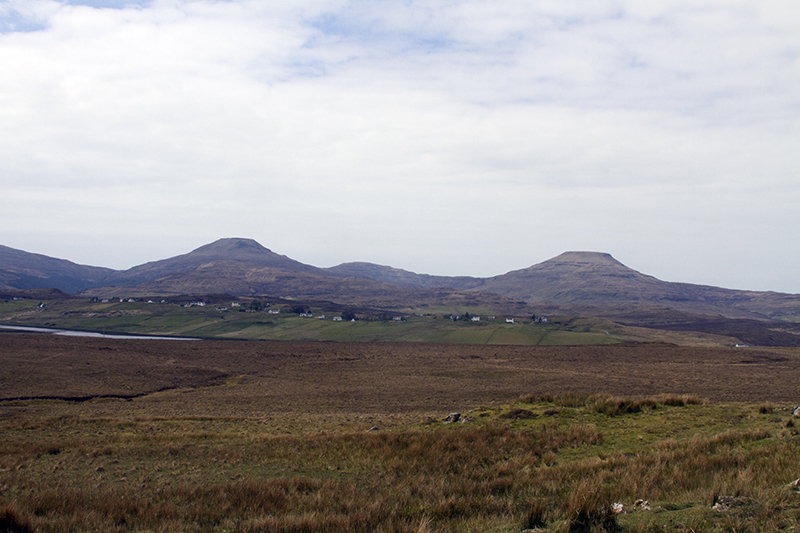 Dunvegan Castle, as many of the ones we visitd in Scotland, is strategically situated on the sea, but in a protected bay.  It has been the seat of the head of the MacLeod Clan for many years and is well restored.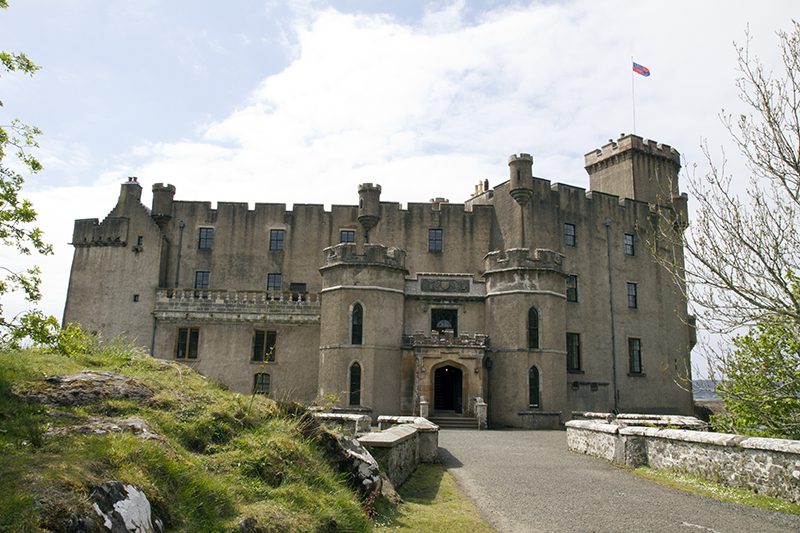 It is a combination fortress and luxury palace, with more emphasis on luxury in the later years.
The gardens are very nice as well, another indication that this was not all for defensive purposes.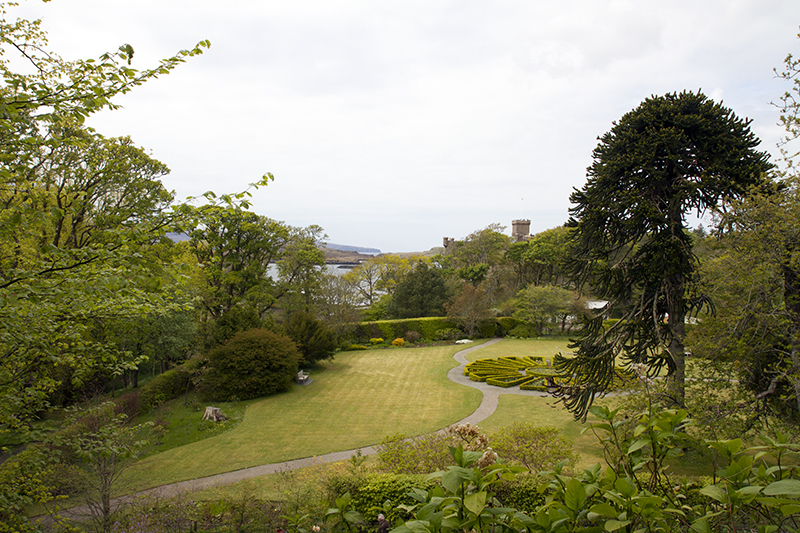 We went shopping next, on the Duirinish Peninsula.  We had spotted two craft shops that sounded interesting, and were open on Sunday – however, the scenery of the peninsula was also worth the trip.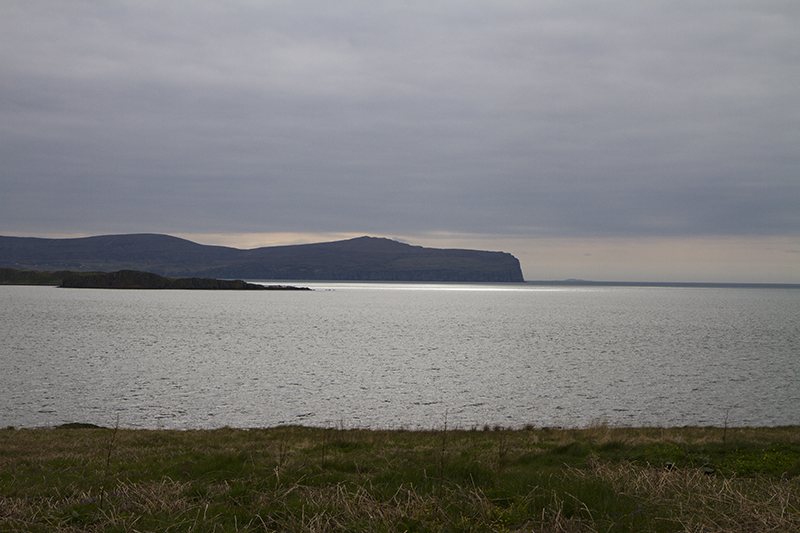 I bought a sweater knitted by a little old lady near Inverness (or so I was told) from Shilasdair Yarns.  Bee purchased a rug made of a patchwork of lamb skins that is very nice.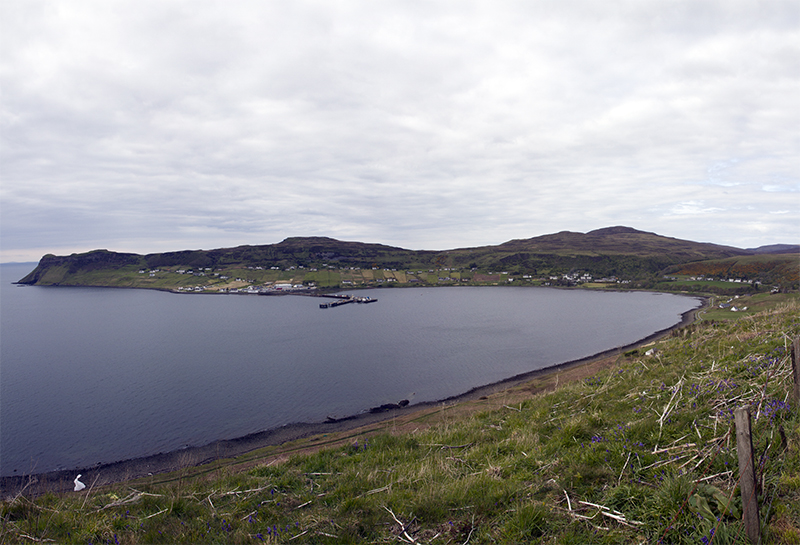 We headed for Kilt Rock and the Kilt Waterfall.  The cliffs are pleated like a kilt, hence the name – however, from the vantage point that we had, it is very hard to see.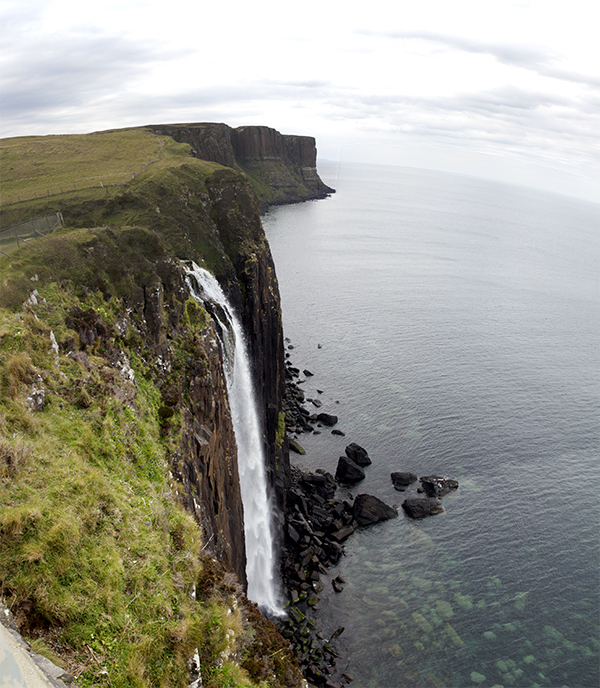 Near Kilt Rock, we spotted Cormorants, or Shags (I cannot always tell the difference) drying their wings after a full day of fishing.  These look more like Shags to me, but I could be wrong.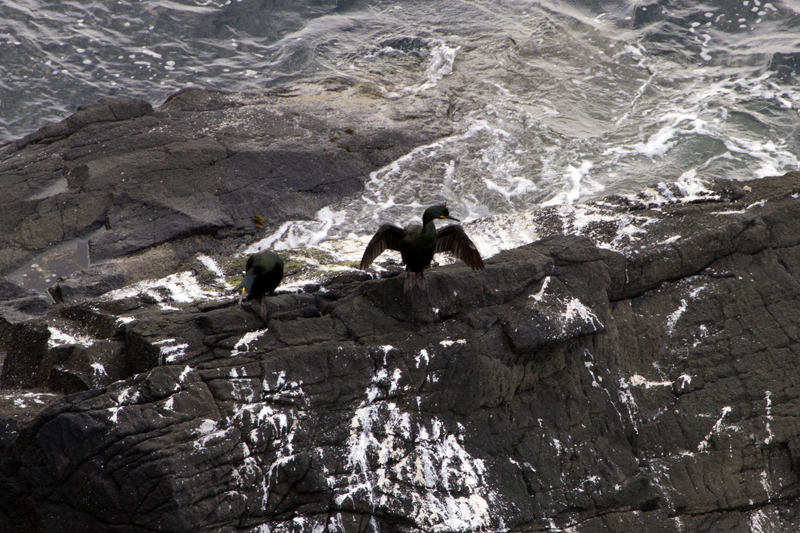 We have to leave Skye, but just after the new Skye Bridge, we made a stop at Eilean Donan Castle, another wonderful place.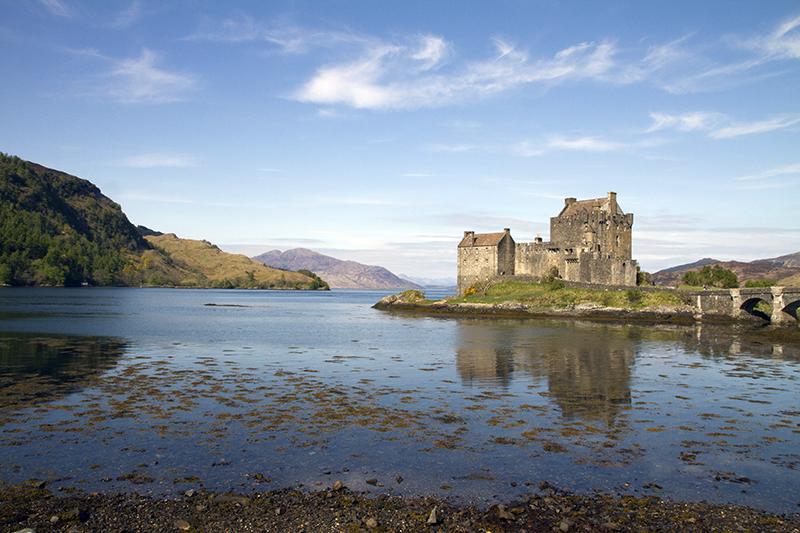 Probably the most photographed in Scotland because of its great location.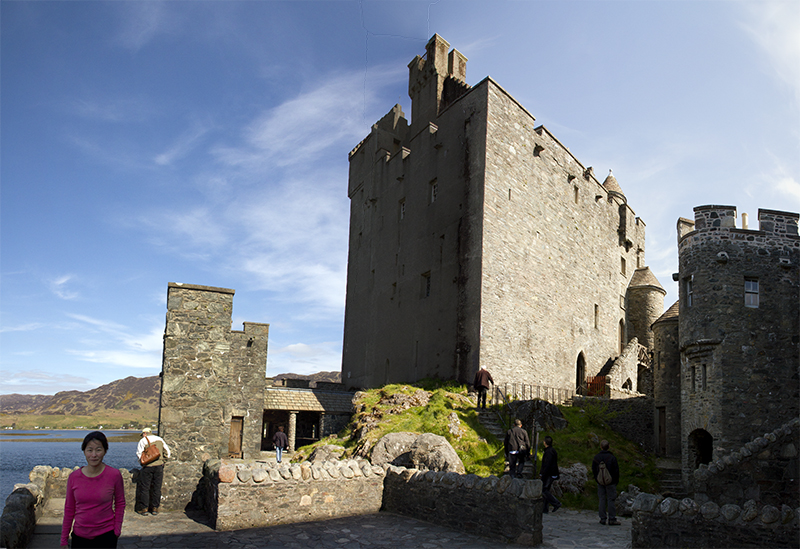 The castle itself has been mostly re-built and the inside was re-created to look like if must have been 100's of years ago.  But it is well worth a visit, just for the history that is evoked during the tour.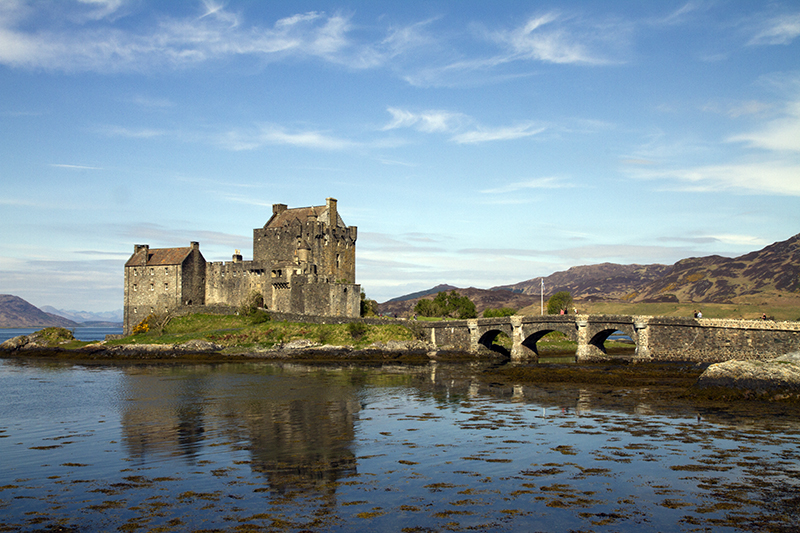 This concludes the first episode of Scotland.
We are off to Mainland in the Orkneys next, with a short hop to Westray that was quite an experience.
Additional Information:
Hotels:
We stayed at the Double Tree Dunblane Hydro, a very nice hotel very convenient to the area around Stirling.
Here is their website: http://www.doubletreedunblane.com/
We also stayed at the Bosville Hotel in Portree.  Not quite the level of the Double Tree but still a very nice hotel right in the middle of the Isle of Skye.
Their web site is: http://www.bosvillehotel.co.uk/
Restaurants:
We had some great food while in Scotland. It was always delicious, but lacked a little in variety so that by then end of the two weeks, I was getting a little tired of having always the same choice between 5-6 dishes. Still, we made the most of the places we ate including:
Monachyle Mhor – actually a B&B that must be a great place to stay, which has a gourmet restaurant.
Their web site is: http://mhor.net/
In Portree, we ate at the Harbour View Seafood Restaurant.  You can only see the Harbour when you stand outside the restaurant, but that does not matter – they serve good food.  It is a small place, so better reserve ahead.
Their web site is: http://www.harbourviewskye.co.uk/
Visits:
Some of the places we went to that are worth visiting:
Transport:
P&O Ferries from Zeebrugge to Hull: http://www.poferries.com/tourist/content/pages/template/routes_hull_-_zeebrugge_routes_-_hull_-_zeebrugge.htm
Caledonian MacBrayne Ferries to Skye: http://www.calmac.co.uk/destinations/route-map.htm
For the rest, you are on your own!
(5520 Page Views)