pierreo October 8th, 2007
Several weeks ago, I received a note from Sinoto asking me if I was interested in a diving safari in Bali.  I immediately answered 'yes' without knowing what I was getting myself into.  I had already gone diving with Sinoto before, in Manado (also Indonesia) and we had an excellent time.  So I was looking forward to more of the same.
Sinoto, Su Li, Andy, Eric and I left on Tuesday evening (24 October) for Denpasar and an immediate transfer to Kuta Beach.  We arrived at the hotel after 10pm and immediately went in search of food and drinks.  Contrary to its reputation, the town seemed empty and quiet.  We stopped for Satay and a few beers in the only place that seemed to be still open.
Next day early checkout of the hotel.  We fill out all the paper work typical before going diving and we are off for a 3 hour drive to the north of the island. Our first diving day is in Tulambeh.  We leave from the shore and drop down a vertical wall only a few meters off the beach.  The first dive is an easy 'refresher' dive just to get our bearings.  I quickly discover that when some one points a camera at you underwater, you better hold your breath – Eric had obviously been there before…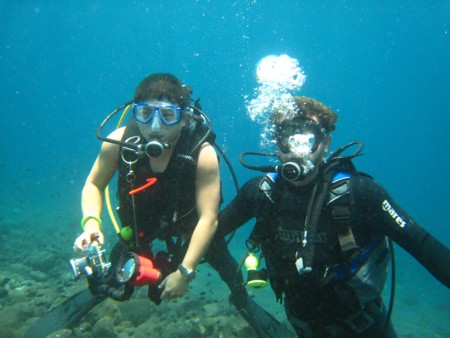 The second dive is around the wreck of a WWII Liberty ship.  The ship was hit by a torpedo as it was delivering military hardware to Bali.  The captain had the presence of mind to ram the ship onto the beach so that it could still deliver its goods.  After languishing on the beach for many years the ship finally slipped down the wall after the eruption of a nearby volcano, creating a fantastic artificial reef.  It is full of life, from the tiniest nudibranch to a giant barracuda.  We do a third dive before heading towards our new hotel.
I have discovered that a 'diving safari' is an adventure where you change dive site, and hotel, every day.  The second day we were at Secret Bay – and I think the secret is safe with us.  Visibility was not very good and we saw more seaweed than anything else.  We were supposed to do a night dive, but all decided that it would not be worth it, especially since we still had to drive to the third hotel on the itinerary.  We did find a few interesting animals amongst the weeds:  a leaf fish, a unicorn fish and a beautiful seahorse.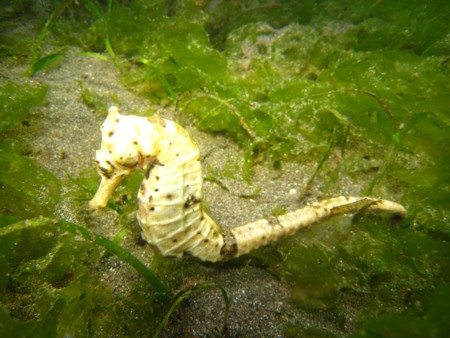 Day three and we do the first boat dives of the trip near "Deer Island" or Menjangan to the locals.  Three excellent dives along coral walls with small and large creatures everywhere.  At the end of the day, we drive back to Kuta Beach where there is definitely more atmosphere than the previous Tuesday.
By now, I have improved and can hold my breath, however, I do not appreciate when the photographer seems to take a long time to actually take the photo…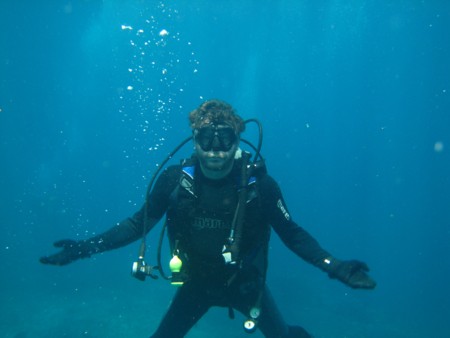 Day four will remain to me one of the 'memorable' experiences of my life.  We went to Nusa Penida by speed boat.  The first dive was at Manta Point.  As advertised, the water was cold, around 21 C which is low since we were all wearing 3mm wet suits more adapted to tropical water conditions.  Fortunately, we did not have to go very deep (only 9 m) and we did not have to stay down very long.  There is only one thing to see at Manta Point: giant Manta Rays – and I mean GIANT!  This was a rather technical dive as there was a very significant surge and one had to be careful not to get pushed into the rocks.  At first we marvelled at a large group of divers all moving in unison, as if they were dancing to some imaginary music.  We wondered why they were just floating there, doing nothing.  Than we looked up and saw two Manta Rays slowly circling overhead.  The larger of the two must have had a 3 m wingspan at least.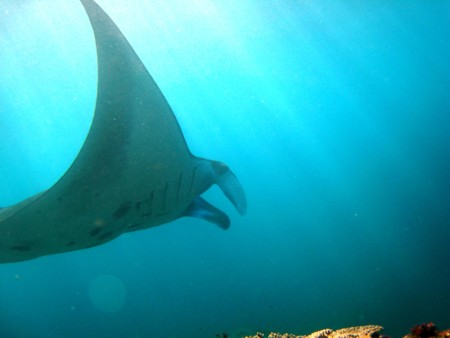 We joined the back-and-forth dance of the other group and gaped in awe at the majesty of the two flying beasts.  After 30 minutes or so, the cold got the better of us and we headed for the surface.
The second dive was even better! After lunch and relaxation, we went to Chrystal Bay and plunged initially into 25 C water.  I was pleasantly surprised as I was expecting colder given what we had been told.  Than, somewhere between 8 and 10 m depth, the temperature dropped to 19 C suddenly, as if we had suddenly swam into a refrigerator.  We kept going down and swimming against the current for a while, until our divemaster decided to turn around.  He signed for us to wait for him at about 22 m depth and he went deeper.  After a few seconds, we heard him banging on his air bottle and signaling for us to come.  We did as we were told with much anticipation.  Out of the depths came one, than two and ultimately four Ocean Sunfish, or Mola-Mola!  These are fish with no tail – the body is roughly shaped like a rugby ball with one large fin on top and another on the bottom.  One Mola-Mola came directly towards us, passing right in the middle of the group.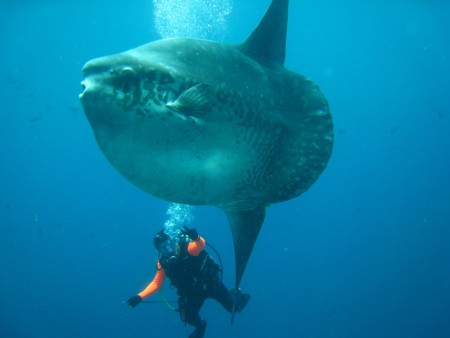 We stayed as long as we possibly could, until our dive computers were beeping at us to indicate that we were close to our no-decompression limit.  We slowly rose back towards the surface, and warmer waters.  It is only at this point that I realised that I was shivering uncontrollably.  It took us a long time to warm up even after we came out of the water.  A very memorable dive!
Saturday evening, we had a great seafood meal on the beach in Jimbaran.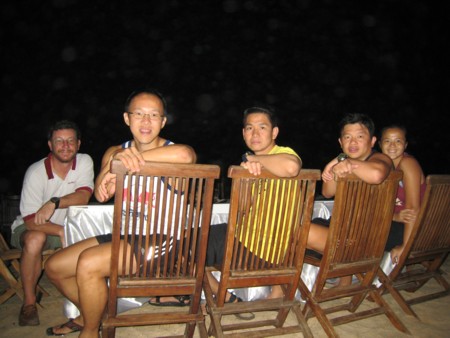 From the left: Myself, Andy, Sinoto, Eric and Su Li.
The meal, for 5 of us, with a bottle of wine cost a grand total of 1,200,000 rupiah, or 135 US$.  That by itself would not be worth reporting. However, on Friday night, we stopped at a shop along the road and had a complete dinner for seven (including our divemaster and driver) and spend a grand total of 100,000 rupiah!
On Sunday, we had a late evening flight and therefore we decided to go explore Ubud and a few craft centers along the way.
Before we arrived in Ubud, we visited the Monkey Forest, where we found (Oh what a surprise) …. monkeys! This sleeping family group was particularly touching.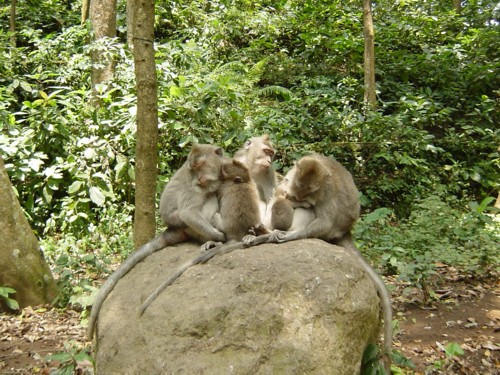 In Ubud, I found a very nice painting.  I though to myself that I was ready to pay up to 100 US$ for it.  I asked the price and was told 80 US$.  I know I should negotiate, so I did and we settled on 70 $.  Now I need to frame it, but I think it will look really nice in my apartment.

(3669 Page Views)