pierreo December 18th, 2008
Long and difficult to pronounce names for two (more) unforgettable places.
Immediately after we returned to Yangon from Heho, we drove to Bago and than Kyaiktiyo.  Because our plane was more than an hour late, this has become a race against time, actually, a race against the sun.
From Bago, the road starts to go up and in the foothills below Kyaiktiyo (OK – let's just call it "The Rock" for the rest of this post!) the road becomes too steep for our bus, so we have to take a truck.  This is a regular "dump" truck, with several benches installed in the back bed.  Here is the one we used to go up half way.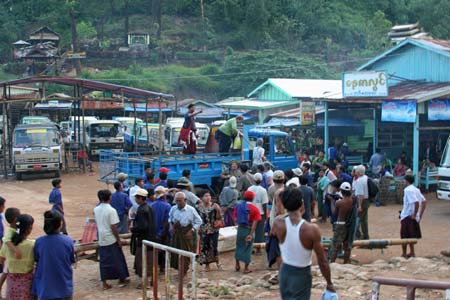 At the start, there was a group of school children waiting to go up, going home after school.  As soon as we boarded the truck, they all filed out and looked at us.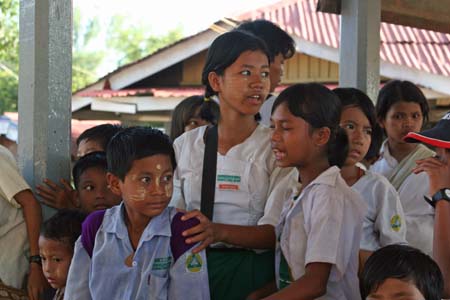 Some seemed to be amused,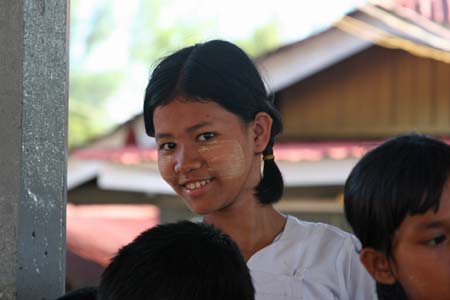 others seemed upset, or even mad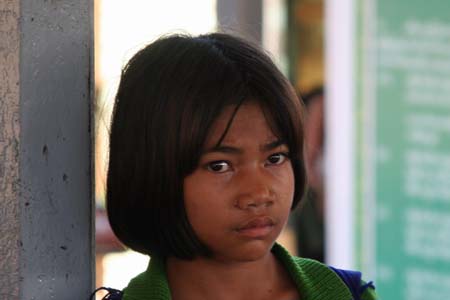 After a bit of negotiations, they were allowed to come with us, and all sat in the back – happy again.  we understood later that 'foreign tourists' have priority and since the kids do not pay for the ride, they have to wait for an open seat.  We clearly had enough for all of them.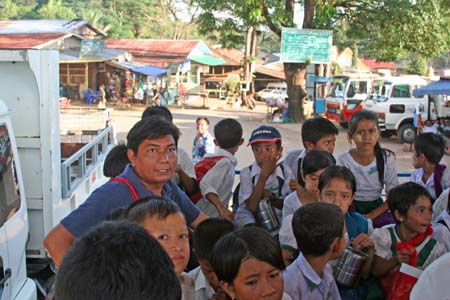 At the half way point, tourists have to continue on foot.  It's another 45 minutes to the top, on a steeply climbing road.  Private Enterprise, means that some people offer to carry your bags, other go even further and offer to carry you …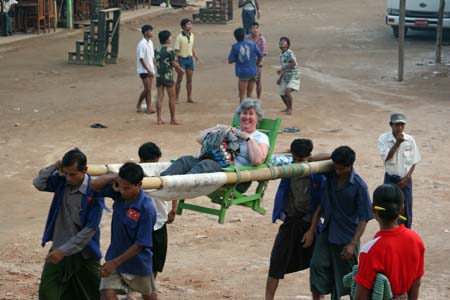 Only 20 US$ for the round trip .. that is if you do not count the drinks they ask you to buy for them, and the tips that they ultimately get.  Still very cheap for what they do.  It took me 10 minutes to convince the people carriers that it was futile to follow me, and at least 15 minutes to discourage the last of the luggage carriers.  As we were climbing, the sun was setting fast, and therefore I was in a race against the sun, needing to get high enough to get a clear view of the horizon before the sun went down.
This is our ultimate goal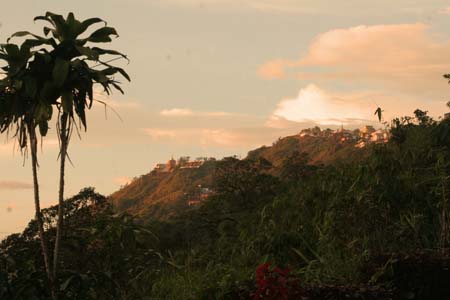 And the views along the way were getting better and better with time and the changing light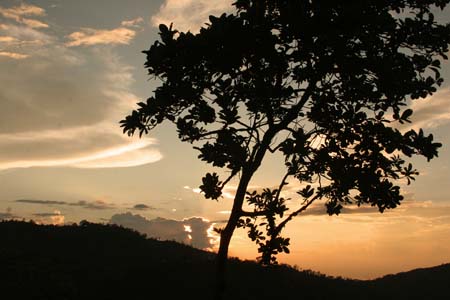 Me going up while the sun went down meant a rather prolonged sunset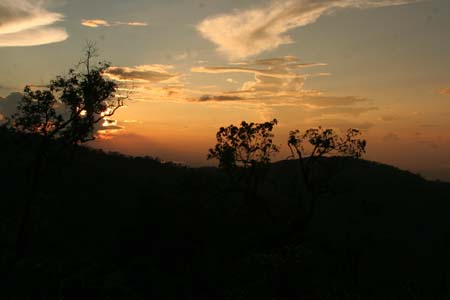 Still climbing, still setting – the race was really close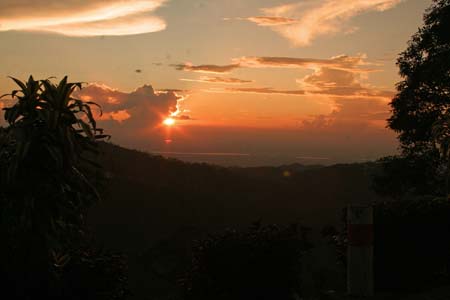 but it became clear that I was not going to win this one.  After 30 minutes of climbing, the sun was getting too low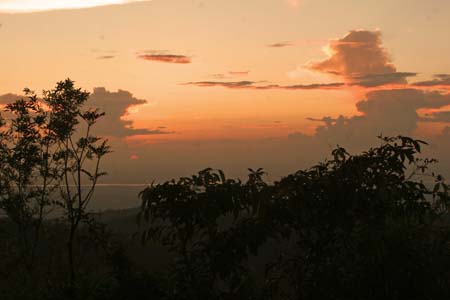 and ultimately went down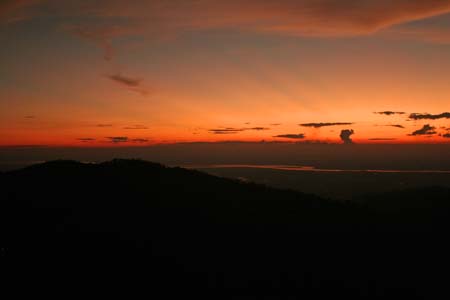 Kyaiktiyo is a place of pilgrimage because there is this huge boulder precariously perched on the side of the mountain.  It is covered in gold leaf.
When I saw this one, I thought we had arrived, and was surprised that there were not more people around …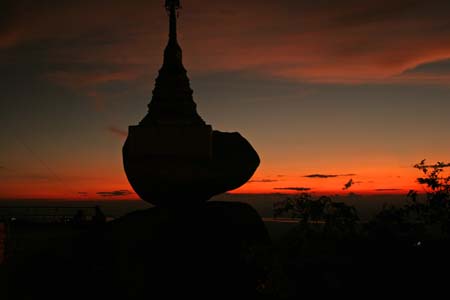 but then I found the real "Golden Rock"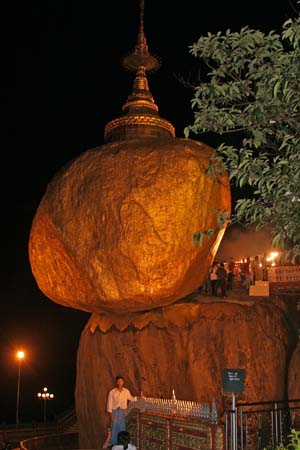 It is even more spectacular from a distance – you can see the lights and crowd around the rock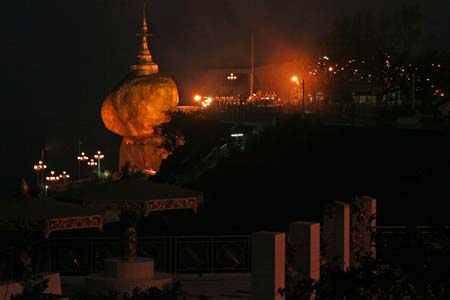 When you see the size of the men (only men allowed) who are putting gold leaf on it, you realise just how large the boulder is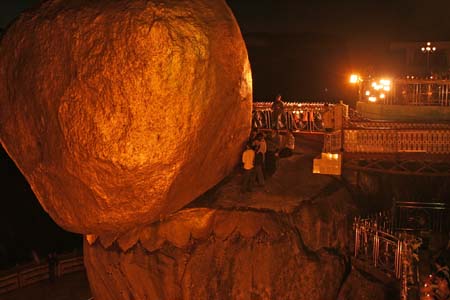 It is past 9PM and there is a carnival atmosphere all around, with a lot of people seeming to be settling in for the night – we went to get dinner back at the hotel.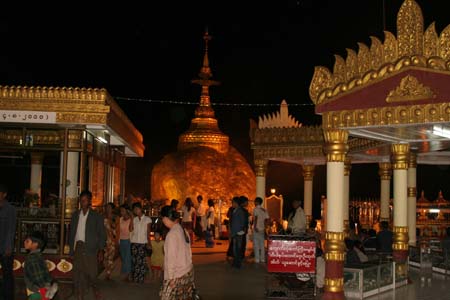 The next mourning, I woke up early to see the sun rise.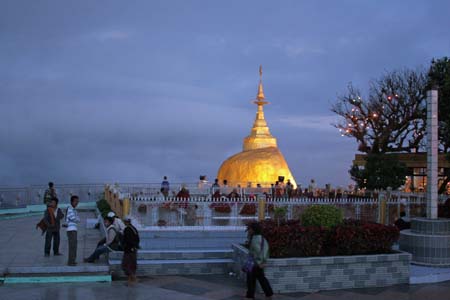 But within a few minutes of my arrival, the clouds started to invade the summit, giving the rock, and the people worshipping around it a new eerie look.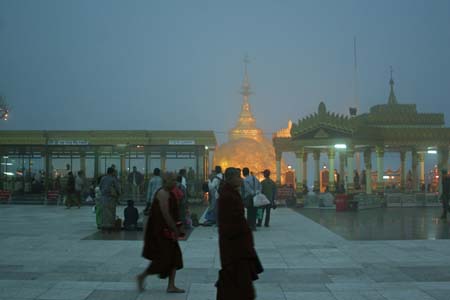 These local tourists are getting ready to leave after a night on the top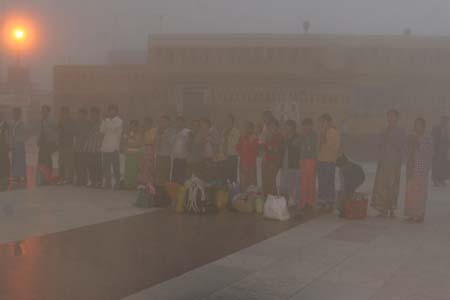 and these are looking for work from those leaving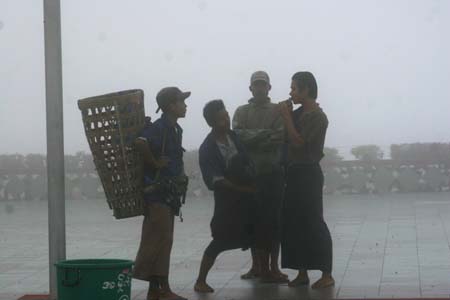 while a monk is coming to the rock for his morning ritual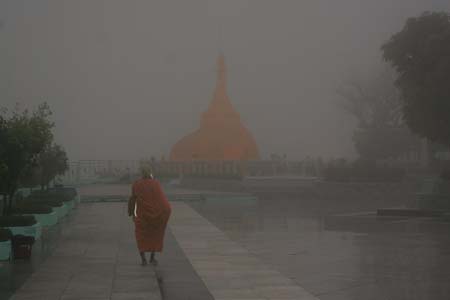 It was time for us to leave and head back to Yangon.
The following day, we headed West across the Irrawaddy Delta, through the area that was severely affected by a cyclone in May of this year.  We really did not see that much damage, except for the road we were on.  It usually takes 3-4 hours to drive the 150 km from Yangon to Pathein.  It took us 8 hours to do that distance.  At one point, I requested a short rest, as I was starting to get sea-sick from the shaking in the bus.
The area we crossed seemed very fertile, and there were farms and fields everywhere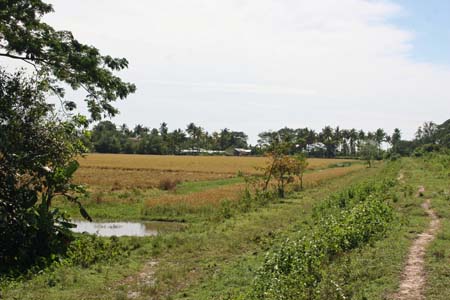 In one field we saw a pair of oxen plowing a field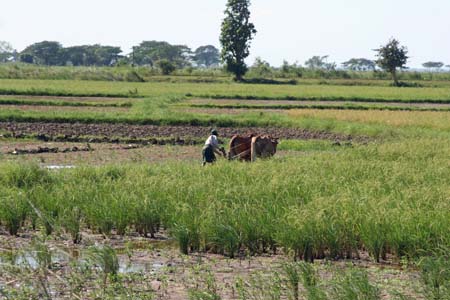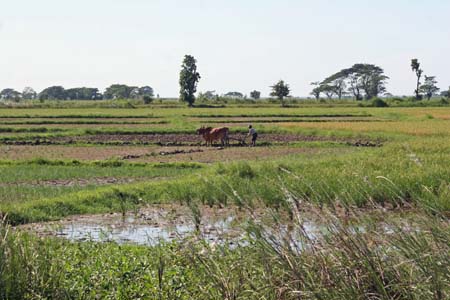 We stopped in Pathein at a local paper umbrella shop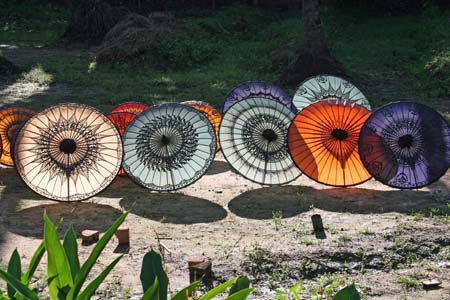 The larger umbrellas were modelled for us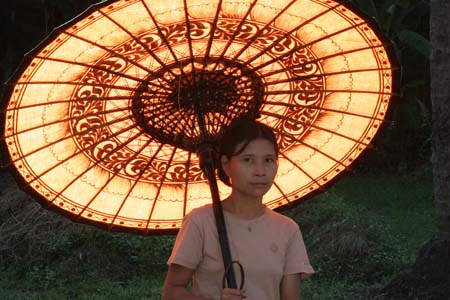 More in jest than anything else, I asked how much the larger umbrellas cost (one even larger than on the photo above).  When I was told 29 US$, I was shocked that it should be so low.  I offered 20$, and the owner accepted, even offering to pack the umbrella in such a way that it would be easy to carry even on a plane.  I therefore now own a very large earth coloured umbrella that I think will go very well in Beaumont.
We continued on to Chaungtha, a sleepy, tiny little town right on the Andaman Sea and the Golf of Bengal.  I went walking around and found a small pond with a 'fishing'(?) hut on it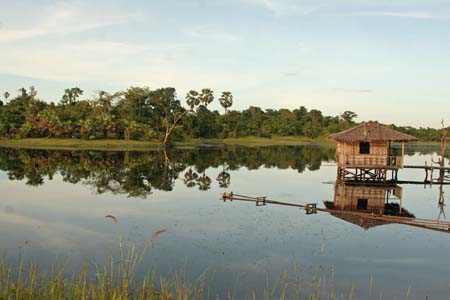 I also went to a nearby fishing village (a one hour walk) and found some people playing pool.  Amazing that even in this very remote place, they found a way to carry, transport, lift, install a pool table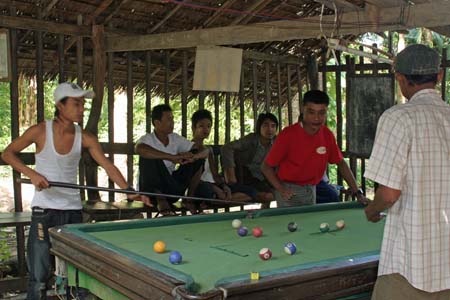 This seemed to be the meeting place for the young people in town, including this mother and child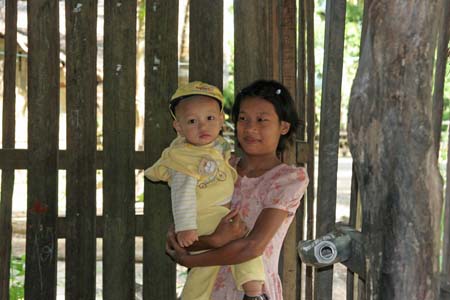 But we noticed that the village was very much empty.  We found out that there was a special ceremony at the local monastery – yes even this small fishing village has a monastery.  The whole village had collected money and was celebrating a donation of robes to 19 monks (I think that was the right number) of local monasteries who were the guests of honour at the celebration.
There was food everywhere, but the main event was in the main room of the monastery, where I was immediately ushered.  Unfortunately, I immediately became a new focus of attention, something that I really did not want.  Through my interpreter, I answered numerous questions, some really personal.  After a few minutes, a 99 year old monk was carried in as he could not walk on his own.  We chatted for a while since one of his aids could speak a little bit of English.  Before we left, we made a donation to the monastery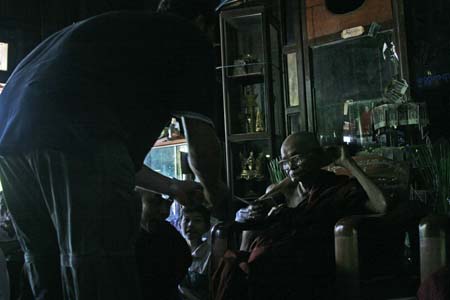 Poor picture of me giving the money to the monk, but I really did not want to use a flash in that environment.
We were than invited to lunch.  The world backwards – I probably spend more money each year than the whole village, but they were offering me lunch.  The food was excellent and we discovered that the son of the family who was hosting us and his girlfriend, bit also sitting at our table, worked at the beach resort where we were staying.  It is good that local people are benefiting from tourism, but it also may mean the death of the village as more young people move away for an 'easier' life.
Before we left the village, we went to see the local ferry boat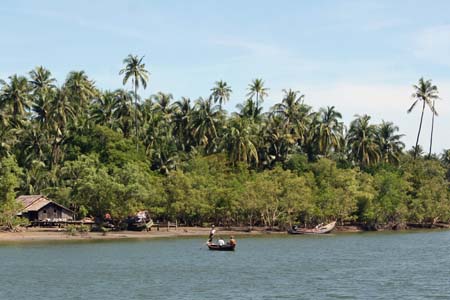 It is the only way across the river
As we left the beach, we went to visit a local elephant training camp.  Elephants are still used in the lumber industry because of their ability to pull large trees across very difficult terrain.  In this camp, they capture and train elephants as well as their handlers – an elephant and handler are paired for life.  Many elephants are actually saved from the wild either as orphans abandoned by parents or a teens having had a accident of some sort.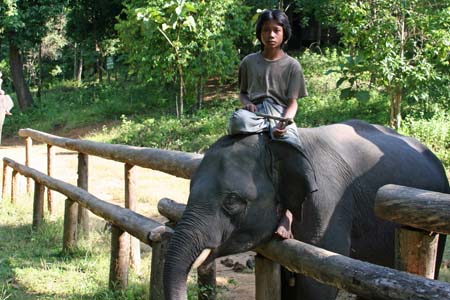 Several came to see us, as they knew that we would have bananas and sugar cane to feed them …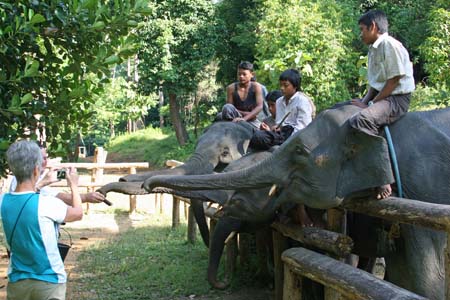 While at the beach, we had absolutely incredible sunsets …  I spent close to one hour in one place just watching the sun gradually coming down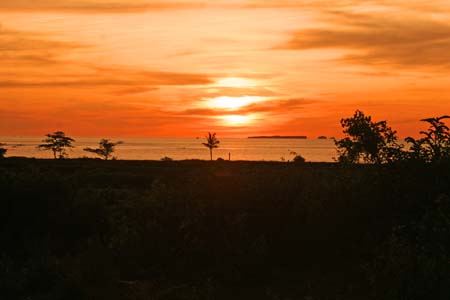 I really liked the foreground and the background from this one spot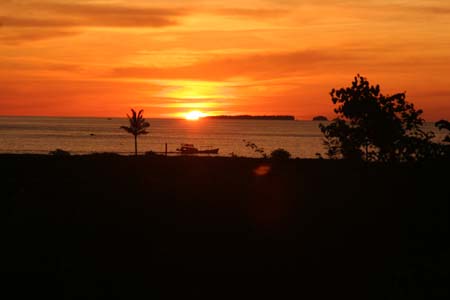 The whole thing got even better as a boat slowly crossed the scene
And the reflection of the sky in a small pond gave a new dimension to the whole scene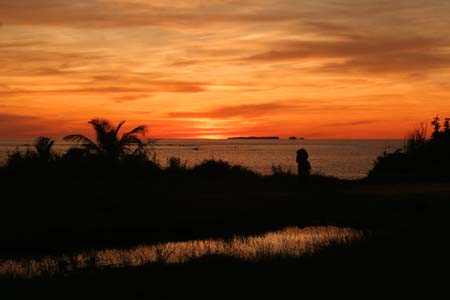 I saved the best sunset photo for last.  This was actually taken almost an hour after the sun sat, right from the hotel.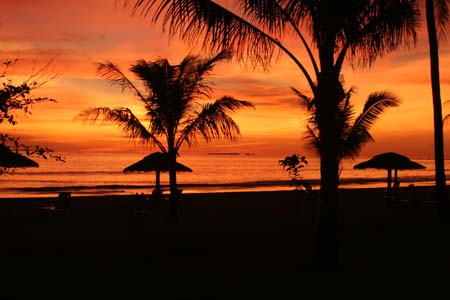 A spectacular way to end the story of an absolutely unforgettable trip!
(1470 Page Views)