pierreo September 23rd, 2007
As I said before, I really need to stop scheduling a trip right after a tough physical challenge!  This time, having to wait until 1:20 AM for my plane to Perth (for my 7th visit to Australia) was sheer torture.  However, it took me only 5 minutes to fall asleep after the plane took off and I slept really well until the plane started its descent towards Perth.That was only 4 hours of sleep though and by 7:00 AM Monday, I was on the road towards Kalgoorlie, 550 km away to the east.  The drive with my rented 'monster' truck (4WD Nissan Patrol with 3.0 liter diesel engine) was more pleasant than I thought, with a lot more variety of terrain and scenery than I had anticipated.  I stopped for breakfast at the first town I crossed, bought water and snacks in the second, had lunch in a pub mid-way between the third and the fourth town on the road, got gas in the fifth and stopped briefly in the sixth for local information.  30 km later, I arrived in the seventh town I saw since I left Perth: Kalgoorlie.
Kalgoorlie and the nearby town of Coolgardie (I am not making these names up) were at the heart of the Australian Gold Rush of the late 19th century.  Some of the richest finds were in this area and a lot of mines remained active until well after WWII – few still are today producing gold but also nickel, cobalt and other associated metals.  There is a Gold Quest Drive (965 km) which tours the most important relics of this past glory.  The guide is very well done, including an audio CD with documentary evidence of the area that the road drives through.  Ghost mining towns, abandoned pit mines and recently rediscovered water holes are all on offer.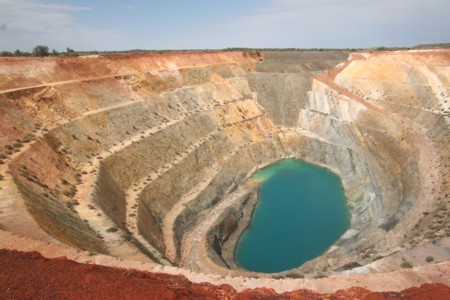 However, it is the human story that is the most striking.  The area that I am traveling in is as arid as can be; no water to be seen anywhere and yet men were leaving civilization behind with sometimes as little as 2 gallons of water, hoping that they would find either gold, or more water, before their initial supply ran out.  Nobody knows how many died on the tracks that led North of Coolgardie and Kalgoorlie – the number is probably very high. Those who were found, or who died in one of the many small towns that were growing throughout the area were buried in ancient cemeteries which are a strong reminder of how young they were.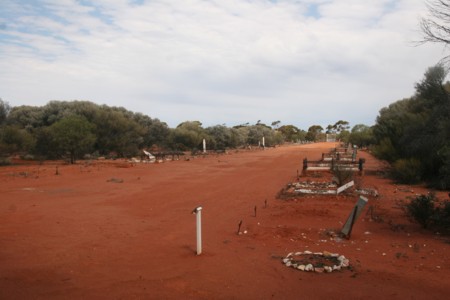 There were fortunes to be made but life was difficult for most of the people involved.  Many famous Australians made a fortune here; one of the most famous foreigners to come through this area, and come out much richer, was Herbert Hoover, before he became President of the United States.  He started as a mine inspector and became a mine manager before going on to China and than returning to the USA for a rather successful political career.  In his memoirs, Hoover gave the best description of an engineer I have heard, or read, so far.  It puts into words better than I ever could why I chose to be an engineer while in Business School.  I was standing on the side of an abandoned mine pit when I heard a small noise below.  After a careful look, I noticed a goat (I assume wild) slowly walking out of the mine along the old track used by trucks to bring the ore out.  After this encounter, a little further down the road, I had to make a sudden stop to avoid running into four emus crossing the dirt track I was on.  It was a close call.  I was driving nearly 120 km/hr down this dirt road – I have gained a lot of confidence in the 'car' (or Monster) I have rented: a Nissan Patrol 4WD with a 3.0 liter diesel engine that is just great!  The road is smooth, perfectly straight and I have not seen another car in more than 2 hours – yet I probably should slow down just a bit just in case there are other animals crossing.  Saw a wallaby in the distance too…In the middle of this desolate land, on the bed of a dry salt lake more than 50 km outside of the nearest town, Menzies (and only a one street town at that), some one, some where, had the weird idea to install 51 human silhouettes over 7 square miles.  It does not make any sense, but does create interesting views.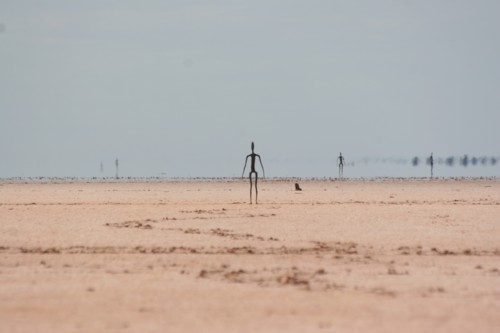 Near one of the only watering holes in this whole area, there is a rock called Ularring Rock, similar in composition and history to Uluru and the Olga's in central Australia, but not as spectacular as it only barely sneaks above the local countryside.  The rays of the sun forming a near perfect fan were spectacular.  So much so that I almost lost my instincts – when the engineer in me returned, I wondered where these boulders, sitting on the top of this rock, came from.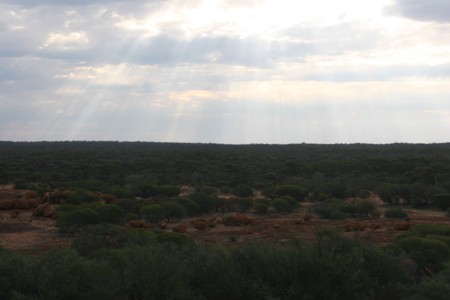 On Wednesday, I drove down to Esperance, on the South Coast.  Most of the day driving, raining at the end, so not much to report.  In Salmon Gum (still not making up the names of towns around here) I fed the Monster – it cost me 153 dollars – fun to drive, but a bit thirsty too. I found an excellent Bed & Breakfast with breathtaking views of the sea, and an excellent restaurant, the best so far this trip, where I had scallops 'en-croute', rack of lamb and sticky date pudding all accompanied by an excellent Margaret River wine (a blend of Shiraz, Cabernet Sauvignon and Merlot from the Fifth Leg Winery – bottle I brought since the restaurant is not licensed and does not serve alcohol).
Thursday, I stayed put – not wanting to drive another long day and since the weather was much better, I decided to visit some of the local National Parks.  I started on the Western version of the Great Ocean Road.  It is only 11 km long, but just as scenic as the Eastern version near Melbourne.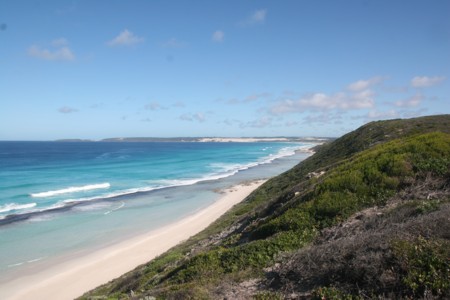 In the middle there is a wind farm which produces up to 25% of the electricity needs of Esperance.  Some people can see this as an ecological disaster, putting a real 'eyesore' on such a beautiful coastline; others can see it as an ecological success story, using modern technology to help fight global warming.  Personally, I think this is a success – the windmills are far enough away from the coastline that they do not detract much from the beauty of the scenery.  It is certainly better than alternatives such as coal or oil fired power stations belching large plumes of CO2, or worst SO2.  Therefore, until we are ready to stop consuming electricity, this is a very attractive compromise (the above message clearly intended to be provocative and solicit comments from you, the reader!)  After some exciting 4WDriving in the dunes (only on marked paths, I quickly add before there is a clamor of disapproval from the audience) I head for Le Grand National Park.  This whole area was initially discovered by French sailors aboard the "Esperance" and the "Recherche".  They named the town Esperance and the archipelago off-shore "Recherche".  Le Grand was the first officer on one of the ships.  Unfortunately, what started as a beautiful day is now rather gloomy and the pictures from the top of Franchamn's Peak are not as spectacular as they could have been.  Even the wildflowers just blooming cannot be seen well on these shots, even though they are really everywhere.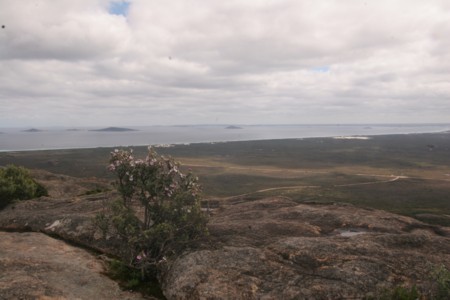 In the evening, I am rewarded by a rather nice sunset that I can shoot directly fromn the balcony of the B&B where I am staying.  It is not all that special as the temperature is below 10C and the wind is howling! But the view is worth it.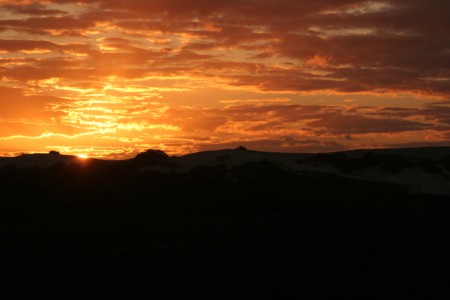 Friday is back to gloomy weather and I have rain on-an-off for most of the drive back to Perth.  In the evening, I go to Balthazar, an excellent local restaurant where I have an almost Belgian meal:  Prosciutto as appetizer (OK, not Belgian), venison with corn mash and whitlof (local spelling for Belgian Endive) as main course and Callebaut (Belgian) chocolate pudding as desert; the wine, fortunately, was not from my home country but from Margaret River – an excellent Cabernet Sauvignon.
Saturday, I had decided to explore the coast South of Perth.  I started in Rockingham, and particularly a small island called 'Penguin Island.'  It can only be visited by daylight and most of the island is closed to the public.  A small ferry brings people there every hour and there is a Penguin Hospital where they care for orphans, wounded or other penguins who could not live in the wild.  The name comes from the fact that there are many penguins nesting on the island, but these cannot be seen.  There is also a huge colony of pelicans nesting on a rocky outcrop, as well as cormorants, frigates and thousands of sea gulls.  The gulls have their nests everywhere on the island and they fearlessly defend these against intruders.  As I walk on some of the boardwalks, I am heckled by hundreds of sea gulls, swooping menacingly over my head.  For a second, I fear that I have been mysteriously transported into an Alfred Hitchcock movie.  Fortunately, they do not start to attack and the guano that they dive-bomb towards me always misses because they have not yet learned how to compensate for the high side wind.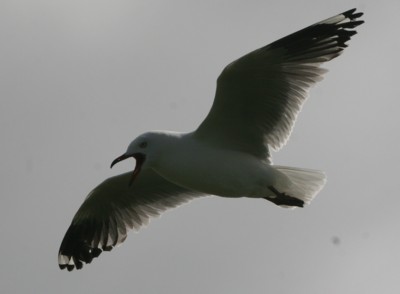 After two hours, and a session of penguin feeding at the hospital, I head back as the rain is coming again, and I do not have any waterproof jacket.  I head for Fremantle, see if anything has changes since I was there last in 2004.  I take a look at some kite surfers just south of the town – the wind seems ideal for this.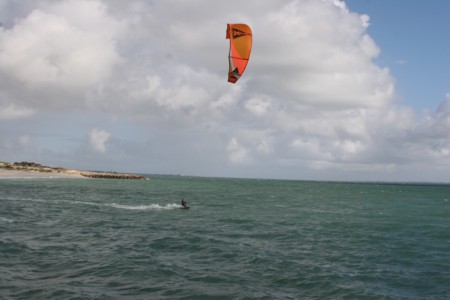 I hope, in vain, for a spectacular sunset, and a new version of the photo I took here in 2001, but clouds cover the sun just before it dips down below the horizon and I am left with nothing. Maybe I can do better next time, but it will have to be on a future trip as I will have no more opportunities this time.On Sunday, I am actually quite lazy and get up after 8:30 AM (very unusual for me, even on vacation!).  I do go for a long walk in King's Park and enjoy the scenery, and a short visit to the Aboriginal Art Gallery located nearby.  There are several paintings by Norma MacDonald, an aboriginal painter from the Northern Territories – I am really attracted to them as they have an obvious aboriginal character, without the typical style or dots and stylized animals that all the other artists seem to employ.  Unfortunately, neither of the two paintings available would fit with others I already own and therefore I decide not to buy anything, but I was really tempted and I will have to keep the name in mind in case I hear of other exhibits.
In the evening, I have booked a ticket for "Varaquay" by Cirque du Soleil.  I really enjoyed the first show I saw in Quebec: "Corteo" and therefore I was really looking forward to this one.  I am afraid that I was somewhat disappointed!  The music was OK but not thrilling; the acrobatics were interesting but just short of "jaw-dropping-how-did-they-do-that".  I am not sure of this is a case of running out of bright ideas, or just the fact that the performers for this particular show were not good enough to 'amaze' the audience.  Don't get me wrong, it was a good show, just not up to the level that I was expecting based on what I had heard from friends, and seen with my first experience.  Monday, just before leaving Perth I decided on a short visit to the wineries along the Swan River Valley.  I stopped at Led Swan for some excellent organic wine and organic chocolate – what could be better than the combination of those two great tastes.  I also stopped at the Edgecombe Brothers winery for lunch.  They have a very interesting 'fortified shiraz' that I just have to bring back to Singapore … In 7 days, I drove over 2500 km, into the desert, along the coast and up and down the Swan River Valley.  An excellent trip once again. (2808 Page Views)