pierreo April 7th, 2016
Welcome to another installment of our (not so) recent trip to Peru.  Things keep getting i the way of my finishing this, but I am getting there.
I am now several other trips behind, but will catch up eventually, I guess.
We left you on a small island in Lake Titicaca and this episode actually starts still on the island, the morning after the glorious sunset which closed the last episode.  Before the boat brought us back to Puno, we had a chance to walk around the island some more and see more animals.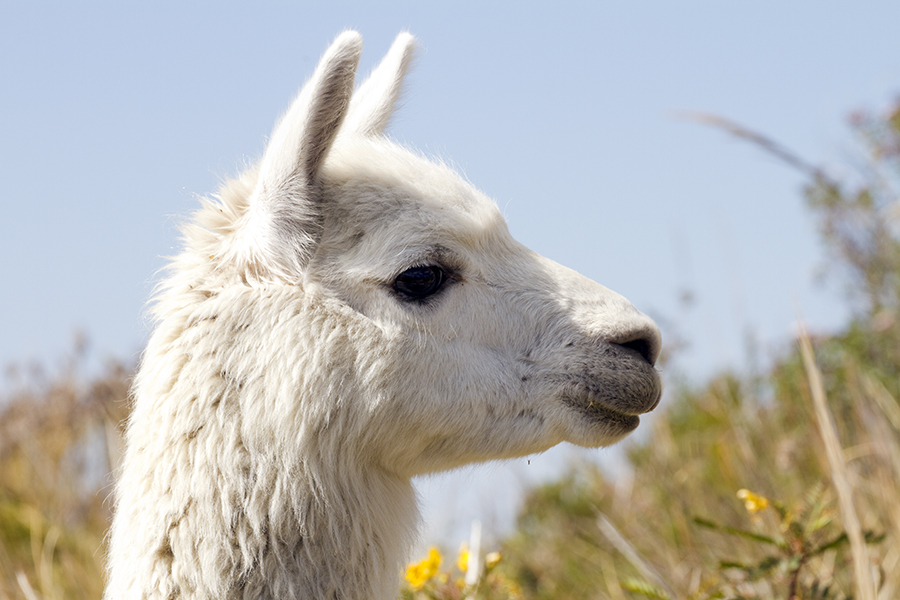 The Alpacas are still there, still as cute as the day before and not afraid of us at all.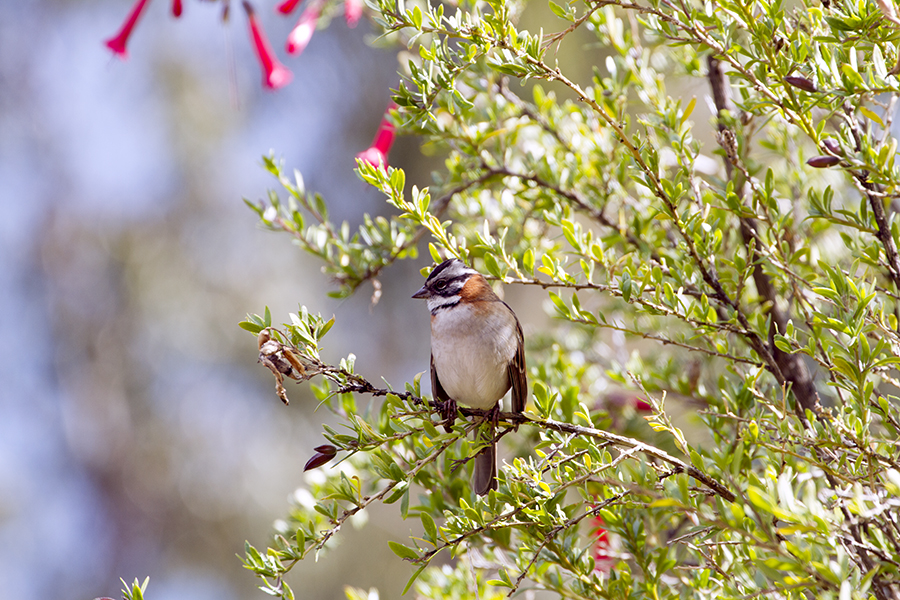 There is bird life as well – I am not sure what this is, but I thought it had a very colorful head.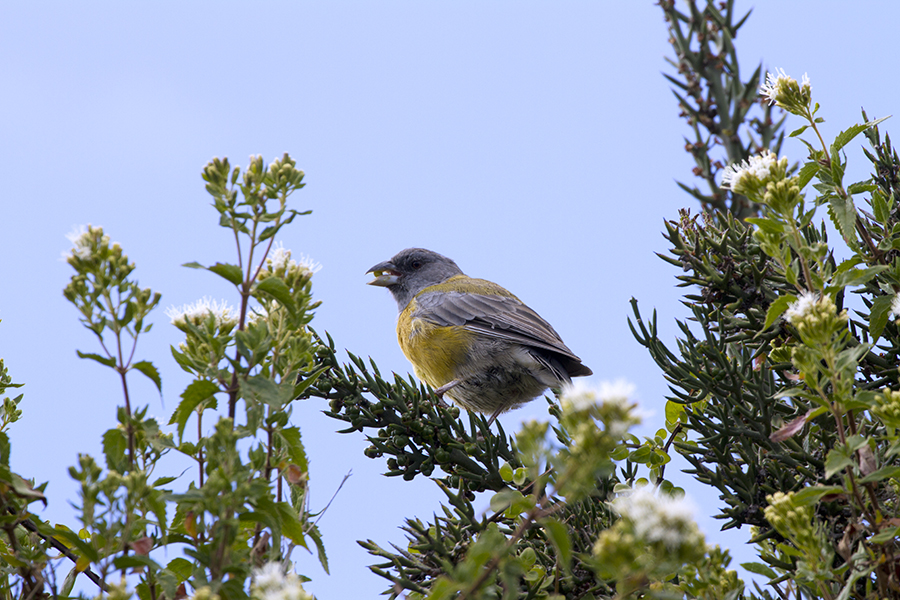 This one had just collected a seed and was probably wondering if I was about to steal it.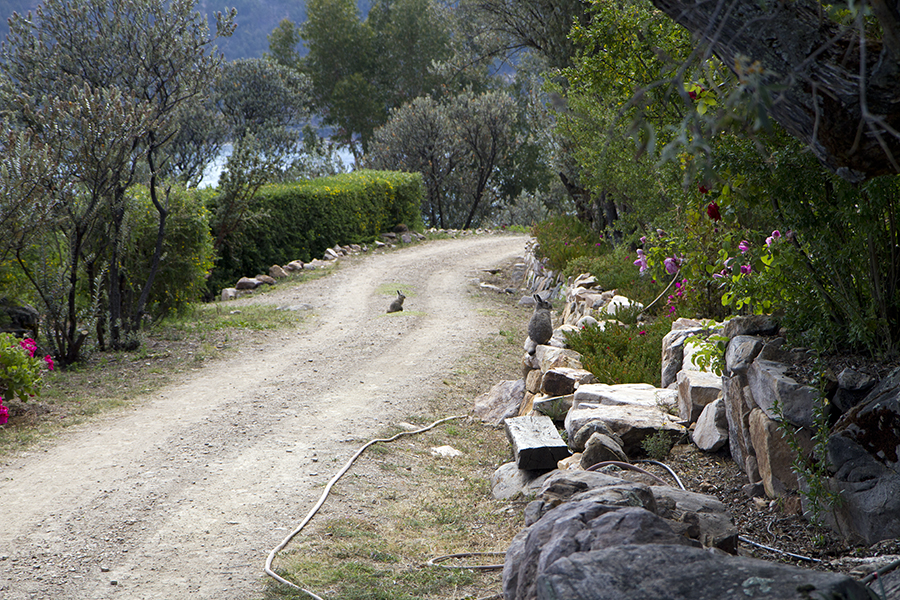 Rabbits too…
As we were waiting for the ferry to take us back to Puno, I noticed water birds that had a very strange behavior.  Every so often, one or more of them would start splashing around like crazy.  At first I was not quite sure what was going on, so I started to take pictures.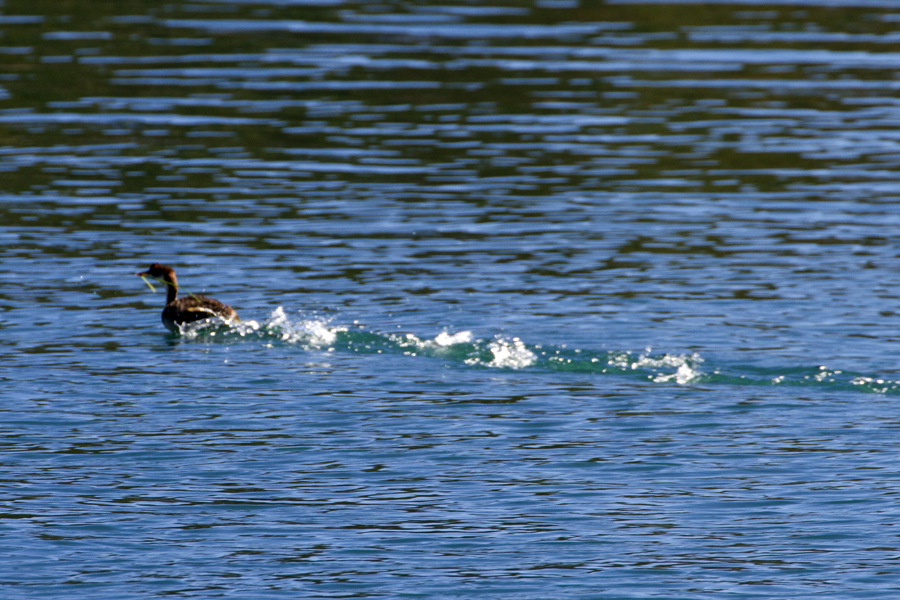 This is just the beginning.  Eventually, they appear to walk on water and actually  move quite quickly.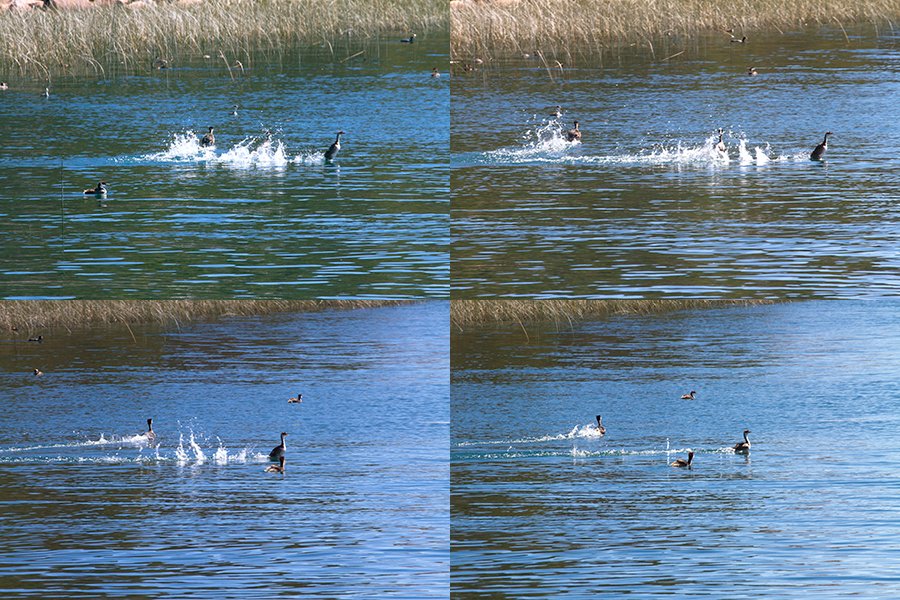 You can see that their entire body is out of the water.  They must pound with their feet to get to this position and that is why you have the regular splashes behind them.  It was fascinating to watch them do this.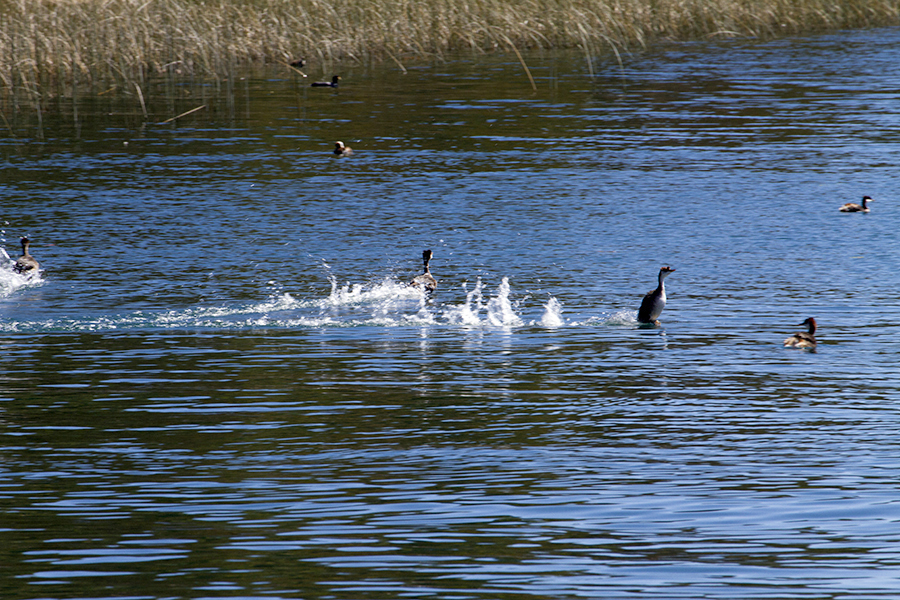 I was also lucky to catch one of them coming in for a perfect water landing.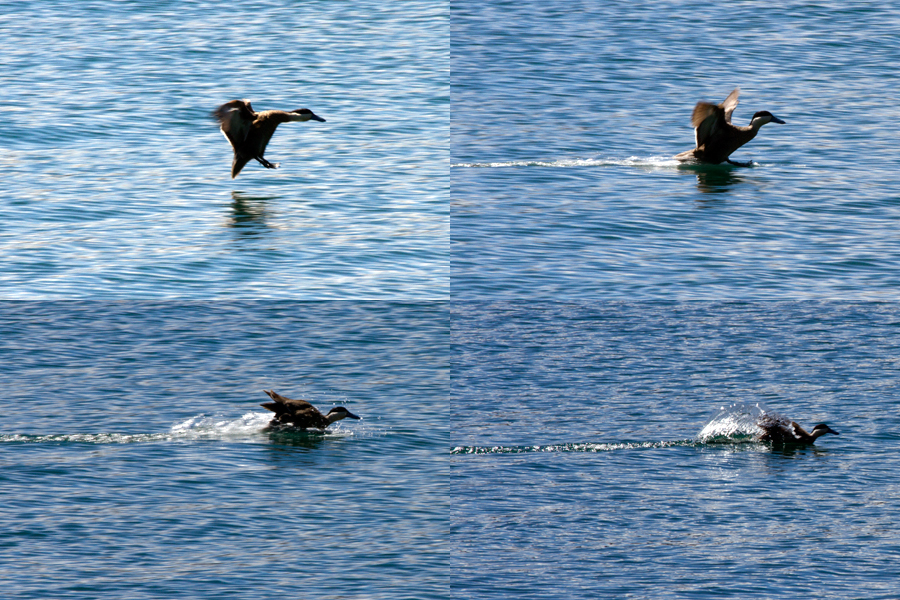 A family coming home after doing the shopping in town.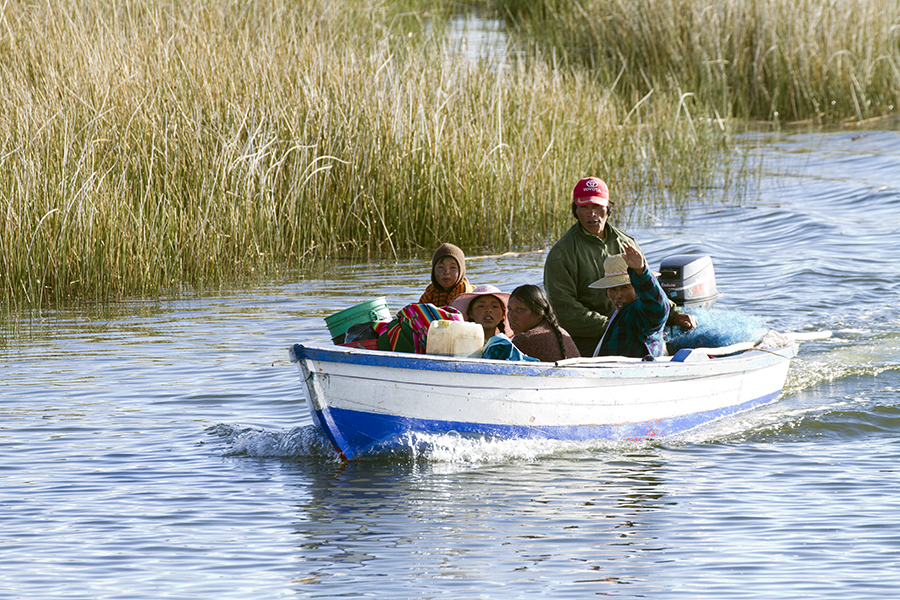 The following day, we went to visit Sillustani – this is an ancient place that pre-dates the Incas where notables, we think, were buried into large tower-shaped mausoleums.  In Sillustani, just outside of Puno, there are several that have been very well-preserved.  We picked the right day, when the site was not crowded but we noticed that it was designed for large crowds.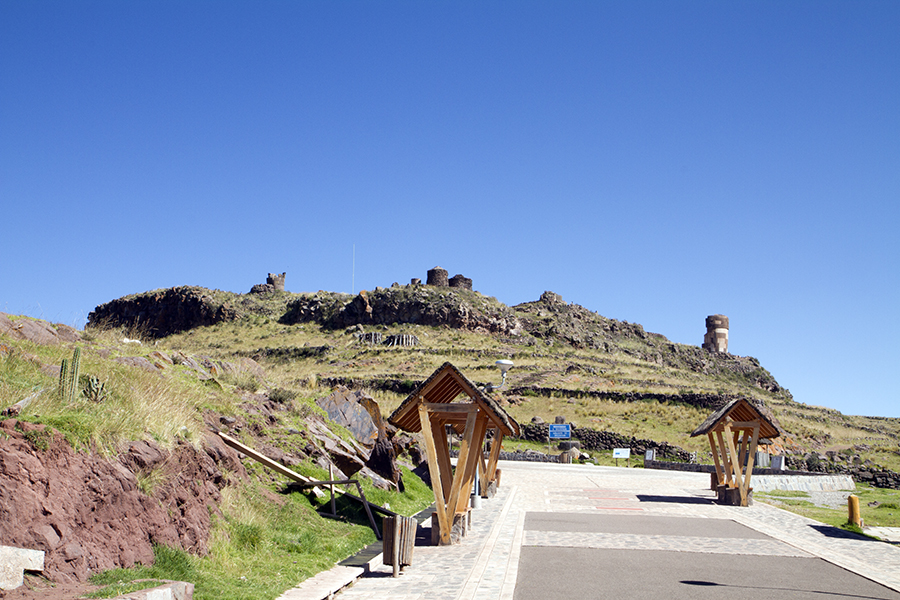 There was a half-moon shining on us and the towers.  These are about 10-15 meters tall and made up of very large stone blocks.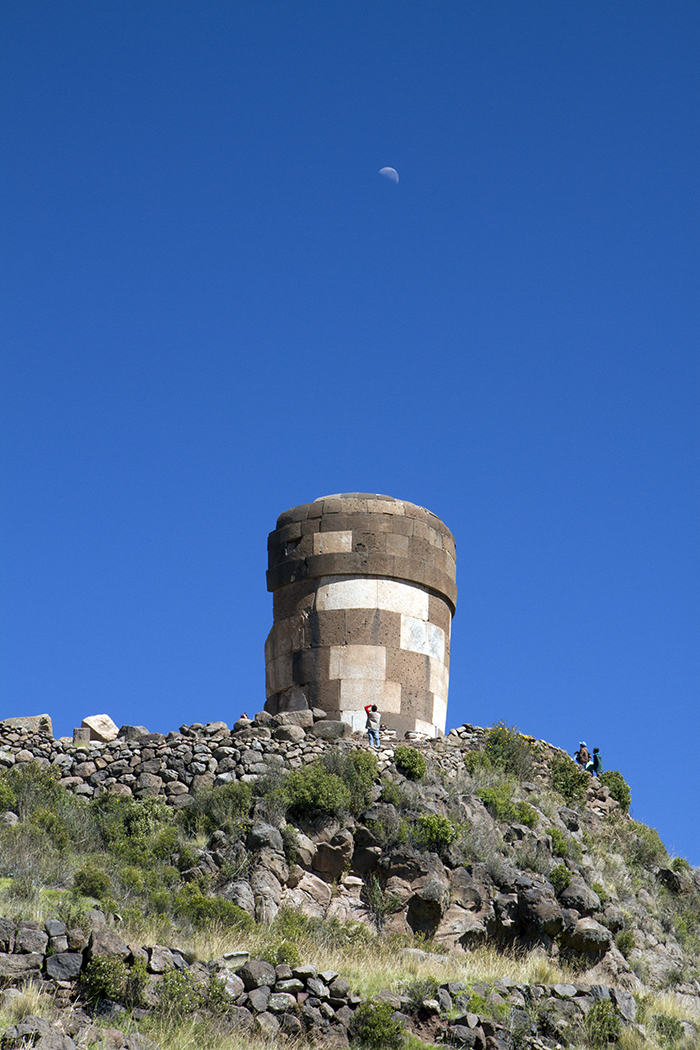 There are several towers on this site, and a very strange stone circle (see picture lower left) the purpose of which is not known today.  One of the towers was abandoned while still under construction (see photo lower right).  There is still the ramp that was used to bring up the next layer of blocks.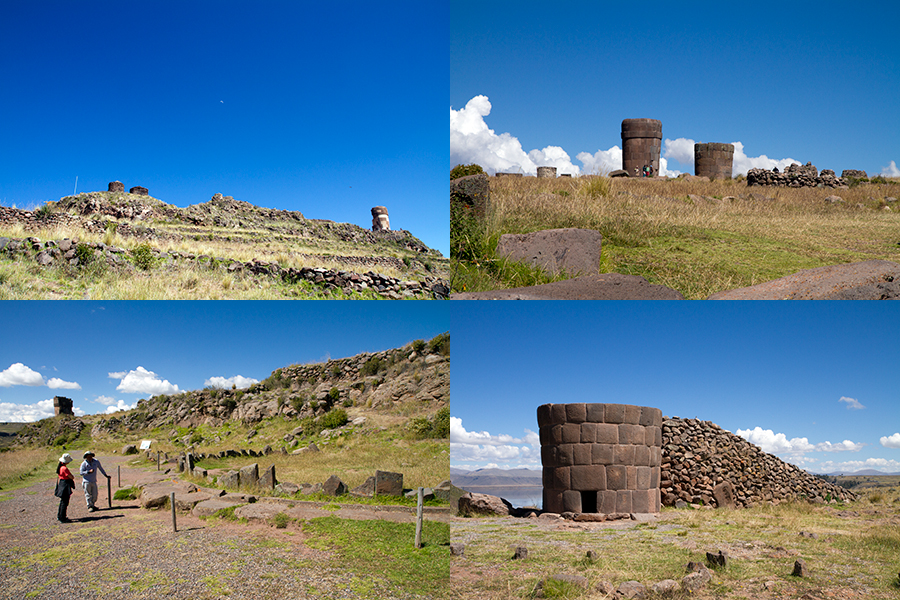 There were good explanations on the site, but we were happy to have a good guide to help with translation and additional information.  In some towers they were able to recover bodies who were typically mummified and in the fetal position.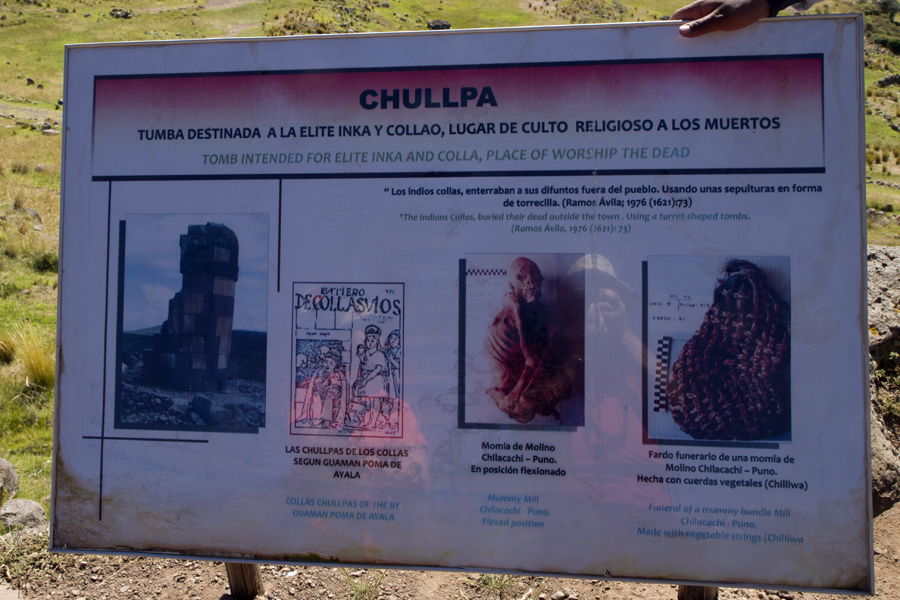 One pre-Inca tower – it is obvious that the predecessors were already very good stone masons as here too, the fit between the blocks is very precise.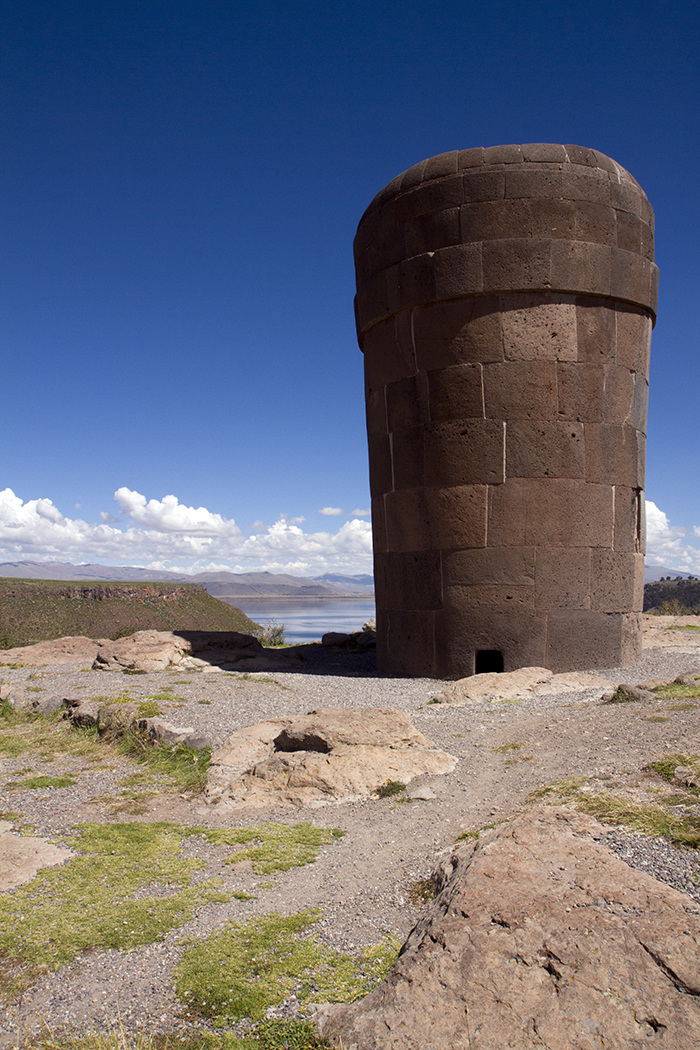 The site is on a peninsula that juts out into a small lake.  The view from the edge is quite spectacular.  Given the altitude (we are close to 4000 m or 13000 ft above sea level), the sky is much bluer than at sea level and it looks like the clouds are a lot closer, almost eye level.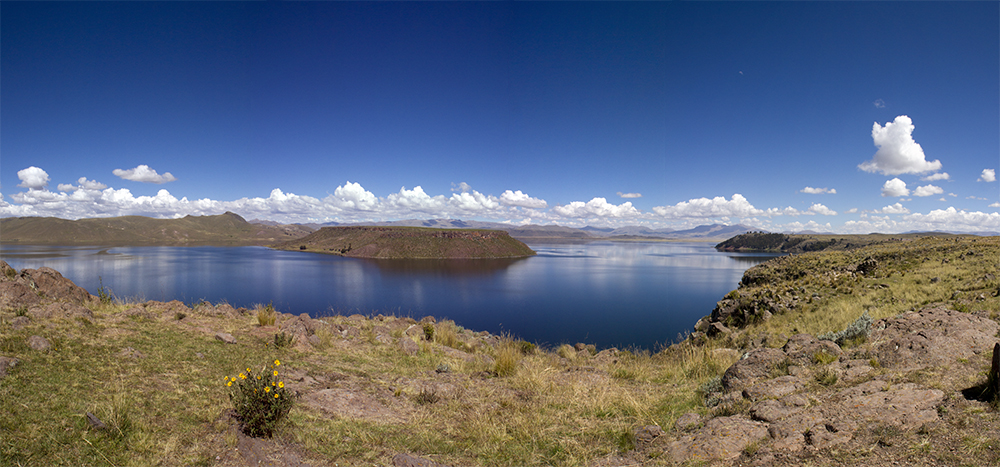 There is a rock near one of the towers where an ancient carving was uncovered.  It is unfortunately very difficult to see on the photo, but the carving is a spiral that has about 10 circles on the middle left of the face of the rock.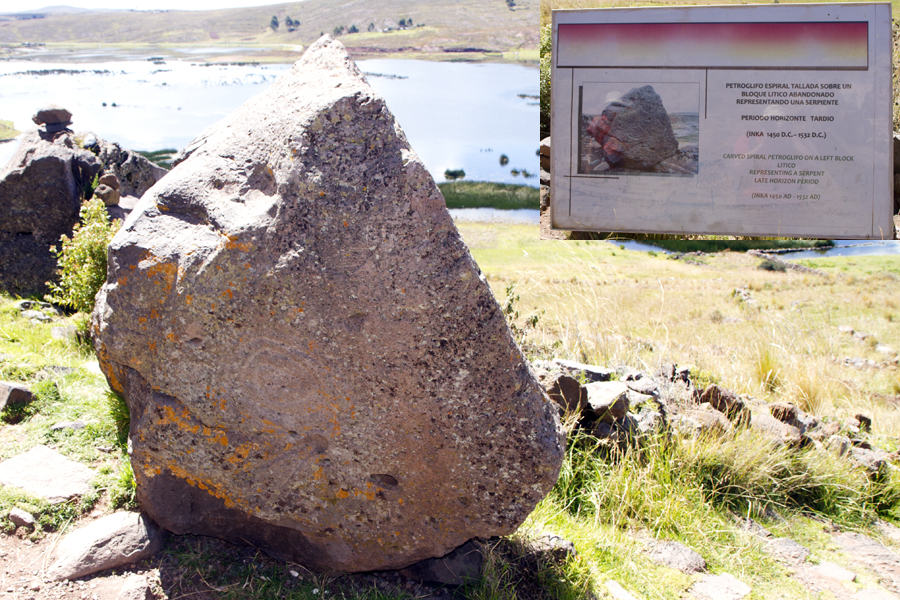 On the way back to town, we stopped to look at this farm-house – typical of the region.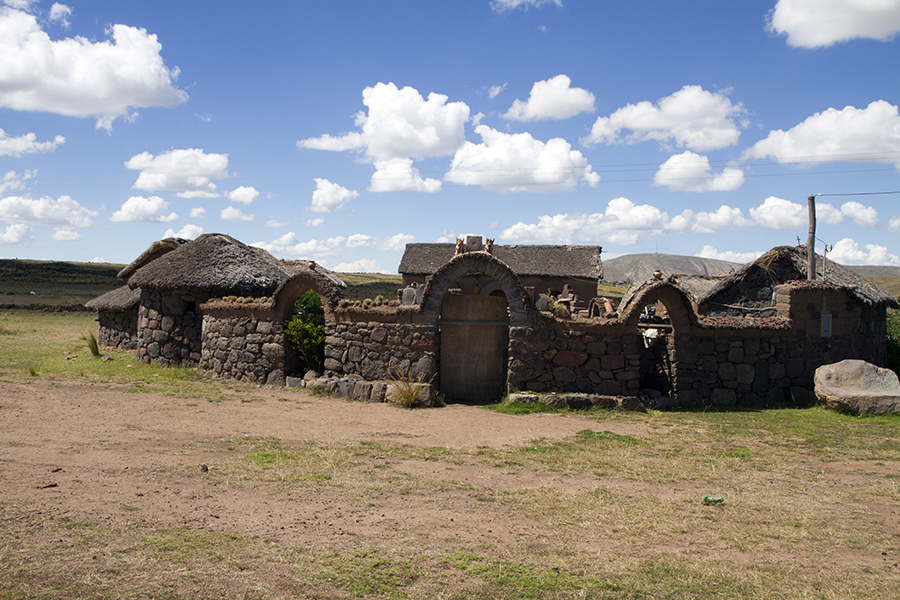 and we got a great view of Puno and Lake Titicaca behind it.  On the left of the picture, you can see the hotel where we stayed (It is the big low white building right on the edge of the lake).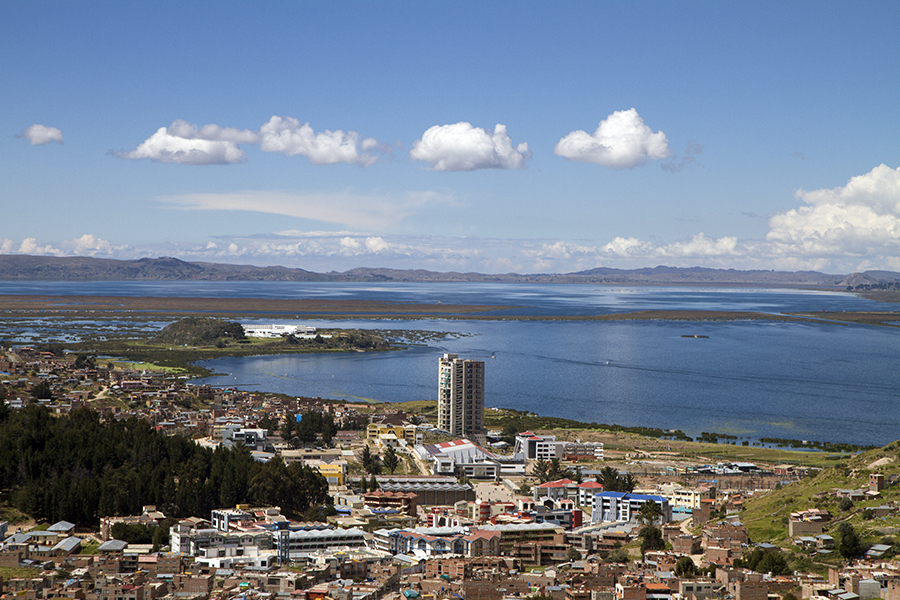 From Puno, we took the bus to Arequipa – that will be the subject of a later episode, the last one in Peru.  It was a late afternoon departure that brought us to Arequipa around 11 PM.  The bus actually starts going up from Puno (yes, in Peru you can drive up from 4000 m altitude) and the pass is quite curvy.  The VIP seats in the bus are below, and only offered a small window on the side, something that I did not realize when we booked and so I had to spend the whole bus ride with my eyes closed in order not to get sick!  I was sleeping some of the time, and the view out the window was anything but spectacular so it really did not matter.  In any case, I was glad when we arrived…
After a day exploring Arequipa (again, more later) we rented a car and left early in the morning to go explore the Colca Canyon.  There are two claims to fame for the canyon:  (1) In some locations (not where we were) it is one of the deepest canyons in the world, second only to another one 25 km North of where we were; (2) It is one of the best places in Peru to see the Condor, and that is what we were hoping to do.
THE place to see condors is the Mirador Cruz del Condor.  It has been developed to welcome large number of tourists and as we were driving up, we saw several large buses driving back from there – indeed the "Day Trip" to Colca Canyon from Arequipa starts at 5 AM – we left around 8 AM!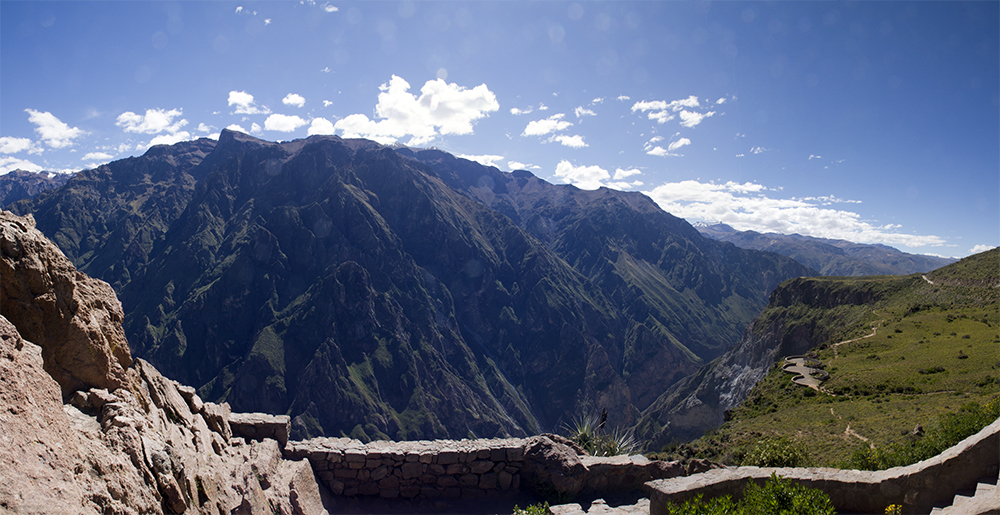 When we arrived at the Mirador, the place was deserted.  Even the souvenir vendors had left!  And there were no Condors.  But the view of the canyon was quite spectacular so I entertained myself for a while by taking pictures.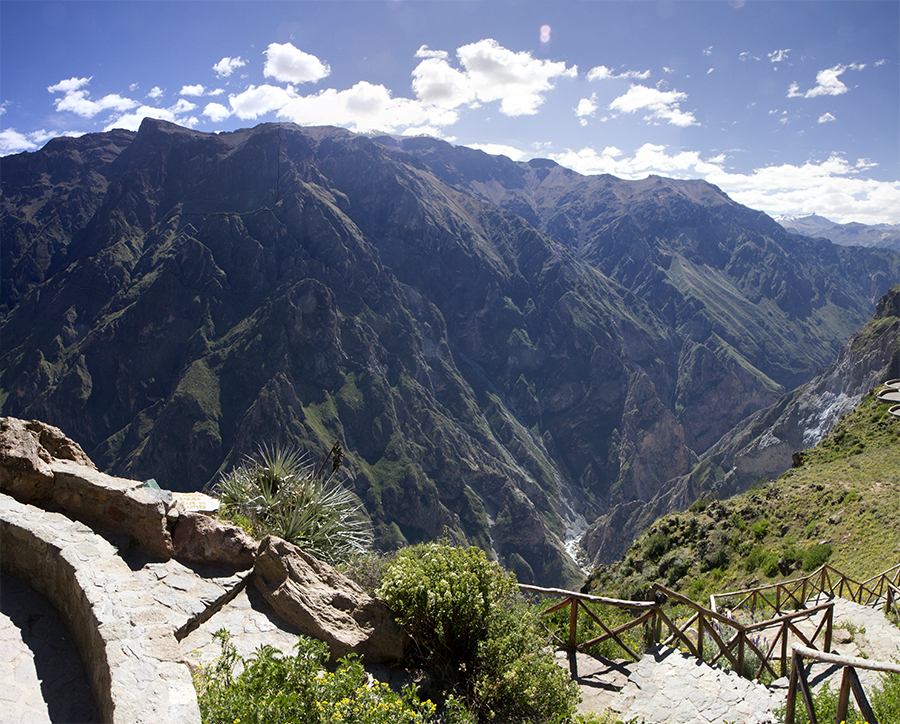 and nice panoramas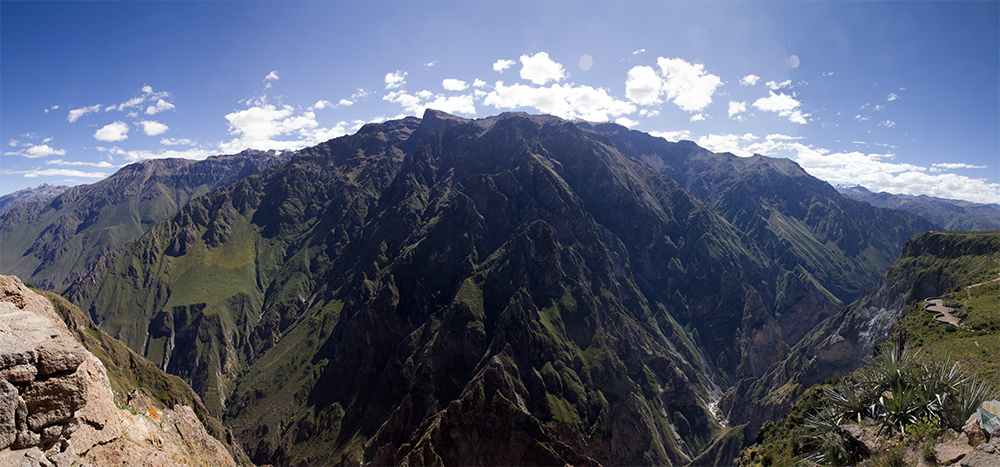 When the panoramas ran out, I started photographing smaller birds – they were very nice, and I was able to approach them quite close.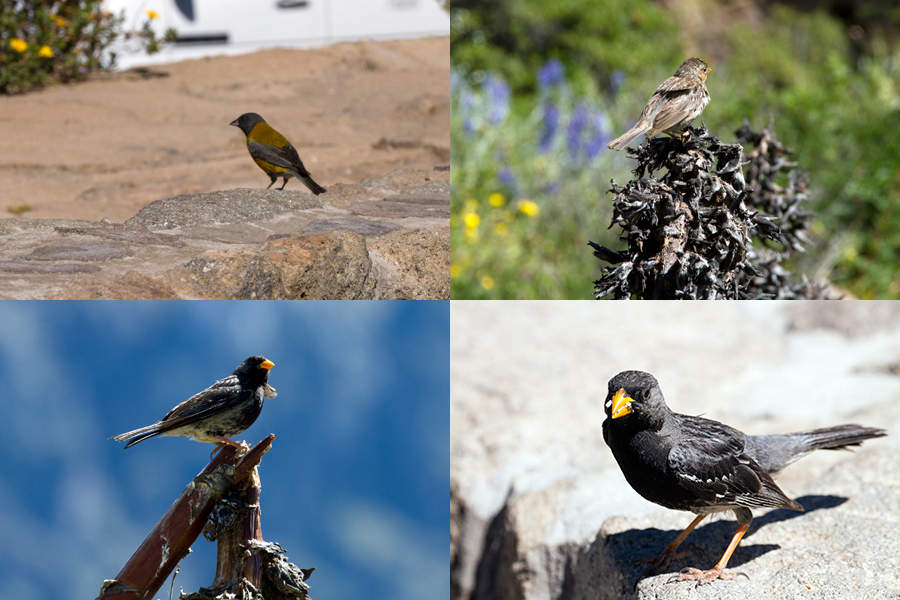 This is not a Condor, and I am not René Magritte, so I am not lying.  Must have been an eagle.  Notice something unusual about this picture?  Not often that you get to photograph the top of a bird in flight, and I was still on the ground!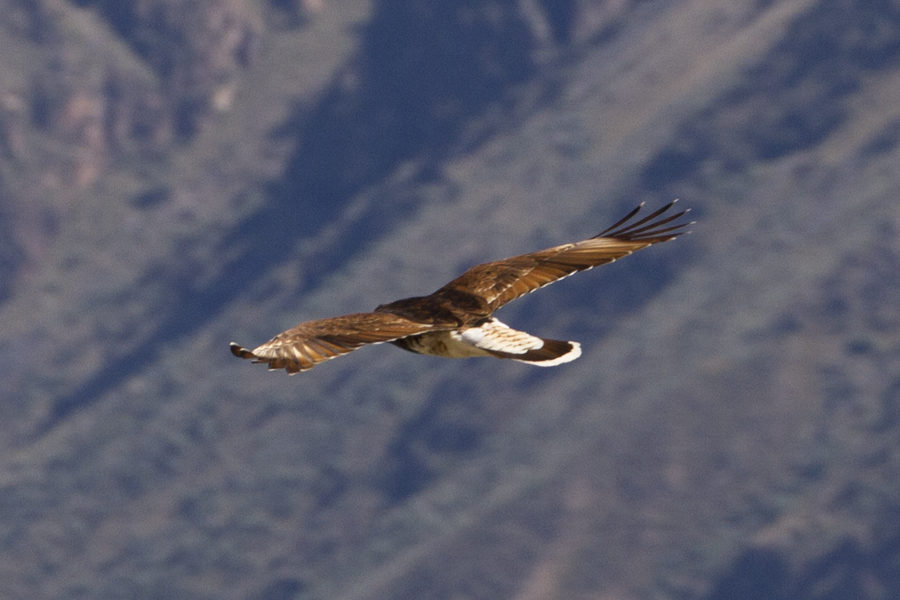 Bee and I decided to leave, and just took one last look towards the canyon and saw this!  That is a Condor 🙂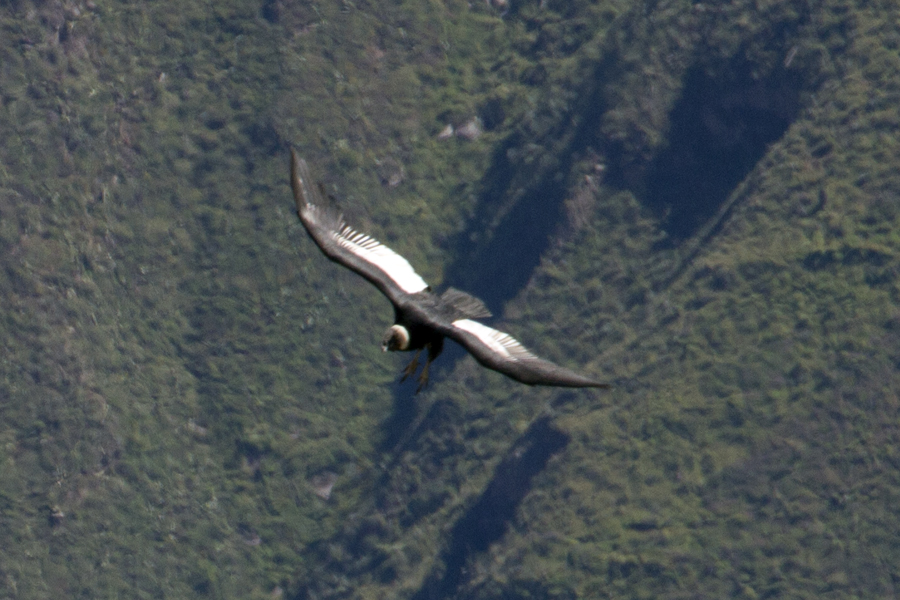 A condor was coming in to his nest, we believe after a successful hunt.  It was descending, with landing gear all ready to go!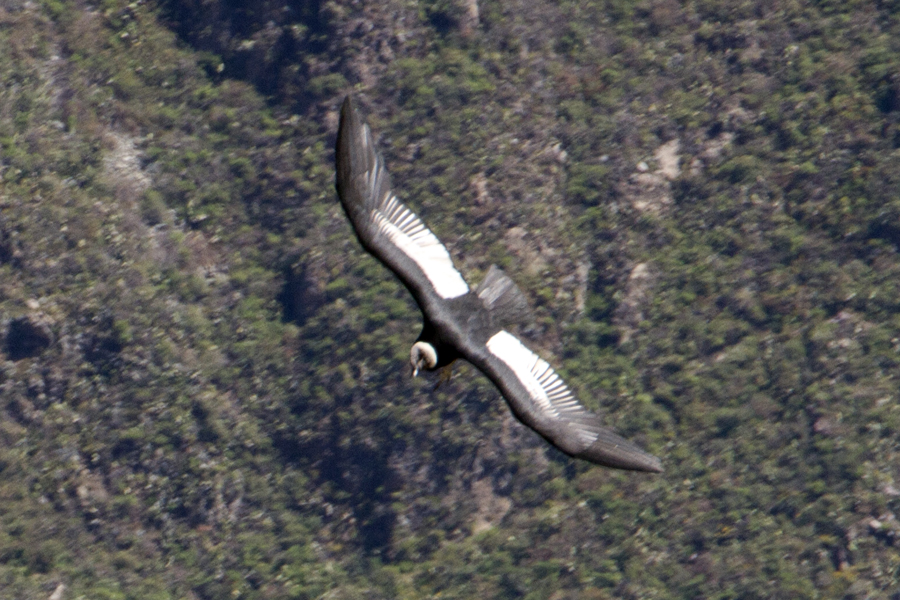 Immediately after that, we actually saw two condors flying together high in the sky.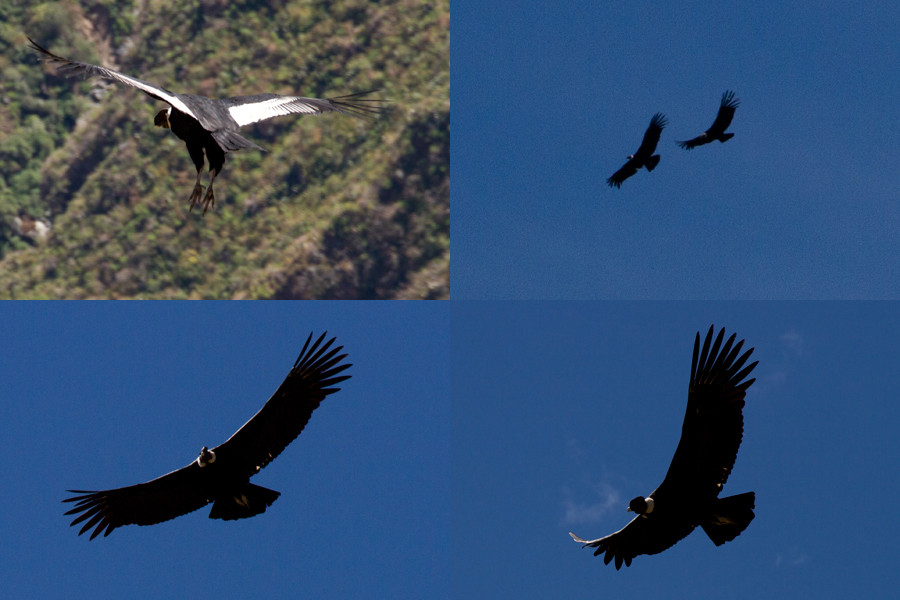 Yes, I did take quite a few pictures of Condors.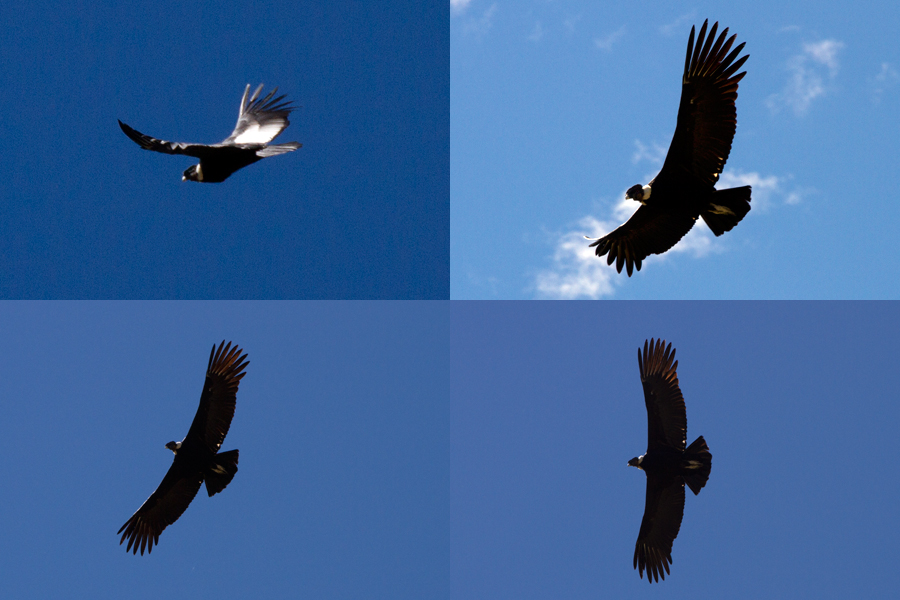 All in all, at the Mirador, we saw 4 or 5 different birds.  As it was getting late, we decided to go on to the small town of Cabanaconde and try to find a place for lunch.  We got very lucky and had lunch on the top floor of a local hostel, with a very nice host.  Food was OK, beer tasted great, view was fantastic and the host gave us excellent directions for a very good viewpoint where we could see the canyon.
We followed directions, left the car at the end of the road and arrived here after a short walk…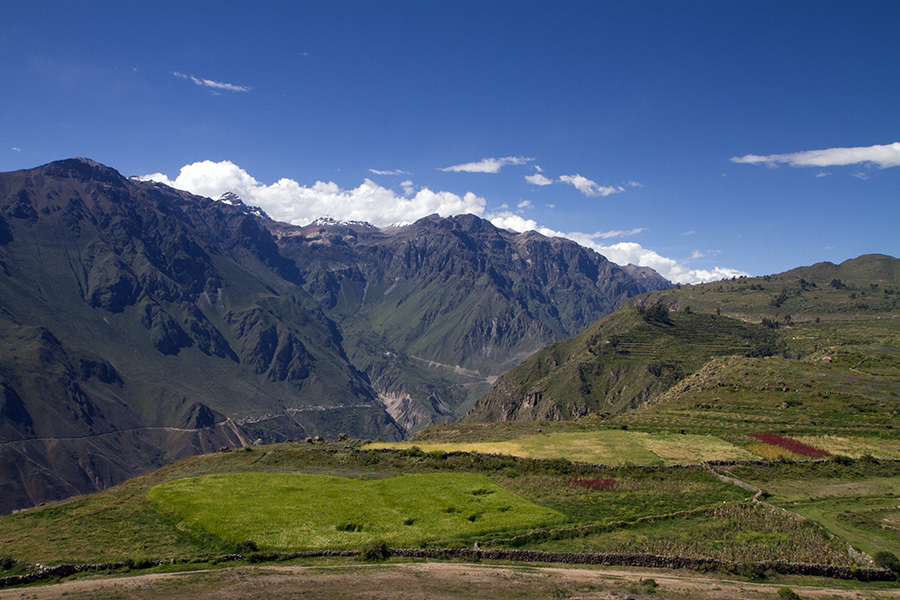 A little after we arrived, so did this condor.  I suspect that it was actually hunting.  It circled above and in front of us for quite some time (not sure if it was evaluating whether it could carry us!) but through my lens (300 mm telephoto), I could see its head turning left and right constantly scanning the ground all around it.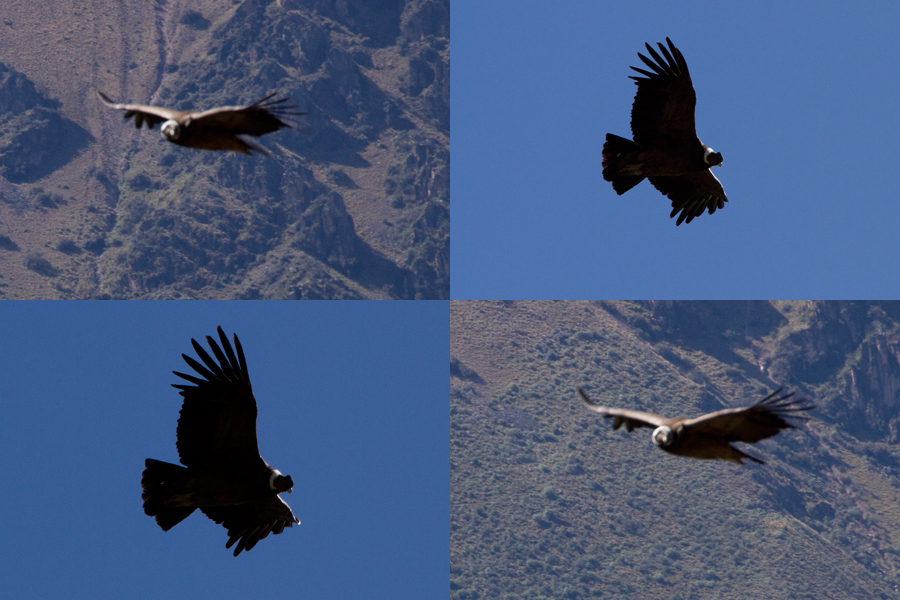 On the way back to the car, we stopped to take a look at the local bull ring.  Bull fighting is still done in Peru and every town seems to have its bull ring.  This one was temporarily used by pigs, and they were not in a fighting mood.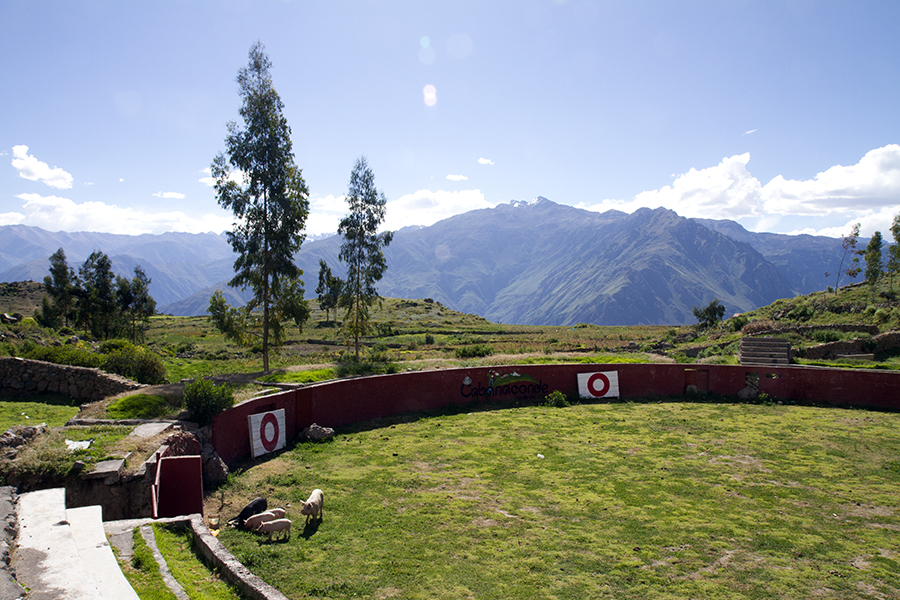 There are several spectacular viewpoints on the way back to Arequipa along the canyon edge – we had skipped these in our haste to get to Mirador del Condor and so we stopped now.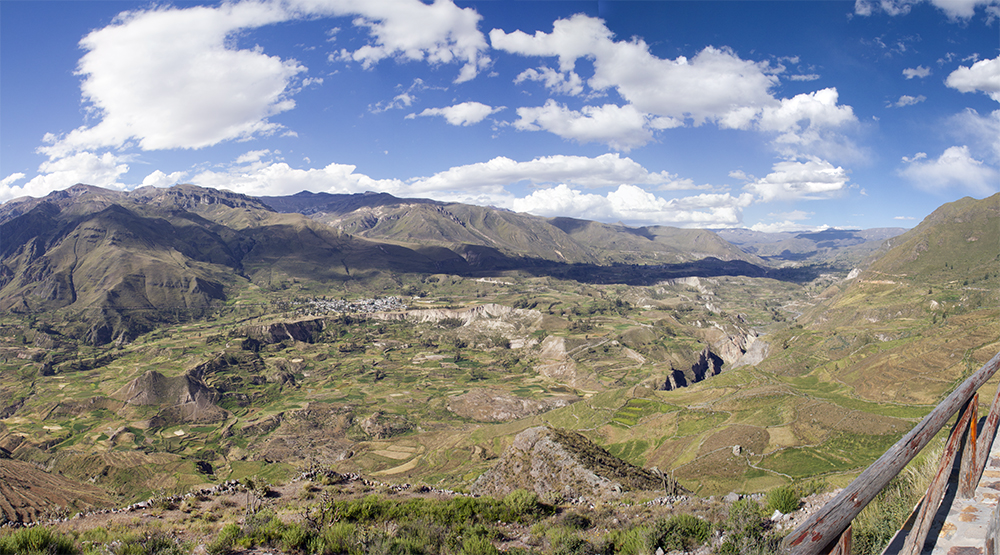 As we were driving back, we ran into a crowd, so we decided to stop and investigate.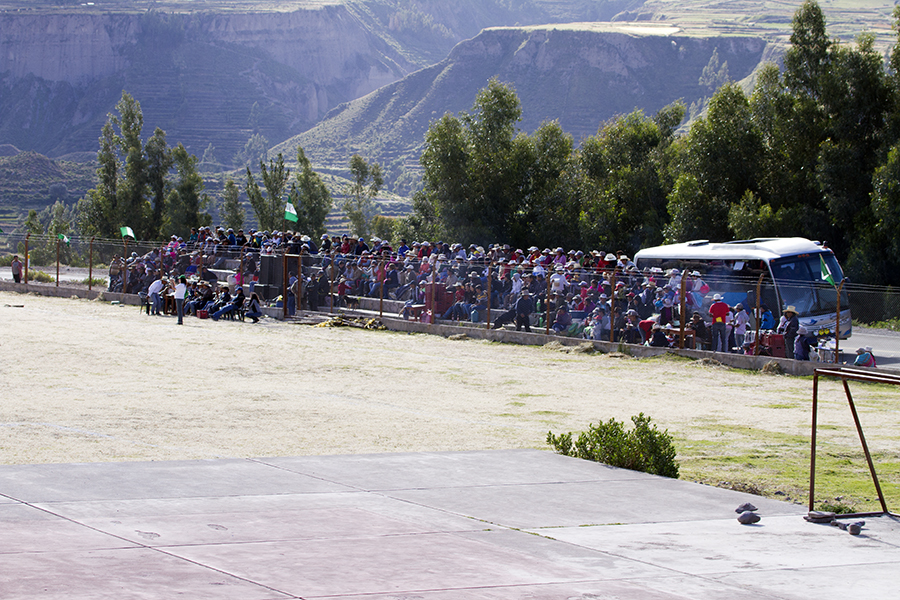 Local seemed to be arguing near very large bulls – is this a bull fight?  We are actually on the side of a football pitch, not a bull ring.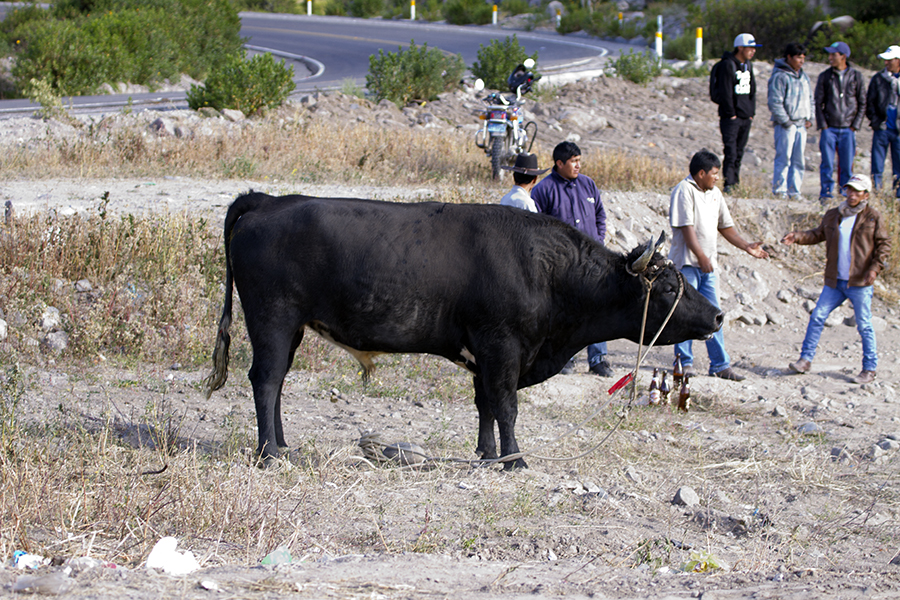 It is a bull fight, but not like they do in Spain.  In this case, two bulls are fighting each other, if you can see through the dust….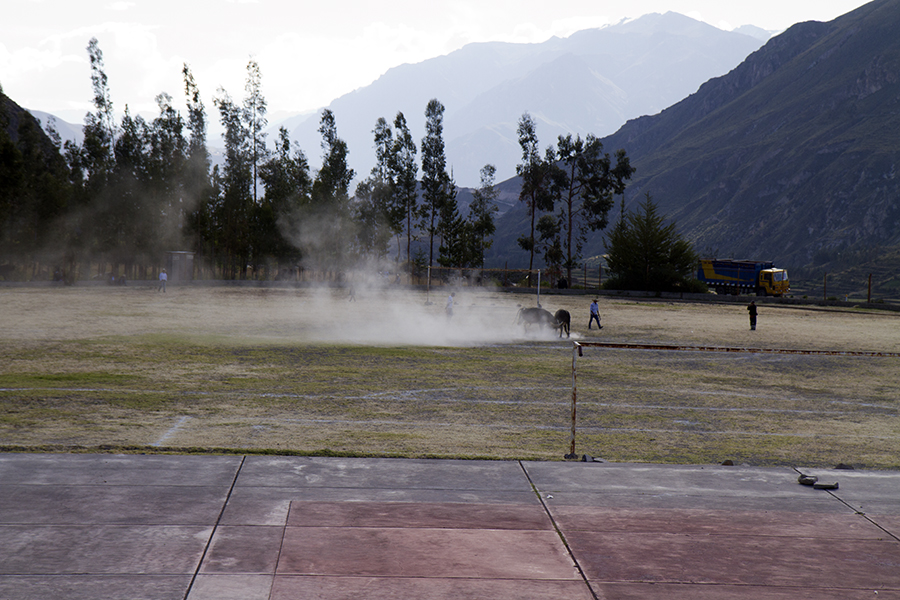 The fight continues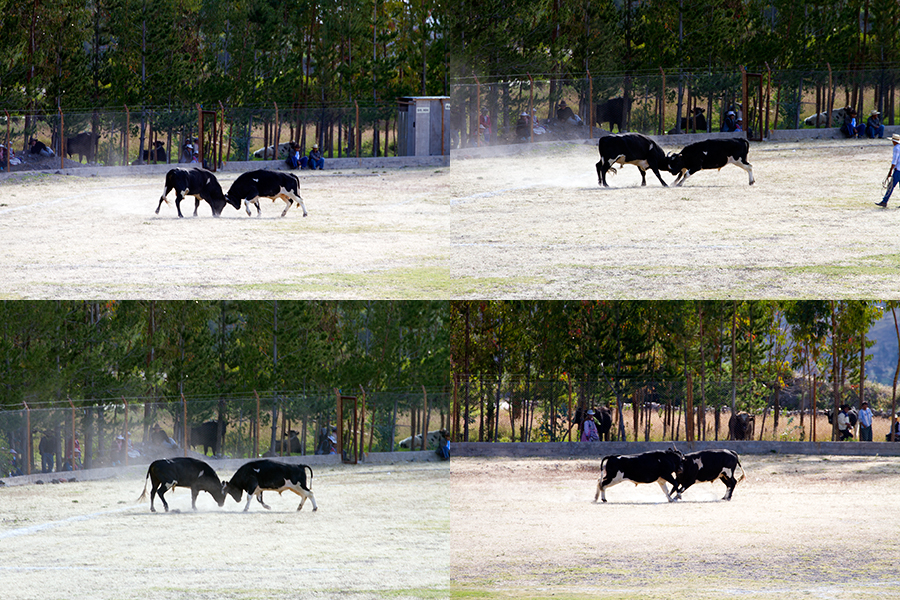 and continues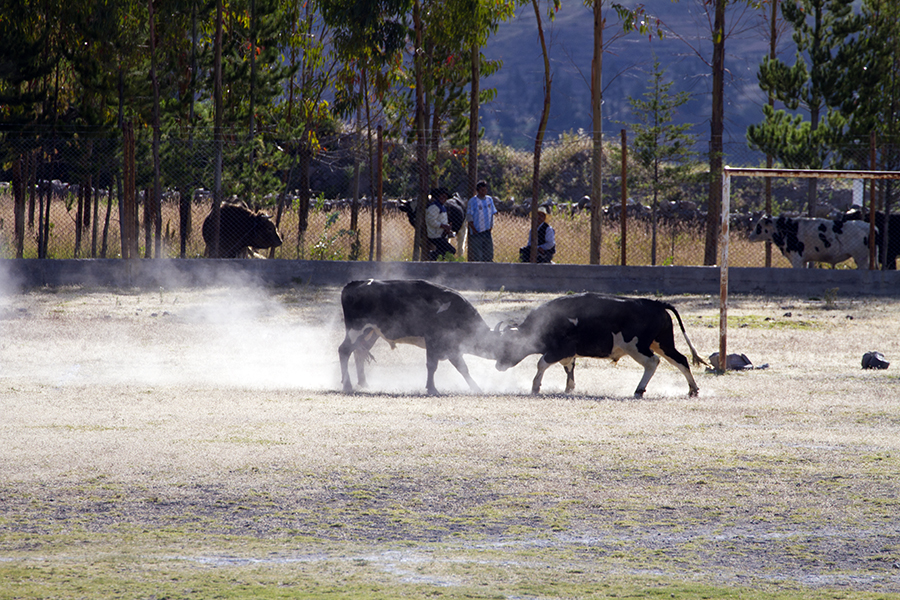 until one bull decides that he has had enough and turns away.  At that time, the bulls are separated and the other one is considered the winner.  We did not find out what happens to the loser.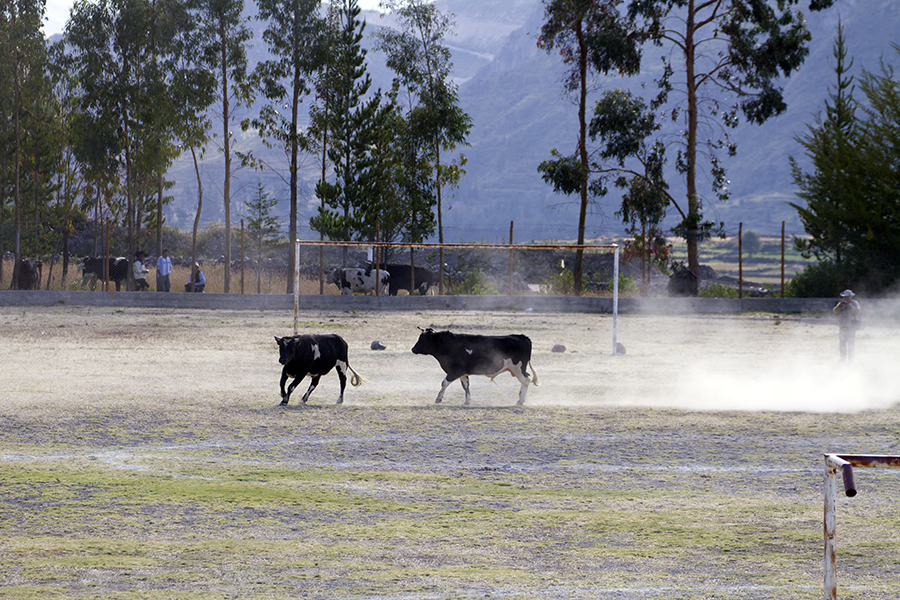 We stopped at the highest point in our journey – a pass at more than 4800 m above sea level.  We had to take a picture, even though there was not much to take a picture of…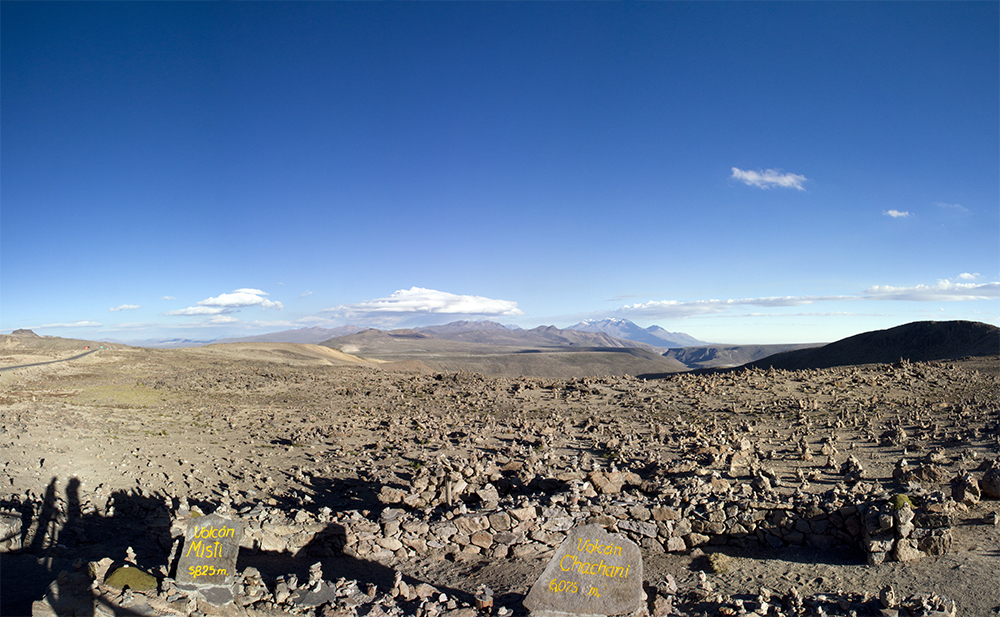 As we approached Arequipa, in a long downhill drive, the sun was going down giving us quite spectacular vistas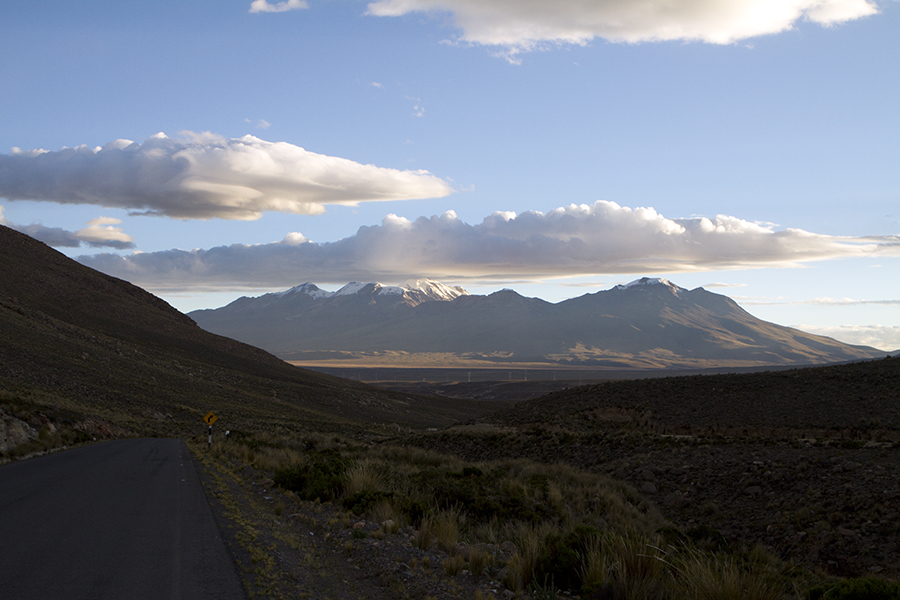 We ran into a group of Vicunas on the side of the road.  They are supposed to be rare, and none are wild, so not sure who had lost these…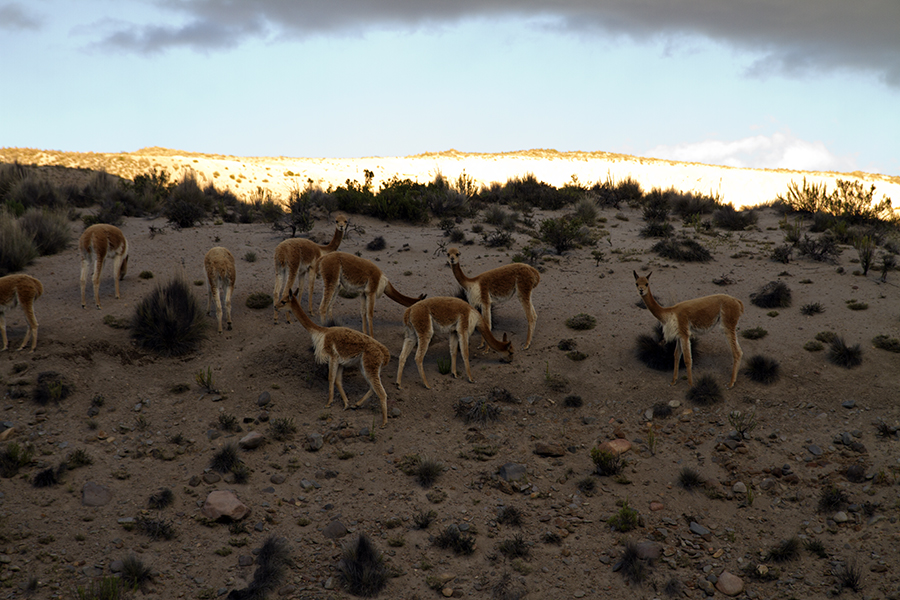 Clouds, setting sun, mountains and not much else.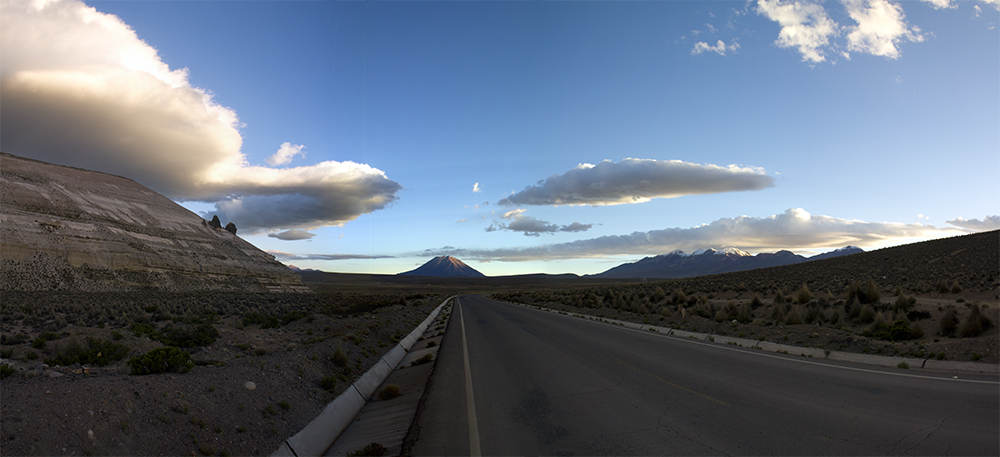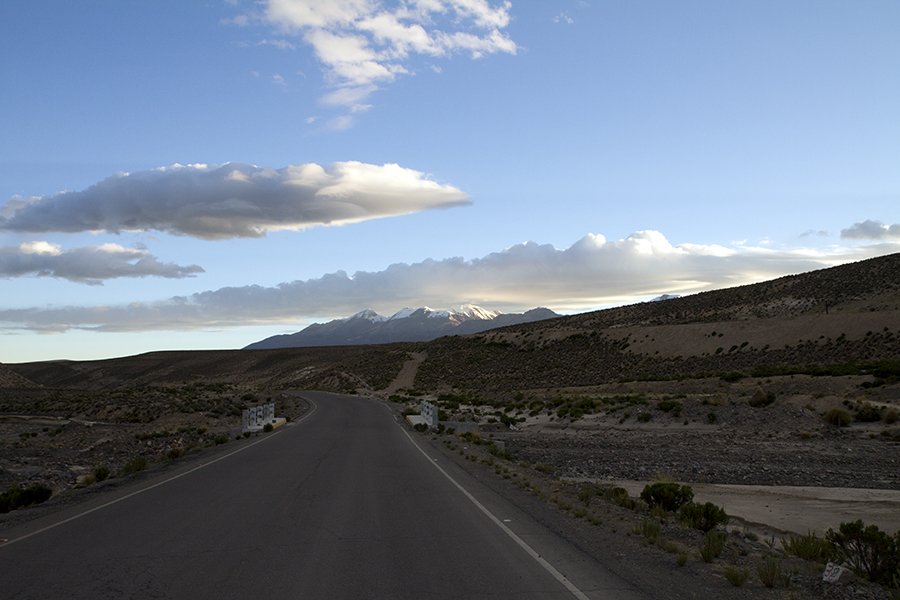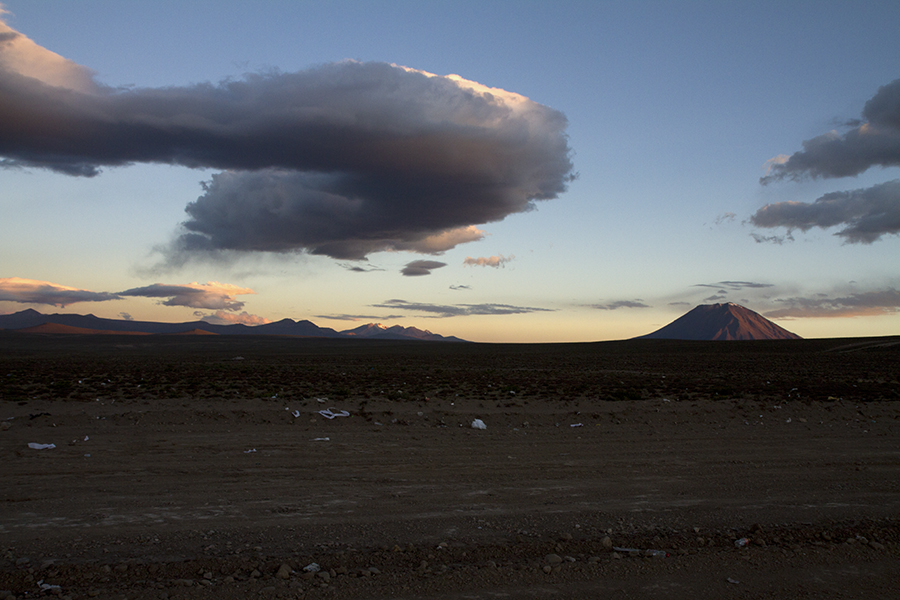 Our adventures were not finished for the day.  If you bear with me, this is worth reading, I think, even though there are no photos for you to look at.
Just as I was starting to relax as we approached Arequipa at around 6 PM, in the Yura District West of town, traffic stopped.  For about 20 minutes, we were there without moving, and I noticed that there were also no cars coming in the other direction at all.  I finally asked two truck drivers who were stopped in front of us what was going on and they explained something I did not quite get, but then they pointed at the small dirt roads on the side of the main road, explaining that with my car, I can go around whatever is blocking the road – indeed I noticed a few other cars doing the same, so we tried.
For the next two hours, we traveled less than 10 km on dirt roads, some that were dead ends, some that were blocked, some that were severely pot holed, but we kept making progress towards Arequipa.  I was very glad that we had a GPS to keep me in the right direction, but the map was not detailed enough to know exactly where the road was passable or not.  At one point, I saw three big tour buses passing in front of us and figured they must know where they were going, so I followed – anywhere they go, I can certainly go too.  Less than 5 minutes later, we were blocked again.  No way for the buses to go forward, no way for me, or anybody else I thought, to go back – there was a long row of cars who decided to follow us too.  With a lot of help, the buses were able to turn around and go back, but they indicated that we should be able to go ahead.  It was a very steep and narrow downhill section followed by a small ditch and then an equally steep and narrow rise.  I went ahead, hoping that the car had the power to go back up.  We did, and eventually did get back to Arequipa, after more than three hours of driving off-road – I never knew what was blocking the main road, or how long it took the friendly truck drivers to get through.  One more adventure!
There is one more episode coming – all about Arequipa and one more "adventure" there
(547 Page Views)