pierreo November 24th, 2015
Sorry for the long delay in getting this episode out.  I think I have a good excuse, actually two or three good ones!
Since I completed Episode 2, I moved, helped my girlfriend to move into our new house and then we got married!
So Sue Me!
Here we go for the next installment of the trip in Peru.  All we did earlier, was just preparation for one of the highlights of the trip, the Inca Trail – this is a five day hike (we did one extra day outside the official trail) in the mountains, across two high passes (4200 and 3900 meters). We started from a place called KM77 with just a few houses and a rare bridge across the Rio Vilcanota; the end point of the trail is, of course, the ruins of Machu-Picchu through the Gates of the Sun.
Our first night was in luxurious accommodations.  We did not have to carry tents and sleeping bags yet, so there were sturdy tents with a cover to keep the sun out.  This is a permanent campground managed by Wilderness Travel.  We had showers, a dining room with real chairs and toilets.  All luxuries that we would not have for the next four days.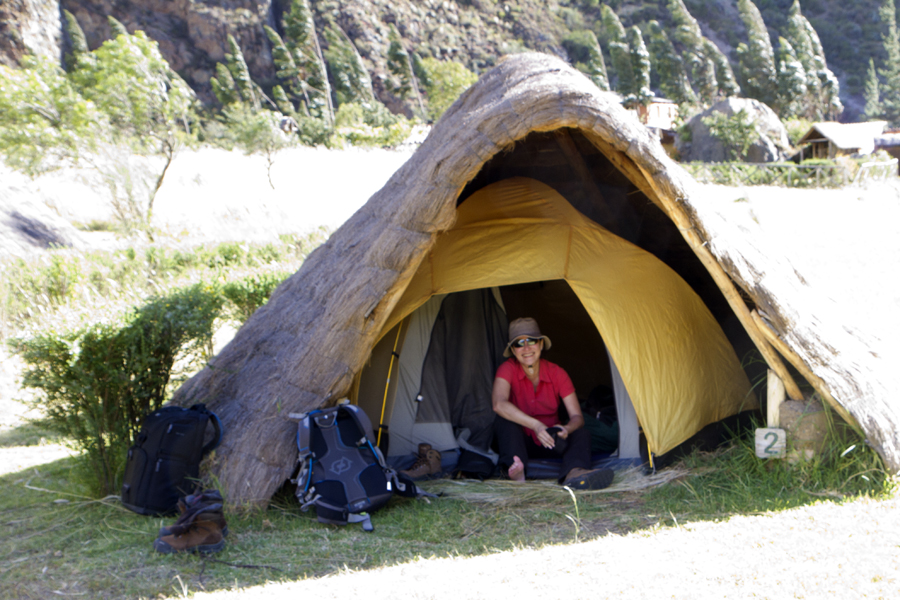 We arrived at camp early and were able to get organized before sunset.  There was one tall mountain just to the North of us called Mount Veronica with very nice glaciers at the top.  It was often covered by clouds and our guide told us that she had been on trips where it was not visible at all so we were lucky to get good glimpses of it.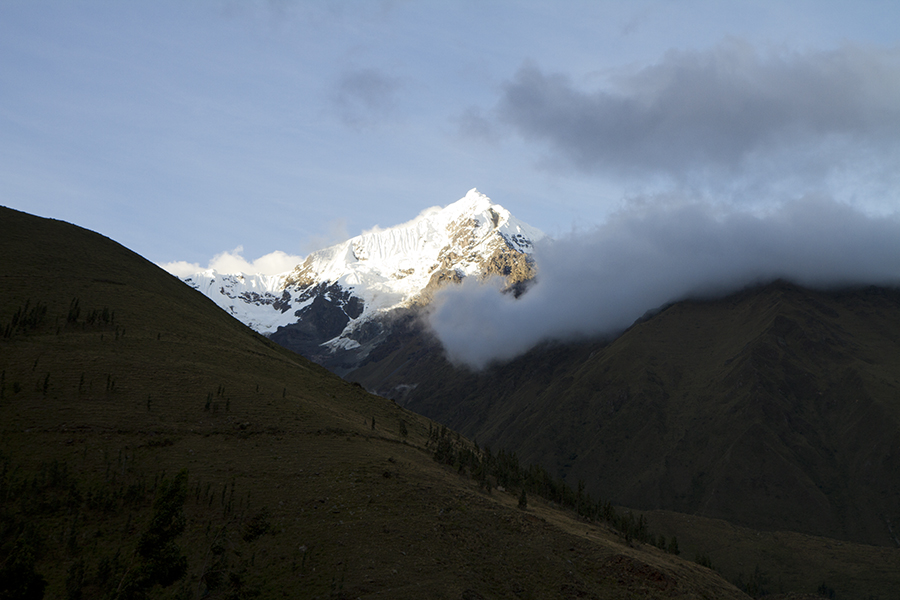 That evening, our crew (more on that later) had a treat for us: a special meal called Pachamanca which is slow-cooked meat and vegetables surrounded by hot rocks.  The first step is to get the rocks really hot with a fire.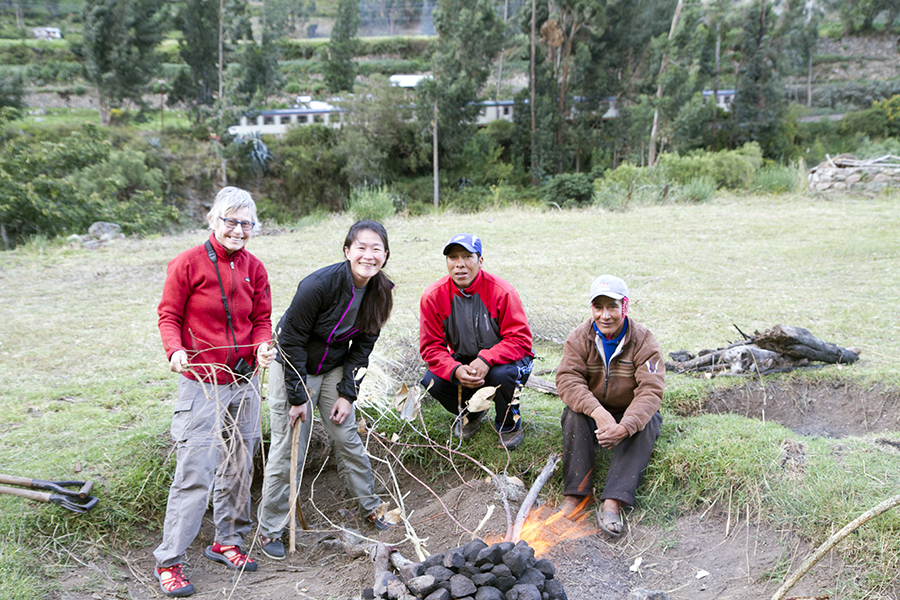 What the crew did not know is that they were going to get an extra helper.  Bee has always been fascinated by fires and so she volunteered to help keep the fire going to heat the rocks.  At first, they kept a close eye on her.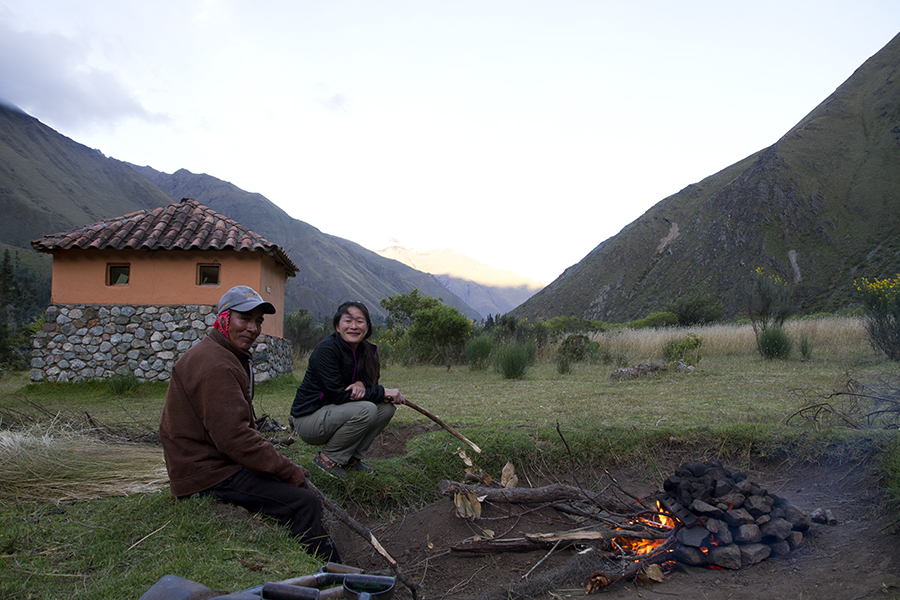 We did not get a sunset, as the sky was cloudy and we were surrounded by mountains.  But we could see the last rays of the setting sun on some of the mountains near us.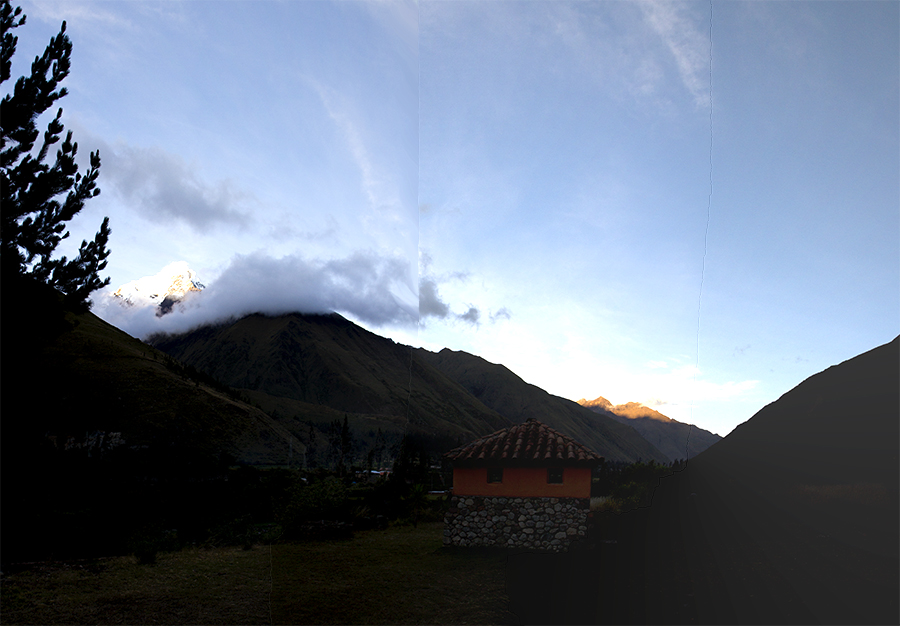 and Mount Veronica got better and better every minute!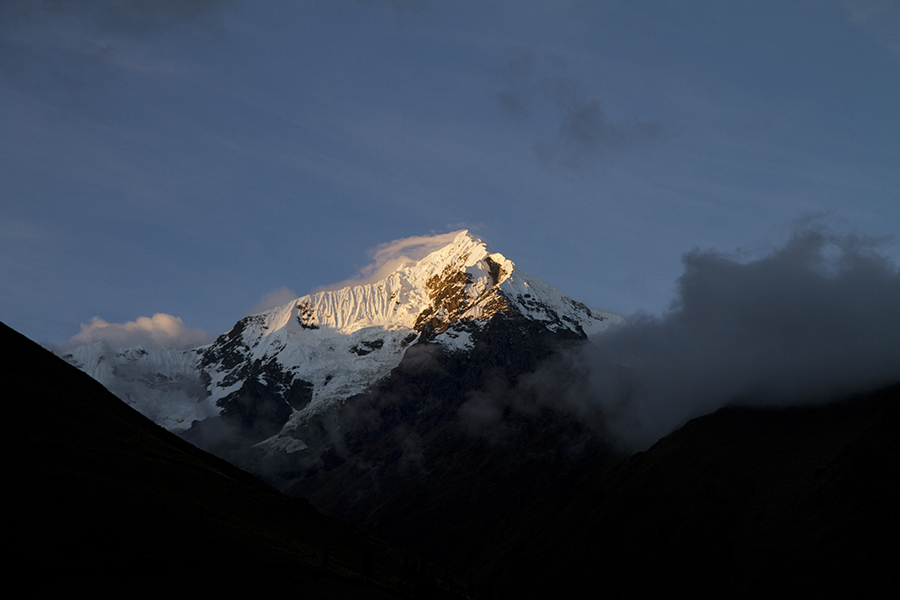 Eventually, the crew decided that Bee was not going to immolate herself, or half the country and could be trusted to look after the fire alone.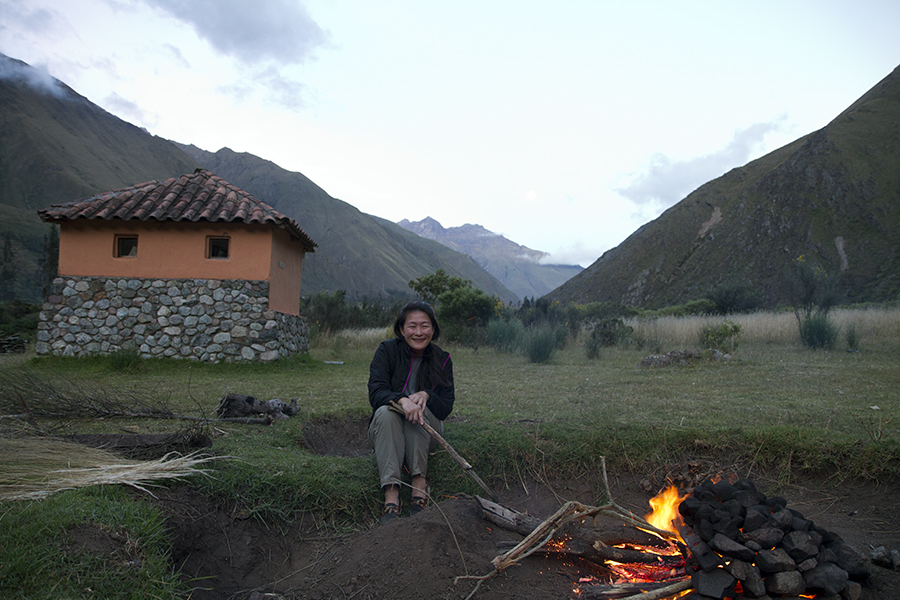 Once the rocks are really hot, the food is placed amongst them.  It is then covered with straw, eventually a tarp, and then earth on top of it all as an insulator.
This operation done, we had time for aperitifs before dinner!  And I can tell you that dinner was excellent.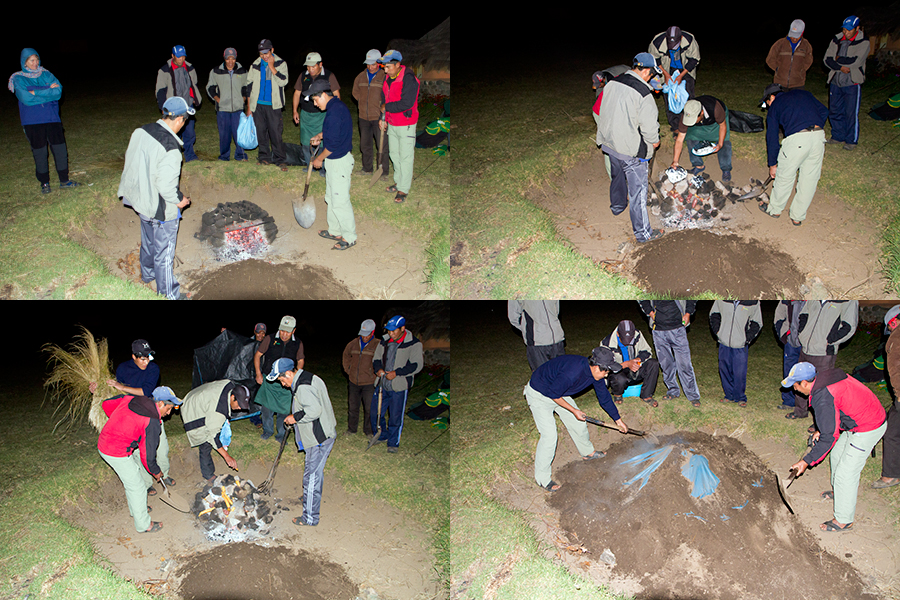 The next morning, the real trek began.  There is a very high demand for treking the Inca Trail and therefore the authorities are now very strict about what groups can and cannot do.  There is a strict maximum of 500 people allowed to start the trail each day and this includes porters.  You have to carry out everything that you carry in – there are no garbage cans on the trail.  The porters are not allowed to carry more than 50 lbs on their back and there are several weigh stations along the way to insure that this rule is respected.
Under the watchful eye of a local dog, our crew makes the final preparations.  We have 10 porters for the eight of us (six tourists and two guides) as well as a cook and a crew chief.  We are allowed 20 lbs each of personal belongings, including the sleeping bag and ground pad which are carried by the porters – fortunately we only need to carry what we need for the day, which in my case is mostly my camera equipment and some water.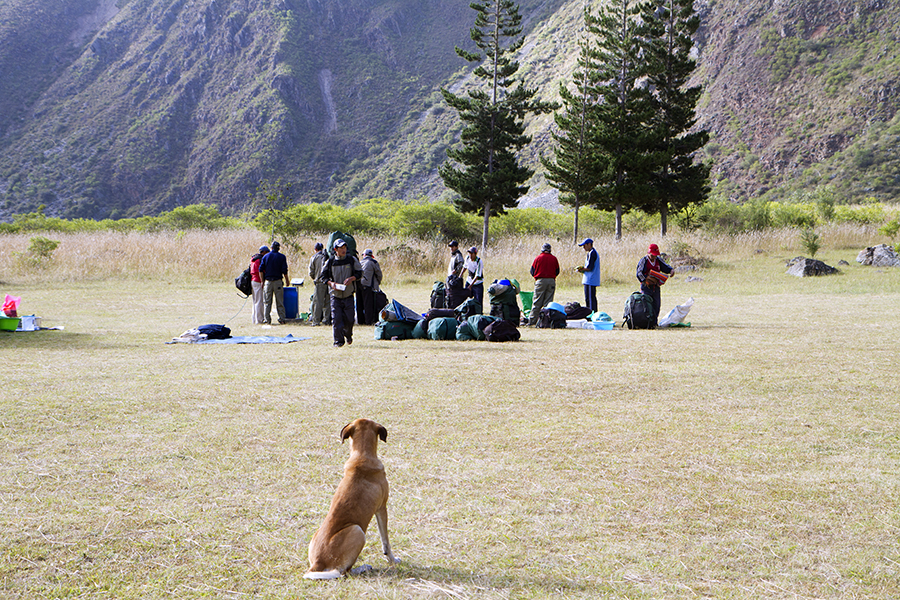 Soon after leaving camp, we arrive at the official beginning of the trail and are signed in.  Our passports are checked to make sure that we are indeed the people supposed to leave that day.  The porters are checked for the first time too.  They walk much faster than us and will arrive at camp long before us.
Here is a map of the trail.  We are starting at the right hand side of the map at another place with the apt name of KM82 and will be walking to the bottom right corner on the first day.  Machu-Picchu is at the top left of the map – a long way away!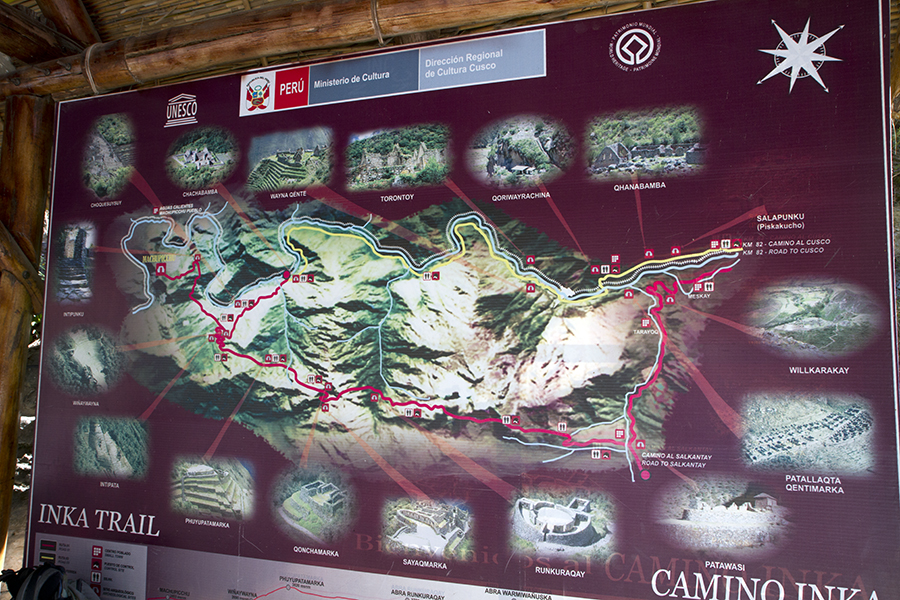 Here is a close-up of our walk today.  There are several Inca ruins on the way and we will end up on the road to Salkantay, just beyond the bottom of the map.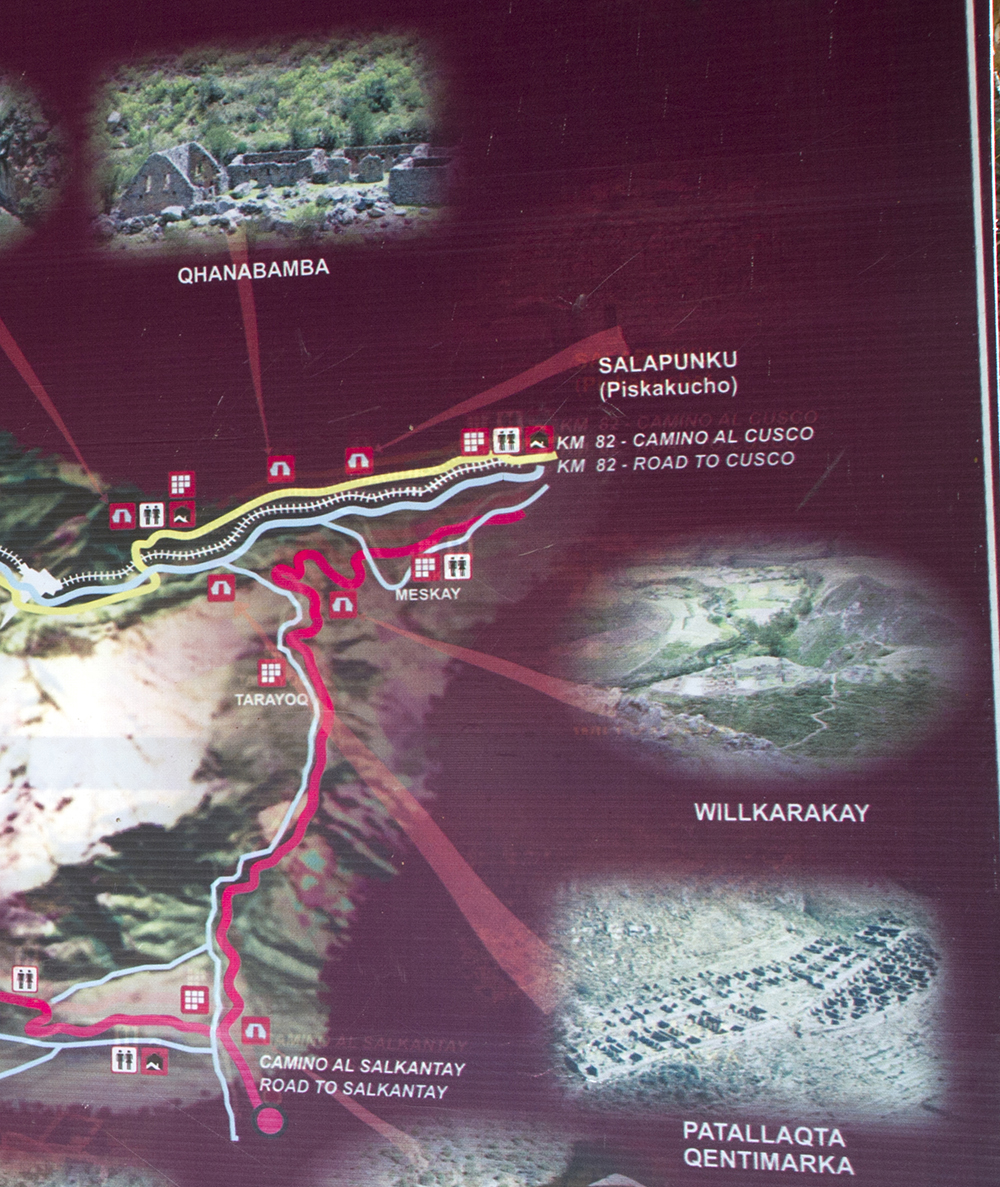 Before we set out, a family portrait while we are still looking good and fresh and nothing hurts!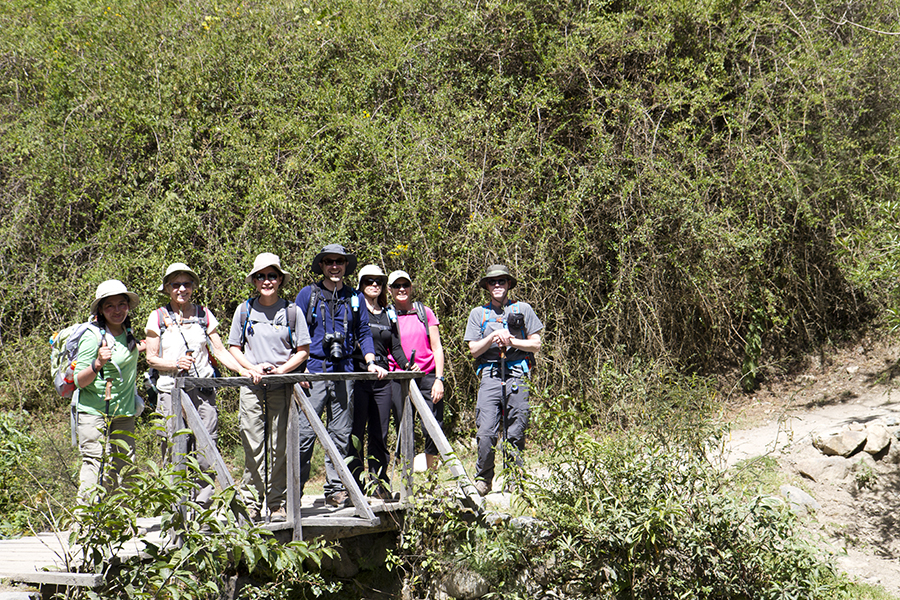 We make good progress and just before lunch arrive at the 'corner' of the trail, where we leave the valley of the Rio Vilcanota and start our way up towards Dead Woman's Pass.  In the distance we had a good look at Qentimarka which is believed to be an area used for growing and storing food.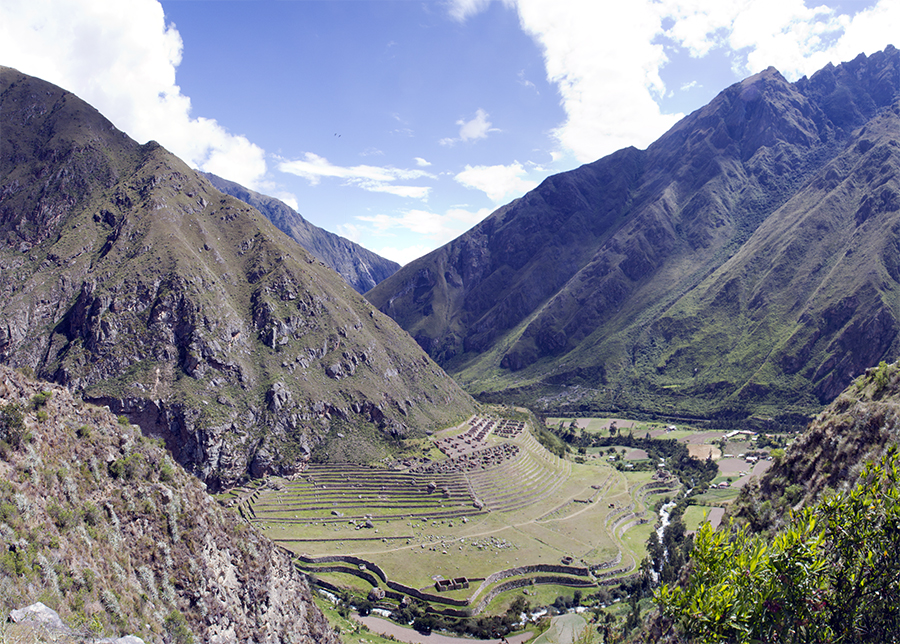 Towards the end of the day's walk, we heard music in the valley below the trail.  With my telephoto lens, I was able to spy on local people having a party and dancing in and out of their house.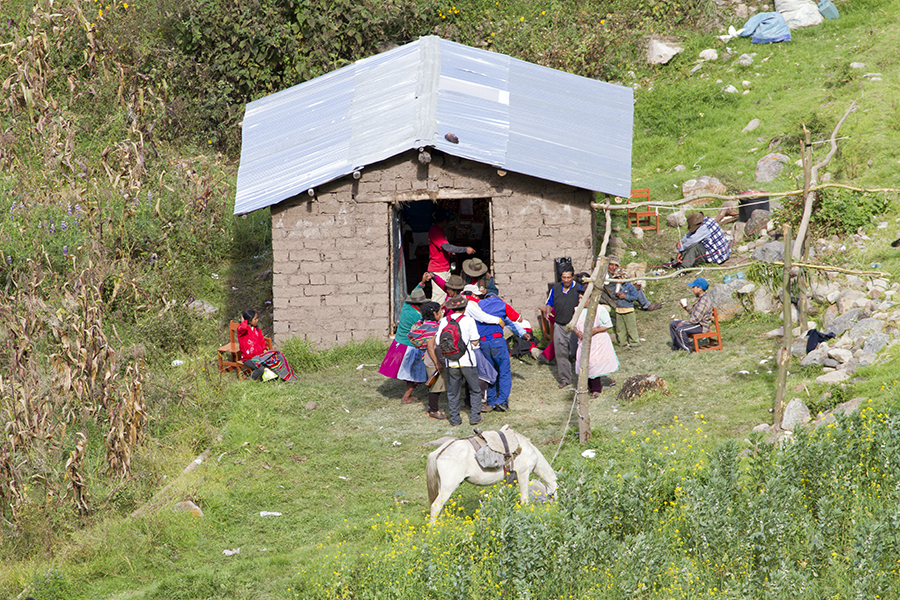 Just around the corner were very interesting wild flowers in a bush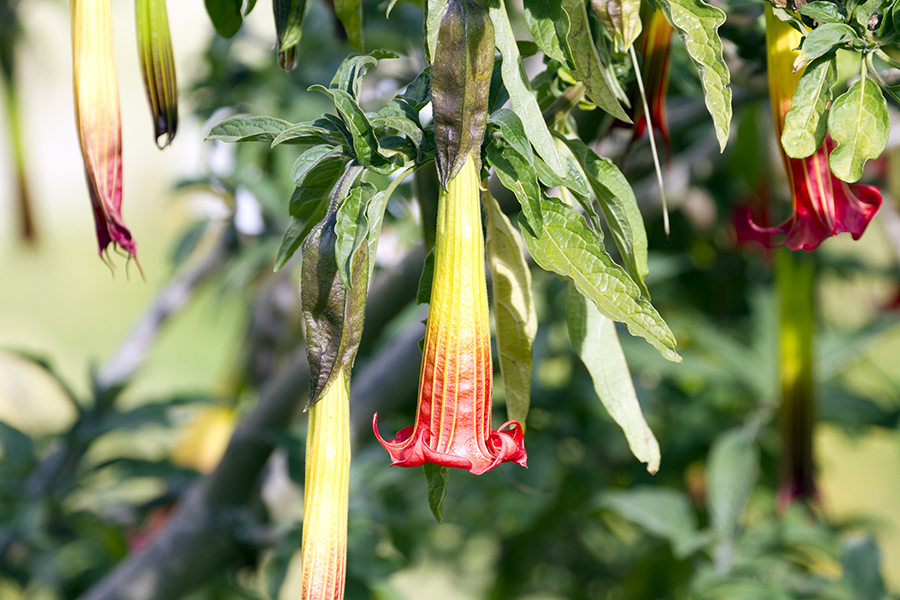 Before sunset and especially the next day early in the morning we saw a lot of green parrots, but they are very hard to photograph – once again, I was glad to have my telephoto lens for this shot.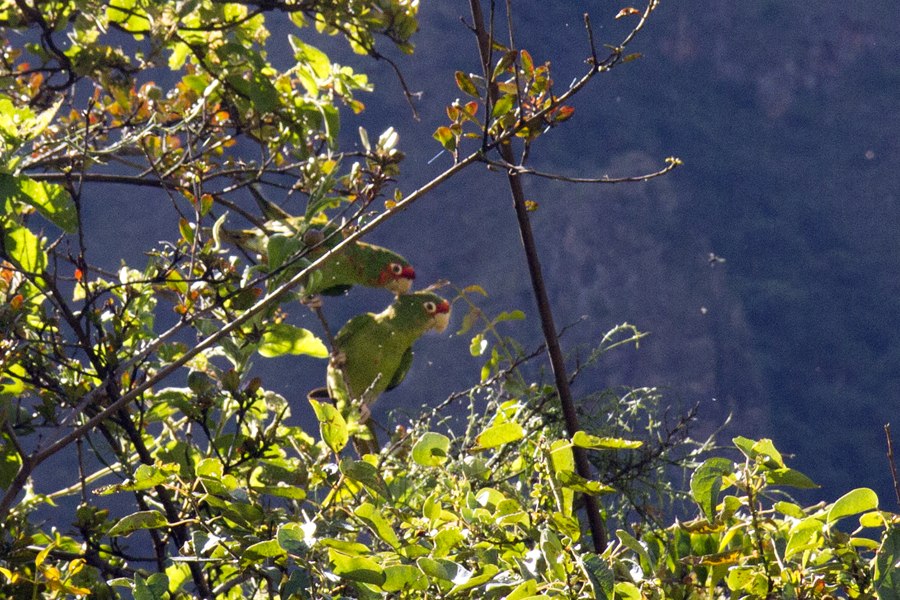 The second day walk is very short, in distance, but travels up most of the day and crosses Dead Woman's Pass at 4200 m above sea level.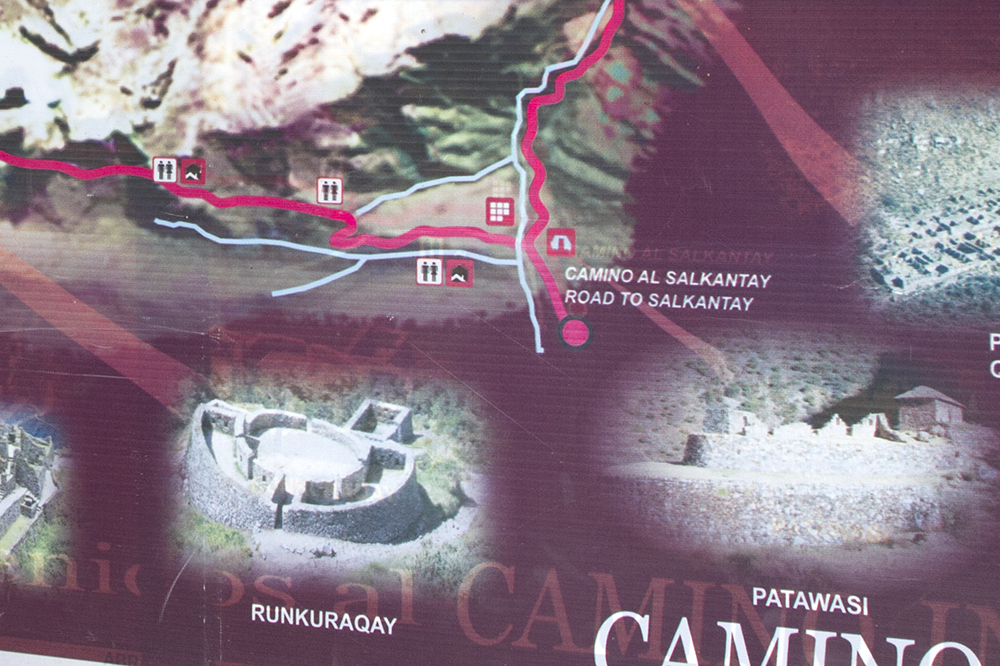 We have a great stop for lunch – some view right!  We are lucky that part of the lunch set up is a tent just in case we need the protection – this will come in handy on the next day.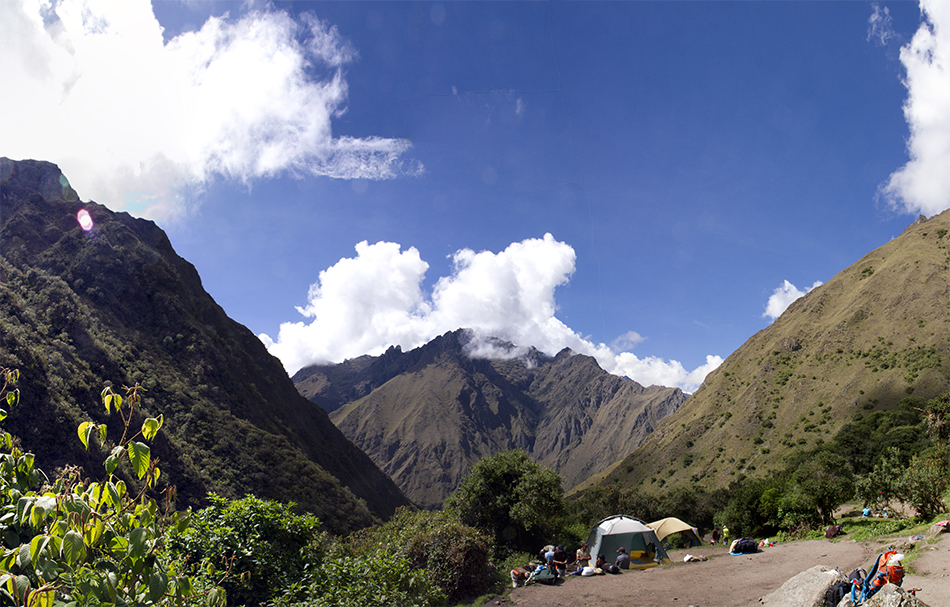 From here the trail continues right up to Dead Woman's Pass.  It was raining when we got there and I was so tired that I decided not to pull out my camera.  Fortunately Bee did have hers handy so we were able to record the feat.  This was really tough!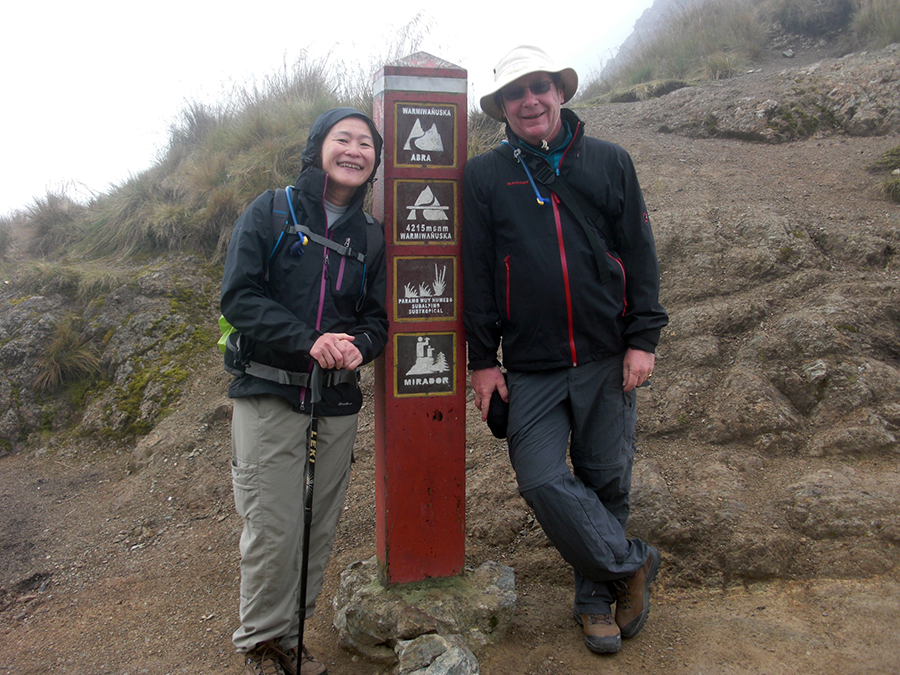 I am leaning against the post in order to catch my breath!  Notice the signs:  We are at 4215 m above mean sea level and the last one indicates that there is a nice view.  I guess the view may be pretty good, when the clouds lift – we were not that lucky and it continued to rain – but we still celebrated the feat.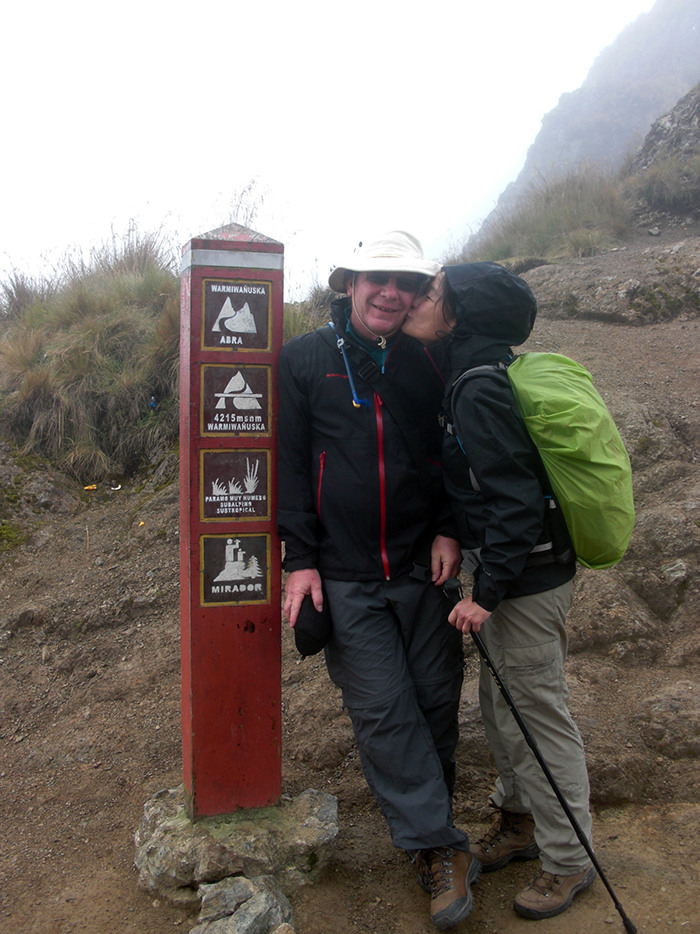 After Dead Woman's Pass, the rain stopped and we were more relaxed as we were actually walking down towards our campsite for the night.  On the way, we saw a spectacular waterfall, no doubt made more so due to the earlier rain.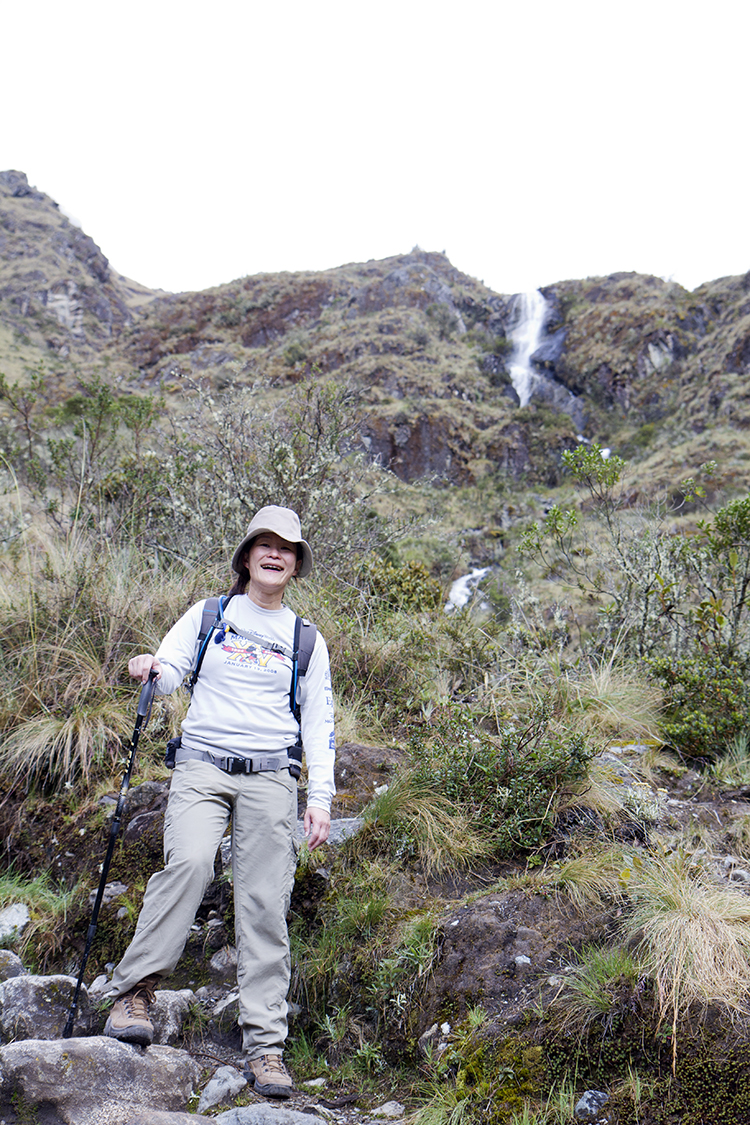 I have no pictures for about 1 1/2 days of the Inca trail because the weather turned to rain and I did not feel like pulling out my camera, which was well packed to protect it from the rain.  We did another pass, but only up to 3900 meters on the third day.  This was supposed to be the scenic part of the route, but we did not get to see much of it as we were in the clouds most of the day.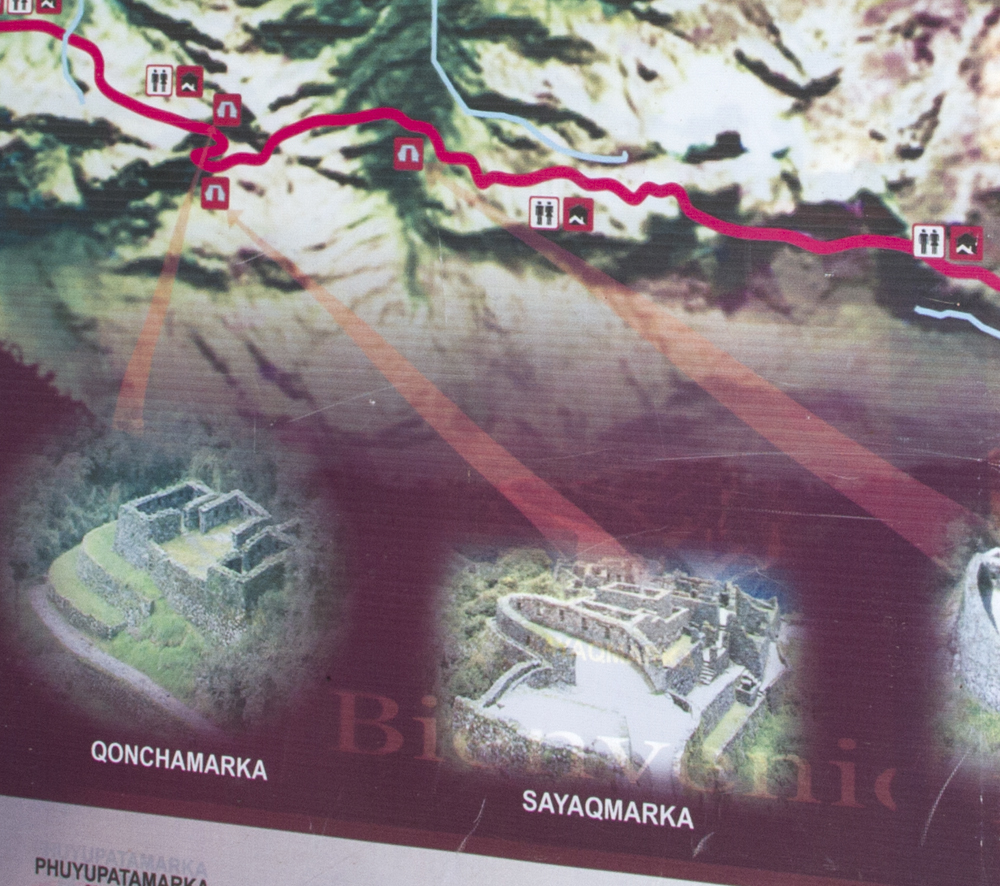 We arrived in camp soaking wet, even with all our advanced rain gear.  I was very concerned that we would not be able to dry our clothes enough overnight to be comfortable the next day, but Bee and I still went about unpacking as much as possible and setting things out inside the tent in an attempt to dry them.  It was clod and humid, so my expectations were not very high for success.
Fortunately, just before sunset on day three, the rain finally stopped and the clouds started to part to reveal the view that they had obscured up to then.  Time to unpack the camera and catch up. A view before …
… and after the clouds parted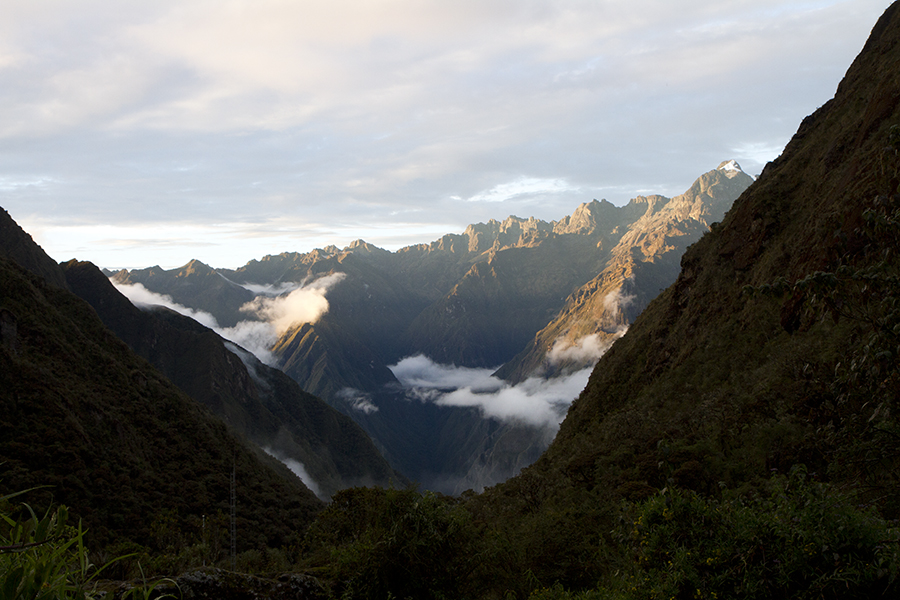 Today we celebrated Janet's birthday.  For three days, somewhere in someone's bag, there were balloons and stringers just for this occasion.  This is one reason why I like to travel with Wilderness Travel – it is this attention to small details that really make a difference!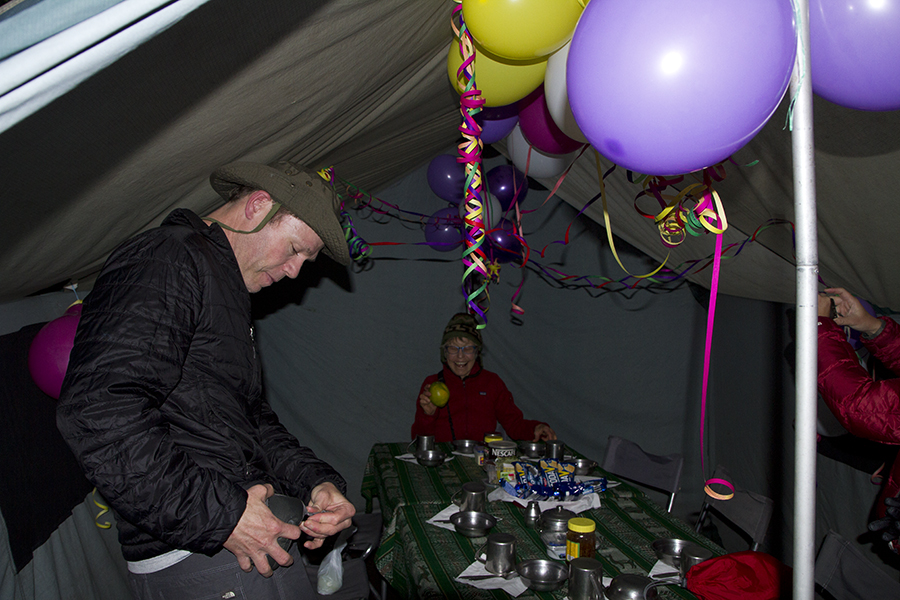 We were very well surrounded during this whole expedition.  The two tents below are one for the kitchen (the nearest one) and one for our dining room (far end).  All meals were cooked on a gas stove and you can see the gas bottle here that one of the porters had to carry for four days.  I guess it was getting lighter and lighter, but still, hard work.
We also had a portable chemical toilet with a tent that was set up for us at lunch and each night.
In the morning, we were always awakened with a hot cup of coffee or tea.  The second picture below was one such example as we will see later.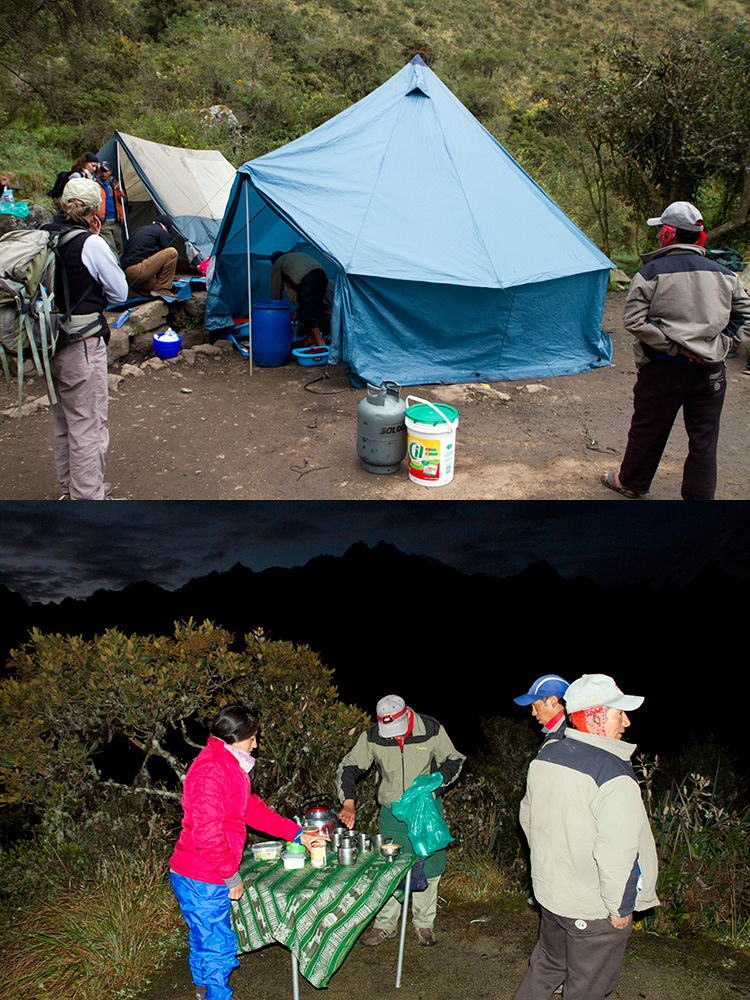 We probably had the best view from our section of the campground.  There were several other groups around us, but more and more people gathered at 'our' promontory for the view that kept coming in and out as the clouds moved about.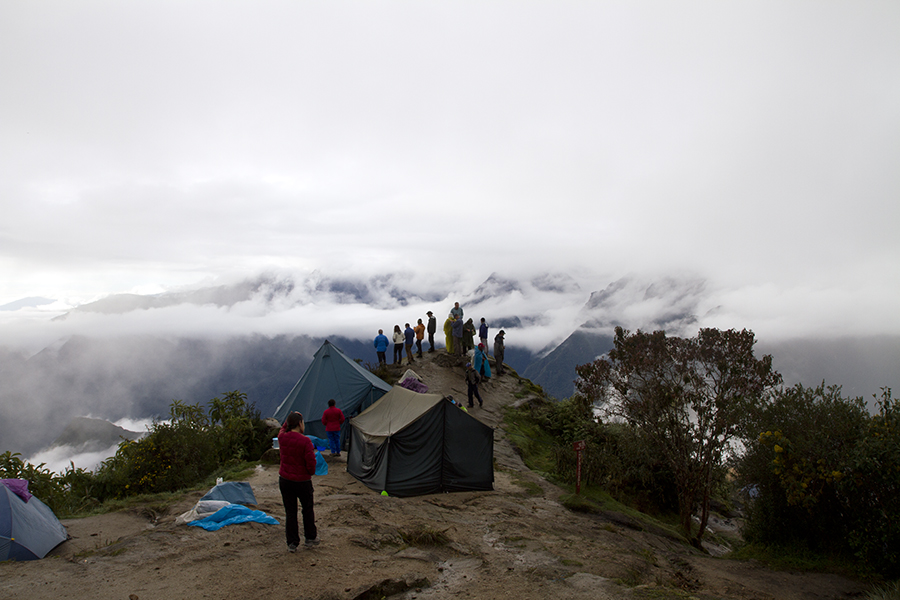 Here is what everyone is looking at!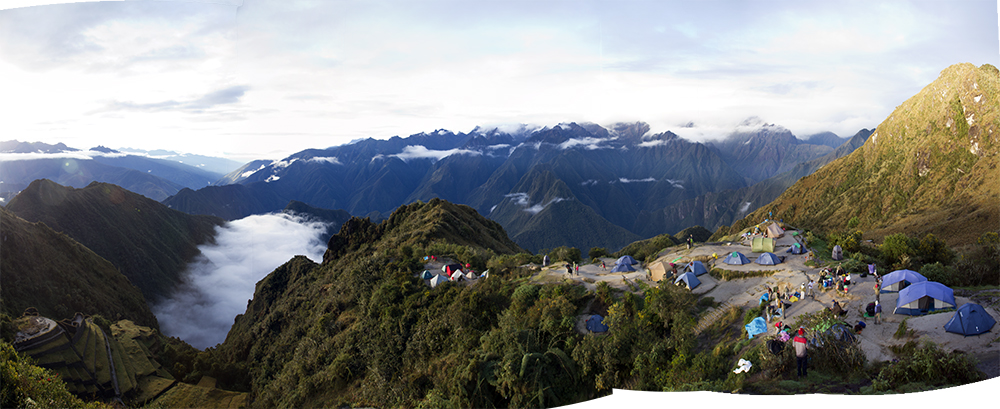 It was still raining in the distance as the sun was setting, giving us a fantastic rainbow over the mountains.  It is always thrilling to me to be able to take a picture of a rainbow.  The contrast between the sky and the rainbow in general is very low, and film (or in this case digital chips) are not as sensitive as the human eye and therefore often the rainbow gets washed away in the sky.  The background of the clouds here probably helped.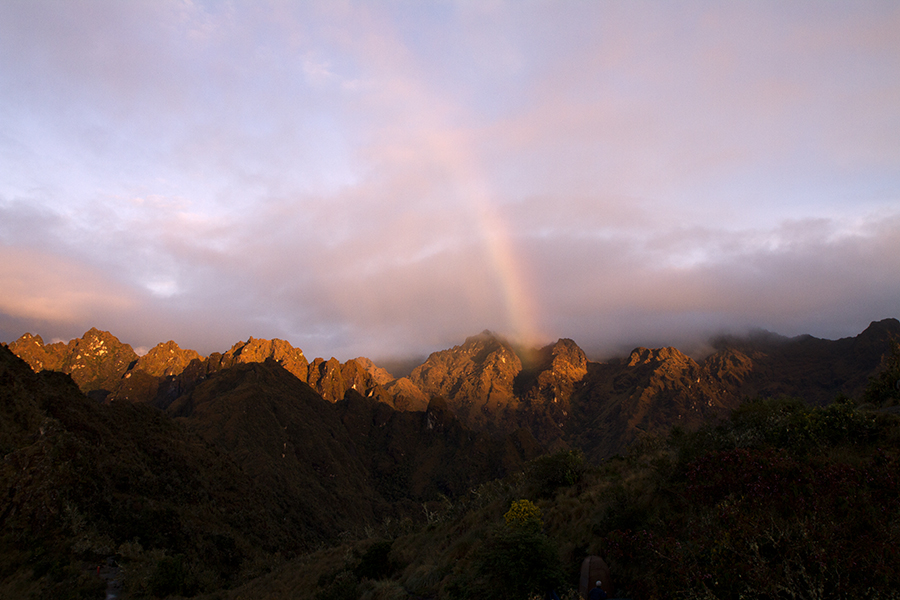 The next day, we were awakened before sunrise (and yes, this was early!) so that we could witness the beginning of the day from the top of the hill with the Andes all around us.  This is where we were served our morning coffee, hot, on a table, with a table cloth.  One of our porters was there for the first time (this was his first Inca Trail trip) so that he was almost as thrilled by the spectacle as we were.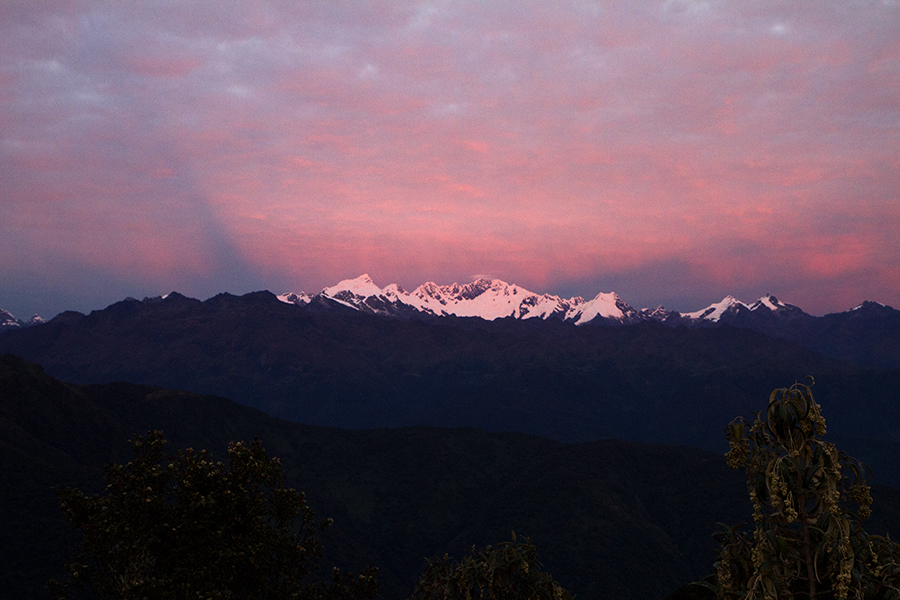 As is the case with sunset, the light and clouds constantly change and one never knows when to take "THE" picture.  So I took a lot, and here is a sampling of them.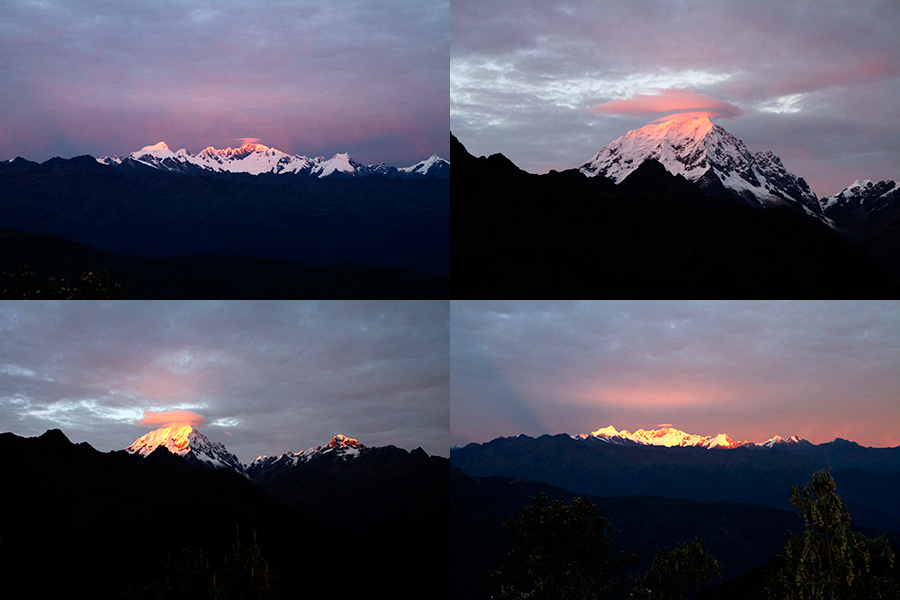 Not a bad start for our last day on the trail.  We have been told it is all downhill from here – several thousand steps from about 3800 meters down to 2400 meters and Machu-Picchu.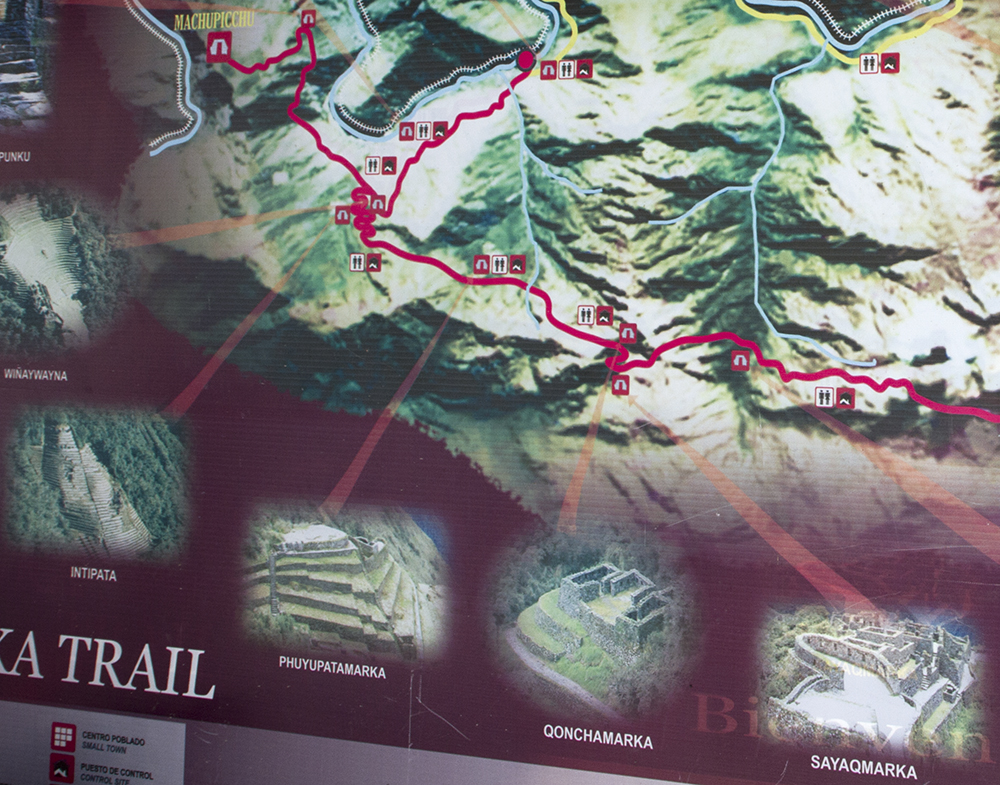 It was also time to say good bye to our crew.  They will be taking a short-cut back to the train with only a skeleton crew staying behind to help us at lunch time.  So it is time for larger family shots and for the necessary thank yous for all.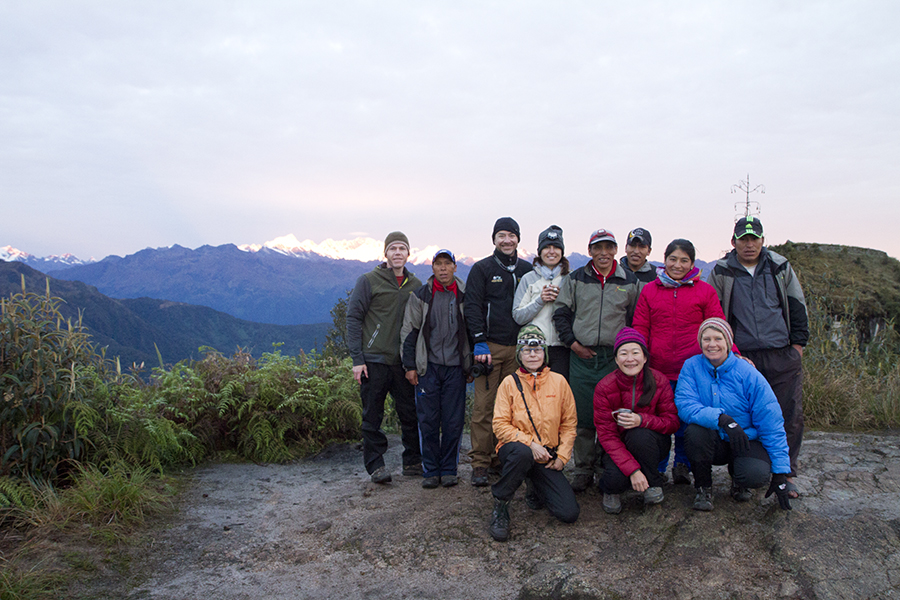 Here is our complete crew.  They were really terrific for us the whole time.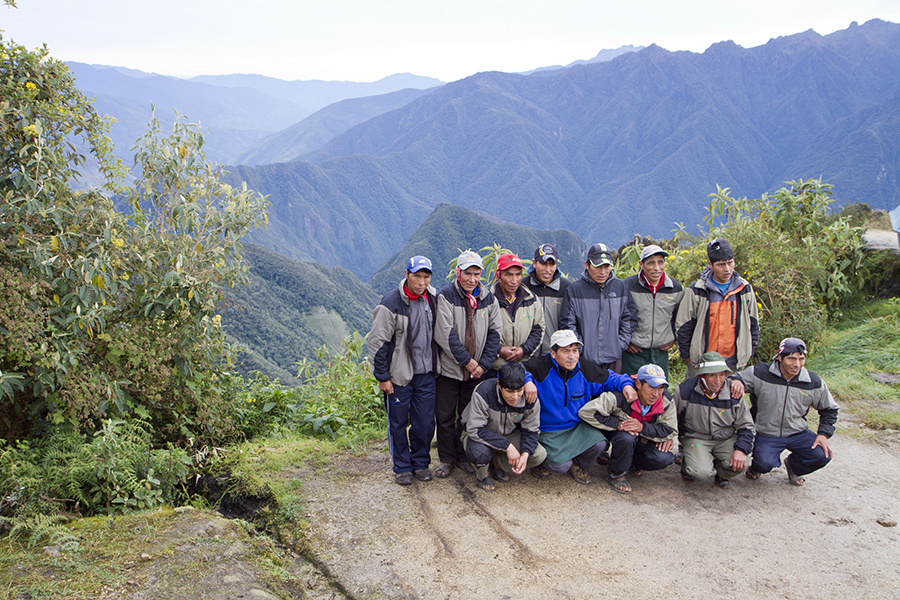 Crew and Tourists! It was not easy to convince them to pose with us.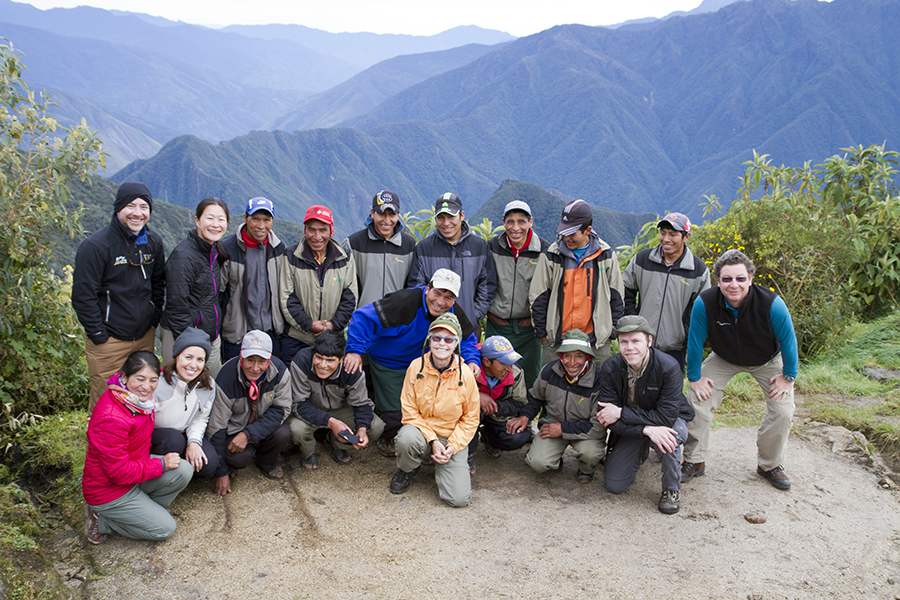 As I said – all downhill and many many steps.  After three days of ups and downs, mostly up, it might feel welcome to go down, but some of the steps are quite high and after several hours of this, my knees started to ache a little.  I discovered that while I had trained a lot going up hill (mostly on a treadmill) I had not done a lot of downhill walking in preparation.  Note to self for next time: Do not forget the downhill training!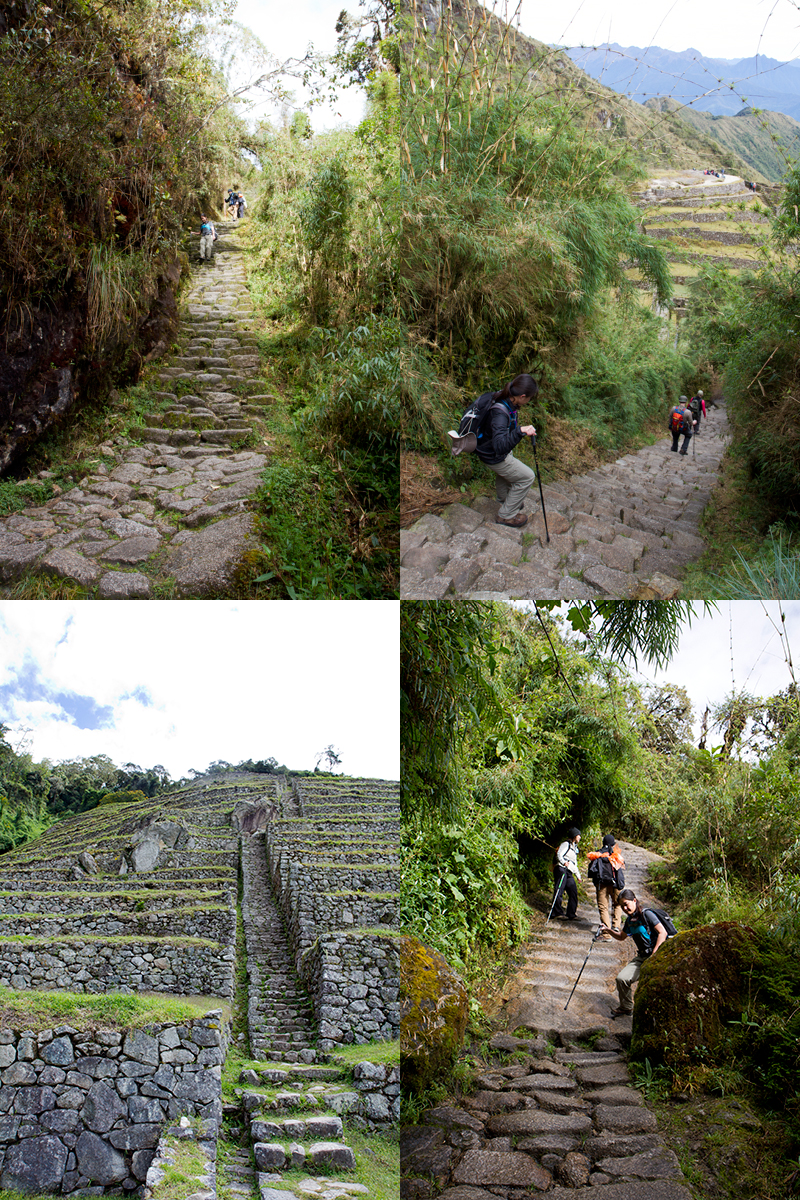 We did make an unexpected encounter as we approached our final goal.  While they are not allowed as beast of burden on the trail, there are some wild llamas that happen to use the trail.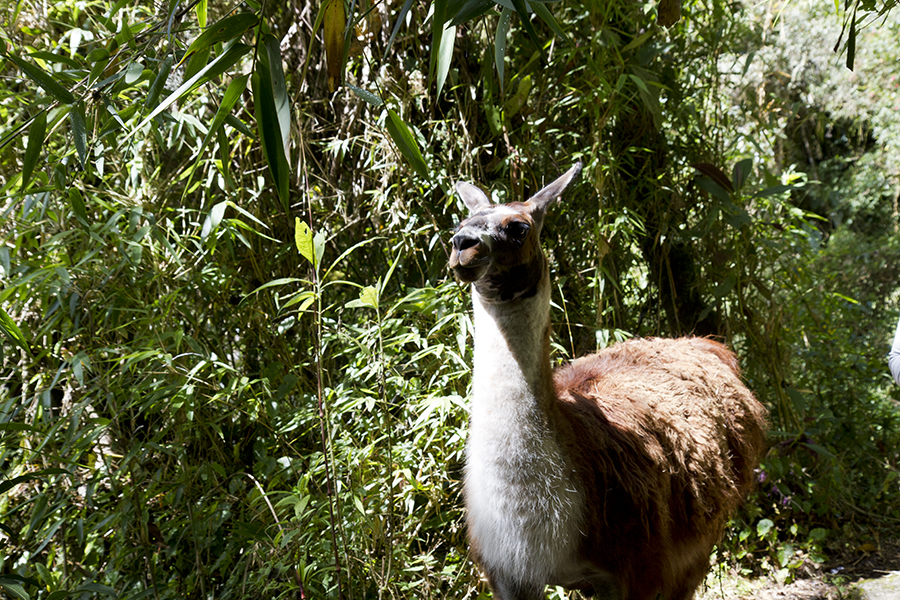 They seemed to be interested in our cameras, and not shy at all.  This one even seemed to pose for his picture: "Is this my good profile?"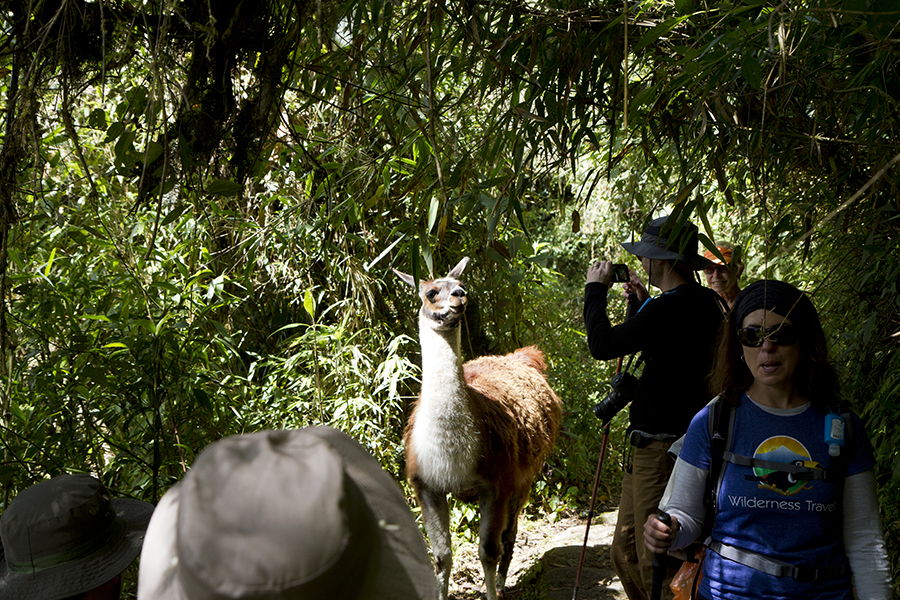 The next to last ruins we were to visit is Intipata.  Another supply station with terraces and storage area with a very steep staircase between the terraces – the one I had included in the assemblage above.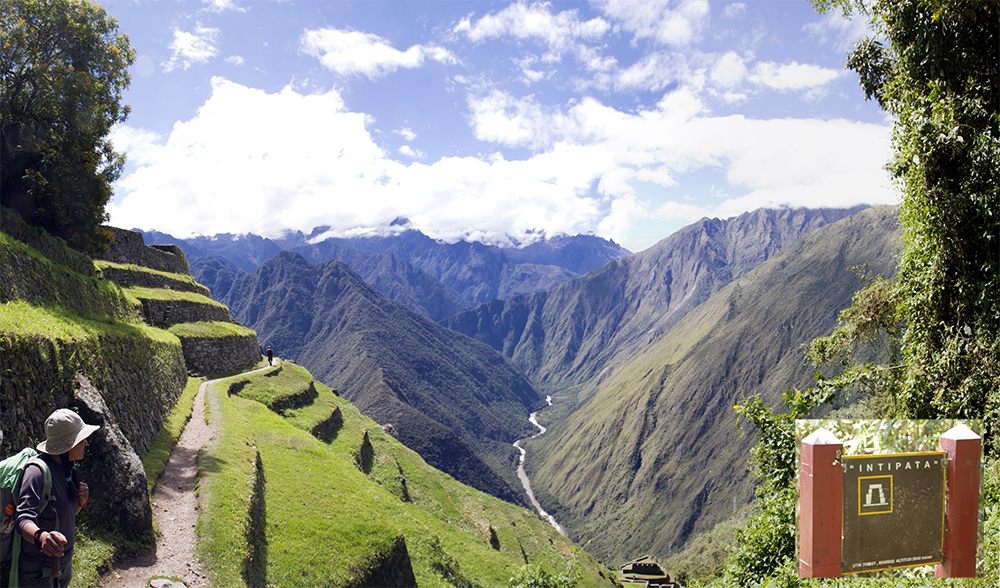 Here is Intipata from across the valley.  You can really see how big it is from here.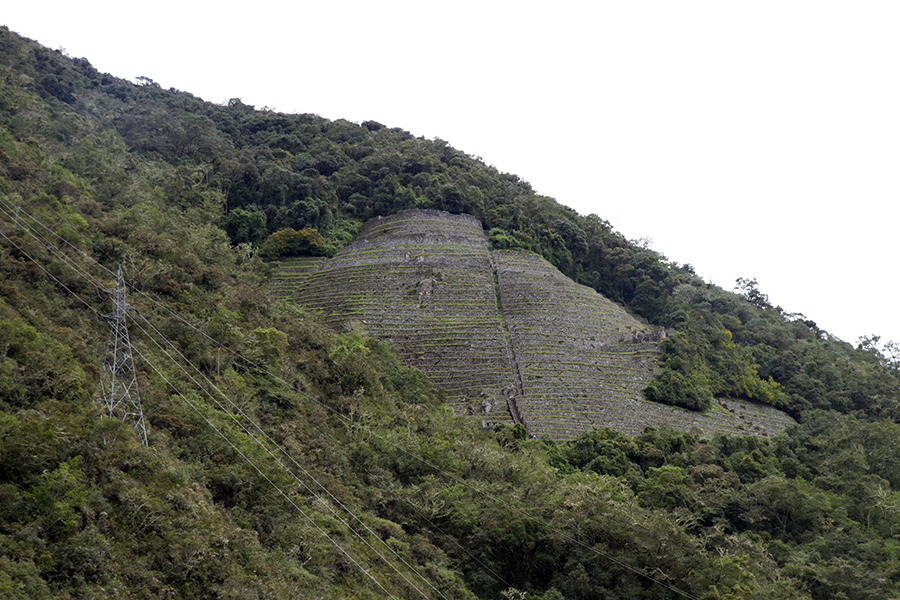 Just before lunch we visited the last ruins ion the trail: Winaywayna.  I really liked the view from this door.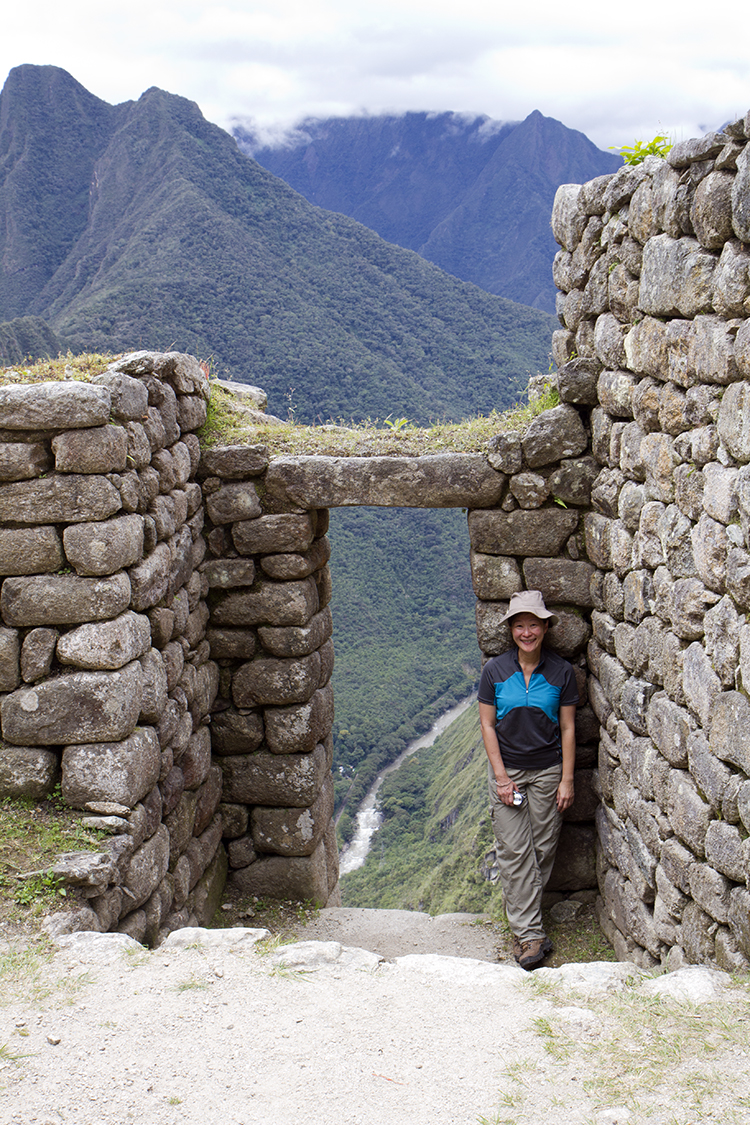 Here is Winaywayna from the entrance nearest to the trail.  Many of these sites look very similar.  But it is amazing that they still exist after so many years.  Proof that construction was pretty good in those days.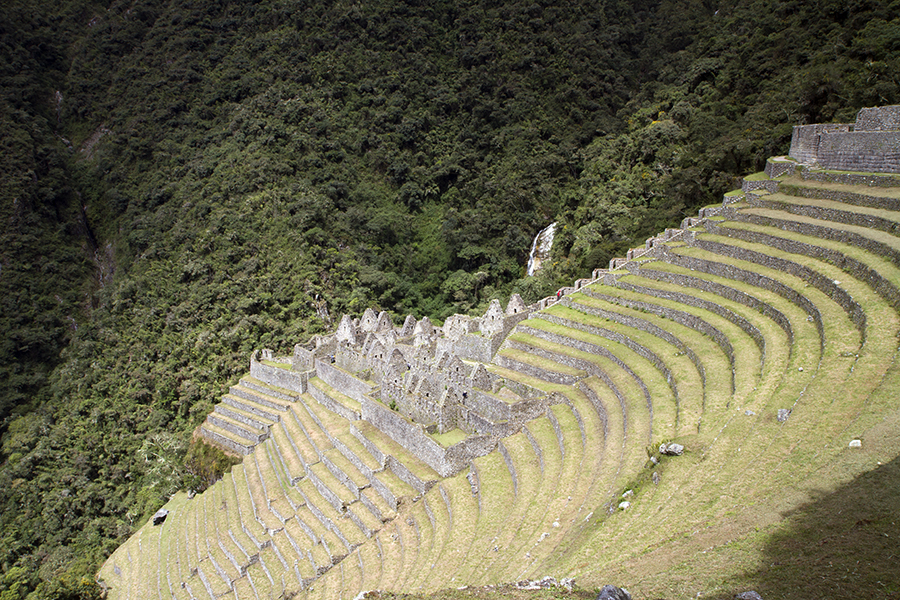 More creatures on the side of the trail – this was a rather large millipede.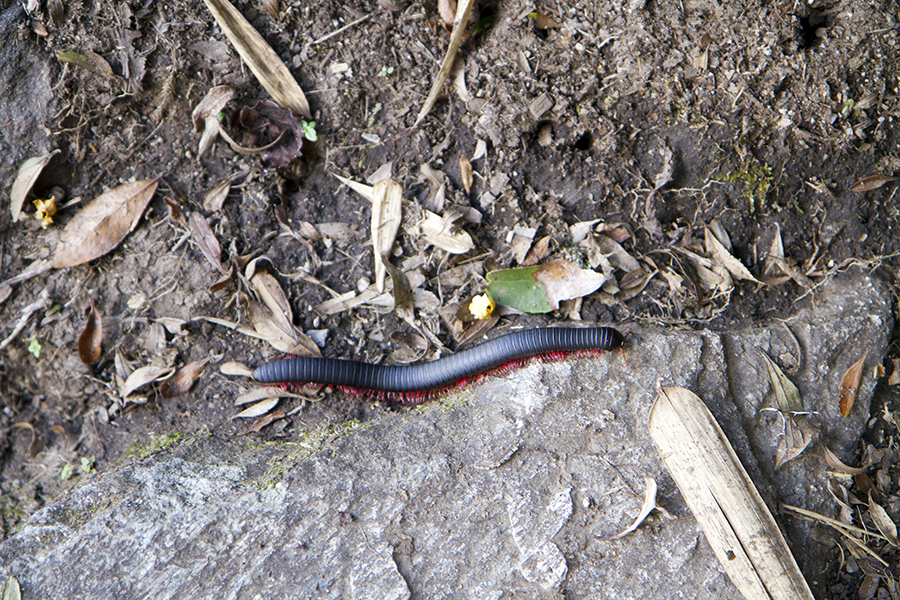 And then you find out that they lied to you!  We were told all downhill, and here we are going uphill again.  It is a very short stretch that actually felt good after all the other steps.  We also know that the goal of the trek is at the top of this one last staircase.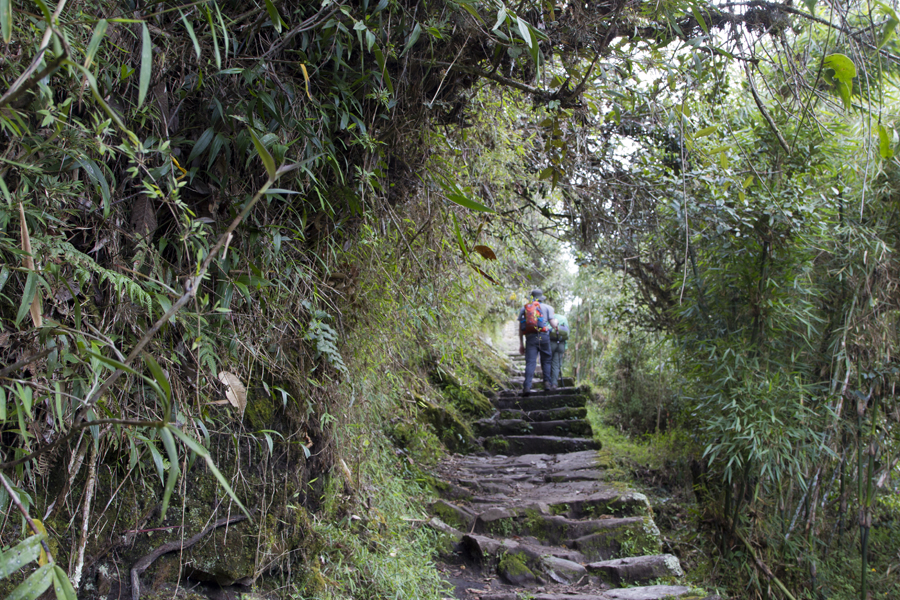 There is the Gate of the Sun – the entrance into Machu-Picchu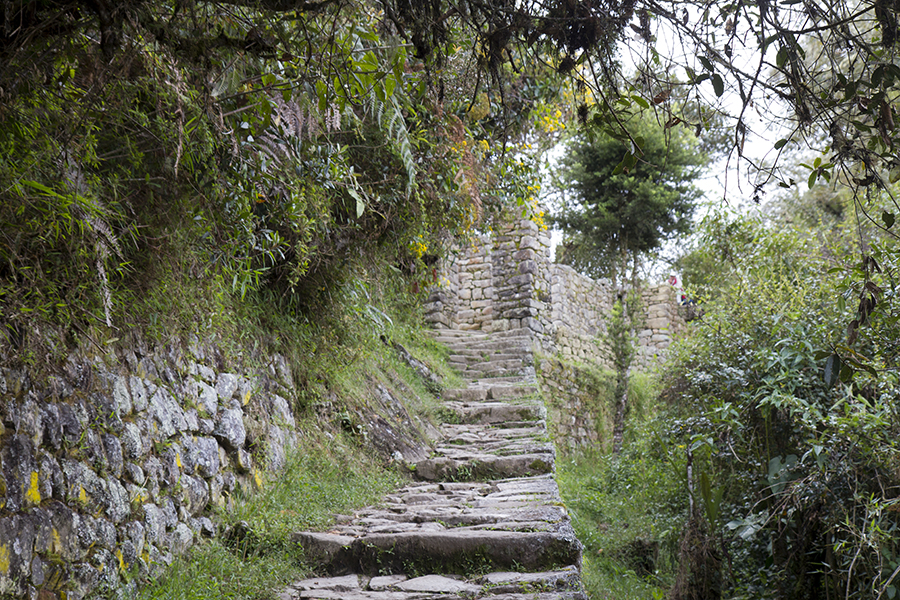 I am afraid for you that you are going to have to wait for the next episode to see what is on the other side!
I will stop here this portion of the story, so that I can at least publish something soon.  The rest will come, I assure you, but it may be another few weeks before I get through the next lot of photos.
(666 Page Views)