pierreo September 23rd, 2008
I had a glimpse of the future on Sunday, and it was not as bad as some people predict.
There is a documentary on the "Discovery" channel called "Life After People" which shows how Earth is going to decompose after the disappearance of all people.  This was an introduction to how we may progressively get there as carbon based energy sources are running out.
On Sunday, cars were not allowed in Brussels – and people went 'nuts'.  There was a party atmosphere everywhere, helped by the excellent weather.  I took advantage of this opportunity to walk around a lot and take some pictures of Brussels under unusual conditions.
In front of the Kings Palace (his working palace in town since he lives in a larger one just outside Brussels) the street was covered with sod and transformed into a pic-nic ground.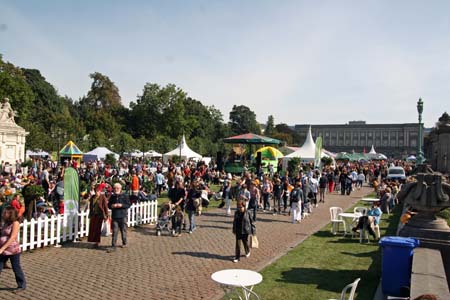 And the park between the palace and Parliament was most crowding than I had ever seen it.  It seems strange that just because cars are not allowed, people seem to do things they can do at anytime, and all decide to do the same…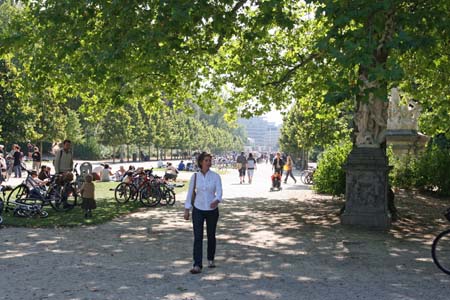 But what struck me the most was the quiet.  Streets were silent, except for the singing birds, the church bells ringing occasionally and, unfortunately, the siren of an ambulance passing quickly.  Church bells sounded louder than I remembered, since they were unfiltered by the usual loud background noise.  That is almost a glimpse of the past – life before cars – when the church bells were probably one of the loudest sounds that most people would hear. 
I also brought me back to 1973.  During the first oil crisis that year, Belgium banned all car traffic on Sundays in order to save petrol.  We were living near the Atomium at the time (the only remaining building from the Brussels World Fair of 1958) and I would go out early on Sunday morning with our dog Chika (an Irish Setter) and my bicycle.  She could run free with me, and really stretch her legs.  At times, I remember her looking back at me, while I was pedaling as fast as possible to keep up, and than she would run away, just showing off how much faster she was!  We could cycle on local streets and even the start of the Brussels to Antwerp highway since there was absolutely no traffic.  On the way back, I would stop at the bakery for bread rolls (a specialty in Belgium for Sunday breakfast) and than go home just as the rest of my family was waking up.
Back in 1973, I was pretty much alone on the streets.  Today, there were thousands.  People were cycling and walking down the Rue Royale, normally full of traffic even on Sunday.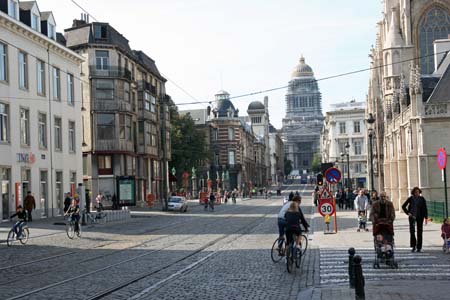 On the Boulevard Botanic, I ran into a group wearing T-Shirts with the inscription "Le Beau Velo de Ravel".  I am afraid that you need to know French in order to appreciate the play on word.  The sentence sounds like "Ravel's Bolero" but means "Ravel's Beautiful Bicycle".  I also saw a contraption – a tandem bike – like I had never seen before.  The lady, with the red crash helmet is sitting on the front wheel in a recumbent position while then man is sitting in a normal position; both have a set of pedals…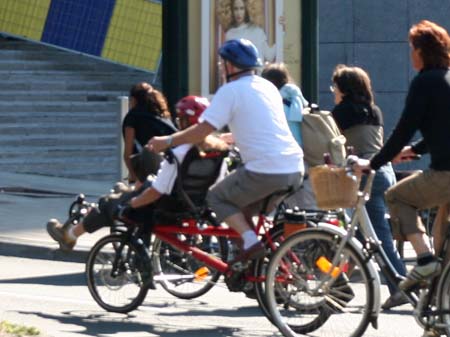 As I was walking around, I remembered that I did not have many pictures of Brussels.  as I was building my websites, I looked for pictures of 'home' and could find plenty of Singapore, some of the Chicago and Houston, but none of Brussels.  I walked around the city to compensate for this shameful situation.
I new there was a statue of Mercator in the Petit Sablon.  Now I will be able to replace the print I have a him with this better view in my blog theme.  He is one of my heroes – he devised a way to represent the spherical world on a flat sheet of paper that made map making possible.  Without maps, no travel and without travel, what would I do?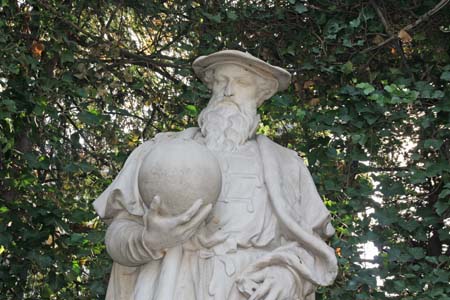 The church of the Grand Sablon is one of the most beautiful in Brussels.  The stained glass windows are the best, but very difficult to photograph.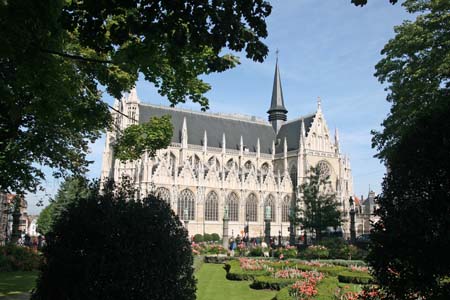 In the Place Royale, a new museum dedicated to Magritte is taking shape.  During construction, the building is covered by a "trompe-l'oeil" in the style of the artist.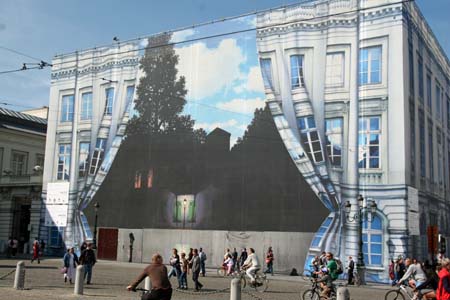 Just North of the Sablon, there is a small park that most people are not aware of.  My sister just discovered it a few weeks ago.  The Parc d'Egmont is stuck in between modern building and renaissance palaces with a terrace caffe just to allow you to enjoy its peace a little longer.
The Grand Place, of course, remains the most visited area in Brussels and well worth it.  City hall is finally free of scaffolding.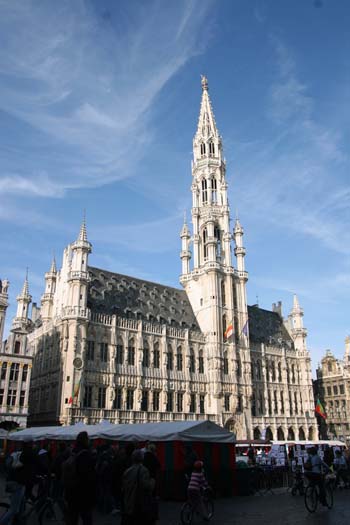 The houses around the square were all build during the period of 1690 to 1710, mostly by worker's guilds showing their skills and wealth.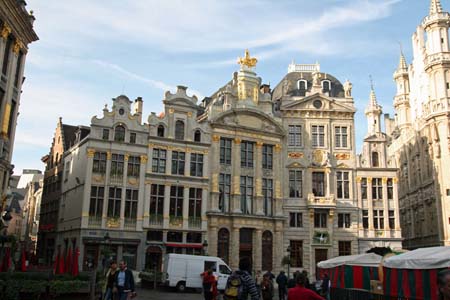 The movement is not limited to Brussels.  In London on Sunday, they had closed part of the city streets to allow cyclists to visit all the major sites without having to worry about cars.  Other cities in Europe have occasional days without cars.  I do hope that this takes a hold and happens more and more often.  There is not universal support though – I saw one store with a sign "Closed because of Car Free Sunday".  The owner must have thought nobody would be there to shop.  He did not see the 20 people looking into his store front just while I was there.  Maybe next time he will be wiser and continue 'business as usual'.
(1007 Page Views)