pierreo September 4th, 2011
At the beginning of July I went sailing in Holland, on the Greevelingenmeer.  This is a big moment for me as it was the first time that I am skippering an outing with the EM Sailing Club.  I started sailing with the club in 1995 and that is what gave me a taste to go for more.  However, I left Belgium before I could get my license and only now did I get back and get another opportunity.
The Greevelingenmeer is actually fully closed and should be very calm.  However, I have never sailed here, so I am discovering the area as well as the new function.  We also have a small and inexperienced crew with two members not having sailed before.
The weather forecast calls for low winds so there should not be any problems.
We set out at a reasonable time on Saturday and immediately everybody got a chance to steer.
Janice was very quick to learn how to enjoy steering.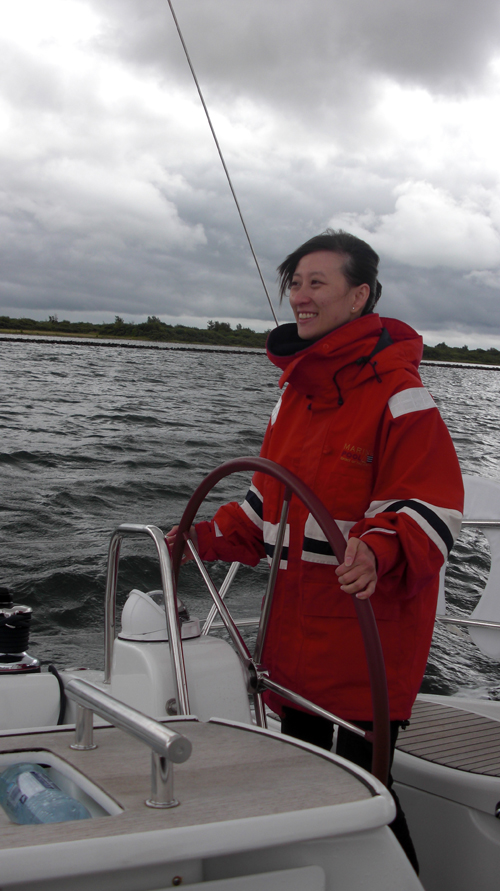 The wind kept increasing making it more and more difficult though, so I decided that we should stop for lunch.
We had a great, uneventful sail up to the point where we could stop for lunch.  Unfortunately, our landing was not as uneventful – we survived, and so did the boat, and there are  no pictures to show the excitement…
We had a very leisurely lunch on an island (here are Dave and I relaxing…) and then set back for the return trip to Bruinisse.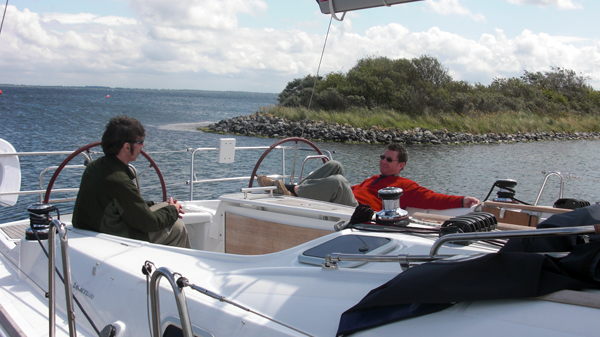 We ran into a beautiful old (restored) canal boat.  These have a flat bottom so they can sail in tight to the edge and use movable side-boards on each side to stop drifting.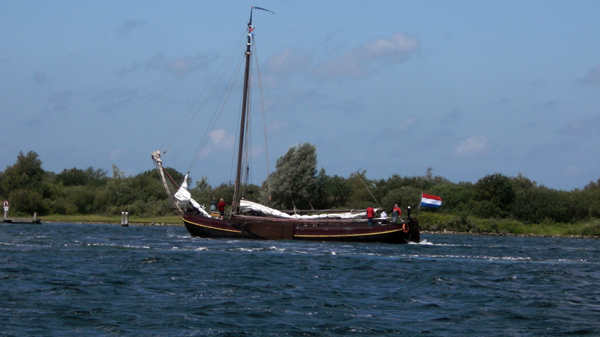 On a broad reach, we were doing over 8 knots but very relaxed.  The wind was just perfect so we also rigged the boat for "wing-on wing" and were able to maintain that rather well on a few tries.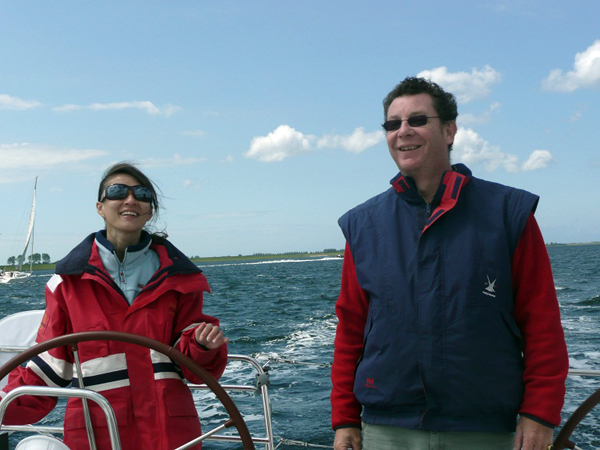 Not a very intense afternoon!  Only one person doing any work as the fourth member of the team is taking these pictures…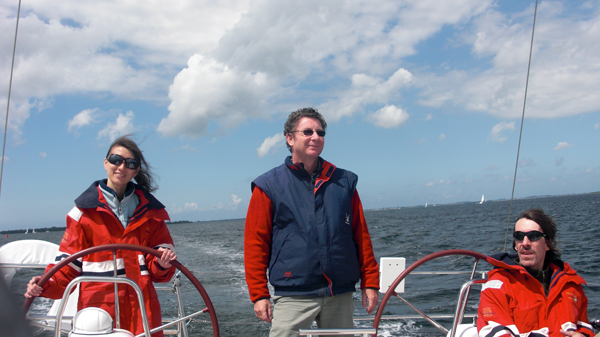 We ran into one flat bottom boat under sail too…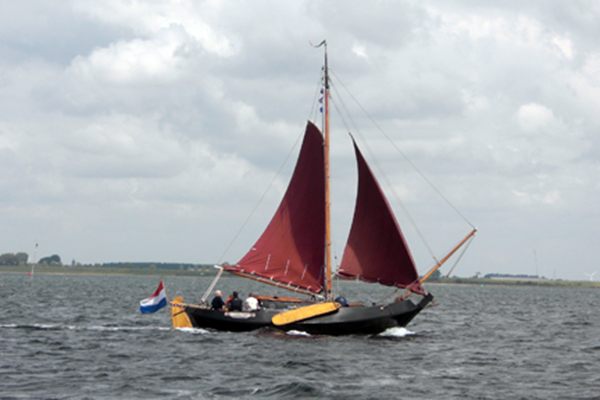 While on Saturday the wind had been surprisingly strong (we ended up the day with two reefs!) considering the weather forecast, on Sunday they did get it right and the wind was very light.  Since we already had explored most of the Grevelingenmeer, I decided to explore the Oosterschelde instead, which meant having to go through the locks that separate these, a new experience for the whole crew.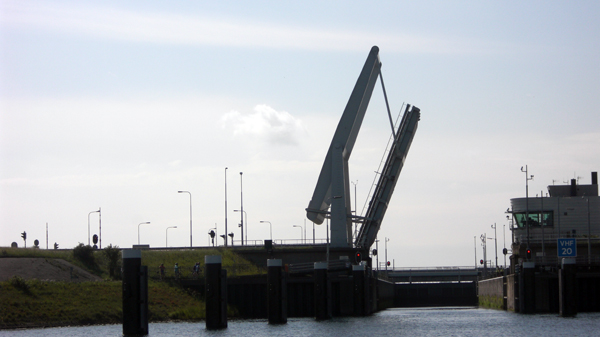 There are bridges on either side of the locks, and one bridge opens as the lock gates open to let boats in (we would never fit under the bridge with our 18 m mast!).  There were a few boats waiting, but the locks are huge and everybody fit in quite nicely. Snug may be appropriate here.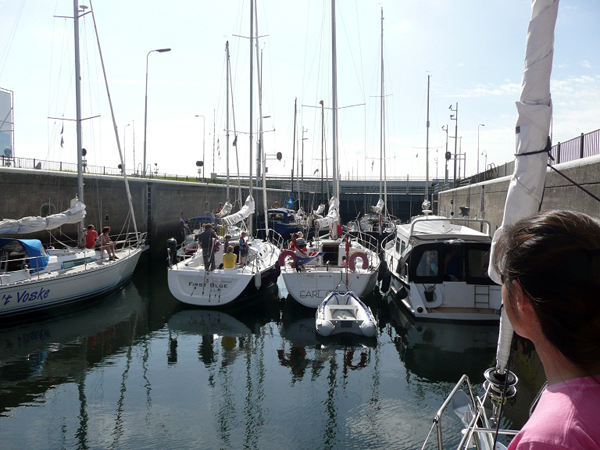 Our neighbour was king enough to agree to take a crew photo while we were slowly rising up to the current level of the Oosterscchelde. (I am not really that tall, just standing on a bench…)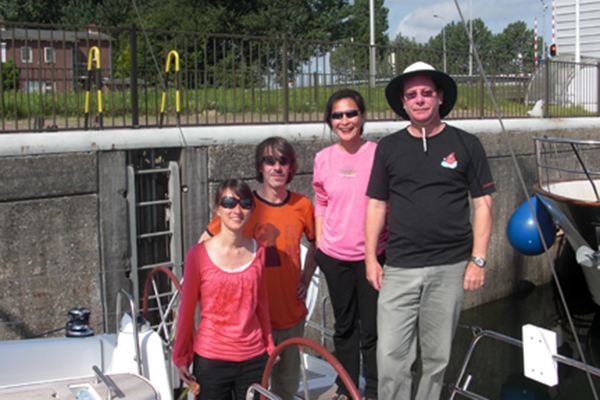 Good safety shot – on a boat in front of us, even the dog was wearing his life jacket.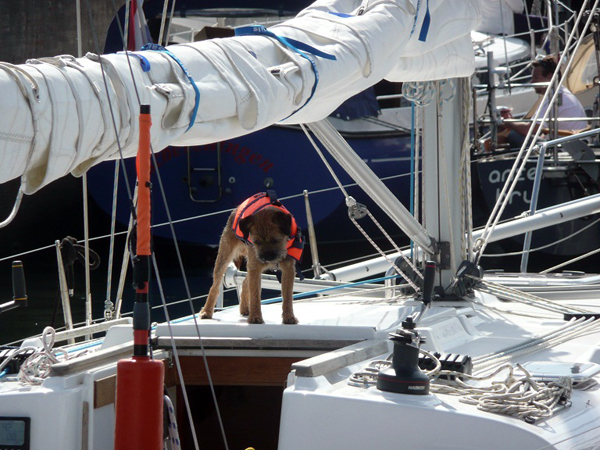 There is a long line of sailboats leaving the locks once we were released on the other end.
At this point, the Oosterschelde is a relatively narrow channel with significant amount of commercial barges which follow the channel.  On the other hand, we were heading into the wind and therefore had to tack back and forth across the channel.  We had a lot of discussions as to weather we would pass in front or behind this or that barge – we always passed in the back of them.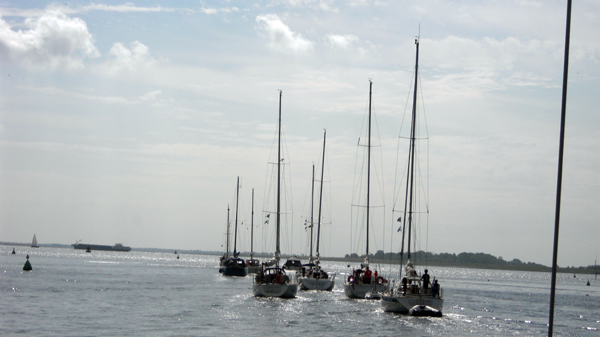 Yesterday Bee was always a little tense when steering – today, that seemed to be totally different.  Everybody enjoyed quite a bit of steering and changing sails as we had to do that quite regularly too.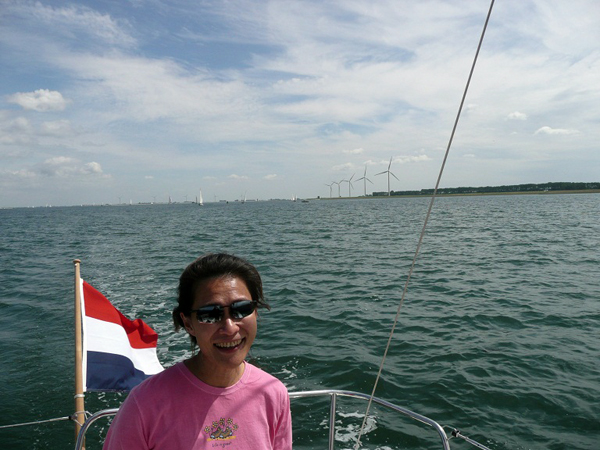 Corny? We just had to take the picture even if just too late.  The first boat's name is Love Story! The second boat is Love Story.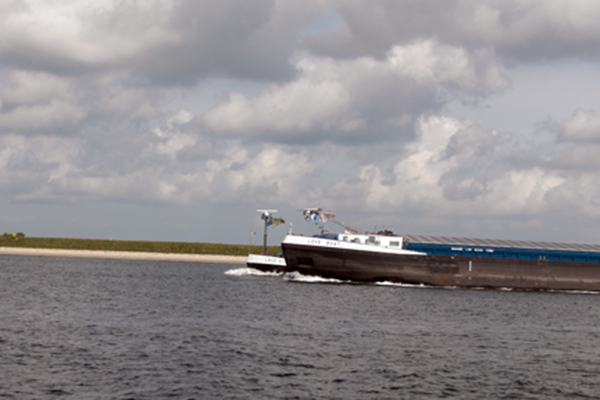 We soon ran out of time, and wind.  We turned around in order to have a more pleasant attitude of the boat for lunch (broad reach with no waves is always nice) and we had to motor back to the locks and on the second time around, the lock was absolutely full.  We made it back to Bruinisse around 4PM and were all done with the boat by 6.
This was another great week-end sailing.
Thanks to my crew members for the photos as none of the ones shown here are mine… (1385 Page Views)