pierreo May 7th, 2011
In early April, I went on an absolutely fabulous trip to Botswana and Zambia.
It took a while to get there – Brussels to Frankfurt to Johannesburg and finally Maun in Botswana, just South of the Okavango Delta.  It took nearly 18 hours to get from my apartment to the small airport of this town which is the tourism hub of the country, and I was very glad to arrive.  As I wait for my luggage, I am clearly surrounded by other people going on "safari".  There is one pair of Germans (Father and Son – I had noticed them coming out of the Frankfurt flight) who are completely dressed in brand new "safari" clothes, down to the hat with one side held up and the empty case for a 'leatherman' on their belt! I just hope they are not in my group …
In Maun, I meet the group leader Stanley and the rest of the group I will be travelling with.  We are just nine, Bob and Lynda from Oregon, Raymond and Trish from Connecticut, Pamela from LA and Jim from Ohio,  Sue from Chicago and Judy from Wisconsin.  We board two jeeps and head towards the lodge where will be spending the first night.
The tarred road quickly gives way to a soft sandy track where we are glad to have four wheel drive.  Soon after that we get to the gate of the "Private Game Reserve" and the fun starts right away.  Imagine meeting animals between the airport and the hotel.  First Giraffes with a small baby too …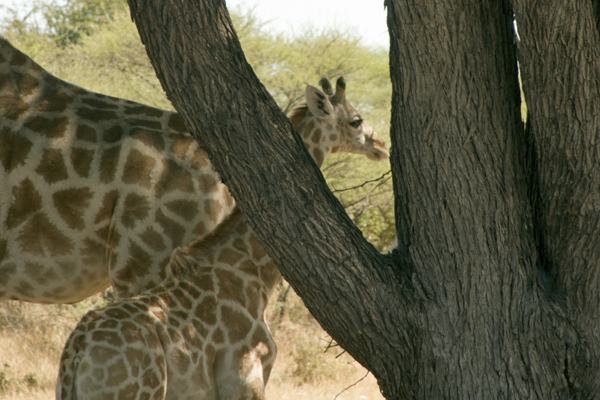 and a small herd of Springboks …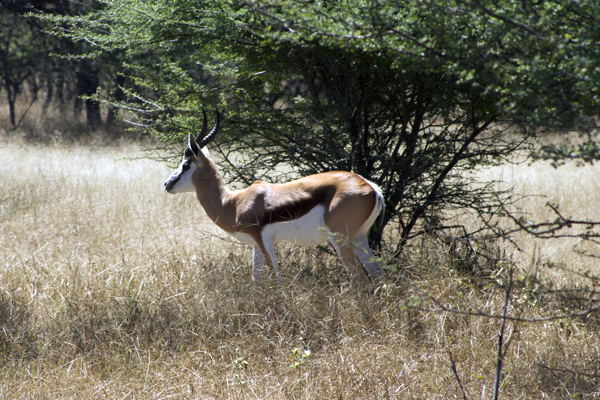 as well as the odd ostrich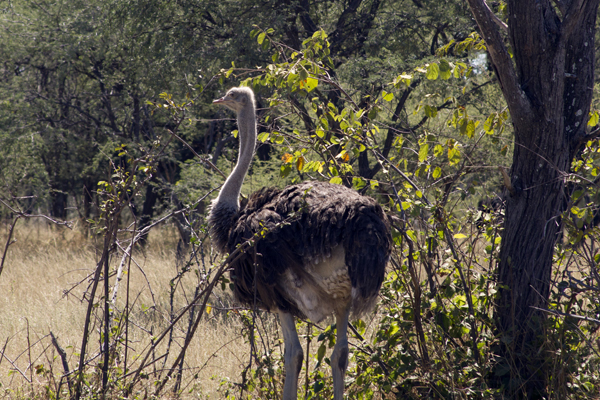 and finally Hartebeest.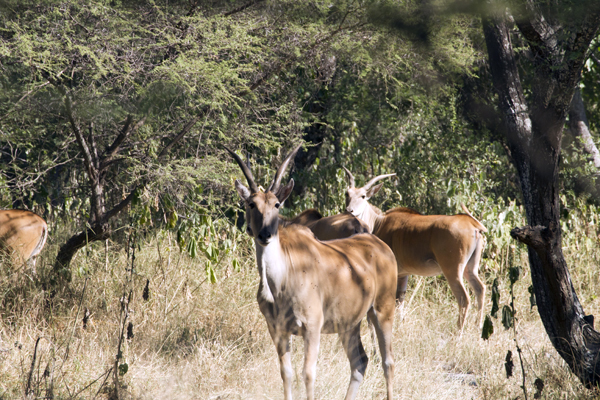 Amazing to see all that even before you check into the hotel …
Our "rooms" are actually permanent tents installed throughout the property.  Mine looks like this: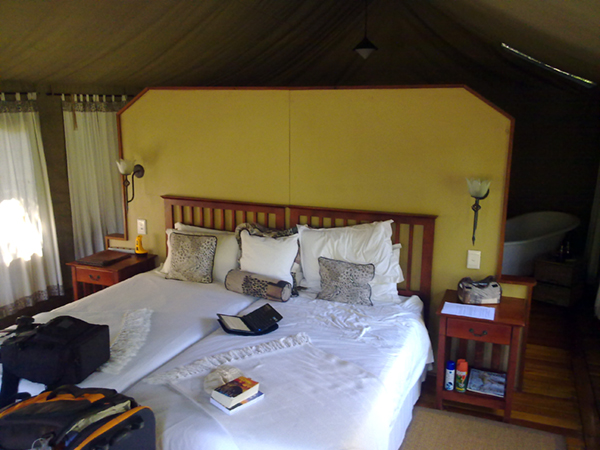 with en-suite bathroom and an outdoor shower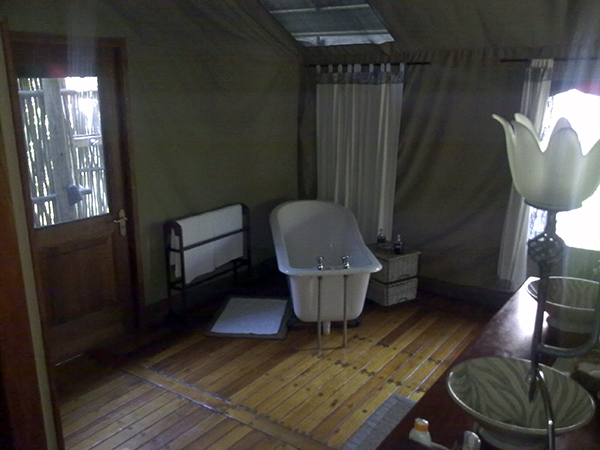 I think I should be OK jn here for one night!
Since the Resort does not have any predators or 'dangerous' animals, we are allowed to wander anywhere on the property, but are strongly advised to stick to the marked paths.  After lunch, I decide to go for a walk to see what I can discover on my own.
The first animals I see close enough are birds – this must be a sort of woodpecker as I clearly heard him knock on the tree with its sharp beak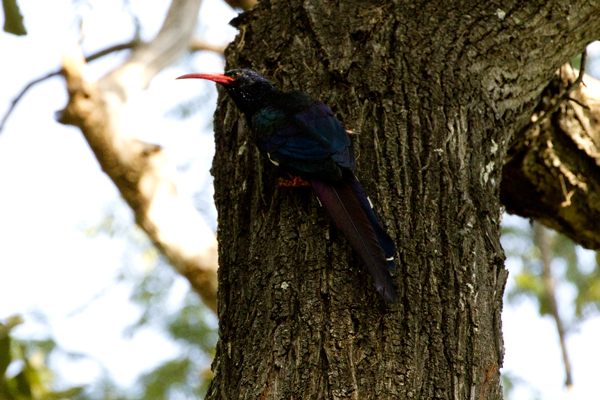 There are huge termite mounds, this one strategically placed in between four large trees providing shade.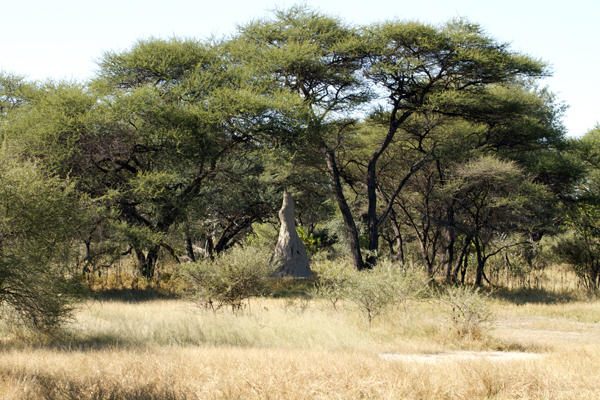 I do not think that people have been walking around here for a while – this large spider web is built right across the path.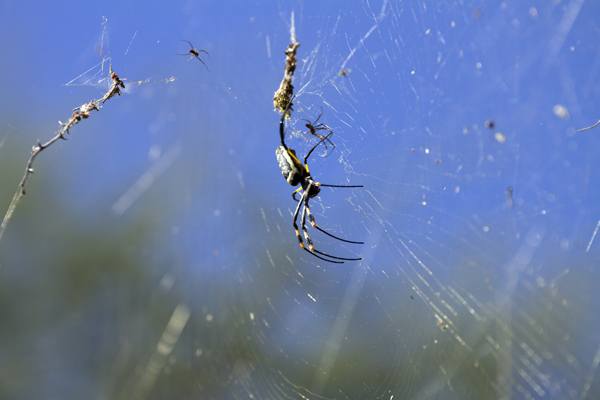 I quickly run into antelopes.  And most of them quickly run away from me before I can take any decent pictures.  This Hartebeest decided to stay and evaluate me while several birds were busy cleaning its fur.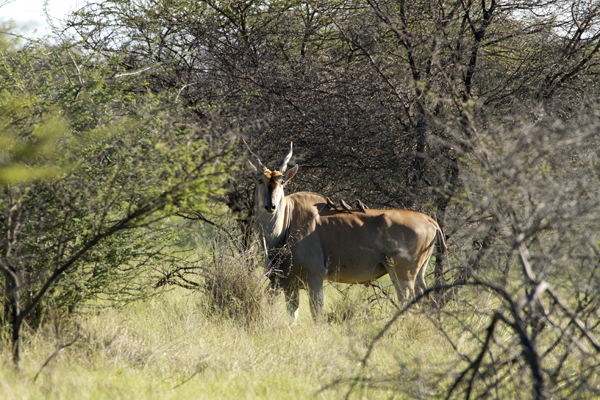 After a loop, during which I understood why I should absolutely stick to the paths (everything looks the same, so you can easily get lost in the park!), I go on a side track and find a marsh.  A large bird, which I later identified as an Open Billed Stork is flying above, coming for a landing.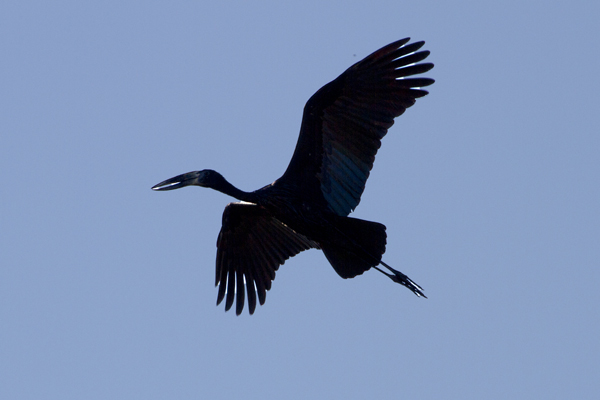 I tried to take decent photos, but the contrast between the sky and the bird is too high – the stork itself is essentially black too, so difficult to show any kind of colour.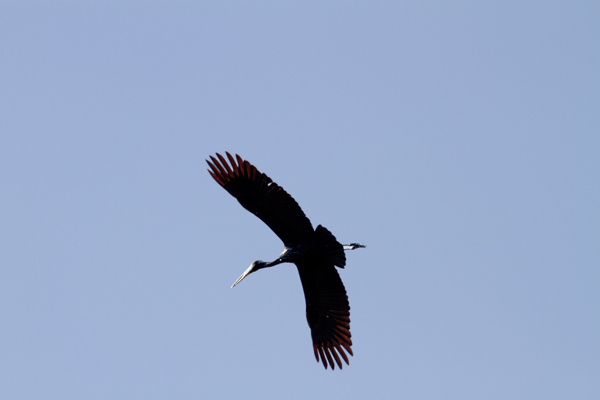 There are other water fouls, including this one which I believe to be an Egyptian Goose.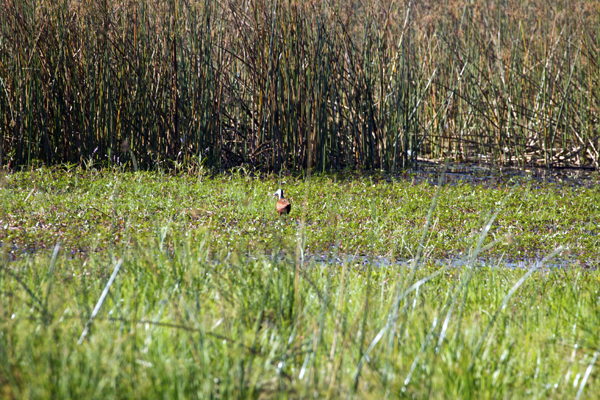 There is another stork perched on the fence – I am right at the edge of the game reserve.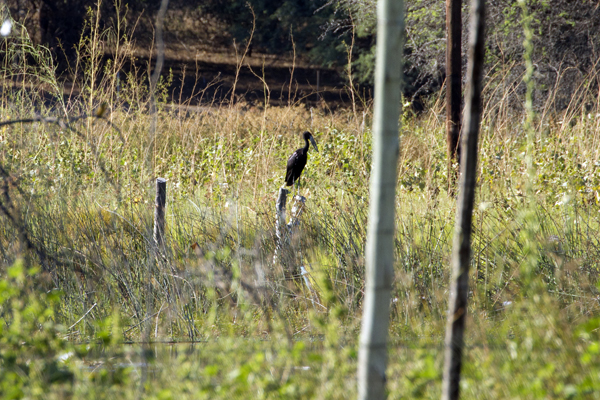 There are Impalas grazing not too far.  Since I am no longer moving, the animals are actually coming closer to me now.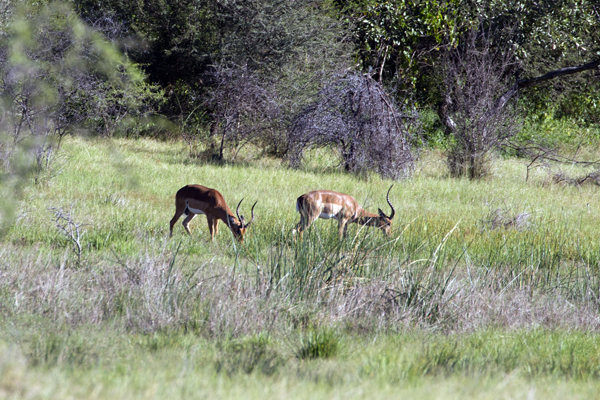 There are several storks in this tree.  I am not sure what they are waiting for …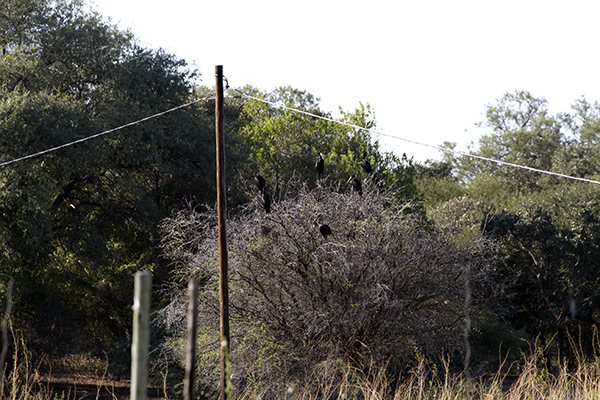 When you walk, you can pay attention to the smallest things too.  There is a major "ant" highway crossing the path.  As always, they are full of energy and running around as fast as they can go …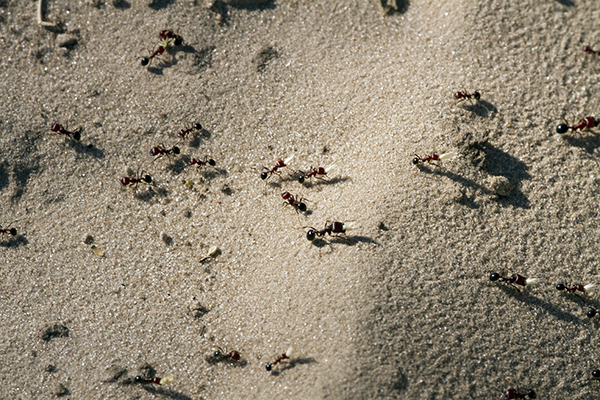 I have to get back before sunset as I do not want to be away from the main buildings when it gets dark, and there is dinner coming up soon too.
The next morning, we have to get moving early, or rather early for being on vacation … we load up the two Land Cruisers with all our luggage.  We also have food for a pic-nic and lots of drinks as the road will be long today.  About 1/2 hour after we left, we got word that some of the luggage was left behind.  We stop and wait for a late delivery just in time to stop and watch a cameleon crossing the road.  He did not seem in much of a hurry.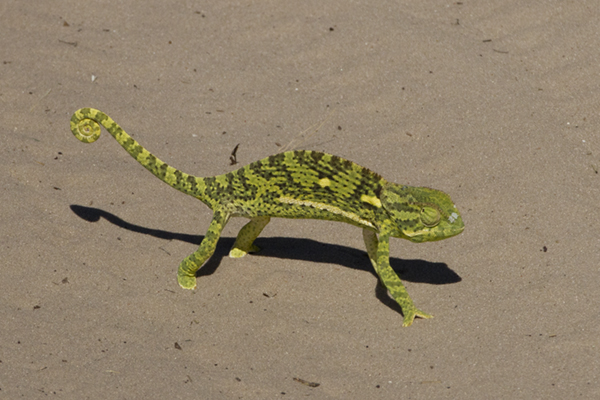 Bata is our other guide.  He will assist Stanley in driving and animal spotting.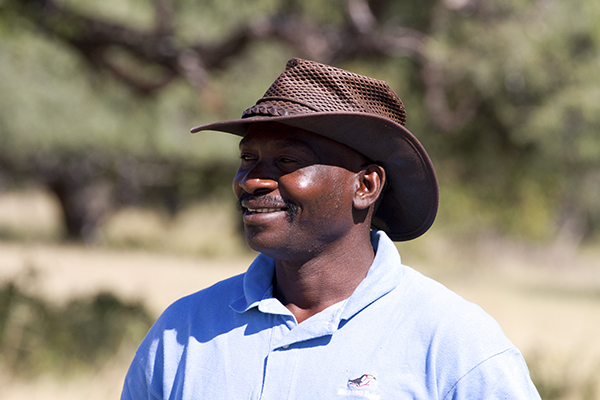 We take the main road from Maun towards Francistown for a while.  We see a lot of cows and goats on the side of the road.  We learn that Botswana has a very significant export of beef to the neighbouring countries – we can see where they come from.  Eventually, we leave the main road and take a sand track heading due South towards the Central Kalahari Game Reserve – we have about 90 km to go … three hours if all goes well, so we stop for a quick pic-nic along the way.  We have several coolers, a table and 11 chairs, so all we need is the shade of a small tree to be comfortable.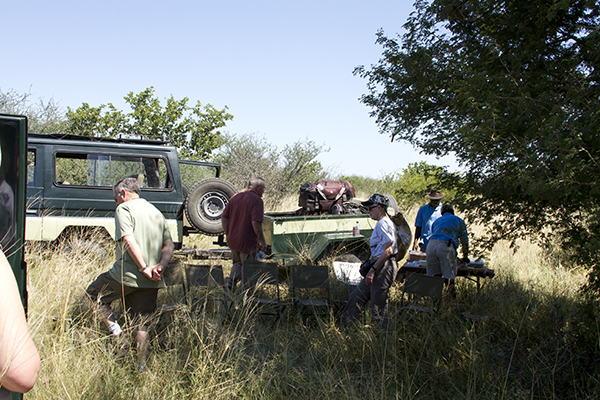 Soon after that, we start seeing the first interesting animals.  Helmeted Guinea Fowl are not very smart.  Some of them will run in front of the cars for a long time, when all they have to do is get out of the road.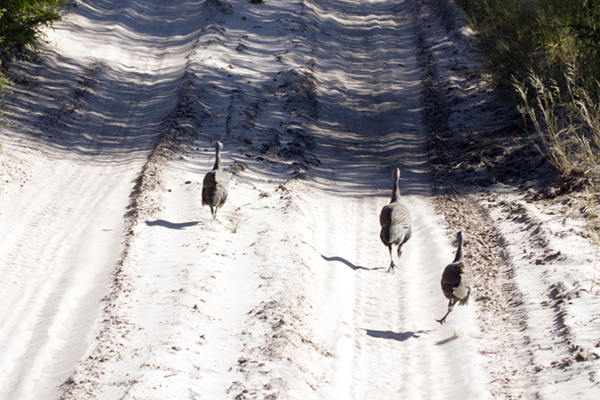 We come across smaller birds.  I do not remember the name of this one.  However, we also see several Shaft Tailed Whynahs, and I do not have a picture of them – so I could just say that this is a Whynah and few people would probably know the difference, but I will not!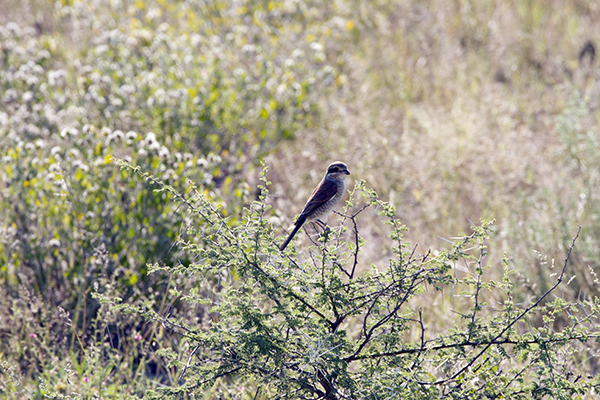 This one, I do know what it is called.  It is a Lilac Breasted Roller.  We have seen a lot of them and they have the most beautiful wings, with light and dark blue markings – unfortunately, I was not able to get any pictures of these in flight.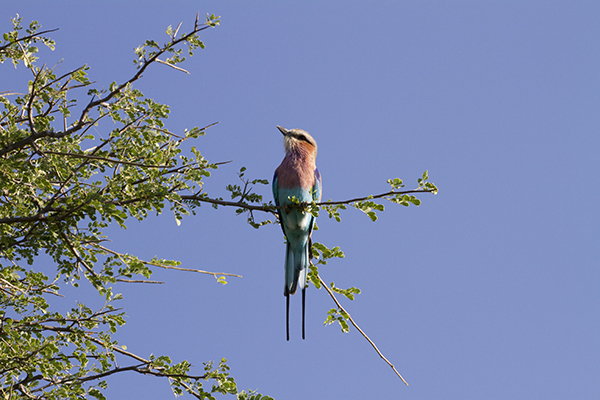 We surprise the occasional ground squirrel.  They are curious and keep looking at us, before slowly hopping away.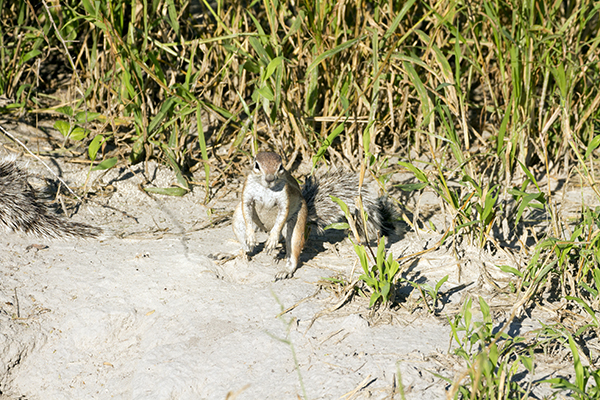 We finally enter the Central Kalahari Game Reserve and drive towards Deception Pan, a wide open space where animals,  lots of them, graze peacefully.  The area was made famous by Delia and Mark Owens who studied the brown hyena here between 1974 and 1981 and wrote a book about it called "Cry of the Kalahari".  We drove by the location of their campground, but camping is no longer allowed there…
We started seeing nimals almost right away.  Our first sight of the most majestic of antelopes: The Gemsbok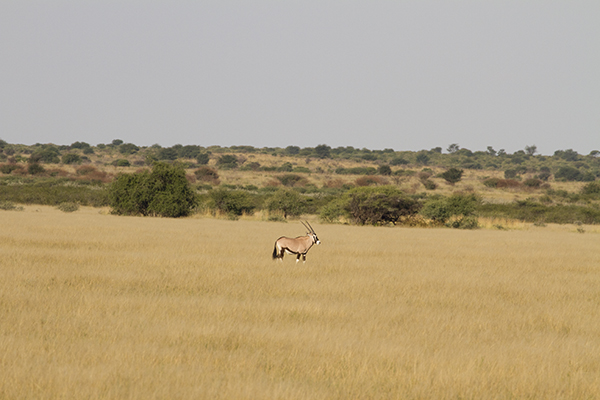 We also noticed a Jackal looking for a suitable prey – most of the other animals around were a bit too large for him.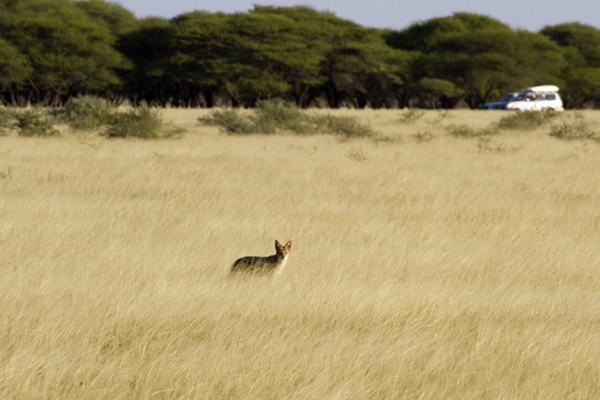 In the distance, there was also a Bat-eared Fox.  Glad I have my 300 mm lens!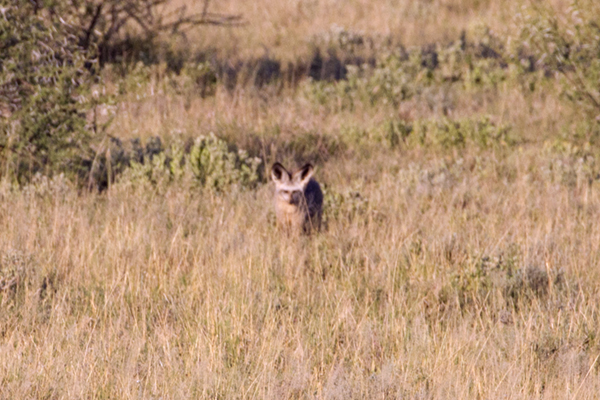 As we keep moving towards our camp, we get a closer look at the Gemsbok.  They have painted faces, but have the very unfortunate tendency to move away as soon as they see a camera – between the whole group, we probably have hundreds of photos of Gemsbok buts …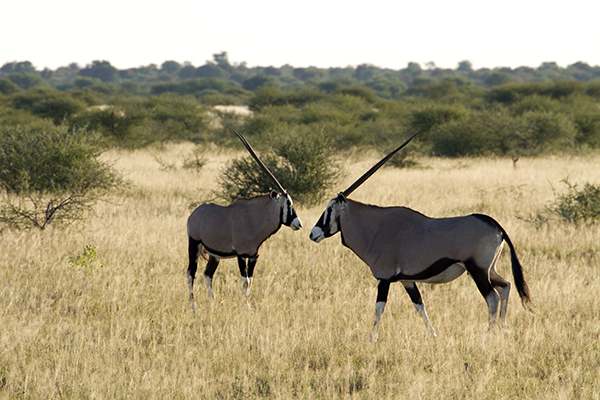 A few minutes before sunset, we arrive at the camp that will be our home for the next three nights.  The mobile camp is managed by Bands and includes a cook, an assistant and five more people each responsible for one of the five tents where we will be staying.  My 'helper' is KT and I have tent number 4.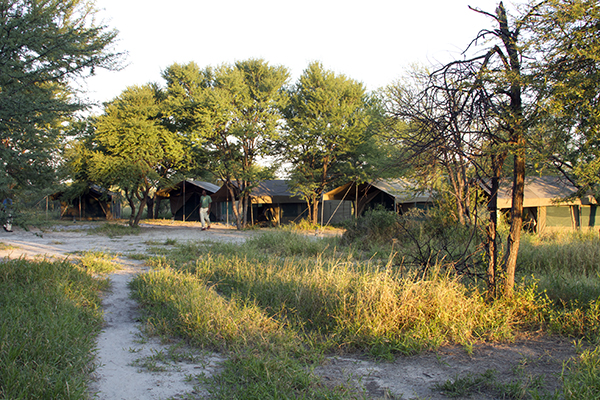 Each tent is really large, especially when there is only one bed in it.  In the back of the tent, there is a 'bathroom', out in the open, but with a canvas screen on all sides.  In the bathroom is the shower (an A frame, with a hanging bag that can be filled with water and a shower head) and a toilet seat above a hole in the ground.  All I need for comfort…
A major activity in the evening is centered around showers.  Here is the "hot water" supply being made ready!  I had to request a 'warm' shower as the standard delivery was way to hot for me.  By the second day, KT got it just right!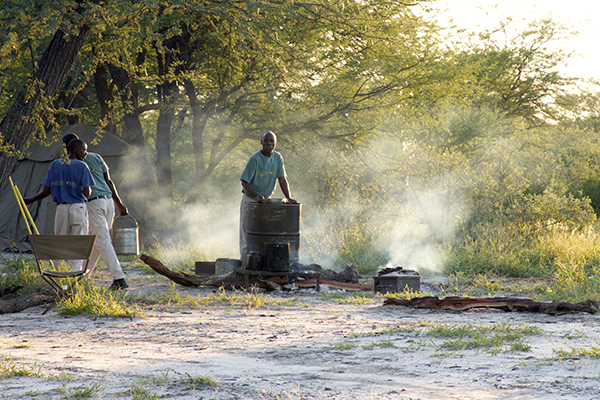 Our "Dining Room" is an open-sided tent.  The table is already set for us, and every day, the napkins were folded in a different way.  Thinking back, I should have recorded that as a way to keep time along this blog, but it is too late now…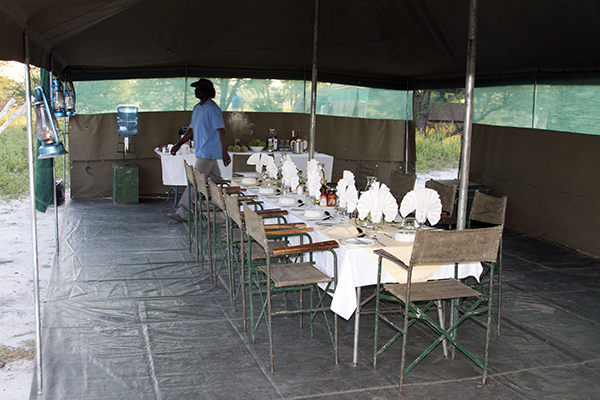 The routine while we are in camps was relatively constant.  We would get a wake-up call at 5:30 AM, before the sun got up.  The fire would be lit and there was a light breakfast waiting for us, with coffee and porridge warming up near the fire.  By 6:15, we were already 'on the road' with out two land cruisers.  Stanley and Bata would go different ways, but we were always in contact by radio in case we found 'significant' animals.  Soon after departure, the sky turned red even thought the sun was not visible yet.  This is the time when animals are at the most active… in the foreground, there is one of the larger birds we saw on this trip, the Cori Bustard.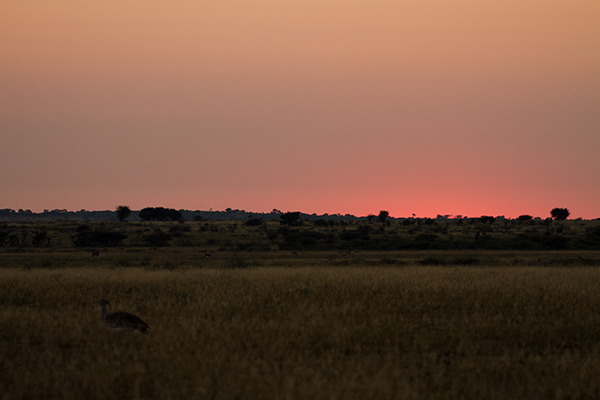 The first rays of sunshine also saw our first Springboks – females in this case.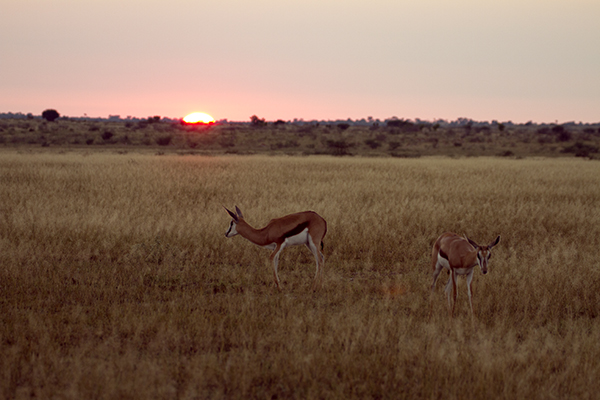 and a juvenile male, with horns just starting to appear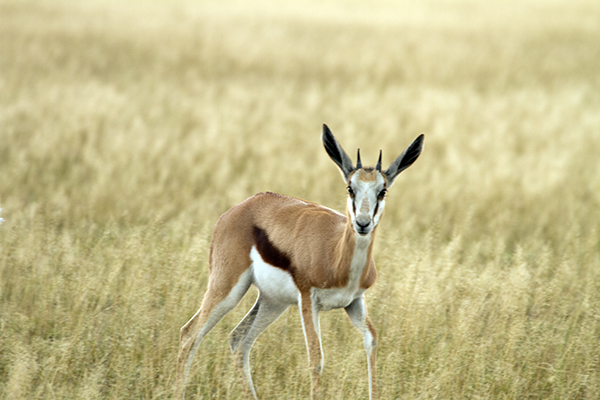 Here you can see the beautiful painted face of the Gemsbok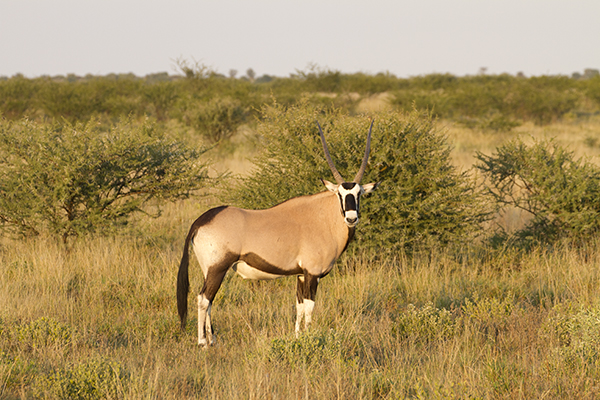 Lions must have made a kill nearby – there are 6-7 vultures patiently waiting on a tree.  However, we are not allowed to leave the road, so we could not explore to see what they were waiting for.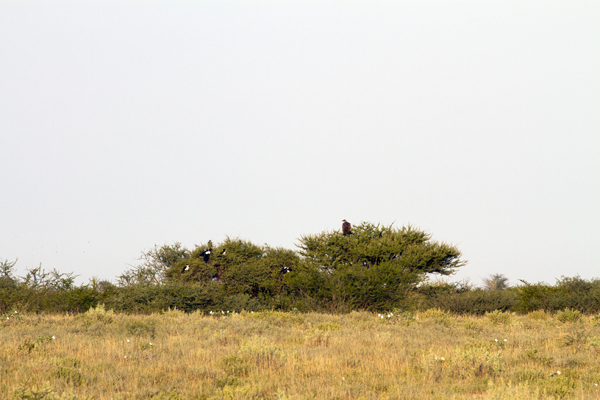 Near Leopard Pan, there are Springboks having fun.  They run around and then jump straight up in the air before stopping.  Quite fascinating to look at.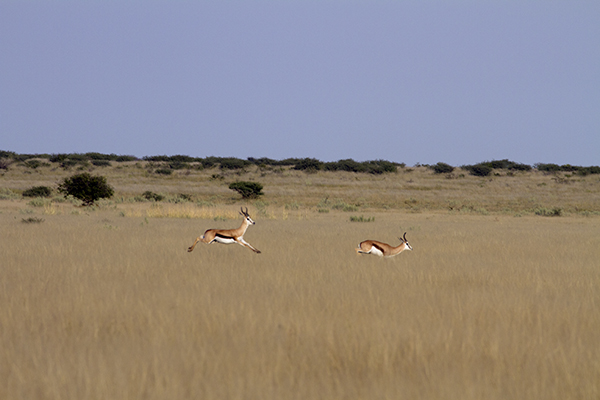 Ostriches joined the fun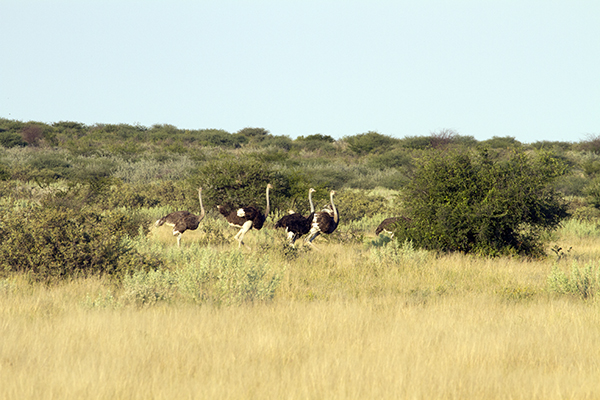 Interesting juxtaposition of animals: the wildebeest seems to be keeping an eye on the two jackals, even though they are no threat to him, while the springboks seem not to care.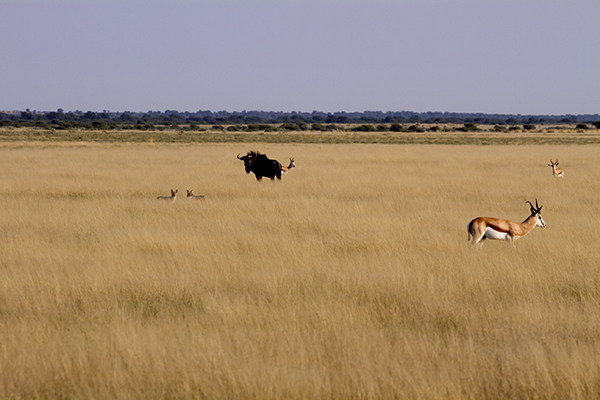 Springboks live in two different sorts of groups.  This is a bachelors group, with only males that are not strong enough to have their own harem.  Other groups will have a single male and 20-50 females.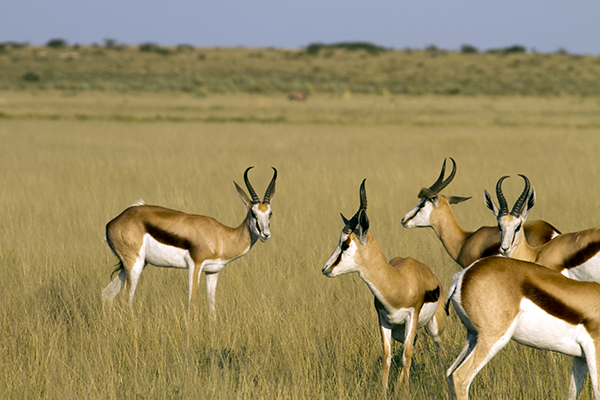 One of the predator birds of the area – the Goshawk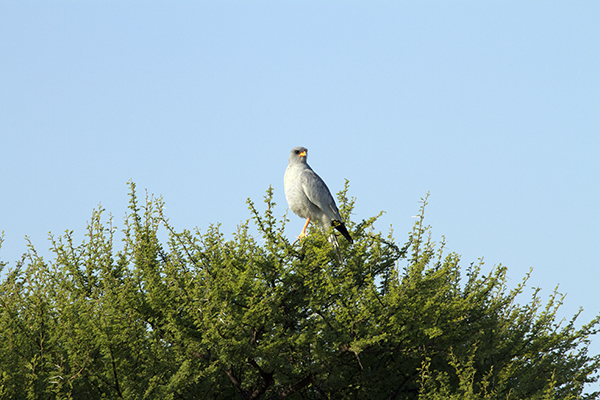 A quick sequence of pictures showing how easily they fly away.  The first flap of the wings is already enough to get him 1 meter above his perch and by the second flap, he is in full flight!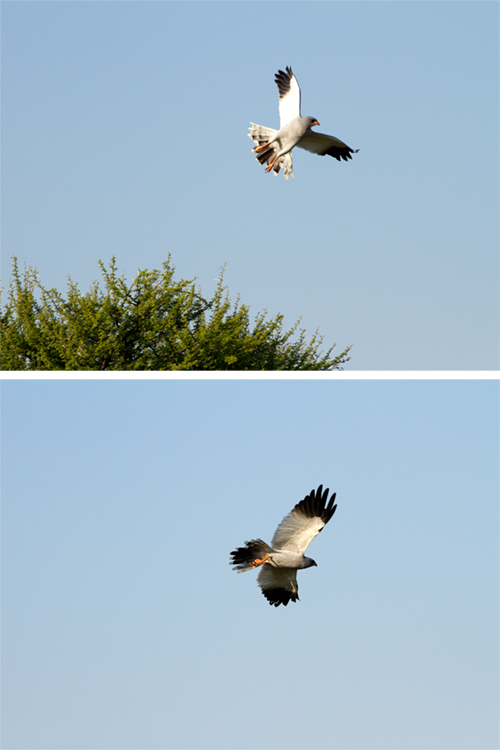 Another hawk – however, I am not sure any more what this one is called – any help to identify it would be welcome!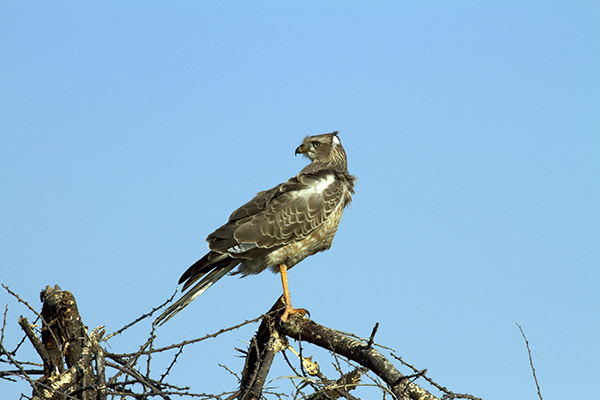 These are Secretary Birds, large members of the Birds of Prey family.  They spend a lot of time on the ground but are very graceful flyers too.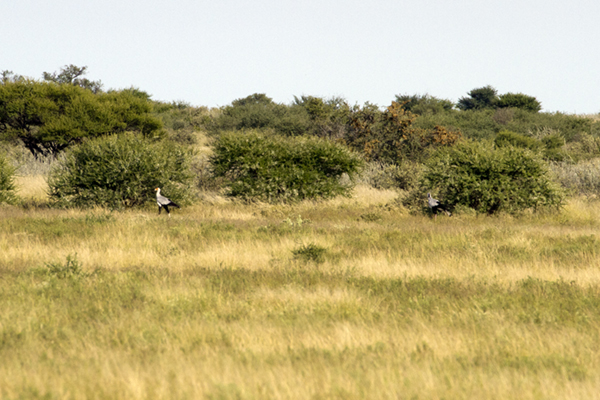 By mid-morning, the animals are settling down for the siesta, and get ready to 'survive' the hottest part of the day.  In the long grass, all we could see were the horns of the Gemsboks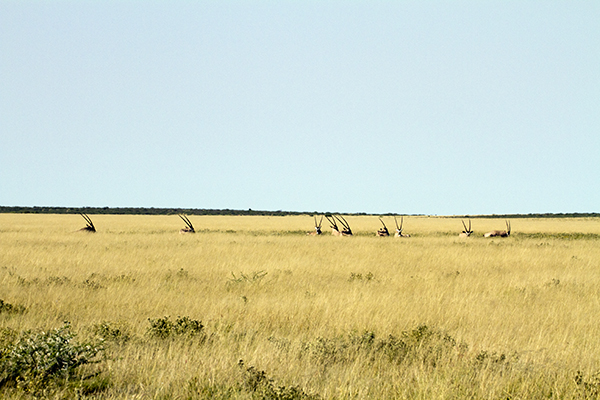 In the middle of the Gemsbok, a lone Hartebeest is trying to look inconspicuous, but we spotted him …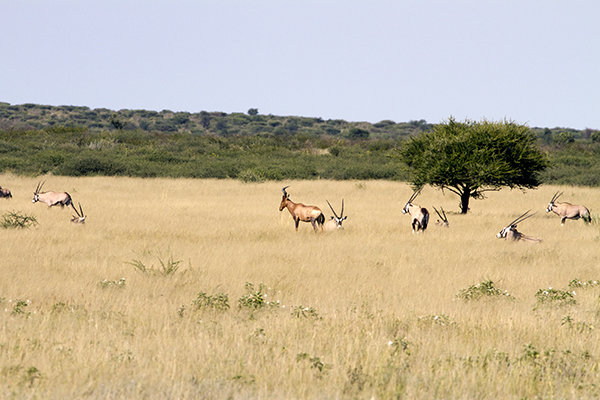 We saw a large group of giraffes approaching from the distance.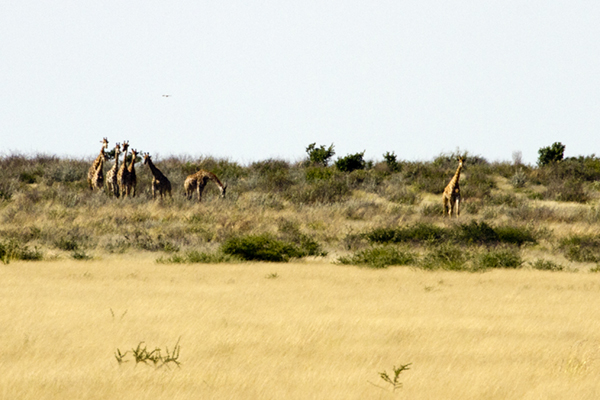 As we watched, they started to eat from what must have been considered quite a succulent bush for them as first two, then four then more and more giraffes decided to eat from the same tree.  The picture below is a composite, and is actually a little larger than displayed here.  You should be able to click on it to see it full size and see more details of each pane (Hey! Those Photoshop classes are paying off!).  The last photo shows our "standard" position when close to animals.  I spent a lot of time standing with my head through the roof of the car – even while moving as this is the best way to look for animals.  With 5 people in one car and four in the other, each of us had a really good 'seat', which we did not use all that often!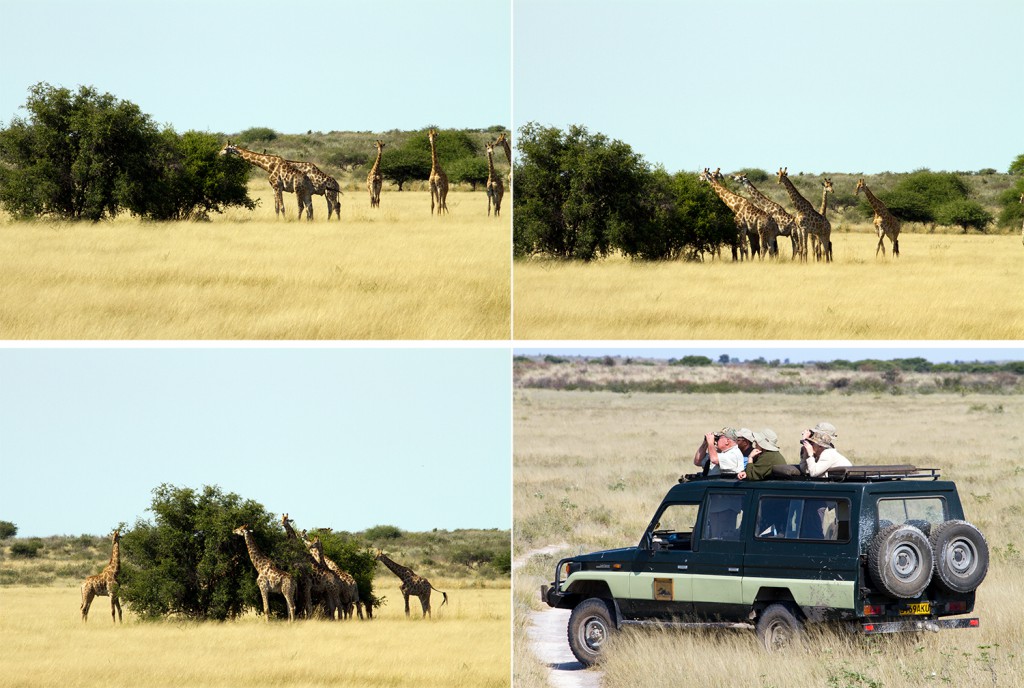 Gemsbok book-ends?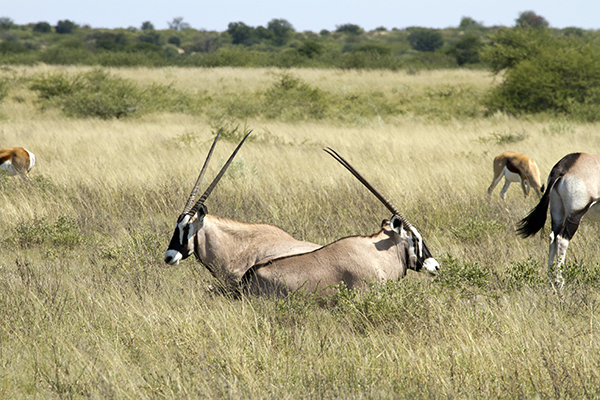 As the animals rested during the hottest part of the day, we did the same thing.  We would return to camp around 11:30 for lunch and then rest until 15:30.  While we had tea and cookies, Stanley would tell us about the local area, about the animals we saw or other very interesting topics until 16:00 when we would get on the road again, just in time for animals to start getting active again.
A Yellow Beak Hornbill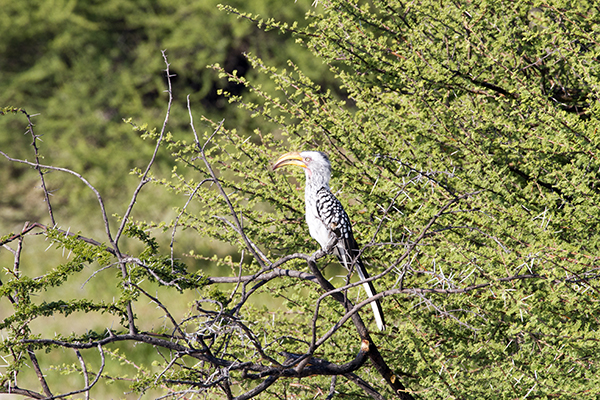 A wildebeest trying to hide behind a branch and look like an antelope – they too tended to show us their back side quite frequently.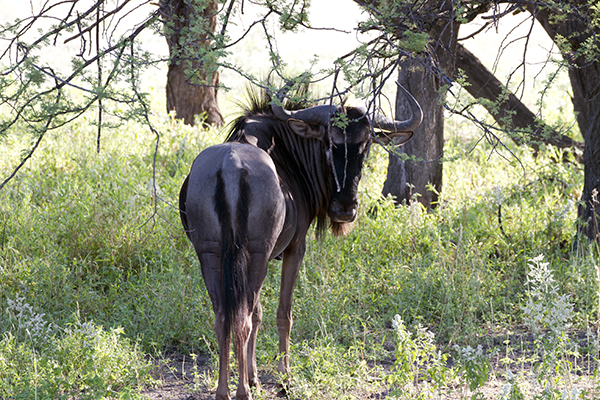 A beautiful Goshawk on one of the signs indicating where we were – Deception Valley!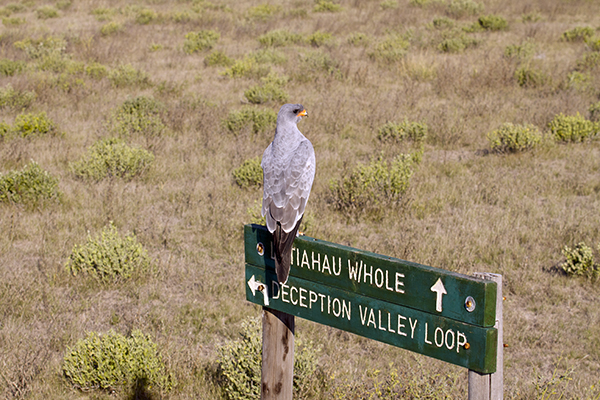 At the end of the day, we would stop in a place where we could see the sunset while sipping beer, or wine.  Obviously the group is happy with the experiences of the first day!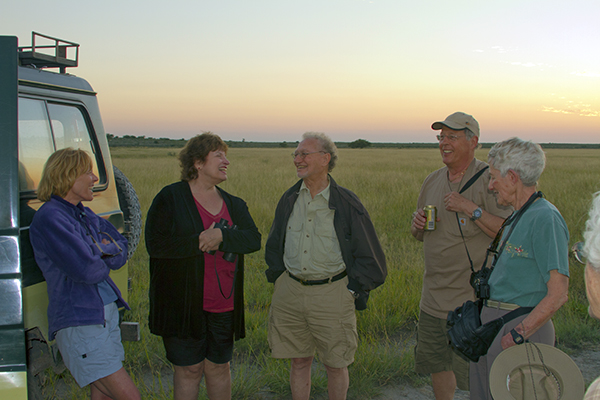 We arrived first at the end of a long dirt road, so there was already a cloud of dust when the second car arrived, driving through the dust.  For sunset pictures, it does not get a whole lot better then this!  Once again, you can get a larger view of the photo if you click on it…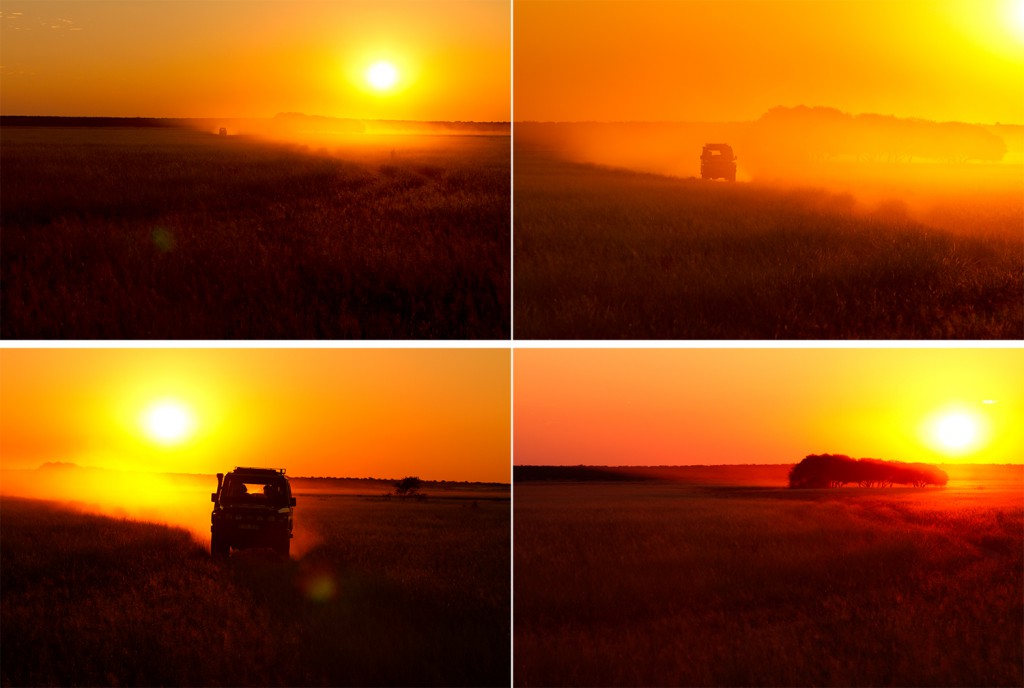 This is my favorite!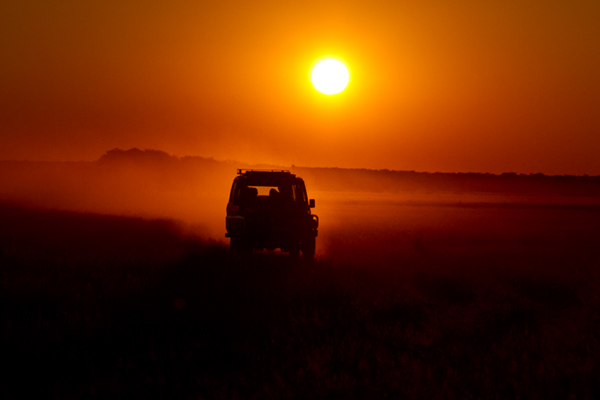 The sun eventually went down …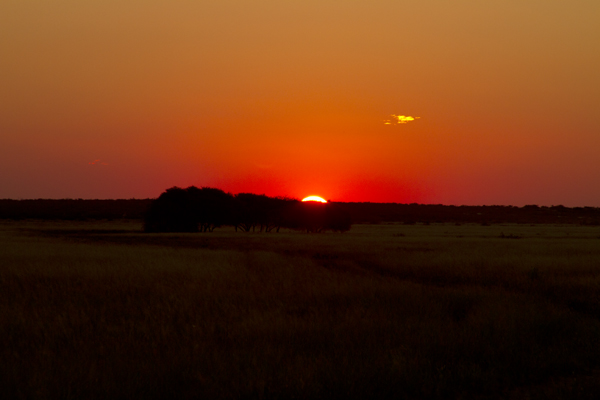 and on the way back to camp, we ran into a cheetah, the only one we saw during the whole trip.  I had to take these pictures with a long exposure and then had to manually over-expose them with Photoshop to be able to get this result.  Not ideal, but it shows that it was indeed a cheetah we saw…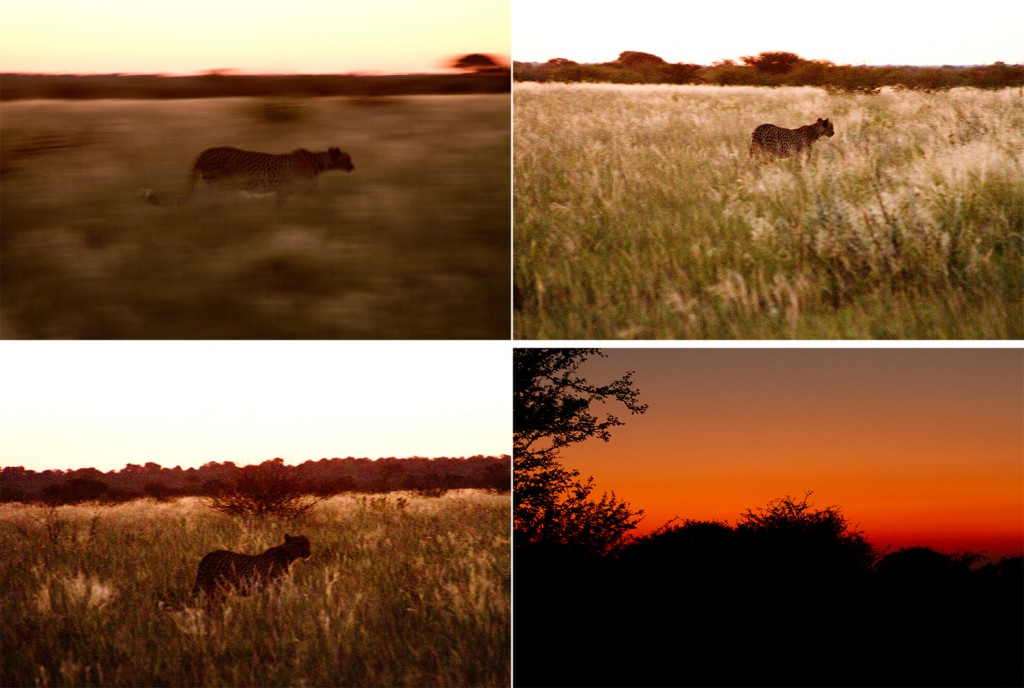 A very nice ending for the first full day in the desert…
More of the same the next day, with Springboks right outside our camp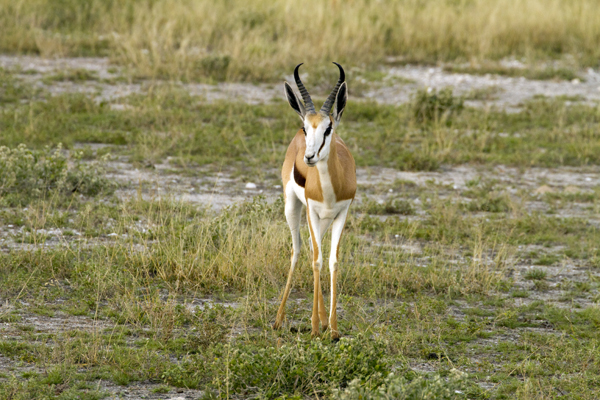 and a group of wildebeest not far from that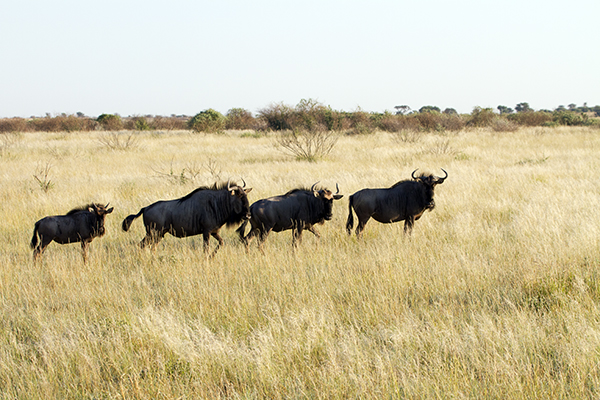 Then we get a call on the radio! Lions, not far from where we are.  Bata accelerates and we join Stanley and the rest of the group looking at three lionesses and two cubs.  They do not seem to worry about our presence and slowly walk along the road, or just on its side.  We are not quite sure when they are going, but we are going there with them …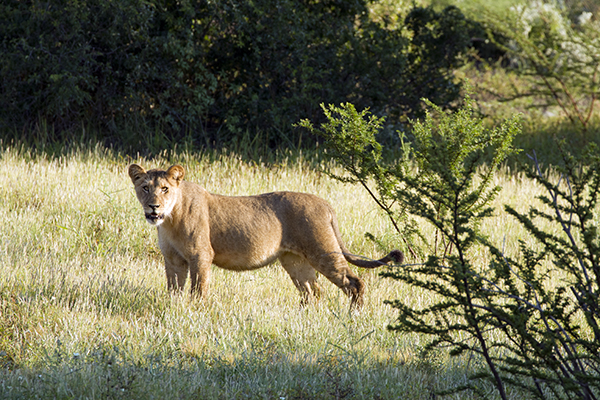 One decided to take a break next to our car… I did not need my 300 mm lens for this one!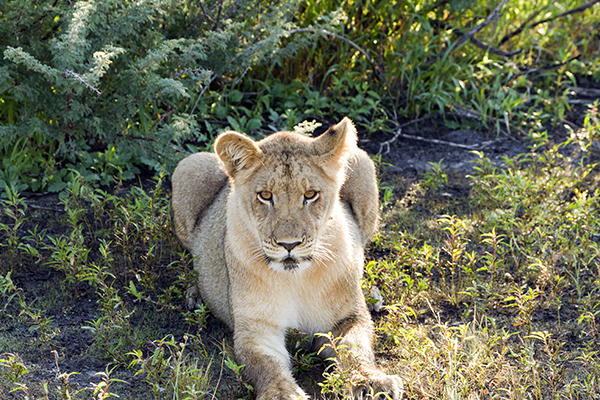 Cubs are Cubs and they were playing with each other!  These are probably from the same pride who had a kill the day before (remember the vultures) and therefore they should be well fed and not looking for more.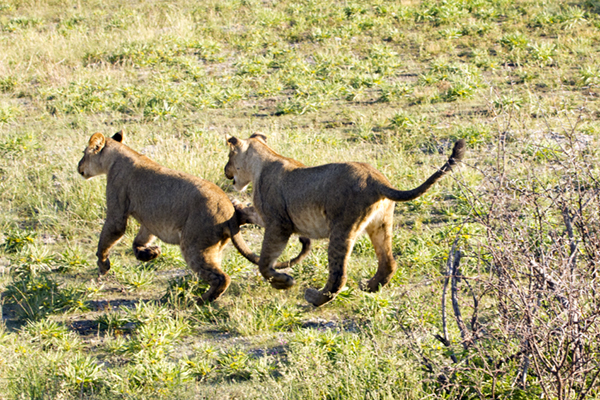 Lioness following us?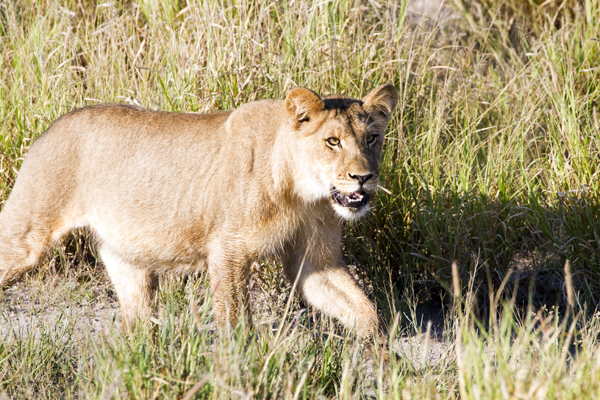 The cubs follow the road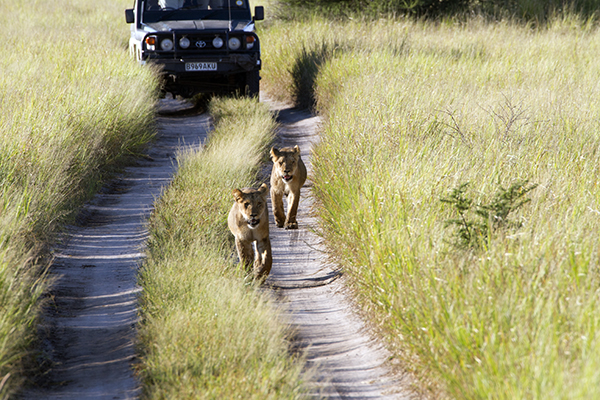 and we are right there to see it all!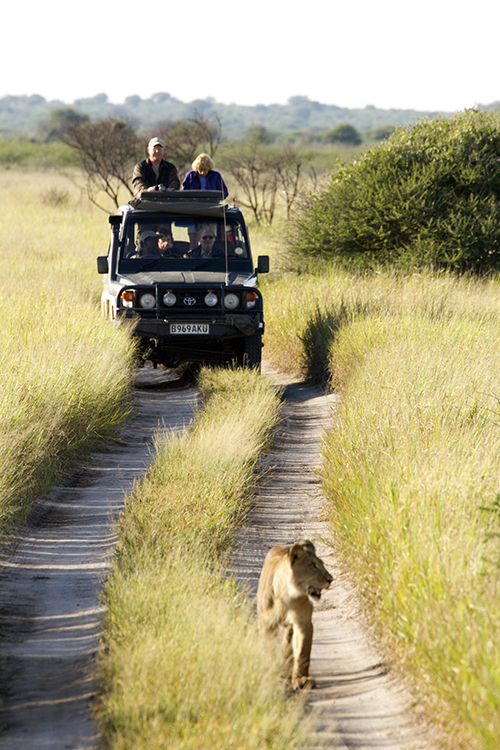 We stayed with this group for about 20 minutes, until they moved away from the road and were too far to continue to track.  A very nice encounter.
Another Goshawk.  I like this one, because he is standing on one leg, looking like a flamingo!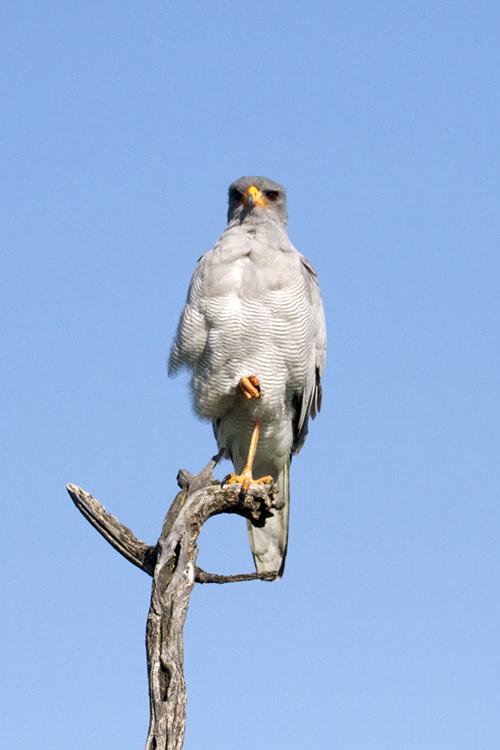 Helmeted Guinea Fowl…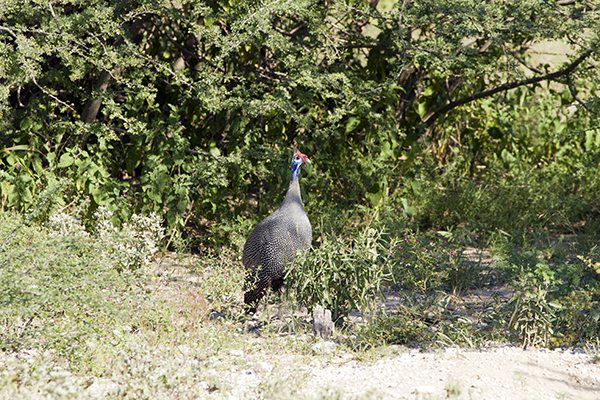 Ground Squirrels …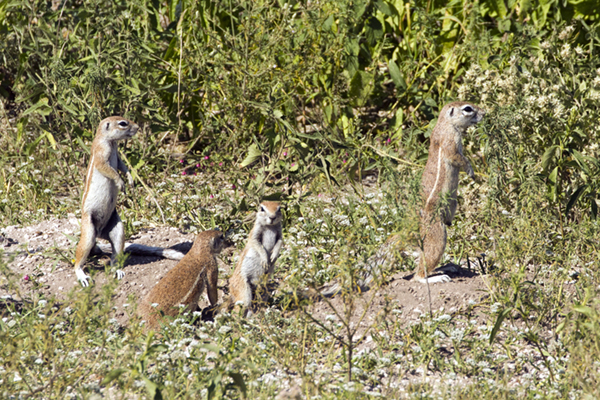 and what happens when the two meet? Houston we have a problem!  For while it seemed that they were surprised to see each other …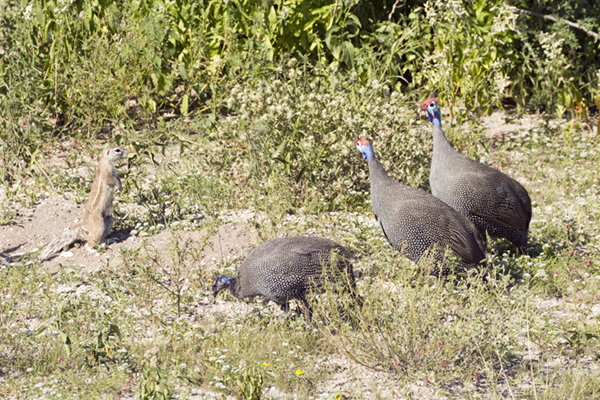 And we kept driving.  After a while, I saw something brownish out of the corner of my eye.  As we had been told to do, I just said "Stop!"  Before the car stopped, we noticed that there was a leopard just next to the road, but unfortunately, hidden in the bushes.  I was able to take one photo before he turned away, however, you have to look very carefully to see him.  One eye and one ear are visible, as well as whiskers and his nose.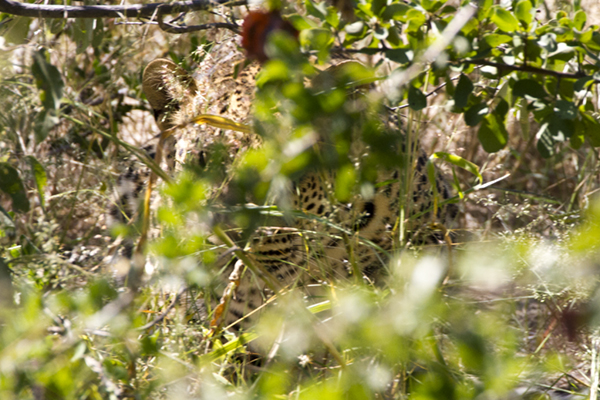 The second photo I have already shows him walking away.  By the time the other car arrived, he was long gone.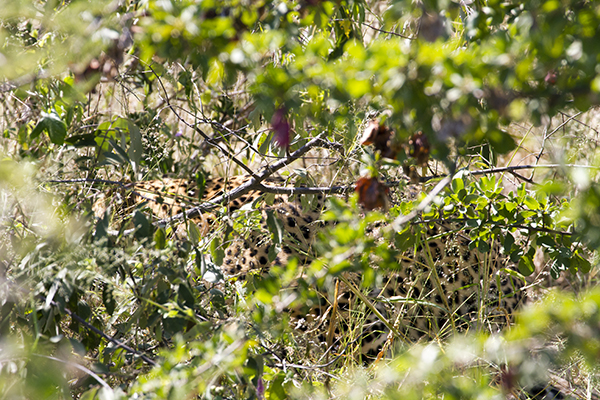 A young Gemsbok with early horns …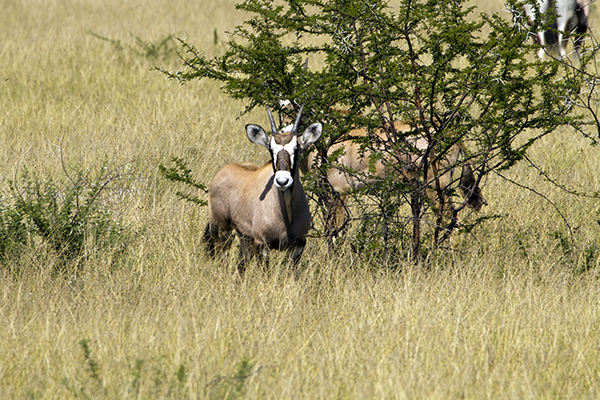 A Steenbok – we saw a few of these in the Kalahari.  They are very small, smaller than the Springbok, with large ears and tend to live alone or in a couple.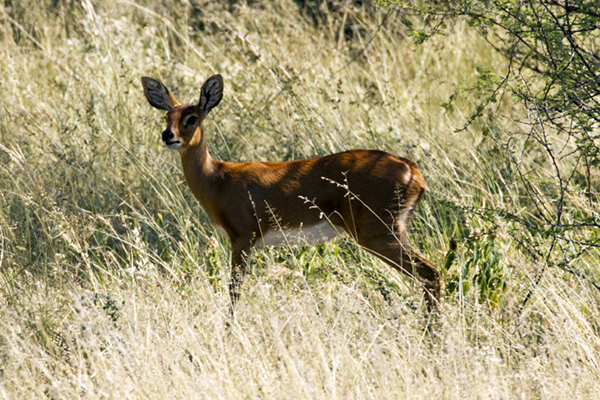 A Kudu – we saw some, but rarely got a good shot at them.  Here too, I was very lucky to have him stop, for a brief instant, where his fasce was between trees…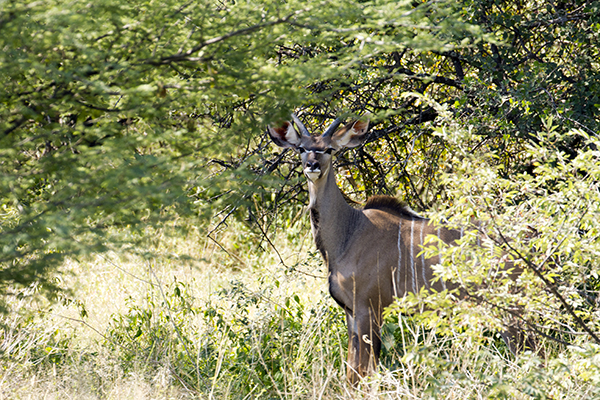 In the fading light of the second day, we again caught a couple of young Springbok play-fighting.  This is to get themselves ready to either have a harem, or spend most of their life in the bachelor's group…  The Gemsbok is just there because it looked good in the evening light…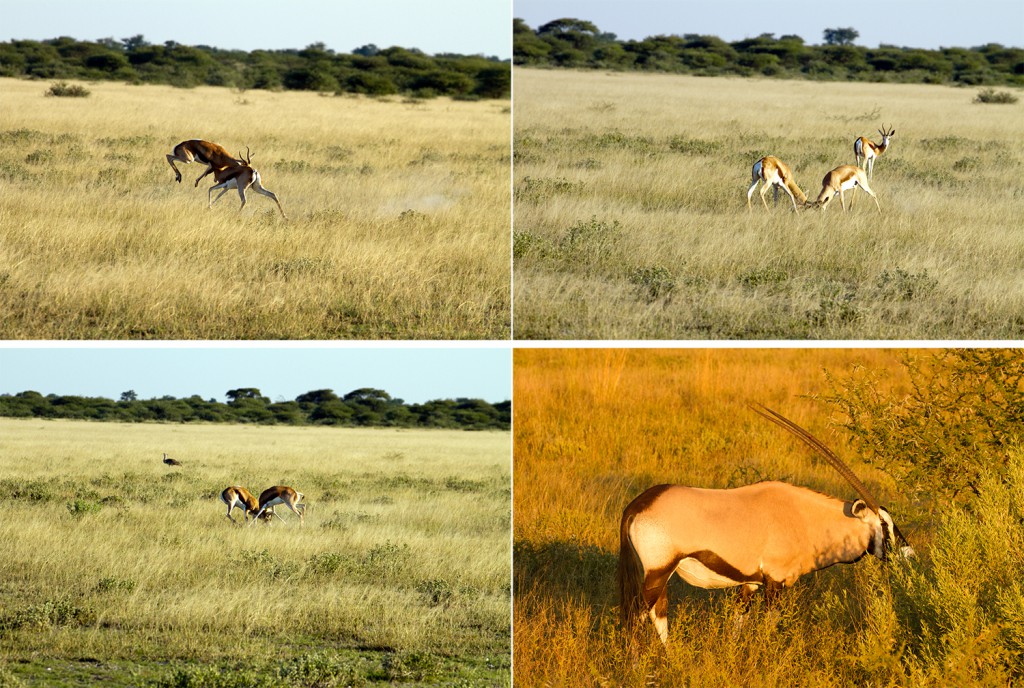 We also saw another Jackal – closer this time so I got a better shot of him.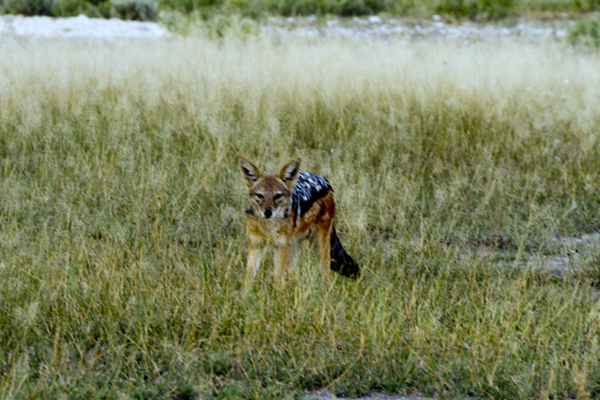 For our second sunset, we were in Deception Pan, with wildebeest and antelopes in the foreground.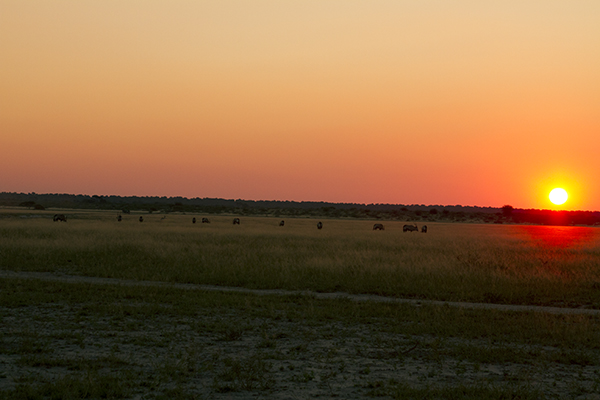 The moon is already up, almost full, above the group enjoying our usual glass of wine …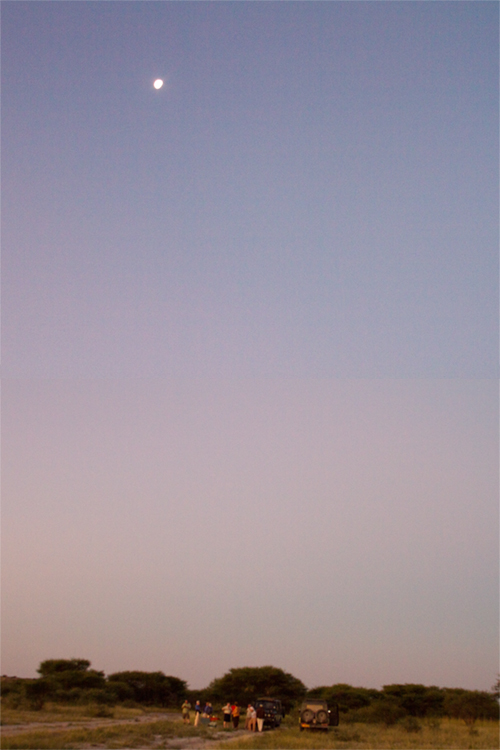 Back at camp, we are ready for dinner, but our "Dining Room" is missing … As tomorrow is moving day, the crew has already dismantled the tent over our dining table so they will have less to do in the morning.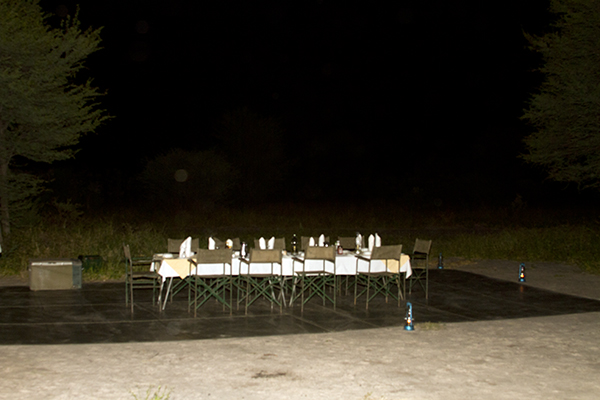 I caught Bob at the bar …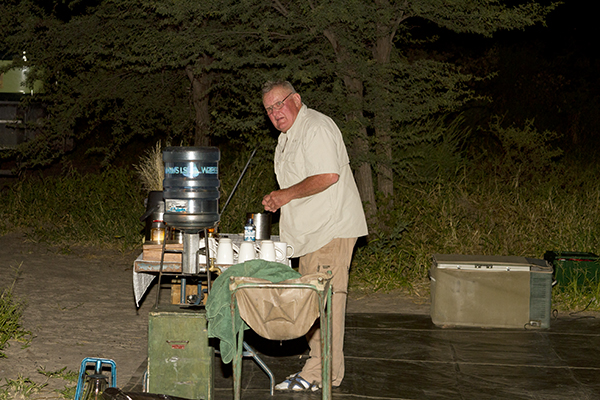 while Sue and Judy are relaxing by the fire.  Usual early evening occupations while we wait for dinner…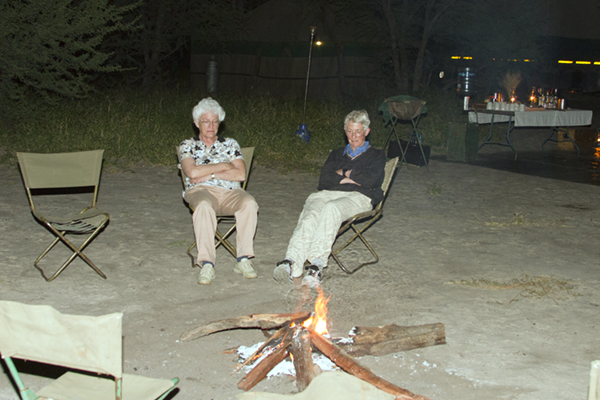 We leave the Kalahari by air – a small twelve seater plane that lands at this, Haina International Airport – this is the first (and second) class lounge!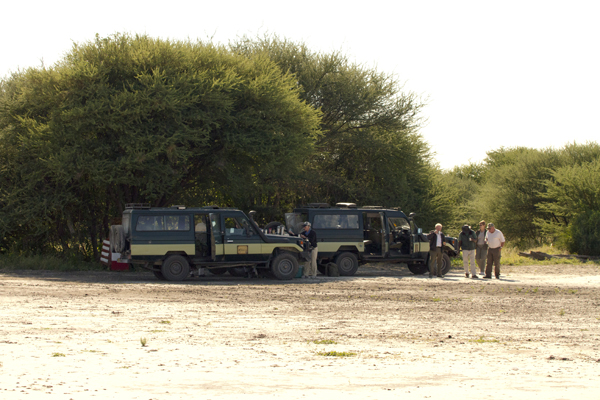 That is it for the desert … our next stop is Xugana Lodge, on the North side of the Okavango Delta.  We flew (about one hour) from the Kalahari back over Maun and into the delta and therefore saw the gradual change of scenery from dry to wet as we went. (3226 Page Views)