pierreo October 10th, 2010
It was soon time to head out of Ljubljana and go due North towards Kamnik and our ultimate goal: Levika Planina, loosely translated as "Great Highlands".  However, before we can start our first hike, we have to take a cable car to get us close. We met Giuseppe in the morning and thanks to his good driving we are there early enough.  The cable car helps us to gain about 1000 m of elevation, a lot easier this way than on foot.  At the top of the cable car, there is a chair lift, but that is not for us – from here we walk and immediately I can tell that this is going to be a very nice walk.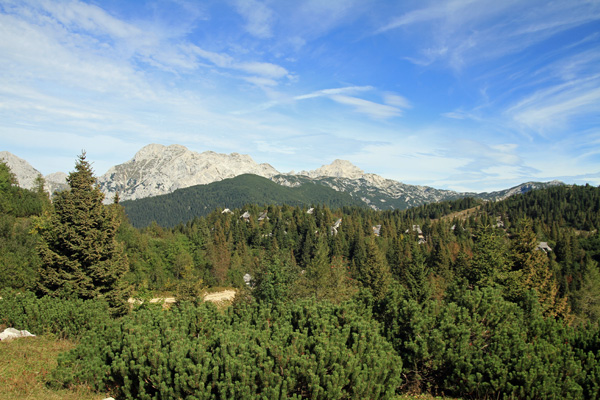 We are on a high plateau where cattle spend the summer months.  At first, we do not see any cattle, not do we hear the sound of their bells, so we suspect that they have already been taken back down into the valley.  Velika Planina and its sister plateau Mala Planina (mala is small in Slovenian) are protected environments and the only structure that can be built there are the typical herdsmen hut similar to what they built many years ago.  Some of them, however, have been transformed into comfortable week-end homes.  How can you beat a view like this!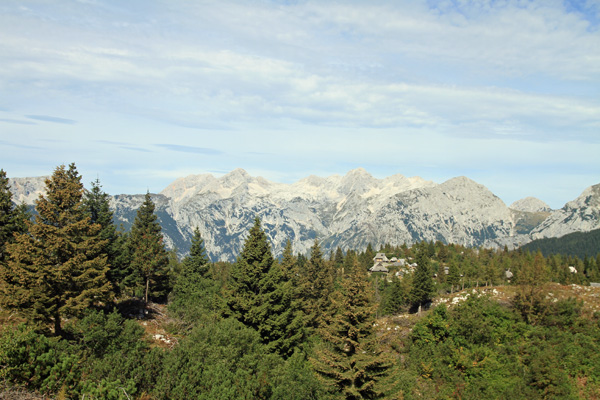 There are several  water points for the animals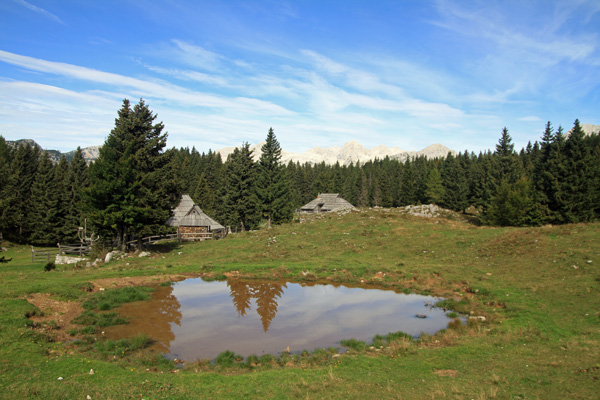 and a small village with several huts.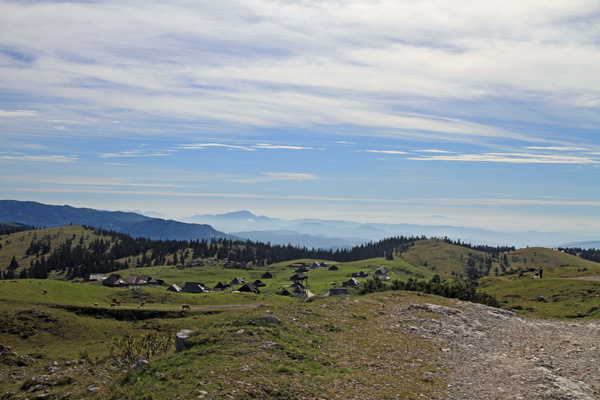 One of the huts in this village has been converted to a museum.  We were able to glimpse at the history of herding in this area thanks to the keeper of the museum, a student who spends the summer up here opening the door and telling the story wherever there are visitors – not a bad way to spend the summer unless you want to go to a disco every night.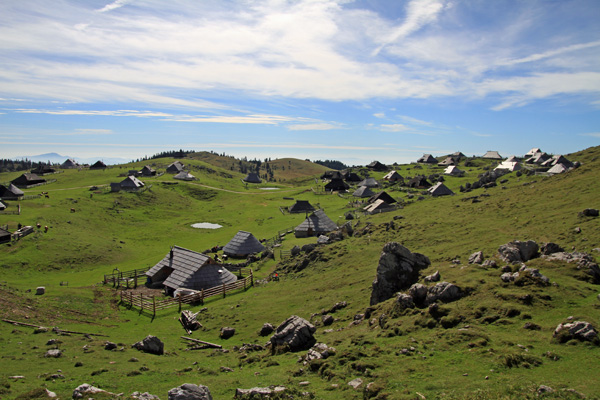 There is also a chapel, the tiny Church of Our Lady of the Snow built in the local style.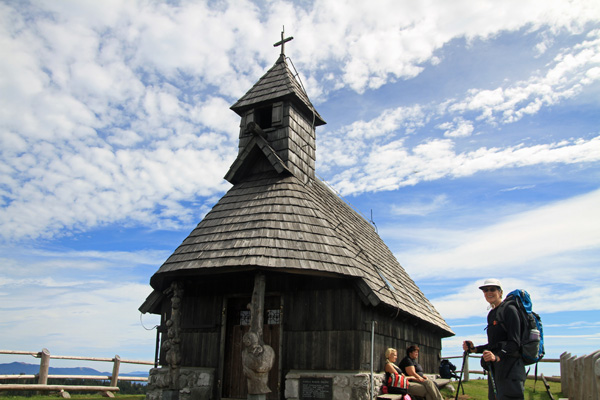 It is a gathering spot for walkers and we noticed that we are not alone on the plateau.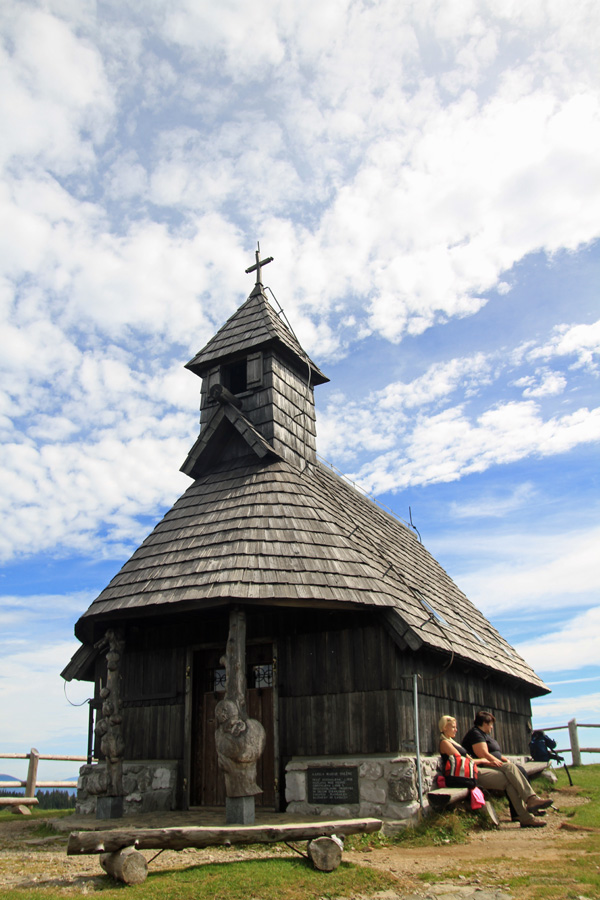 We needed to move on as we were getting hungry and still had about an hour to go before we would find the refuge where we could get something to eat and to drink.  As we walked away from the village, its position was even more dramatic, with the high peaks of the Kamnik-Savinja Alps behind it.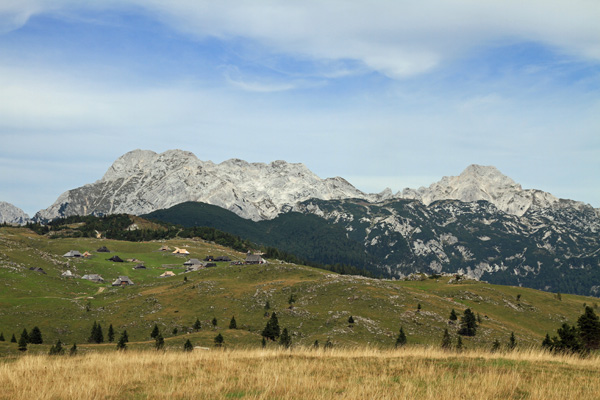 The peace and quite was only disturbed by three helicopters which seemed to appear and disappear at random in the area.  Ingrid jokingly indicated that they must not be Slovenian as they only have two!  Some one must have heard her as they soon landed very close to where we were.  This gave us an opportunity to find out that they were Hungarian and since they do not have mountains there, there is a agreement with Slovenia to train here.  They almost blew us away when they took off.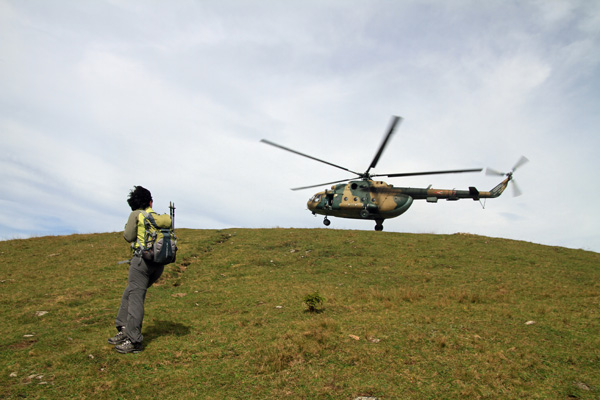 After an excellent pause for lunch, we headed back down towards civilization.  A few more huts, mostly used as week-end homes now (this part of the planina is accessible by 4×4)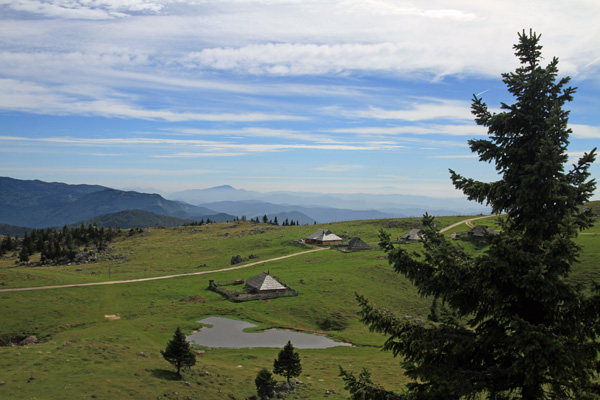 and the vistas remain just as spectacular as before – this is a combination of three photos taken with the camera turned vertically in order to have more height.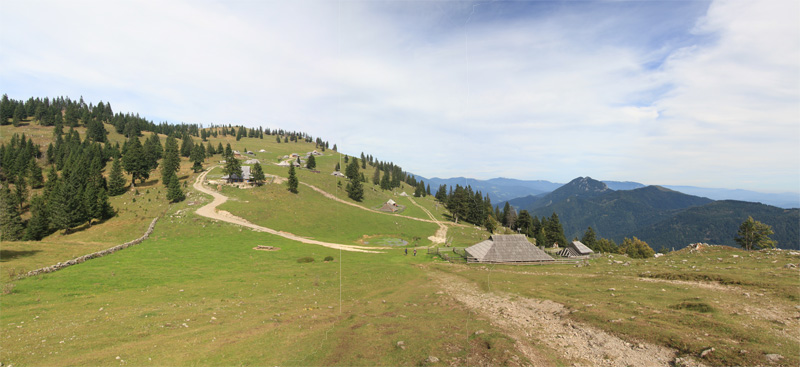 We slowly walk down the hills on the path normally taken by the cows.  More trees and no sight of Giuseppe who is supposed to expect us on the other side.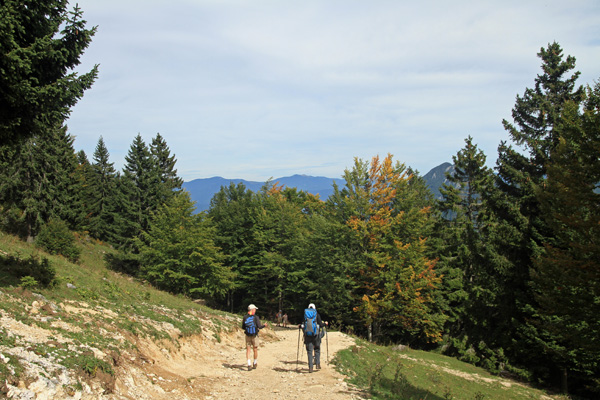 Giuseppe of course was there and drove us to Logarska Dolina where we stayed at the main hotel – this is the view from my window, or actually from the balcony in front of my room.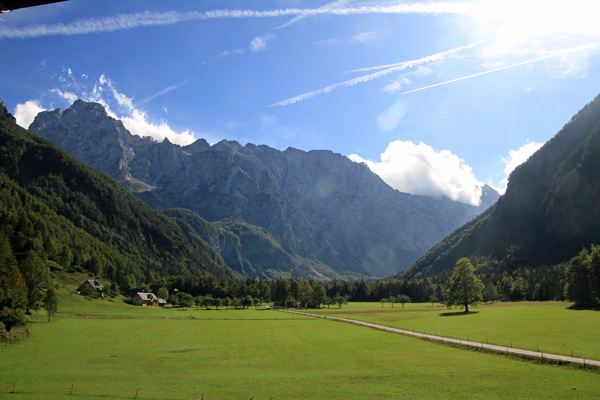 It is still early so we only stay long enough to drop our bags and we move on to a scenic drive of the three valleys (one on each side of Logarska Dolina where we start).  The first of the valleys is Matkov Kot – you can see it on the right of the photo below.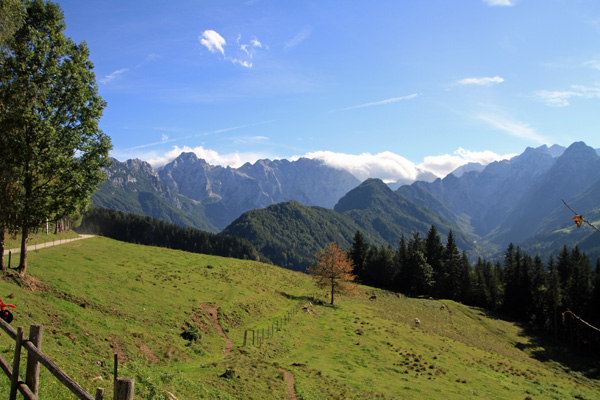 Here is an overhead view of Logarska Dolina.  Our hotel is in the cluster of trees in the middle of the valley.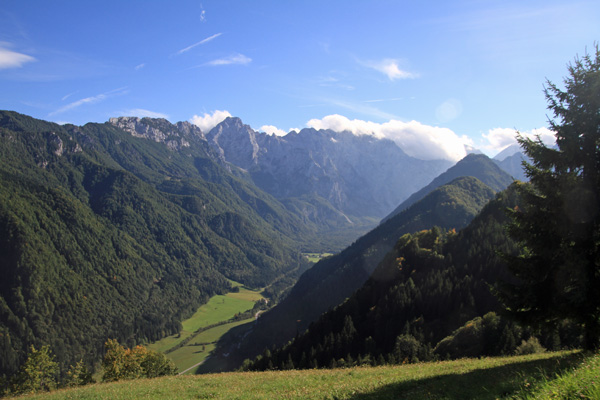 Along the drive, we pass the village of Podolseva, with as strategically located church.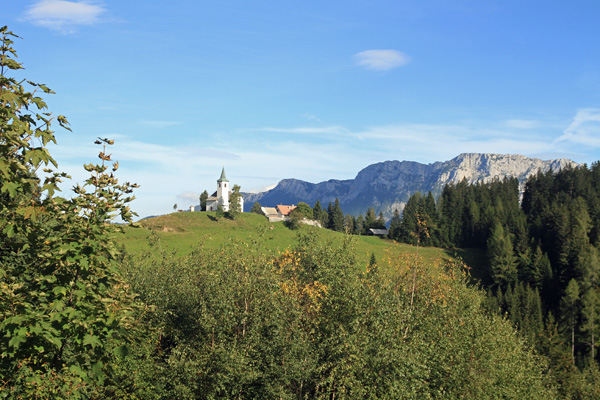 The third valley is Robanov Kot, not a good view of it, but a very interesting cloud … is it the cloaking device of an invading flying saucer?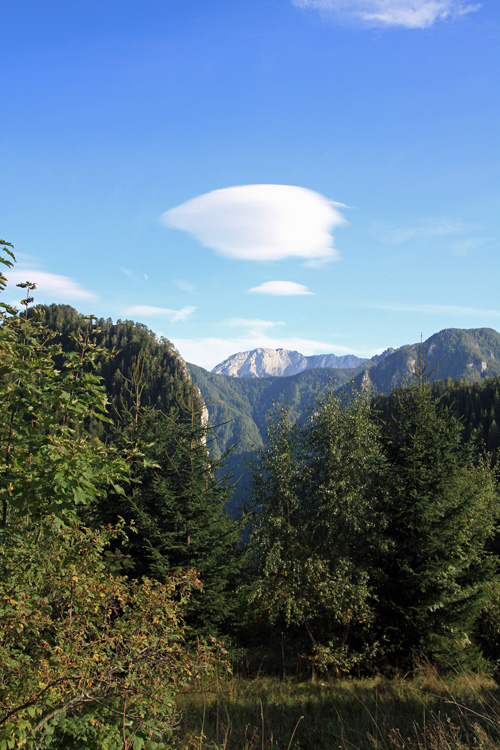 Overnight, the clouds came and it is now raining, but not too hard.  We climb through the forest up to a small refuge.  We are sur[prised to find people there since normally it is supposed to be closed after the summer, but we are told that there is a group coming during the week-end, so they decided to extend the season by one week.  We have a hot cup of tea and start on the way back down.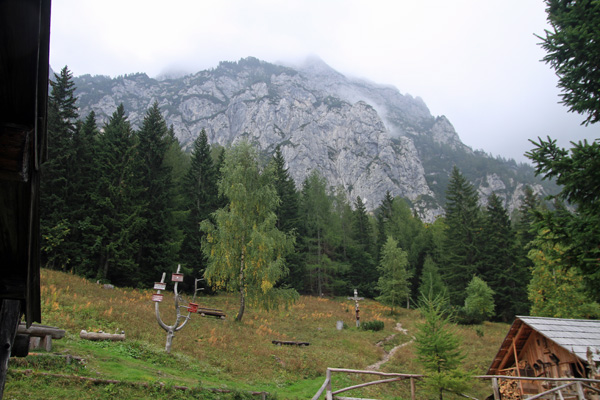 Not the sunny and bright sights of the previous day, but still very nice scenery when we can see through the trees.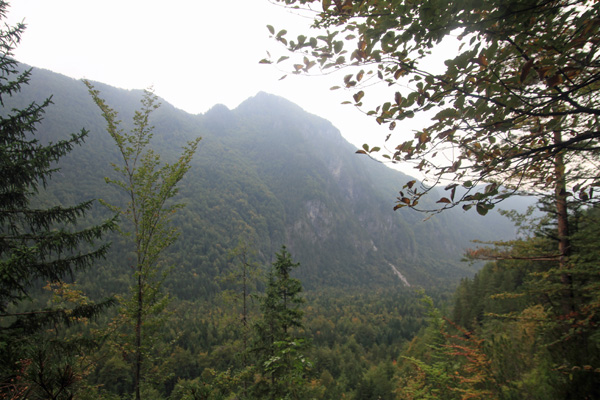 At the bottom, we are met by Giuseppe that is worried about lunch.  We are supposed to have a pic-nic, but it is raining rather hard now.  However, we find a couple of umbrellas a and small cover for the food and make do.  The pic-nic is definitely worth it so we eat plenty.  For the afternoon, since it is continuing to rian, I decide not to take my camera!   Big mistake.  It stops raining after 20 minutes.  I go back and get my camera, even if this means I have to do the same track four times and will not get to the other refuge.  However, this will allow me to take a photo of the tallest waterfall in Slovenia at a time when it has a little more water than usual…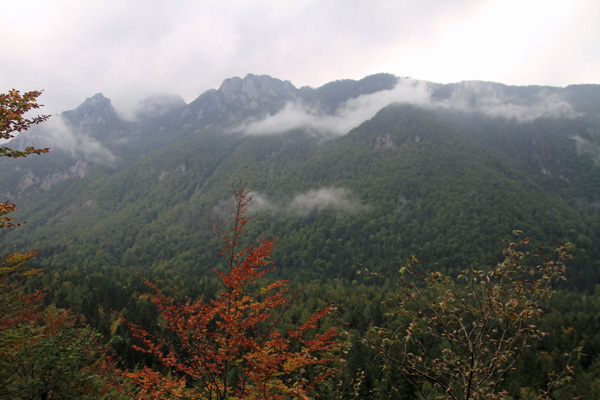 Here is that water fall: Slap Rinka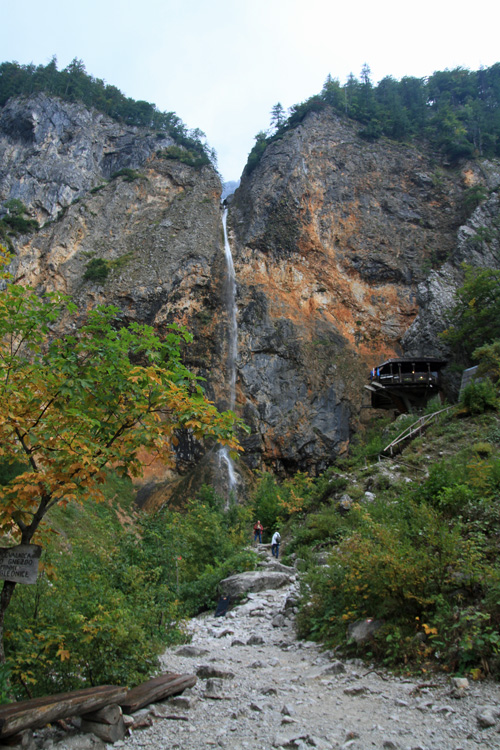 The view from the top of the water fall is quite spectacular which changing clouds in the middle of the mountains.  I took many pictures of the same view, all different because the clouds grew, than shrank, rose then fell continuously.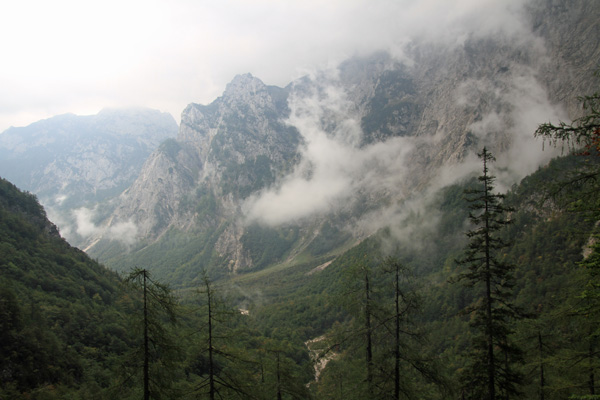 The river at the top of the water fall rushes between the rocks.  I have been working on getting photos of 'moving water'; this is a 2 second exposure – I like the result.  And, no, I am not carrying a tripod with me.  I used rocks and other stuff available locally to lock my camera in place, and then used to timer to make sure that I did not move it when I took the photo.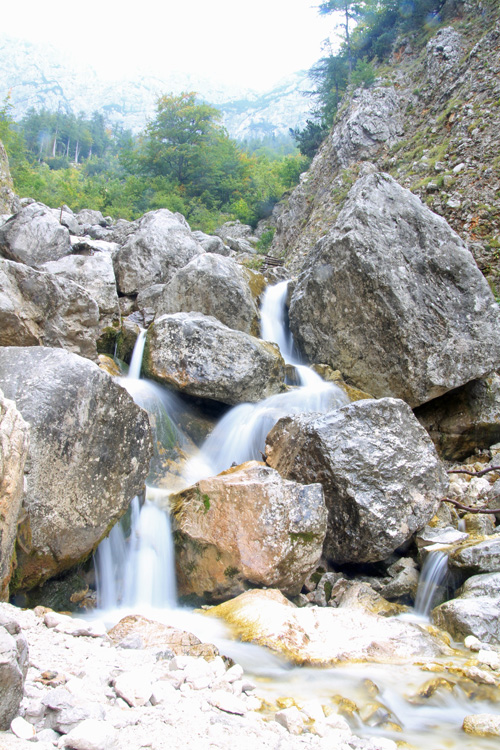 I tried the same thing with the main fall, but it did not come out as nice.  I could not get the camera in the right position, and the shot is a little overexposed… of course the people in the shot are blurry as well – I could not ask them to stop moving for 2 seconds…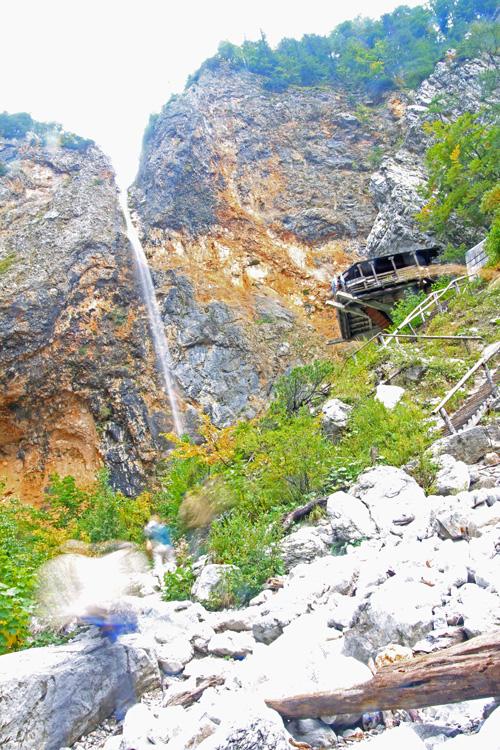 (1355 Page Views)