pierreo June 20th, 2010
Thursday 28 March, 2002
Flight from Singapore to Auckland leaving at 8:30 PM – after a full day of work, I am finally gone…  I have been thinking about going to New Zealand for over two years and I have been actively planning this trip for over six months.  I am also leaving about two months later than I intended.  I am sure everything will work out in the end…
The plane is completely full, but it looks like I might have a free seat next to me.  But no such luck!  The last person to board the plane sits next to me.  The doors are closed and we take off right on time.
Friday 29 March, 2002
Arrive in Auckland at 10:30 AM after a 10-hour flight, and not much sleep, but I have been able to relax for several hours and I am not too tired.
Taxi to the hotel I had reserved – compared to Singapore, I feel that the 50 NZ$ cost for the taxi is rather high.
The temperature is 22 C and the humidity is below 40% -no air conditioning and finally I breathe again.  I am really looking forward to spending three weeks without the need for A/C.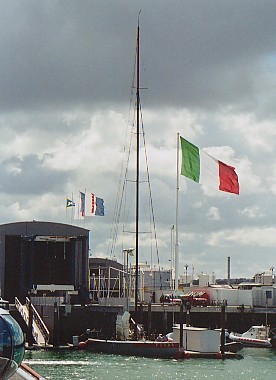 After a short rest and a shower at the hotel, I walk around the city and visit the site of the last and next America's Cup, where teams from New Zealand, Italy, Great Britain and the United States are already practicing.  I even see Prada I and Prada II coming back from a morning of sailing (photo to the right).  At the entrance to the "America's Cup Village" sits the New Zealand challenger in 1989 or 1990: "The Big Boat".  This was the one America's Cup that ended up being decided in the courts rather than on the water as both countries (US and N?Z) questioned the legality of the other boat (the US had a catamaran skippered by Dennis Conner).  On the bay, there is a boat with a mast much higher than any other boat.  As it comes closer, I notice the drawing of the America's Cup on the mainsail.  Sail # NZL-40 is strange though – and the boat has a white hull; the nick name of the New Zealand defenders of the America's Cup is "Black Magic" and they always have boats with a black hull.  I later find out that this boat was intended as a challenger in the 1995 cup in San Diego for a Bermuda Yacht Club.  However, the hull was not completed until 1996 – a bit late to compete.  A NZ company bought the boat and is now offering day-sails in Auckland on a 'real' America's Cup Boat.  As it gets closer, I notice what looks like 25-30 people in the cockpit!  I am no longer interested in doing this.
In the late afternoon, I visit Sky City, a large complex with the tallest building (a needle tower) in the southern hemisphere.  From here, the view is spectacular, especially given that the sky is menacing over most of the city.  However, pictures did not come out as the windows were heavily tinted and give a shade of green to everything.
Saturday 30 March, 2002
Still in Auckland, I decide to visit Waiheke Island, a small island (looks like less than 3 km long in my guide) in the bay outside Auckland.  I take an early ferry to go across and arrive there at 10 AM planning to explore the island on foot.
The first sign I see when I leave the ferry shows Ostend 33 km!  They cannot mean the one I know about which is more like 33000 km away – maybe this island is larger than I thought.  I than decide to rent a bicycle so that I can move around a little more.  After all, Ostend is a flat place where bicycles will get you everywhere.  This area is slightly different, however, especially after I miss the turn to Belgium Street and end up having to go over a very steep climb to reach the North side of the island.  I have not been able to find out why a small village is called Ostend and there is a Belgium Street on the island.
I also discover that there is a Jazz Festival going on for the Easter weekend.  Great – I get to hear good music while I am sipping good wine and eating a sandwich under an olive tree in one of the local wineries.  I meander on small roads from beach to small park and from quaint pub to cozy neighborhood for several hours.
I unfortunately need to leave early so that I can get my rental car before they close at 5PM.
Sunday 31 March, 2002
I leave Auckland in the early morning for Kerikeri, near the Bay of Islands in the North of the North Island.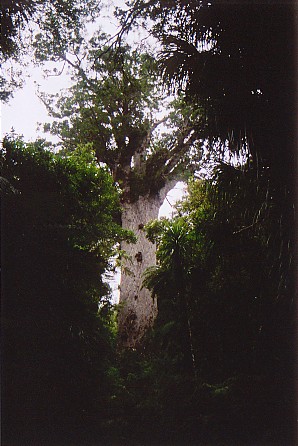 On the way I stop in the Waipura Kauri National Forest, the place where you can see the largest tree in New Zealand.  These trees are not particularly pretty (some people might actually go as far as calling them ugly) and are not particularly tall!  But they are MASSIVE!  The largest tree, Tane Mahuta (the 7 largest trees have been given names – this one is shown to the left), is over 5.2 m in diameter and has a straight trunk over 50 m tall.  On top of that, it has 4-5 small branches that look totally inadequate compared to the bulk of the trunk.  These are Kauri trees – not to be confused with the Kaori trees of Western Australia.  The N-Z Kauri is a pine tree while the Kaori is a Eucalyptus; the Kauri is short and squat, the Kaori is tall and slender – but they are both very impressive trees, and live to over 500 years old in order to get this big. In both cases, the trees were almost exterminated by logging in the mid 1900 before they became protected.  Te Matua Ngahere, wider but shorter than Tane Mahuta, is believed to be the widest and oldest tree in New Zealand, at over 4000 years old.  There are lot's of smaller versions that have trunks of only 2 m diameter, and are only a few 100 years old.  Compared to the two monsters already mentioned, they are of no importance, and are not even indicated in the guide or on the walking trails.
In Kerikeri, I find a very nice Bed and Breakfast for me to spend 2 nights.  It is almost like staying at home as I am actually staying in the "guest room" of a private house owned by very nice people.  When I arrived, I am served "afternoon tea" and given a summary of the activities that I can do while in Kerikeri.  I discovered later that this is customary in most B&Bs in New Zealand.
Monday 1 April, 2002
Get up early and have breakfast with my hosts – very civilized.
At 8:30 Am, I take a ferry from Paihia to Russell where I board a 1928 Schooner (pictured to the right) by the name of Windsock.  The skipper is an American who has lived in N-Z for over 10 years and has sailed around the world twice.  Only problem, there is NO wind.  I am really worrying that we will have to motor all day.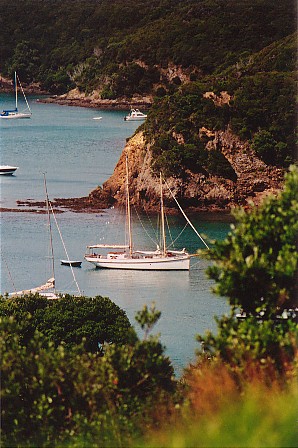 As we wait for other passengers to arrive (there are 10 people signed up), the wind is actually building and we have a great sail up the Bay of Island to our anchoring spot.  We have lunch in a secluded bay (with 20 other charter boats all taking advantage of the scenery and 'isolation').  The wind keeps building during the whole day and by the time we get back, it is unfortunately too strong to keep sailing, se we do end up, after all, motoring quite a lot.  Still a very nice day on the water (and a sunburn on the nose – of course).
I visit Russell before returning to Paihia by ferry and than Kerikeri – it is a small town with a lot of history, especially "Flagstaff Hill", where the local British garrison insisted on putting a "Union Jack" while the local Maori Tribe insisted on cutting it down, a total of 4 times!  After 4 repetitions, the British built a steel flagstaff, and the Maori understood there was no point in continuing to fight.  That last flagstaff is still standing there today.  The church of Russell is also one of the oldest buildings in New Zealand.
Tuesday 2 April, 2002
It is the first long day of driving as I go from Kerikeri to Rotorua.  I arrive at about 3 PM and again find a very nice Bed and Breakfast close to the center of town.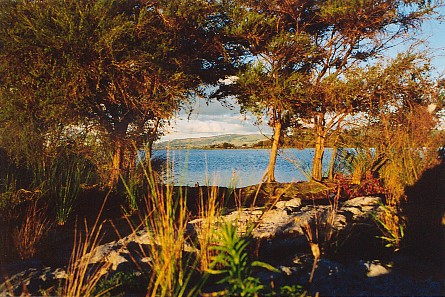 Rotorua is the center of a lot of volcanic activities.  Most hotels and inns in town have private hot tubs fed by natural hot springs – my B&B is no exception.  However, I will not be able to enjoy the tub as the water is much too hot to be able to bathe in it and there is nothing that can be done about that.  In the afternoon, I have time to take a leisurely walk along the lake, first along the hot springs near the Polynesian Spa and the Rotorua Museum (which is housed in the original building of the Rotorua Health Spa), later in an area full of many different kinds of wild birds – I also get a very nice sunset and extraordinary light effects just before the sun goes down.
Wednesday 3 April, 2002
I spend the morning at Te Whakarewarewa, a thermal area and Maori Cultural Center.  There are hot mud pools, sulphur lakes and, only one of three such places in the world, geysers.  One geyser, Pohutu, is almost in continuous activity.  There are very pleasant walks and not many people at this early hour.
In the afternoon, I visit a small Maori church on the lake and the Rotorua Museum, where I am treated with the most unexpected Victorian scene ever: ladies in full while uniform playing croquet on the 'perfect' lawns in front of this typically Victorian building.  I finish the day at the Polynesian Spa for a great massage and a dip in natural pools between 38 and 42 C – very civilized.
Thursday 4 April, 2002
Road trip around Rotorua and more volcanic areas.  First the Lady Fox Geyser (shown here in full eruption), which erupts every day at 10:15 – with a little bit of help!  It was discovered that adding about 1 kg of soap flakes into the 'sleeping' geyser will affect the balance underground between the cold water on top and the hot steam at the bottom – and "There She Blows!"  It's a big tourist attraction, and therefore there are dozens of busses that arrive between 9:30 and 10:00.  However, the scenery is quite nice and there are very nice walks in the area that I am able to wonder through before the crowd arrives.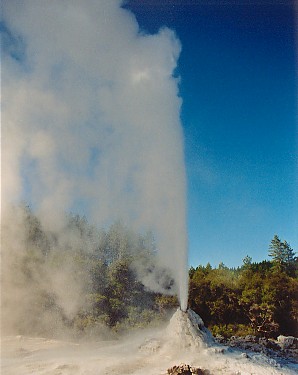 After lunch, I walk down to the Waimangu Volcanic Valley and Lake Rotomahana.  In 1880, this was the fastest developing tourist area in New Zealand as it was the site of the White and Pink Terraces.  These were formed over millions of years from hot springs above the lake.  Local Maori tribes began to guide tourists to these terraces and provided all the necessities to take a healthful bath in the hot water.  Unfortunately, these activities came to an abrupt end in 1886 when Mt. Tarawera, on the side of the lake, decided to explode in a very violent eruption which thoroughly modified the landscape and completely destroyed the terraces.  There is still a large crater on the side of the mountain which resulted from that eruption.  After walking down to the lake, I take a small cruise on the lake – there are areas where one can still look at the effects of the 1886 eruption, where nature is still rebuilding.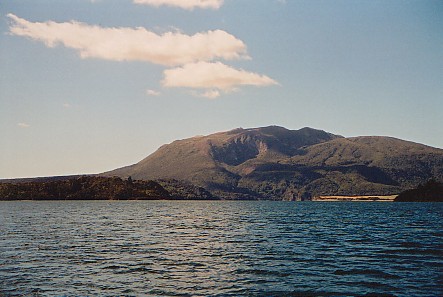 In the evening, I had booked an evening at a "Maori" Concert.  The first half was rather slow going, but things became more interesting later, when members of the audience were invited to participate in the performance.  I am now staring, making a fool of myself, in photos and videos in Korea, Britain (probably not for the first time), Germany and Australia while attempting to do the HAKA (Maori War Dance) and later greeting actors and actresses in the traditional Maori way, by tapping noses gently twice (not rubbing like the Inuit).  It was a very pleasant evening in a very nice atmosphere.
Friday 5 April, 2002
Long drive to Wellington.  I pass through the Tongariro National Park without stopping – unfortunately, I cannot do everything there is to do and that is worthwhile and I decided that I would leave this area for the next visit to New Zealand.
It's raining as I settle into the Guest House (which I have all to myself as the "owners" live a few streets away and there are no other guests).  I still decide to go for a short visit of the city before dinner.
Saturday 6 April, 2002
It is raining most of the day.  Good, I get to spend a lot of time at Te Papa, the Wellington Museum.
They have a temporary exhibit of Henry Moore statues, very well done.  They also have a very good "geology" section that explains the current condition of N-Z.  Some of N-Z was a part of Gondwanaland, the prehistoric continent that included Australia, South America and India.  However, most of N-Z has been created very recently by the collision of the Pacific Plate with the Arctic Plate.  Mountains are still being formed and modified in N-Z – for instance, Mount Cook, the highest mountain of N-Z lost over 11 m of elevation in 1986 when several thousand tones of the summit collapsed, missing a mountain lodge near the summit by only 100 meters.
Sunday 7 April, 2002
Return 1st rental car in Wellington – Jump on the ferry for Picton, on South Island
Get 2nd rental car in Picton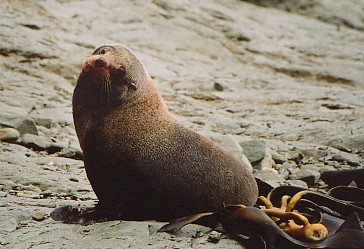 Drive to Kaikoura – on the East coast.  Kaikoura is great for sea wildlife.  I walk along the cost and literally run into sea lions and seals.  They are as surprised as I am when I accidentally climb up to the knoll that they are using for a short nap.  After eying each other, we each decide that we have nothing to fear from each other, and they go back to sleeping, while I continue my hike.  There are also birds I have never seen before and great scenery.  Between two rain showers, I get rewarded by a great (and briefly complete) rainbow – and best of the best, I am actually able to get good photos of it.
Monday 8 April, 2002
It's 5:30 AM and my phone wakes me up!  It's pitch black and really cold out.  It only stopped raining a few minutes ago.  By 6 AM, I am standing in line, waiting to be given a wet suit and the rest of the gear I will need to today.  I am actually going to strip naked and put on a wet wetsuit while it is freezing cold outside, and still dark.  There are a dozen people in front of me and that many also behind – nobody talks much as nobody has had that first cup of coffee.
In our wetsuits, carrying fins and mask, we pile into a bus and are driven to the shore where we board two speed boats.  It is still dark.  To make us feel better, the organizers tell us that the water close to shore is quite rough, and we should expect the boat to move a lot – but not to worry, once we get away from the coast, the water is calmer and the waves are less than 2 meters.
As the sun tries to shine between the sea and the low clouds, we are speeding off-shore – still not quite sure why we are there.  The temperature remains low and the fact that everything we are wearing is wet does not help.  I can get away from the wind, but than I get seasick because I am inside the cabin – or I can stay outside into the cold wind.
The time stretches, slowly, as the light gradually improves – but the temperature is still low.  After 90 minutes of heading off-shore, the captain informs us that we have to turn around and hope for more success on the way back.  All the people around me are numb from the cold, from the wait, and from the fact that we had too little sleep.
Than the word reaches us that the 'quarry' has been sighted, but at least 30 minutes away from where we currently are.  We increase speed and chase.  We are told to get ready to go swimming; we look at each other wondering if that is really what we want to do – we are all freezing… However, nobody wants to be the "sissy" so we start putting on fins and mask and getting ready – the toughest part is actually removing the sweater and coat that have kept me somewhat comfortable.  We sit in the back of the boat, our feet in the water as the boat slows down.  When the horn finally sounds (the agreed signal for us to go swimming), we dive in.  The water is actually warmer than I thought, and warmer than the outside air.  However, it is not very clear and therefore visibility in the water is not excellent.
I start to swim away from the boat and first one, than 3 than 8 dolphins swim under me.  After a while, two dolphins stop to look at me and we make eye contact.   They "signal" for me to follow them and speed away – I am unfortunately unable to go as fast as them, and they assume that I am not interested.  We get back to the boat and catch up with the pod several times and get more opportunities to swim with dolphins.  They are much less interested than we are and therefore ignore us most of the time.
After 30-40 minutes of this, we have to turn around and leave the dolphins behind.  Nobody is cold anymore, nobody is numb, and that missing cup of coffee does not seem to matter either.  We actually shared the same water as one of the most fascinating 'relative' we have.  By 9 AM, I am back at the hotel for a quick (hot!) shower before I have to leave for Oamaru, my next stop.  It is only 9 AM, and I have done more than a lot of people do in a full day!
In Oamaru, I am told that the best time to view the penguins of the area is when they return from the sea in the evening.  I stake out a place near a colony of Yellow Eyed Penguins around 5:30 PM.  I am not alone and we are, unfortunately, rather far from the beach.  However, around 6:15, suddenly, a lone penguin "pops" out of a wave and slowly walks to his nest (you can just make it out on the attached photo – but it is really clear if you enlarge the photo).  Later, I go to a colony of Blue Penguins and see three of these come out of the water very slowly and make their way up a steep slope to where their nests are.  It is amazing to be able to see wild animals this close – and I always thought that penguins lived in the arctic, not near civilization or where the temperature is rather mild.
Tuesday April 9, 2002
I visit the historic center of Oamaru, where there are several well preserved industrial buildings from late 1800.  It is an attraction here as there are not that many buildings in the whole country older that these are…
Than drive to Dunedin – Scottish capital of New Zealand.
In the afternoon, I visit Olveston, a Victorian Mansion in the city – it reminds me a lot of Heidehof and Zandheuvel, only with more Asian art!  One of the main attraction of the house is the "servant call panel" where a number appears to indicate which bell has been pulled (and there are bells all over the house) – sounds familiar does it not.
Wednesday April 10, 2002
I spend the whole day on the Otago Peninsula, first with a visit to Larnach Castle, another great mansion of the Victorian era.  The sun is slow in cutting through the morning fog and I am treated by spectacular, and peaceful, views of the sound.
I than visit the Yellow Eyed Penguin Reserve – a private development (started by a farmer who decided to preserve and than expand the natural habitat that these penguins like.  He than built hides and trenches which allow visitors to move very close to the animals.  I am on a private tour (my luck that nobody else showed up at the appointed hour) and I get to take pictures from only 1-2 meters away from the animals who are currently molting (changing their old feathers before the new ones can develop).  During this period, they cannot go into the water as their plumage is no longer waterproof.
Later in the day, I go to the Royal Albatross Center – only three chicks are visible from the only allowed vantage point, but their size is amazing.  I also visit a WWI and WWII fort with the last example (in N-Z) of the Armstrong Disappearing gun.  I have a great conversation with my Tour Guide about life in the area during WWII.
I finish the day with a walk in the country and along the South coast of the Otago Peninsula – other than the occasional fence, I could be alone in the world as there are no other signs of human habitation.
Thursday April 11, 2002
I leave Dunedin early in the morning and drive straight to Te Anau.  As I approach, the mountains get a little bit higher and the scenery a little more desolate.  I approach one of the most isolated areas of New Zealand – there is really only one road in and out of this area.
I settle into my new Bed and Breakfast –the Cozy Kiwi and walk around Te Anau to get my bearings.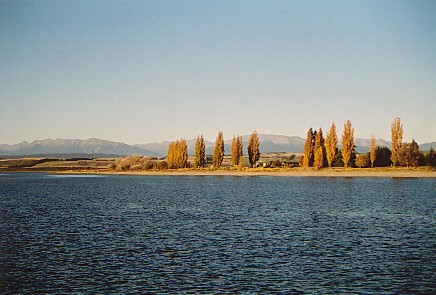 I sign up for a late afternoon visit to the "Glowworm Caves" right on the lake.  Other than an invasion of Chinese tourists, the visit is quite something.  We first travel for 45 minutes on Lake Te Anau with beautiful views of the shore and the mountains in the distance as the sun slowly disappears.  Than we see a short video about the caves and finally get to enter the caves in groups of 12 people.  The caves are formed by a very large river and are thoroughly wet – they are also so new that there are no stalactites and stalagmites – they have not had an opportunity to grow yet!  After a short walk, bending very low to avoid rocks, we board a first boat that takes us a little upstream – our guide "drives" the boat by using a rope strung along the ceiling of the cave – no motors allowed, of course.  After a further short walk, the guide stops us to inform us that the rest of the visit will be done in close to total darkness and should be done in total silence (as noise and light will disturb the glowworms.  We board a second boat and after a sharp turn, I stop seeing anything as we are in total darkness.  And suddenly, points of light appear – more and more, on what I assume are the walls of the cave.  At times they are very close to us; others are further away.  The darkness and the total silence enhance the experience of eeriness and wonderment.  After about 15 minutes, and a couple of U-turns, we head back where we came from – walk to first boat to exit of cave to motor launch back to Te Anau.  A very enjoyable experience.
Friday April 12, 2002
I decide that I want to see what one of the Tracks around Te Anau looks like.  The easiest to get to is the Keppler Track, a four day walk into the lower mountains of the Southern Alps.  The first day of the walk involves a climb to the Luxmore Hut, at about 1085 m altitude.  That is quite a climb considering the 200 m elevation of Lake Te Anau (the starting point where I can leave my car).  The "good book" (Lonely Planet guide to New Zealand) indicates that it should take 90 minutes of level walking along the lakeshore before the path starts to climb.  From here, it should take 4 ½ hours to get to the hut.  I decide that I shall climb a maximum of three hours and turn-around at that time, hoping that I have, at least, been able to make it above the tree line and get a good look at the views the guide advertises.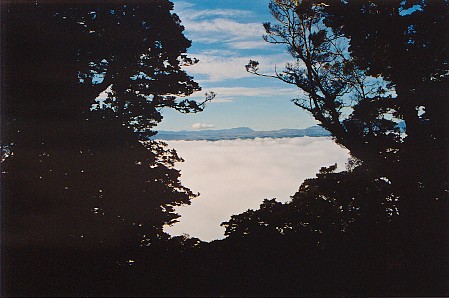 As I set off in the early morning (it's 8 AM), the sky is very cloudy.  After 75 minutes of walking, I get to the lakeside campground that marks the beginning of the climb.  Within 30 more minutes, I am in the clouds.  Visibility is nil even if I could see beyond the trees that block the view anyway.  The path climbs steadily but is very well marked and easy to follow.  I am not struggling too hard as I am only carrying a light day pack with my lunch, a rain coat (just in case), my camera with three lenses and 4 rolls of film (I would not want to run out here!), and 1 liter of water.  On the way, I run into other hikers, some clearly there only for the day, with only a small backpack; others are just as clearly getting ready for the whole walk as they are carrying a lot of material on their back.  One couple and I keep passing each other as we take turns stopping to look at the scenery or to take a quick photo.
At 10 AM, I break through the clouds but I am still in the trees.  Through a break, however, I am able to see the Southern Alps in the distance and the top of the clouds, completely covering the surface of Lake Te Anau.  30 minutes later, I am above the trees and the clouds are breaking up allowing me to see 'forever' – the view is definitely worth the effort to get up here.  The sun is starting to get warmer and therefore clothes start to come off – the sweater first, and than the legs of my "convertible" pants, which than turn into shorts.  Before noon, I have actually made it all the way to the Luxmore hut where I can get fresh water and I can eat my lunch while I enjoy the view.  I am not alone as I arrive at about the same time as several other people, some getting ready for the whole walk, others just doing a one day hike like me.  But it is still only 8 other people so it is not overwhelming; the mountain is big and there is room for everybody.  The way down is somewhat easier, even though I realize how steep the path is at times.  As I walk down, the clouds are gone and I can take the photo show to the right at the same location as the one shown to the left, only without the clouds obscuring the view of the lake.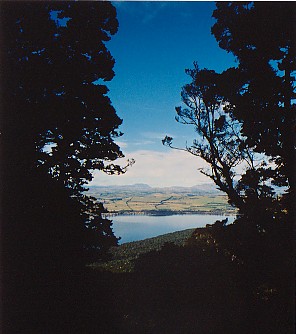 When I get back to the car, my thighs are hurting (not used to this punishment) but I am feeling quite good.  I am actually quite pleased that I have done up and down more than 800 m elevation change and I am not breathing hard.
At 5PM, I go to Fjordland Adventures to get the briefing for my two-day kayaking trip starting the next day.  It is an opportunity to meet the other participants (Stefan is Swiss, Simon and Sonya are Brits, Dan and Theresa are Auzies and Thomas and Benedicte are French, on their slow way back to France from a 2 year assignment in Tahiti – international crew as usual).  After the meeting, I do some last minute shopping to make sure I have all the food I will need during the trip.
Saturday April 13, 2002
Once again, I have to get up early for an adventure.  I slowly sneak out of the B&B where I am staying, after picking up the "picnic' breakfast that Hans, my host at the Kozy Kiwi, was nice enough to prepare for me last night.  After all, this is a Bed and Breakfast and the hosts feel very bad if you have to leave without anything to eat in the morning.
The rendez-vous is at 6AM and there I meet Scott and Ron, our guides for the two days.  Scott is training and is doing the trip for the second time.  Ron will be mentoring him, and testing him to make sure he can take a group on his own next time (and it will be next season as this is one of the last outings on Doubtful Sound before winter).  Our luck that we have two guides, very different, to help us out.
6:15, we pick up more members as we drive in a mini-bus from Te Anau to Manapouri.  The sun is starting to rise as we board the motor boat that will take us across Lake Manapouri.  We have first spend 15 minutes loading all the equipment we will take with us (6 tents, 10 personal bags, 20 bags of groceries, 10 sleeping bags, 2 paddles, large bags that contain wet suits, rain coats, dry bags, fleece hats and coats, etc, and quite a few other things I cannot identify).  We are still rather sleepy but, while Ron is at the commands, Scott prepares some tea and coffee for us.  I look into my breakfast bag – but it s still too early to eat.
By 7:30, we have docked the boat and emptied it on the opposite shore of Lake Manapouri.  The sun is up, but behind rather thick clouds.  The sand flies, however, are not shy and are quick to make a meal out of any small speck of skin not covered by clothing and/or mosquito repellent.  We transfer our materiel to the trailer behind our Jeep and get back on the road – a very interesting road as it connects two docks – nothing else.  There is a large hydroelectric power plant at the Western end of Lake Manapouri and the only way to transport the turbines to the plant was to ship them to the end of Doubtful Sound and than transfer them by road, over a low pass, to the plant.  The road built for that is now used by tourists, like us, to get to Doubtful Sound.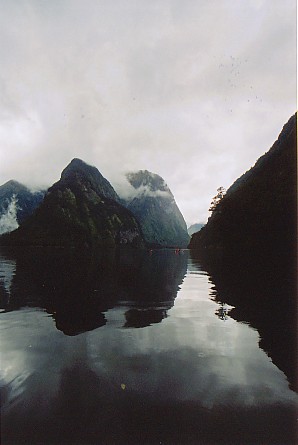 Once we get to the Sound, we start getting our gear for Kayaking.  One wet suit, one fleece shirt to be worn above the wet suit for warmth, one rain coat to protect mainly from sprays, one fleece hat for warmth and one cotton cap to protect from the sun and, most important of all, our spray-skirt, that closes the opening we occupy in the Kayak so as to maintain the inside of it as dry as possible.  We also prepare our personal gear into waterproof bags and load our food as well as all the common camping equipment.  Even though there is an "established" camping location where they go every time, the organizers insist that we should have all the necessary gear with us, just in case we cannot make it to the usual location.  We have just added 40 to 60 kg to the kayaks and while it was easy for 4 people to lift them when they were empty, it now takes 6 people to put them in the water.  Thomas and Benedicte are first to leave, than Dan and Theresa, followed by Stefan and Simon, leaving Sonya and I as last to go.  The double Kayak is exactly the opposite of a tandem.  The person in the back steers and the person in front does more paddling (and in our case does the navigating, if necessary).  Sonya and I decide that we will switch after one day and therefore I start in the back.  I have not paddles in years and I have never steered a vehicle with my feet.  However, we quickly find our rhythm (it is important to paddle together) and I even manage to steer us in roughly the right direction and we are off.  As soon as we leave the dock area, we leave all signs of humans – 4 double and 2 single kayaks alone in the world.  We are in a narrow body of water (only 600-800 meters wide, between sheer mountains rising at times over 1000 meters above sea level.  Strangely enough, there are trees and bushes and grass hanging on to the rocky cliffs so that we are also surrounded by greenery.  There is very little wind and the water is perfectly calm.  The going is very easy and we are all getting more and more comfortable in our Kayaks.
We paddle generally following the shore and keeping close to each other.  We have been asked to keep within sight and talking distance of our guides so that we can respond quickly should anything happen.  However, with two guides, the group does tend to stretch out and most of the time Sonya and I are on our own and we slowly get to know each other.  Our tranquil journey is interrupted, very briefly, by a challenge from Thomas and Benedicte to race around the island in front of us – challenge quickly accepted, of course.  They get a slight lead and we struggle, unsuccessfully to catch up.  However, there are no losers or winners as we all enjoyed the extra effort.  We have lunch on one of the very rare beach in the area – not much of a beach actually – it is just the only place where the rocks at the water's edge are not straight up and down and therefore we are able to stand on dry ground.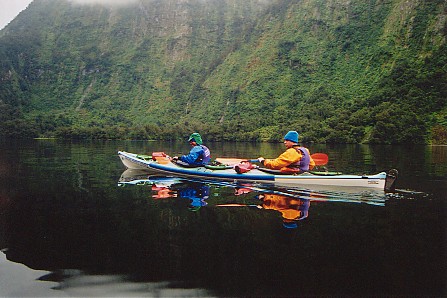 After another afternoon of more exploring, we have to paddle against the wind in order to get to the campground.  It is a bit harder, and after 5 hours of this, I am starting to feel my arms but I think everybody feeling about the same and we are glad to get to shore at about 3 PM.  The first priority is to replace the mosquito repellent so that the sand flies leave us alone.  After that, we have to set up camp, better done in wet clothes as it is starting to rain.  When the tents are up, we change into our own dry clothes and go into the "insect shelter" permanently installed there.  We are finally free of sand flies – and we can enjoy the evening, and our meal, and all the extras that people brought (chocolate cookies, Pringles, a bottle of whiskey, peanuts etc…) 
During the evening we all get to know each other.  Thomas and Benedicte are hoping to get a visa to enter Russia.  If so, they will get a visa to China (easier to get) and Mongolia and travel back to France the very LONG WAY!  Sonya has been living in New Zealand for over a year, working most of the time, and is taking time off to discover more of the country before possibly moving on to Australia.  Dan and Theresa are on their third trip to New Zealand, and have yet to make it North of Christchurch!  Everybody seems to enjoy the company and their experience in New Zealand.  By 9 PM we are all tired from the long day and the paddling and start getting ready for bed.
Sunday April 14, 2002
It has not stopped raining all night!  I have the impression that I did not sleep all that well, but I feel quite rested and I get up as soon as I see that the sky is getting lighter.  Our goal is to have breakfast and be ready to start paddling before 10AM.  This is not an easy goal given the time that it will take to get all our equipment ready.  I am not the first to be up as Ron is already boiling water for coffee or tea.  Great Service in this hotel … and the scenery is hard to beat.
After breakfast, we reverse the operations of the day before by getting into our paddling clothes (still wet, I am afraid) before striking camp and reloading the kayaks.  At 9:45, we set off.  This time I get the view and Sonya has to pay attention to where we are going – but again we get into the rhythm quite easily.  Unfortunately, it is still raining, but I have not heard a single person yet complain about it.  We can actually be glad for the rain because it means that the temperature during the night was higher and during the day is lower than average – it also increases the volume of the hundreds of water falls descending the cliffs all around us.
Scott entertains us with a three part docudrama about the history, biology and geology behind the Fjords (as this is really a fjord and not a sound, formed by glaciers and not a river) and Ron (and others) continually interject sexual innuendos into the story making it the best "lecture" I have heard in a long time.  Nobody remembers what happened 65 million years ago – but you make it 69 million years, and you get a very different feeling.
Problem today, though, is that the wind is stronger than yesterday and we have to paddle directly into it, making our work quite a bit harder.  As long as we stay close to shore, all is well, but after a while, we have to cross an open stretch of water and I can tell that I am going to need a bit of rest before attempting that.  We stop for just a few minutes before setting off again and make is safely to the other side – everybody was glad to get there though as the waves were building and the wind was pushing us back if we stopped paddling.  We have reached the furthest point we will paddle, fortunately, and getting back now will all be downwind – we have done the hard part for the day already.
As we are going downwind, we pull out the sails.  Yes, kayaks do have sails, or at least, we can rig some that will get us home faster and easier.  Ron is working with Dan, Theresa, Thomas and Benedicte while Scott helps Sonya, Stefan, Simon and myself.  Two kayak rafts under sail – of course, that means a race!  What a great way to end these two days.
Even though we stop paddling at about 1:30 PM, it took us until 7 PM to pack all the gear and retrace our steps back to Te Anau.  The group had so much fun during the two days, that we decide to have dinner together as we are not yet ready to part company.  We have a very nice dinner and than it all over!
Monday April 15, 2002
I am not quite sure what I want to do today.  I have been told that Milford Sound would be disappointing after Doubtful Sound; but I am also told that the drive to Milford Sound is almost better that the sound itself.  There is also the fact that having lived on Milford Haven I should see the Sound named after it.  The day starts cloudy and 'miserable' and therefore I continue to hesitate; but than I decide to get going and see how the weather changes during the 2-3 hours that it will take me to get there anyway.  I stop several times on the way to Milford and finally arrive around noon.
After a light lunch, mostly leftovers from the kayaking trip, I take a cruise on Milford sound.  Very nice, but I almost ruin the rest of my trip.  I have staked out a spot on the very top of the boat, along the railing.  As I stretch and reach to be able to get better pictures, I sometimes lean against the top of the railing.  After a special stretch to get a good picture of a rainbow, I notice something black sitting on the railing.  Before I know what is going on, the black "thing" slowly tumbles from the railing toward the outside of the boat.  That is when I realize that this "thing" is my wallet, with all my money and credit cards in it.  I watch it slowly falling onto a ledge, not more than 10 cm wide.  I was just able to reach over the railing and retrieve it – glad that the water was calm and the boat did not move too much.  I was a bit more careful after that!!!!
After the cruise, I decide to head back the Te Anau and than on towards Queenstown, convinced that I would find a place to stay before I got that far.  However, I end up driving faster than I anticipated and make it all the way before dark and settle for the night in a small motel just outside the center of Queenstown.
Tuesday April 16, 2002
I spend an extra day in Queenstown, which was not even on my original itinerary.  However, while kayaking on the Doubtful Sound, I had complained that I had not yet seen much fall foliage in New Zealand, something I hade expected before my departure.  Sonya than told me that I just had to go to Arrowtown (seen here to the right) as this is known for the best fall colours in New Zealand.  During the trip to the Doubtful Sound, I had learned that all the native trees in New Zealand are evergreen and therefore any tree that changes colour in fall has to be a European Import.  Lots of these were obviously brought in around Arrowtown!  This is an old gold mining town and has kept a lot of the "frontier" spirit (even though this is more an American adjective).  However, I can well imagine a "Spaghetti Western" being filmed here as the buildings have the same character as those portrayed in those movies.  And the trees are magnificent.  There are greens and yellows and reds and browns and ocres and bordeaus and more greens and even more yellows everywhere.  I am very glad I made the extra stop – thanks Sonya.
After lunch, I explore the Queenstown Gondola and see several people doing a tandem paraglide.  Most are really nervous and it is interesting to see how people react in such conditions.  One middle aged man stands absolutely still and does exactly, but exactly, what the guide tells him; another young Indian woman is giddy and is too nervous to react to the obvious flirtations of her guide.  They all leave, some screaming at the top of their lungs, and I assume they make it safely back down.
Other than this spectacle the view is also worth the trip and I stay quite a long time just enjoying it.
Queenstown is supposed to be the "adrenaline" capital of the world – and I will have managed to enjoy it at lot without a single adrenaline rush.  No need for bungee jumping, jet boating, white water rafting, paragliding, skydiving, or anything like that to enjoy a day in this area.
Wednesday April 17, 2002
When I went to Alice Springs in Central Australia in July of 2000, I had hoped to sign up for a Sunrise Balloon ride that was organized there.  I did not make it as all the places were taken by the time I arrived.
I had another opportunity in Queenstown, and decided I was not going to miss it again.  I extended my stay in Queenstown by one day in order to be able to do it.  Boy! Am I glad I did!  I am picked up at 7:15 AM, a reasonable time actually, and driven with two other aeronauts to the 'launch pad'.  The sun is just rising over the mountains as we start to inflate the balloon and soon, without any effort, we start to rise with Hugh at the commands – only four of us.  We quickly rise to 2600 m, well above the mountains in the immediate vicinity.  We can actually see the South Pacific Ocean off the coast of Invercargill; we can also see the Tasman Sea off the west coast; and as we reach our 'cruising' altitude, one mountain seems to rise well above all the others: Mount Cook at over 3700 m which is over 250 km away – just to give you a better idea of the incredible visibility we had that day.
After about one hour of soaring well above the plain, we start to drift closer to the mountains and therefore Hugh decides that it is time to start our way down.  As smooth and fast as the elevator ride was on the way up, it is even more so on the way down.  We are dropping at the speed of a skydiver with his chute open but cannot feel a thing.  At 500 m, Hugh starts to heat the balloon back up in order to slow down our descent.  This low, I did notice that the earth was approaching quite rapidly, and did not mind the sudden interruption of the noise made by the butane burner – they really have to find a way to silence it and this would be a totally perfect experience.
After some hesitating as the wind did not seem to decide which way to take us once we got close to the ground, we make a perfect landing in an open field, and less than 5 minutes later, the chasing team comes to help us put away the balloon.  We have a "Champagne Brunch" next to the balloon before returning to Queenstown.  Once again, quite a beginning to a great day.
After checking out of the hotel, I head for the West Coast and Franz Josef Glacier.
Thursday April 18, 2002
At 8 AM, I go to the headquarters of the Franz Josef Alpine Guides; I have arranged a full day trip on the glacier with a guide.  I receive boots, crampons, socks, wool gloves and an ice axe.  There are man other people also getting their gear and I am getting concerned that we will have quite a crowd on the glacier.  We all pile into a bus, that is completely full, for the short drive to the foot of the glacier.  After a 30 minute walk, we are split into groups of 10: a fast team, a medium fast, a medium, a medium slow and a National Geographic Group (their description for the slow group with people taking 100's of pictures!)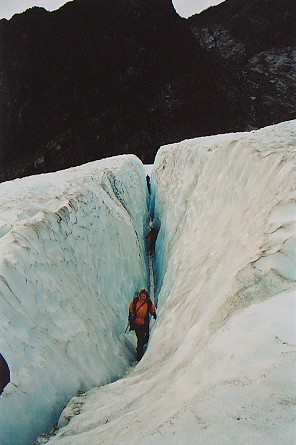 We end up with a group of 11 from all over the world.  There are two Germans, two Scandinavians whom I cannot place exactly, Britons, Canadians and Americans.  We put on the crampons and set off on the ice.  Our guide helps by cutting steps in the ice when the going gets too hard.  We climb into crevasses (as the one on the right here), where at times, I can barely fit (because of my shoulders, not my stomach!).  After lunch, we go even deeper into the glacier and for a while we are in the middle of a crevasse, with 2 m of ice above us and a hole at least 2 m deep below us.  We step on the narrow steps cut by our guide and I marvel at the deep blue hue of the ice.
In the evening, I drive to Hokitika, just to get closer to Christchurch – there is nothing particular to see or do in this town.
Friday April 19, 2002
Drive to Christchurch through Arthur's Pass.  Very nice views on the way, but mostly hidden by the low clouds.
I return my rental car and check into the Windsor Hotel, right on the edge of the town center.  I walk around the area in the early evening before a nice dinner, al fresco (literally as it is not that warm outside and I am glad to be eating next to a gas heater) along the Avon River.
Saturday April 20, 2002
I sign up for a Guided walk of Christchurch and it looks like, one more time, I might be the only participant.  However, just as we start, 6 more people show up.  At first I am disappointed, but it turns out to be a very nice group and our guide is very good as well.  What should have been a 2-hour walk from 10 AM to noon stretches to 1:30 PM and we get to see both the old and new Christchurch.
In the afternoon, I relax and take a stroll along the Avon River (no Bard though).  Dinner at a restaurant with the strangest name yet: Six Chair Missing (yes, no 's' on chair either!).  As the Lonely Planet says, it sounds more like the title of a French Movie than a Restaurant.
Sunday April 21, 2002
Early, very, morning flight to Auckland than wait and wait and wait ….Afternoon flight to Singapore where I arrive in the early evening.
It's OVER (little tear drop!) – but I will be back
This is exactly how I wrote up the trip in 2002 – I had to change the format a little to fit a blog as opposed to a printed sheet of paper.  I did go back to New Zealand, and have a totally different experience the second time around in 2007.  I still enjoyed it and could go back a third time as still see new things.  I'll think about doing a blog entry on the second trip to New Zealand in the coming months, if I have time…
(3494 Page Views)