pierreo May 28th, 2010
I lived in Wales for a year a long time ago! Since I left there in 1988, I never went back until recently.
I decided that South Wales would be a convenient stop-over point on my way to Ireland.  I took an early ferry from Dunkirk to Dover with Norfolk Line then drove directly to Saundersfoot where I had booked at the Harbourlight Guest House.  There are more details on these, and other practical aspects of my trip at the end of this post.
I had lived in Saudersfoot for a year in 1987 and 1988.  The town had not changed much since then.  Here is a panoramic view of seafront (assembled from four individual shots) – the photo is shown half size so you are encourraged to open it separately in your browser to see more details.

The old "Coal Office" in front of the harbour has been refurbished, it is now painted white and is again the local information office – when I lived there, it was a chinese Fish&Chips shop where I went on a regular basis for dinner!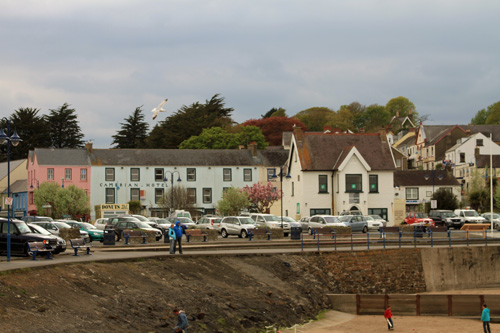 Above the harbour, with direct access to a small beach is the mansion where I lived – No, I did not live in the mansion itself, but in the "Coachman's Cottage" attached to and to the rear of the mansion.  The family who lived there has since moved to Tenby – we have not kept in touch  unfortunately so I did not have a chance to meet with them again.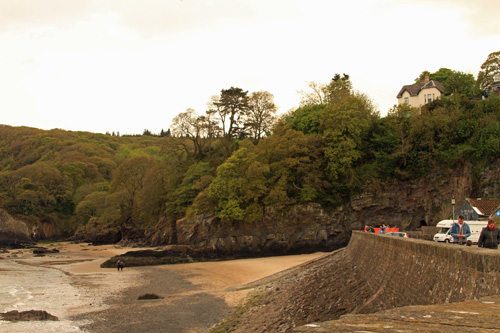 Here is a photo that was taken while I was there – different angle, but the same cliffs and the same house on top!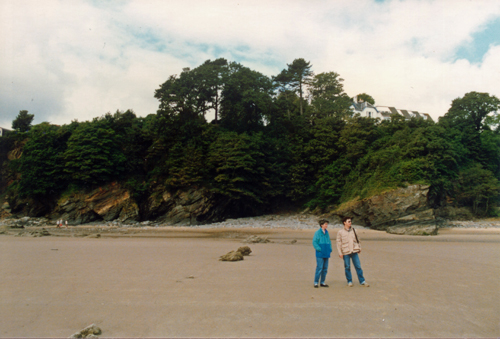 The scenic town of Tenby, just down the coast from Saudersfoot, has not changed at all.  The ramps on the left of this photo are for launching the RNLI Lifeboats which cover the Pembrokeshire Coast from here.  At low tide, access to the harbour itself is somewhat restricted.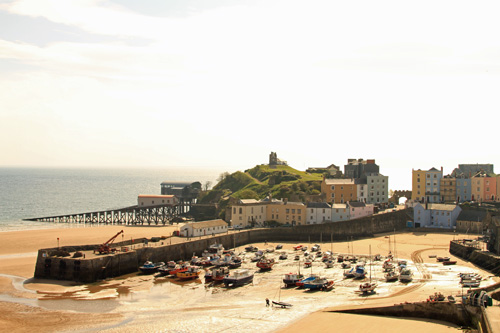 The seafront is essentially the same as it must have been 100 or more years ago.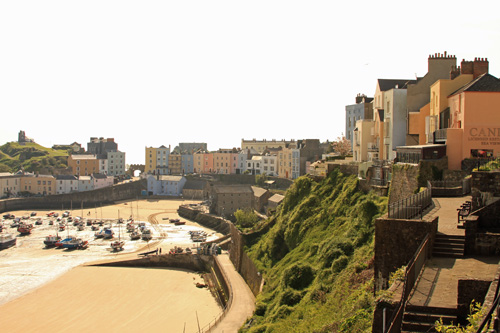 Here is again another angle taken 30 years ago.  I have changed, but the view has not!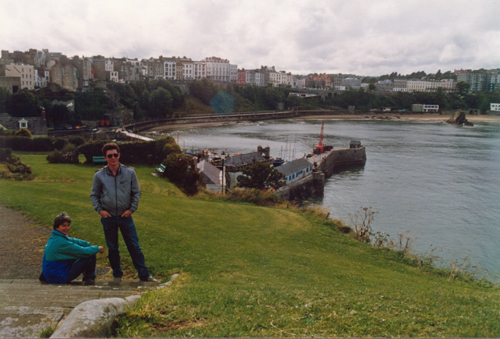 Small lanes, flanked by historic buildings are the only connection between the roads of the town which all run parallel to the coast as the terrain is so steep.  In summer, driving through town is nearly impossible because of the crowds but early in May, I had no problems.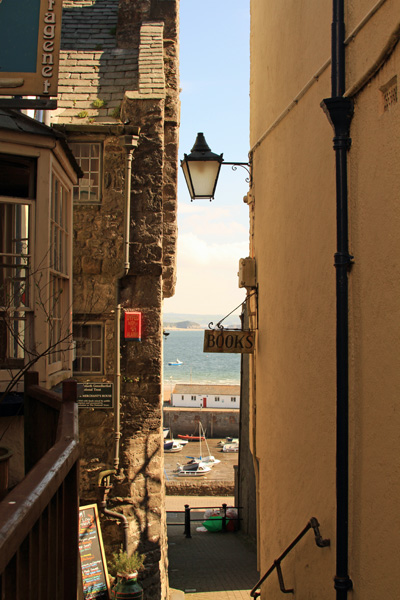 Spectacular beaches are what people come here for.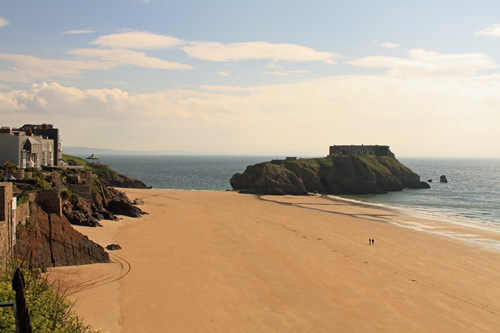 This is where I worked while in Wales – my first assignment in a refinery!  It is on Milford Haven, the deepest natural harbour in Europe and the only place where supertankers can actually dock near land – there were three refineries here in the seventies, but only two are left now.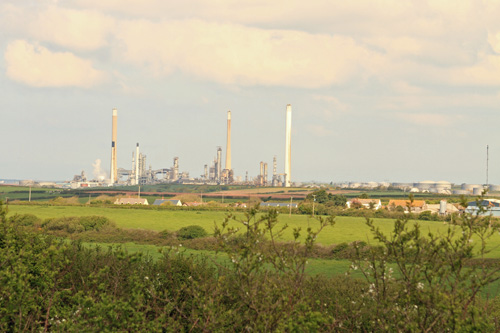 I was taking the ferry to Ireland from Fishguarsd, so I decided to drive to the North Pembrokeshire Coast and St Davids' Head.
I stopped along the shore for a walk along the Permbrokesire Coastal Path.  It is 299 km long and follows the whole coastline.  I walked along several pieces of it on day walks when I was living in Saundersfoot.
I had forgotten how spectacular the coast is around here, especially when the sun is shining.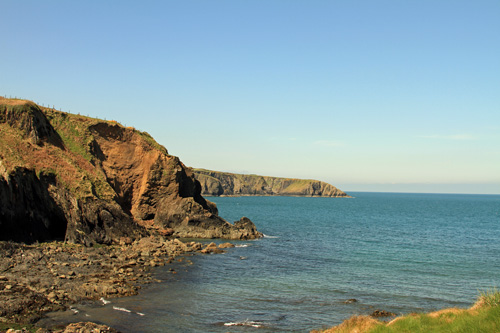 The wildflowers and green pastures are a good contrast to the blue sea and bright blue sky.  I cannot remember too many days like this one while I was living here … they must have all happened on weekdays, while I was working.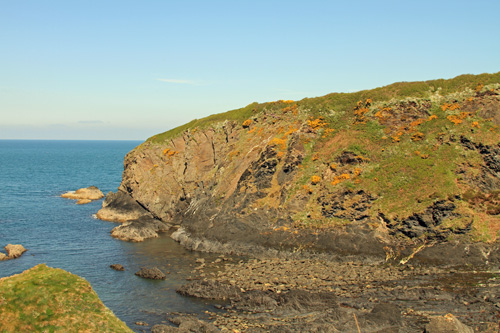 Early Sunday morning, I had the path almost to myself.  I saw two other people walking in the oposite direction during my 1/2 hour walk.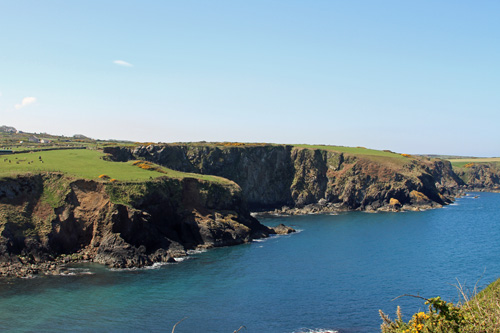 Fishing must be good in this area – at least the sea gulls seem to think so!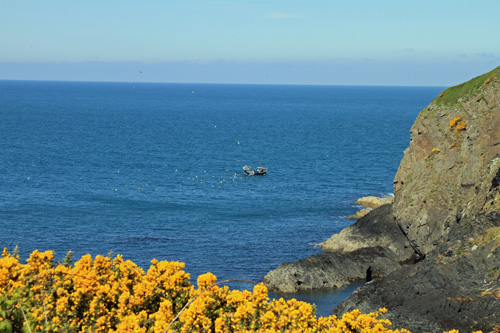 I was amazed by the resilience of the local flora.  These flowers just seem to grow on nothing but rock.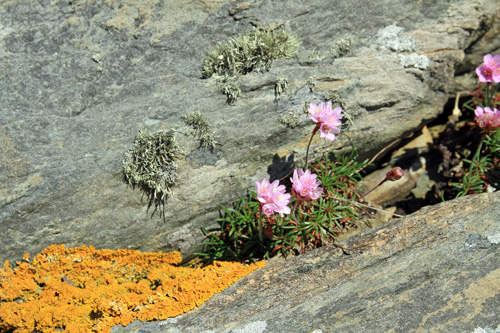 Allan at the Harbourlight Guest House suggested that I should stop at Porthgain.  I had never heard of it, but he had a flyer, so I took the paper and left, confident that the GPS in my car would lead the way there.  The GPS could not locate Porthgain anywhere!  I looked at the flyer, and there was no indication how to get there.  I decided to head towards St. Davids and I got lucky! There was a small sign showing the way top Porthgain, and I am glad I found it.
This was an industrial port in the late 1800's, early 1900's – the main product loaded here was local granite.  It remained unused for many many years and has only been restored and turned into a tourist spot recently.  The combination of beautiful scenery with industrial remnants is always interesting to me.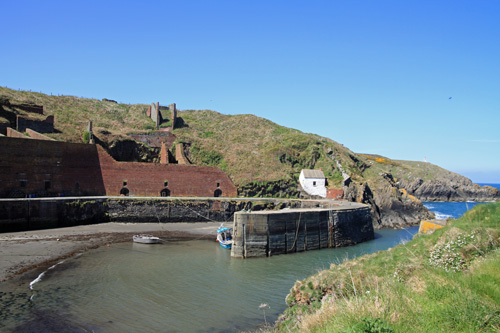 You can see why this spot was selected – it makes a perfect natural harbour.  I remain 'practical' and I kept wondering how they got in here with only wind power as even though there was some wind up on top of the hills, I could feel almost none in the harbour.  I guess by the end of the 19th century, most boats were steam powered.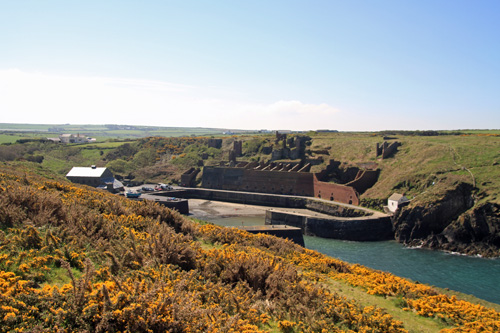 I was fascinated by this mini-fishing boat.  It has all the features of the larger boats, but is so tiny!  Probably just what you need for one man to go out for 1 or 2 days at most.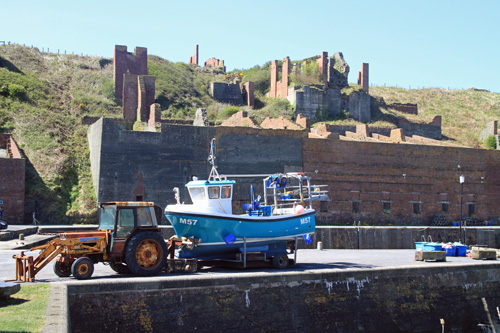 When I  lived in Saundersfoot, I went to St. Davids quite often, either when visitors came to see me, or just on my own for the day.  The cathedral is great.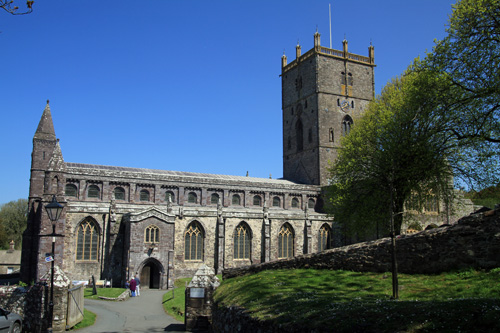 It is old enough (built around 1180 AAD) to still have the wooden ceiling which I believe has been restored recently as I did not remember it that vibrant when I was here.  There has indeed been significant restoration of the building since 1995.  Amongst others, the organ is new and was installed in 1998.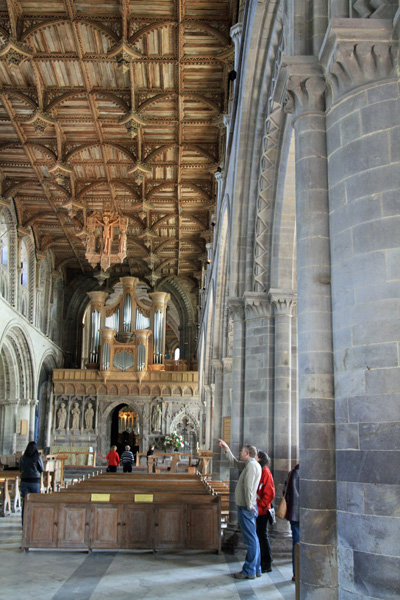 Typical of most chrches built at that time, the main columns are not vertical, but open up slightly as they go up because of the pressure of the roof.  It may not be so visible on these pictures, but it is clearly visible inside the church.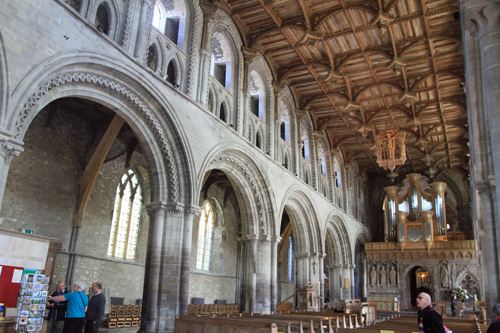 However, the real star in St. Davids is the Bishop Palace.  This one had not been restored – unfortunately, I did not have time to do more than glance at it from the outside as I needed to drive to Fishguard to catch my ferry.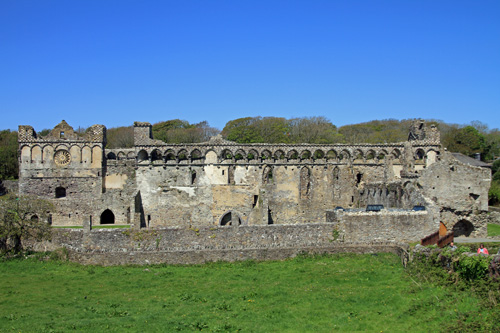 Ireland is next, but that will be for the next post.
PRACTICAL INFORMATION
I decided to drive to Ireland instead of flying.  I took the ferry from Dunkerque to Dover with Norfolkline.  The ferry terminal is actually several km West of the city.  It is a slightly longer crossing, but gave me more time to relax.  I bought a VIP ticket, which cost only a few more Euros, but gave me priority boarding and access to the VIP lounge in the ferry.  Very nice if there are a lot of passegers, but the lounge does not offer very good views outside.  There is free wi-fi, but 'Facebook' is blocked, no reasons given why.
I stayed one night at the Harbourlight Guest House, right in the center of Saundersfoot.  Allan is a very friendly host and my room was very nice.  You can contact him directly at info@harbourlightguesthouse.co.uk.  Allan made several suggestions of what to do on St. Davids Head and I am very glad he did as I enjoyed the visit to Porthgain.
I had dinner near the harbour in Saundersfoot at the "Mermaid on the Strand" – beautiful views of the harbour and Saundersfoot Bay.  I did not make reservations even on a Saturday, but this is off saeson – I am sure they would be very busy on a long week-end, or in the summer months.
(1099 Page Views)