pierreo February 20th, 2010
I could go to Mardi Gras in New Orleans.  I have been to New Orleans many times since 1975, but never for Mardi Gras.  I could go to "Il Carnevale" in Venice.  I have been there too, in 2000, but not around Carnival.  And, of course, I could go to Rio! I did in 2005, but missed the carnival by about 6 months.  The main reason why I do not do these things is because I am cheap, I fail to plan long enough in advance, and I really do not like very large crowds.
I like to go to smaller, more intimate celebrations – like the time I celebrate Mardi Gras in Baton Rouge.  I like it when there is a lot of interactions between the participants and the crowd, and that is why I have always liked the Carnaval of Malmedy.  I went there regularly in my youth, but probably had not made it in more than 30 years.  I decided that I had to go this year.
The weather on Sunday was not the best.  It started snowing as soon as I left Brussels but fortunately the roads were not too slippery.  They were not slippery, that is, until I arrived in Eupen – that is where the road starts to go up to the Haute Fagnes – a Natural Reserve know in English by its German name of Eifel (a lot of is was situated in Germany before WWI and this was re-taken by Germany during WWII – there was very harsh fighting in this area in 1944 and especially in the Battle of the Bulge).  With all the snow, I expected spectacular scenery and since I had a few hours before the parade started, I decided to make a short stop to what is probably my favourite nature spot in Belgium.  I was not disappointed!
Near the road, there were people leaving on cross country skis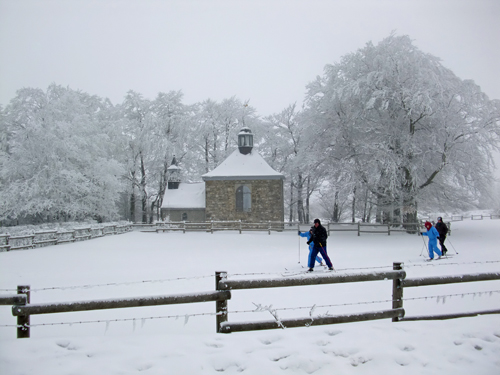 I had a quick chat with one of the local 'rangers' – probably a volunteer who is available on week-ends, just in case.  She confirmed that the region has not seen such beautiful snow in many years.  I decided to go away from the skiers on some of the footpaths in order to get away from the crowd – I did not have to worry, there was not much of a crowd.  It was snowing lightly while I was there, but had been snowing harder during the week.  The trees were laden with fresh snow.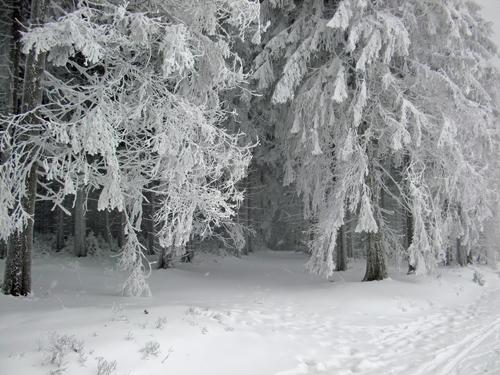 The moor – this area is actually a marsh – was untouched by human tracks – most of the reserve is closed as walkers could damage the delicate ecosystem (as I was told…).  Visibility was not that good as snow kept falling and was actually getting heavier.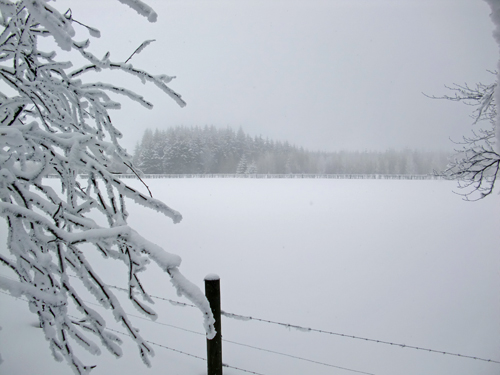 The clouds were so low that in places the trees faded into the clouds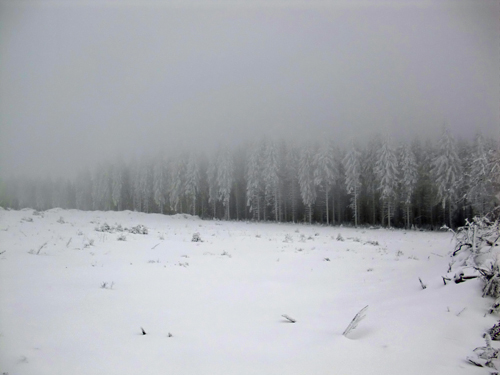 I kept this picture just to prove to you that these are not in black and white but really colour pictures… One of the very few walkers I met during my 'adventure'.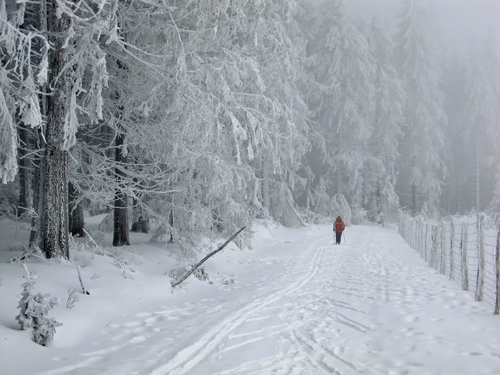 More spectacular snow covered trees.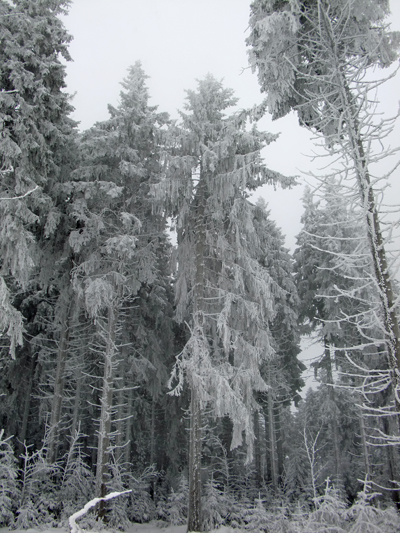 But it was soon time to go and drive one of the longest downhill roads in Belgium – downhill in this direction of course.  11 km from Baraque Michel to Malmedy.  I cycled it once (up hill and down hill!) and will do so again once the weather improves.
As soon as you get to Malmedy, you know that something is happening … There are people in costumes everywhere.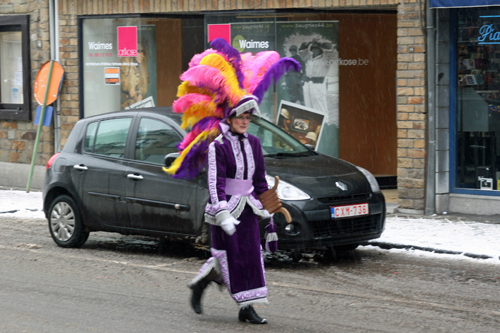 This is the "Haguete" – one of the traditional costumes that has been around since probably before the 19th century
If you would like more information on the Carnaval, please follow this link (it is available in English, French, Flemish and German)
http://www.malmedy.be/en/Tourisme/folklore-et-carnaval/le-carnaval/histoire.html
The french text also has pictures of all the traditional costumes.
You see people in ones and twos walking around, getting to rendez-vous from where they will leave together for the parade which starts at 13:30.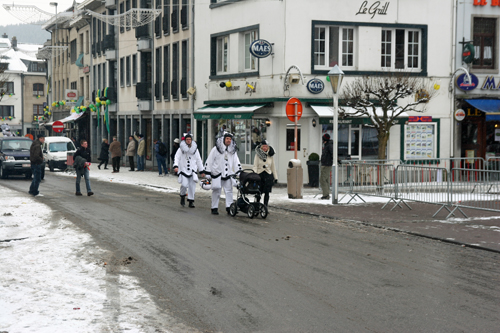 Here are three Pierots – the pram is not a typical part of the uniform…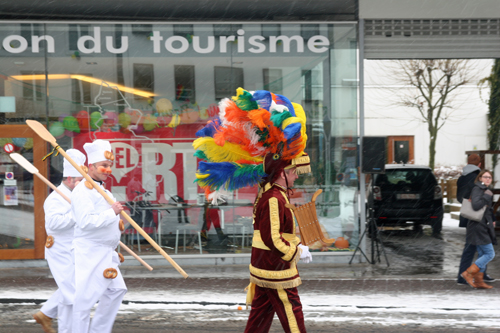 Another Haguete followed by two Boldji (one of the few crafts represented in the Carnaval) – they are a more recent addition to the celebration.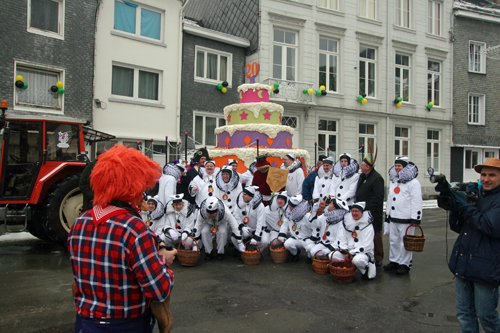 Final picture of Pierots before getting to the parade start.
This poster indicates that this will be the 552nd edition of the Carnaval.  This is not an empty boast! There is a documents from 1459 indicates that there was a Mardi Gras celebration in Malmedy that year, and the test indicates that this was not the fist such event.  There were a few interruptions, such as during the two World Wars, but also in 1962 because of a small pox epidemic but the number is still impressive.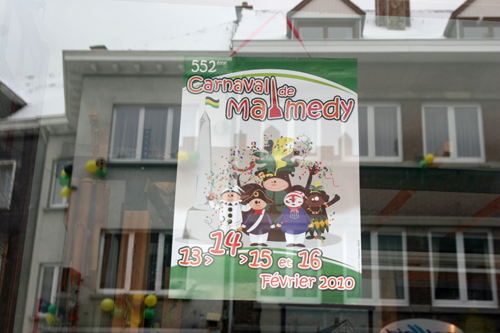 The Sunday celebration is started by the Dance of the Haguete, in the central square.  Each year a different Haguete society (like a Krewe in Louisiana, or a Samba School in Rio) will get the honour of 'opening' the show.
You have to remember that this is farming country – the floats that are not pulled by tractors are pulled by horses! this pair was particularly spectacular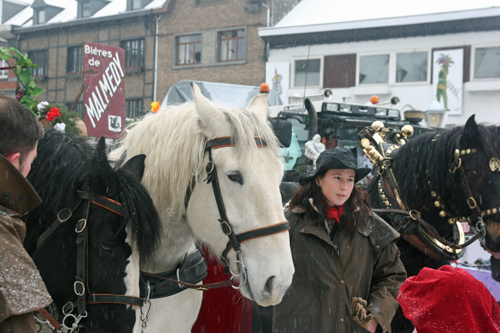 They pulled the float of the society of wine tasters, amongst others …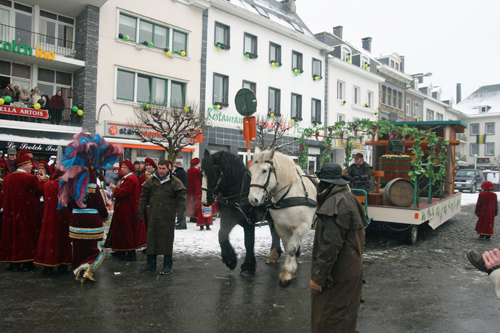 Another pair of horses pulling a float celebrating Brazil and world football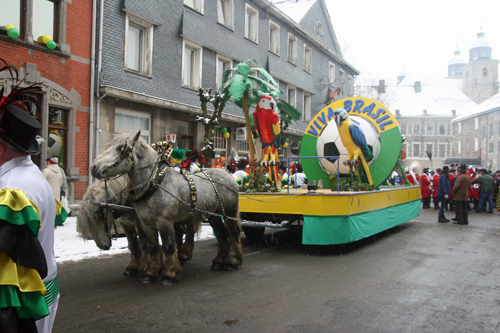 Here are the three people who will have the honour of leading the parade!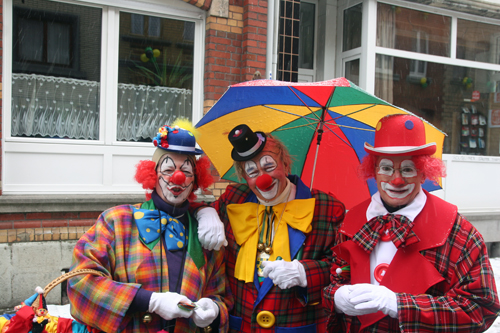 I went along the route of the parade to get a good spot.  However, since the crowd was not very large, I was able to move around freely, and still take good pictures.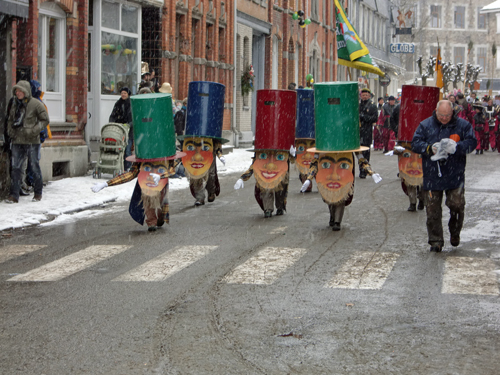 Another traditional mask – the Sote, or dwarf.  This is a traditional "parade" – most people walk, there are marching bands and only a few floats.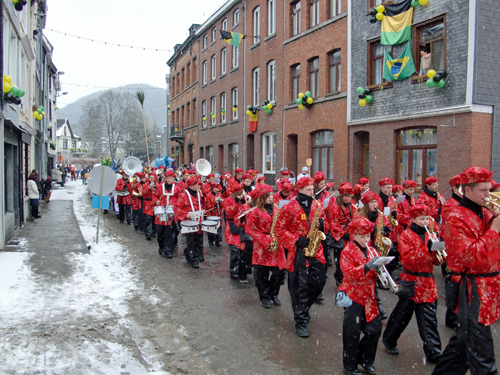 A marching band who decided to desguise themselves as Mandarins!  The colours (Black, Yellow and Green) that you see everywhere are the colours of the flag of Malmedy.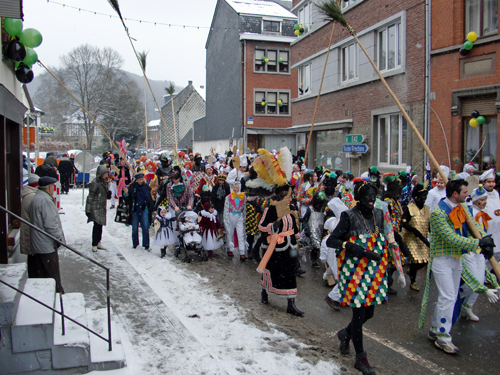 After each band, comes the real 'fun' of this parade.  Anybody can join (I did many years ago with my cousin on a tandem dressed as Dupont and Dupond!)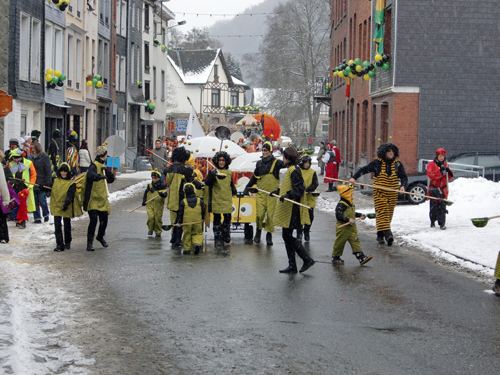 These are the "Happy-culturists" – they have a long reach with their confetti holders, long enough to reach into first and second story windows where unsuspecting spectators get a load of yellow confettis all over their living room.  I am still pulling some out of my hair and coat!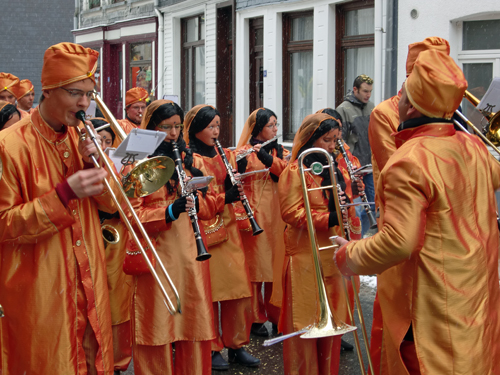 This band was dressed as traditional indians.  I was amazed at the details of the disguise, including make-up and the ladies with long, braided hair.  At first glance, I thought they were from India.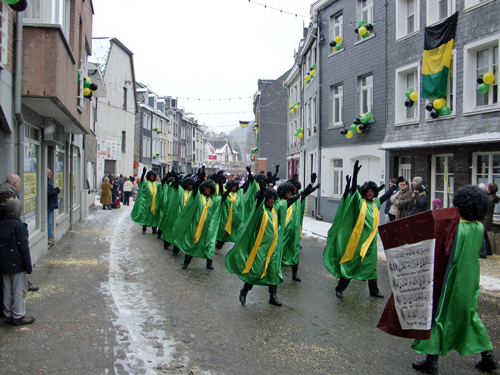 A gospel choir – they marched and danced and sang (a capella and with no amplification!)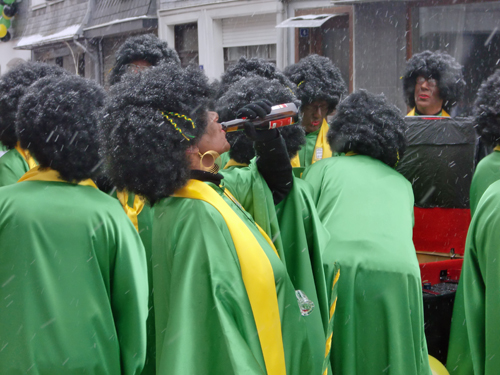 It is clearly thirsty work!  Most people marching had a supply of drinks which they could tap into.  The atmosphere along the parade route was getting happier and happier!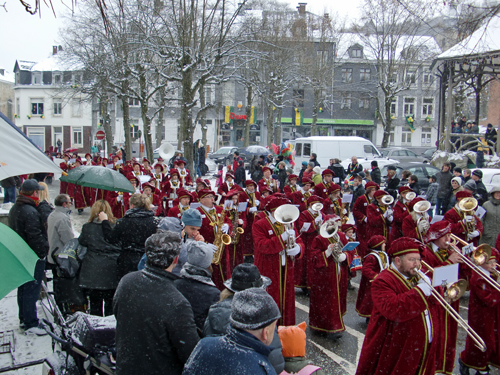 The wine taster's marching band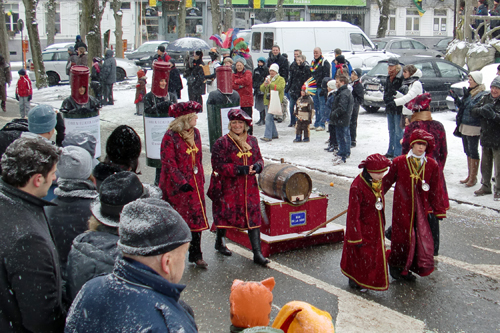 The kids have the important task – the cask!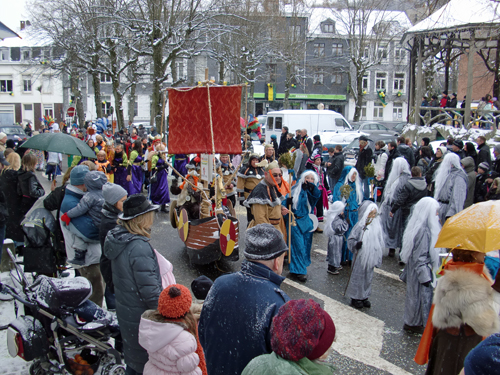 The vikings have landed looking to learn about fear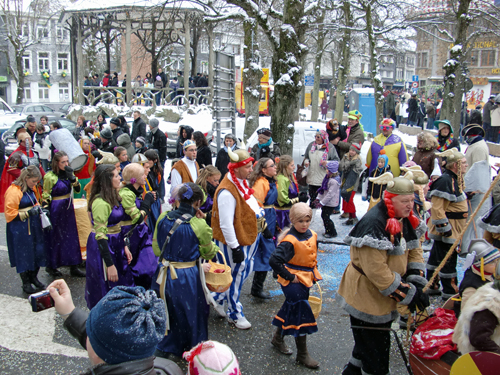 Fortunately, Obelix is not too far and will protect us.  This is the real attraction for me – anybody with an idea, with a disguise, can join in the fun…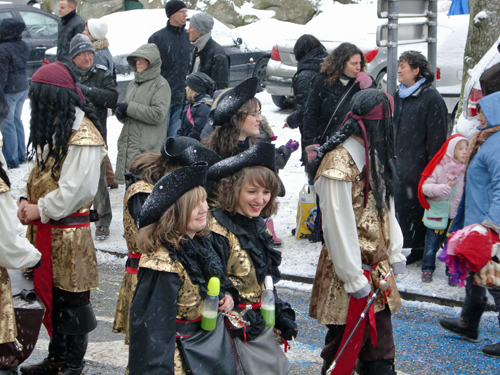 There were two groups of young people who paraded (young – teenagers!).  I do not remember where these came from.  I was happy to see that the tradition is not stopping and that local children, instead of moving out of the rural areas, are taking part in the traditional values of the place.  OK – it is a good excuse to dress-up and have a lot to drink with your friends, but still, they can do that every  week-end and made the extra effort ot put together costumes and a float.
The is the group "Jeunesse de Geromont" – a small town between Malmedy and Waimes, probably only 1000 inhabitants live there….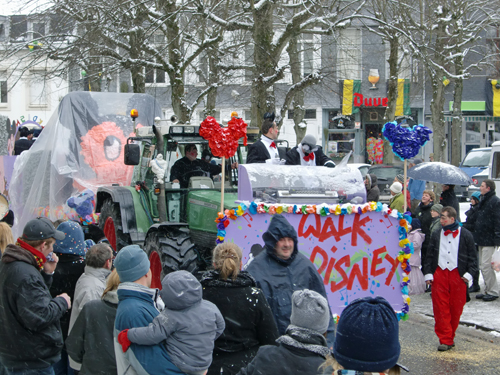 Walk is another small town near Malmedy – they had a Mickeys and Minnies Dance group!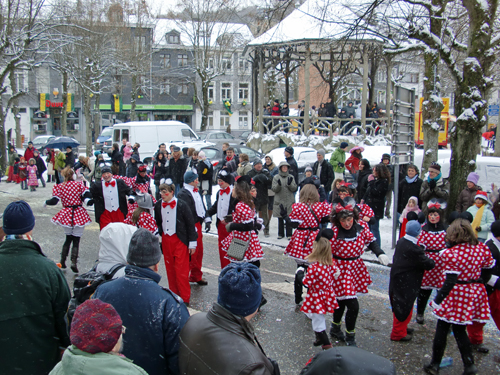 This is the time when I lost all feeling in my feet and decided I better leave if I wanted to avoid frost-bite!  The parade was almost over, but I am sure the celebrations were just beginning.  Well worth the trip! (2230 Page Views)