pierreo January 23rd, 2010
Every year, right at the beginning of the year (January and February), funny things happen in Baton Rouge.  The natives seem to get restless!
Even though the grass still is not growing all that much, people take their lawn mowers for a walk.  Actually, not satisfied with walking their lawn mowers, they actually take them "line dancing".  If you do not believe me, take a look at this from 2005.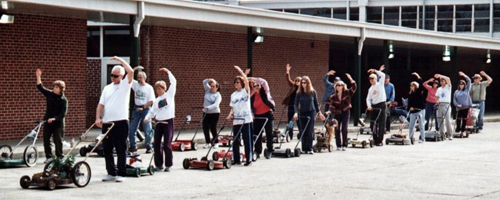 And they take this very, very seriously … Every Sunday for four weeks they endure motivational speeches mixed with vague threats and the occasional "I am really not happy about this!"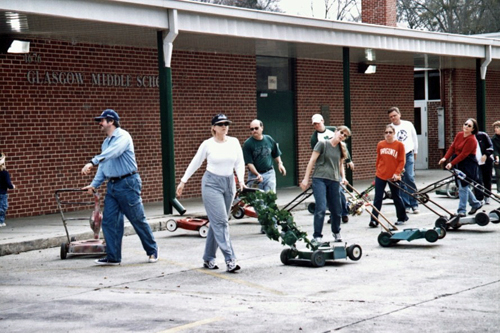 Strange creatures appear which do not seem to 'belong' in this environment.  Is this an Alien?  He does not look anything like me though …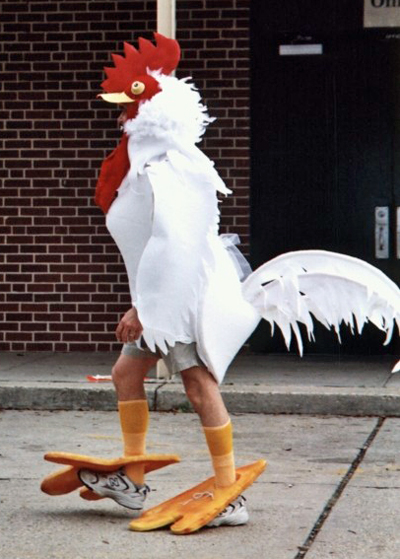 In houses throughout Baton Rouge, friends get together for secret missions.  If you listen carefully, you can hear coded sentences: "We still have to make 136 tail feathers but 35 of the butt cones are already done".  There are feathers and butts everywhere…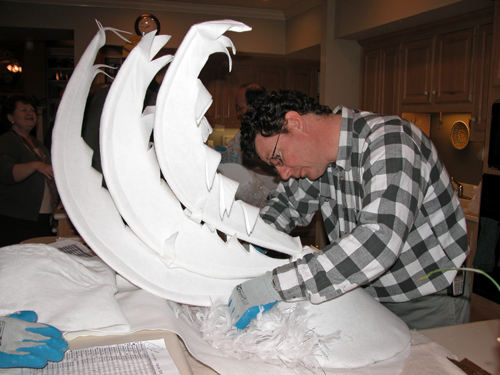 Chickens everywhere are donating their heads for a good cause.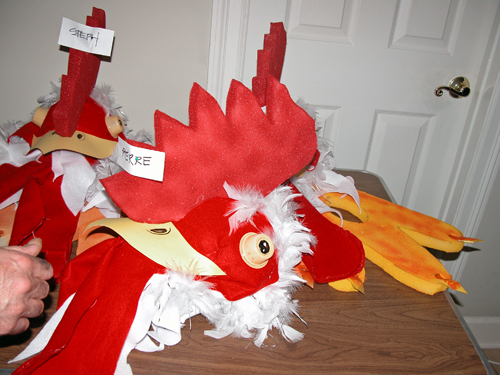 Our chief costume designer helps out too, of course.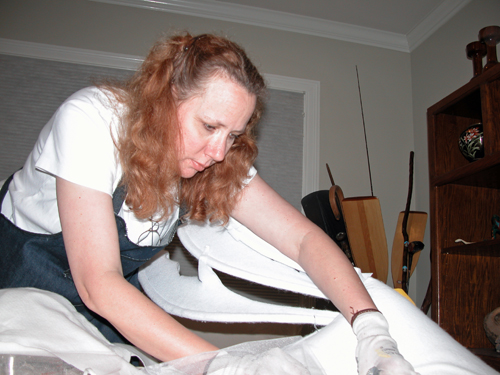 How did all this get started: In December 2004, a couple of friends asked me if I wanted to join them and their friends for the Spanish Town Parade in Baton Rouge.  I knew they were not asking me if I wanted to go watch the parade with them.  I knew that they marched in the parade each year and I did not hesitate for a second before agreeing.  The parade is held the Saturday before Mardi Gras in the downtown district of Baton Rouge.  There was a catch – of course – if I wanted to participate, there was a price to pay.  I was encouraged to help with making the costumes – this is a low budget group, but believe it or not, getting ready for the parade is almost as much fun as the parade itself.  I was glad to pitch in and learn a dozen new uses for a hot glue gun.
Our theme for the parade was "Poultry in MOWtion" – not a spelling error;  the Krewe of Yazoo always has either LAWN or MOW or MOWER in the title, hence the dancing with lawn mowers – DUH!  We made 42 chicken costumes and two chicks in less than one month.
The day of the parade started early, with a sumptuous breakfast in the shadows of the New State Capitol Building.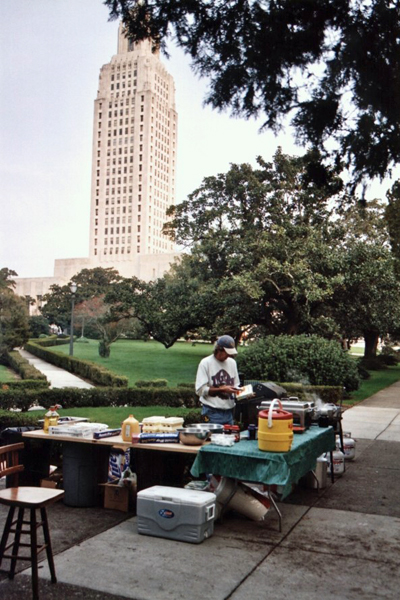 … and chickens started getting ready …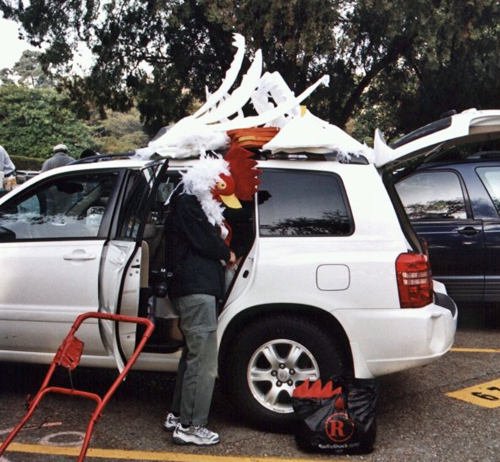 … and appeared out of the strangest places …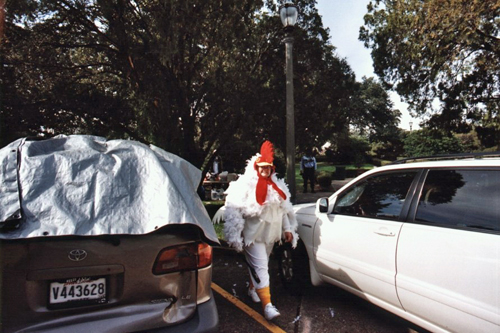 The mowers were already decorated and the tension started to mount …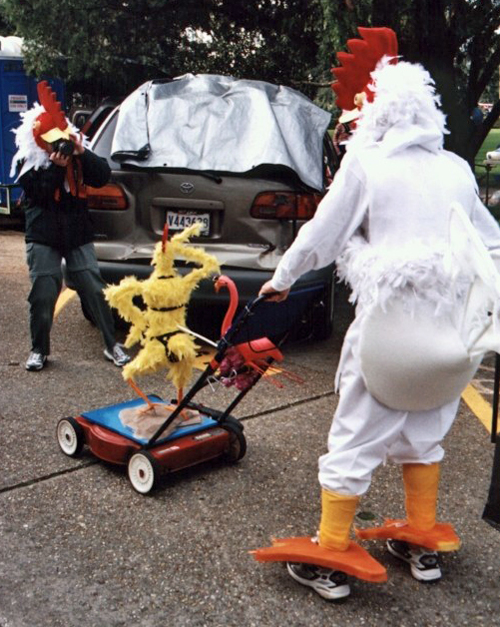 One final dressed rehearsal before the show starts promptly at noon – the Krewe is ready!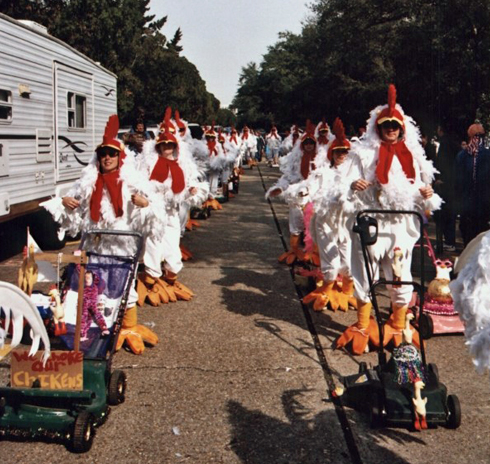 It is finally time to go.  The float leads the way with "Bead-throwing" chickens.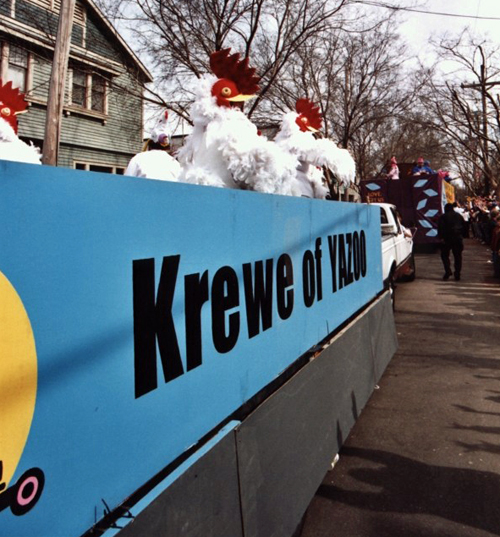 Followed by the banner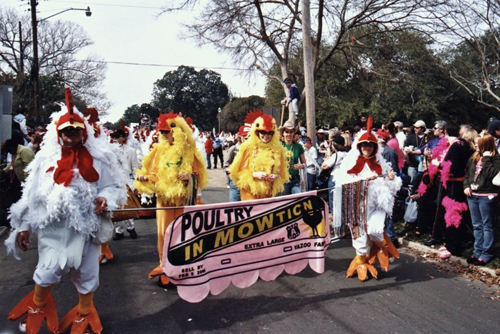 I had several trips out of town in January and February and therefore could not attend all the practices.  As such, I was not part of the dancing team, which left me free to take pictures and go up and down the line trying to stay out of the way.  I knew that the Spanish Town Parade was popular, and I knew that the Krewe of Yazoo was well known.  I just could not have expected what I was about to experience.  At the beginning of the parade, I was towards the front and was surprised that nobody seemed to react to the float with the large sign "Krewe of Yazoo".  They also did not react much to the banner.  However, as soon as the first lawn mower would be in sight, you could hear everyone shouting "The Lan Mower Krewe" or "Look – it's the lawn mowers!"
During the parade, Colonel Sanders was salivating at the thought of all he could do, if only we'd let him…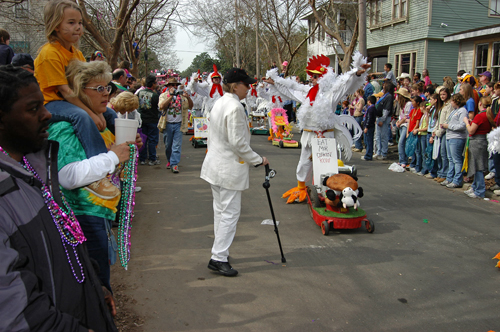 The street was full of people everywhere.  Some had even climbed on trees to get a better look.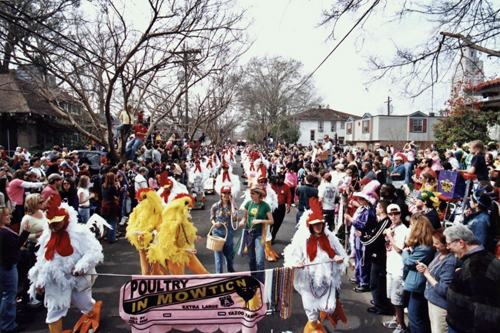 and they saw 36 chickens pushing lawn mower in perfect unison.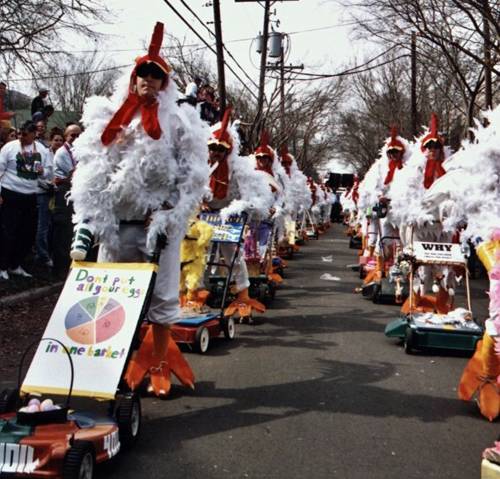 Jon and Mary had invited me to participate.  I know that it is sometimes difficult to tell the difference with chickens, but in this case Mary is on the left – Jon has the dark glasses…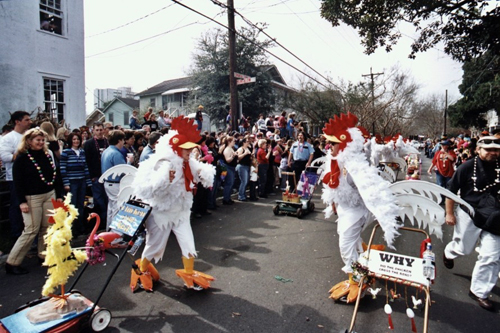 Dave is the leader of the Krewe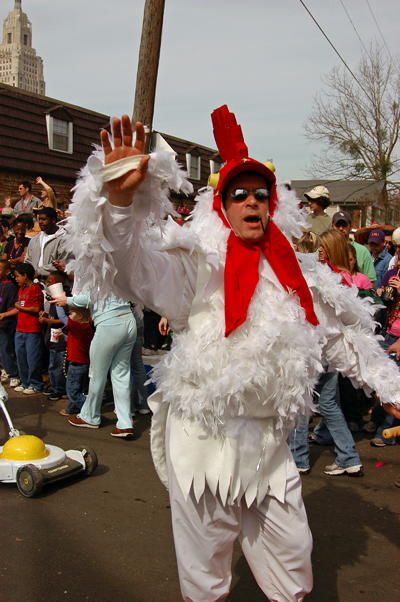 Fraternizing chickens??? I do not often show pictures of myself on this blog – here is a rare chance: I am the one on the right.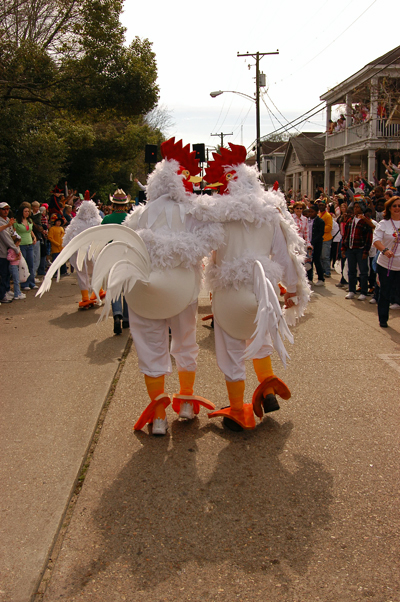 Since I was not dancing, I also had more time and opportunities to interact with the crowd.  Our costumes were a great success; many people asked to have their pictures taken with one of us, and I seemed to be the most readily available.  This is something that does not happen to me very often, so I made the most of it; the great thing when you wear a disguise, even if your face is not covered, you feel that you are some one else and therefore there is a certain level of anonymity in everything that you do…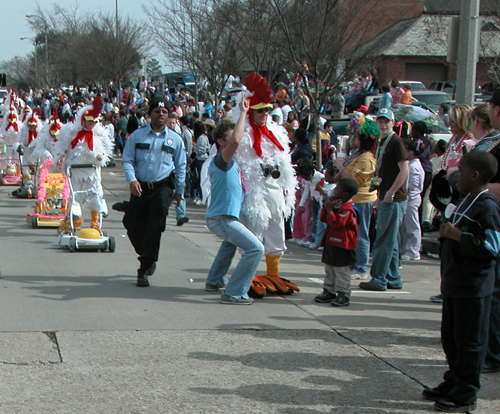 The signature piece of the Krewe of Yazoo is the Can-Can.  Have you ever seen 36 chickens dancing the can-can. As they would say in Singapore "Can … Can!"; well I can can say that I saw it!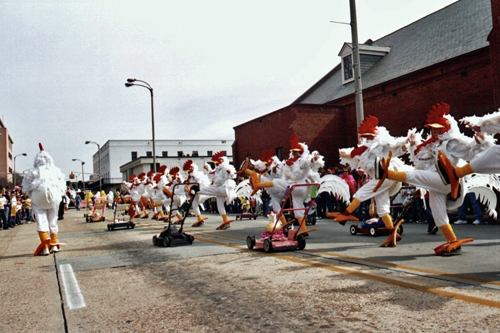 This is worth more than one picture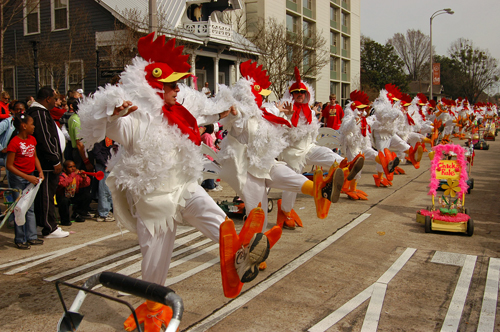 Up to the very end of the parade route, several miles long, the crowds were still present giving us enough energy to keep going.  It is now past 2 PM and we have been walking/dancing for two hours, but we have been in the area since early in the morning.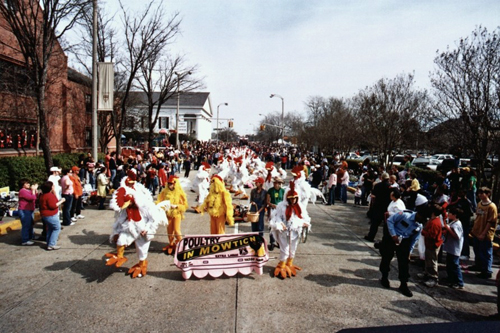 After the parade, we took a few pictures of the whole Krewe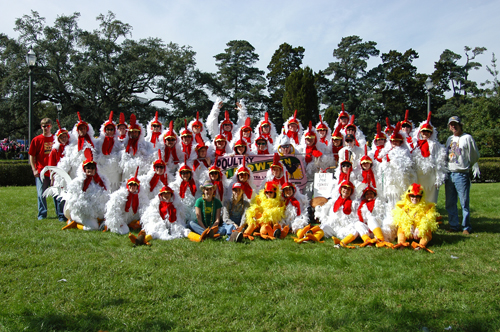 Just to prove that this did take place in Baton Rouge, here is a sight that the Capitol Building and its normal occupants are not likely to see again soon.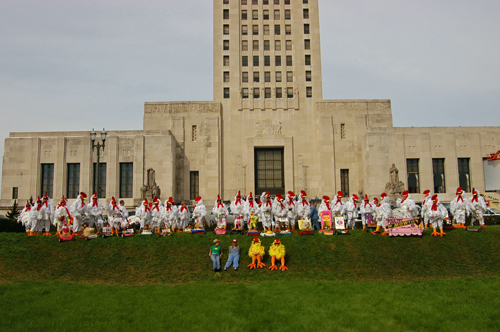 For me, this was one of those unique experiences that more than compensate for the difficulties of having to move regularly and re-create one's life again in another part of this amazing world.  This is where I discover again (we all need this reminder regularly) that the world is a wonderful place for many reasons, but the main reason is that everywhere you go there are friendly people who are eager to share their culture and their way of life with anybody who shows a little interest in learning what makes them who they are.  To the Krewe of Yazoo who made it possible for me to have this special experience, I say "Thanks" once again. I have not forgotten, and will not forget a great day at the end of two fantastic months of preparation.
(1543 Page Views)