Sorry for the delay in this last installment.  It was a combination of: diving trip to Manado, too much to do and computer problems.  Problems solved; need a little rest and no diving, hence, I am back…
From Hiroshima, we went to Kyoto, with a stop in Himeji.  This is where one of the best preserved, original feudal Japanese Castle is located.  The approach already tells you that this is something special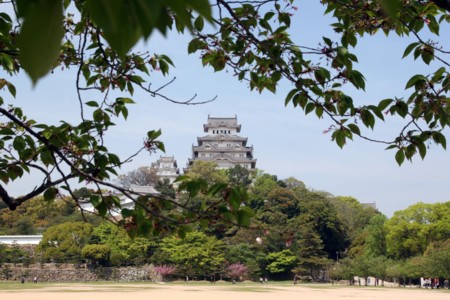 We were guided inside the castle by a very nice volunteer guide on the left …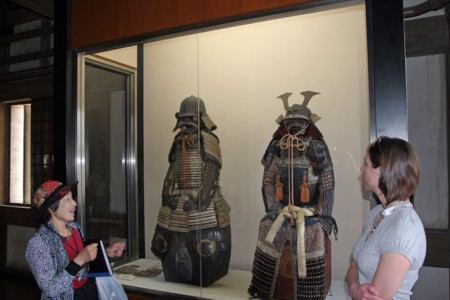 I tried to visualise in my mind what this picture would have looked like a few weeks before, when the cherry blossoms were in full bloom …
From Himeji it was back on the Shinkansen and off to Kyoto.  This was not my first visit to this city.  I had been there in 1985 and 2006, and really enjoyed both visits.  I was hoping to see a side of Kyoto I had not before, and I certainly did.
On the first evening, we went "Geisha" hunting.  Very quickly, we had initial success, but at a distance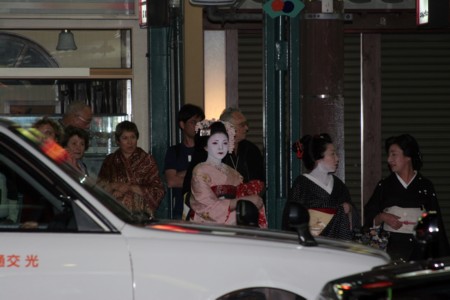 We had mixed success later until we ran into this beauty just coming around the corner
On the second day, we went to visit a few of the 'highlights' of Kyoto.  First, the most famous 'rock garden' in Japan – we were there early and therefore the crowd was sparse.  Some of us took this opportunity to practice the meditation techniques learned in Koya San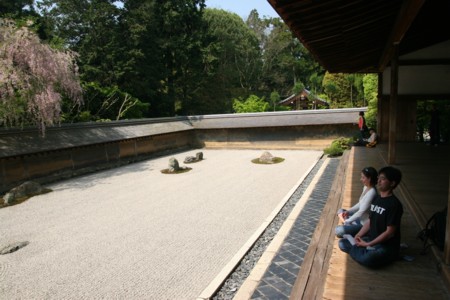 Then, the golden Pagoda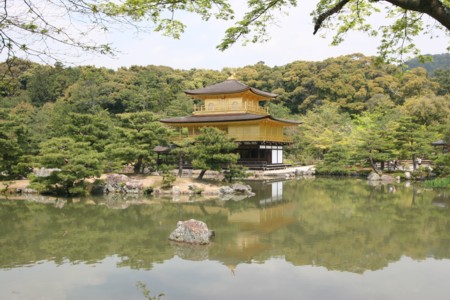 We had an opportunity to participate in a 'true' tea ceremony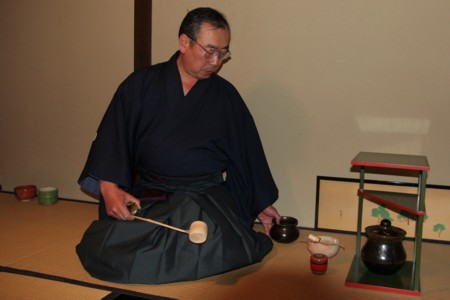 and had, of course, another memorable meal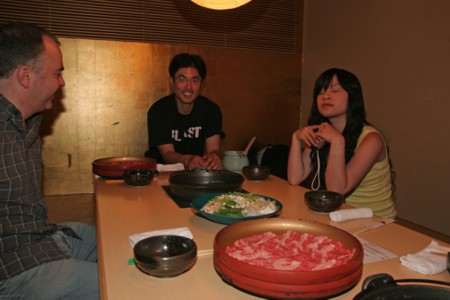 I left Kyoto early so that I could spend a whole day near Mt Fuji.  It was quite an ordeal just to get there, and made me appreciate all the efforts of Hiro for the rest of the trip…
I took the Shinkansen from Kyoto to Mishima, a small station where only one in 5 or 6 trains stop.  There I had ten minutes to find a bus for Kawaguchi-Ko station.  First, I came out the wrong side of the station – the attendants at a shop were kind enough to redirect me after looking at the ticket I had (thanks Hiro for getting that for me).  On the North side of the station, no indications of any bus going to Kawaguchi-Ko.  I ask at the ticket office and am told that the bus leaves from stop number 2.  At stop number 2, there is a bus for Gotemba Station.  Just in case, I go in and ask the driver, who seems to say No!.  So I exit the bus, ready to wait for the next bus, but he calls after me, and explains that I need to change bus at Gotemba Station.  So I get in and an hour later, we get to Gotemba station.  The driver indicates stop 6 for Kawaguchi-Ko.  A bus is waiting, and the driver nods Yes when I ask about Kawaguchi-Ko – good sign.  The schedule says we are supposed to get there at 17:51.  At 17:46, we pull into what clearly looks like a train station, so I get ready to get off the bus … but the driver stops me, indicating this is not it yet.  5 minutes later, we pull into Kawaguchi-Ko station.
I had reserved at a local Ryokan and they indicated that they would pick me up at the station.  All I had to do was call when I arrived.  However, the web site also said that the staff had only limited knowledge of English.  The last test of the day was coming up.  I call the Ryokan and after greetings in poor Japanese, I ask if anybody spoke English and there was a long silence … some one else came on the line and I asked if they could pick me up at the station.  There was no immediate reaction, than I gave my name stating that I had reservation.  In very poor English, I guessed I heard "arrived" and "station" – when I said Yes, I was told 10 minutes and the line went dead.
All I had to do now was wait and hope.  10 minutes later a minibus from the Ryokan pulled up and I was on my way to the hotel.  Great place, very comfortable and great location.  All was GOOD.
Next day was my one chance to see Mt Fuji.  I went back to the station to go to the tourism office.  There I was told there were no buses up the mountain as the roads were still covered in snow.  However, they gave me a map that showed the way up the mountain, and I decided to walk towards the approach.  The sky was partly cloudy, so I had some hope.  About 5 km out of twon, I was walking along the road looking directly at the mountain.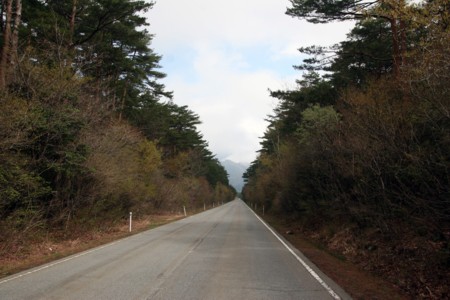 Unfortunately, the clouds were still there …
In the afternoon, I decided to go around the Kawaguchi-Ko lake.  There too, there are wonderful views of Mt. Fuji reflecting into the lake waters.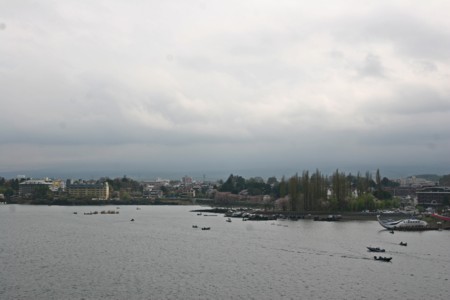 The clouds are still there
For sunset, I took a cable car to the top of hill that overlooks Mt Fuji.  Here I am in front of the mountain.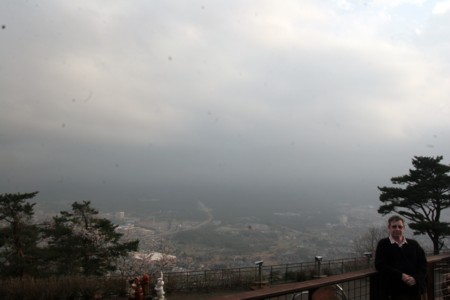 Unfortunately, there is still a cloud between me and the mountain.
I guess I was destined no to see it! The next day, the clouds were still there and I decided not to wait and see if they would lift. I took a train to Otsuki, than one to Tokyo and finally to Narita where I arrived in the early evening.  I stayed at the Hilton Narita – my first real bed in 14 days; I had dinner at the hotel restaurant where I had steak and chocolate cake – my first western meal in 14 days.
Every time I go to Japan, I discover new aspects of the culture and society that leave me wanting more.  We explored aspects of food and culture I had never seen before and I am left with more hunger than when I started.  I know I will be back exploring the North of Honshu and Hokaido next time.