pierreo April 12th, 2015
In November 2014, Bee and I took advantage of the 11 November holiday to spend a week in Provence.
Part of the reason was to spend some time with my parents who spend a lot of time there; part of the reason was also to get away from the bad weather in Belgium and discover a region of France that we did not know well.
Unfortunately, we hit the worst weather week in Provence for a long time.  The weather had been generally bad all over Europe for most of the summer (see also my recent blog entry on the Dolomite in August 2014) but we were particularly unfortunate.
Our first "Road Trip" was to Moustier-Sainte-Marie, the Gorges du Verdon and finally Grasses.  We skipped the Lac de Sainte-Croix as the weather just did not allow us to enjoy it.
Moustier is renown for fine pottery and ceramic.  There are many workshops, some mostly with 'tourist' good, others with very nice ceramic.  The town has also maintained its medieval atmosphere and is built on such a steep slope that a lot of streets are still impractical with a car.  We walked around town until it started to rain a lot harder and ducked into a local restaurant to escape from getting really wet.
We ate at "Les Santons" (www.lessantons.com) and had a very nice lunch.
After lunch we drove through the top of the Gorges du Verdon, France's Grand Canyon.  There were very nice views, unfortunately not very photogenic, so I decided to experiment.  I did not have my big camera, so I took my first panorama using my Samsung Phone.  Here is the result.

It is not bad, and quick and easy, but not quite the same as the results I am used to when I use my big camera and I then assemble the photos using Photoshop.  It is clear that the one shot facing the sun was more exposed than the others and the camera was not able to correct entirely for that.
I also took three photos of the mountain facing us and assembled those in Photoshop and here are the results.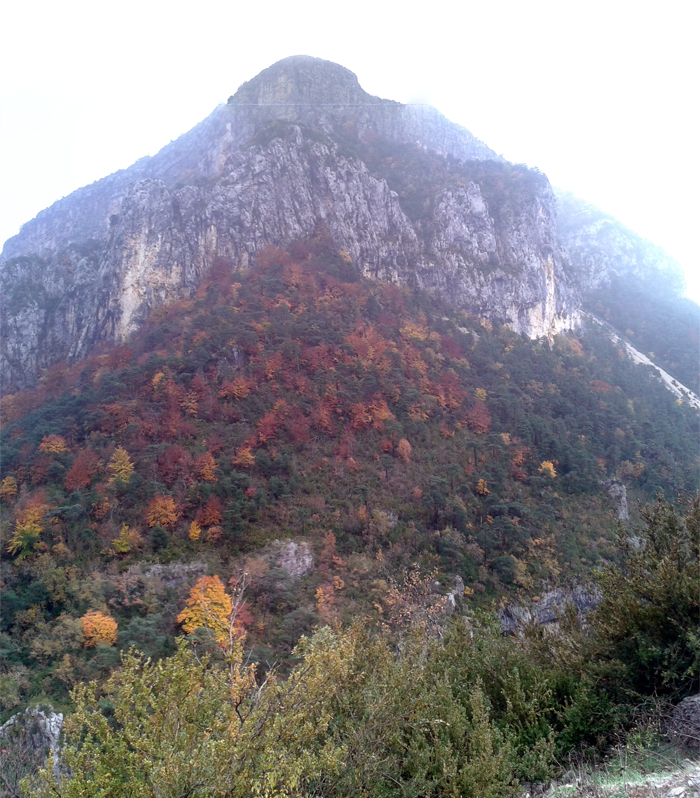 Much better from a blending point of view.  So I will have to be careful in the future if I want to use the 'panorama' feature of my phone.
From Les Gorges du Verdon, we went on to Grasse, the World Odor Capital.  We stopped at the Fragonard Factory where we did a very nice tour of the facilities.  Fragonard sells their own perfumes and Eau de Cologne in totally plain containers, as opposed to some of the other companies who sometimes spend more on the bottle than the perfume!  Fragonard is also one of the few remaining "Nose Schools" in France.  Students are trained to recognize some 300 different odors and the "Experienced" nose can tutor up to 12 students at a time.  We saw the 'school' room, but class was not in session.
We had spotted a few potentially good restaurants on Trip Advisor, but all of them were closed when we were there.  We stopped at La Voute for dinner and had a good meal there.
The next Road Trip took us to Les Baux-de-Provence, a small town in the Alpilles that has become an artist community.  Just outside of town there are abandoned stone quarries which are now used for sound and light shows called "Carrières de Lumières" (www.carrieres-lumieres.com).  Every year, they have a different show that runs roughly from March to December.  The show last show in 2014 was on Klimt and Vienna.  Images are projected around the whole quarries while beautiful music plays and it is definitely worth the visit.
We had lunch in Baux and then went to visit the Castle, which as per custom sits at the very top of the village.
The view is quite spectacular, but again, the weather was not really good enough for good photos.  I likes better the view of the ancient town from the castle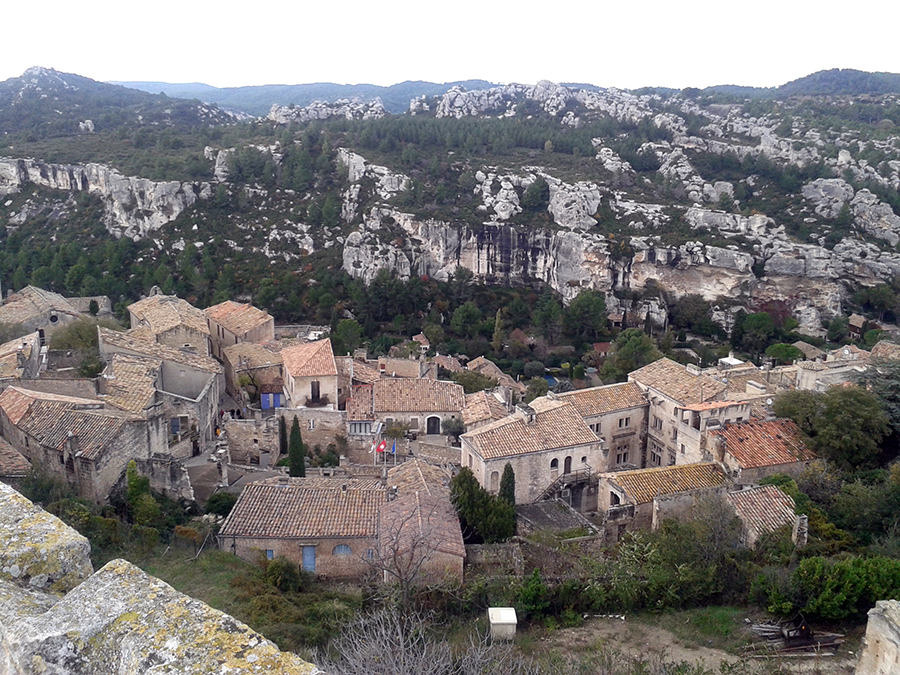 Continue Reading »
(656 Page Views)