pierreo February 22nd, 2015
Bee and I had been talking about a trip like this for several years.  I had thought about it ever since I had seen a picture taken by a friend of a refuge with mountains in the background.  I took essentially the same picture on the trip I will be describing here.
This was my 5th trip with Wilderness Travel and was another fantastic experience.  We had a group of eight people with three guides, including Giuseppe whom I had already met on my first trip with Wilderness in Slovenia.  Giuseppe was joined by Leila and Sean so we had three experienced guides (with two vans) to help us on this trip.  It was great to have that flexibility given the weather that we encountered on some of the walks.
We met the group at the airport in Venice and quickly got into our two vans for the drive to the first stop of the day – for lunch half way to our first real destination. We stopped in the small town of Vittorio Veneto, at the edge of the Alps in an old water mill converted into a restaurant and had a great meal outside even though it was somewhat cold for the season.  We then continued to Passo Giau where we would spend the first three nights of our trip at the Rifugio Pass Giau.
As soon as we arrived, I recognized where we were.  The mountain with a flat top in the background is quite unique – this is a similar view to the picture who had made me want to be here – thanks Bill.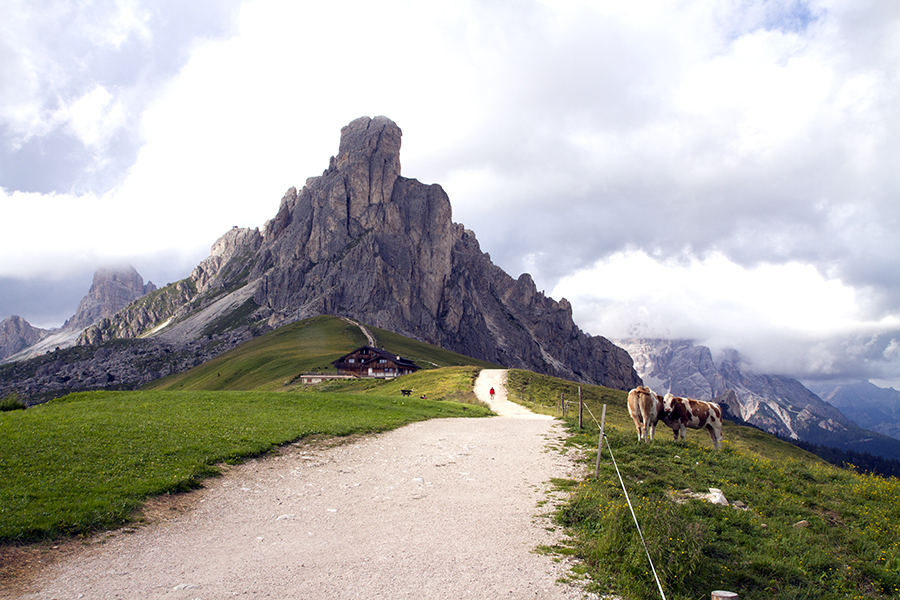 The was also the view from our bedroom at the Rifugio.  Sean and Leila have stayed here many times and therefore know the owners quite well – it is like being welcomed into somebody's house!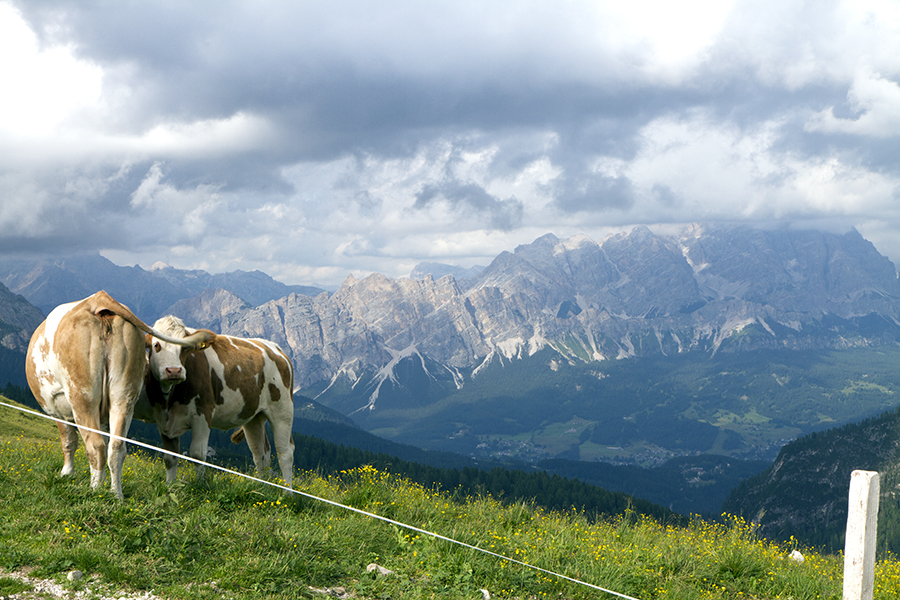 Cannot have a view of the Alps without a cow here and there!  The weather was not great, and was not going to be great for the whole week so we had to contend with a very heavy sky, not making the pictures as spectacular as they could have been.  But when the sun did shine, we were rewarded with spectacular scenery.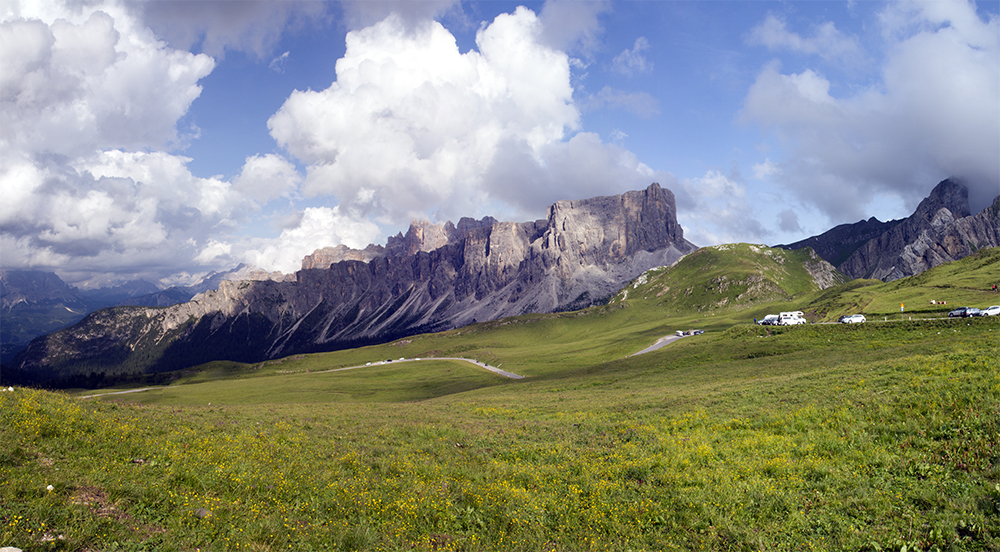 The contrast between light and shade can also enhance the view at times.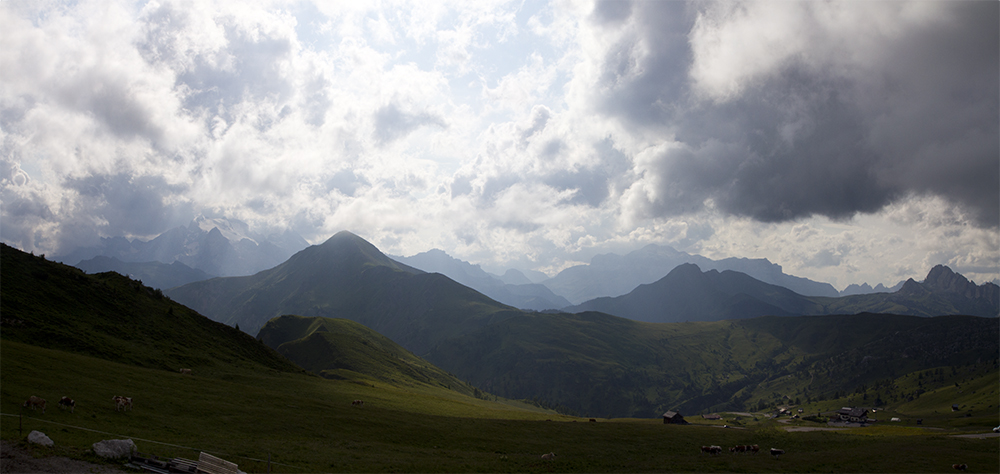 Near the Rifugio, there was a small chapel, as always called Santa Maria (or something) delle Neve to indicate that it is often covered in snow.  They are usually dedicated to the memory of mountain guides who lost their lives doing what they loved to do.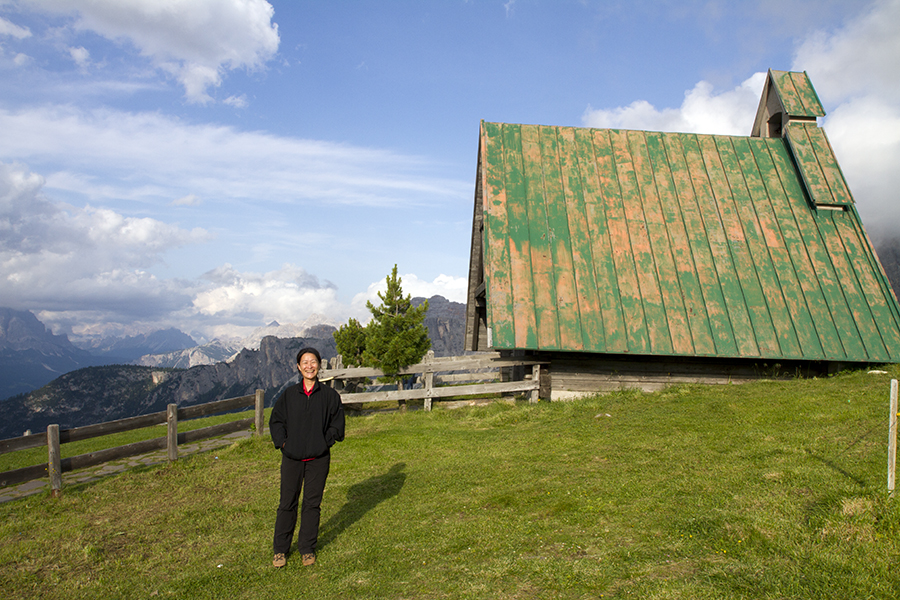 We went on a 'warm-up' hike from the hotel in order to open our appetite for dinner.  The Rifugio where we stayed is the first structure on the right and is quite a popular place at lunch and towards the end of the day, when people have finished their hike and are ready to go home.  The crowd was thinning significantly as we were walking around. Continue Reading »
(817 Page Views)